I must admit that I have not been a very big fan of the viral ukulele videos that have been going around but these two videos from Japan's U900 have captured my attention for the past hour. Other than the bunny's resemblance to black face the animation would look great on a show like Yo Gabba Gabba!
For more info check out Uke Hunt
Personally, I find the news that Disney bought Marvel to be somewhat ironic, given that right now in our own home the Disney Princess and the Superhero are battling it out for my child's very soul. I'm sad to report that so far, at least, Disney's kicking ass, but I'm hoping that its deal with Marvel may lead to some sort of princess/superhero marketing synergy, or at least a few Wonder Woman dolls to compete with the likes of Belle and Ariel. Oh wait–Wonder Woman's D.C. Oh, fuck it. Here's a very quick and dirty midweek roundup; Meg will fill in the blanks at the end of the week.
*All superheroes, all the time: check out Disney/Marvel Mashups; off-duty Superheroes; and Serge Kliaving's earlier take on the subject.
*Edward Winkleman's Tips for DIY Art Exhibitions.
*What is up with Bloomberg's obsession with the salaries of Museum directors? It's like they're searching for a scandal that just…isn't there. The latest target? "Dinosaur Museum" President Ellen V. Futter, who heads up New York's American Museum of Natural History (and took a voluntary 5% pay cut last year).
*Lots of advice on how to beat the bad review mojo this past week on Joanne Mattera's Art Blog, Edward Winkleman's August 31 post, and my favorite observation, from Regina Hackett/Another Bouncing Ball: "At worst, a review articulates the limits of a critic's imagination. (I can't see you.) A negative may be intended by critics as a prod, but it always serves as their mirror." So well put!
*The Guggenheim's Frank Lloyd Wright exhibition has highest attendance of the Museum's history.
*Cleveland Museum seeks court permission to use endowment income to pay for building construction. Bad Cleveland Museum! (Seriously, very bad).
*LACMA announces plan for revamping its film program, but many are still unsatisfied. LACMA On Fire's take on it, here; Time's Lacayo, here.
*Canabalt. You don't smoke it. You play it.
Not if gallery director Mary Antonakos and her staff and crew of volunteers can help it. But there's no question that I Space–the gallery of the College of Fine and Applied Arts at the University of Illinois at Urbana-Champaign (UIUC)– is facing an uphill battle over the coming months if it wants to maintain not only its top-notch arts, design and architecture programming but its physical presence in Chicago as well. As was reported in the Chicago Tribune a few weeks ago (and examined in more detail in this story in the News-Gazette, available only via paid access to the archives), I Space no longer has the funds to retain its gorgeous, pedestrian and wheelchair-friendly exhibition space in the River North gallery district. And it isn't about the high cost of rent. When I spoke with Antonakos by phone today to get an update on the gallery's situation, she stressed that their landlord has been working steadily with the gallery to help them continue their tenancy. Rather, the problem stems from an all-too familiar cause: a drop in the University's endowment over the past few years that has made it unable to fund the gallery any further, coupled with the loss of private foundation support that had provided much of the gallery's funding in the past. Compounding matters further is the fact that, until recently, the gallery was in-between development staff, leaving Antonakos without anyone to spearhead major fundraising efforts.
Antonakos characterizes I space's current situation as "dire, but hopeful." She plans to work with her new development person to fundamentally change the way that I space raises money. "We'll be doing a lot more outreach" to alumni and other potential donors, Antonakos told me, along with events like auctions and other fundraisers that I space has never held in the past. She'll also rely heavily on volunteer marketing staff to move the gallery's publicity efforts from print to online sources like I Space's webpage and Facebook group, which will help eliminate print and postage costs associated with announcement mailings. By necessity, the amply illustrated catalogues and brochures that accompany most I Space exhibitions are likely to be cut from future shows, at least for the time being.
Antonakos says that until December, the gallery's programming schedule–which launches September 11th with the opening of the Bonnie Fortune-curated "Every Body: visual resistance in feminist health movements, 1969-2009" alongside The Museum of Contemporary Phenomena's Glue Factory, a Broadside project addressing the fear of aging, followed in October/November by exhibitions by Erik M Hemingway and Allison M Warren and November/December by Rojer Hubeli and Julie Larsen–is solid and not at risk of cancellation. After that, the gallery's future remains unclear. It's terrifying to think that I space might not be around after December–and remember, we're not just talking about the gallery's access to River Front real estate. The entire program is threatened.
The "good news," if you can call it that, is this: despite what you may think, this is not a case where finding one big funder is the gallery's only hope for survival (although obviously, that would be nice). When I asked Antonakos if there was anything individuals could do to help, I expected her to say "not much." Instead, she mentioned excitedly that the gallery had just received a $100 donation via their website, and emphasized that these kinds of smaller-level contributions "are fantastic…that will work for us!" We can also support I space by becoming members, says Antonakas. Not only does membership help fund operations, but it also helps keeps audiences connected to what's happening with I space programming during a time when ads and other print publicity will need to be drastically scaled back.
Though Antonakas admitted to sometimes feeling "sick with worry" about the possibility of the gallery's closing, she remains upbeat and ready to for the challenges ahead. "I'm very hopeful that things will change," she told me. "It's just going to take a lot of hard work and we'll need help." Surrounded by the sometimes explicit female imagery from the Every Body exhibition that's currently being installed, Antonakos said laughingly, "with all these fantastic vaginas around you can't be too depressed!" Could Mary Antonakos be any cooler? I really don't think so.
If you're interested in joining I space or making a donation, please visit their support page on the Website. You can also keep up with news on the gallery's funding situation by joining the I space Facebook group here.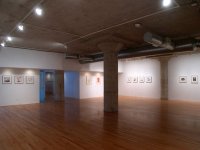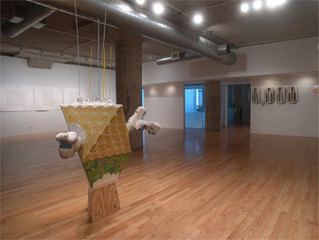 In this week's pick we check out Kara Walker discussing her piece Fibbergibbet and Mumbo Jumbo: Kara E. Walker in Two Acts created at Fabric Workshop in 2004. The installation consists of one of Walker's first videos. In this video she discusses the move from flat works to installations and incorporating a moving image.
"The installation consists of a theatrical stage set made of a cloth backdrop on which a landscape has been painted in washes of coffee and pigment. Before the backdrop stands the painted wooden silhouettes of willow trees and a signpost, which bears a series of aphorisms which are either misleading, or dead ends in their own right. From behind the backdrop, a fiery light casts the shadows of Walker's characters against the painted landscape as her narrative unfolds beneath a spirited moon."
For more on this video please check out Fabric Workshop's site.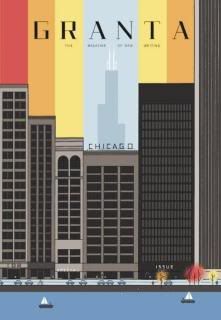 British publication Granta will be featuring the city of Chicago for its upcoming issue. Chicago based Chris Ware designed the very sweet cover. It sounds like a good issue to pick up if you are interested in what's going on in Chicago.
" In this video, Granta acting editor John Freeman introduces the issue, celebrating the city of Chicago, a cultural and artistic hub and home to some of the world's greatest writers and thinkers."
Introducing "Chicago" from Granta magazine on Vimeo.