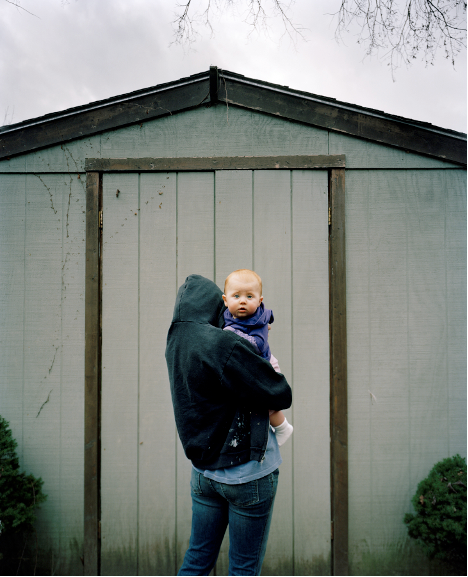 Jill Frank, who had a great show at GOLDEN just about a year ago, and now has a 12×12 up at the Museum of Contemporary Art in Chicago, will be giving an artist talk at the MCA this coming Tuesday, August 25th at 630pm. She was kind enough to answer a few questions for me, even though apparently she was in the middle of the woods.
What sports are you bad at playing?
All sports that require coordination. Â I like jogging because less can go wrong. Â However, I still run into tree branches and trip over potholes on a regular basis.
What was the first photograph that you ever took?
I remember taking a picture of this crawdad in my backyard, my friend was trying to hold it still for me and I was using a polaroid camera.
Can you describe the evolution of your work?
I am interested in aligning images with actual experiences. Â I started with a project on my family, where we reenacted all of our most important memories for the camera, in a sense creating a more accurate family album. Â This included awkward, humiliating, embarrassing moments rather than the usual portraits. Â I moved from that project into photographing other people's un-documented experiences- (Psychodrama)- which involved advertising my project and looking for participants willing to share. Â I ended up with some really interesting people, and I learned a lot about how to document these incidents. Â I think the images became more about documenting a performance than making a pristine singular image of an event. Â Recently, I have been working less with individuals and more with groups of people and larger histories. Â I am really excited about this newer direction because it involves making alternate versions of culturally accepted images. Â I am interested in what seems to be missing from these iconic images: the awkwardness, the anxiety, the embarrassment of being human. Â I have included two of these newer works in the 12×12. One is Mother and Child #1, where the baby is not in a peaceful state; rather, it is exhibiting signs of anxiety at an early age.
What is the significance of creating images from your own memories, and how does this translate to creating images from collective memory (historical, etc)?
I think that images often serve as anchors for our experiences.  It is really interesting to think about whether we or not we value the experience more or less if there is some visual document to serve as evidence.  I want to facilitate a  conversation with this project. As for the way it has moved from individual to more collective experiences, I think that historical events  and collective memories can be just as subjective as our own personal memories.  For me, this project questions the objectivity of the "original" image, and the authors and artists who made them.  I also like to find room for my own spiritual curiosity inside the religious iconography.  I am making these images work for me.
How did the transition in your work from creating images from personal narratives to historical, literary and biblical narratives happen?
I put the word out that I was looking for participants for the personal narratives, and I ran into several groups of people who were well-schooled in different religious histories.  It was a very natural transition in which I learned a lot from the participants. I specifically enjoyed working with  a group of students from Wheaton, Illinois who were extremely open to be a part of whatever strange idea I had.
Do you look at your work as documentation of performances or events, or more
as constructed portraits?
Both. Â I started out with very constructed portraits of the participants and moved into a looser, more documentary approach. Â Now I think of the performance as the most interesting aspect – the photograph as a document of the reenactment or the reinterpretation.
How has collaborating changed your work?
I enjoy meeting new people and learning about their interests and life experiences, so collaboration is very rewarding. Â I still make all of the photographs myself, but I have considered different approaches to this as well. Â Generally speaking, I can't imagine making images based only on my own experiences and interpretations; I am not that interesting! Â I think the most amazing part of the collaboration is the learning aspect.
What do you see as the failures and successes of photographic representation?
Well, I believe failure and success is relative to our expectations of the medium.  The photographic image is the form of visual representation that most closely mimics the human experience, and it is through existing images that we gain an understanding of what may be worthy of representation.  If there are pivotal moments in a person's life that go undocumented, are documented inaccurately, or events of historic  consequence that are not photographed – it could be perceived as a failure.
Photography succeeds at specificity:  things that our eyes are incapable of processing, a camera can render in permanent painstaking detail.  I think this is a question of subjectivity- one person's idea of a successful photograph may not speak to another person's idea of that same moment in time.  These conversations  about the medium make you consider the larger questions surrounding the production of images.
Jill's work will be up as part of the UBS 12×12 New Artists/New Work program until the end of August.
This Saturday August 22nd is the last chance to see a two-person show at Spoke that uses multiple perspectives and narrative strategies to explore everyday life in the occupied territories. Tirtza Even and Toby Millman's exhibition addresses "the characteristics and consequences of the ongoing Israeli occupation on life in Palestine," according to the press release. I haven't seen the show yet–it's only open on Saturdays, and the last few weekends have been kicking my ass, childcare-wise– but I'm planning to this weekend.  Luckily, Even and Millman both have well fleshed-out websites that enable me to preview their work here in order to entice you to visit, too–unless, of course, you're not a weekend slacker like I am and have seen it already.
Video and documentary artist Tirtza Even is on the Art & Design faculty at the University of Michigan. Her work focuses on "the less overt manifestations of complex and sometimes extreme social/political dynamics in specific locations such as Palestine, Turkey, Spain, the U.S., and Germany," as she puts it on her website. At Spoke, she's showing a 3-D animation that draws together multiple narratives of life in occupied territory. A recent video work, Once a Wall, or a Ripple Remains (2008) is part of what Even describes as an ongoing media project that examines "the shifting history" of this contested political and psychic terrain via a moving image pastiche of documentary footage, audio voiceovers, and various skewed perspectives. You can see excerpts from this and other related videos on Even's website.
Toby Millman's Stories from Palestine is a series of ink and cut-paper drawings captioned by narrative vignettes culled from his 2006 visit to Palestine. Many of the drawings were traced from photographs and maps produced by the United Nations Office for the Coordination of Humanitarian Affairs for the Occupied Palestinian Territories (maps that are always under revision, as they are updated every few months to reflect current situations in Jerusalem, the West Bank and Gaza).  Snippets from Millman's encounters with various Palestinians are interwoven, their elliptical relationship to the cut-out imagery complicating any straightforward "read" on life in occupied Palestine. The subject of Occupation is a complicated one, to say the least, making the need for a nuanced and multifaceted understanding of it all the more vital. This show looks quite promising in that regard, and I'm looking forward to seeing it.
Spoke is at 119 N. Peoria #3D, Chicago, IL 60607. Hours are Saturdays from 11a.m.-5p.m.

Ready, set, go:
*The Victorian Poetic Home.
*The story behind Klan-themed Quilts.
*How to practice green visual criticism (via The Groundswell Blog).
*Most major art museums are still dramatically lacking diversity.
*Love, love love this: Little People: a Tiny Street Art Project; see above image for an example.
*Art21 has a really interesting article on the issues that arise when installing and conserving Jenny Holzer's works.
*White House Canvas: Rachel Somerstein analyzes an overlooked aspect of the White House's much-buzzed about new art picks: their unusual (for the White House, anyway) emphasis on Abstraction. (Via Hrag Vartanian).
*Eight cities whose future is in serious doubt.
*I'm a Photographer, not a Terrorist! (Via Boing Boing).
*In Malibu, California, someone actually busts out the phrase "go back to the Valley!" in all stupid seriousness. You go, L.A. Urban Rangers!
First LACMA's film program, now UCLA's arts library. Although the former is more high-profile, the latter is an equally precious cultural resource that's now at risk of closure.  Over the weekend, the Los Angeles Times reported that UCLA is considering shutting down its arts library and merging its collection with "an existing facility at another library" as part of a cross-departmental effort to make up for what's estimated to be a $131 million budget shortfall.
The university confirmed to the L.A. Times that it is considering eliminating the library, which contains over a quarter of a million volumes in the areas of art, architecture, design, film, television, theater and more.  An excerpt from the Times story:
"This doesn't mean we would stop serving the arts community," said Gary Strong, the university's head librarian. "We would do this from a different location. The fact is that we cannot support all of the separate libraries that we currently have."

Strong added that UCLA's chemistry library is also under consideration for elimination. No layoffs from the library staff are currently planned, he said, declining to elaborate on any other plans. "I don't know what's next in terms of the budget."

The UCLA library system supports 12 facilities on an annual operating budget of about $40 million, according to the university. A spokeswoman at UCLA said study teams are being organized to examine the operational effect of closing the arts and chemistry branches. "What will not change, however, is the Library's steadfast focus on offering collections and services," she said in a statement.
But many of UCLA's faculty strongly disagree with their spokeswoman's assessment. In a follow-up story today on the L.A. Times' blog Culture Monster, David Ng reports that two professors in the University's art history department, Steven Nelson and George Baker, have launched a campaign that includes a Facebook page and an online petition to garner support for keeping the library's collection right where it is. In a letter written to University library Gary Strong and signed by over 69 fellow faculty members, Nelson and Baker say that
"It is unconscionable that this library, one that services the myriad needs of hundreds of faculty and thousands of students in some of our nation's best departments in the arts and humanities could even be considered for closure."
Nelson told the Times that because the UCLA library system is operating near capacity, "There is nowhere to put the books and what will happen is that they will become inaccessible."
What Nelson probably means by the word "inaccessible" here is that the books won't be shelved in stacks but will instead be housed in an off-campus facility, available only by specific request. Anybody who's used a University library before knows what a huge pain in the ass that is, and what's more–if you've spent any amount of time researching you know how important is can be to flip through books in person or browse entire categories straight off the stacks. And of course, what's also being eliminated is study space, and a designated area that is named, labeled, and devoted exclusively to the arts on a campus where so much critical research and activity in these areas goes on.
This story is particularly shocking because UCLA's art, architecture and art history programs are so internationally prestigious. But then again — so was LACMA's film program, and that didn't seem to matter much.
Kathryn Born who is building a little corner of Art talk and opinion under the roof of the Chicago Tribune asks a lot of conversation starting questions every now and then to get the mind racing but most recently the Tribune home page front page story "Obama as The Joker: another image co-opted by conservatives because they don't have art of their own" has her taking the political zeitgeist by the horns and goring herself.
The question is do Republicans make decent let alone good artists and why are they incapable of making political artwork of merit. Mix that with a bit of background history on the Obama Joker image that came out over 2 weeks ago. It has been discovered that the image was first created by a Chicago History Student at U of I by the name of Firas Alkhateeb who made a faux Time Magazine cover with a photo of Obama photoshoped to look like the Joker. That image was put on his flickr account and then appropriated by a currently unknown person on the west coast and the Time reference was removed and the Tagline "Socialist" was put in it's place.
The question it seems is what is the role of Art in Politics, does political art have legs to have lasting impact as art or is it limited to only high water marks in history? Then finally what is the problem with Republicans and their inability to make quality political art? Are they too busy drawing paychecks to draw altogether? From one agitator to another, I salute Ms. Born and suggest a 2004 Siduri Sonoma County Pinot Noir which goes well with shoe leather as I well know from experience.