We don't normally cover Chicago architecture and landscape issues in any depth on this blog, given that a) we're nowhere near experts on the subject and b) the city has several stellar architecture journalists reporting on the scene and blogging daily about it. But when I saw the pictures below, my eyes literally hurt. My soul did too.
These are before and after pictures of the Michael Reese Hospital campus in the Bronzeville area of South Chicago, much of whose landscaping was clear cut this month, ostensibly to make way for a possible future Olympic Village site (and, after the Olympics are over, some form of mixed income housing). Of course, we haven't even secured the 2016 games yet, and there's no guarantee that we will — but the City has moved forward anyway. The result? A park that was once lush, green and peaceful has been literally scraped off the face of the earth.
The images posted above are taken from the Gropius in Chicago Coalition website, which issued a statement yesterday on the park's destruction. An excerpt:
In an act of cultural and environmental violence that has shocked the South Side, the City of Chicago and the Chicago 2016 Bid Committee have destroyed the beloved central parklands at Michael Reese Hospital. Sparing only a few trees, the community parks have been "clear cut." Hundreds of trees have been killed, and all shrubbery, flowers, and ground cover has been scraped from the site. The new scorched earth setting, carefully masked from the surefire embarrassment of public scrutiny behind a thin veil of preserved vegetation and construction fencing, is a shock to all who have known and loved the campus in its original state. The landscapes at Michael Reese were designed by Hideo Sasaki (of Sasaki + Novak, later Sasaki Walker), and Lester Collins, two of America's premiere landscape architects. The landscape designers both worked closely with Walter Gropius and his associates at The Architects Collaborative to develop the landscapes in keeping with Gropius's architecture and site planning theories. Prominent Art and architecture Critic Lynn Becker has called these settings "some of the most beautiful landscapes in the city." (Read the full statement by clicking here).
What's worse, the destruction won't necessarily end with the flattening of the campus' landscape. The Hospital buildings, which were co-designed by famed Bauhaus architect Walter Gropius, may also be demolished.
Tomorrow, August 6th, the Commission on Chicago Landmarks will meet to consider "whether to recommend to the Illinois Historic Advisory Council whether the campus should be nominated to the National Register of Historic Places," Blair Kamin reported yesterday in his Cityscapes blog for the Tribune. "If the campus were given National Register status," Kamin notes, "it would mean that state historic preservation officials would be called in before federal funds could be used for demolition" of the buildings.

The Gropius Coalition has also put out an urgent call for Chicagoans who are invested in this issue to attend a critical community meeting next Tuesday August 11th. The meeting will cover the 2016 Olympic plans for the 3rd, 4th, and 20th wards (which contain Michael Reese Hospital) and will take place at the Chicago Urban League, 4510 S. Michigan Avenue at 6:00 pm.  The Coalition organizers note that

Alderman Preckwinkle specifically stated in an earlier meeting that the August 11 meeting is the preferred forum for Chicago residents to voice their concerns about Michael Reese Hospital. A large turn out is essential, so please encourage your friends and family to participate! This may be one of our best chances to make an impact to the 2016 Olympic Committee. Remember that demolition is proceeding and without our support, the campus may not survive even until the IOC vote in October.
If you're not already up to speed on the issue, here are a few more links to get you going, starting with Ben Joravsky's article in the Chicago Reader illuminating the political angle of this debacle. The article's headline suggests that the fate of Michael Reese Hospital "is just a taste of how the Olympics will drive public policy if Chicago wins the games." Read Joravsky's reportage and analysis for the Chicago Reader here: Michael Reese Hospital: The First Sacrificial Lamb; it's critical to understanding the full ramifications of this issue.
Chicago architecture bloggers Lynn Becker and Edward Lifson have also been following the story; two links follow below:
Tonight: Mayor Richard M. Daley's Scorched Earth Obsession About to Obliterate Michael Reese?
Going, Going, Gone? Will Chicago Tear Down Buildings by Mies van der Rohe and Walter Gropius?
Plastic Bouquets-Man on the Moon from Richard Metzger on Vimeo.
Today on Boing Boing Xeni Jardin posted long lost footage of the Andy Warhol produced musical Plastic Bouquets- Man on the Moon. "The play was conceived by John Phillips of the Mamas and the Papas and his third wife, South African actress, Genevieve Waite, as a potential film or stage production originally entitled 'Space."
For more on the video footage and on the musical check out boing boing's post.
I should say chimpsh*t, technically. We all know better than to mix our monkeys, chimps and bonobos, right? Artist Alison Ruttan has a longstanding interest in primate social interactions, and in her work she has often looked at chimp and bonobo behavior alongside that of their human counterparts.

In series such as Bred in the Bone, Ruttan (who was interviewed on Episode 28 of the podcast) looks at a range of chimpanzee and bonobo behaviors–from the aggressive to the intimate to the routine–in order to ask what, if anything, really separates human beings from our primate ancestors.  Ruttan describes the project thusly:
It is possible to speculate that our shared social responses go all the way back to a common ancestor that humans, bonobos and chimpanzees all evolved from. We are all relatively newer species that evolved from this common ancestor somewhat close in time to each other, perhaps some 3-6 million years ago. Frans de Waal states in his book Tree of Origin that Not only are chimpanzees and bonobos our closest relatives, the reverse is also true; that is chimpanzees and bonobos are closer to us than to, say gorillas. Does that mean our behavior is biological in origin or that we have passed on these similar responses through culture memory? I have found that in actively comparing the nuances of our shared behavior it is hard not to see these comparisons everywhere you look. It has changed the way I see our own actions, sometimes it seems that we assume we are reacting to situations in a rational manner, we seem unaware at times of the way biology guides our actions and surprised when we don't like the results.
Last weekend I was able to get a firsthand glimpse of Ruttan at work on the latest iteration of this project, a storyboard narrative recreating some of primatologist Jane Goodall's photographs of wild chimpanzee families. Ruttan asked a group of friends and neighbors to re-stage some of these scenes in a heavily wooded (and mosquito-ed, natch) area on the Desplaines riverbed in River Forest, Illinois.
People of all ages showed up to gamely pose according to Ruttan's instructions. No one was asked to behave in an overtly chimplike manner–indeed, part of what Ruttan's work gets at is that there's precious little that actually separates us from our chimp forbears.  Instead, Ruttan sought to recreate key moments where primate and human behaviors cross-reference one another. So some of us groomed each other, or our children. The older kids triumphantly wielded big sticks and fallen tree branches while the younger ones enviously chased after them. Children gleefully took part in a project that allowed them to leap onto the backs of adults or chew bananas with their mouths open, to get muddy and scratch themselves in rude places and, best of all, to receive an inordinate amount of positive attention for doing so.
What fascinated me about the shoot itself was how familial it all felt, so much so that it was hard to tell who belonged with who in the group–who were the parents, who were the grandparents, who had kids, who didn't. Despite the inherent diversity in the group there was an almost intimate, family-picnic feel to the endeavor that was surprising, given that most of us had never met before.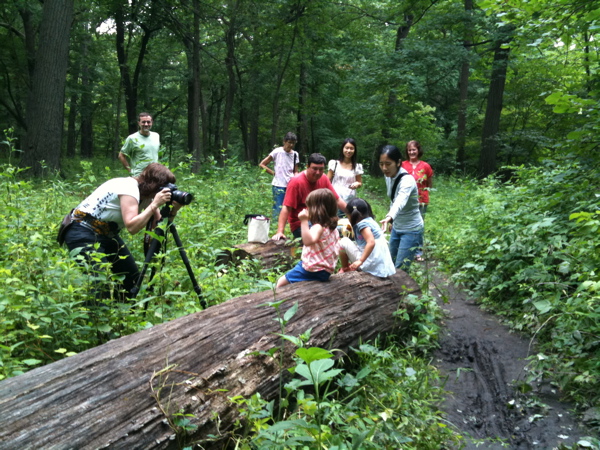 As one might expect, the kids seemed to have the best time of everyone, although when it was over one tiny miscreant could be heard bitching about the fact that she had not been allowed to fling excrement at people "the way real monkeys do."
You can find more information about Ruttan's work along with video clips from her Bred in the Bone project here, and additional images and information about the artist on the Monique Meloche Gallery website.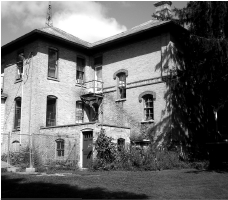 In 1999 artists Michelle Grabner and Brad Killam co-founded The Suburban, a domestic art space in Oak Park, Illinois that in its decade of existence has become one of the Chicago area's most highly regarded alternative galleries.  This coming weekend will mark a new chapter in The Suburban's history with Grabner and Killam's launch of The Poor Farm and Poor Farm Press.
Located in Waupaca County in central Wisconsin, The Poor Farm (aka the Waupaca County Home) was built in 1876 as part of the American Poor Farm system. Now, this 2.7 acre compound will function as a larger offshoot of The Suburban, its "rural cousin," as Grabner and Killam put it. They'll be mounting yearlong exhibitions in the Farm's over 8,000 square feet, which includes 2500 square feet of dormitory space for artists and writers to live at the Farm for extended residencies. Poor Farm Press will produce catalogues and other printed matter that normally fall outside the purview of larger publishing houses. In short, a place that once represented the end of the line for the region's poor–an institutional space of despair, destitution and servitude–will now be an open-ended space of transformative possibility and creative intervention.
Although the Poor Farm itself is still under renovation, Grabner and Killam are ready to kick off their newest venture by welcoming everyone who wants to join them for a weekend-long camp-out/inaugural exhibition opening this weekend, August 7, 8 and 9. On view will be numerous works of performance, painting, sculpture, and installation by artists such as Lesley Vance, David Robbins, Shane Aslan Selzer, Olivier Mosset, Philip Vanderhyden, Brad Kahlhamer, Shane Huffman, Sabina Ott, Pedro Velez, Guillaume Lebion, Nicholas Frank,  Joe Pflieger and many others that engage the The Poor Farm's history as well as its many idiosyncratic spaces, which include a jail in the basement and a cemetery in the back cornfield. If you go, you can camp out on the grounds or stay at a nearby hotel, if camping's not your thing, and dive into a range of super family-friendly activities like river tube floating, kayaking, canoeing, and fishing. And, of course, there'll be cookouts galore.
About the upcoming Poor Farm ventures, Grabner and Killam note,
Like the Suburban, The Poor Farm will be dedicated to artists. In a recent interview we stated that "we believe in artists and we believe in the imagination." We also happen to delight in and value our mid western, middle class, middle-age life with a mortgage and three kids. Voila: The Suburban, The Poor Farm and Poor Farm Press. Now, we can further negotiate our beliefs, share resources, and widen a space for artists and other curious minds.
What a beautiful way to spend a weekend. If you're interested, you can download more information on The Poor Farm/Poor Farm Press and the opening weekend "jamboree" by clicking below.
Info on the Suburban and The Poor Farm Fact Sheet.
Grabner and Killam are already well known to this blog's local readers, but if you're from outside of Chicago and want to learn more about the incredible history of artists' projects that The Suburban has presented over the past decade you can start by visiting The Suburban's website. Then, listen to Grabner discuss how she and her family blend art and everyday life on episodes 12 and 19 of Bad at Sports' Podcast (Grabner also interviewed artist Gaylen Gerber for Episode 93). And finally, the Highlights conducted a terrific interview with Grabner just last June; you can read it here.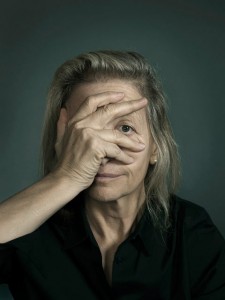 I wish Annie Leibovitz well and hope she gets her financial situation back on track and doesn't suffer the pain shared by The Beatles and Stones which is the never ending chase to put the genie (rights to your own work) back in the bottle once you have sold it. Aside from that I can't bring myself to shed a tear or show any shock over her situation.
If you haven't had a chance to read up on this, on July 29th Ms. Leibovitz was sued by Art Capital Group in the NY State Supreme Court for failure to pay towards a loan of $24 million that she took. The collateral for this was properties in Greenwich Village and in Rhinebeck, N.Y., her negatives and the rights to her photographs.
Essentially the bulk of her assets.
Now after failure to make the basic payments Art Capital Group has successfully pursued payment in the courts and is gaining access to the collateral with the goal of liquefying the assets to regain the funds. Ms. Leibovitz has not commented on the actions and I don't see any advantage to commenting but sadly it is reported that this is not the first time she has had problems making proper financial payments to clients or the state for taxes.
The point is this is not a rare case in the Art world, many many artists and creative professionals regularly take upon themselves financial responsibilities that they are ill prepared to handle or worse ignore all together. Only to learn that ignorance isn't a defense in the court and a lifetimes worth of work and struggle can be lost in the balance of a few or single bad financial decisions.
I know it feels like it is hard to find people to trust, or you don't want to have some "parental" figure limiting your decisions or options but the business side of art is as important in the long term if not in many ways more important in enabling great work to be produced and shared with the world.
Please take this opportunity to take a good hard look at your current situation if this current economy hasn't made you already and ask yourself are you properly taking care of your long term finances and are adequately planing for trouble and can personally handle that responsibility yourself. If the answer is no, find someone skilled who you can partner with to make sure you don't sign contracts or do expenditures you will live the rest of your life regretting.
Life in Art is hard enough, don't be your own worst enemy.