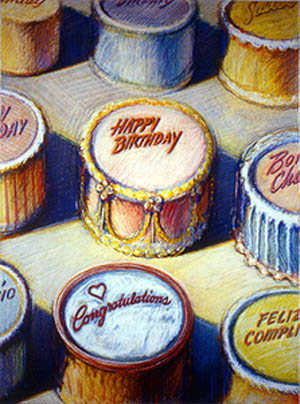 Tap tap tap.
Is this blog thing working again??
This week's podcast marks Bad at Sports' four year anniversary. Four years of weekly podcasts, people — not one missed show in 208 episodes. So incredible. On a personal note I want to say thank you to Duncan, Richard, Amanda, Tom, Patricia, Brian, Mike, Mark, Kathryn and everyone in front of the mike and behind the scenes who puts these shows together each week. I've only met a handful of you in person, but you've all kept me company, made me laugh out loud, nod my head in agreement, and make strange faces on public transit at one time or another. I've even had some heated arguments with a few of you–all in my head, of course. Point is, each week's episode never fails to keep me fully engaged, and that's been especially important for me as a Chicago-area newbie. Through their weekly podcast, the BaS crew provides a friendly entree into Chicago's art scene, which is notoriously difficult to map. Their weekly chatfests highlight the most interesting artists, curators, critics, and cultural practitioners in Chicago and around the country (and, thanks to Mark, in Europe as well) . What's so great about this particular podcast is that it makes you feel like you're part of the conversation just by listening.  Bad at Sports represents everything that's unique and truly great about Chicago — they're a super-smart, unpretentious, no bullshit kinda crew. So if you read the blog but haven't listened to many of the podcasts–try it, you are guaranteed a good time.  And if you happen to be new to Chicago, I want to especially encourage you to listen each week, and delve through their 208 episode archive. Start with those episodes that tap into your own particular interests (I guarantee that you will find more than one) and go from there. And don't forget — this art historical audio treasure-trove is absolutely free to access–though no one will mind if you're moved to donate every now and then.
Please check out this week's episode on The Stockyard Institute. Then, go explore a little! Below are just a few of my favorite shows from the archives (which I'm still working my way through) — please share yours in the comments!
Michelle Grabner, Part 1; Part 2
Miles Fisher is an actor that has had many roles over the last few years first in God's & Generals and most notably the parody he did on Tom Cruise a few months back. He also is a musician and the video he did for his latest song, a cover of the Talking heads "This Must Be The Place" is both a great remix and a killer video homage/parody of American Psycho. Needless to say if you have seen the film this is a video that is not safe for work environments but take a look.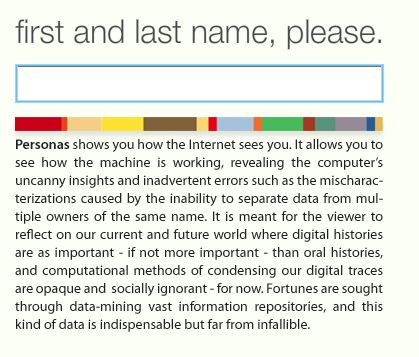 Over the years many people have created data scrapers to collect and display in an interesting way the data that matches your name or search terms on the net. Year after year they get more cleaver and better. The latest of which and 2nd that I know of to come from M.I.T is Personas. Personas takes the data that it collects about you and parses and categorizes the data it finds to create a kind of Karyotype Taxonomy (somewhere in the world Duncan's ears are burning) of where your influence or activities lie.
So have fun check it out and share your results.
The Chicago Tribune's Sunday edition includes a lengthy article by Mark Caro and Lauren Viera on on how Chicago's art galleries are weathering the recession.  According to the Trib, many gallery owners in the River North area are reporting that business took a downturn last summer and has stayed that way so far. Yet a number have also seen enough positive economic activity of late to feel glimmers of hope about the future.
"Compared with New York, where The New York Times reported in June that more than 20 galleries had closed, Chicago's leading art districts have remained relatively stable. River North, the most established gallery area, has seen some businesses move or otherwise constrict their operations, but the bulk are still standing. The West Loop has suffered a few closings, while empty storefronts dot Pilsen's developer-designed art district."
The article notes that Chicago galleries are using various recessionary strategies to stay in business. David Leonardis offered a buy-one-get-one-free sale earlier this summer, while other galleries have also offered special discounts. Still others, like Zolla/Lieberman, are highlighting more modestly-priced works for collectors feeling gun-shy about spending a lot of money during financially anxious times. And in line with what's happening nationally, dealers who specialize in high-end artists, like Richard Gray, have found the market to be as strong as its ever been for "really rare, really fine, highly exceptional works of art."
The arts district in Pilsen has not fared nearly so well, with numerous 'For Rent' signs on storefronts. Also highly worrisome news: UIC's non profit I space Gallery may be in trouble. Its private foundation support "dried up," and director Mary Antonakos is quoted as saying she's worried the space will close.
It should be noted that although the Trib's article includes numerous interviews with Chicago dealers in various media and price-points, it's noticeably thin on accounts from dealers outside the River North area (the piece does include a quote from Carrie Secrist, whose gallery is located in the West Loop, but none from her neighbors Tony Wight, Kavi Gupta, Monique Meloche or Rhona Hoffman–prominent Chicago dealers all).
In the end, however, a gallerist's actions probably speak louder than his or her words. The fact that all of the above-mentioned dealers are planning strong new shows to inaugurate the new fall season suggests that everything remains on track, for now anyway. Chicago art dealers appear to be hanging in there–holding their breath, to be sure, but hanging in there. Read the Tribune's full story here.
Three Frames condenses feature length films into what is essentially a three-frame money shot (I'm using the polite term here)–animated .gifs consisting of only three film frames. There's something about the twitchy, jerkily repetitive results that's fittingly pornographic–each of these ultra compact micro-films instantaneously delivers what you came for. Although there's a bit too much emphasis on horror flicks (too obvious, imho), I find a number of these to be surprisingly compelling. Not to get too overly analytical of what's essentially a novelty web site, but some of these animations remind me of Paul Pfeiffer's early video works.
Three Frame's movie treatments actually work best when viewed in isolation from one another. You can also better judge which animations work best on the meta level of representing the spirit of an entire film in just the three frames.
They've even given the Three Frames treatment to The Fabulous Stains!!! Anyone remember that one? Anyone??
*Apologies, but I cannot remember where I learned about Three Frames. There should be a via credit here, and I've been searching through my .rss feed for the past hour trying to find the goddamn original link, and I've got to get on with my evening. Again, all apologies, I usually try to be careful about this.