Our midweek roundup of clips from the art and culture blogosphere, in descending order of respectability:
*The Art Newspaper interviews Luc Tuymans, whose nationally touring retrospective exhibition is co-organized by MCA Chicago Director Madeleine Grynsztejn.
*Eric William Carroll's Google Map remake of Ed Ruscha's 34parking lots (via things magazine).
*Hrag Vartanian visits America's oldest continuous art colony.
*The Met's "workshop Velazquez" turns out to be the real thing.
*A new chance to see what Jasper Johns called "the strangest work of art any museum ever had": Duchamp's Etant Donnes at Philadelphia Museum of Art.
*Rhizome interviews the curator of a So-Cal exhibition on World of Warcraft and its impact on media culture. Related: the real-world benefits of video games.
*Even no news makes news on the Annie Liebovitz financial front. Leibovitz is also being sued for unauthorized use of another photographer's images.
*What?? Bjork and Matthew Barney split? Over Elizabeth Peyton? Gawker asks its readers if there's any truth to the gossip, and is met with a resounding 'who the fuck cares.'
*And finally, (this one's for you Christopher): actor/starchitect-fucker Brad Pitt is rumored to have spent 50,000 pounds designing and building the perfect Gerbil domicile for his childrens' pet rodents (via Unbeige).
Since 2005, AREA Chicago has been involved in researching and mapping Chicago's alternative cultural landscape with a focus on grassroots activism and collective practices. Started by Daniel Tucker and comprising an ever-shifting body of people devoted to putting out a bi-annual magazine and an ongoing series of lectures, discussions, educational and activist events, AREA is a publication, a networking resource, a culture hub and a rhizomatic and centerless "community center" all rolled into one. AREA, whose latest issue deals with money and its affects on our work and lives, is having some money issues of its own. A few days ago they sent this message to members of their Facebook Group asking for small donations to help publish their Fall issue:
AREA needs YOUR help

On Labor Day 2005, AREA released our 1st issue. Since that time we've published 8 amazing issues of AREA and organized dozens of events and exhibitions throughout the city. No doubt if you are getting this note you've picked up an issue of AREA, written an article, or been to an event, so you know that we are highlighting voices and exploring issues that don't normally get a lot of coverage in Chicago.

We are working hard to release our 9th issue this fall and need a push from our community. Each issue of AREA costs at least $5,000 to edit, design, and print. In addition to that, we raise money to pay rent on our office, and to organize public events and programs, mostly from small, grassroots donors like you!

If everyone who has written an article for AREA over the years kicked in just $20, we could pay for the whole issue! How much is a thoughtful, in depth, and original investigation of the arts, history, and politics of your city worth to you?

Donate to AREA by clicking here.
If you're not already familiar with the work that AREA is involved in, spend some time clicking around their website — there's quite a lot of archival and other material available to readers online. One of AREA's most popular and well-known projects has been the People's Atlas of Chicago, a collective exercise in subjective cartography; also check out 5 Questions about Art, in which Chicago-area artists are queried on the relationship between their art and social practice. Previous issues of AREA magazine are available in full on the website archives; issues are organized around themes and have included topics devoted to Justice; How We Learn, Privatization and Local Food Systems, among others.
If you like what you see, consider kicking in a few bucks to help these good guys keep on keeping on. You can donate to AREA here.
For this week's video pick I am sidestepping the usual videos I post for two short documentaries. The first is Sean Dunne's highly acclaimed short The Archive. This beautifully shot film checks out the overwhelming record collection of Paul Mawhinney as he prepares to potentially sell his collection due to financial issues. The shear volume of the archive is unbelievable but hearing Paul speak about his love for vinyl and his lifelong devotion to amassing the collection makes the film worth watching.
The Archive from Sean Dunne on Vimeo.
The second film is a bit longer and is definitely weirder. In Opal For Mayor we follow Opal Covey as she runs for Mayor of Toledo. The website, although it does not have much for the director, has a bit more info on the eccentric candidate.
"At the age of 13, Opal Covey first heard the voice of God. Her unconditional faith led her down a path of prophetic ministry, a path that brought her to Toledo, Ohio. After having her businesses destroyed and being thrown out on the street, Opal heard the voice of God again – "You're going to be Mayor". This short documentary takes a sincere look at a woman on a mission from God, persecuted and forsaken, yet unfettered as she makes her third bid for the mayoral seat."
Opal For Mayor from sasgkng on Vimeo.
No posts today as we're off for Labor Day…have a happy one! Check back tomorrow for Meg's weekly video pick!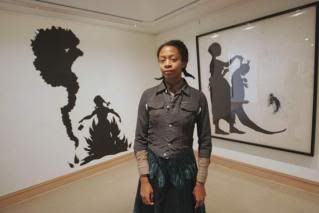 In this week's roundup Jerry Saltz threw down with Glenn Beck, Ikea changed their font, and a show flake out from Kara Walker turns into a (revenge) piece. Have a good weekend.
Jerry Saltz challenges Glenn Beck to a curatorial challenge.
Ikea switching over to Verdana.
"Who Wants to Be the Future of Arts Journalism?" Uhh, we do!
RT artnetdotcom A flake-out by Kara Walker becomes an example of email-correspondence-as-art
This slide is just so wrong. via @boingboing
Boot Print Volume 3 Issue 1 is now available online. http://www.bootsart.com/htm…
Columbia (A Journal for Literature and Art) has a call out to design a sign to inform people of nuclear dumps. @pruned
Ed Ruscha is a recipient of a 2009 National Arts Award.
Plural Blog has a teaser for the 16th Annual Chicago Underground Film Festival at the Gene Siskel Film Center.
RT @ThirdCoastFest Save the Date! 2009 TC Awards Ceremony coming up October 23. Radio gets glamorous…
Betsy Sussler has an interview with Cindy Sherman on @art21.