Looks pretty intense. The film looks at the 1954 CIA coup in Iran from the perspective of two different women. It won Neshat the best director award at the Venice Film Festival, but apparently some of the initial newspaper reviews are coming in mixed. (Via L.A. Times).
Remember the "North Carolina Sewer Monster" from last Spring (which turned out to be not a monster exactly but a roiling pile of worms)? Yes, I know you tried really hard to burn the image of that creature out of your memory through heavy drinking and a little steel wool applied to the eyeballs, but I'm here to bring it all back to you. What's grosser–the real thing, or Paul Nudd's ongoing series of pus/slug/slime/vomit/ooze videos? I say the Sewer Monster wins hands-down.
Click directly on the stills below to see a brief video clip: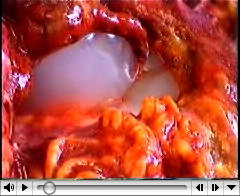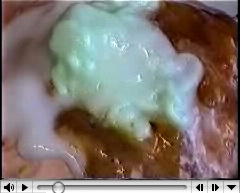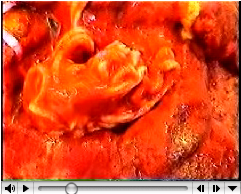 Here's our midweek summary of this n' that and other chit-chat happening in the world of art and beyond.
*Keith Olbermann gives Christopher Knight "Best Person in the World" status for pointing out potentially communist imagery in right-wing Tea Party poster art.
*Was overzealous corporate art collecting partly to blame for Lehmann Bros. fall? Former Lehman trader Lawrence McDonald speculates that indeed, it was, in his new book about the investment behemoth. Artnet fleshes out the issue in its latest report.
*Bill Viola rejects Vatican's invitation to a summit "aimed at bridging the gap that has developed between spirituality and artistic expression over the last century or so," reportedly because Viola disagrees with many of the Catholic Church's policies. No word yet on whether artist Robert Gober was invited, and if so, whether or not he'll attend.
*If you haven't already been following this issue, this L.A. Times article provides an excellent one-stop summary of the current controversy arising from the Obama administration's alleged attempts to "politically manipulate" the NEA and, by extension, the arts communities it serves.
*Tyler Green writes in defense of blockbusters, following Holland Cotter's article in last weekend's NYT calling on museums to "rethink the blockbuster phenomena."
*Wanna know what the Art Institute is deaccessioning this Fall? Read Green's roundup of what they're hoping to sell, here.
*Four Andy Warhol prints of famous sports stars stolen from Richard Weisman's L.A. Collection.
*Annie Leibovitz finally reaches an agreement with her creditors.
*C-Monster elegantly takes the piss out of Bruce Nauman's "LEAVE THE LAND ALONE" skywriting installation.
*Bob Dylan to exhibit nearly 100 of his paintings in a 2010 solo exhibition at the National Gallery of Denmark in Copenhagen. An example of Dylan's work heads this post. How will they stack up to Joni's, I wonder?
*Chicago artist and BaS fave Deb Sokolow interviewed in Beautiful/Decay magazine.
Let me preface this by saying that I am not stoned. But, I seriously wished I was when I watched this week's pick. Be prepared to be entranced by the skills of Michael Moschen, a fit man with some serious juggling skills. Who knew there was such a thing as conceptual contact juggling?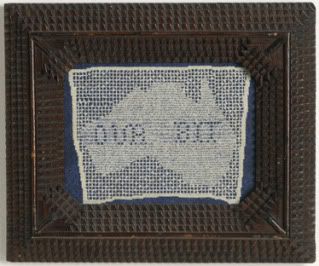 This season's theme for SAIC's Visiting Artist Program is Living Modern. The program will be linked with the exhibition of the same title at SAIC's Sullivan Galleries. "Bridging the historic roots of American modernism with the critical practices of contemporary artists and architects, the Learning Modern lecture series focuses on the presence of the Modern today and its vital role in education in the mid-20th century."
The first artist in this series is Narelle Jubelin. Other artists to follow for this program are Kathleen James-Chakraborty, Andrea Deplazes, Jun Nguyen Hatsushiba, Christian Veddeler, Liisa Roberts, and Jorge Pardo.
Via VAP
– Jorge Pardo – Tuesday, November 10, 6pm
"Narelle Jubelin, an Australian artist based in Madrid, revisits aspects of modernist perception for the twenty-first century. Known for works that weave through legacies of education, art, architecture, memory, and cultural heritage, Jubelin will reflect on her latest project,
Key Notes
, on view in the
Learning Modern
exhibition. In this work, transcriptions of critical modernist texts are embedded into sumptuously colored fabrics, creating a site-specific environment of narrative, geometric planes in homage to Mies van der Rohe and his collaborator Lilly Reich."
Wednesday, September 16, 6:00pm
SAIC Columbus Auditorium, 280 S. Columbus Drive
For more information on this event and other lectures from the VAP please check out their website