Our friends at the PMI want you all to do this by March 1st… BECAUSE IT WILL CHANGE ALL OF OUR LIVES. Also we are super excited about this.
VERSION FESTIVAL 15: 100 Watts
Festival is: April 23-May 3, 2015
Submissions are due: March 1, 2015

For the past 14 years Version Festival has introduced innovative projects that tackle local social and urban issues. The festival highlights projects and people that engage public interest and promote the cultural use of public space.
Attention radio producers, audio alchemists, activists, DJs, podcasters, record labels, ham operators, bands, storytellers, spoken word artists, time travelers, poets, librarians, art critics, educators, performance artists, and sound editors! Imagine you have a radio station. What will you do with it?
Think about it! Because just recently the FCC granted the Public Media Institute, our nonprofit corporation, a license to build a low-power FM station to serve our community and up to 2.3 million Chicago listeners. We are in the process of raising funds to build the station – it's our most ambitious media project to date.
So, this year VERSION is an on-air laboratory and campaign to create the kind of radio station we believe our city needs. Our station will be a conduit for musicians, artists, thinkers, critics, activists, and instigators from Chicago and around the world, and so our festival will serve as a beta test for producing and experiencing these essential sounds, ideas, and programs. We need your help to decide what these are. This CALL FOR SOUNDS!!! is an invitation for YOU to create a show, a sound, or an experience, for live broadcast on the airwaves and the internet.
In addition we will transform our gallery, the Co-Prosperity Sphere, into a studio for recording and broadcasting live events and programming. We will also record and broadcast live music, performance, and weird shows from clubs and spaces throughout the city. Everything presented at VERSION will be aired online, and then rebroadcast when our station is built and the transmitter and tower are installed.
We seek programs in these categories:
MUSIC: live or prerecorded DJ sets or musical performance, of all kinds
RADIO ART: programs made by musicians, artists, and critics, of all kinds
NEWS AND PUBLIC AFFAIRS: locally-produced news and public affairs programming (including documentaries)
TALK: talks, discussions, or educational broadcasting for special audiences, the general public, or your neighbors
GUIDELINES: If you want to be one of our regular DJs, consider VERSION your audition. We are accepting applications for regular shows on a monthly or weekly basis, short series, or one-offs in 30, 60, or 90-minute increments. (Shorter pieces may also be considered.) If you have a special idea requiring physical space, consider using our gallery or else please indicate the facility, time, and date you desire.
Please include the following in your proposal (incomplete applications will not be considered as earnestly):
Title of your program:
Length of your program:
Your name:
Your email:
Your telephone:
An associated URL:
A link to your program materials (this can be as simple as a Spotify playlist, an iTunes podcast, or an MP3):
A paragraph description of your program (100-250 words, in MSWord):
EMAIL YOUR PROPOSAL TO:
versionfest15@gmail.com
ABOUT VERSION FESTIVAL:
Produced by the Public Media Institute, a non profit 501(c)(3) arts organization, Version is an annual springtime arts festival that brings together hundreds of artists, musicians, and educators from around the world to present some of the most challenging ideas and progressive art initiatives of our day. The festival showcases emerging trends in art, technology and music.
For the past 14 years Version Festival has introduced innovative projects that tackle local social and urban issues. The festival highlights projects and people that engage public interest and promote the cultural use of public space.
versionfest.org
THANK YOU for your time!!
See you at VERSION 2015!
Zona MACO and Material, the fairs that ran more or less concurrently the first week of February here in Mexico City, helped synthesize a number of threads floating around in my mind since arriving here. Those threads: Boris Groys's essay "On Art Activism," published in e-flux shortly before I moved, a talk by Donna Haraway that a friend e-mailed to me, and the thought, in general: why do I give a shit about art? Do I even?
We arrived at Zona MACO an hour before it shut. I was surprised that I was there: a few days earlier, in an impassioned speech to Andrew Choate, I had said something like, you know, this fair is in this posh neighborhood that you have to own a car or a chauffeur or have a chauffeur who's driving your car or whatever to get to, it's only accessible to the very rich, fuck the rich and fuck their art, they can keep it. So anyway, there we were, at MACO, the phenomenal lighting making the average MACO-goer's Lacoste polo shit look gorgeous and my oil-stained clothes look ratty as hell. We moved fast, visiting only galleries where one of us knew somebody. I didn't think about anything or really look at anything: Maurício Ianês at Y Gallery was visually striking but maybe a little hamhanded, but then again given the subject matter maybe it's ok to be hamhanded, maybe nothing else will ever work; Debora Delmar Corp at DUVE Berlin was actually kind of beautiful in person, although I guess I can see why some jackass gave it "worst of MACO," because, I don't know, no marble? no expressionist lines? who cares, I'm sure that guy would prefer a show of staircase pineapples thickly streaked with paint or blood in a really emotional way; at Chert, Petrit Kalilaj was a little scattered, but also maybe hilarious and heartbreaking; I heard a funny story at Gaga and wondered how Labor won the 1800 Tequila prize and what that meant—how it would affect my life. Then we left past an army of art handlers ready to pounce.
A few hours earlier I had been at Material, the satellite fair that first happened last year. I had no thoughts at Material, either, I was too hung over and tired. I didn't have the coffee I needed until after I left. I talked to people, which I usually don't. I talked to Aaron Harbour and Jackie Im and liked how weird and gross but also really appealing Chris Hood's paintings were; I talked to Steve Kado at Kunstverein Toronto and was totally freaked out by how similar his speech pattern is to another Canadian I know; I talked to Travis Fitzgerald and Josh Pavlacky at American Medium, who were extremely congratulatory and very friendly about a performance I had done at Bikini Wax the night before, two stories above a great video by Skip Arnold—not the one below. It was also the only show/booth/experience I spent more than ten minutes in during the entire week. Anyway, I didn't talk to anyone at Queer Thoughts, but I wondered if their desk was intentionally positioned in their booth such that you couldn't really look at David Rappeneau's drawings without putting your ass in someone's face. Everybody I talked to, well not everybody but a sizeable sample, mentioned that both sales and attendance had been slow, and either Travis or Josh said something like, "I don't know why they even call this an art fair, they should call it something else." For this sizeable sample, it seemed like the opportunity and experience to meet other people interested in similar art, to talk and hang out and party or decide not to party, was as or more important than actually selling anything. Then again, everybody needed to sell things.
I guess it's kind of like how it's more fun to have a drink with your friends than go to your mind-numbing day job. Or how it's more fun to have a drink with your friends than stab yourself in the eye. How it's more fun to have a drink with your friends and talk with them like they're people you want to talk to than it is to have a drink with your friends and talk to them like you want them to buy something from you. People who I either knew or had established a friendly-level acquaintanceship with apologized for "giving me the spiel," which I identified with, having worked for a year selling wine, which involves a similar kind of activity.
Wine is vastly more enjoyable, or more able to be enjoyed, if you know what the hell is going on with it: where it came from, what grape(s) it's made out of, what year it's from, what things taste like from that place, from that grape, from that year. It helps also to know how it was made, using what process, where the winemaker used to work. You have to spend time reading, learning, tasting, feeling like an asshole for not knowing, feeling like an asshole for knowing, that kind of thing. It's certainly possible to have a good time with a glass of wine knowing nothing at all, but in order to have a great time, to have an interesting perceptual experience or a moment where you feel like you are suddenly the fucking king of everything, a feeling which wine is uniquely qualified to deliver, you have to know stuff. Sometimes it's also nice to know little narrative bits, too, you know, how these winemakers make a big deal out of paying their grape-pickers fairly, or how this is the only woman wine-maker in her region, so on and so forth, but this sort of narrative is usually reserved for the selling of wine, by winesellers like I used to be, and is usually delivered in the same tone of voice, with the same cadence, as the art spiel.
Which I guess is why I've been wondering: what differentiates a photograph from a bottle of wine? A painting from an antique chair? Why do I think that an artwork is different, exists on a "higher" plane, than a humidor? A year ago, I badmouthed an LA gallerist for having a side business selling antique furniture. I perceived the proximity of the antique furniture practice and the gallery practice as some kind of affront, some kind of insult to art. Like art belongs in a different moral/ethical universe than chairs, or wine, and treating it as if it were the same kind of lifestyle commodity is somehow dirty. Now I'm not so sure. Maybe it's a good dirty.
In "On Art Activism," Boris Groys draws a distinction between the aestheticization art performs versus the aestheticization design performs. For him, design takes the tools—a hammer, a speech, whatever—of the status quo and makes them more attractive, more usable. Now you, too, can get rich making videos on YouTube advertising our products! That kind of thing. Art, on the other hand, takes the status quo and presents it as a relic, as something already dead, useless. For Groys, this lends art a degree of political agency insofar as it treats the status quo, which is always impossible to imagine ending, as already over, a fossil. In Donna Haraway's conception of our current epoch, the "capitalocene," ruled and primarily defined by the processes and logics of capitalism, the production and exhaustion of fossils is paramount. What for Groys is the possibility of political action for art against the status quo, is for Haraway is the very fuel for the status quo. I'm tempted to believe them both: while art has the potential to cause problems within the status quo, it is ultimately an integral part of it, consumed, traded by, conferring status upon a small superrich class that controls the vast majority of the globe's wealth, right alongside furniture (also a part of Zona MACO), boutique alcohols (also a part of Material), and so on.
I'm wondering, actually, if maybe this idea that art has some kind of actual political efficacy, that it can "change the world," is maybe the last vestige of the sort of 18th/19th century romanticism that moved art somewhere—up, definitely—different than, say, furniture or wine, that it delivers something different, something more, something to do with morality, something to do with ethics in a conception of "the world" that assumes it to be homogenous, somehow able to benefit uniformly from a single given action or idea that moves—ineffably, certainly—from the particular to the universal, a movement governed by a set of rules, standards of taste, beauty, and judgment, that it was assumed every "good" work of art, or "good" person, could be shown to follow.
At the outset of "On Art Activism," Groys dismisses claims that activist art is bad because it is "bad art" — that is, it looks bad or doesn't exhibit technical mastery. "In the twentieth century," he writes, "all criteria of quality and taste were abolished by different artistic avant-gardes—so, today, it makes no sense to appeal to them again." If MACO and Material made me feel anything, it is that I hope that the avant-gardes of the twenty-first century can make equally obsolete the idea that an artwork can or should have some kind of ability to move itself and/or its viewers into some kind of universal realm of political agency, because there is no "universal" any more than there is "the world," and any politics that depends on the universal—"the world"—is necessarily self-defeating. I hope that we can forget the Enlightenment and become total fucking idiots or squids or cyborgs or really anything non-Enlightenment-human, and try something else, because that shit did not work at all.

Guest Post by Kate Ingold.
When I tell friends and colleagues that I'm going down to Pullman to see art, I get one of two responses: 1) What's Pullman? or 2) That's so far away! Let me address both of these responses before moving on: 1) Pullman, nestled near I-94 and Lake Calumet, is one of Chicago's most significant and interesting neighborhoods, the site of of a 19th century labor strike with national implications, and a place of such architectural and historical significance that it will likely be made a national park by the year's end [President Obama named The Pullman Historic District Chicago's first National Park on Feb 19th – Ed.], and 2) it is only 12 miles south of the Loop, easily accessible by Metra or by car (and I suppose by bike, if you're feeling energetic). But what about the art?
A number of years ago my friend JB Daniel, a conceptual artist and accidental community organizer, opened up the foyer of his late-19th-century Pullman row house to artist friends to make installations. The smallish space, lit by a transom above the front door, includes the area from the building's modest entrance to the stairwell it faces and the two doors to the row house's first floor guest room and studio. JB named the space "MOSNART," or "transom" backwards, and welcomed the public for the opening of the installation only, though he encouraged visitors to come and peer into the windows during the time the installation remained up to see the art from the outside. Local, national, and international artists have presented work in MOSNART, from sound installation (Jenny Roberts' "Now and Here"in 2010) to video (Noel Hennelly in 2012, Rosa Gaia Saunders in 2013) to art objects (Gwen Gerard in 2009, Laura Davis in 2010, among others) and textile installation (Jens Brasch's "inside/out upside/down" and my "Night Telegram/Water Speak," both 2009). Over the years, the MOSNART project has grown and JB has found other sites in Pullman for artists to work, including one of the grand rooms in the former Hotel Florence (where Atlanta-based artist Gyun Hur installed a stunning "carpet" made of pulverized funerary silk flowers in 2011), the center of the burned-out market square (see Matthew Hoffman's current "Go For It" installation, up since October 2014), and the administrative clock tower building of the factory itself (Carrie Iverson's recent "Groundwork"), where the famed Pullman train cars were built.
It is easy to forget that we were once a nation in near constant labor turmoil. Workers stood up for their rights in powerful, sometimes violent ways against the corporations and oligarchs who were exploiting them. Chicago was at the epicenter of this turmoil more than once: during the legendary Haymarket Affair of 1886 (whose actors were either anarchist terrorists or martyrs, depending on who you ask), which resulted in the deaths of seven policemen and four strikers, followed by the state-sanctioned deaths of four others, and during the three-month-long Pullman Strike of 1894, which perhaps is most notable for the federal reaction to the strike, the defending of the corporation by the National Guard on orders of President Cleveland.
George Pullman built Pullman Town in his utopian vision of the perfect company town: workers were housed in cutting-edge homes designed to be energy efficient and light-filled, with air moving easily through the spaces to make the workers as happy and unstressed as possible. In the center of town was a market and a multi-denominational church, along with stores and schools and a library, each and every building owned and managed by the Pullman Palace Car Company. Workers lived in apartments and homes that reflected their status within the company, with managers and other administrators living in single-family homes close to the factory and skilled hand workers living in smaller homes and multi-family buildings farther away from the work site. There were no options outside of the Pullman-owned and -run facilities, yet still the town went along relatively trouble-free until the stock market crash of 1893, when Pullman could not maintain his mandatory 6% profit on the town without cutting wages, making it impossible for workers to feed themselves and their families. By 1899, two years after George Pullman was buried in a lead-lined coffin embedded in concrete (to avoid reprisal by his former employees), Pullman Town was annexed by the city of Chicago and the company town was no more.
Why the detour into history? Because it is against this history, or in conversation with it, that the art happens. The history of the neighborhood and the buildings themselves are present with every installation, whether the artist is directly confronting that history or not. Matthew Hoffman's "Go For It" installation, currently on view, is a massive text piece placed in the center of the burned out market square just blocks from the old factory. Crafted in wood with plastic laminate sides, the three-dimensional script reads as both a directive and, perhaps, a tongue-in-cheek, pollyanna wish for the rebuilding of the market square, or even the company town itself. While Hoffman's work is unabashedly and purposely optimistic (see his ongoing "You Are Beautiful" project), this installation has an edge because of where it is.
While I'm not sure if Hoffman intended that edge or if he meant only to empower Pullman residents to go after their dreams (which the piece certainly could do — it's joyful!), Carrie Iverson, an Oakland-based glass artist, printmaker, and poet, embraced the history and confronted it head on with her recent installation, "Groundwork," made with her husband and fellow artist Jeremy Scidmore, Portland-based artist Nathan Sandberg, and artist/master metalsmith Kelly Ludeking. The project, which began in September 2014 and was uninstalled in December 2014, had several parts: a community iron pour on the factory grounds, a community iron-tile-making workshop, and an installation within the factory's administrative clock tower, a building that has the empty, hollowed-out feeling of a ruin after it was ravaged by a significant fire in 1998 and later stabilized, though not rebuilt, by the state of Illinois.
Iverson's work is driven by research and often engages the public. For "Groundwork," she organized the first iron pour on the factory grounds since its production heyday (executed by Chicago artist Kelly Ludeking), and invited the community to participate with her and her collaborators both in the spectacle of the pour itself and in the making of artwork for the installation. Community members designed their own tile molds and attended to the pouring, then later had their work presented in the clock tower building. But "Groundwork" was not just about community involvement; it was also about the history of labor and industry and decay present in Pullman itself. While researching the project, Iverson discovered that the historic Pullman train line ended near her studio in Oakland, CA. She found the end-point and made aluminum casts of the train tracks intersecting and ending, a literal tracing of the very ground the train cars made in Pullman had traveled. In Chicago, she installed them on a brick wall at the back of the clock tower building's large atrium facing the community-made iron tiles. Placed in a grid with the subtle cross-hatch pattern of the tracks interlocking across the work, the installation echoed Carl Andre's metal tile floor sculptures, but more significantly connected the artist with Pullman in a visceral, labor-intensive way.
Along with the aluminum tiles, Iverson also installed a lectern made of protruding glass plates scattered in a brick-like pattern and a metal table with three twig-like metal objects. Set in the main atrium of the building, the glass plates quickly collected dust from the crumbling infrastructure, becoming a ghostly, ephemeral ledger recording the coming and going of shadow and light, not unlike the ledgers that once recorded the timecards of the factory workers in the clock tower building. Taken with the relic-like objects on the adjacent table, the installation became something of a shrine to the collapse of utopian capitalism.
Within the atrium and the large room adjacent to the south, Nathan Sandberg placed several fields of white picket-like obelisks covered in the reflective glass beads used on highway stripes and medians. The "pickets" referred to the picketing of the workers, perhaps, but also to the inherent danger of working in the factory, where workers were killed and maimed routinely, and also to the danger of living near the train tracks themselves, particularly near crossings. Set together in a grid and of varying heights, they rose out of the damaged concrete floor like cautionary tombstones. In a room north of the atrium, Jeremy Scidmore installed neon triangles and pyramids that glowed like electric fires in the corners of the building: a pink-red pyramid covered a pile of debris stacked on a wooden pallet; a yellow triangle framed two leaning stones where the brick wall met the floor. The sculptures acted as remnants of the fire that consumed the interior back in 1998, and also as signifiers of the hobo fires that once burned along train lines across the United States, as well as the fire of the molten metal needed to make the train tracks and the train cars themselves, and even the iron that poured at the site in "Groundwork."
Last summer, JB installed an interactive piece on the side of the Hotel Florence to ask a deceptively simple question: "What is your vision of a contemporary utopian community?" He painted the concrete side of the hotel that faces 111th Street with blackboard paint and printed the question on the top of the blackboard, inviting neighborhood residents and visitors to answer with the bundle of chalk he left on the ground. George Pullman built Pullman Town to fulfill his dream of what a utopian community could be. Over the decades, the factory shut down and the neighborhood has faced issues of development, stagnation, and decay. One commenter scrawled under the question a simple statement: "Your utopia could be my nightmare." JB's installation, and his ongoing MOSNART project, open Pullman up to discussion and inquiry, fulfilling a contemporary utopian dream by questioning the very idea of it.
Links:
http://tallskinny.com/mosnart/
http://en.wikipedia.org/wiki/Pullman_Company
http://www.jeremyscidmore.com/
Moving to a new town is disorienting. The streets do not yet make sense. The grocery store has strange foods. The restaurant chains arrange themselves differently. The art world shifts and morphs, revealing new opportunities, expansive possibilities, and gaps to be filled.
I recently moved from Minneapolis-Saint Paul to Chattanooga, Tennessee. I am adjusting to the differences in climate and landscape. I am discovering the differences in the art scenes between the two cities, reframing my understanding of what the art world is in Chattanooga and its relation to other cities I know. Every city has its advantages – an established collector base, commercial and independent art spaces, funding for the arts and artists, less commuting time, cheaper rent, lower cost of living, nicer weather. No city has everything. The established notions we have about the art world and its centers of power seem unshakeable. New York City exerts a magnetic pull on artists, collectors, arts appreciators, and people looking for the newest trends; Los Angeles has a different yet very present attraction.
Artists are more mobile now than ever, moving between cities, traveling to make and show work. The boundaries between cities and regions of the country are fluid. This mobility reveals the privilege of the people who can move within it, and it opens opportunities for reexamining the hierarchies we have created and reinforce. What happens when a small town in Arkansas opens a lavish museum? Do the art fairs in Miami attract artists to live there year round? Is Austin a major contemporary art center because of the other cultural activity that happens there? Will artists seek out Asheville when they no longer remember Black Mountain?
Andy Sturdevant's interactive performance seminar, U.S. Cities Contemporary Art Rankings, investigates the notion that the art world is static and unchanging and questions what we value in contemporary art and how we prioritize it. Andy visited Chattanooga in January to ask students, artists, and community members to rank the top 125 metropolitan statistical areas into five tiers – Major and Secondary National Contemporary Art Centers, Major and Secondary Regional Art Centers, and Important Local Contemporary Art Centers. The exercise of making these rankings explicit and public revealed much about how we form opinions and how Chattanooga fits into conversations within the regional and national art world.
Before cities can be ranked, the conversation begins by establishing the criteria for an attractive contemporary art city. The criteria for the crowd in Chattanooga was similar to other city's criteria and included: a significant number of artists, art schools, economic opportunities for artists, arts infrastructure, and press coverage of the arts.
Starting in the middle of the list, we worked down, debating which cities fit on each tier. The definitions of what constitutes the tiers developed slowly, as the lower tiers accrued meaning and complexity with each new town. Individual voices prevailed. Participants shared their experiences at Virginia Beach or Eugene, and their recounting of great galleries or vibrant artist run spaces easily swayed the votes.
Working up from the middle, placing the cities became increasingly complex. The looming specter of the top cities by population (New York and Los Angeles) weighed over discussions as the second and third tiers filled with Minneapolis, San Francisco, Atlanta, Baltimore. The debate grew increasingly heated as Detroit and Miami were both placed in the second tier before we ended with LA and New York and the final list. I did not agree with all of the decisions – the heartbreak of democracy. I wanted a deeper discussion of potential top sub tiers (1A, 1B…), but that conversation and others about the relative locations of other cities will continue to happen here. The power of Andy's performance seminar lies in the conversations it generates, in the room and long after. The iterative nature of the list making keeps the debate alive, allowing differences to develop and for the list to shift over time.
Chattanooga was Andy's seventh and smallest city to create its own Rankings. As he says, "The discussions of the city's place in relation to neighboring cities of equivalent size were very interesting, and quite unlike discussions in, say, New York or Chicago. It felt very much like the sorts of casual, bar-based conversations people have about their various towns and scenes outside the large art centers. Which is how the project began in the first place."
We live in a rapidly changing world. The internet and easy travel have dismantled the hierarchies we thought we knew. We do not expect all flowers to grow in the same soil. We need sun and shade, the right balance of moisture, and careful pruning to cultivate many blossoms. The art world needs and already has that diversity; we must look in and beyond the assumed centers to find it. We should not mistake the most visible or assumed conditions for a thriving contemporary art center for the ideal conditions for every location.
Moving to a new place is not a final judgment about access to and participation in the global art world. The perceptions and assumptions about those places are malleable. U.S. Cities Contemporary Art Rankings has transformed the way I think about the art world, my place within it, my new home, and how mutable that list truly is. We are all agents of transformation, and our towns move up and down the formal and mental lists of contemporary art centers based on our actions, our words, our ability to demonstrate that art and artists thrive in different circumstances and different conditions. Chattanooga's conversation will continue in bars, at openings, in the streets, as we make the art center we envision, as we prepare the soil, sun, and water we need to thrive.
Bridget Donahue is standing in her own gallery of the same name overlooking the Bowery. Bridget Donahue is a space longer than it is wide, with two rooms. One room is a long spacious stretch; the second, smaller room also serves as an exhibition venue referred to as the Office. Works for the first exhibition are arriving in staggered shipments, and with each arrival, fresh anticipation of how the artworks will exist together in the cleared rooms. The gallery floors are a soft wood newly exposed and sanded; previously carpeted in a past life when the space was an industrial workroom. On February 19, the doors open for the first time to the public with a solo exhibition by Lynn Hershman Leeson. Just months after Bridget left her previous position as a director at Gavin Brown's enterprise in late 2014. Prompting the move was a frank curiosity: a desire for the ability to choose who and what to show.
Bridget and I discussed her beginnings as an archivist in Gladstone Gallery. Her favorite place to be was in the archives. When offered a promotion in the gallery, Bridget desisted, deciding instead to stay in the archives. And to this day, Donahue opened her own gallery with the archives in mind – a return to the research sparked by artists' interests, and in the articulations voiced by viewers. Talking casually, I ask what one of the greatest excitements will be in opening Bridget Donahue. She replies "…a new audience will walk into this space, connected by and bringing with them a conversation pertaining to the work in this room."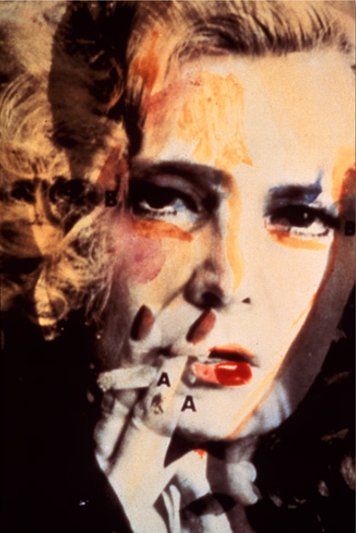 Lynn Hershman Leeson, Hero Sandwich Series: Rowlands/Bogart, 1980, Hand-painted silver gelatin print, 102 x 76 cm
Erin: You mentioned to me that you began your studies in anthropology, and by way of textiles, transitioned into visual art. Can you describe the change of interest?
Bridget: I moved to New York with my sights set on working with textiles. A friend pointed me towards NYFA's job listings and the post for Archivist at Gladstone Gallery caught my eye. I was already familiar with the gallery through my research and love for artists such as Alighiero e Boetti, Rosemarie Trockel and Thomas Hirschhorn. I applied, got two interviews and the job. Looking back to that time, I had no idea how important it was to land a job at such an important gallery. I was an absolute sponge to all printed matter around me. Barbara Gladstone has an impeccable archive and library. That job was a gift. It changed the course of my professional life in all ways.
Erin: The first exhibition at Bridget Donahue will be Lynn Hershman Leeson, followed by a benefit for Dancing Foxes Press, and then Susan Cianciolo, the selection moving from multimedia to publishing to fashion. Is there an indication of the gallery's focus between these upcoming artists?
Bridget: All of these exhibitions share the same core value – I'm deeply impressed and inspired by the artists and projects. I wholeheartedly believe in them, in all they do, for as long as they've been doing it. I could not fashion a better role for myself than to contribute to the success of their future.
Erin: Can you describe the difference in the role of creating a commercial path for an artist whose career you are helping to facilitate from the beginning, versus an established artist whose career you are renewing?
Bridget: For me there is no difference from the standpoint of my own conviction. For artists who have been working longer there is more material out there to discuss and more people have formulated opinions. I'm looking forward to rewriting some of the words around peoples' practices, offering a new perspective, and seeing what people think in 2015. I may have more to say about this after I've done it!
Erin: Moving from Gladstone Gallery, to D'Amelio Terras to Gavin Brown's enterprise, to now your own space, can you describe the most rewarding aspects of representing artists? As well, can you trace a consistent focus that you have maintained between all three experiences?
Bridget: The consistent focus has been to listen to artists, to learn from them and to also learn from the people who are interested in their work. It's an experience like no other to have a full picture of an artist's output. To know who their supporters are, who they look up to, who they learned from, who they are inspired by…that sends me off on myriad other paths of research and curious investigation. That's how I formulate what I want to learn about, what I want to see more of, and that is the main objective of my gallery.
Erin: You also help organize exhibitions for Cleopatra's, a Brooklyn nonprofit space, and the current curatorial team for this year's Looking Back – The 9th White Columns Annual. Do you see a difference in the value of curating within the collaborative environment of Cleopatra's as opposed to your own space? And has that difference changed from the difference between your involvement in Cleopatra's and your participation at Gavin Brown?
Bridget: I absolutely see the difference in the value of working with the group; it challenges you to look and think about things you may not otherwise stop to study. Cleopatra's changed as we all matured in our day-jobs-turned-careers. We want different things from it now; we have a greater appreciation for its distinct attitude. It is a labor of love and commitment to making projects among peers who are connected to one another through a community – people who we want to cheer on. In our recent – and really first published press mentions – the New York Times and New York Magazine, the writers have variously nodded to this spirit of Cleopatra's. It's taken almost seven years of our doing Cleopatra's for that to be fully articulated. It feels good and celebrates our resistance to turning that project into something different than it is. I'm very proud of that.
Erin: What is most daunting in opening your first gallery in this city?
Bridget: I am most daunted by the mystery of whether or not it will work.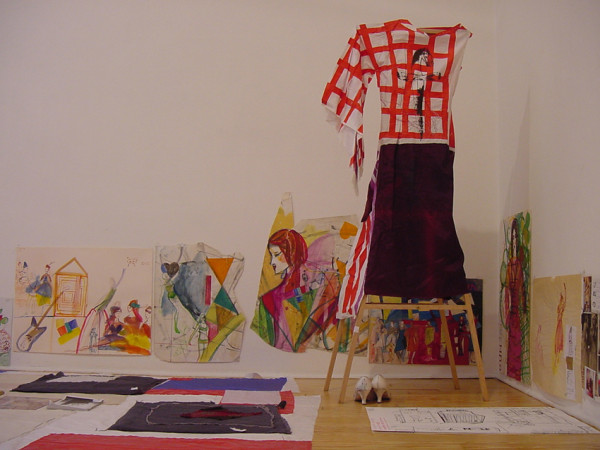 Susan Cianciolo, installation view of Run Retrospective, 2003, francesca kaufmann, milan