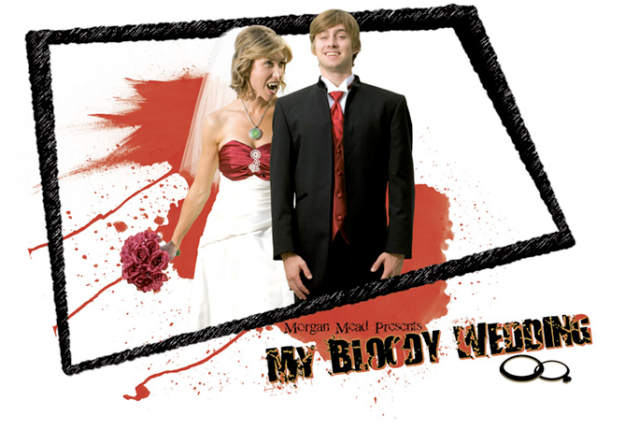 Everybody loves a zombie movie. I recently saw the trailer for a new film, My Bloody Wedding, and got to ask a few questions to the writer and star Morgan C. Mead. Not to be confused with Morgan D. Mead who cowrote the screenplay and directed the film.
From the website:
A feature length comedy about Doug, a dorky young mamma's boy, who is about to get married to his beautiful bride, Callista, when he notices a change come over her. He catches her sneaking around at night and lying to him…and she's begun to display flu-like symptoms. So naturally Doug thinks she caught a disease while cheating on him. In reality she has become possessed via an ancient stone and she's been eating his friends and family without him knowing. When the truth comes out Doug and his remaining groomsmen (his best friend, his robot, and a Luchador) must team up with a psychotic gardener to stop Callista and her demon-possessed bridesmaids before they kill everyone in sight.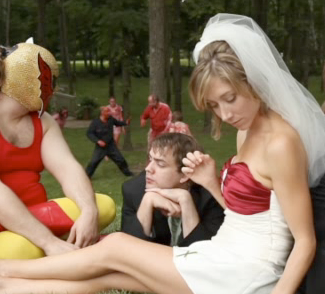 Why does the world need another zombie movie, especially now?
Oh gosh! I feel that now more than ever people are looking to escape! With the state of the economy; with work; or maybe without work, people have a lot on their minds. I am a big fan of giving the mind a break. My Bloody Wedding is definitely a good break from everyday thought. To me zombie movies are like romantic comedies – they can be done over and over again in so many different ways. Ours is a comedy/horror. It's more of a story about a misunderstood "possessed spirit", a love story. My college thesis was about postmodernism. It's been going on for centuries. I guess this was my first hats off attempt.
What attracted you to this genre?
I think the idea of a ton of blood and laughs attracted me. I always go toward contradictions. How can I make light of something dark? How can I look at something different than the norm? Also, horror fans are incredibly loyal. I have a ton of respect for that kind of commitment.
What was your inspiration for the screenplay?
Inspiration? Oy! I think that we subconsciously gather inspiration all of our lives. It wasn't until the actual shoot that I got to see what had inspired me. I must say my main inspiration was Morgan Mead; that's right! Not me, but another Morgan Mead that I cowrote the movie with. We inspired one another. We wrote the movie from different locations and every draft back and forth was a taunt to make the screenplay better.
You can become a fan on Facebook, and keep your eyes out for it to be released around February 2010.
Monique Meloche Gallery has been a staple in the West Loop for 8 years. Recently Monique announced that the gallery would be moving to a secret location. This Saturday they will kick off their new space with a show by Robert Davis and Michael Langlois. The always lovely Whitney Tassie was nice enough to answer a few questions about their new location and what they have planned for their Fall schedule.

Could you tell me a little bit about the new location of moniquemeloche Gallery? What made you guys decided to leave the West Loop?
Our 5 year lease on Peoria was up in August and we wanted something new. We decided to make a significant leap to a neighborhood not known for art galleries. Our new space is at 2154 West Division. It is deliberately smaller but not tiny. Over the last year or so we've been collaborating on a number projects outside the gallery, both in Chicago and internationally, in galleries, museums, and art fairs as well as hotels, unsold condo developments, design showrooms, empty retail spaces, etc. We have adjusted our gallery program to have longer exhibitions, about 5 or 6 a year, and are excited to focus our curatorial energies beyond the gallery as well.

What do you and Monique have planned for your Fall schedule?

@ Monique Meloche Gallery, 2154 W Division
September 12 – October 31, 2009 : Robert Davis and Michael Langlois In Our Likeness: Portraits of Illumination
November 7 – December 19, 2009: Recession Proof
Additionally, we are in the planning stages of organizing a series of site-specific wall projects for the window of our new space. The 1st will be by Carla Arocha and Stephane Schraenen to coincide with the unveiling of their permanent installation "24/7," a commission by the CTA for the Howard Station.
@ The James Hotel
now thru Nov: Davis & Langlois paintings, concurrent with their 12×12 exhibition at the MCA
Nov-Dec: Carrie Schneider photographs, concurrent with her 12×12 exhibition at the MCA
@ the Art Hall at The Blackstone
Ongoing: Kendell Carter: Drip Paintings

Any Fairs that you guys will be attending?
Monique will be attending Frieze this October as Carla Arocha and Stephane Schraenen have a solo show opening at the same time at Vegas Gallery in London. Then we're headed to NADA in Miami. We'll be showing three sculptures by Justin Cooper, Rashid Johnson, and Joel Ross.
Your opening is on Saturday with Robert Davis and Michael Langlois. Could you tell me a little bit about the show?

This is our 3rd solo exhibition of collaborative artists Robert Davis and Michael Langlois. The show consists of 5 graphite portrait drawings. This from the artists "This is our Illuminati, the council of elders, a dinner party wish list serving Beluga and Dom. Like Bill and Ted flying through time collecting greatness in order to save the world we have culled our shepards." More info is available on our website.
Monique Meloche is now located at:
2154 W. Division (@ Leavitt)
Chicago, IL 60622
For more info on the gallery check out their site

Times are tough, but there's a lot to look forward to with the coming Fall art season in Chicago. Here's what Meg and I are most looking forward to seeing over the next three months — and be sure to check out Stephanie's guide to Friday and Saturday openings below!
9/11 Philip Von Zweck at ThreeWalls (M, C) The title of this show is "The Fortieth Anniversary of the First Anniversary of May -68 (in September)." Von Zweck is a significant and much-beloved figure in the Chicago art scene who ran a highly respected apartment gallery for a number of years. This exhibition marks his return to a more traditional solo artist exhibition framework.
9/11 Luis Gispert at Rhona Hoffman (C) New large-scale photographic portraits and videos by the Miami-born, Brooklyn-based Gispert that focus on immigrant sectors of the American workforce and the search for expressive outlets outside the realm of labor. A three-channel film focuses on Gispert's friend Rene, a Cuban immigrant who works in a Miami restaurant supply store.
9/11 Jessica Labatte at Scott Projects (M). Labatte's exhibition Bright Branches documents found objects collected from Chicago alleys and junk stores.
9/11 Craig Doty: Women at Roots and Culture (M,C). The women in Doty's new photographic series have been described as appearing "physically exhausted as well as ethically or morally debased," i.e. a wet and shivering woman looking out past viewers with few narrative clues as to why, etc. Given Choire Sicha's description of Doty as "a sick little pervert" whose previous body of work was "very John Hughes meets John Waters meets John Lydon," well, let's just say we can't wait to see his approach to the subject for ourselves.
9/12 Doug Ischar at Golden (M,C). A body of work from 1985, never before seen in its entirety, is the enticement here. Ischar's show is titled Marginal Waters and features images taken in Chicago's now-defunct Belmont Rocks.
9/19 Jonas Wood at Shane Campbell Gallery (C). He's from L.A. and showed at Black Dragon Society, plus he's collaborated with painter Mark Grotjahn…for now, that's all I need to know to want to see Wood's show.
9/19 Jason Lazarus, Wolfgang Plöger, Zoe Strauss at The Art Institute (M). A show of recent photographic acquisitions of these artists' works by the Art Institute.
9/20 Allen Sekula, Polonia and Other Fables at The Renaissance Society (C). New photographs by anti-globalization hero Sekula that focus on Chicago's rich labor history, its Polish working-class population along with The University of Chicago's famous lineage of economic theorists. Heady yet vital stuff from this woefully under-recognized L.A.-based artist.
9/25 – 9/27 Mikhail Baryshnikov at Harris Theater (M). It's Baryshnikov dude. 'Nuff said.
9/30 Heartland at the Smart Museum (C). Co-organized by the Smart Museum of Art and the Van Abbemuseum, a survey of artists from the Midwest aka the American Heartland. Hopefully it'll subvert the syrupy connotations of it's title, or at least be the kind of show that people argue, bitch and moan about rather than simply ignore.
10/2 – 10/4  Western Exhibitions and Golden Age at the NY Art Book Fair (M). The only event to make it to our list that is not in Chicago. If your in New York at the beginning of October check out two Chicagoans holding it down at the Fair.
October, opening date TBA, Carroll Dunham at He Said/She Said (C). Carroll Dunham shows in a suburban apartment gallery: the Oak Park home of Pamela Fraser and Randall Szott. Can't wait for this.
10/8-21 Chicago International Film Festival (M) In it's 45th year the film festival the two week festival is the hub for all film fanatics. This festival might be the only time to catch certain films so be sure to check out their schedule in advance.
10/10 Jeremy Deller: It Is What It Is: Conversations About Iraq, at the MCA (M) Commissioned by The Three M Project Jeremy Deller will invite numerous participants to discuss their knowledge of the Iraq War. Some guest will include verterans, and scholars.
James Welling at Donald Young (C)
10/10 Playing with Pictures: The Art of Victorian Photocollage at The Art Institute (C). I'm a sucker for Victoriana, and this exhibition –the first "to comprehensively examine the little-known phenomenon of Victorian photocollage, presenting work that has rarely-and in many cases never-before been displayed or reproduced" — is probably the one show I'm most looking forward to seeing this fall. A medium mostly practiced by aristocratic women, Victorian photocollage combined human, animal, and botanical forms in all sorts of wacky and whimsical ways, and I'm looking forward to reading the accompanying full-color catalogue to learn more about the ways that female artists of this era approached the form some sixty odd years before Picasso and Braque started playing around with it.
10/13 Alex Halsted and David Moré at Gallery 400 (C). Chicago-based Moré "collaborates" with an elephant nose fish, who emits an electrical pulse as a navigation tool which the artist then amplifies. I love the gallery's blurb on this show: "This performance duo mixes issues of displacement, communications, commercial sound and inter-species contact in a singularly engaging bio-tech format." Yep, pretty much says it all.

10/16 In Search of the Mundane at ThreeWalls (M) Organized by Randall Szott and InCUBATE  According to ThreeWalls this series will , "include boozy brunches, a lecture on the art of storytelling, various leisure excursions, and a tour of personal collections."
10/17  Liam Gillick Curates the MCA Collection (M, C). We love the way that the MCA is experimenting with the curation of its permanent collection. The MCA has invited Liam Gillick to select works for its next hanging.
11/TBA James Welling at Donald Young (C). New work by L.A. photographer Welling, whose ongoing interest in the experimental and abstract possibilities of photography set his work apart from contemporaries like Sherrie Levine and Cindy Sherman as well as today's younger generation focusing heavily on portraiture. Welling's last show at Donald Young featured photograms of flowers and "torsos" (the latter actually made out of screens sculpted to resemble human curves) made without the use of a camera; the results were gorgeous, and I'm looking forward to seeing what he delves into next.
12/4 Carrie Schneider at MCA 12×12 (M, C) Often using herself as her main character, Schneider melds several genres of art-making including body art, performance, self-portraiture photography and film in images that are haunting, creepy, and hallucinatory in their resonance. If someone ever gave Schneider a huge project budget she could give Matthew Barney a run for his money, but for now we'll look forward to seeing the new short film Schneider plans to premiere in her first solo museum outing at the MCA. According to the MCA's website, the film, made in Helsinki, Finland while the artist was there on residency, continues the artists' ongoing exploration of doubled selves and the uncanny.
Hey ya'll! So, this is the big weekend, eh? It will be beautiful, fantastic, magical, crowded, smelly, and possibly confusing. Now, as you may know, the giant gallery opening blowout event extravaganza isn't exactly the best time to "see" art, per se, but is is the best time to go out a see about a million people trying (or not) to see art and succeeding in seeing, and elbowing, each other. I will be making the rounds of River North and the West Loop, since they have the greatist gallery to area ratio. This however, isn't the plan for everyone, understandably. So in the service of all of you who are avoiding all that insanity like the plague, I give you:
Steph's Top 6 Non-WestLoop/RiverNorth Galleries:
1. Women at Roots and Culture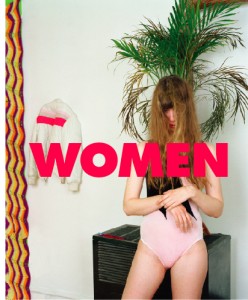 Craig Doty presents to you Women, a show consisting of photographs of, you guessed it, women! Craig is quite the gifted photographer, this will be a good (and crowed) show. Open from 6-9pm.
Roots and Culture is located at 1034 N. Milwaukee Ave.
2. Faking It? at The Art Center at Highland Park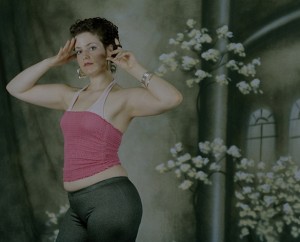 Full disclosure, I wrote the catalog essay for this exhibition, but I agreed to because it is a fucking awesome exhibition! Curated by Regina Mamou (who, awesome for her, is in Jordan right now) and including work by Chase Browder, Helen Maurene Cooper, Jill Frank, Seung Jae Kim, Jason Lazarus, Aspen Mays, Lindsay Page, Kurt Von Stetten, Scott Patrick Wiener and Krista Wortendyke, it is a show that shouldn't be missed ( and will probably have more breathing room at the opening). Open from 6:30-9pm.
The Art Center at Highland Park is located at 1957 Sheridan Rd.
3. Family View at The Family Room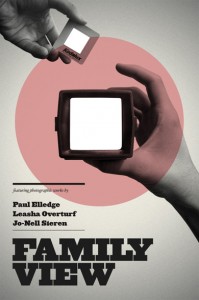 Once again our friends The Post Family bring fourth a delightful exhibition in The Family Room (not actually a family room, that place isn't an apartment gallery). For this round they've go Family View, a exhibition exploring family pictures. Keep it in the family, kids, keep it in the family. Work by Paul Elledge, Leasha Overturf, and Jo-Nell Sieren and open late! Open from 7:30-midnight.
The Family Room is located at 1821 W. Hubbard St. #202
4. William Staples at 65 Grand
I just had the opportunity to preview this exhibition today, and I loved it. It takes a minute to see what is going on, and it doesn't translate well to images on the internet, but if you can make it over that direction, don't miss it. Plus you'll get to hang out with Bill, he's great.
65Grand is located at 1378 W. Grand Ave.
5. Freaks and Flash at Intuit
Vintage tattoo work by the likes of George Burchett, Sailor Jerry, and Tatts Thomas. How could you not want to see this? Flash and ephemera will take you back to the good old days (you likely never experienced) at Coney Island and the likes of it. It will be pure antiques awesome!
Intuit is located at 756 N. Milwaukee Ave.
6. John Stezaker at Richard Gray Gallery
Is this technically River North? I'm going to say no, if you disagree, too bad. I know my selections have been weighted a bit toward photography, but what do you expect, I like photography. I do have an MFA in it, ya know. Well, here's an interesting artist using photography to explore the celebrity portrait, and the portrait itself. Weird, deceptively simple looking, this work is beautiful (at least I think so).
Richard Gray Gallery is located at 875 N Michigan Ave. # 2503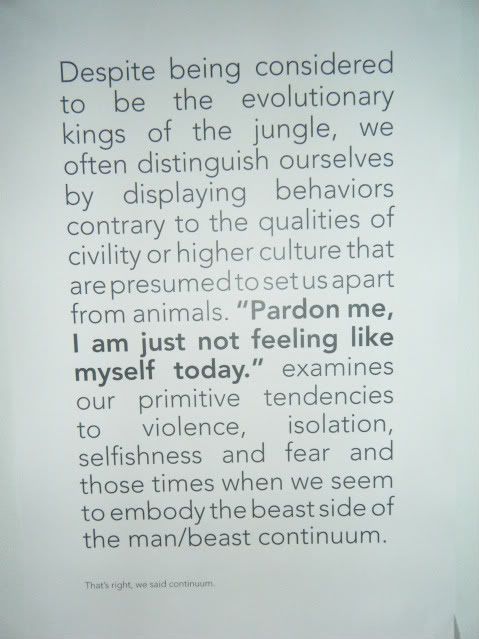 barbara&barbara is a gallery that doesn't accept commissions from the artists, supports itself by giving legit lesbian haircuts, and is having a BBQ for the closing of the show Pardon Me, I'm Just Not Feeling Like Myself Today at the end of the month.
The barbaras are Kara Wabbel and Sierra Berquist, who opened the gallery in October of last year, and moved to their current location this past April.
The show features the work of artists Ben Speckmann, Tim Pigott, Brian Yates and Tony Francesconi, and aims to focus on the more animalistic drives and desires that humans exhibit.
The space is a store front and has a few couches in the center. When I arrived, music was blasting, and one of "the barbaras", Kara Wabbel, greeted me in blue latex gloves. Not knowing about the salon operation in the back, I assumed she was preforming some sort of back porch surgery. I am not sure why my mind jumped to this conclusion.
The first work I encountered was Tony Francesconi's Snare (2009), forcing a fist (presumably his own) into his mouth. He is gazing off into the distance, and the figures teeth are violently pushing the flesh on the fist into wrinkles. The print is larger than life size and glossy, and feels very aggressive, like a bear gnawing it's paw off. I just grossed myself out.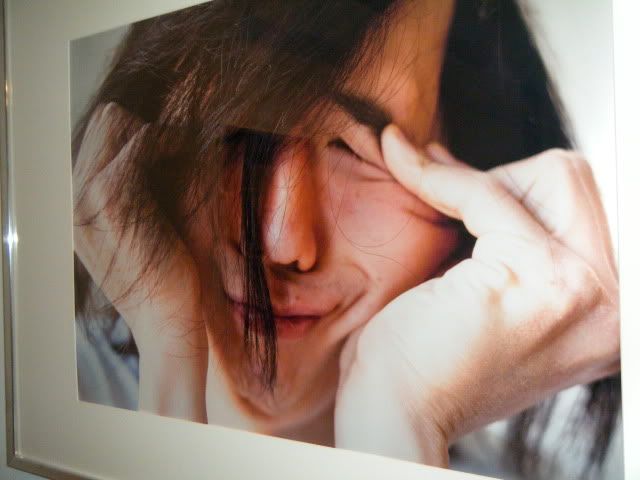 Brian Speckmann's Farmer's Tan Experience (2009) consists of documentation of an experiment of acquiring a farmer's tan. The male subject poses for a full body portrait of before, during, and after the experience. There are also photos of the subject in a tanning bed wearing a v-neck shirt, shorts, and socks. I have yet to see the fetishization of this type of body in contemporary photography, the quest for markings of someone who does manual labor. Coming from half of a lifetime spent on a farm in New Jersey (yes there are farms there), it seems like a fairly pathetic and urban gesture, along the lines of co-opting the mohawk or white dredlocks. Consulting the text for the show and the context of the work, however, I would read this piece more as attaining a camouflage of sorts.
Tony Francesconi's portrait, Dripping (2009) was by far my favorite piece of the show, apologies for the funky angle of the image. It is a close up photographic portrait of a subject presumably crying in grief. At least that is how I read it. Being an "ugly crier" myself, I immediately understood the gesture. From a distance, the grimace looks like a cartoonish smile, and I like how this is pushed up against (what I felt was) an agonizing moment.
Tim Pigott had a few hand drawn portraits in the show, similar to his work I had seen at BelieveInn, and Brian Yates had some sculptural and photo work.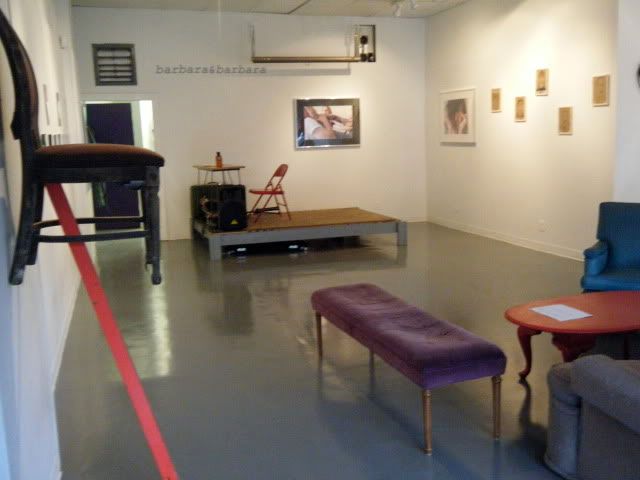 The show overall felt like a mixed bag to me. I was seriously drawn to a few of the works, and others I was pretty ambivalent about. I was really curious about a show exploring the fringes of human nature, but I was expecting something a little more raw and dirty than what I saw. But perhaps that is just my own human nature. I'm really into the gallery as an idea; supporting artists and supporting itself while still being accessible and sustainable. I look forward to seeing more shows in this space.
barbara&barbara is located at 1021 N Western Ave in Chicago, IL. The closing for Pardon Me, I'm Just Not Feeling Like Myself Today will be on September 22nd from 6-10pm.