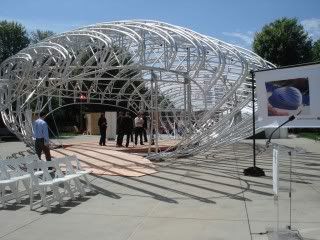 On this weeks somewhat long roundup we bring you a tour of French Paper Mill, photographs of buffed graffiti that look like Rothkos, and after an almost seven week delay, Millennium park is host to yet another public sculpture. Hope everyone has a good weekend. Don't forget to check out the Performance Art and its Influence on the (post) Studio and (new) Institution at Threewalls this Saturday.

Field Notes has a tour up of the French Paper factory. http://tiny.cc/Zq70n
"New Experience That Bombards the Senses: LSD ART" http://ffffound.com/image/8…
Checking out the lovely "Street Rothkos" http://bit.ly/3PK7NM via @hrag
Excited to go to "Performance Art and its Influence on the (post) Studio and (new) Institution" @threewalls on Sat.http://tinyurl.com/l7k24n
RT @hragv @culturemonster: Bush advisor David Frum becomes an art critic http://bit.ly/11oP1A
Edward Lifson on The Guggenheim At 50 http://tiny.cc/DivCw
Just found a weird blog called ilove @boingboing which seems to only reblog all of their content. http://ilove-boing-boing.bl…
@methomp Pickle Surprise was somewhat terrifying. http://bit.ly/BTRcN
After almost a seven week delay Hadid's Burnham pavilion has finally opened. http://tiny.cc/oH2nm
The Tank launches new membership program campaign for thriving artists http://tiny.cc/MxhlB
Your moment of Death Metal Dog. http://bit.ly/Y8Ypw
RT: newmuseum The first photos of Emory Douglas' mural in Harlem are up on Facebook: http://bit.ly/aizGq
Did @Hrag find the illusive Right-Wing graffiti? http://tiny.cc/PPNAW
Plural Blog has posted some images from their installation at the Whistler. http://tiny.cc/7yD9q
RT: KathrynBorn Paul Klein's Artletter about Constellations exhibit – rehashed and affirmed at ATC- http://su.pr/1wXxBn
America is not at war http://tiny.cc/HGdA0 (via @iteeth)
RT: BoingBoing John Waters on his friendship with Manson Family murderer Leslie Van Houten http://bit.ly/lnJbU
Eel Space, a spanking new gallery just opened this past March in Chicago, is an artist run venue that focuses on thematic exhibitions and mostly local artists. The title of the show, Devastation and Space, honestly had me thinking about the apocalypse and dwarf planets. But the space was more visceral, and the devastation in the dialogue was emotional, physical and historical, not nuclear.
The show featured work from three artists, Emily Gomez, Snorre Sjonost Henriksen and Jesal Kapadia. Gomez's work consists of five images on the wall when you enter, black and white landscapes, nice but not dazzling in content and composition. The first image is a strip mall of sorts, and in the center of the composition is a mound of earth, patchworked with sod. I was struck by how organic the strip mall appeared, how quickly I accepted it as natural, while the neat mound of earth seemed foreign and awkward in location. The second image is the corner of a parking lot and a hill, the hill divided by a fence running through it. Again, the position of the fence creates an strange divide in the hill, and seems arbitrary in placement. These first two images had me thinking about, obviously, constructed and organic, and the overlap between the two. However the literature about the show reveals that the locations depicted are actually sacred historical locations to various American Indian Nations. How depressing. Perhaps the most dismal was the portrait of the Tennessee Titans' stadium built on a burial ground. Hot dog, anyone?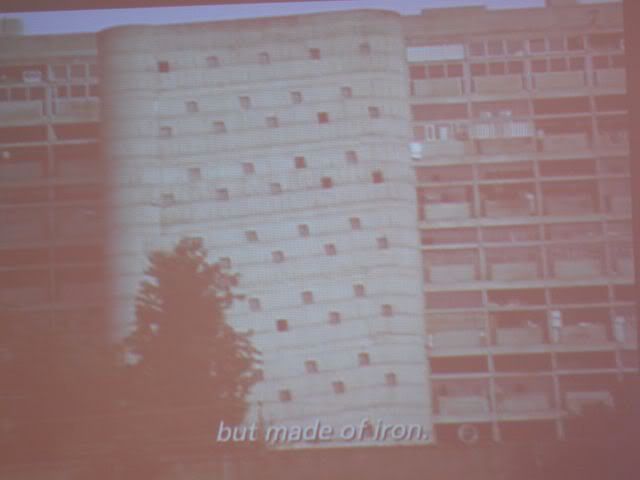 Kapadia's work, a video projection entitled A vacant rectangle, left blank for a work expressing modern feeling, is a silent homage to the city of Chandighar in North India. The city was designed and built by Le Corbusier in the 1950s and the title comes from his book, The City of Tomorrow and Its Planning from 1937. The video is shot surveillance style of buildings that seem institutional and incomplete. Captions depict a conversation (real or imagined) between "I" and "he". For example: "I asked what kind of vocation is profitable here, he said, Everything except poetry and writing". There is a thick tension tangible between the modern brilliance that was clearly in the mind of the architect of this project, and the reality of what the buildings have become. This work is coupled by a diptych of glossy photographs taken from images in archives of Chandighar. There are flashes and reflections of exterior lights in the photos, which compoud the distance and disassociation one feels from the buildings.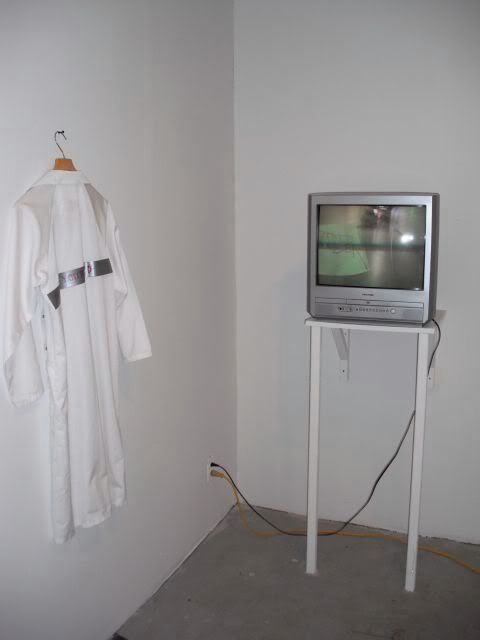 The last piece, Henriksen's Psycho Somatic was the work I was the least invested in. It consisted of a lab coat, hanging, with a message scrawled in red pen on duct tape reading MAKE UP YOUR MIND across the back. Playing on a small television was a video of a Henriksen and his collaborator Frans Ibon Svensen skateboarding along tunnels in what appears to be the basement of the institution. It seems like a video appropriate for YouTube, of some punkass kids trespassing and recording their shenanigans. The sound of the wheels grinding on the cement and echoing in the halls becomes a neutral sound backdrop for the repetitive action of the skateboarding and the words "Border" and "Clinic". In the literature, I discovered that the location of the performance is in fact in the bowels of a mental instituion that the artist was breifly commited to. He and his collaborator and travelling the underground distance between the mental hospital and the Central Hospital of Telemark, the place for treatment of the somatic. He is physically transversing the space between the two to lay stress on the separation between the, you guessed it, psychiatric and somatic separation in the institution. Personally, the performance seemed disconnected from events it was alluding to, although I think the idea of transgression while using an amateur skateboarding video aesthetic was successful.
The work in this show felt like three separate explorations of devastation and space, specifically different types of devastation on physical space (human, emotional, ideological). It seemed like a fulfilling and thoughtful cross section of work on this theme. I'm excited to see more work in this space, and even if it is in a public transit gray area, I would recommend checking it out.
Devastation and Space will be up until the end of August, and gallery hours are Sundays 1-4 or by appointment.
LA Times Art Section
takes an interesting look at the origin and context of the Obama Joker face that is growing around the net.
"Thumbing granite rocks into the womb of a marshmallow mermaid, sopping granite compound orgiastic waterfalls on the cotton fields of heaven."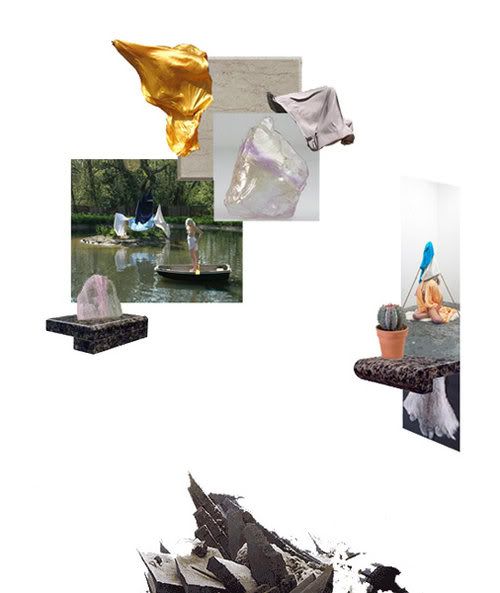 That is how the press release opens. Woah. This Saturday, August 8th, Scott Projects is welcoming London based artists Sopping Granite (Ben Vickers and Sarah Hartnett) for the show The First Letter of Every Word is You. Apparently, they exchange ideas via telepathy. Definitely check out their website, which seems to serve as part portfolio, part research notebook, and part collage.
Here is the link to the Facebook event page. Hope to see you there!
Last week the Chicago MCA's Elizabeth Smith announced she would resign her post as chief curator at the end of the month, explaining that ten years in the position was long enough and it was time to move on. Fair enough. Curators are increasingly expected to be peripatetic nowadays, which suits our globalized art world and helps keep an institution's perspective fresh and forward-thinking — but it also makes it hard for curators to maintain longstanding ties with local artists.
On a personal note, when I was an assistant curator in Los Angeles, I worked for the museum that co-organized Smith's Lee Bontecou exhibition. At that time I was utterly taken by the romantic ideal that Smith's relationship with Bontecou represented for me, and I still am.  Smith pursued Bontecou for years before being given access to the reclusive artist's work.  When Smith was still a curator at MOCA in L.A., she organized a small Bontecou survey without any participation from the artist (though she tried repeatedly to get in touch with Bontecou). Bontecou eventually came to see the show, and wrote Smith a letter afterwards saying how much she liked it.
Over the years Smith developed a strong relationship with Bontecou, eventually gaining access to the treasure trove of work that the artist had kept mostly private after exiting the art world (or the New York art world, at any rate) in the early 70s. It's no surprise, then, that Smith cites her 2004 Bontecou retrospective as a professional and personal highlight.
There are lots of different ways one can "be" a curator, but to me, Smith's dogged pursuit of an artist who didn't always want to be pursued, but knew she had to be, for the sake of art history if nothing else–represents a pinnacle of what the profession can accomplish. Smith's low-key, artist-centric style of curating may be somewhat less in fashion nowadays, but I admire it tremendously. To me, she's a model of how a curator can built strong ties and a relationship of trust over many years with artists whose work they believe in. Here's wishing Ms. Smith the best of luck in her upcoming endeavors–I can't wait to see what she cooks up next.