Here's our midweek summary of this n' that and other chit-chat happening in the world of art and beyond.
*Keith Olbermann gives Christopher Knight "Best Person in the World" status for pointing out potentially communist imagery in right-wing Tea Party poster art.
*Was overzealous corporate art collecting partly to blame for Lehmann Bros. fall? Former Lehman trader Lawrence McDonald speculates that indeed, it was, in his new book about the investment behemoth. Artnet fleshes out the issue in its latest report.
*Bill Viola rejects Vatican's invitation to a summit "aimed at bridging the gap that has developed between spirituality and artistic expression over the last century or so," reportedly because Viola disagrees with many of the Catholic Church's policies. No word yet on whether artist Robert Gober was invited, and if so, whether or not he'll attend.
*If you haven't already been following this issue, this L.A. Times article provides an excellent one-stop summary of the current controversy arising from the Obama administration's alleged attempts to "politically manipulate" the NEA and, by extension, the arts communities it serves.
*Tyler Green writes in defense of blockbusters, following Holland Cotter's article in last weekend's NYT calling on museums to "rethink the blockbuster phenomena."
*Wanna know what the Art Institute is deaccessioning this Fall? Read Green's roundup of what they're hoping to sell, here.
*Four Andy Warhol prints of famous sports stars stolen from Richard Weisman's L.A. Collection.
*Annie Leibovitz finally reaches an agreement with her creditors.
*C-Monster elegantly takes the piss out of Bruce Nauman's "LEAVE THE LAND ALONE" skywriting installation.
*Bob Dylan to exhibit nearly 100 of his paintings in a 2010 solo exhibition at the National Gallery of Denmark in Copenhagen. An example of Dylan's work heads this post. How will they stack up to Joni's, I wonder?
*Chicago artist and BaS fave Deb Sokolow interviewed in Beautiful/Decay magazine.
Let me preface this by saying that I am not stoned. But, I seriously wished I was when I watched this week's pick. Be prepared to be entranced by the skills of Michael Moschen, a fit man with some serious juggling skills. Who knew there was such a thing as conceptual contact juggling?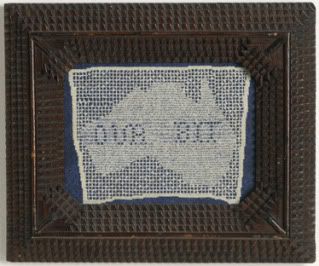 This season's theme for SAIC's Visiting Artist Program is Living Modern. The program will be linked with the exhibition of the same title at SAIC's Sullivan Galleries. "Bridging the historic roots of American modernism with the critical practices of contemporary artists and architects, the Learning Modern lecture series focuses on the presence of the Modern today and its vital role in education in the mid-20th century."
The first artist in this series is Narelle Jubelin. Other artists to follow for this program are Kathleen James-Chakraborty, Andrea Deplazes, Jun Nguyen Hatsushiba, Christian Veddeler, Liisa Roberts, and Jorge Pardo.
Via VAP
– Jorge Pardo – Tuesday, November 10, 6pm
"Narelle Jubelin, an Australian artist based in Madrid, revisits aspects of modernist perception for the twenty-first century. Known for works that weave through legacies of education, art, architecture, memory, and cultural heritage, Jubelin will reflect on her latest project,
Key Notes
, on view in the
Learning Modern
exhibition. In this work, transcriptions of critical modernist texts are embedded into sumptuously colored fabrics, creating a site-specific environment of narrative, geometric planes in homage to Mies van der Rohe and his collaborator Lilly Reich."
Wednesday, September 16, 6:00pm
SAIC Columbus Auditorium, 280 S. Columbus Drive
For more information on this event and other lectures from the VAP please check out their website

Conventional wisdom tells us that the the time to buy art is when you're older and have attained a degree of financial security, right? I've learned from personal experience that this kind of logic is completely backwards. Sure, now that I'm older and more "settled," I technically have more in the bank, but trust me — it ain't that much more. I had a lot more spare cash to spend on art when I was just starting out than I do now, largely because I'm no longer able to say, 'what the hell, I'll just go out less next month' and drop a few hundred dollars on a drawing just because I happen to love it. When you're young you can scale back drastically in one area of your life without it dramatically affecting the other parts. That's not necessarily the case when you're older and have dependents. Which leads me to reason number one for buying art as early as you possibly can:
1. It may not seem like it now, but if you're in a line of work that'll basically keep you in the middle class the rest of your life, if you're lucky (cough-nonprofit world), your early twenties may well be the only time  you'll have any measure of disposable income to spend on what *you* want to spend it on without feeling guilty that it should be put somewhere else.
2. When you're young you can still buy what you like without having to check with someone else first. This may be a fairly big assumption, of course, but when you're in your twenties you're less likely to have partnered up for the long-term or share a bank account. Thus, you don't have to worry about your partner's veto power over what hangs on your walls.
3. Following on Reason #2, buying art when you're young and still fancy-free provides an invaluable opportunity to develop your own tastes over time. Sure, it's fun to buy with a partner, but it's also important to formulate your own aesthetic sensibility apart from that, so you don't wind up being the one who nods stupidly and says "I leave these kinds of decisions up to him/her" while reaching for the checkbook.
4. When you're young,you're less likely to have had kids. And, by extension, a house/mortgage. Once you have either of these things, believe me, unless you're already firmly ensconced in the upper ranges of middle class you're much more likely to feel guilty about big purchases that don't in some way involve the kids and/or house. Yeah, I know art feeds the soul and I absolutely agree that it's important to have lots of it around the house in one form or another, but when you have to choose between fixing the broken backyard fence or buying that painting you fell in love with last weekend, it can be much harder to choose the latter when you think your kids' well-being may be at stake.
5. If you start buying young, your collection will be more than a collection. It'll serve as a unique narrative of your own personal history dating from early adulthood. This one is true whether you choose to have kids or not. What was it about that particular work that made you want to buy it? What did you have to sacrifice in order to get it? Did you have a personal relationship with the artist? Artworks remind you of where you were in your life when you bought them, not just geographically but socially and psychologically, too.
6. On the whole, when you're younger, the art you like tends to be less expensive and thus, affordable even on a student's budget. You're young, you're hanging around kids like yourself and thus you tend to go to the types of apartment galleries and indie spaces where younger artists show, and the prices reflect that. I'm here to encourage you: don't just look, think about buying that $50 drawing. Take advantage of the fact that the artists in your circle are still selling their work relatively cheaply. That won't necessarily be the case forever.
7. Consider the time-honored tradition of the trade. Many artists acquire art by trading some of their own work (or services, if they don't make objects) for someone else's work or services. Artists already know about this one, so I don't have to belabor the point other than to note that not everyone in the art world can ethically make a trade.
8. Think about purchasing art instead of updating to the latest version of your iPod, iPhone, Mac computer, or, um, buying drugs. The painting that blew your mind at last weekend's opening? Maybe it's it the $200-$500 range. If you don't buy the new iPhone and are willing to stretch out your stash, dude, that painting could be yours! It's a cliche, but it's still true: the art will last longer. Wait for the next iteration of the technology to come out and buy that piece of art now. When you're old and gray you'll still be looking at it; the drugs and the iPhone, on the other hand, will have long ago been consumed.
9. Buying young enables you to grow your tastes alongside those of an artist or gallery. Assuming that the art you're buying in your early twenties is, by necessity, that made or exhibited by other youngsters like you, you'll be establishing yourself as a supporter of these people early on. This relationship may or may not carry forward into the future, but by all rights it should. The artist will remember you as one of his/her earliest collectors; the gallery will know that you do indeed give a shit about the work they show and take you seriously when you come in. If you happen to strike it rich or just do a little bit better as you get older and (hopefully) move forward professionally, you might find yourself in a position to buy slightly more expensive work by this or other artists. If the dealer is smart, she'll remember you made that early purchase way back when and help you obtain something that might not otherwise be within your grasp.
10. Buying artwork is exhilarating, especially when you buy something that's a little pricier than you can afford but you can't help yourself. Try it. See what I mean? And even if you're buying a $25 drawing and tacking it over your night stand, buying art makes you feel like a grownup who cares about the beauty of your surroundings.
In conclusion: You don't have to buy expensive work to have a "real" art collection. Some socially well-connected artists don't even have to "buy" anything at all; but this post has been written for those of you who don't necessarily have those kinds of connections and need to spend your own hard-earned dollars in order to make an artwork yours. A fine collection of small-scale drawings in the $10-15 range purchased at art benefits, holiday art school sales etc. can be amassed without a lot of financial pain. No matter how inexpensive the purchase, take whatever you buy seriously by framing it as soon as possible (better for the art, better looking on your walls), displaying it prominently and with flair, and looking at it often. Whenever possible, scrimp a bit on the essentials so you can splurge on art. Trust me, it gets a whole lot harder to do that once that thing they call "real life" takes over.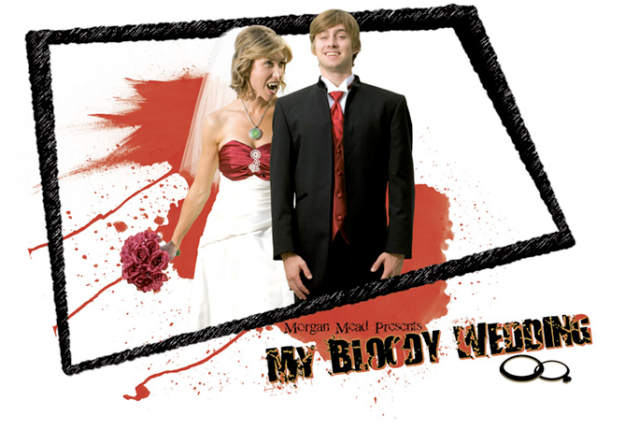 Everybody loves a zombie movie. I recently saw the trailer for a new film, My Bloody Wedding, and got to ask a few questions to the writer and star Morgan C. Mead. Not to be confused with Morgan D. Mead who cowrote the screenplay and directed the film.
From the website:
A feature length comedy about Doug, a dorky young mamma's boy, who is about to get married to his beautiful bride, Callista, when he notices a change come over her. He catches her sneaking around at night and lying to him…and she's begun to display flu-like symptoms. So naturally Doug thinks she caught a disease while cheating on him. In reality she has become possessed via an ancient stone and she's been eating his friends and family without him knowing. When the truth comes out Doug and his remaining groomsmen (his best friend, his robot, and a Luchador) must team up with a psychotic gardener to stop Callista and her demon-possessed bridesmaids before they kill everyone in sight.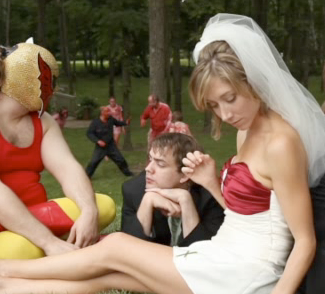 Why does the world need another zombie movie, especially now?
Oh gosh! I feel that now more than ever people are looking to escape! With the state of the economy; with work; or maybe without work, people have a lot on their minds. I am a big fan of giving the mind a break. My Bloody Wedding is definitely a good break from everyday thought. To me zombie movies are like romantic comedies – they can be done over and over again in so many different ways. Ours is a comedy/horror. It's more of a story about a misunderstood "possessed spirit", a love story. My college thesis was about postmodernism. It's been going on for centuries. I guess this was my first hats off attempt.
What attracted you to this genre?
I think the idea of a ton of blood and laughs attracted me. I always go toward contradictions. How can I make light of something dark? How can I look at something different than the norm? Also, horror fans are incredibly loyal. I have a ton of respect for that kind of commitment.
What was your inspiration for the screenplay?
Inspiration? Oy! I think that we subconsciously gather inspiration all of our lives. It wasn't until the actual shoot that I got to see what had inspired me. I must say my main inspiration was Morgan Mead; that's right! Not me, but another Morgan Mead that I cowrote the movie with. We inspired one another. We wrote the movie from different locations and every draft back and forth was a taunt to make the screenplay better.
You can become a fan on Facebook, and keep your eyes out for it to be released around February 2010.