Hey ya'll! So, this is the big weekend, eh? It will be beautiful, fantastic, magical, crowded, smelly, and possibly confusing. Now, as you may know, the giant gallery opening blowout event extravaganza isn't exactly the best time to "see" art, per se, but is is the best time to go out a see about a million people trying (or not) to see art and succeeding in seeing, and elbowing, each other. I will be making the rounds of River North and the West Loop, since they have the greatist gallery to area ratio. This however, isn't the plan for everyone, understandably. So in the service of all of you who are avoiding all that insanity like the plague, I give you:
Steph's Top 6 Non-WestLoop/RiverNorth Galleries:
1. Women at Roots and Culture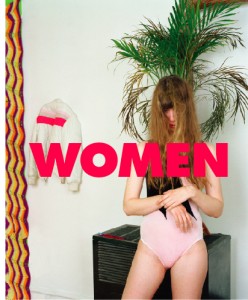 Craig Doty presents to you Women, a show consisting of photographs of, you guessed it, women! Craig is quite the gifted photographer, this will be a good (and crowed) show. Open from 6-9pm.
Roots and Culture is located at 1034 N. Milwaukee Ave.
2. Faking It? at The Art Center at Highland Park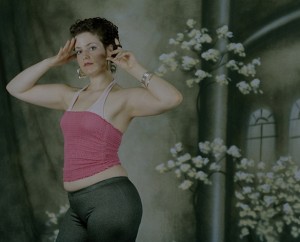 Full disclosure, I wrote the catalog essay for this exhibition, but I agreed to because it is a fucking awesome exhibition! Curated by Regina Mamou (who, awesome for her, is in Jordan right now) and including work by Chase Browder, Helen Maurene Cooper, Jill Frank, Seung Jae Kim, Jason Lazarus, Aspen Mays, Lindsay Page, Kurt Von Stetten, Scott Patrick Wiener and Krista Wortendyke, it is a show that shouldn't be missed ( and will probably have more breathing room at the opening). Open from 6:30-9pm.
The Art Center at Highland Park is located at 1957 Sheridan Rd.
3. Family View at The Family Room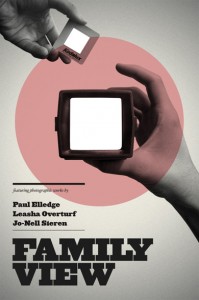 Once again our friends The Post Family bring fourth a delightful exhibition in The Family Room (not actually a family room, that place isn't an apartment gallery). For this round they've go Family View, a exhibition exploring family pictures. Keep it in the family, kids, keep it in the family. Work by Paul Elledge, Leasha Overturf, and Jo-Nell Sieren and open late! Open from 7:30-midnight.
The Family Room is located at 1821 W. Hubbard St. #202
4. William Staples at 65 Grand
I just had the opportunity to preview this exhibition today, and I loved it. It takes a minuet to see what is going on, and it doesn't translate well to images on the internet, but if you can make it over that direction, don't miss it. Plus you'll get to hang out with Bill, he's great.
65Grand is located at 1378 W. Grand Ave.
5. Freaks and Flash at Intuit
Vintage tattoo work by the likes of George Burchett, Sailor Jerry, and Tatts Thomas. How could you not want to see this? Flash and ephemera will take you back to the good old days (you likely never experienced) at Coney Island and the likes of it. It will be pure antiques awesome!
Intuit is located at 756 N. Milwaukee Ave.
6. John Stezaker at Richard Gray Gallery
Is this technically River North? I'm going to say no, if you disagree, too bad. I know my selections have been weighted a bit toward photography, but what do you expect, I like photography. I do have an MFA in it, ya know. Well, here's an interesting artist using photography to explore the celebrity portrait, and the portrait itself. Weird, deceptively simple looking, this work is beautiful (at least I think so).
Richard Gray Gallery is located at 875 N Michigan Ave. # 2503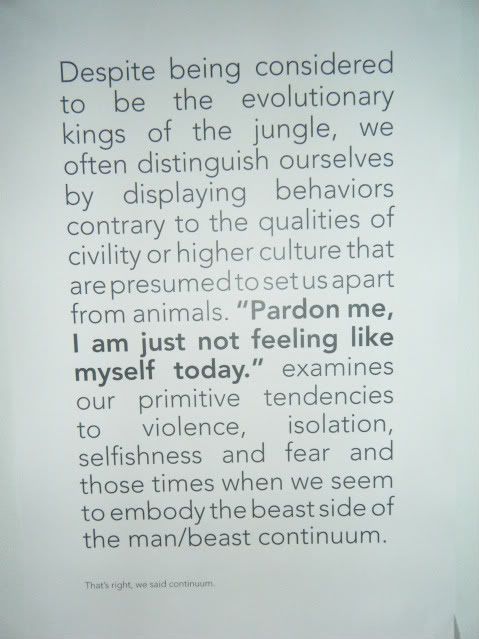 barbara&barbara is a gallery that doesn't accept commissions from the artists, supports itself by giving legit lesbian haircuts, and is having a BBQ for the closing of the show Pardon Me, I'm Just Not Feeling Like Myself Today at the end of the month.
The barbaras are Kara Wabbel and Sierra Berquist, who opened the gallery in October of last year, and moved to their current location this past April.
The show features the work of artists Ben Speckmann, Tim Pigott, Brian Yates and Tony Francesconi, and aims to focus on the more animalistic drives and desires that humans exhibit.
The space is a store front and has a few couches in the center. When I arrived, music was blasting, and one of "the barbaras", Kara Wabbel, greeted me in blue latex gloves. Not knowing about the salon operation in the back, I assumed she was preforming some sort of back porch surgery. I am not sure why my mind jumped to this conclusion.
The first work I encountered was Tony Francesconi's Snare (2009), forcing a fist (presumably his own) into his mouth. He is gazing off into the distance, and the figures teeth are violently pushing the flesh on the fist into wrinkles. The print is larger than life size and glossy, and feels very aggressive, like a bear gnawing it's paw off. I just grossed myself out.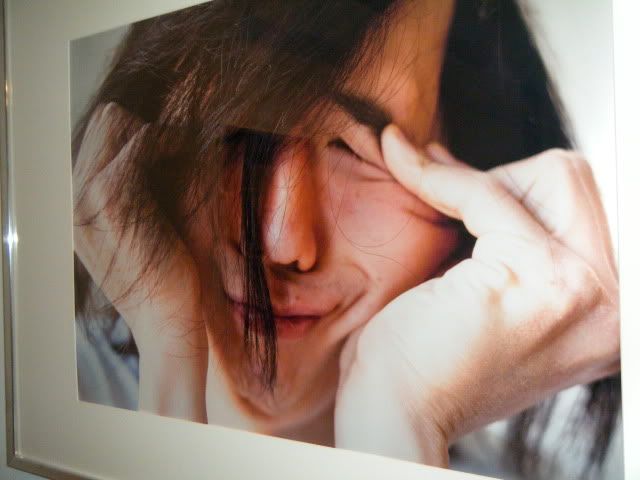 Brian Speckmann's Farmer's Tan Experience (2009) consists of documentation of an experiment of acquiring a farmer's tan. The male subject poses for a full body portrait of before, during, and after the experience. There are also photos of the subject in a tanning bed wearing a v-neck shirt, shorts, and socks. I have yet to see the fetishization of this type of body in contemporary photography, the quest for markings of someone who does manual labor. Coming from half of a lifetime spent on a farm in New Jersey (yes there are farms there), it seems like a fairly pathetic and urban gesture, along the lines of co-opting the mohawk or white dredlocks. Consulting the text for the show and the context of the work, however, I would read this piece more as attaining a camouflage of sorts.
Tony Francesconi's portrait, Dripping (2009) was by far my favorite piece of the show, apologies for the funky angle of the image. It is a close up photographic portrait of a subject presumably crying in grief. At least that is how I read it. Being an "ugly crier" myself, I immediately understood the gesture. From a distance, the grimace looks like a cartoonish smile, and I like how this is pushed up against (what I felt was) an agonizing moment.
Tim Pigott had a few hand drawn portraits in the show, similar to his work I had seen at BelieveInn, and Brian Yates had some sculptural and photo work.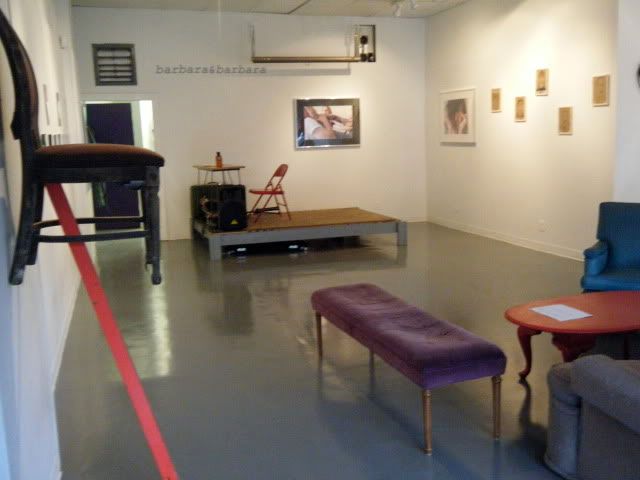 The show overall felt like a mixed bag to me. I was seriously drawn to a few of the works, and others I was pretty ambivalent about. I was really curious about a show exploring the fringes of human nature, but I was expecting something a little more raw and dirty than what I saw. But perhaps that is just my own human nature. I'm really into the gallery as an idea; supporting artists and supporting itself while still being accessible and sustainable. I look forward to seeing more shows in this space.
barbara&barbara is located at 1021 N Western Ave in Chicago, IL. The closing for Pardon Me, I'm Just Not Feeling Like Myself Today will be on September 22nd from 6-10pm.
Our midweek roundup of clips from the art and culture blogosphere, in descending order of respectability:
*The Art Newspaper interviews Luc Tuymans, whose nationally touring retrospective exhibition is co-organized by MCA Chicago Director Madeleine Grynsztejn.
*Eric William Carroll's Google Map remake of Ed Ruscha's 34parking lots (via things magazine).
*Hrag Vartanian visits America's oldest continuous art colony.
*The Met's "workshop Velazquez" turns out to be the real thing.
*A new chance to see what Jasper Johns called "the strangest work of art any museum ever had": Duchamp's Etant Donnes at Philadelphia Museum of Art.
*Rhizome interviews the curator of a So-Cal exhibition on World of Warcraft and its impact on media culture. Related: the real-world benefits of video games.
*Even no news makes news on the Annie Liebovitz financial front. Leibovitz is also being sued for unauthorized use of another photographer's images.
*What?? Bjork and Matthew Barney split? Over Elizabeth Peyton? Gawker asks its readers if there's any truth to the gossip, and is met with a resounding 'who the fuck cares.'
*And finally, (this one's for you Christopher): actor/starchitect-fucker Brad Pitt is rumored to have spent 50,000 pounds designing and building the perfect Gerbil domicile for his childrens' pet rodents (via Unbeige).
Since 2005, AREA Chicago has been involved in researching and mapping Chicago's alternative cultural landscape with a focus on grassroots activism and collective practices. Started by Daniel Tucker and comprising an ever-shifting body of people devoted to putting out a bi-annual magazine and an ongoing series of lectures, discussions, educational and activist events, AREA is a publication, a networking resource, a culture hub and a rhizomatic and centerless "community center" all rolled into one. AREA, whose latest issue deals with money and its affects on our work and lives, is having some money issues of its own. A few days ago they sent this message to members of their Facebook Group asking for small donations to help publish their Fall issue:
AREA needs YOUR help

On Labor Day 2005, AREA released our 1st issue. Since that time we've published 8 amazing issues of AREA and organized dozens of events and exhibitions throughout the city. No doubt if you are getting this note you've picked up an issue of AREA, written an article, or been to an event, so you know that we are highlighting voices and exploring issues that don't normally get a lot of coverage in Chicago.

We are working hard to release our 9th issue this fall and need a push from our community. Each issue of AREA costs at least $5,000 to edit, design, and print. In addition to that, we raise money to pay rent on our office, and to organize public events and programs, mostly from small, grassroots donors like you!

If everyone who has written an article for AREA over the years kicked in just $20, we could pay for the whole issue! How much is a thoughtful, in depth, and original investigation of the arts, history, and politics of your city worth to you?

Donate to AREA by clicking here.
If you're not already familiar with the work that AREA is involved in, spend some time clicking around their website — there's quite a lot of archival and other material available to readers online.  One of AREA's most popular and well-known projects has been the People's Atlas of Chicago, a collective exercise in subjective cartography; also check out 5 Questions about Art, in which Chicago-area artists are queried on the relationship between their art and social practice. Previous issues of AREA magazine are available in full on the website archives; issues are organized around themes and have included topics devoted to Justice; How We Learn, Privatization and Local Food Systems, among others.
If you like what you see, consider kicking in a few bucks to help these good guys keep on keeping on. You can donate to AREA here.
For this week's video pick I am sidestepping the usual videos I post for two short documentaries. The first is Sean Dunne's highly acclaimed short The Archive. This beautifully shot film checks out the overwhelming record collection of Paul Mawhinney as he prepares to potentially sell his collection due to financial issues. The shear volume of the archive is unbelievable but hearing Paul speak about his love for vinyl and his lifelong devotion to amassing the collection makes the film worth watching.
The Archive from Sean Dunne on Vimeo.
The second film is a bit longer and is definitely weirder. In Opal For Mayor we follow Opal Covey as she runs for Mayor of Toledo. The website, although it does not have much for the director, has a bit more info on the eccentric candidate.
"At the age of 13, Opal Covey first heard the voice of God. Her unconditional faith led her down a path of prophetic ministry, a path that brought her to Toledo, Ohio. After having her businesses destroyed and being thrown out on the street, Opal heard the voice of God again – "You're going to be Mayor". This short documentary takes a sincere look at a woman on a mission from God, persecuted and forsaken, yet unfettered as she makes her third bid for the mayoral seat."
Opal For Mayor from sasgkng on Vimeo.