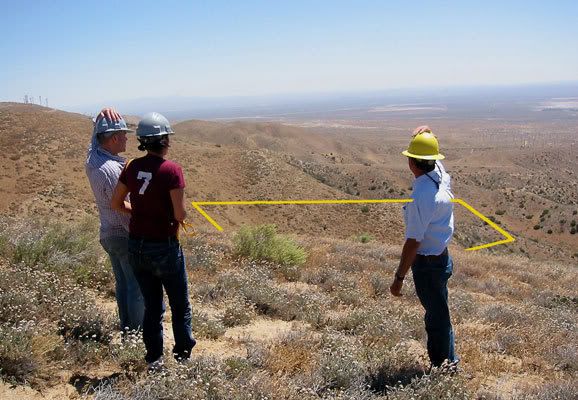 When BAS was invited to attend the C6 Symposium a couple of years ago I was introduced to the work of Amy Balkin. Tomorrow Friday the 7th at noon she will be giving a lecture at Farmlab in Los Angeles.
About The Salon:
"How does the history of land apportionment and toxic waste dump siting in California relate to climate change and emissions trading? Join Amy Balkin for a discussion about land, art, climate, and justice as they relate to her projects Invisible-5, Public Smog, and This is the Public Domain." read more about Balkin here
Farmlab is located at
1745 North Spring Street, Unit 4
Los Angeles CA 90012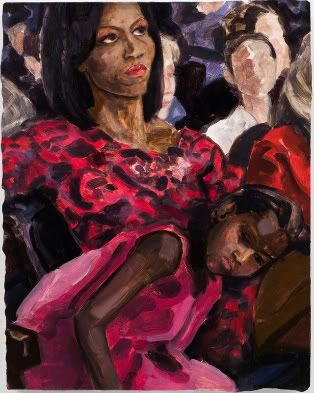 Elizabeth Peyton, "Michelle and Sasha Obama Listening to Barack Obama at the Democratic National Convention August 2008″ (2008)
I've been bogged down at work for the past few days, and then on top of celebrating Obama's victory I have not only been busy but am now sort of sick. I have a ton of updates that will be posted tonight. But for now, enjoy the latest addition to Elizabeth Peyton's show, Live Forever, (above) at the New Museum and an article on Shepard Fairy's role in the election via Modern Painters.
"Why would Barack Obama invite a graffiti artist with a long rap sheet to launch a guerrilla marketing campaign on his behalf? We visited Shepard Fairey, who created the Democratic nominee's iconic "Hope" and "Progress" posters, in his Los Angeles studio to find out." Read the article here
On Saturday night Lauren and I went down to the Lyric Opera House to see the fourth installment of Jenny Holzer's projections. Although I had vowed to see every single one somehow I never made it to the previous three. I have to admit that seeing her truisms, and selected poetry, projected across the river onto the backside of the Opera House was totally worth it. If you have been lazy like me, tonight is your last night to see her projections. At 7pm she will project onto the Merchandise Mart which, according to her press release, is her largest projection thus far. Don't miss out on this, the weather is great so no excuses. Check the press release below
Via the Merchandise Mart
"CHICAGO (October 29, 2009) — In partnership with the MCA exhibition Jenny Holzer: PROTECT PROTECT, the Merchandise Mart, home to Art Chicago 2009, is proud to host a public projection of a text-based work on Monday, November 3, beginning at 7 p.m. and ending at Midnight.
This extraordinary event- a politically charged public art project on the eve of one of the most important presidential elections in living history—marks the Merchandise Mart as the largest building ever to host a Jenny Holzer projection…
Holzer's projection will draw from the poetry of Wislawa Szymborska, who was awarded the Nobel Prize for Literature in 1996. The text will appear on the enormous south face of The Mart, 137,000+ square feet, projected from across the Chicago River.
For more information or for post-event photos on this public art event, please contact Kasey Madden, director of public relations, Art Chicago at 312.527.3357 or kmadden@artchicago.com."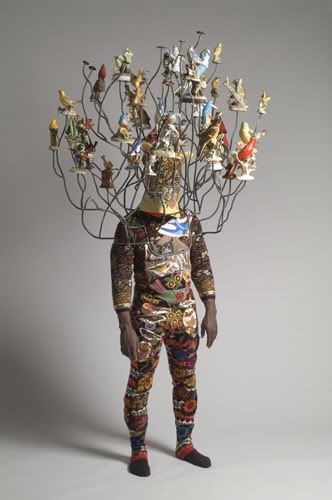 photo via Jack Shainman Gallery
Last week I posted a link to Art 21′s blog interview with Jenny Holzer. This week they have a brief interview with Chicago based artist Nick Cave. If you are not reading Art 21′s blog I would highly recommend it. Below is an excerpt from A21 describing Cave's Soundsuits.
" Nick Cave's Soundsuits are fabulous creations made of thrift store finds, twigs, plastic bags, discarded thcotchkes, and just about anything else that strikes his fancy. Children loved seeing his work and guessing the materials they were made from, and seeing a video presentation of people inhabiting them. They enjoyed learning about his process, too. Often, Cave's Soundsuits are assembled by a multigenerational, multicultural group of volunteers in his Chicago neighborhood."
Check out Nick Cave's interview here.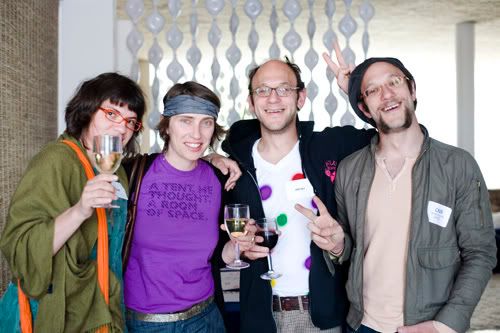 I've been a little too busy today to update . So instead of reblogging the current art news I am going to redirect you to C Monster's list of the most "stoneriffic pieces" in The 2008 California Biennial at the Orange County Museum of Art
Check it here