Kelly Crow with the Wall Street Journal kicks off the new Weekly full color arts coverage in WSJ magazine with "Out Size Art" an article that explores the influence that the recession has on consumers desire to invest in large-scale art installation pieces. As buyers scale back, large pieces are the first to go asking are they more of a headache then a dramatic statement.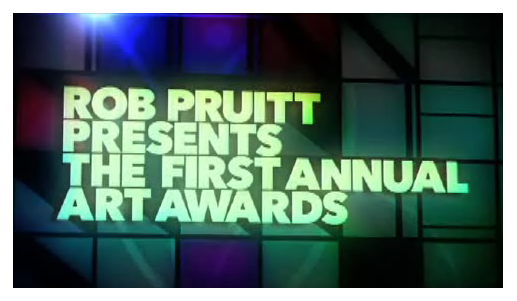 Bravo's "Art Star" reality show hasn't even hit the air waves yet, and already we've got another art contest on our hands. Our vote for most ridiculous news of the week comes with the Guggenheim's announcement of Rob Pruitt's "First Annual Art Awards," modeled after Hollywood's Oscars. Pruitt conceived the awards to celebrate "select individuals, exhibitions, and projects that have made a significant impact on the field of contemporary art during the past year." Oh, and just to keep things bubbly, the star-studded list of presenters will include boyfriend-girlfriend art/fashion design couple of the moment Nate Lowman and Mary-Kate Olsen. There's a formal dinner afterwards, and after that an after-party and, and….oh, just click on the link and read the rest for yourself (including the video of the nominee announcements). I can't take anymore. The rest of our midweek round-up, some of which is actually meaningful (though you'll have to be the judge of that) as follows:
*Art Institute of Chicago appoints Alison Fisher as the Harold and Margot Schiff Assistant Curator of Architecture in the Department of Architecture and Design. Her focus will be on the Art Institute's architecture holdings from 1850 to 1945, and she will oversee the drawings, models, and archives of Frank Lloyd Wright, Daniel Burnham, Louis Sullivan and other American architectural masters.
*Artist Mark Bradford among those awarded 2009 MacArthur Genius Grants.
*Bill Viola changes mind, decides to meet with Pope for Vatican cultural dialogue on the relationship between faith and art.
*Franklin Sirmans appointed chief curator of contemporary art at LACMA, succeeding Lynn Zelevansky.
*Proposed Pennsylvania budget agreement extends state sales taxes to arts and cultural performances and venues but exempts movies and sports events; Philadelphia arts leaders organize in protest.
*Brandeis committee recommends keeping Art Museum open, but punts on the issue of the proposed sale of its collection.
*NEA Chair Rocco Landesman explains reasoning behind demotion of communications director Yossi Sergant.
*Paul Chan's "Top 5 Things That Will Get You Arrested in Minneapolis" aka Top 5 Things We Should Do Together To Make Something Interesting." (Via Eyeteeth).
*Virtual flip book: View all 160 pages of Proximity magazine in less than 20 seconds. Then go buy the real thing. It's a good issue, as always.
*A visit to an exhibition about the history of Ikea.
*Artnet writer Grant Mandarino provides Cliff's Notes on the new Fall art magazines.
*Chicago job posting: Projectionists and room monitors needed for upcoming College Art Association (CAA) Annual Conference in Chicago. If you're interested, see here.
Conrad Bakker–he of the individually hand-carved and painted replicas of a year's worth of Artforum, made available at the genuinely unbelievable low price of $72, the art magazine's own subscription fee–has just launched another of his untitled eBay projects that plays with notions of originality and market value. Bakker's Untitled Project: eBAY/DEPRESSION GLASS is a series of nine oil paintings on panel each measuring 7 x 9.5 inches and based on photographs of depression-era glassware placed for auction on eBay. (The paintings are on view right now as part of the University of Illinois' art and design faculty exhibition at the Krannert Art Museum). Last Friday Bakker put the paintings themselves up for auction (they can be found in eBay's Pottery & Glass > Glass > Glassware > Depression category) but this time, he's donating the proceeds to the Eastern Illinois Foodbank. Bidding closes in exactly 4 days, 23 hours and 34 minutes (as of this writing) and thus far prices remain ridiculously low–the priciest (the green bowl pictured below) is still only at $274. Yes, I may well drive them up by posting this, but it's for a food bank after all. Take a look at some of the works on the virtual block, and if your wallet allows get thee over there and ramp up the bidding.
(Via Open Space via C-Monster).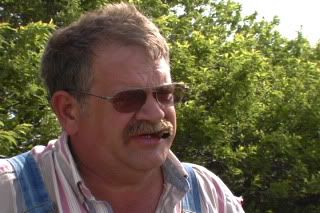 What's the Matter with Kansas? directed by Joe Winston is based on Thomas Frank's best selling novel which shares the same name. This film does, however, differ in it's setting from the book. It acts a bit more like a squeal than as an adaptation. The film begins with the 2006 attorney general elections instead of the books 2004 presidential elections. Throughout the documentary we uncover the surprising liberal history of the state of Kansas.
Lacking a narrator, the film presents itself as a collection of portraits from various members of the Kansas community, both liberal and conservative. Within the first 20 minutes of the film we meet Angel Dillard and Brittany Barden who are both Republican activists, farmer Donn Teske, and my personal favorite, artist M.T. Liggett. Most of the beginning of the film touches on some of the hot topics, such as abortion and gay marriage that have swayed voters over to the Republican Party. It really is unfair to compare this film's documentation of people's thoughts on abortion with Tony Kaye's stunning film Lake of Fire but I am going to have to draw a line to that film. If you haven't seen it go out and get it. It really is one of the best documentaries I've seen in the past five years. FYI it's not for the faint of heart. At times I found the film a little long even with it being only an hour and a half. Aesthetically it felt actually rather well composed. There were plenty of meandering shots that gave you an idea of some of the economic hardships that the citizens on Kansas were facing. I also enjoyed the voyeuristic look onto the other political spectrum while still staying in my liberal bubble. Truth be told, I might have been more invested if I had read the book or had been from Kansas.
Gene Siskel Film Center
164 North State Street
Chicago Il 60601
Tuesday, September 22nd, 6:15pm and 8:15 pm
Wednesday, September 23rd, 6:15pm and 8:15 pm
Thursday, September 24th, 6:15pm and 8:15 pm
This week's pick is inspired by C-Monster's End of summer at PS1 in NYC post. I must confess, I love musicals and when I saw a photo of of the Jesus Christ Superstar album I knew it had to make it's way onto the picks. I don't think anyone can deny Carl Anderson's talent as Judas. Ugh, such a guilty pleasure.