What was Archimedes famous quote? "Give me a place to stand to take enough photos and I can map the world" no but he might have
University of Washington's Graphics and Imaging Laboratory, the researchers who built a lot of the code that went into the original Microsoft Photosynth software, have devised new algorithms that take the existing ability to create a rough 3d map from multiple photos up by a order of magnitude. Now it not only can do basic depth perception and skinning with photos but create pinpoint 3d skeletons if given enough data to pull from. The uses and implications of this are vast.
We just need to use the v1.0 and start rendering gallery openings in 3d 🙂
Artnet News reported yesterday on the controversy kicked up by Cuban artist (and University of Chicago faculty member) Tania Bruguera, whose performance on Aug. 27 at the Facultad de Bellas Artes at the Universidad Nacional de Columbia in Bogota caused an uproar. As part of a larger piece dealing with Columbian history and politics, Bruguera offered lines of cocaine to her audience, some of whom took the bait and consumed what turned out to be authentic (and, apparently, "good stuff" according to those audience member who partook). Here's an excerpt from Artnet's story:
Bruguera's performance, which took place on Aug. 27 at an auditorium of the Facultad de Bellas Artes at the Universidad Nacional, drew enough of a crowd that it was transmitted outside to spectators via a large screen. According to various accounts, it began with three figures — representing, the artist said, a right-wing paramilitary fighter, a left-wing guerrilla and a refugee displaced by the long-running conflict in Colombia — all speaking simultaneously into a microphone. However, whatever they were trying to communicate was overshadowed when the second part of the show began, with an assistant wading into the crowd carrying a tray laden with lines of coke, presenting it for the audience's consumption.

Reactions at the time were mixed. According to a student who was present, writing in El Tiempo, at first the event was assumed to be a joke, until several members tested the drug, and proclaimed it to be "good stuff." At this point, some spectators joined the festivities, and others walked out (mainly the older crowd seated up front, El Tiempo's correspondent says). Some audience members warned those who were doing the drugs that they were participating in illegal activity, while others continued to try and watch the stage action. Following the commotion, Bruguera herself took the stage, thanking her Colombian audience and exiting. And according to reports, the police were called.
Artnet also links to a YouTube clip of Bruguera responding to critics at a panel after the performance, which I'm including directly below for you Spanish speakers and body-language readers. The clip shows an angry audience member who, according to Artnet, describes herself as an "activist, journalist, artist and direct victim of the violence" and vehemently criticizes the piece for its superficiality.
Bruguera was part of the MCA Chicago's "Diversity and Contemporary Art" panel that took place a few weeks ago on September 9th. I wasn't able to make it – but I'm curious if this particular performance was brought up at all during the discussion. Did any of you reading this attend? For that matter, if you happened to have been present at Bruguera's performance in Columbia, by all means let us know what you thought of it in the comments. We're trying to reach Ms. Bruguera directly to get the artists' side of the story, and will keep you posted.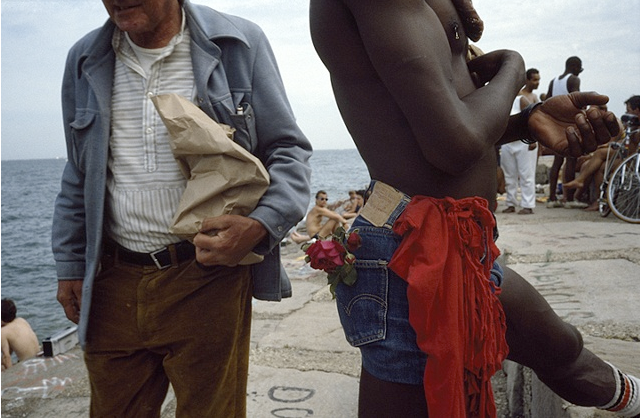 Marginal Waters at GOLDEN in Chicago exhibits 13 of the works in the series by Doug Ischar. The backdrop of Chicago's own Belmont Rocks, since destroyed, sets the stage for the documentation of gay men in the 1980s.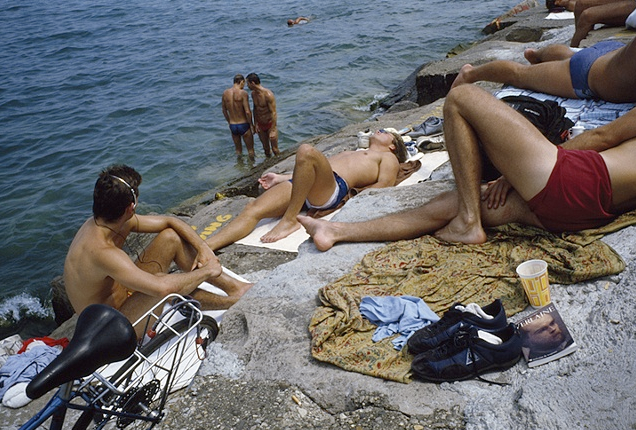 The first room in the impeccable space presents three large framed photographs. The titles of the images are sterile and indexical, simply numbered. MW 19 (1985), the first piece I confronted, is a portrait of a scattered group of men, sunning on the rocks by the water. Two men are standing close, just of the verge between friendship close and intimately close, and there are men stretched out sunning on towels.  Besides the incredibly dense colors, there is something about all of the photographs that is so captivating; the latent sexual desire rubbing up against the innocence of an afternoon in the sun. The subtle hand on the thigh, the peak of underwear beneath impossibly short shorts, the glint of a nipple ring, or connection between two bodies that speaks to the audacity of a normally closeted culture behaving freely in a public arena, almost like  Sunday In the Park on poppers.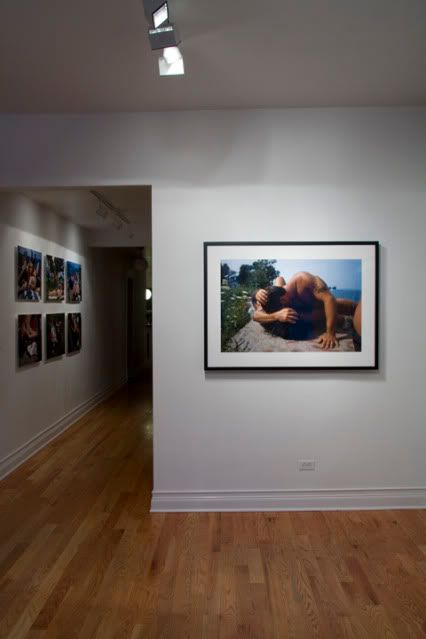 The dual landscape of bodies and the rocks was elegantly captured in MW 22 (1985), a portrait of two men embracing on the ground. The curve of the shoulder, knee, seem to act as an extension of the terrain. Also in this image is a lone can of Miller High Life, just one of the many cultural artifacts that look planted in the compositions. Other images include a Diane Arbus book, a Vanity Fair, walkmans (walkmen?), and many ten speed bicycles. There is a subtle illicit implication to the images, an innuendo of illegality.
This feeling of "getting away with something", as opposed to just being or doing is represented extremely well in the one video piece in the show, Forget Him (2009). This single channel video is extremely compelling and layered. Silent footage found by the artist in a Chicago area flea market in 1990, originally shot in the 1960s, is kept in its entirety with only the playback speeds altered. Ishcar adds captions of Walter Benjamin's One Way Street, as well as a beautiful section from Heirich Schultz's Symphoniae Sacrae (1629) . This video serves as a present day reflection on the project from the 80s. It begins with footage of a backyard flower garden, has spaces of blank footage with dust and scratches, and then segments of two men at the rocks. The men are changing, one taking off his pants and donning a jock strap, the other removing his fishnet shirt and khakis and dressing in the tightest shorts you have ever seen, struggling to zip them up. The whole time they are looking around, and the gaze of the camera catches passersby in the distance. This seems like a getting ready ritual that would contemporarily be done in the home, to get ready for a club, but takes place in the open space of the Belmont Rocks.  The word from the text, "lovesick, sick, sick", echo on the screen, seeming to allude to the previously believed "illness" of homosexuality, as well as the consciousness of the AIDS epidemic.

The gallery itself, located in a classic Chicago graystone in Boystown, (apparently one of the first officially recognized "gay villages" in the United States) is incredibly appropriate, adding to the sense of history and urgency of preservation felt in the show. There was also a neatness to the images that worked extremely well in the historic yet well-groomed space. Jacob Meehan, director of GOLDEN, says that many of the neighborhood homos who showed up for the opening this past weekend actually thanked him for showing the work, and reminisced over the images. I think that this show is a great way to begin the year, and to make a meaningful connection with the community.
There is going to be a catalog for Marginal Waters, which will include all 26 of the images in the series as well as text by David Getsy, Steve Reinke and an interview with John Neff. The exhibition has been extended and there will be a closing and catalog release reception, the dates of which will be posted on the website.
Calling all theory-heads: the Stone Summer Theory Institute launches its 2009 week-long school in contemporary art theory this Sunday with a lecture this Sunday afternoon by James Elkins on this year's topic, What Do Artists Know? A rundown on the coming week's public lectures is below; to learn more about the ideas behind the Stone Summer Theory Institute, check out Duncan's interview with James Elkins on Episode 149 of the podcast here.
What Do Artists Know?
Co-organized by James Elkins and Frances Whitehead
Thinking on the education of artists is divided in an unpromising way among teachers avid for practical tips, administrators interested in the bottom line, educators invested in philosophies of teaching, and artists proposing idiosyncratic solutions. The 2009 SSTI will focus on three themes: the histories of art education; the current content and philosophies of art education around the world and at all levels; and the current state of theorizing on what artists know in society and outside the educational framework.

Admission
Tickets are free for SAIC students, faculty, staff, and alumni
Prices for the public vary. For more information please visit www.stonesummertheoryinstitute.org

LECTURES

James Elkins: What Do Artists Know?
Sunday, September 20, 1pm
Morton Auditorium, the Art Institute of Chicago, 111 S. Michigan Ave.
Free and open to the public. No pre-registration required
Presented by 2009 SSTI co-organizer James Elkins, this lecture will consider the principal theories of studio art education, including the First Year, the BFA, MFA, and PhD, while comparing practices in different countries. Elkins is the author of Why Art Cannot be Taught: A Handbook for Art Students and the E.C. Chadbourne Chair of Art History, Theory, and Criticism at SAIC.

Sir Christopher Frayling: The Hollywood History of Art
Monday, September 21, 7:30pm
SAIC Ballroom, 112 S. Michigan Ave.
Former Rector of the Royal College of Art, London, Sir Christopher Frayling is a cultural historian specializing in the permeability of high and low culture. He became the first professor of cultural history at the Royal College of Art and has published more than a dozen books. Frayling was knighted for 'services to art and design education' in
2001.

Roy Sorensen: "Artistic Expertise"
Wednesday, September 23, 7:30 PM
SAIC Ballroom, 112 S. Michigan Ave.
Roy Sorensen is Professor of Philosophy at Washington University in St. Louis. While he seldom writes about art, the titles of his books read like a roster of concepts that artists have invoked to describe what they know and how they see: Blindspots (1988), Thought Experiments (1992), Pseudo-Problems (1993), Vagueness and Contradiction (2001), and A Brief History of the Paradox (2003). He has also written a book on perception called Seeing Dark Things: The Philosophy of Shadows (2007).

PRESENTATION AND DISCUSSION

"What Do Artists Know?"
Thursday, September 24, 7:30 p.m.
Performance Space, Columbus Drive Building
As many artists transverse the disciplinary boundaries of art, design, science, and other fields, how do we understand the role of knowledge production in hybrid/ trans-diciplinary practices?  SAIC faculty with such practices, reflect on these questions and lead an audience discussion on knowledge in practice.

Participating SAIC faculty include: Ellen Grimes, Adelheid Mers, Claire Pentecost, Andy Yang, and Frances Whitehead.

Advanced registration recommended.

ROUNDTABLES

Opening Roundtable
Monday, Sept. 21, 9am-noon
SAIC Ballroom, 112 S. Michigan Avenue
Introducing the problematic of the Institute is a three-hour roundtable discussion, which will be taped and published. Panelists include Frances Whitehead, James Elkins, Sir Christopher Frayling, Stephan Schmidt-Wulffen, and Roy Sorensen.

Closing Roundtable
Saturday, Sept. 26, 9am-3pm
Price Auditorium, the Art Institute of Chicago, 111 S. Michigan Ave.
(Use Michigan Avenue entrance before Museum open hours.)
A five-hour discussion by the Faculty, which will be taped and published. The Closing Roundtable includes a one-hour lunch break, and 90 minutes for audience questions.

The Stone Summer Theory Institute is sponsored by Howard and Donna Stone, longtime friends of the School of the Art Institute. Their innovative patronage supports the understanding of art, in addition to the infrastructure of education or display.
Hey there ya'll. After reviewing the (surprising number of) openings this weekend, here's what I'd make sure to go to:
1. Trail at Altgeld Sawyer Corner Farm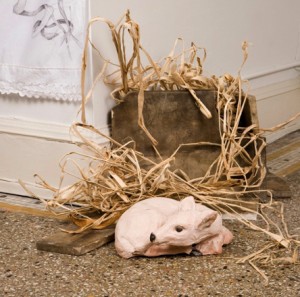 I don't know if this is going to be any good or not, but it looks weird enough to merit a look. Thing is, it does specifically appeal to me, but hey, this is my Top 5 ain't it. It's an installation by J.E. Baker telling the story of a Bambi who's mother died in a fire, I mean, was hit by a car. Reception's Friday from 6-8pm.
Altgeld Sawyer Corner Farm is located at 3240 W Altgeld St.
2. Group Show for Daniel Pink at Vega Estates
Not only is this the last show at Vega Estates, but I like the premise of "copies." Seems relevant to nowadays, I suppose. I'm not miaking a good sell, but I read the press release on the site, and it made me want to go. Work by a bunch of people, including Curt Bozif, Matthew Metzger, Amy Adler, Conrad Bakker, Vince Leo and Sharon Lockhart. Reception's Saturday from 6-10pm.
Vega Estates in located at 723 W. 16th St.
3. Flat 3 at Floor Length and Tux
Truth be told, my primary interests in this place are the fact that I've never been there but heard good things about it, and 'cus I'm interested in Catie Olson's work. Also showing at this delightful event: Lilli Carre, Alexander Stewart and EC Brown. Reception's Saturday from 7-10pm.
FLAT is located at 2332 W Augusta Blvd.
4. Polonia and Other Fables at The Renaissance Society
New work by Alan Sekula at ye olde Renn. Society. Need I say more?  Sekula will be talking from 5-6pm, the reception is from 4-7pm, all on Sunday.
The Renaissance Society is located at 5811 South Ellis Ave.
5. Sunday Soup at InCUBATE
Not sure how many of you know about Sunday Soup, but seeing as you are reading BAS, I can make a gross generalization that you've probably heard of it, at least. Deal is, you go to InCUBATE, pay $10 for some soup (this time made by S.F. chef Leif Hedendal), that $10 goes into the pot for an artist grant, and while you sit around and eat your soup you and everyone else there vote on who gets the grant. At least that's my understanding of it. So, if you've got $10 to spare, you like art, and you like soup, this is your event! Be there at noon!
InCUBATE is located at 2129 N Rockwell St.