Even Umberto Eco. I love what the Louvre is doing by signing him on as guest curator (as they have previously done with writer Toni Morrison and composer Pierre Boulez). Eco's theme for his work at the Louvre is "The List." For example, he's organizing a conference on 16th century Flemish artist Pieter Bruegel the Elder that looks at how the latter's peasant subjects make for a kind of visual list. There will also be a performance art piece that draws from lists found in works by Homer, James Joyce, Victor Hugo and Eco's own oeuvre. I like that they're using Eco to curate not artworks but institutional programming, which allows him greater reach and play.
J. Crew's a curator now too. Their online catalog features a new "Designer Collaborations" series, one which promises "a HIGHLY EDITED selection of the top names out there–those who have truly perfected their CRAFT. You shouldn't have to travel the world to find the very BEST." Italics and bolded words most certainly NOT MINE.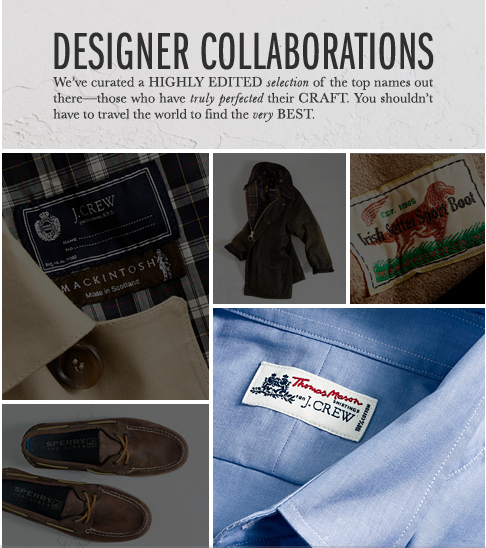 The New York Times ran an interesting article last week about the attractions that the word "curator" holds for fashion, new media and marketing professionals, but that J. Crew blurb pretty much sums it all up: an offer of selectivity and exclusivity, of authoritative knowledge and insight into what's considered to be the best that's out there.
I like the fact that the word 'curating' has gone mainstream, although it does seem like most of the marketers who use the term "curate" are confusing its meaning with the idea of list-making, or worse, with personal shopping. Even if that list is meant to be a selective offering of the best whatever-it-is in your field, it's still just a list of things you're meant to go out and buy. Curating, as we know, isn't exactly like that (although Whitney Biennial-type curating sometimes kinda is….). Curating for museum professionals is as much about cultural and historical contextualizing and recontextualizing as it is about discernment or "having a good eye" — a phrase that curators themselves throw around and which I always loathed, mostly because it tended to make me feel self-conscious about my shoes.
Things have been way too serious around this here blog lately, and it's mostly my fault. Meg, we need you to curate us up a bunch of new cat videos, pronto!! But I do have this small scrap of completely un-newsworthy information to offer y'all. A bit of gossip came through the BAS grapevine which we are passing along to those of you who care about Bravo's upcoming Untitled Artist Project, the Sarah Jessica Parker-produced t.v. reality series that pits artist against artist. We hear that artist Andres Serrano will be the guest judge on the show's first episode, which is also one of several that will take place in the Phillips de Pury & Company headquarters in Chelsea. The set will feature a kind of "greatest hits" showcase of the used-to-be controversial, now just tired "Piss Christ" artist's works, whose last exhibition at Yvon Lambert in New York was titled "SHIT" and featured photographs of shit.
If it is indeed true that Serrano winds up being the first featured artist on the series (I wouldn't be surprised if the planned order of shows gets switched around in the editing process, so who really knows), it's a sure signal that the Untitled Artist Project wants to start out with a bang by selecting guest artists whose work is perceived as being "extreme" in some way, and that more of the same will follow.
And you know, that's perfectly fine with me. I can't wait for this show. My only fear about it is that it'll be on too late for me to watch it given how freaking tired I am at the day. What I'm most anticipating actually is the chatter that will take place on Bravo's online forums as viewers start rooting for favorites and fervently justifying their reasons for doing so. Will the artist/contestants on Bravo's show gain audience favor/hatred via their personalities or the art they make? I personally don't care which it winds up being – I'm not looking for anything other than some great television from this show, although I certainly wouldn't rule out the possibility that we might get lucky and get a lot more than that out of it.
This past weekend the Dance Center of Columbia College Chicago hosted a three night performance with the Merce Cunningham Dance Company. For this week's pick we check out Cunningham's collaboration with John Cage, Stan VanDerBeek, and Nam June Paik entitled Variations V.
Via Media Art Net:
"John Cage made «Variations V» in 1965 for the Merce Cunningham Dance Company. He and David Tudor settled on two systems for the sound to be affected by movement. For the first, Billy Klüver and his colleagues set up a system of directional photocells aimed at the stage lights, so that the dancers triggered sounds as they cut the light beams with their movements. A second system used a series of antennas. When a dancer came within four feet of an antenna a sound would result. Ten photocells were wired to activate tape-recorders and short-wave radios. Cecil Coker designed a control circuit, which was built by my assistant Witt Wittnebert. Film footage by Stan VanDerBeek and Nam June Paik's manipulated television images were projected on screens behind the dancers."
For more information on Variations V check out Media Art Net.
Last week was, by many accounts, a humiliating one for Chicago, ending as it did with the announcement that the Second City had been knocked out of contention for the much-coveted 2016 Olympics–in the first round, no less. Given that Chicago had already beaten out numerous other international contenders to reach the final four in the first place I don't exactly see why it's considered such a crushing embarrassment to have come in fourth but, whatever…I have no dog in that fight. It's probably just one of the many "Chicago things" that I'll never fully understand. As an art person, however, I'm far more interested in looking at the blows to civic pride that were delivered earlier last week in the wake of the Tribune's story on the positive public reaction to J. Seward Johnson Jr.'s outdoor sculpture "God Bless America." Yeah, you know the one. This one: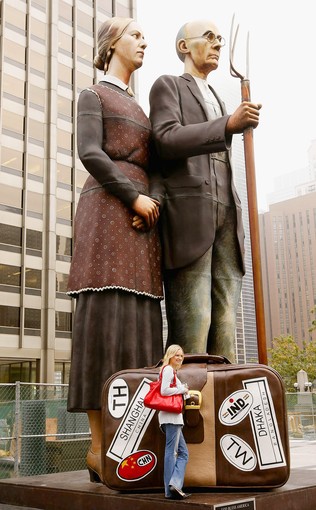 Written by Trib reporter Steve Johnson, the article was framed by this headline: "What does popularity of God Bless America sculpture say about public art in Chicago?" This, I think, was precisely the wrong boldfaced header to attach to an article about a sculpture that has been borrowed from the Sculpture Foundation and is not, in fact, meant to be a permanent part of the city's landscape of public art. Although the Trib's article does make passing reference to this fact, the headline seems to imply that "God Bless America" somehow holds similar status as the Picasso, Calder or Kapoor pieces do in the city's world-class lineup of public art.
For better or worse, Steve Johnson's story gained a degree of national attention, not as much from Chicago's art crowd as from arts writers elsewhere in the country. On September 30th the L.A. Times' chief art critic Christopher Knight linked to the Trib article on his Twitter feed with the comment: "Is J. Seward Johnson trying to be America's Worst Artist?" A few days later Paddy Johnson of Art Fag City wrote a post titled "Bad Public Art Finds Audience in Chicago" containing a point-by-point takedown of Steve Johnson's main arguments, which he set up as follows:
"Critics can wag fingers at it — and some do — but God Bless America meets some of the fundamental tests of public art. It is noticed, it is appreciated, and, in many cases, it provokes reflection on what makes an art work original."
I drove by "God Bless America" last week. Parking is monstrous downtown so I couldn't stop to get out and walk around it, which is too bad, since public art–like all art–needs to be experienced in situ in order to be fully understood and appreciated. Nevertheless, I can't offer any viable counter-arguments to Knight and Paddy Johnson's assertions that the sculpture makes for some pretty bad art. Sure, I could attempt some sort of cultural studies-style analysis of how people actually relate and respond to the sculpture in real life (a more populist form of which Steve Johnson was basically attempting in his Trib article) but my heart wouldn't be in it. Knight's snarky question was a valid one, and Art Fag City's post was in keeping with its editor's ongoing deconstructions of the more egregious myths about contemporary art and its reception–the Trib's article, sadly, providing a prime example of just the sort of superficial arguments that so often inform those myths.
As far as I know the Trib's Steve Johnson isn't an art critic or an arts journalist. He's a thoughtful and smart culture reporter who was interested in the popular reaction to a popular work of public art in his city. My beef certainly isn't with Mr. Johnson or with the quality of the article he wrote. It's with the fact that Johnson's was one of the rare "news" stories about art in Chicago that the Trib has published over the past few months. And I straight-up disagree with that particular choice of story.
I've said it before and I'll say it again, even though I'm not saying anything everyone who lives here doesn't already know: it's a damn shame that a city of the size and cultural prominence of Chicago does not have a national voice for its art scene, a newspaper art critic of the stature of Christopher Knight who could have written about Seward's sculpture from a critically informed art historical viewpoint as well as the more straightforwardly populist one put forth by the Trib (or, better yet, would have chosen not to make this into a story at all, given that there's nothing particularly timely or newsworthy about it).
This is not a city of people who know nothing about art and architecture, nor do Chicagoans evince a "fear" of the rigorous discourse that often accompanies discussion about those subjects. So why does the Trib cover art as if it its readership needs hand-holding and spoon-feeding via articles that essentially give us permission to look no further than a work of public art's most spectacular effects?
Chicago needs at least one real art journalist with a national platform to represent this city to the rest of the country, if not the world (and by "art" here I mean fine art, not theater, dance, music, etc. if that's not already obvious). Clearly, other arts writers across the country are still paying attention to the Trib's art coverage and looking specifically (and exclusively) to that paper for news and insight into Chicago's art scene and its art public. The problem is that the Trib is relying on reporters who have no in-depth art backgrounds to cover art news in this city–no dog in the fight, as it were–and frankly I find the effects of this to be somewhat humiliating.
Chicago needs a high-profile newspaper writer who is both a critic of and an advocate for the city's art; not a booster but a person who will draw attention to bad decisions and art world folly while at the same time placing new developments within a larger cultural and historical context. Chicago's art bloggers simply aren't able to bear that responsibility, not because of a lack of talent but from a serious lack of time, money and resources. My advice to the Trib: get freelancer Lori Waxman on staff and make her a reporter or something–I don't fucking care, but Chicago needs to cultivate its own Christopher Knight some way or another. Until we do, we risk letting writers from other cities steer the discourse on Chicago art. We owe it to ourselves not to let that continue.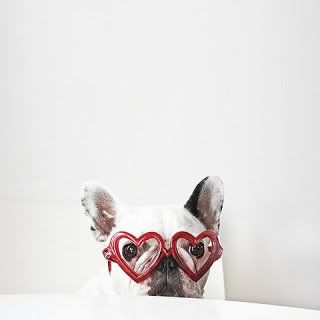 Let me just say that the photo to the left has absolutely nothing to do with the roundup. Can you blame me? Ugh, that dog is just so cute. Okay, back to the roundup… On this week's roundup I checked out the iPhone app "Museum of the Phantom City", read some of Claudine's reviews on Artforum.com, and found Miranda July slightly arousing in a cop uniform (TMI).
@bldgblog on Museum of the Phantom City.
Just reading a review for Lourdes on NCTATNY and it struck me, doesn't Sylvie Testud look a lot like Cindy Sherman?
@artfagcity has an interview with The New York Art Book Fair Executive Director AA Bronson.
RT @gawker Chicago Hipsters Take to the Streets in Anti-Olympics Mayhem.
The Trib has an article about that "American Gothic" knockoff on Michigan ave.
The Yes Men are the recipients of The Leonore Annenberg Prize for Art and Social Change. (via @iteeth)
Bryce Dwyer of InCUBATE is guest blogging on @art21
RT @claudineise has a review of PVZ's show @threewalls on artforum.com http://tinyurl.com/yajt8r2 (via @kingstitt & @r_holland)
The Tribune reviews the Trump Tower.
28 days later in 1 minute + 1 take.
I don't know what it is but Miranda July makes a sort of sexy cop.
L.A.'s Museum of Neon Art has found a new home in Glendale.
@art21 has a video of Arturo Herrera discussing failure.
@boingboing has an interview with alumni from a Dungeons and Dragon's camp from 1982.