Over the last week the music file sharing debate has found new fodder to play with in the form of Pop singer Lily Allen. Lily Allen started a proactive discussion on the net complete with website to address her concern with the negative effects of file sharing. In only a few days the site and most of her postings have been deleted but you can read much of the archives here.
As with any good debate it's in the light of opposite views that you find informative and interesting contrasts and in this case one of the better opinions came in the form of a new song by artist Dan Bull who sampled Ms. Allen's song "22" to make an open singing letter titled "Dear Lily"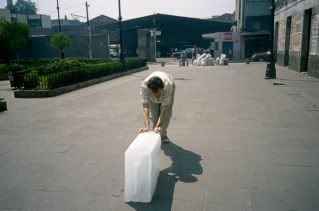 On this week's twitter roundup I checked out The Walker's show, "The Quick and the Dead", Vito Acconci modeled for J Crew, and it looks like blackface is in fashion again. If your looking for something to do tonight stop by the Co-Prosperity Sphere for the release party for Proximity's latest issue.
Proximity Issue 005 Release Party
Co-Prosperity Sphere, 3219 S Morgan
Friday, September 25, 9pm – 1am
For more info check out their website.
This is the final in the series of posts about Paintball works and Pointillism and is a year old but is a sight to see never the less. MythBusters hosts Jamie Hyneman & Adam Savage (Who I always contested reminded me of two other hosts) built and presented at a Nvidia announcement a 1100 barrel paintball gun that illustrated the parallel processing available on GPU's to make a recreation of DaVinci's Mona Lisa in one single group shot.
The gun itself is a sight to see and looks like it was removed from the midsection of a Rocket. All this paintball junk video makes me want to forget city wide kickball and start a Bad at Sports paintball league hahahaha. I bet our Meg can kick the butt of your Meg anytime 🙂
Colombian Pop Artist Bon Yurt organized over 20 paintballists to recreate using only their aim a version of Andy Warhol's Marilyn Monroe. The value and end result is debatable but it is still an interesting sight to see enthusiastically executed.
Mode Studios designed and installed four 35ft long Interactive Installation Art Screens throughout the International Headquarters of Microsoft. The screen is made up of a horizontal series of hanging vertical tubes with LEDs built into them to create a solid image. The visual display is completely procedural without any prerecorded interactions or video. Everything that is shown is a byproduct of multiple variables from room traffic, weather, noise and heat in the focus locations in the room to create the movements or subjects on the screen with the potential of never showing the same interaction twice. The video of the installation is below and apart from the promotion hard sell it is a good example of art installation tech that is growing now.