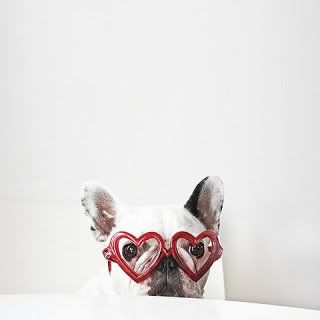 Let me just say that the photo to the left has absolutely nothing to do with the roundup. Can you blame me? Ugh, that dog is just so cute. Okay, back to the roundup… On this week's roundup I checked out the iPhone app "Museum of the Phantom City", read some of Claudine's reviews on Artforum.com, and found Miranda July slightly arousing in a cop uniform (TMI).
@bldgblog on Museum of the Phantom City.
Just reading a review for Lourdes on NCTATNY and it struck me, doesn't Sylvie Testud look a lot like Cindy Sherman?
@artfagcity has an interview with The New York Art Book Fair Executive Director AA Bronson.
RT @gawker Chicago Hipsters Take to the Streets in Anti-Olympics Mayhem.
The Trib has an article about that "American Gothic" knockoff on Michigan ave.
The Yes Men are the recipients of The Leonore Annenberg Prize for Art and Social Change. (via @iteeth)
Bryce Dwyer of InCUBATE is guest blogging on @art21
RT @claudineise has a review of PVZ's show @threewalls on artforum.com http://tinyurl.com/yajt8r2 (via @kingstitt & @r_holland)
The Tribune reviews the Trump Tower.
28 days later in 1 minute + 1 take.
I don't know what it is but Miranda July makes a sort of sexy cop.
L.A.'s Museum of Neon Art has found a new home in Glendale.
@art21 has a video of Arturo Herrera discussing failure.
@boingboing has an interview with alumni from a Dungeons and Dragon's camp from 1982.
Here's my picks for the weekend, in chronological order. This whole weekend is a bit slow and dull, so do blame me if these five weren't all you'd hope for. P.S. Fall is here, did you notice?
1. For the Time Beings at Fill in the Blank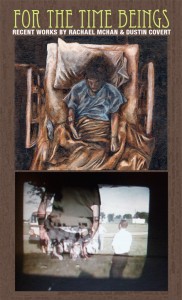 This place is close to me, relativity new, and generally entertaining. Opening this week is For the Time Beings, an exhibition of work by Rachael McHan and Dustin Covert. The work looks pretty depressing, but it's fall, fall's all about depression, right? Reception is Friday from 7-11pm.
Fill in the Blank is located at 5038 N. Lincoln Ave.
2. Atom Basham at Sapere Art/Intuitive Works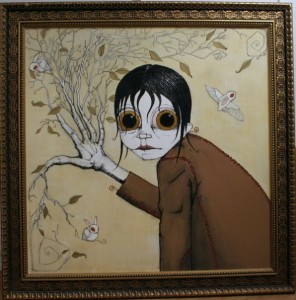 Weird cartooning. Creepy drawings. Mmmmm…looks like fall to me. Do I have a skewed sense of fall? Maybe, but this work is as autumnal as pumpkin pie. Work by Atom Basham, Eulalio Fabie de Silva, Mark Lace and RW Ruehlen. Reception is Friday from 6-9pm.
Sapere Art/Intuitive Works is located at 1579 N. Milwaukee Ave.
3. With Our Forces Combined at Barbara & Barbara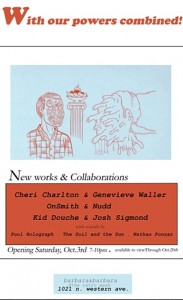 Collaboration! It's awesome. This show is based around collaboration, and features the work of three collaborative pairs: Josh Sigmon and Kid Douche, Onsmith and Nudd, and Cheri Charlton and Genevieve Waller. Reception is Saturday from 7-10pm.
Barbara & Barbara is located at 1021 N. Western Ave.
4. Strangers at Spudnik Press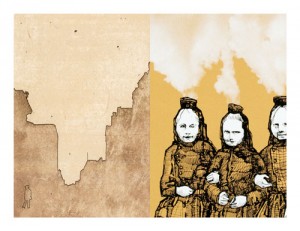 I'm generally not crazy about printmaking. I don't dislike it, it just rarely appeals to me. The work I've seen from this show, on the other hand, actually peaqued my curiosity, so I'll give it a shout. Features the work of Sanya Glisic and Mischa Kegan. Reception is Saturday from 7-10pm.
Spudnik Press is located at 1821 W. Hubbard St.
5. Once Upon a Time and Now at Evanston Art Center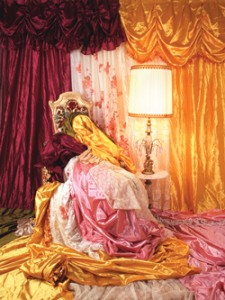 Ahhh fall, the time of group shows. Well, is it fall, is it the economy, what is it? Here is yet another packed group show up at the 'ole EAC, featuring work by Patty Carroll, Teresa Mucha-James, Stacee Kalmanovsky, Bonnie Klehr, Julie Laffin, Erik Lowe, Casey Riordan-Millard, Mitch O Connell, Alex O Neal, Deborah Simon, Eleanor Spiess-Ferris and curated by Susan Sensemann and Barbara Blades. Reception is Sunday from 5-8pm.
Evanston Art Center is located at 2603 Sheridan Rd.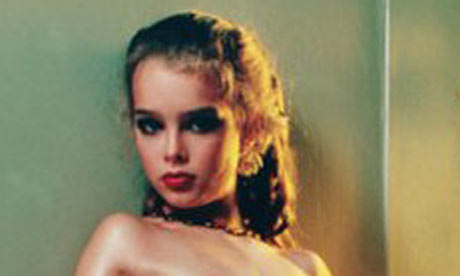 Photographer Richard Prince's photo "Spiritual America" was removed from the upcoming Tate Modern exhibition "Pop Life" (opening tomorrow) after a warning from Scotland Yard that the nude image of actress Brooke Shields aged 10 and heavily made up could break obscenity laws.
The officers spoke to the Tate after seeing promotional material in the newspaper and not via complaints that were issued to the office.
Read more about the history of the photo and it's background at the Guardian article.
This week's this and that…
*Threewalls and The Green Lantern Press publish The Artists Run Chicago Digest, which complements the exhibition that was on view at the Hyde Park Art Center last summer. Release party: October 30th, 2009.
*Donald Young one of 65 gallerists not returning to Art Basel Miami this year. However Rhona Hoffman Gallery will be back for the Fair's 2009 installment.
*Anchor Graphics giving away free prints at the opening of its Return to Printlandia exhibition tomorrow night (Thursday October 1st) from 5-8pm. (via Chicago Reader).
*MOCA's in Turnaround: The L.A. Museum has raised $60 million since last December, putting it on path to recovery.
*Roberta Smith on the new trend of artists-as-models (in this case, for J. Crew's lastest catalogue).
*Outsider(ish) art hits the iPhone with new Daniel Johnston video game app; too bad Johnston himself has no idea what an iPhone is.
*Bike Rides: The Exhibition: New exhibition at The Aldrich Contemporary Art Museum "explores the growing relevance of bicycles in contemporary art and culture;" musician/bicycle enthusiast David Byrne is an adviser to the exhibition (Via Artipedia).
*Art School: Propositions for the 21st Century just issued by MIT Press. (Via Groundswell).
*What's the matter with Frank Lloyd Wright's 100 year old Unity Temple in Oak Park, IL? Turns out, a lot.
*Phong Bui interviews Agnes Gund for The Brooklyn Rail.
*New online art mag: James Wagner and Barry Hoggard launch Idiom, "an online publication of urban artistic practice."
*Rant of the Week (technically it was last week, but I'm behind on the news): Charlie Finch on Dave Hickey's "The Good Ennui" lecture at the SVA. Watch Hickey's lecture on YouTube here (it was posted, yanked, and now it's back up again).
This month the Gene Siskel Film Center hosted the 16th Annual Chicago Underground Film Festival hosted. Not too much of a surprise that both of the films I did catch this year were both documentaries.
American Radical: the trials of Norman Finkelstein
American Radical: the trials of Norman Finkelstein directed by David Ridgen (Mississippi Cold Case) and Nicolas Rossier (Astride and the Endless Revolution), follows the American born academic and activist as he lectures across the country and fights for tenure positions in both New York City and Chicago. Often referred to as a "self-hating Jew", Norman is most well known for his views on America's and Israel's relations with Palestine. He is also the author of six books including his most controversial book to date, "The Holocaust Factory." Throughout the film we retrace Norman's life beginning with his upbringing in New York City by two Holocaust survivors. He studied with Norm Chomsky and soon became an outspoken activist and scholar about the Israel and Palestinian conflict. The film itself attempts to convey the complexities of Finkelstein's character. Providing interviews with his supporters and his opposition the directors demonstrate Norman's devotion to his work while showing his greatest downfall is his persistence in expressing his opinion.
Beetle Queen Conquers Tokyo
Let me start off by saying that I was expecting something very different from this film. When I first read the title Beetle Queen Conquers Tokyo (BQCT), I had imagined a contemporary low budget Godzilla film, not a nature documentary. After my expectations were dashed I decided to press on in hopes of finding an enlightening film on Japan's obsession with insects. I had just watched David Attenborough's documentary Life in the Undergrowth and expected Jessica Oreck, an employee at the American Museum of Natural History in New York City, to follow in the same vein. According to BQCT's Facebook page, the film "delves into the ineffable mystery of Japan's age-old love affair with insects. A labyrinthine meditation on nature, beauty, philosophy and Japanese culture that might just make you question if your 'instinctive' repulsion to bugs is merely a trick of western conditioning." On paper that sounds great, but in reality I found the film poorly edited and suffered from clichéd insect-like camera perspectives. Attenborough uses the same shots with much greater success. He let the shots linger for much longer, creating a more languid motion that appeared much more subtle. I could get over these shots when learning that this was Oreck's first film. But, what I found unforgivable was the limited amount of subtitles. If I am going to watch a foreign film, I expect to be able to read all of the dialogue and not selections. I happened to watch the film with an entomologist who helped explain some of the scenes that had no subtitles or explanations on what was happening. But in the end, I asked countless questions and felt more frustrated than informed.