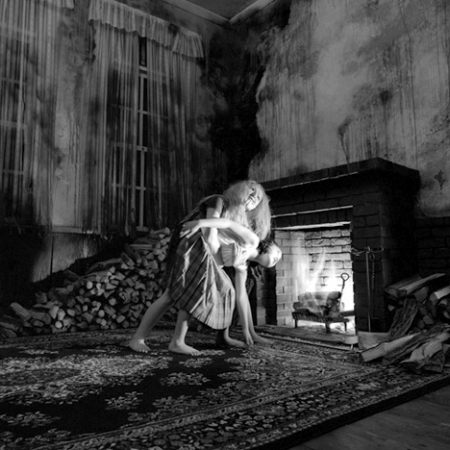 October is well underway and that means we're hurtling towards Halloween, my all-time favorite look forward to it every Fall it makes Winter worth suffering through holiday. Can I just say again that I adore Halloween and all its Haloweeniana? Joshua Hoffline is kinda like the Jeff Wall of schlock horror photography. He constructs images based on various chilling scenarios–most of them familiar cliches from t.v. and movies–and photographs them. A number of these images are for sale on his website. But what I really dig is how he shows the step-by-step process of making the photographs. In this way they're actually kind of anti-nightmarish–you can't really see them as scary because he's taken them apart so thoroughly for you. He also uses his own kids in a number of the shots, which cracks me up. What better way to keep the little ones from being afraid of the creature under the bed than by making it into a kind of game that they themselves can help create? (via boingboing).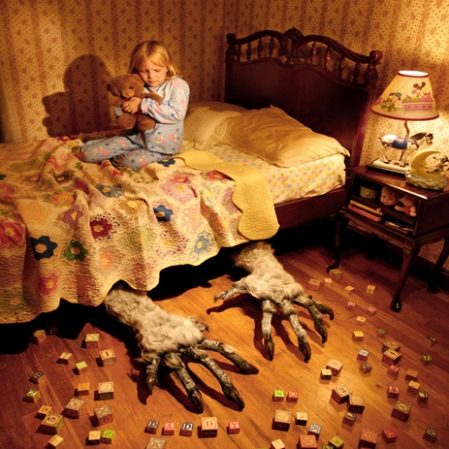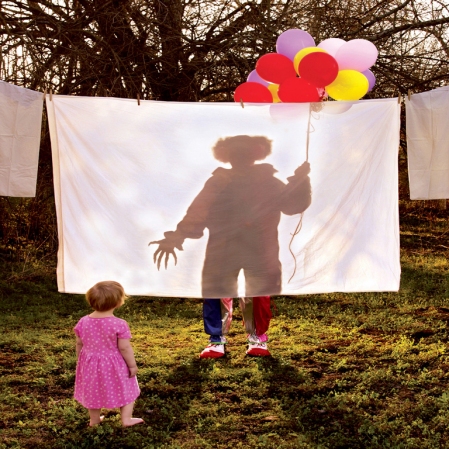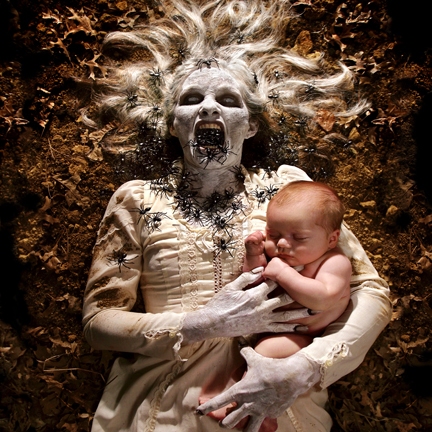 Interesting news that I missed from last week. This development in NYC relates to the ideas discussed during BAS episode 202/Amanda and Tom's podcast interview with curator Manon Sloan about the "No Longer Empty" series of exhibitions, which utilize abandoned New York City properties for a month at a time to put on art shows.
From the article "City Hall Unveils Effort to Support Artists" written by Daniel Massey for Crane's New York Business:
Artists in the five boroughs could gain access to new exhibition and performance space and receive entrepreneurial training as part of a series of five initiatives city officials unveiled Wednesday to bolster the cultural sector in the five boroughs.

The new programs will give visual artists a chance to display their work in various city-owned properties, including the Brooklyn Army Terminal and St. George Ferry Terminal; provide free outdoor performance space in the city's parks; train 50 out-of-work entrepreneurial professionals to apply their skill sets to the nonprofit cultural world; help artists develop business plans and provide them with low-cost studio space; and provide $25,000 grants to each of two neighborhood "arts clusters" to help organizations draw audiences.
Read the full article for more from this report; via AO Art Observed.
Even Umberto Eco. I love what the Louvre is doing by signing him on as guest curator (as they have previously done with writer Toni Morrison and composer Pierre Boulez). Eco's theme for his work at the Louvre is "The List." For example, he's organizing a conference on 16th century Flemish artist Pieter Bruegel the Elder that looks at how the latter's peasant subjects make for a kind of visual list.  There will also be a performance art piece that draws from lists found in works by Homer, James Joyce, Victor Hugo and Eco's own oeuvre. I like that they're using Eco to curate not artworks but institutional programming, which allows him greater reach and play.
J. Crew's a curator now too. Their online catalog features a new "Designer Collaborations" series, one which promises "a HIGHLY EDITED selection of the top names out there–those who have truly perfected their CRAFT. You shouldn't have to travel the world to find the very BEST." Italics and bolded words most certainly NOT MINE.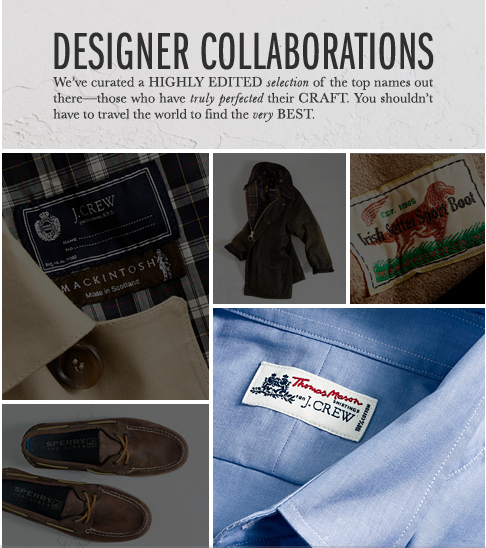 The New York Times ran an interesting article last week about the attractions that the word "curator" holds for fashion, new media and marketing professionals, but that J. Crew blurb pretty much sums it all up: an offer of selectivity and exclusivity, of authoritative knowledge and insight into what's considered to be the best that's out there.
I like the fact that the word 'curating' has gone mainstream, although it does seem like most of the marketers who use the term "curate" are confusing its meaning with the idea of list-making, or worse, with personal shopping. Even if that list is meant to be a selective offering of the best whatever-it-is in your field, it's still just a list of things you're meant to go out and buy. Curating, as we know, isn't exactly like that (although Whitney Biennial-type curating sometimes kinda is….). Curating for museum professionals is as much about cultural and historical contextualizing and recontextualizing as it is about discernment or "having a good eye" — a phrase that curators themselves throw around and which I always loathed, mostly because it tended to make me feel self-conscious about my shoes.
Things have been way too serious around this here blog lately, and it's mostly my fault. Meg, we need you to curate us up a bunch of new cat videos, pronto!! But I do have this small scrap of completely un-newsworthy information to offer y'all. A bit of gossip came through the BAS grapevine which we are passing along to those of you who care about Bravo's upcoming Untitled Artist Project, the Sarah Jessica Parker-produced t.v. reality series that pits artist against artist.  We hear that artist Andres Serrano will be the guest judge on the show's first episode, which is also one of several that will take place in the Phillips de Pury & Company headquarters in Chelsea. The set will feature a kind of "greatest hits" showcase of the used-to-be controversial, now just tired "Piss Christ" artist's works, whose last exhibition at Yvon Lambert in New York was titled "SHIT" and featured photographs of shit.
If it is indeed true that Serrano winds up being the first featured artist on the series (I wouldn't be surprised if the planned order of shows gets switched around in the editing process, so who really knows), it's a sure signal that the Untitled Artist Project wants to start out with a bang by selecting guest artists whose work is perceived as being "extreme" in some way, and that more of the same will follow.
And you know, that's perfectly fine with me. I can't wait for this show. My only fear about it is that it'll be on too late for me to watch it given how freaking tired I am at the day. What I'm most anticipating actually is the chatter that will take place on Bravo's online forums as viewers start rooting for favorites and fervently justifying their reasons for doing so. Will the artist/contestants on Bravo's show gain audience favor/hatred via their personalities or the art they make? I personally don't care which it winds up being – I'm not looking for anything other than some great television from this show, although I certainly wouldn't rule out the possibility that we might get lucky and get a lot more than that out of it.
This past weekend the Dance Center of Columbia College Chicago hosted a three night performance with the Merce Cunningham Dance Company. For this week's pick we check out Cunningham's collaboration with John Cage, Stan VanDerBeek, and Nam June Paik entitled Variations V.
Via Media Art Net:
"John Cage made «Variations V» in 1965 for the Merce Cunningham Dance Company. He and David Tudor settled on two systems for the sound to be affected by movement. For the first, Billy Klüver and his colleagues set up a system of directional photocells aimed at the stage lights, so that the dancers triggered sounds as they cut the light beams with their movements. A second system used a series of antennas. When a dancer came within four feet of an antenna a sound would result. Ten photocells were wired to activate tape-recorders and short-wave radios. Cecil Coker designed a control circuit, which was built by my assistant Witt Wittnebert. Film footage by Stan VanDerBeek and Nam June Paik's manipulated television images were projected on screens behind the dancers."
For more information on Variations V check out Media Art Net.