Last week was, by many accounts, a humiliating one for Chicago, ending as it did with the announcement that the Second City had been knocked out of contention for the much-coveted 2016 Olympics–in the first round, no less. Given that Chicago had already beaten out numerous other international contenders to reach the final four in the first place I don't  exactly see why it's considered such a crushing embarrassment to have come in fourth but, whatever…I  have no dog in that fight. It's probably just one of the many "Chicago things" that I'll never fully understand. As an art person, however, I'm far more interested in looking at the blows to civic pride that were delivered earlier last week in the wake of the Tribune's story on the positive public reaction to J. Seward Johnson Jr.'s outdoor sculpture "God Bless America." Yeah, you know the one. This one: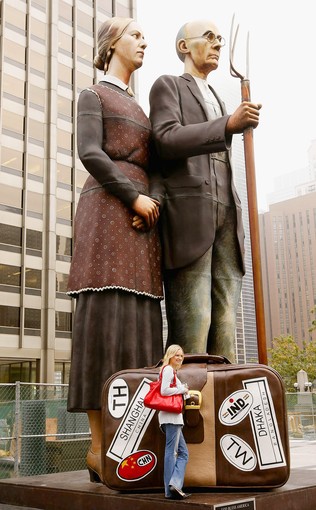 Written by Trib reporter Steve Johnson, the article was framed by this headline: "What does popularity of God Bless America sculpture say about public art in Chicago?" This, I think, was precisely the wrong boldfaced header to attach to an article about a sculpture that has been borrowed from the Sculpture Foundation and is not, in fact, meant to be a permanent part of the city's landscape of public art. Although the Trib's article does make passing reference to this fact, the headline seems to imply that "God Bless America" somehow holds similar status as the Picasso, Calder or Kapoor pieces do in the city's world-class lineup of public art.
For better or worse, Steve Johnson's story gained a degree of national attention, not as much from Chicago's art crowd as from arts writers elsewhere in the country. On September 30th the L.A. Times' chief art critic Christopher Knight linked to the Trib article on his Twitter feed with the comment: "Is J. Seward Johnson trying to be America's Worst Artist?" A few days later Paddy Johnson of Art Fag City wrote a post titled "Bad Public Art Finds Audience in Chicago" containing a point-by-point takedown of Steve Johnson's main arguments, which he set up as follows:
"Critics can wag fingers at it — and some do — but God Bless America meets some of the fundamental tests of public art. It is noticed, it is appreciated, and, in many cases, it provokes reflection on what makes an art work original."
I drove by "God Bless America" last week. Parking is monstrous downtown so I couldn't stop to get out and walk around it, which is too bad, since public art–like all art–needs to be experienced in situ in order to be fully understood and appreciated. Nevertheless, I can't offer any viable counter-arguments to Knight and Paddy Johnson's assertions that the sculpture makes for some pretty bad art. Sure, I could attempt some sort of cultural studies-style analysis of how people actually relate and respond to the sculpture in real life (a more populist form of which Steve Johnson was basically attempting in his Trib article) but my heart wouldn't be in it. Knight's snarky question was a valid one, and Art Fag City's post was in keeping with its editor's ongoing deconstructions of the more egregious myths about contemporary art and its reception–the Trib's article, sadly, providing a prime example of just the sort of superficial arguments that so often inform those myths.
As far as I know the Trib's Steve Johnson isn't an art critic or an arts journalist. He's a thoughtful and smart culture reporter who was interested in the popular reaction to a popular work of public art in his city. My beef certainly isn't with Mr. Johnson or with the quality of the article he wrote. It's with the fact that Johnson's was one of the rare  "news" stories about art in Chicago that the Trib has published over the past few months. And I straight-up disagree with that particular choice of story.
I've said it before and I'll say it again, even though I'm not saying anything everyone who lives here doesn't already know: it's a damn shame that a city of the size and cultural prominence of Chicago does not have a national voice for its art scene, a newspaper art critic of the stature of Christopher Knight who could have written about Seward's sculpture from a critically informed art historical viewpoint as well as the more straightforwardly populist one put forth by the Trib (or, better yet, would have chosen not to make this into a story at all, given that there's nothing particularly timely or newsworthy about it).
This is not a city of people who know nothing about art and architecture, nor do Chicagoans evince a "fear" of the rigorous discourse that often accompanies discussion about those subjects. So why does the Trib cover art as if it its readership needs hand-holding and spoon-feeding via articles that essentially give us permission to look no further than a work of public art's most spectacular effects?
Chicago needs at least one real art journalist with a national platform to represent this city to the rest of the country, if not the world (and by "art" here I mean fine art, not theater, dance, music, etc.  if that's not already obvious). Clearly, other arts writers across the country are still paying attention to the Trib's art coverage and looking specifically (and exclusively) to that paper for news and insight into Chicago's art scene and its art public. The problem is that the Trib is relying on reporters who have no in-depth art backgrounds to cover art news in this city–no dog in the fight, as it were–and frankly I find the effects of this to be somewhat humiliating.
Chicago needs a high-profile newspaper writer who is both a critic of and an advocate for the city's art; not a booster but a person who will draw attention to bad decisions and art world folly while at the same time placing new developments within a larger cultural and historical context. Chicago's art bloggers simply aren't able to bear that responsibility, not because of a lack of talent but from a serious lack of time, money and resources. My advice to the Trib: get freelancer Lori Waxman on staff and make her a reporter or something–I don't fucking care, but Chicago needs to cultivate its own Chrisopher Knight some way or another. Until we do, we risk letting writers from other cities steer the discourse on Chicago art. We owe it to ourselves not to let that continue.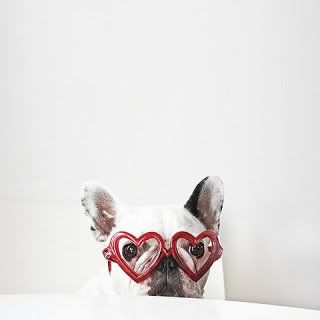 Let me just say that the photo to the left has absolutely nothing to do with the roundup. Can you blame me? Ugh, that dog is just so cute. Okay, back to the roundup… On this week's roundup I checked out the Iphone app "Museum of the Phantom City", read some of Claudine's reviews on Artforum.com, and found Miranda July slightly arousing in a cop uniform (TMI).
@bldgblog on Museum of the Phantom City.
Just reading a review for Lourdes on NCTATNY and it struck me, doesn't Sylvie Testud look a lot like Cindy Sherman?
@artfagcity has an interview with The New York Art Book Fair Executive Director AA Bronson.
RT @gawker Chicago Hipsters Take to the Streets in Anti-Olympics Mayhem.
The Trib has an article about that "American Gothic" knockoff on Michigan ave.
The Yes Men are the recipients of The Leonore Annenberg Prize for Art and Social Change.  (via @iteeth)
Bryce Dwyer of InCUBATE is guest blogging on @art21
RT @claudineise has a review of PVZ's show @threewalls on artforum.com http://tinyurl.com/yajt8r2 (via @kingstitt & @r_holland)
The Tribune reviews the Trump Tower.
28 days later in 1 minute + 1 take.
I don't know what it is but Miranda July makes a sort of sexy cop.
L.A.'s Museum of Neon Art has found a new home in Glendale.
@art21 has a video of Arturo Herrera discussing failure.
@boingboing has an interview with alumni from a Dungeons and Dragon's camp from 1982.
Here's my picks for the weekend, in chronological order. This whole weekend is a bit slow and dull, so do blame me if these five weren't all you'd hope for. P.S. Fall is here, did you notice?
1. For the Time Beings at Fill in the Blank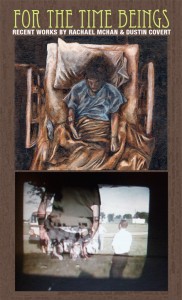 This place is close to me, relativity new, and generally entertaining. Opening this week is For the Time Beings, an exhibition of work by Rachael McHan and Dustin Covert. The work looks pretty depressing, but it's fall, fall's all about depression, right? Reception is Friday from 7-11pm.
Fill in the Blank is located at 5038 N. Lincoln Ave.
2. Atom Basham at Sapere Art/Intuitive Works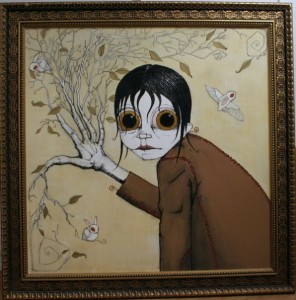 Weird cartooning. Creepy drawings. Mmmmm…looks like fall to me. Do I have a skewed sense of fall? Maybe, but this work is as autumnal as pumpkin pie. Work by Atom Basham, Eulalio Fabie de Silva, Mark Lace and RW Ruehlen. Reception is Friday from 6-9pm.
Sapere Art/Intuitive Works is located at 1579 N. Milwaukee Ave.
3. With Our Forces Combined at Barbara & Barbara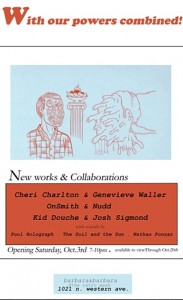 Collaboration! It's awesome. This show is based around collaboration, and features the work of three collaborative pairs: Josh Sigmon and Kid Douche, Onsmith and Nudd, and Cheri Charlton and Genevieve Waller. Reception is Saturday from 7-10pm.
Barbara & Barbara is located at 1021 N. Western Ave.
4. Strangers at Spudnik Press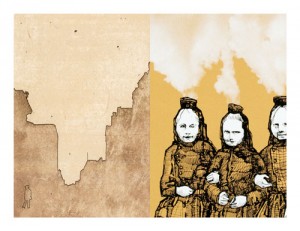 I'm generally not crazy about printmaking. I don't dislike it, it just rarely appeals to me. The work I've seen from this show, on the other hand, actually peaqued my curiosity, so I'll give it a shout. Features the work of Sanya Glisic and Mischa Kegan. Reception is Saturday from 7-10pm.
Spudnik Press is located at 1821 W. Hubbard St.
5. Once Upon a Time and Now at Evanston Art Center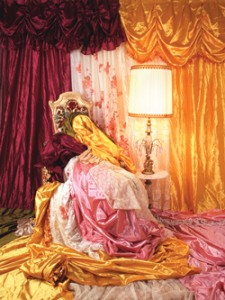 Ahhh fall, the time of group shows. Well, is it fall, is it the economy, what is it? Here is yet another packed group show up at the 'ole EAC, featuring work by Patty Carroll, Teresa Mucha-James, Stacee Kalmanovsky, Bonnie Klehr, Julie Laffin, Erik Lowe, Casey Riordan-Millard, Mitch O Connell, Alex O Neal, Deborah Simon, Eleanor Spiess-Ferris and curated by Susan Sensemann and Barbara Blades. Reception is Sunday from 5-8pm.
Evanston Art Center is located at 2603 Sheridan Rd.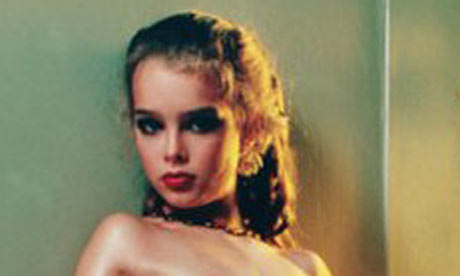 Photographer Richard Prince's photo "Spiritual America" was removed from the upcoming Tate Modern exhibition "Pop Life" (opening tomorrow) after a warning from Scotland Yard that the nude image of actress Brooke Shields aged 10 and heavily made up could break obscenity laws.
The officers spoke to the Tate after seeing promotional material in the newspaper and not via complaints that were issued to the office.
Read more about the history of the photo and it's background at the Guardian article.
This week's this and that…
*Threewalls and The Green Lantern Press publish The Artists Run Chicago Digest, which complements the exhibition that was on view at the Hyde Park Art Center last summer. Release party: October 30th, 2009.
*Donald Young one of 65 gallerists not returning to Art Basel Miami this year. However Rhona Hoffman Gallery will be back for the Fair's 2009 installment.
*Anchor Graphics giving away free prints at the opening of its Return to Printlandia exhibition tomorrow night (Thursday October 1st) from 5-8pm. (via Chicago Reader).
*MOCA's in Turnaround: The L.A. Museum has raised $60 million since last December, putting it on path to recovery.
*Roberta Smith on the new trend of artists-as-models (in this case, for J. Crew's lastest catalogue).
*Outsider(ish) art hits the iPhone with new Daniel Johnston video game app; too bad Johnston himself has no idea what an iPhone is.
*Bike Rides: The Exhibition: New exhibition at The Aldrich Contemporary Art Museum "explores the growing relevance of bicycles in contemporary art and culture;" musician/bicycle enthusiast David Byrne is an adviser to the exhibition (Via Artipedia).
*Art School: Propositions for the 21st Century just issued by MIT Press. (Via Groundswell).
*What's the matter with Frank Lloyd Wright's 100 year old Unity Temple in Oak Park, IL? Turns out, a lot.
*Phong Bui interviews Agnes Gund for The Brooklyn Rail.
*New online art mag: James Wagner and Barry Hoggard launch Idiom, "an online publication of urban artistic practice."
*Rant of the Week (technically it was last week, but I'm behind on the news): Charlie Finch on Dave Hickey's "The Good Ennui" lecture at the SVA. Watch Hickey's lecture on YouTube here (it was posted, yanked, and now it's back up again).