How hard is it to make a Piano sound even remotely like a human voice? Well Austrian composer Peter Ablinger spent a few years to create a sound wave to note translation system that gets pretty close. The video is of the system in action reading text from the "Proclamation of the European Environmental Criminal Court at the 2009 World Venice Forum". Watch and be amazed at just how many keys it takes in succession to even get close to a single human vowel.
So, as I've said every other place, I'm not going to be around this weekend. I am making my yearly pilgrimage to the Knob Creek Machine Gun Shoot (yes, close to where they make the whiskey, though not the same people. It's also quite close to Ft. Knox). So…think of this as the openings I'd go to if I was here.
1. Jan Tichy at Richard Gray Gallery
I'd never really though about Richard Grey Gallery before his last show, John Stezaker. Now, however, I'm excited again. For this rotation, RGG is showing an installation by Jan Tichy. I really like seeing good video/multi media art, but it (like good art in general) is a bit rare. This looks like it has potential for awesome. Reception is Friday, from 6-8pm.
Richard Grey Gallery is located at 875 North Michigan Avenue, Suite 2503.
Ok, so this is just kind of weird. It reminds me of one time when I was drunk and waiting for the Red Line around Christmas when the "Santa Train" showed. It was a bit terrifying, a bit cheesy, but an experience none the less. I make no guarantees on the quality of the are (though I never really do), but if you're in the loop, why not get packed on a train with art, rather than germaphobe business men and barfing drunks! Hooray, the Trimuph Of Art! PS, I think it might cost money, check the site. The Art Train is running Saturday from 11am-8pm.
Enter the Art Train at the Adams/Wabash CTA platform.
So, I confess, I just like Packer Schopf Gallery. But this show is one you really ought not to miss, if for no other reason that to get to meet all the artists in person (assuming they show up). Industry of the Ordinary, a collaborative pair made up of Adam Brooks and Mathew Wilson, are hosting a one night event featuring the work of "39 Chicago-based cultural workers" including Candida Alvarez, Dawoud Bey, Susan Giles, Jason Lazarus, Adelheid Mers, Tony Tasset, Paul Klien and Dan S. Wang. Be there or be…just fucking go! The event is Sunday from 5-8pm.
Packer Schopf is located at 942 W. Lake St.
4. Abnormalformal 1 at Kunz, Vis, Gonzalez
So I'm a sucker for new things. Well, that's not really true, I'm a it of a Luddite when it comes to technology, but as far as art spaces are concerned, I'm a sucker for new ones. This one is (almost) as new as it gets. Dreamed up by it's creators in the fertile fields of Sex Camp…oops, I mean Skowhegan, this is a new art spaces is ostensibly an international artist space. We'll see how that goes. For now, check out their first show, featuring the work of Racer Le Van, Martina Nehrling, Pamela Fraser, Rick Therrio, Ivan Brunetti, Peter Dunham, David X. Levine, Amy Fefldman and more. Good luck to you Kunz, Vis, Gonzalez! Reception is Sunday from 6-9pm.
Kunz, Vis, Gonzalez is located at 2324 W. Montana
I pick these by getting my Gallery Crawl list and going to each gallery site to see if : a) the work interests me, or b) any one is showing who's work has interested me in the past. This pick is based on me seeing the image I've included as the image for this post. I needed a fifth, and this is it. Eel Space has done some cool stuff in the past, give this show a look if you're in the neighborhood. Artists include Nikki Renee Anderson, Madeleine Bailey, Alex Chitty, Lauren Gregory, Isabelle Schiltz, and Chris Tourre. Reception is Saturday from 6-9pm.
Eel Space is located at 2846 W North Ave #1A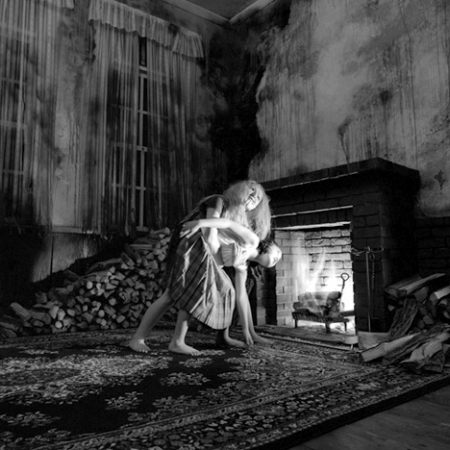 October is well underway and that means we're hurtling towards Halloween, my all-time favorite look forward to it every Fall it makes Winter worth suffering through holiday. Can I just say again that I adore Halloween and all its Haloweeniana? Joshua Hoffline is kinda like the Jeff Wall of schlock horror photography. He constructs images based on various chilling scenarios–most of them familiar cliches from t.v. and movies–and photographs them. A number of these images are for sale on his website. But what I really dig is how he shows the step-by-step process of making the photographs. In this way they're actually kind of anti-nightmarish–you can't really see them as scary because he's taken them apart so thoroughly for you. He also uses his own kids in a number of the shots, which cracks me up. What better way to keep the little ones from being afraid of the creature under the bed than by making it into a kind of game that they themselves can help create? (via boingboing).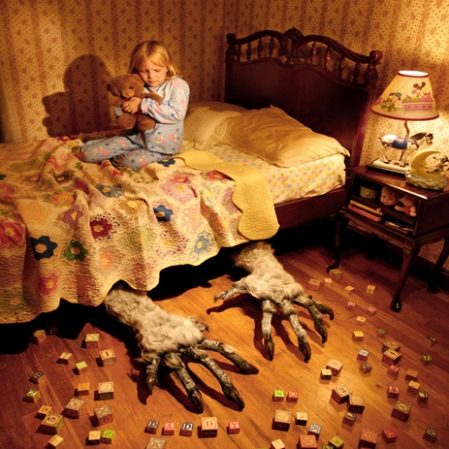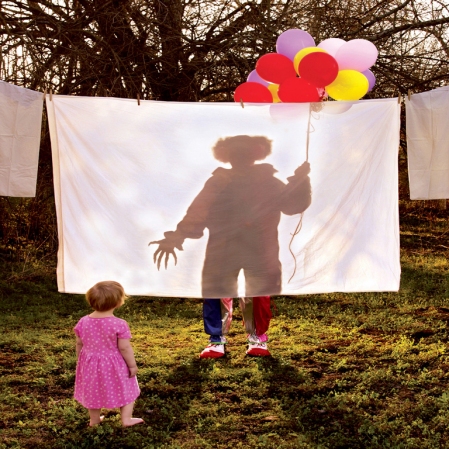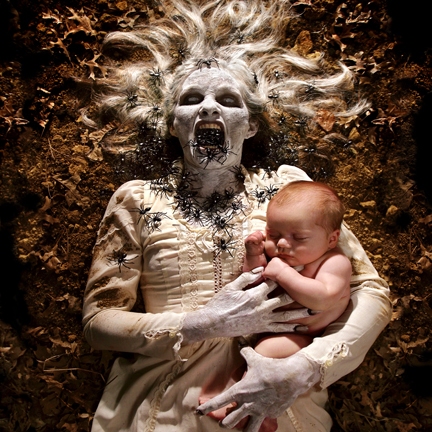 Interesting news that I missed from last week. This development in NYC relates to the ideas discussed during BAS episode 202/Amanda and Tom's podcast interview with curator Manon Sloan about the "No Longer Empty" series of exhibitions, which utilize abandoned New York City properties for a month at a time to put on art shows.
From the article "City Hall Unveils Effort to Support Artists" written by Daniel Massey for Crane's New York Business:
Artists in the five boroughs could gain access to new exhibition and performance space and receive entrepreneurial training as part of a series of five initiatives city officials unveiled Wednesday to bolster the cultural sector in the five boroughs.

The new programs will give visual artists a chance to display their work in various city-owned properties, including the Brooklyn Army Terminal and St. George Ferry Terminal; provide free outdoor performance space in the city's parks; train 50 out-of-work entrepreneurial professionals to apply their skill sets to the nonprofit cultural world; help artists develop business plans and provide them with low-cost studio space; and provide $25,000 grants to each of two neighborhood "arts clusters" to help organizations draw audiences.
Read the full article for more from this report; via AO Art Observed.
Even Umberto Eco. I love what the Louvre is doing by signing him on as guest curator (as they have previously done with writer Toni Morrison and composer Pierre Boulez). Eco's theme for his work at the Louvre is "The List." For example, he's organizing a conference on 16th century Flemish artist Pieter Bruegel the Elder that looks at how the latter's peasant subjects make for a kind of visual list. There will also be a performance art piece that draws from lists found in works by Homer, James Joyce, Victor Hugo and Eco's own oeuvre. I like that they're using Eco to curate not artworks but institutional programming, which allows him greater reach and play.
J. Crew's a curator now too. Their online catalog features a new "Designer Collaborations" series, one which promises "a HIGHLY EDITED selection of the top names out there–those who have truly perfected their CRAFT. You shouldn't have to travel the world to find the very BEST." Italics and bolded words most certainly NOT MINE.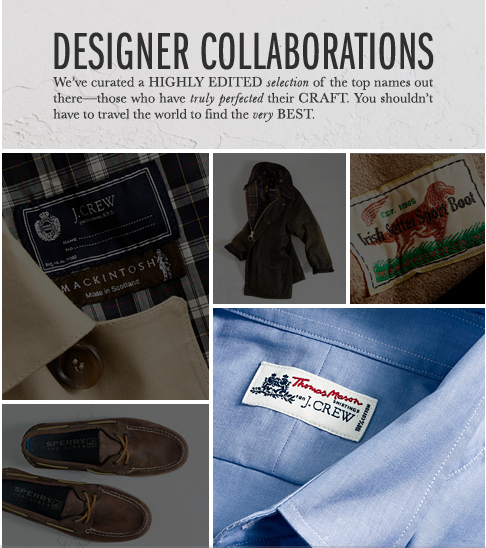 The New York Times ran an interesting article last week about the attractions that the word "curator" holds for fashion, new media and marketing professionals, but that J. Crew blurb pretty much sums it all up: an offer of selectivity and exclusivity, of authoritative knowledge and insight into what's considered to be the best that's out there.
I like the fact that the word 'curating' has gone mainstream, although it does seem like most of the marketers who use the term "curate" are confusing its meaning with the idea of list-making, or worse, with personal shopping. Even if that list is meant to be a selective offering of the best whatever-it-is in your field, it's still just a list of things you're meant to go out and buy. Curating, as we know, isn't exactly like that (although Whitney Biennial-type curating sometimes kinda is….). Curating for museum professionals is as much about cultural and historical contextualizing and recontextualizing as it is about discernment or "having a good eye" — a phrase that curators themselves throw around and which I always loathed, mostly because it tended to make me feel self-conscious about my shoes.