Hey there ya'll. After reviewing the (surprising number of) openings this weekend, here's what I'd make sure to go to:
1. Trail at Altgeld Sawyer Corner Farm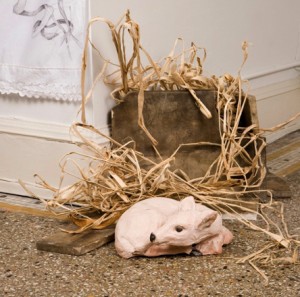 I don't know if this is going to be any good or not, but it looks weird enough to merit a look. Thing is, it does specifically appeal to me, but hey, this is my Top 5 ain't it. It's an installation by J.E. Baker telling the story of a Bambi who's mother died in a fire, I mean, was hit by a car. Reception's Friday from 6-8pm.
Altgeld Sawyer Corner Farm is located at 3240 W Altgeld St.
2. Group Show for Daniel Pink at Vega Estates
Not only is this the last show at Vega Estates, but I like the premise of "copies." Seems relevant to nowadays, I suppose. I'm not miaking a good sell, but I read the press release on the site, and it made me want to go. Work by a bunch of people, including Curt Bozif, Matthew Metzger, Amy Adler, Conrad Bakker, Vince Leo and Sharon Lockhart. Reception's Saturday from 6-10pm.
Vega Estates in located at 723 W. 16th St.
3. Flat 3 at Floor Length and Tux
Truth be told, my primary interests in this place are the fact that I've never been there but heard good things about it, and 'cus I'm interested in Catie Olson's work. Also showing at this delightful event: Lilli Carre, Alexander Stewart and EC Brown. Reception's Saturday from 7-10pm.
FLAT is located at 2332 W Augusta Blvd.
4. Polonia and Other Fables at The Renaissance Society
New work by Alan Sekula at ye olde Renn. Society. Need I say more?  Sekula will be talking from 5-6pm, the reception is from 4-7pm, all on Sunday.
The Renaissance Society is located at 5811 South Ellis Ave.
5. Sunday Soup at InCUBATE
Not sure how many of you know about Sunday Soup, but seeing as you are reading BAS, I can make a gross generalization that you've probably heard of it, at least. Deal is, you go to InCUBATE, pay $10 for some soup (this time made by S.F. chef Leif Hedendal), that $10 goes into the pot for an artist grant, and while you sit around and eat your soup you and everyone else there vote on who gets the grant. At least that's my understanding of it. So, if you've got $10 to spare, you like art, and you like soup, this is your event! Be there at noon!
InCUBATE is located at 2129 N Rockwell St.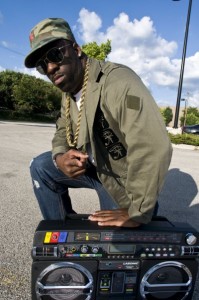 The Chicago Public Library "Sound Off" is holding a music contest that is open to everyone who can apply for a library card (14+). From rappers, crooners, punk, rock, indie, ska, professionals, amatuers, the Library is looking to showcase the best that Chicagoland has to offer. Musicians are being asked to submit compositions inspired by their hometown city of Chicago. The competition runs from August 27th to September 27th so with little over a week left make sure you get you entries in.
Chicago's own Che Smith, more popularly known as Rhymefest, will be joining the judging panel for the contest.
Submission Guidelines
The judges will choose winners based on song creativity, quality of performance, and original expression embodying the essence of the City of Chicago. All entries must comply with submission criteria posted at www.chipublib.org/notwhatyouthink.
Ten (10) finalists will be selected by the official judging panel, and of those, two winning entrants will receive distinction as the Grand Prize and People's Choice Winners.
The Grand Prize Winner, determined by the panel of judges, will headline the CHIPUBLIB Sound Off Concert in late October, where they will perform their composition as well as a set featuring their other music. In addition to their headlining status, the Grand Prize Winner will receive a studio package courtesy of Electrical Audio – founded by legendary recording engineer Steve Albini.
The People's Choice Winner will be selected by online voters who, from September 28 to October 3, view the top 10 submissions at the CHIPUBLIB Sound Off Vimeo channel and then visit the Not What You Think tumblr blog at www.notwhatyouthink.tumblr.com for online voting. The People's Choice Winner will open for the Grand Prize Winner at the CHIPUBLIB Sound Off Concert performing their submission as well as a small set of their other music.
For rules and submission guidelines visit www.chipublib.org/notwhatyouthink. For more help, visit your local public library, browse the music sections, or ask the librarian for tips on inspiration.
Some people know a Rube Goldberg by the game Mousetrap but the idea is how can you take a simple action like turning on a lamp or closing a door and make it the most complicated elaborate and complex action posible where you still only do one human action and momentum takes care of the rest. Countless diagrams and art pieces have been made with that idea or goal in mind but what if you took it into the 21st century and made nothing touch from start to finish but used magents, RFID & fans to get the job done. Then you would have this:
Looks pretty intense. The film looks at the 1954 CIA coup in Iran from the perspective of two different women. It won Neshat the best director award at the Venice Film Festival, but apparently some of the initial newspaper reviews are coming in mixed. (Via L.A. Times).
Remember the "North Carolina Sewer Monster" from last Spring (which turned out to be not a monster exactly but a roiling pile of worms)? Yes, I know you tried really hard to burn the image of that creature out of your memory through heavy drinking and a little steel wool applied to the eyeballs, but I'm here to bring it all back to you.  What's grosser–the real thing, or Paul Nudd's ongoing series of pus/slug/slime/vomit/ooze videos? I say the Sewer Monster wins hands-down.
Click directly on the stills below to see a brief video clip: