I'm not generally a fan of the ubiquitous online quiz, but this one…I came, I took, I scored an embarrassing 83% (two answers incorrect). Take it yourself and see how you fare.
Donald Judd, or Cheap Furniture? (Edited to FIX LINK; sorry guys!)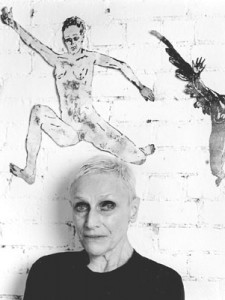 From Edward Winkleman we learn the very sad news that artist Nancy Spero has passed away at the age of 83. Spero earned a B.F.A. from the Art Institute of Chicago in 1949, and lived in Chicago with her husband, the painter Leon Golub in the early 1950s (where both were associated with the Monster Ronster group of Chicago artists, which also included Don Baum and H.C. Westermann) before moving to Paris to study painting. An interview with Spero conducted by Art21 can be found here. May she rest in peace.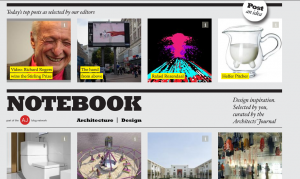 A few weeks ago I remarked upon the current popularity of the words 'curate' and 'curation' as a new form of marketing lingo, following a story in The New York Times on that subject. Today I ran across this very good bit of commentary within a post at things magazine on "The Death of the Object" as it applies to a type of emerging blog genre that's driven by particular cults of personal taste. The specific websites they're referring to relate largely to fashion, but the larger idea, I think, makes just as much sense when considered in terms of how objects of art and culture are consumed on the internet today. Read Things Magazine's full post here, an excerpt is below (bolded text is my own emphasis).
"…a recognisable genre of weblogs has emerged (see this question: Is there a name or term for the aesthetic these blogs contain?), the seemingly random streams of 'good work', quirky images, striking photography, cool objects, strange concepts, old scans, etc. etc. etc. We can drift though these – and we do – yet we shouldn't kid ourselves that we are flaneuring our way to anything but a highly selected cultural overview. This genre of presentation is both persuasive and pervasive, the digital equivalent of Wired's 'Fetish' pages (which have obviously a far more natural existence on screen than on paper). Take the AJ's new Notebook site, wherein 'inspiration' is 'curated', an explicit acknowledgement of the dominance of image-driven culture.

These visual essays, together with animated stings and very short films, have become the primary modes of communication; objects are strung together rather than taken in isolation. There is no space for contemplation, just clicking, scrolling and flicking. This leaves the solitary object somewhat adrift, only embodying meaning when it is juxtaposed or collated or slotted into a larger collection. Although a glance at any tumblr or curated weblog might suggest otherwise, the 'thing' is in danger of imminent extinction.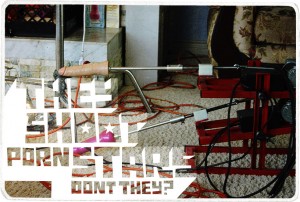 Recently Susannah Breslin, who has often written about the San Fernando Valley adult movie industry for boingboing and other publications, published a photo essay in the form of a website, "They Shoot Porn Stars, Don't They?", which looks at the current state of the adult entertainment biz as it exists in the so-called "Porn Valley." In particular, she interviewed adult movie performers, visited porn movie sets, and had discussions with other adult movie professionals about how the current state of the economy has affected their industry and thus, their livelihood.
At once fascinating and deeply disturbing, Breslin's point of view eschews the easy distancing that irony provides in favor of an empathetic and at times grimly humorous take on the subject, particularly when it comes to the industry's female workers, who are most definitely not portrayed as empowered.
In the essay's first half, Breslin looks at one development that arose from the industry's economic decline: suddenly, the flesh and blood male appendage is looking slightly more expendable. Why? The invention of Robocock, a mechanical phallus aka low-maintenance "fuck machine" used by adult film director (of kooky shock-sex films like "Whore of the Rings" and "Texas Dildo Masquerade") Jim Powers. From Breslin's essay:
"We got rid of the male talent!" Powers crows, triumphant. He enumerates the benefits of working with an animatronic phallus on one hand. "They don't complain as much. They're always hard. You don't have to feed them." Of course, the 21st century woodsman does have one drawback. "They've always got bolts falling off," Powers admits with a shrug.

"The market is saturated with porn, the Internet is pirating porn left and right, and the economy is in the shitter," Powers laments after Hunter's shoot, staring out the sliding glass doors at a fountain trickling pleasantly in the sun-dappled backyard. He looks like a spurned lover-heartbroken. "Porn destroyed itself," he mutters. "2005 was the peak of shit." He shakes his head. "Now, we're just living in piles of shit." He is crestfallen. "It completely destroyed everything." He looks at the floor.

A redhead appears in the doorway. Powers will shoot a total of five scenes today, and hers is next. It's time for Jim to get back to work. On the sidelines, another machine is waiting for its turn in the spotlight. This one is double-headed."
Read Breslin's full essay here. It ain't pretty, it ain't for the easily grossed out, and the large color photographs taken by Breslin that accompany the essay make it definitely NSFW either. Note: Photographer Larry Sultan also has a well-known series of photographs on this same subject, titled The Valley, which you can read more about here and here.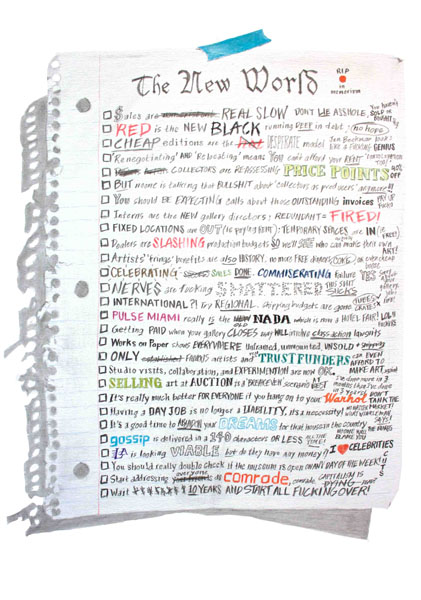 An online catalogue is available for William Powhida's upcoming show at Charlie James Gallery in Los Angeles (in Chinatown, this Friday, October 24th, to be exact). You can access it here (click "catalogue" under the artist's name). Unfortunately, the images in the .pdf catalogue aren't of high enough resolution to allow for full magnification, so you can't really read a lot of the text…which kind of defeats the purpose…sigh…I'm just bummed because I won't be in L.A. during the run of Powhida's exhibition and I'm eager to see exactly how he'll tease/toy with/skewer some of the art world biggies and Hollywood celebrities  in my hometown–the press release offers "apologies" to Eli Broad, Michael Govan "(and everyone at LACMA)", Jeff Koons, John Baldessari, Christopher Knight, Javier Peres, Steven Soderbergh, Mickey Rourke, New Line Cinema, The Sunset Marquis, Tony's Restaurant, TMZ, 944 Magazine, the LA Weekly, and the City of Los Angeles–so you know this should be good.
And if you haven't listened to Amanda and Tom's interview of William Powhida on the Podcast, you should do that too – it's definitely on my ever-lengthening list of 'not to be missed' Bad at Sports episodes.