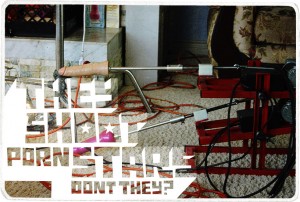 Recently Susannah Breslin, who has often written about the San Fernando Valley adult movie industry for boingboing and other publications, published a photo essay in the form of a website, "They Shoot Porn Stars, Don't They?", which looks at the current state of the adult entertainment biz as it exists in the so-called "Porn Valley." In particular, she interviewed adult movie performers, visited porn movie sets, and had discussions with other adult movie professionals about how the current state of the economy has affected their industry and thus, their livelihood.
At once fascinating and deeply disturbing, Breslin's point of view eschews the easy distancing that irony provides in favor of an empathetic and at times grimly humorous take on the subject, particularly when it comes to the industry's female workers, who are most definitely not portrayed as empowered.
In the essay's first half, Breslin looks at one development that arose from the industry's economic decline: suddenly, the flesh and blood male appendage is looking slightly more expendable. Why? The invention of Robocock, a mechanical phallus aka low-maintenance "fuck machine" used by adult film director (of kooky shock-sex films like "Whore of the Rings" and "Texas Dildo Masquerade") Jim Powers. From Breslin's essay:
"We got rid of the male talent!" Powers crows, triumphant. He enumerates the benefits of working with an animatronic phallus on one hand. "They don't complain as much. They're always hard. You don't have to feed them." Of course, the 21st century woodsman does have one drawback. "They've always got bolts falling off," Powers admits with a shrug.

"The market is saturated with porn, the Internet is pirating porn left and right, and the economy is in the shitter," Powers laments after Hunter's shoot, staring out the sliding glass doors at a fountain trickling pleasantly in the sun-dappled backyard. He looks like a spurned lover—heartbroken. "Porn destroyed itself," he mutters. "2005 was the peak of shit." He shakes his head. "Now, we're just living in piles of shit." He is crestfallen. "It completely destroyed everything." He looks at the floor.

A redhead appears in the doorway. Powers will shoot a total of five scenes today, and hers is next. It's time for Jim to get back to work. On the sidelines, another machine is waiting for its turn in the spotlight. This one is double-headed."
Read Breslin's full essay here. It 'aint pretty,  it 'aint for the easily grossed out, and the large color photographs taken by Breslin that accompany the essay make it definitely NSFW either.  Note: Photographer Larry Sultan also has a well-known series of photographs on this same subject, titled The Valley, which you can read more about here and here.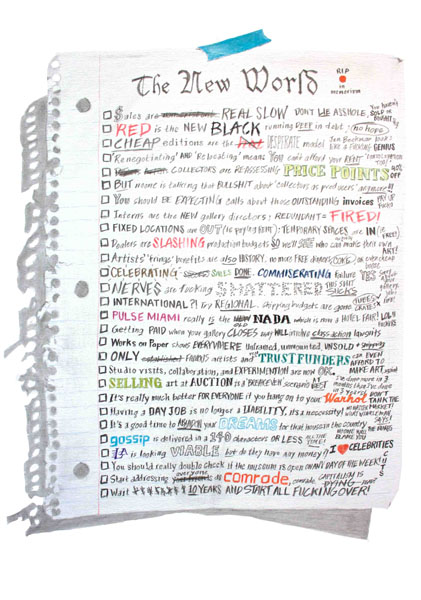 An online catalogue is available for William Powhida's upcoming show at Charlie James Gallery in Los Angeles (in Chinatown, this Friday, October 24th, to be exact). You can access it here (click "catalogue" under the artist's name). Unfortunately, the images in the .pdf catalogue aren't of high enough resolution to allow for full magnification, so you can't really read a lot of the text…which kind of defeats the purpose…sigh…I'm just bummed because I won't be in L.A. during the run of Powhida's exhibition and I'm eager to see exactly how he'll tease/toy with/skewer some of the art world biggies and Hollywood celebrities  in my hometown–the press release offers "apologies" to Eli Broad, Michael Govan "(and everyone at LACMA)", Jeff Koons, John Baldessari, Christopher Knight, Javier Peres, Steven Soderbergh, Mickey Rourke, New Line Cinema, The Sunset Marquis, Tony's Restaurant, TMZ, 944 Magazine, the LA Weekly, and the City of Los Angeles–so you know this should be good.
And if you haven't listened to Amanda and Tom's interview of William Powhida on the Podcast, you should do that too – it's definitely on my ever-lengthening list of 'not to be missed' Bad at Sports episodes.
On this week's roundup I looked at some work by Kilian Rüthemann & Niklaus Wenger, watched a fist fight between two women on a bus, and read about Ken Isaacs' Knowledge Box on the Wall Street Journal. I am finishing up a long day at work and getting ready for openings in the west loop. Hope to see you there.

I couldn't agree more. @TylerGreenDC on the hetero-normalizing of David Hockney.
The WSJ on Ken Isaacs' Knowledge Box at Sullivan Galleries.
For all of you history nerds. 
Uhh…this makes me feel uncomfortable in a way I can not describe.
That's a mouthful | Public Water Purification Island via @pruned
There is nothing I love more than a fist fight on a bus. (via @TWBE)
http://twitpic.com/li0qe – @artfagcity The only thing that could compliment "God Bless America", Victoria secret runway wings.
I am sort of into this installation from Kilian Rüthemann & Niklaus Wenger.
Christopher Knight discusses right wing attacks on the Obama's new painting by Alma Thomas. 
RT @cmonstah A new arts website http://hyperallergic.com/ by @hragv debuted this mornin'…
Just what the we need, another art school movie.
Best start to a Hirst review ever. "These paintings are dreadful." I couldn't agree more.
Ian Baldwin on London's recent updating to the tube map. 
@artfagcity has an interview with Frieze Executive Director Amanda Sharp. Check out that hideous font. ( photo was changed after thiw tweet)
Hey ya'll. I'm back from my Kentucky adventures, and I'm going back out this weekend. I did manage to make it to Packer Schopf for 39 Verbs on Sunday, and glad I made it (even though I was still a bit muddy and got a touch of the culture shock). I'd never heard of Industry of the Ordinary (the organizers of 39 Verbs) but I'll be keeping my eye on them in the future. This week I've got three relatively traditional (relatively being the operative word) venues, a 2-for-1, and a closing reception (get them while supplies last!). Without further ado, my 5 picks, in chronological/alphabetical order:
1. The Murmur of Pearls at Corbett vs. Dempsey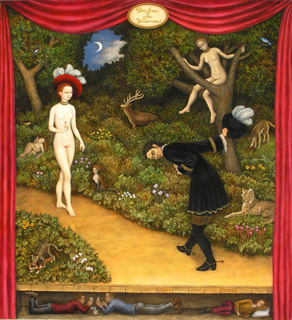 Truthfully, I like this work because it reminds me of the work of a friend of mine, Justin Storms. Now, I know, no one ever wants to be compared to anyone else, because we're all unique and individual snowflakes, but WTF? I like the work 'cus I like Storm's work. Being somewhat obsessed with The Unicorn Tapestries as a kid probably didn't hurt. Paintings by Gina Litherland, the show opens Friday from 5-9pm.
Corbett vs. Dempsey is located at 1120 N. Ashland, 3rd fl.
2. Cline Ave & Front Porch Disasters and Other Open Secrets at Linda Warren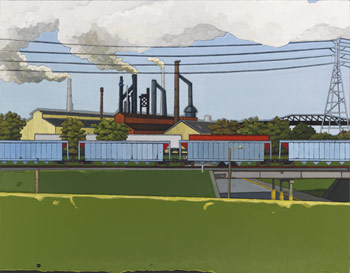 I guess this is also a bit of a 2-for-1, though not the one I was referring to in the introduction. I'm generally a fan of Linda's gallery, and this round is not exception. Cline Ave, a series of paintings by Emmett Kerrigan, may appear benign, but the industrial/living-space rendered a bit cartoonishly is strange, if not instantaneously depressing (in the best possible way). Wow, I'm good at run on sentences. In the back room, AKA the Project Room, Front Porch Disasters and Other Open Secrets, work by Lora Fosberg adorns the walls. The two shows are in one of the best dialogs I've seen in a while at Linda's place, I look forward to seeing it all in person. Reception is Friday, from 6-9pm.
Linda Warren Gallery is located at 1052 W. Fulton Market St.
3. Public Spaces at Stephen Daiter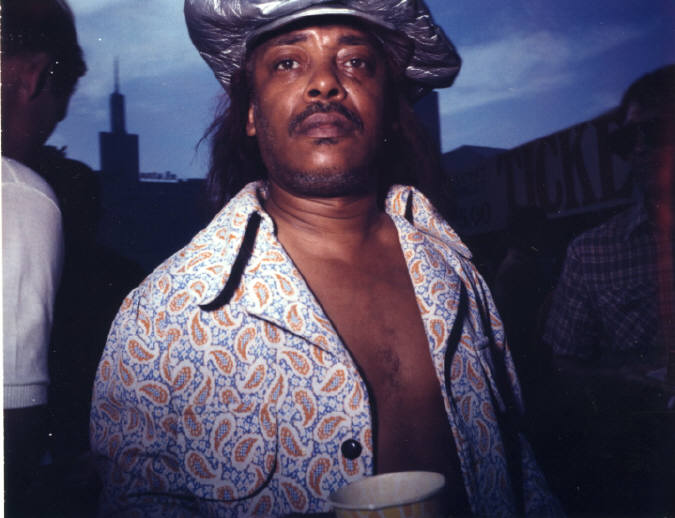 Stephen Daiter is a bit of a hidden gallery. Unlike Edelman, the other major photo gallery in River North, Daiter is hidden upstairs, past an elevator that is incredibly slow and smells a bit of burnt plastic. Dont' let this deter you, however, because Dater is a place, especially if you're into photography, that you need to get to. For this round at Datier, Private Views – Public Spaces, work by Barbara Crane is on display. Awkward Polaroids of 70s people? Why not? Crane does a variety of work, so this isn't the most contemporary, but good none the less. Reception is Friday, from 5-8pm.
Stephen Daiter is located at 311 W. Superior St. #408
4. 2-for-1: ThreeWalls and Western Exhibitions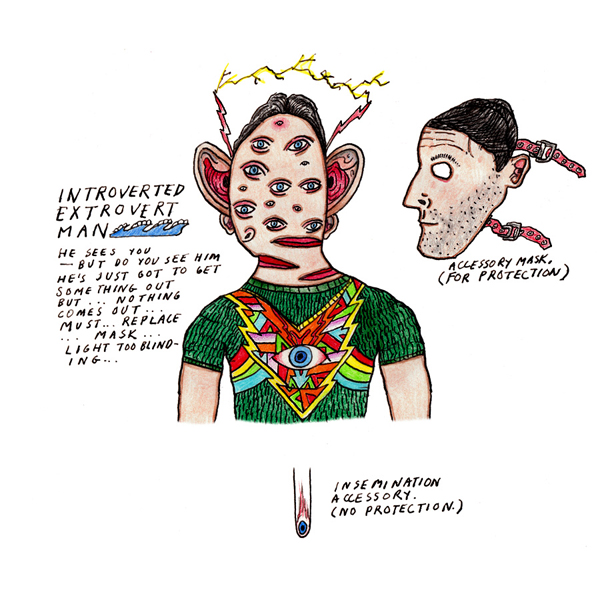 Both these venues are having entertaining events on Friday, and since they are literally down the hall from each other, I figure, go to one, go to both. I'd start at Western Exhibitions, which is showing Superfreaks, work by Eric Lebofsky & A Wildness of Edges, work by Melissa Oresky. When you're done gawking at that, head for ThreeWalls for New Knowledge, a trivia night that is going on as part of In Search of the Mundane, a collaboration with Randall Szott and InCUBATE. Weird-ass paintings and drunken trivia? How could such a thing ever be wrong?
ThreeWalls and Western Exhibitions are both located on the 2nd Floor of 119 N. Peoria St.
5. NOTICE – CLOSED at Heaven Gallery
NO PICTURE AVAILABLE! DON'T BLAME ME!
This is the closing reception I was talking about. Co-sponsored/co-produced by Heaven and Spudnik Press, the show features a bunch of work by Jeremy Lundquist, along side a group exhibition, A Unique Marquee, that was co-curated by Lundquist and Angee Lennard, the Director of Spudnik Press. Again with the run on sentences. A good nightcap if you ask me.Reception is Saturday from 6-9pm.
Heaven Gallery is located at 1550 N. Milwaukee Ave, 2nd Fl.
I forget that sporadically posting for an awesome blog can be construed as arts journalism, and this pays off in many ways. One of these payoffs I got recently was being able to see a media preview of the MCA's two new shows: Liam Gillick: Three perspectives and a short scenario, and Jeremy Deller: It Is What It Is: Conversations About Iraq. Both Gillick and Deller were there, as well as MCA curator Dominic Molon.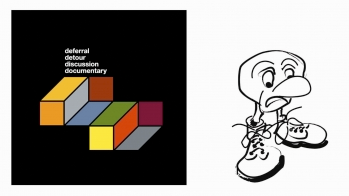 Liam Gillick is completely charming Englishman who wore very nice shoes. The MCA is the last institution to host the exhibition, which was previously in the Witte de With in Rotterdam, Kunsthalle Zurich, and the Kunstverein in Munich in different manifestations.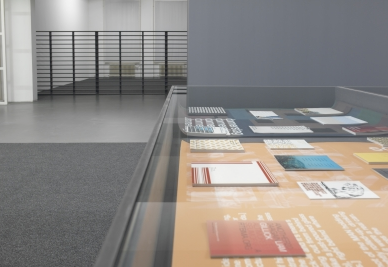 Gillick began speaking by saying that he was curious as to how one could reinvent the midcareer retrospective. Instead of seeing the evolution of his work as a linear progress to be documented according to its timeline, he noted his own "promiscuity of ideas" and wanted to return to his own 17-year-old, suburban, pre-art aesthetic for this survey. Consumed at that time in his life with the legacy of acrchitecture and design, Gillick and curator Dominic Molon (through "dynamic argument and discussion") created a space that is half carpeted and half concrete, separated by wooden screens. The normally milk white plexiglass ceiling in the gallery is replaced by multicolor plexiglass tiles. There is a vitrine with various posters, books, small designed objects, and publications, which is stunning to look at. Interestingly, Gillick likened this collection of paraphernalia to the experience of moving your home or apartment, and realizing you have so many things, and then realizing that you don't want to be the sum of these things. There are only two small images hung on the wall, a hand drawn self portrait, next to a digital cubic image done by a German graphic designer. The portrait, which looks like a dopey school mascot, Gillick jokingly described as representing himself as well as all "verbose, self involved, white guy artists of the past 50 years". The last piece in the room, which appeared incredibly sparse, especially for a retrospective, was a power point presentation set to a repetitive drum beat. Gillick spoke about how he created the drum beat, and then pulled one image at a time, pairing with each image one line of a story that he made up as he went along.
Jeremy Deller's artist talk felt very different than Gillick's. As the herd of us media folk slowly was lead into the room, Deller invited us to sit on the nice ikea furniture in the center of the space. There was a coffee table, there were tea and cookies, and mostly everyone was very uncomfortable being asked to sit down. A few martyrs sacrificed themselves and sat down, and then Deller introduced the project. In the space, there are the rusted remains of a car, exploded by a car bomb on Al-Mutanabbi, a street in Baghdad in 2007. This car was towed behind a truck on a six week trip that the artist, an Iraqi citizen, and a marine (that sounds like a terrible joke…) took across the country before the work was exhibited. The artists explains the trip, which was filmed, as a way to promote discussion about the war in Iraq with everyday people as the troup stopped in cities across the US. Also displayed is a huge flag by artist Ed Hall that says "It is what it is" in English, and an equivalent saying in Arabic below it. Painted on two walls are Iraq and the United States, on which the artist has proposed sister cities or twin cities, mimicking what France and Britain did after the second world war to foster community and dialogue between cities that had been in conflict.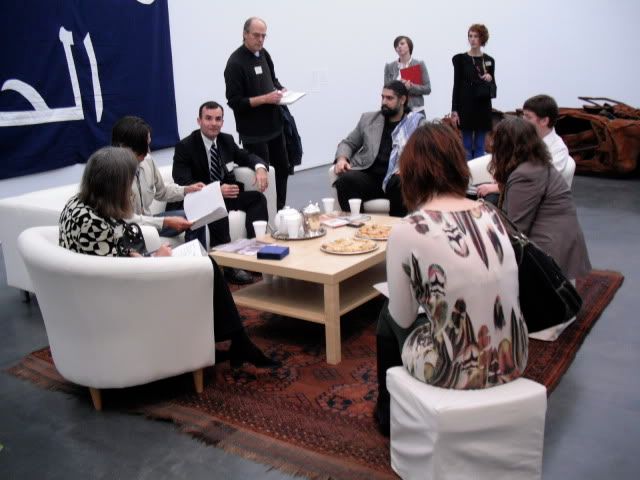 The "main part of the show", as Deller put it, was the lounge area, which will have various service veterans, Iraqi citizens, and academics available daily to engage in discussion with the public. The morning I was there, Iraqi translator and artist Esam Pasha was there, as well as economist and retired marine veteran Wesley Gray. Deller was very adamant that this was "not art", but an exhibition, and wanted the conversations had to "be the art". These conversations are not going to be recorded or documented in any way, which I think is kind of a bummer.
The questions from the media to the Wesley Gray and Esam Pasha were uncomfortable at times. When one person asked Gray (who is fluent in Arabic) how he learned the language (through a virtual reality video game), he spoke breifly about customs and signs of respect to the Iraqi people that he had to learn before shipping out. When another journalist followed up with Pasha asking how the people of Iraq were prepared for the American culture (rock music, hats, sunglasses), Pasha replied that they only learned to smile, raise their hands, and do what they were told. He said that the people with the guns are the ones in control. I think a huge success of this project is the civility of the "professionals" during the dialogue that was started. Esam Pasha, another marine veteran and Jeremy Deller were together nonstop for six weeks and could still sit down for a discussion on that day.
I genuinely respect Deller's desire to create a space for an informed discussion to take place between strangers. We are taught in America that politics is one thing that you shouldn't bring up at a dinner party, let alone with a stranger. What I think is bullshit, however, is Deller's assertion that this project is "not art". He stated this many times during his talk, raising examples like if it was an exhibit in a natural history museum we wouldn't be calling it art. It kind of miffed me because it seemed as if he was saying that because it wasn't art, it was somehow more than art, or more significant than art. He seemed to be implying that admitting it was art (hello, you have chosen to exhibit it in a contemporary art museum in a white walled room) would detract from the project, which I think is insulting.
Art or not art, decide for yourself. The calendar of daily talk schedules and speaker biographies for Deller's project can be found here.
Three perspectives and a short scenario will be up until January 10th, and It Is What It Is: Conversations About Iraq
will be on view until November 15th.