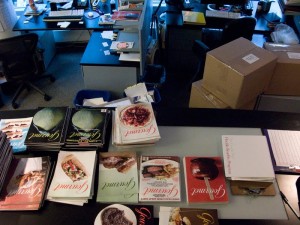 Kevin Demaria, associate art director at the recently-defunct (I still can't believe it) Gourmet magazine, created a website to document the publication's last days. I don't know why I was so surprised to learn that staffers at one of the world's premiere food magazines worked in standard, if not exactly drab, office-y surroundings, surrounded by sticky notes and bulletin boards and colored files and the like, but I was. [Read more]
My vote for most unintentionally puzzling press release issued by an otherwise savvy museum press office? Gotta be the MCA Chicago's email blast for Hide and Seek, a new exhibition (on view from October 20 – November 13, 2009) that's a playful attempt to engage visitors with objects from the Museum's permanent collection in new and creative ways. [Read more]
Jac Jemc will be at The Parlor Tuesday November 3rd at 7pm!
Jac Jemc sells books at Women & Children First.  Her first novel, My Only Wife, is forthcoming from Dzanc Books in 2012.  In the meantime, she has work that will soon be out in Alice Blue, Barrelhouse, Front Porch, Pank and The Rome Review.  She is the poetry editor of decomP and a fiction reader for Our Stories. Mostly though, she blogs her rejections at jacjemc.wordpress.com.
Following her 30 minute reading, Jac will take questions from the audience.
As always, the event will be recorded and published on-line for your repeated listening pleasure on iTunes and at www.theparlorreads.com
All readings take place at 1511 N. Milwaukee Ave, 2nd Floor
For more information, please visit www.theparlorreads.com or contact theparlorreads@gmail.com
The Parlor is a monthly reading series sponsored by Bad At Sports Podcast (www.badatsports.com).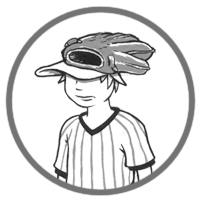 Welcome to the new website for Bad at Sports. With this major re-design we aim to strip away some of the site's more cumbersome features in order to focus on the two things we do: the podcast and the blog. Now, you can access blog content from the website's home page along with direct links to our most recent stories and related posts from our archives.
The weekly podcast's content remains front and center (well, now it's a little more left-of-center), with the past few weeks' worth of podcasts available through direct links on the home page as well. In the coming weeks, we'll also be adding some new Chicago-based bloggers to our mix of weekly contributors–stay tuned for those announcements soon.
In November, we'll also be initiating a new weekly(ish) series titled Off-Topic, in which we invite artists, curators, writers, and other cultural workers to discuss a subject not related to the practice of making art. It's a chance for people to geek out on aspects of culture that they're passionate about outside the realm of fine art proper – topics they don't have a forum to write about elsewhere – and based on the essays we've already got lined up, we're pretty confident this new series is going to kick ass.
With the new site, we want to try out a few different ways of engaging community response to our blog content in an effort to make Bad at Sports feel like a welcoming place for everyone who wants to hang out here.  Instead of a comments feature, we'll have a bi-weekly "Letters to the Editors" post on Saturdays. Please send your thoughts, threats, and hate mail to mail@badatsports.com with the subject Letters to the Editor. We're also going to be making a bigger behind-the-scenes effort to engage our listeners and readers more directly by soliciting your contributions to the Off-Topic series as well as a few other new content angles we've got up our sleeves but aren't quite ready to roll out yet.
We hope you're as excited about our redesign as we are. Take a look around, see what you think. And as always, thanks for hanging with us.
Photos from this years Triangle Neighbors' 13th Annual 2009 North Halsted Halloween Parade. [Read more]