Late yesterday word that artist Nancy Spero had passed away at the age of 83 began circulating on Internet art blogs. Today, there is praise from around the country for Spero's artistic contributions and her role as an outspoken feminist and critic of war, violence, and injustice. Here's a brief sampling of some of the earliest press coverage:
Holland Cotter, New York Times: Nancy Spero, Artist of Feminism, Is Death at 83
"…Although Spero received relatively little art world attention during the early part of her career, she gained visibility in the 1980s and '90s as socially concerned art came into favor. By this time her work had gained in formal complexity and variety, with its weavings of image and text, its time-consuming techniques of painting, cutting, and stamping, and its adaptation of aspects of Pop, Minimalism, and Color Field painting, styles she had previously distanced herself from.

…

Kiki Smith, one of the many younger artists influenced by Spero, once said in an interview: "When I first saw Nancy Spero's work, I thought, 'You are going to get killed making things like that; it's too vulnerable. You'll just be dismissed immediately.'"

Spero herself, who experienced both being dismissed and celebrated, said simply of her work, "I am speaking of equality, and about a certain kind of power of movement in the world, and yet I am not offering any systematic solutions."
Adrien Searle, Guardian UK: Nancy Spero's Death Means the Art World Loses Its Conscience
"Nancy Spero's death on Sunday took a great artistic conscience from the world. The last time I visited her in the LaGuardia Place studio she shared with her partner Leon Golub – Leon died in 2004 – she looked frail but indomitable, though surrounded by a galaxy of medications, and getting about only with extreme difficulty. Cursed with arthritis, over the years she had developed strategies to make her art, getting studio assistants to cut and stamp out the stencils she made, printing them on paper, on walls, and even as a maypole of severed heads. This last was one of the most memorable works at the 2007 Venice Biennale, greeting viewers as they entered the Italian pavilion where the keynote show was held. Spero said the work, Maypole/Take No Prisoners, was "all about victimage", though its grotesque aspect was leavened by her wit."
The L Magazine: Nancy Spero, Pioneering Feminist Artist, Is Dead
"More than her art, though, Spero's legacy will be defined by her leadership in New York's feminist art movement, both as a member of several radical groups of artists and activists in the 60s and 70s, and especially as the founder of A.I.R. Gallery, which still operates in Dumbo."
Phoebe Hoban for ARTnews: In Memoriam: Nancy Spero (posted online today in lieu of an obituary; an excellent profile of Spero from a couple of years ago):
"It's difficult to think of the slight, spritelike Spero as a grande dame of the art world. But apart from Louise Bourgeois, few living female artists have carved out a similarly singular niche. Both are trenchant woman warriors who have invented powerful pictorial vocabularies that are simultaneously idiosyncratic and universal. If Bourgeois is Spider Woman, a provocative weaver of monumental webs, Spero is the High Priestess of Hieroglyphics whose lifework is the visual equivalent of an epic poem. Bourgeois has mostly made her mark with objects that forcefully occupy space, but Spero has chosen a more ephemeral path, often using mere paper to create mythic scrolls, collages, and "Maypoles," that explore her ongoing quest, the eternal feminine."
I'm not generally a fan of the ubiquitous online quiz, but this one…I came, I took, I scored an embarrassing 83% (two answers incorrect). Take it yourself and see how you fare.
Donald Judd, or Cheap Furniture? (Edited to FIX LINK; sorry guys!)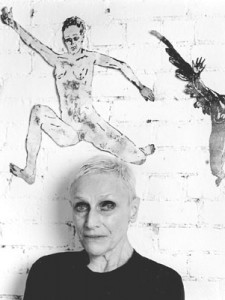 From Edward Winkleman we learn the very sad news that artist Nancy Spero has passed away at the age of 83.  Spero earned a B.F.A. from the Art Institute of Chicago in 1949, and lived in Chicago with her husband, the painter Leon Golub in the early 1950s (where both were associated with the Monster Ronster group of Chicago artists, which also included Don Baum and H.C. Westermann) before moving to Paris to study painting. An interview with Spero conducted by Art21 can be found here. May she rest in peace.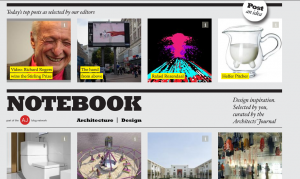 A few weeks ago I remarked upon the current popularity of the words 'curate' and 'curation' as a new form of marketing lingo, following a story in The New York Times on that subject. Today I ran across this very good bit of commentary within a post at things magazine on "The Death of the Object" as it applies to a type of emerging blog genre that's driven by particular cults of personal taste. The specific websites they're referring to relate largely to fashion, but the larger idea, I think, makes just as much sense when considered in terms of how objects of art and culture are consumed on the internet today. Read Things Magazine's full post here, an excerpt is below (bolded text is my own emphasis).
"…a recognisable genre of weblogs has emerged (see this question: Is there a name or term for the aesthetic these blogs contain?), the seemingly random streams of 'good work', quirky images, striking photography, cool objects, strange concepts, old scans, etc. etc. etc. We can drift though these – and we do – yet we shouldn't kid ourselves that we are flaneuring our way to anything but a highly selected cultural overview. This genre of presentation is both persuasive and pervasive, the digital equivalent of Wired's 'Fetish' pages (which have obviously a far more natural existence on screen than on paper). Take the AJ's new Notebook site, wherein 'inspiration' is 'curated', an explicit acknowledgement of the dominance of image-driven culture.

These visual essays, together with animated stings and very short films, have become the primary modes of communication; objects are strung together rather than taken in isolation. There is no space for contemplation, just clicking, scrolling and flicking. This leaves the solitary object somewhat adrift, only embodying meaning when it is juxtaposed or collated or slotted into a larger collection. Although a glance at any tumblr or curated weblog might suggest otherwise, the 'thing' is in danger of imminent extinction.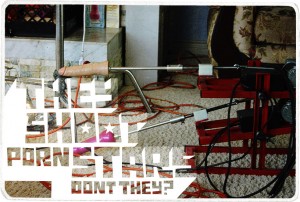 Recently Susannah Breslin, who has often written about the San Fernando Valley adult movie industry for boingboing and other publications, published a photo essay in the form of a website, "They Shoot Porn Stars, Don't They?", which looks at the current state of the adult entertainment biz as it exists in the so-called "Porn Valley." In particular, she interviewed adult movie performers, visited porn movie sets, and had discussions with other adult movie professionals about how the current state of the economy has affected their industry and thus, their livelihood.
At once fascinating and deeply disturbing, Breslin's point of view eschews the easy distancing that irony provides in favor of an empathetic and at times grimly humorous take on the subject, particularly when it comes to the industry's female workers, who are most definitely not portrayed as empowered.
In the essay's first half, Breslin looks at one development that arose from the industry's economic decline: suddenly, the flesh and blood male appendage is looking slightly more expendable. Why? The invention of Robocock, a mechanical phallus aka low-maintenance "fuck machine" used by adult film director (of kooky shock-sex films like "Whore of the Rings" and "Texas Dildo Masquerade") Jim Powers. From Breslin's essay:
"We got rid of the male talent!" Powers crows, triumphant. He enumerates the benefits of working with an animatronic phallus on one hand. "They don't complain as much. They're always hard. You don't have to feed them." Of course, the 21st century woodsman does have one drawback. "They've always got bolts falling off," Powers admits with a shrug.

"The market is saturated with porn, the Internet is pirating porn left and right, and the economy is in the shitter," Powers laments after Hunter's shoot, staring out the sliding glass doors at a fountain trickling pleasantly in the sun-dappled backyard. He looks like a spurned lover—heartbroken. "Porn destroyed itself," he mutters. "2005 was the peak of shit." He shakes his head. "Now, we're just living in piles of shit." He is crestfallen. "It completely destroyed everything." He looks at the floor.

A redhead appears in the doorway. Powers will shoot a total of five scenes today, and hers is next. It's time for Jim to get back to work. On the sidelines, another machine is waiting for its turn in the spotlight. This one is double-headed."
Read Breslin's full essay here. It 'aint pretty,  it 'aint for the easily grossed out, and the large color photographs taken by Breslin that accompany the essay make it definitely NSFW either.  Note: Photographer Larry Sultan also has a well-known series of photographs on this same subject, titled The Valley, which you can read more about here and here.