This post, about an exhibition of Martha Rosler's Library at the Herter Art Gallery at the University of Massachusetts, got me thinking about personal libraries of various kinds. Mostly working libraries, filled with books that people have actually read cover to cover, as opposed to the coffee table variety. I've always loved sneaking a peek at the bookshelves in the homes of people I visit. I'll admit it, I'm a snoop, at least when it comes to uncovering the secret history of what people like to read.  I don't mind if people snoop my bookshelves when they visit my place either. Bookshelves are like snapshots, in some cases they're a form of family portrait. I love how over time, everyone's books can mix together willy nilly, the Marxist analyses with the potty training manuals, but I also love seeing smaller tableaus containing just those books that are "in action" at the moment, like this one, from the home of Pamela Fraser and Randall Szott: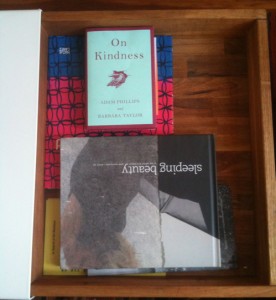 Family bookshelves mediate between public and private space. I would most likely be too embarrassed to ask someone if I could photograph the books in their bedroom (although who knows, maybe not), but the living room seems like fair game. So much art in Chicago takes place within domestic settings, and sometimes it can be really hard for me to keep my eyes on the art, so interested am I in everything else that's going on in the room. Lately, I've been wanting to take pictures of the bookshelves in artist's studios and in various public/private domiciles as a combination snapshot and local travelogue, a means of staging a different kind of personal encounter. Over the next few months I'll occasionally post snapshots from the domestic libraries I encounter (with the owners' permission, of course). So many clues about who we are and what brought us to this point are hidden in plain site right there on a bookshelf. It's fun to look, to try and make connections, to guess at whose book is whose and to feel a sense of curiosity and wonder at what we find.
Why goes as yourself for Halloween when you can go as the 8-bit low resolution version of yourself? I don't know the girls name but the work speaks for itself. The photos were posted on her blog kindacarsick and I look forward to what she comes up with next year.
This may be revealing a bit too much but after watching this video yesterday over on Boing Boing I felt utter heartbreak. Who knew the IBM 7094 could induce such an emotional response?

via slavenr88
"Daisy Bell was composed by Harry Dacre in 1892. In 1961, the IBM 7094 became the first computer to sing, singing the song Daisy Bell. Vocals were programmed by John Kelly and Carol Lockbaum and the accompaniment was programmed by Max Mathews. This performance was the inspiration for a similar scene in 2001: A Space Odyssey."

A little mini brush-up on color theory and its uses in animation, by way of Bill Melendez' beloved 1966 TV special It's the Great Pumpkin, Charlie Brown: this essay, written by L.A.-based animator Justin Hilden, contains a scene-by-scene analysis of the use of color on the special, focusing particularly on its emotional and dramatic effects. [Read more]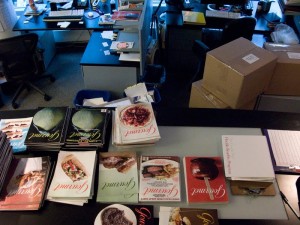 Kevin Demaria, associate art director at the recently-defunct (I still can't believe it) Gourmet magazine, created a website to document the publication's last days. I don't know why I was so surprised to learn that staffers at one of the world's premiere food magazines worked in standard, if not exactly drab, office-y surroundings, surrounded by sticky notes and bulletin boards and colored files and the like, but I was. [Read more]