an Essay by Vanessa Gravenor
Is liberation a blessing, or a curse?
A curse disguised as a blessing, or a blessing feared as a curse?
Zymunt Bauman[1]
I.
The Internet is as anarchist zone where virtual creolization and dissolution of cultural boarders can occur ad infinitum facilitating intellectual freedom by masses access to global commodity culture. Yet a typical and altogether problematic West/ East and first world/ third world dichotomy emerges when considering Cuba's use of the Internet, highly moderated by the government, to the proper "West's" open and constant access. Two exhibitions, In the Absence of a Body (February 2015) and Cuban Virtualities[2] (December-February 2014), explore the complex semantics of freedom through virtual mobility and emigration asserting but also blurring this traditional dualism. Cuba as a country has a unique relationship with digital technology as connectivity and access are largely withheld from general populations and heavily moderated by the state. Historically, Cubans also faced impingements upon travel, mobility to the U.S. through the embargo, and immigration. For these reasons, America could be characterized as a designated promised-zone that, if ever reached, would help to facilitate liberation. The Internet and digital media can be seen as another gateway to mobility and freedom. The artists Alejandro Figueredo Diaz-Perera (In the Absence of a Body) and Susana Pilar Delahante Matienzo (Cuban Virtualities) reverse this traditional dichotomy by drawing the audience attention to the artificial promises of these thresholds and desired states. While not present directly, the post-Snowden discourse that ensued after the wikileaks scandal offers another enforcing layer that freedom and endless free-speech in the West might in fact have much more in common with Cuba's overt censorship.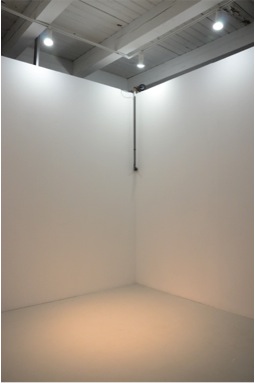 II.
During In the Absence of a Body the artist, Alejandro Figueredo Diaz-Perera, explores his current status as a Cuban émigré in the United States. With a childhood marked by the Cuban embargo and the collapse of structures in 1991, Diaz-Perera has in many ways broken through the invisible iron wall and reached the ultimate post-modern utopia through travel as an artist: acceleration and mobility.[3] Yet, it seems that he commiserates this freedom because he is cut off from his family and political moments. It is for these reasons that his installation takes on the appearance and the motif of the prison cell where he has taken up occupation for the twenty-day duration of the show.
In Diaz-Perera's installation and performance, he is invisible from the audience's gaze yet present behind the false wall of the Chicago Artists' Coalition gallery space, where he pulls a make shift levy system attached to a microphone. The undulating pulling motion causes the microphone to thud loudly against the wall— a rhythm reminiscent of a beating heart or an internal pounding of the head when the body's equilibrium has been overturned. Diaz-Perera's performance is reminiscent of Vito Acconci's Seed Bed and other early performance artists such as Valley Export's early occupation of architectural spaces. It is the austerity of The Silence (…) is overrated, part of the larger installation of In the Absence of a Body, that links it immediately to 1960's and 70's performance artists and also connects Diaz-Perera's work to earlier generations of action-based performance artists such as Tania Bruguera (Cuba) and Regina José Galindo (Guatemala).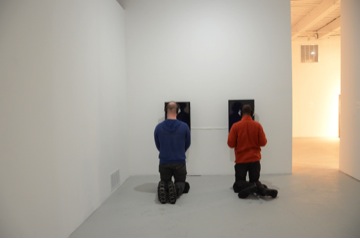 The Silence (…) is overrated, a performative gesture, is founded between two auditory documents from activist figures that have also suffered a loss of voice and silencing by the government. The audience is asked to kneel in order to hear the audio from the two activists figures inviting them to make a choice between hearing what officials call dissident speech and what others call proclamations of freedom. When the viewer makes the choice to kneel down, he or she is confronted with a strange dialectic between being in a position of crouching that can be used as a tool of political torcher or the spiritual position of prayer. This dialectic is mirrored by the artistic choice to only include two voices and accounts: that of Tania Bruguera, a performance artist living in New York but from Cuba, and Assata Shakur, an American and member of the former Black Panther Party and Black Liberation Army who resides in Cuba as a political refugee. Both attest to their homeland as a place of surveillance and political assailant on free speech and property. Particularly, Bruguera testimony demands that the government release performers and the artist's property, which were seized in the unrealized performance #YoTambienExijo (I also Demand) in December 2014.
There are no images attributed to the sound that the viewer hears through headphones. Instead a black monitor screen with white text that translates the speech either English or Spanish depending on the language of the speaker. This suggests that experience and testimony can always be mirrored into another lens by language and through this simple refraction can turn into incriminating testimony. In this case, it is Shakur attesting to the hegemony of the American police mirrored against Bruguera's assertion of Cuba as a police-state. The black TV-monitor is oddly reminiscent of a narrow window, the type of geometric form that one would find in a gothic cathedral, and yet in reality is a threshold for a virtual world that has been foreclosed.
Yet to view Diaz-Perera's work as a closed circuit triangulated work would be to miss the political context or the absent link. This missing link is Bruguera and her uncompleted and censored work #YoTambienExijo (I also Demand). Writing on the failed work's reception, Coco Fusco discusses #YoTambienExijo, a performance that was planned to take place in Revolutionary Square in Cuba but was censored by the government, as a work that neither the Cuban world nor the Western world understood because of the restricted means of communication and organization imposed by the Internet.[4] The plan for the performance, Fusco explains, was to place a large microphone within the public square for citizens to step up and call the government out for its crooked and what Fusco calls "draconian" censorship. Instead, Cuban citizens criticized Bruguera for creating a grand gesture that was completely out of touch with the possible realms for real subversive actions. Exhibition planners of Cuban Virtualities, J. Gibran Villalobos and Wil Ruggiero, explain that Cuban artists toe the line between political action and submission so that this vacillation between two oppositions could somehow function as a safety net against incrimination. Diaz-Perera hints to this paranoid conflicted zone and space by borrowing key motifs in his In the Absence of a Body. His overturned microphone becomes a direct referent to Bruguera's unrealized performance that in many ways was supposed to fill in what she presumably deemed as a public space vacant of expressed concerns. Yet, since Bruguera lives most of her time outside of Cuba, she is seen as a cultural elite and her extreme plans for the performance in December of 2014 only exacerbated an already heated situation. Therefore, Diaz-Perera's work can be seen as a complex meditation but also response to Bruguera's failed gesture. In his iteration, the microphone itself has lost all of its utility and can only create a deafening music.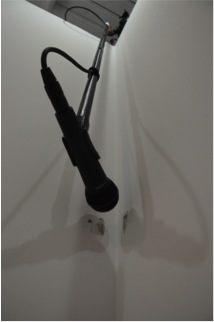 III.
Cuban Virtualities, a traveling exhibition that was on view at Sullivan Galleries from December-February, explores the individual's relationship to the Internet. Unlike Diaz-Perera's work, which questions the role of the émigré caught between two opposing yet similarly violent worlds, Cuban Virtualities focuses on individual's access to the Internet and how this can be a tool for political expression. Cuban Virtualities suggests a similar US/Cuban dualism as the viewer experiences the works from a point of estrangement.
Geert Lovink authored a 2014 article in Journal #54 of e-flux where he claims that the digital world had returned to a point pre-1984, which he then explains as the year before the apple computer had been introduced and marketed to the individual.[5] Before, he states, computers were large expensive machines for corporations and were not associated with file sharing programs, chat rooms, and borderless connections between individuals. Geert Lovink writes "Now, thirty years later, the computer is once again the perfect technical instrument of a cold, military security apparatus that is out to allocate, identify, select—and ultimately destroy—the Other." Lovink is writing for a journal based in the U.S.—the proper West— that unlike the Cuban artists at hand, enjoys a very specific so-called freedom.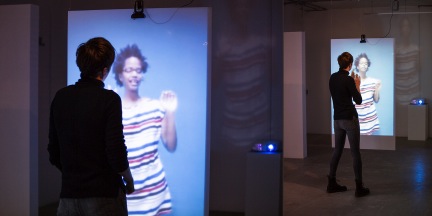 On the island where the artists of Cuban Virtualities live, their experience of the Internet is radically different than that of the United States. The Internet is overtly monitored, withheld, and often times not available to the individual. In Cuba, the Internet never reached a post-1984 position, yet that is not to say that individual expression ever suffered, rather that individual expression on the Internet was always elevated to political action. For instance, in Mirror of Patience, Susana Pilar Delahante Matienzo is present in the gallery through a live feed. Exhibition organizers J. Gibran Villalobos and Wil Ruggiero explain the huge monetary negotiation that had to take place in order to allow Matienzo to be present in the live feed. They explain that ultimately a company called ONCuba Magazine provided sponsorship for a network connection to broadcast with SAIC.
In the live feed, which was ultimately only possible at certain points in the exhibitions duration because of cost, the artist calls out to the viewer and asks him or her to place his or her hands on the backlit projection screen in order to mimic her actions. While playing the game, the viewer wonders if he or she has been dubiously tricked into staring into an unknown or othered reflection of the self. During the opening night, Matienzo waited for participants to come interact with her. Many looked on her with caution and often would utter anemic laughs while shooting glances to the virtually present artist. Often times Matienzo would laugh herself and ask— "who is there"— unable to see beyond the shallow range of the web cam.
Mirror of Patience, conceived by the artist in 2013, at first seemingly places the viewer and artist on a level playing field. Upon closer inspection, while the gallery has unlimited Internet access, the artist is only able to use the Internet through a special sponsorship she was able to receive because of her status as an artist, someone who in Cuban society has much more mobility and capital power, Villalobos and Ruggiero explain. In a post-Snowden cultural climate, Matienzo use of the Internet is a testament to the remaining possibility of dissident action. Yet, one is all too aware that the gesture is not utopian, she is not celebrating the world without borders but pointing to the artifice of the image of a timeless and borderless space.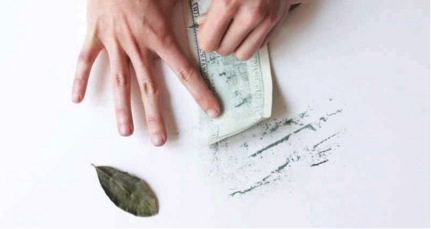 Glenda Leon's Inversion also muses on structures of meaning. In the single channel video, the artist scrapes the ink off a 100 dollar bill and then snorts the particles that remain after her intervention. This could be interpreted as a metaphor of the Internet, for accessing the Internet in 2014 or 15 is to reach a promised utopia but when one scrapes the surface, this essential freedom seems to fall apart. Cuban citizens can create a simple act of protest out of a simple action of hacking, and yet these actions and words are always being archived, cross-listed, and can and will be used against them.
IV.
In the CAC take-away pamphlet, Diaz-Perera describes how he was born in Havana, Cuba in 1991 "at the beginning of the Special Period, an economic crisis resulting from a combination of the collapse of the Soviet Union, the U.S. Embargo, and the internal systemic controls." Most of the artist in Cuban Virtualities also lived through this Special Period where power structures crumbled and the nation was isolated by the embargo. In many ways, Cuban life has been defined by the cross-pollination of U.S. and Cuban relationships and the continual reconfiguration of identity through absorption of other cultures in colonial periods. Yet in a sense, these other cultures, specifically American in this incident, have been an imposition. Villalobos' comments on Mirror of Patience as a "laying bare" of the reality of this co-dependency or in other words, the hell that connectivity can usher in as one side waits to begin to continue to communicate. It is in fact this waiting (awaiting) for information, for a sentence, or for connectivity, the same game that Diaz-Perera also plays in jest, that turns the would be freedom of emigrating or live-stream into the first of many entrapments.
[1] Bauman, Zygmunt. Liquid Modernity. 2nd ed. Cambridge: Polity Press, 2012. 9-19. Print.
[2] Cuban Virtualities: curated by Rewell Altunaga and Liz Munsell, Assistant Curator of Contemporary Art, Museum of Fine Arts, Boston; organized at SAIC by Gibran Villalobos (Dual MA 2013) and Wil Ruggiero
[3] Zygmunt Bauman explains one of the attributes of power in post-modern or liquid modern times is the access to mobility and the rate of this acquisition: "Velocity of movement and access to faster means of mobility steadily rose in modern times to the position of the principal tool of power and domination" (9).
Ibid
[4] Fusco, Coco. "The State of Detention: Performance, Politics, and the Cuban Public." e-flux.com. N.p., 6 Jan. 2015. Web. 8 Mar. 2015.
[5] Lovink, Geert. "Hermes on the Hudson: Notes on Media Theory after Snowden." e-flux.com. N.p., Apr. 2014. Web. 8 Mar. 2015.
If someone slips on a banana peel in a forest and no one sees it, does anyone laugh?
The current exhibition at Atlanta Contemporary Art Center walks us dangerously close to the banana peel. We are the sucker about to unwittingly step onto the banana peel, and the audience waits with bated breath for us to make that final descent into unavoidable disaster.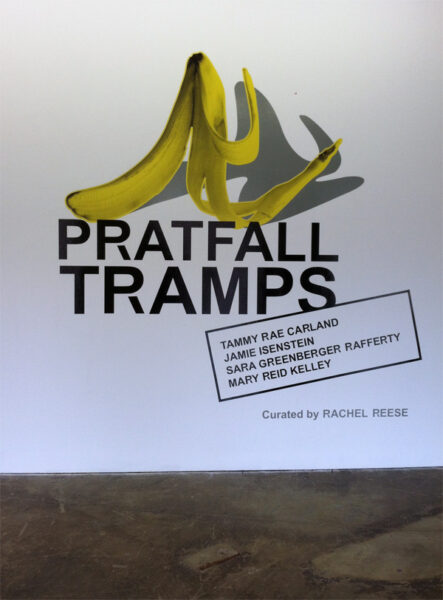 Pratfall Tramps is a sprawling group show, filling the galleries and spilling over into the accompanying Gilda Radner Research & Translation Center. Entering the galleries, the curtain is lifted, setting the stage and revealing the impetus that gathers the seemingly disparate works together.
Jamie Isenstein's Inside Outside Backstage Vase welcomes visitors to the space. From a distance the vase fills with vibrant, fresh flowers, but something is off. Some of the flowers wilt, revealing the perfect false blossoms and crumbling real flowers. A comically large, teetering stack of pancakes obscures Sara Greenberger Rafferty's Performance Document: Self Portrait With Pancakes.
Isenstein's Sand Lamp is funny as theatre of the absurd is funny. The joy and lighthearted moments of our lives, sheathed in the mundane, ready-made lamp shade burst from the sand that seems to entrap us, yet we cannot realize our electric cord still snakes to find sustenance.
Mary Reid Kelley's Sadie The Saddest Sadist builds from the same tradition. The audio fills the space, looping just often enough to unobtrusively juxtapose its songs, chants, snippets of speech with other works. The mounting layers resist translation, but they create a new way of viewing the works, a shifting, performative veneer over the entire gallery.
As the best comedy does, the works reveal larger issues at work in the world. Greenberger Rafferty's Testing I (Whisk), Testing II (Baster), Testing III (Spoon), Testing IV (Shotgun Whisk), and Testing V (Scoop) anchor the exhibition, upending the tools of performance and standup comedy. It elevates Martha Rossler's Semiotics of the Kitchen to the stage, making explicit Rossler's performativity and revealing a silence doubly loud for the lack of amplification and absent performers.
Tammy Rae Carland's series of acrylic ladders Pratfall Effect lead nowhere. The glass ceiling is not a fixed height. It is everywhere and nowhere.
If someone slips on a banana peel as daylight savings time begins, how long does it take for them to hit the ground?
Just as the individual works in Pratfall Tramps seem slightly off, the exhibition as a whole does not sit quite right within the gallery. This shifting in the exhibition, however, opens the curtain to an empty stage. We have already stepped on the banana peel, and the embarrassing, laughter-inducing fall is inevitable. We are continually reminded that the exhibition is funny or deals with comedy – the bananas, the artist bios, the accompanying quotes, the title of the show itself.
The curator, Rachel Reese, writes, "Pratfalls—bodily or object-based—are funny because they are a paradox. While suggesting lack of control, there is indeed complete and conscious control at play: in comedy, the performer can rewire failure as success." Similarly, the quote from David Robbins's On Concrete Comedy: An Alternative History of Twentieth-Century Comedy included on the title wall reads, in part, "Consider the fool. The fool is supposed to fail, that's part of the fool's function—his 'project.' And because it is to some degree his project, the fool in fact cannot fail."
These statements foreclose our ability to interpret the work critically. The show prevents viewers from experiencing the humor in the work by insisting it is funny, that it is successful when it appears to fail. Even if we see the artworks or the artists' "projects" as failing, seemingly out of place, or unsuccessful, we are told that is precisely when they work the best.
The insistence on comedy and the comedic connections underpinning the artists' work disrupts the exhibition, jars us out of the moments the works immerse us within, lands us on our backs as everyone laughs. We do not need to be reminded how funny it is. The assertions and repetitions undercut the fact that it is a strong show that coheres on its own.
If I tell you someone slips on a banana peel, is it still funny?
By Kevin Blake
Suddenly, and with little warning, the sun came out. After months of winter grey, the yellows pierced the clouds, warming surfaces in its reach. I was lost in a hardwood puddle of twilight orange on the gleaming floors at Corbett vs Dempsey when it came to me. The sunset squeezed through the blinds and the small rectangular allowance at the base of the window, drawing highlights of its manufactured geometry across the deck of the gallery. It was, as Agnes Martin describes, a "moment of perfection." To her, a moment of perfection occurs at the moment of recognizing its existence. Perfection does not happen in the eyes. We do not stumble upon it. It happens in the mind–its always there–waiting for you to recognize it.
In this moment, it was apparent to me that somehow light is perfect. It is a blanket in the cold. A guide in the dark. A beacon in the void. We attempt to reflect, refract, and reproduce light to our affection. It is a shared physical reality, only partially explainable with measurement. More importantly, light is a force of nature that we have created metaphors, myths, and legends for, in an attempt to describe its unnameable qualities–its attributes that make it inherently perfect. Much like the light, the echo claims similar traits. It is a phenomena of our tangible universe that, beyond its quantifications and practical applications, we are left with the residue of myth–an intangible substance that occupies real space in our minds.
In her most recent exhibition at Corbett vs. Dempsey, Jackie Saccoccio delivers "Echo"–a series of abstract portraits whose titles steep them in populated discourses, that are merely auxiliaries in arriving at a singular and psychological entanglement between the artist, the viewer, and the work.
When I try to imagine my last experience of an echo, the place I imagine is not likely to be the actual place of observation. Instead, I reproduce a space in my mind in which I know an echo would exist. A canyon. A vast expanse. Mountains. Water. It is idealized. It is perfect. I recall the dynamic quality of the experience–I remember how special of an anomaly an echo is, and I repeat an indistinct noise over and over to hear myself projecting into the infinite space where echoes occur. A similar facade monopolizes my mind when I think of a portrait. The image I concoct is one built from history–a resonance of the renaissance. I expect the form to be central and I expect it to be human. I expect the figure to be the display, as well as the model from which an idea is propagated.
While the infrastructure of renaissance portraiture may exist in Saccoccio's paintings, the centralized figure remains only as the most distant resounding of an echo. As the portraits recede into the deep spaces Saccoccio creates through perspectival maneuvers and layers of controlled spills, new possibilities emerge.
In Square in the Hole, the artist leaves little trace to the portrait. While a figure might be unearthed from the light wash of brown ground hovering in the depths of the painting, my eyes are drawn into the green jet streams blasting into the corner at top right, and the more subtle version of itself that brings the eye in the opposite direction on the other side of the painting. Those finishing moves–executed with some sort of straight edge or squeegee, are the major forces in this piece. These lines do more of the heavy lifting than any other part of the painting. They are the conceptual foundation of the title–directing the eyes to the round hole that the title suggests the square painting is trying to fit into, as well as a hint into the density of these works as a whole.
To me, Square in the Hole, was the blueprint for the exhibition. It alluded to the role of the titles within the physical and conceptual spaces manifesting on the canvases. What I initially saw as a physical engagement with the various properties of paint–getting lost in tracing each step in the process and spinning them around in my mind as I followed the trajectory of the curated spills–I could now understand as a guided experience. The artist knew where I would go with my eyes and my mind, and the painting is designed this way. The titles simply gave me the necessary nudge into this read of the work.
To me, these paintings are simultaneous self-portraits–as maker, viewer and sitter. I could see the artist stepping in and out of these roles to make aesthetic decisions–wrestling with these large objects in the studio while grappling with a psychological understanding of what an abstract image is and how it functions within a world of language systems that play vital roles in projecting this knowledge.
The more time I spent with this work, the more my experience felt like a dialogue, rather than an individually perceived moment. I felt as if I was being told–through the images–that the way I think about and process an image is echoing throughout the paintings as a precondition of the language systems that govern our perceptions.
I left the exhibition thinking about the residue of myth–the power of language. I left thinking that my experiences of physical space and thus, images, are just as crucially dictated by language as they are by the primary areas of physics–the areas that would explain, with language and diagrams to boot, how an echo works.
If the echo is a metaphor for the psychology of understanding language systems–it is a perfect one. The further you track it, the more distant it becomes.
I met Janice Guy for an interview in her gallery of which she is a director and founder, Murray Guy. In the back room of her gallery, a hand-tinted self-portrait of Janice rests in a matt slightly too large for the print, which has been cut and recut to fit the photograph for an upcoming exhibition. In the midst of preparing work for a show after more than thirty years of hiatus, I sat down to talk to Janice about her exhibited photographs, resurfaced from negatives forgotten and in storage since the early 1980s. This interview takes place shortly after Janice's second solo exhibition of her own photographs in New York, Janice with Camera, at Cleopatra's.
Erin: I was familiar with your show from 2008 at White Columns, and then also your most recent one at Cleopatra's –
Janice: 2008. That was the White Room show, the little solo show.
E: But both the photographs from White Room and the photographs from Cleopatra's came from the same time period and series?
J: It is only one time period. They're all between '76 and 1980 really. Let's say '75 to 1980.
E: But then you stopped making photographs –
J: And then I stopped making art. All my photographs were done in Germany. I had gone to Germany with a grant for one year, to go to the Kunstakademie Dusseldorf and I stayed there for five years.
E: Bernd and Hilla Becher were closely associated with the Akademie, right, and with that kind of objective viewpoint, was your work appreciated at school – your self-portraits?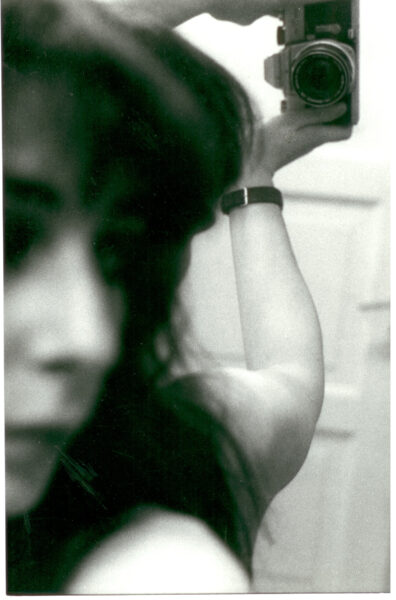 Mirror, 1978, vintage silver-gelatin print. Image courtesy of Janice Guy.
J: I was friends with the Bechers' students. I made friends with the Bechers. And then eventually I became a student of theirs. It did worry me that they would consider my work not part of their –
E: Ideology?
J: But that was not the case. They never expected any of their students to be emulating them, even though at the very beginning it certainly looked like that. When I was studying in the Akademie everybody was working in black and white, quite small. I was the one making the larger pictures. Actually, one of my biggest influences at the time was not a professor at the Akademie, or artists, but Konrad Fischer, who had a gallery …. and who had started off as an artist himself. Through Konrad Fischer, I was seeing the work of, and meeting artists like Lawrence Weiner, Bruce Nauman and Gilbert and George.
E: So that energy was motivating for you to continue making work at that time…
J: It wasn't until much later that I started thinking doing a gallery could be really exciting.
E: When you were approached to show your photographs from the late 70s, why were you interested in showing them again?
J: I hadn't thought about my photographs for a long time. Matthew Higgs asked me about them – I think it was 2007 – he was working with Marilyn Minter and Fabienne Stephan on a show at White Columns of work by gallerists who started off as artists. Matthew knew that I had studied in Dusseldorf, but he had no idea what I did, we hadn't really talk about it.
E: You hadn't shown the work to anyone?
J: Matthew was the first person here in New York I showed it to. I wouldn't have been offended if he had told me never to show it to anyone again! But he immediately put me in the show – "Early Years" – and offered me a solo show.
E: Do you feel like you're looking at a different person when you're looking at those photographs?
J: I have a distance from the work as art, because I'm no longer working as an artist. And a certain distance from that body. It was a long time ago. I started using my own body initially because I was the handiest model.
E: Sometimes when you use other people, it becomes distracting from what you might want, because then you start becoming a director. It's also a question of using yourself because you want to use yourself.
J: At the time I was making my photographs, in Germany, Selbstdarstellung (self-representation) was a feminist statement. This is me, this is my body, I represent it.  I found it interesting that the brilliant young women running Cleopatra's were all born after my photographs were made. They are a generation younger than me. They don't have these issues. They don't have to specify "we're women doing this project". I don't think that those photographs are narcissistic.
E: And it's also more of a working body.
J: Definitely. I am both the subject and the object of the photographs. And I appear to be photographing the viewer.
E: It's also an estranged self-viewing.
J: The camera always functions as a mask.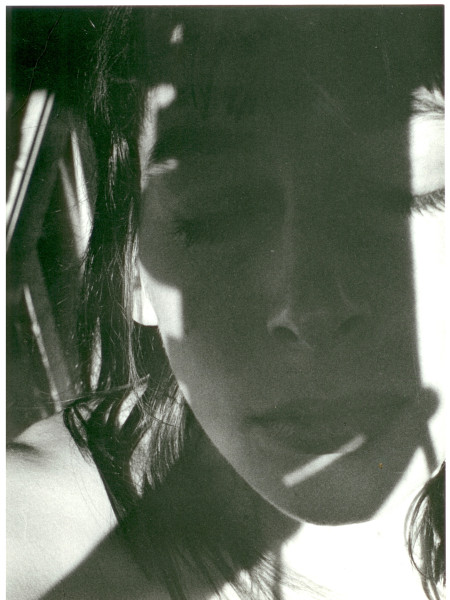 Shadow, 1978, silver-gelatin print. Image courtesy of Janice Guy.
E: Ones where you have your eyes closed, with shadows over your face, but you seem to be looking into the sun also…
J: I'm looking into the sun and the shadow of the hand-held camera with my finger on the shutter release, falls over my face … like a mask. You do see my face the most where I'm photographing with my back to the mirror. I'm in front of the mirror. But I don't see what I'm photographing.
E: It's more of a peripheral point of view. And can you remember what you were thinking as you were taking them?
J: It was a long time ago and I can't remember much about my intentions. People have asked me about certain decisions. For example, that in many of the photographs I am wearing only a wristwatch.
E: The wristwatch seemed a part of the portrait. That it must have been something that you wore all of the time.
J: I did wear it all the time. I didn't even have to take off in the shower. It was definitely something that seemed to be part of me.
E: And was there a reason that you liked to tint the silver gelatin print rather than to make a color photograph?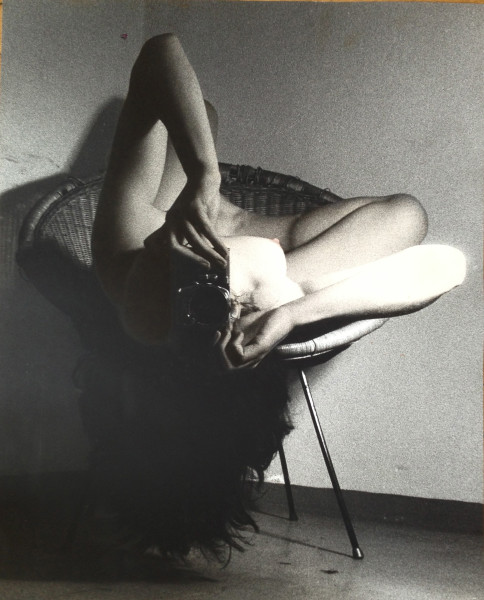 Untitled, 1979, vintage silver-gelatin print (unique), hand-tinted. Image courtesy of Janice Guy.
J: I secretly envied painters. I thought it must be very beautiful to apply color to a surface. And I liked the out-dated look.
E: How was it to stand in your exhibition as an artist and not a gallerist? Or did you feel still like a gallerist standing in your own exhibition?
J: I certainly didn't feel like a gallerist standing in my own exhibition, and I'm not sure how much I felt like an artist. The question that everybody asked me was 'Are you going to start photographing again? Are you going to start making art again?' And I would love to but I have no idea where to start.
E: It's a long blind process.
J: This attention has certainly given me a desire not exactly to start again but just to have the pleasure of making pictures again.
E: I hope that you do.
J: I hope I do too.
1. A l'ouest at Johalla Projects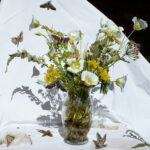 Work by Marzena Abrahamik.
Johalla Projects is located at 1821 W. Hubbard St. Reception Friday, 7-10pm.
2. DRESSING the FUTURE in MY HUMILITY at Defibrillator Gallery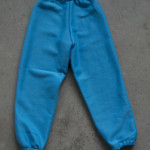 Work by Joshua McGarvey.
Defibrillator Gallery is located at 1463 W. Chicago Ave. Reception Saturday, 7pm.
3. March of Progress at Bert Green Fine Art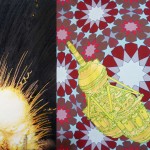 Work by Scott Horsley.
Bert Green Fine Art is located at 8 S. Michigan Ave. Reception Saturday, 5-8pm.
4. Marco G. Ferrari at Aspect/Ratio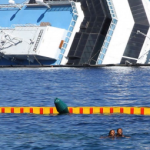 Video work by Ferrari.
Aspect/Ratio is located at 119 N. Peoria St. Reception Friday, 5-8pm.
5. Marginalia at 4th Ward Project Space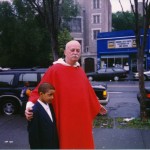 Work by Eric Saudi.
4th Ward Project Space is located at 5338 S. Kimbark Ave. Reception Sunday, 4-7pm.