Writing in Artworld Salon, Catherine Spaeth reflects on political nostalgia and Nancy Spero's legacy:
"Nancy Spero's death the Sunday before last invites reflection upon what it means for an artist to be politically engaged at this time. Today the New York artworld appears to be more at home with the post-feminism of Lisa Yuskavage, Marylin Minter and Vanessa Beecroft. It may well be that, above all, it is Nancy Spero's importance in the history of political engagement and feminism for which she will be remembered."
Read the full piece here.
You know, after giving it some serious thought, I think I'm coming to the surprising conclusion that newspaper articles about public art and the public's reaction to it are my new favorite genre of art news. There's just so much to chuckle over. Last week, a pair of articles in the L.A. Times told of skeptical police reaction to a recently-installed sculpture outside the L.A.P.D.'s new headquarters.  On October 21st, Times columnist Steve Lopez, who has a direct view of this building from his office window, confessed his bemusement at the piece, which is titled "animaline." But Lopez's reaction was minor compared to the distaste expressed by outgoing police chief William J. Bratton. Writes Lopez,
The cast-bronze sculptures consist of six large black blobs, with two tall, skinny structures on either side. I wasn't sure what to make of them, so I went straight to the top: It looks like "some kind of cow splat," said Police Chief William J. Bratton, who sounded as if he were personally insulted by the installation. Bratton said he first drove past the work and later walked back to see whether "it's as ugly up close as it is when you're driving by."The answer was yes, and he sounded mad enough to have the artist arrested.

Bratton said he was not alone in his opinion; it was the talk of cops and staffers who already have moved into the new police administration building. "I don't think anybody can figure out" what the shapes are supposed to be, Bratton said. "Bisons and hippos maybe. I haven't the faintest idea what the two tallest things are on either side." Nor does he understand what any of this has to do with police administration, if anything. "I don't get it," he said. "It's just a shame." Myself, I didn't see animals when I first looked at the sculptures. Peering down from my third-floor window, I thought they were giant molars. Not a good idea, I thought, to have a bunch of knocked out teeth on the grounds of the cop shop.

When I went outside for a closer look, I realized the molars were actually the torsos of animals with large rumps. Were the cops trying to tell me and my colleagues what they think of The Times, giving us a bunch of derrieres to look at? Not clear. But the animal on the northern end looked like a pig that had been knocked on its side. You have to wonder how that's going to sit with the LAPD brass.
The same day, the Times published a more detailed story (by Yvonne Villarreal)Â  on the L.A.P.D.'s new art collection, this one containing a tit-for-tat response to Bratton's quotes by artist Peter Shelton, who was commissioned by The Department of Public Affairs to make the sculpture.
"I'd like to think he'd leave his post more graciously," Shelton said in response to Bratton's comments as he did the finishing touches on the pieces Wednesday afternoon. "He doesn't need to bad-mouth something intended to be enjoyed by the city.  I'm disappointed he thinks he's an art expert."
Shelton, of course, is a highly regarded L.A.-based sculptor who is represented by L.A. Louvre and has shown internationally, blah blah blah, facts I only mention in order to point out that even the so-called "good" artists make work that gets shit on sometimes. It's outdoor sculpture, after all, and there are just as many birds in Los Angeles as there are anywhere else. I hope J. Seward Johnson takes some small comfort in that.
UPDATE: Last week the L.A. Times' chief art critic Christopher Knight reviewed Peter Shelton's new public sculpture series, titled  "sixbeaststwomonkeys." That review placed Shelton's sculpture, designed for placement near the new police headquarters downtown, in in a larger historical context with respect to public art in L.A. as well as nationally. Knight also recalled the furor caused in 1955 by a sculpture by Bernard Rosenthal (1914-2009) for the just-built Parker Center, the L.A.P.D.'s former headquarters.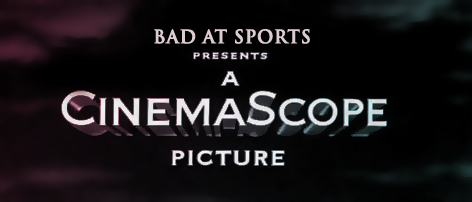 In 5 more days Bad at Sports enters it's next chapter and in anticipation of that we wanted to make things better and easier for everyone.
One way was to put our podcasts in Dolby 5.1 surround sound but after hearing Duncan sing the "Art Reviews" song in virtual surround they stopped returning our calls.
Then we thought about doing the news in 16:9 widescreen but it broke Richard's Iphone and only Brad Pitt looks good in widescreen (and there has been enough said about him to last a lifetime) so we ditched that idea.
So in the end among the many additions that are coming starting November 1st, the first of which is our new font for the site Helvetica LT Condensed.
Many already have it on their systems but if you don't you can search for it online easily. See Bad at Sports as it was meant to be seen and we will keep working to bring you the best Art interviews & coverage for free as we have for over four years.
Maybe we can bring Hans Laube's Smell-O-Vison back? Then again maybe not? How much Turpentine, Rope, Printers Ink, & BO can you take for 60 minutes?
Audio clip: Adobe Flash Player (version 9 or above) is required to play this audio clip. Download the latest version here. You also need to have JavaScript enabled in your browser.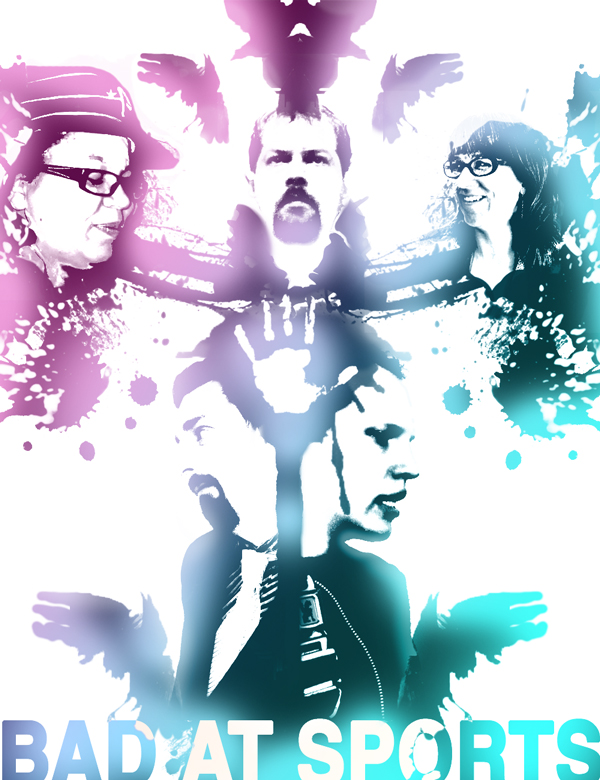 When I first moved to Chicago, shortly after the initial shock and depression wore off (KIDDING…just kidding…mostly), I set about exploring what Chicago's gallery scene had to offer. Because so much exists off the proverbial beaten track, and I moved here with nary an art friend to show me around, there was a short time during which I thought River North was it when it came to art galleries in Chicago. Now, to be sure, there is much to love in River North, but we all know there is far more to Chicago art than one neighborhood's offerings.
But there's never been a book or newspaper or website that clearly maps it all out for you. Until now. Chicago Art Map is the brainchild of local artist/writers/fellow BaS team members Kathryn Born and Stephanie Burke, who've been slaving away under cover of night for months and months getting this extraordinary tool ready for public beta launch. Not only is the interactive Art Map literally a map that enables you to see what's happening art-wise in Chicago by searching according to venue type (i.e. alternative or apartment gallery vs. commercial spaces, along with museums and art centers), neighborhood, and even genre (like 20th Century masters, outsider art, painting or furniture/decorative), it's a magazine too.
A magazine that already has numerous feature articles online and a boatload of reviews, many of which first appeared on Art Talk Chicago. It's an exciting new development on a number of levels, and as with all new launches they could use your help with working out the bugs. Go on over, click around, use the map to help plan your art weekend, and send Kathryn and Stephanie your kudos and constructive feedback; I know they'll appreciate it. Have a great weekend everybody.