Guest post by Damien James
In the brief Chicago Humanities Festival preview posted a couple of weeks ago, I listed what I hoped would be some highlights, and I wanted to take a moment now that the festival is about halfway through its run to tell you about two events I recently attended so you get a picture—maybe fleeting—of how this years programming is meeting my admittedly high expectations.
In the near future I'll share more about specific events as well as thoughts on the festival theme—laughter—with the intention of communicating how important the Humanities Festival has been for me, maybe how important it is to the city itself, and possibly beyond. It's also my hope that it will become important to you, if it isn't already. After all, each of us is a part of the greater festival of humanities as it plays out in our own lives every day, in the choices we make which not only effect ourselves, but everyone in our local and even global community.
And if this happens to be your city, the excellence of CHF earns you some bragging rights. Privatized parking meters, bogus mayoral claims of how green Chicago is, Land of the Lost-sized pot holes and shitty CTA service, our former governor's "reality" TV career, and our failure (thank Jesus) to win the Olympic bid are not the only things we have going for us… [Read more]
This is a proof-of-concept video by the Japanese design house PROTOTYPE that was built to showcase their new modular interactive large scale touch screen installation process. This concept can be scaled to sizes way beyond the 20 iPod demo and easily maintained, repaired & replaced.

Reportedly it can be built to drag & drop touch react to nearby ipods but until there is video of that it seems unlikely. Still in a Art world where Iphones are king this seems fitting for a install in Basel Miami coming up for sure.
Someone just sent me a link to this story with the comment "Yeah, they got that right." CNNMoney's website reports that curators are among the worst paid and most nerve-wracked professionals. My own personal experience in the field supports such findings, but I must admit to taking a certain sick schadenfreude-type pleasure in seeing it all laid out there with percentages and everything. Other stressful, shittily paid jobs include social worker, minister, parole officer and news reporter.  The report says a curator's median pay is $46,500 and 89% of curators say their job is stressful.

On a related note, the website reports that some of the 50 best jobs in America include Systems Engineer, CPA, and Speech Language Pathologist. Make of this what you will.
Via Lindsay Pollock.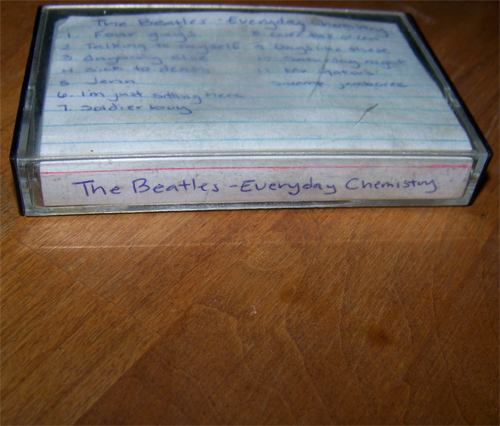 I could present this in the form it should be experenced in which is one of:
On Sept. 9, 2009 I experienced something that I still am having trouble believing happened to me. I came into the possession of a cassette tape containing a Beatles album that was never released. I dont expect you to believe what happened to me, I sure wouldn't, but thats why I grabbed the tape as proof that my experience was real.
But I know someone will complain so in the end just listen to the best mix album since the Grey Album by Danger Mouse. Check it out, share it while you can cause like the Grey Album this will be on the ghost net in short order al a Grey Tuesday.
Audio clip: Adobe Flash Player (version 9 or above) is required to play this audio clip. Download the latest version here. You also need to have JavaScript enabled in your browser.
The Dubai Fountain which was announced in June of 2008 by developer Burj Dubai has officially been opened. At an estimated cost of $218 Million USD or 800 Million AED the fountain is the largest and most complex of it's kind. Surpassing the Fountains of Bellagio at Las Vegas by at least 25%.
The fountains which are over 300 yards in length can shoot to the maximum height of 150 meters, which is equivalent to the 50-story building or 1/5th of the way up the nearby Burj Dubai super-skyscraper that is set to be completed by January of 2010.