For as long as pigments have been made and ground up the rule of thumb has been, the farther along the visual spectrum you go the harder and more expensive it gets to create that color.
Blue has had a double hit to it's reputation in that the best solutions to it's creation have the after effects of being poisonous (cobalt blue is a possible carcinogen and Prussian blue, another well-known pigment, can leach cyanide) absurdly expensive (the ground up gemstone lapis lazuli is what makes up ultramarine blue) or if done on the cheap using organic materials apt to fade extremely quickly.
That was until recently when researchers at Oregon State University created a new, durable and brilliantly blue pigment by accident. The researchers were trying to force novel electronic properties into compounds like manganese oxide ( Black ) & other chemicals by using extremely high temperatures (2,000+ degrees Fahrenheit) to force crystal structures.
During one series of experiments the Professor of material sciences, Mas Subramanian noticed that the latest sample of manganese ions absorbed red and green wavelengths of light and reflected only blue. When cooled, the manganese-containing oxide remained in this alternate structure. The compound still is not as cheap as they might like due to the use of indium but work is being done to replace the indium oxide with less expensive oxides like aluminum, which possesses similar properties.
More can be read in the latest Journal of the American Chemical Society.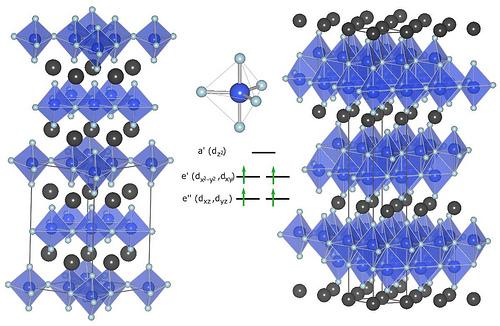 I feel like I am one of the only people that did not grow up on Sesame Street. So, there is not much nostalgia when it comes to this week's video pick of Philip Glass for for the famed television show. If you are interested in minimalist inspired  Muppet themed logos definitely check out  MuppetWiki's youtube page. I didn't think I would ever write those words but their logo is choice.
via MuppetWiki
Philip Glass composed this music for Sesame Street in 1979. It is not sampled from his other works. It has aired on Sesame Street as recently as 1994 and probably later. For the full details, see these articles on Muppet Wiki:
http://muppet.wikia.com/wiki/Geometry…
http://muppet.wikia.com/wiki/Philip_G…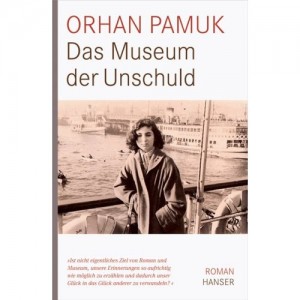 I'm fascinated (alas, only from afar) by the Louvre's Special Guest program and in particular with its use of acclaimed novelists as guest curators. (I've posted on this program before, here). The Louvre has featured Toni Morrison in this capacity in the past; right now, the novelist and semiotician Umberto Eco is unveiling a series of exhibitions and other programs relating to the topic of "The Infinity of Lists" which draws upon his book The Vertigo of the List. This, along with an email from one of our readers (hi Elizabeth!), has got me thinking about the relationship between books and museum exhibitions – and in particular about what happens when novels are the inspiration for museum exhibitions – or even for museums themselves. [Read more]
Hey ya'll. There are quite a few shows I'm interested in the weekend, not all of which are getting dropped into the Top 5, but which still bear a mention: Bob Jones at 65 Grand, Ann and Maria Ponce at Packer Schopf, Joe Hardesty at Western Exhibitions, Creator/Curator at HungryMAN Gallery, and New Blood 3 at the Chicago Cultural Center. Unfortunately, I won't be able to make it to everything, but you'll be happy with any of the above mentioned selections along side any or all the shows listed in the Top 5 (which, by the way, are listed in no particular order). That's it for now, get your ass out there and see some art!
Top 5 for 11/20-11/22:
1. Technically, It's Art at Abryant Gallery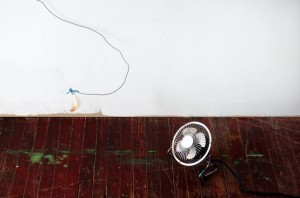 Abryant Gallery, run by Angela Bryant, is one of those spaces that Chicago is so good at producing, a space run by people just out of school, showing people just out of school, but actually doing it relatively well. For this round, Bryant is featuring the work of Eric Ashcraft, Madeleine Bailey, Mark Beasley, Rebecca Berman, GROUP CABIN, Andy Cahill, Lauren Gregory, Maxon Higbee, Aaron Hoffman, Nadia Hotait, Mik Kastner, Lisa MAjer, Gary Pennock, Sarah Perez, Micah Schippa, Briana Schweizer, Alan Strathmann and Synica Whitney in Technically, It's Art.
Opening Reception: Friday 7-10pm. Abryant Gallery is located at 1842 N. Damen Ave., 4th Fl.
2. IN(DI)VISIBLE at Noble & Superior Projects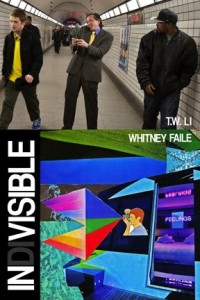 For their second exhibition, Noble & Superior Projects, a new apartment gallery space, is putting up the work of TW Li' and Whitney Faile called IN(DI)VISIBLE. I am really impressed by N&S P, the couple who run it are damn professional, and though the work isn't the best thing I've ever seen in Chicago (a bit of a tall order), they show some goos stuff for an apartment gallery. I am particularly interested int TW Li's work (have a look at his website), but I'm a fan of their paring strategy, so I bet the dialog between Li and Faile's work will be worth seeing.
Opening Reception: Friday 6-10pm. Noble & Superior Projects is located at 1418 W Superior St. #2R
The new issue of e-flux/journal is up online and I am giddy over it.  This is their tenth episode as the journal, which makes it nearly a year old, as they publish monthly. Though the journal is a relatively new application of the e-flux program, e-flux.com has been around since January 1999 beginning with an email announcement about a small exhibition in a
Chinatown Holiday Inn hotel room.  A decade later e-flux is still based out of New York with far reaching out posts in Berlin, and the corneal receptors at the far end of the yawning, immeasurable distance that is the internet.  Today this network includes over 50,000 visual art professionals.  E-flux is one of my favorite contemporary art journals, it is edited by Julieta Aranda, Brian Kuan Wood and Anton Vidokle if you are at all unfamiliar with it I urge you to take some time to get to know their project. Whether the journal or one of their many educational and collaborative projects there's bound to be something that moves you, it changed my life.  Testimonials aside, e-flux/journal #10 this month discusses the limits to which the democratization of image production can become a tool for making versus being at home in the world.  With essays from Sherif El-Azma The Psychogeography of Loose Associations, Luis Camnitzer, ALPHABETIZATION, Part Two: Hegemonic Language and Arbitrary Order, Paul Chan What Art Is and Where it Belongs, Céline Condorelli Life Always Escapes, Peter Friedl Secret Modernity, Hans Ulrich Obrist Ever Spero, and Hito Steyerl In Defense of the Poor Image. E-flux/journal #10, hot off the presses!
http://www.e-flux.com/journal/issue/10
Got a response to this post? Let us know! Email your comments to  mail@badatsports.com. We'll feature thoughtful responses to issues generated by our posts in our Letters to the Editors Feature on Saturdays.