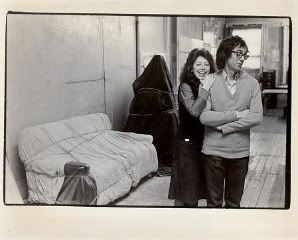 Jeanne-Claude of the artistic team Jeanne Claude and Christo suddenly passed away yesterday, November 18th. According to the Associated Press, Jeanne-Claude's death was due to complications from a ruptured brain aneurysm. Our thoughts go out to her family and friends.
If you have not seen 5 Films About Christo and Jeanne-Claude I would highly recommend it. Directed by David and Albert Maysles the documentary follows the pair as they conceive and produce their sculptures. Totally unscripted, and spanning three decades the film gives an intimate look into their relationship and the fiery personality that was Jeanne-Claude.
via Christo and Jeane-Claude's site:
The family statement said Christo was deeply saddened by his wife's death but was "committed to honor the promise they made to each other many years ago: that the art of Christo and Jeanne-Claude would continue." That included completing their current installation, "Over The River, Project for the Arkansas River, State of Colorado" and "The Mastaba" a project in the United Arab Emirates.
The Colorado project — which they had done parts of on and off for decades — involves spanning miles of the river with woven fabric. They chose the location near Canon City because of its river rapids and access to roads and footpaths. Their other projects include wrapping the Reichstag in Germany.
To view the life and work of Jeane-Claude please visit her and Christo's site.
Got a response to this post? Let us know! Email your comments to  mail@badatsports.com. We'll feature thoughtful responses to issues generated by our posts in our Letters to the Editors Feature on Saturdays.
I'd never heard of the Ordway Prize until a few weeks ago, when two highly respected Chicago-based arts professionals (artist Tania Bruguera, who also lives in Havana, Cuba, and Hamza Walker, curator at the Renaissance Society at the University of Chicago) were included on this year's list of finalists. The Ordway Prize is a relatively new award, established in 2005 as a joint effort by Creative Link for the Arts and the New Museum. The selection process for the Ordway Prize is outlined on the New Museum's website as follows (excerpt):
The prize acknowledges the contributions of a Curator/Arts Writer and an Artist whose work has had significant impact on the field of contemporary art, but who has yet to receive broad public recognition. Finalists for the Ordway Prize are midcareer talents between the ages of forty and sixty-five, with a developed body of work extending over a minimum of fifteen years.
Now, it's always great to see behind-the-scenes culture professionals get recognized for their outstanding work. This goes double for curators, who get paid relatively little and yet play such a critical role in bringing art to the public.  So if a little cash gets thrown at said curators while recognizing their contributions to the field, that's nice too. I'm not of the view that culture workers need to be poor to have integrity. That said, however, I think that $100,000  is an inordinate amount of money given the fact that a) the prize is unrestricted and b) this year's nominees, as well as past Ordway Prize winners, are institutionally-affiliated curators as opposed to those working independently and earning income on a project-by-project basis. [Read more]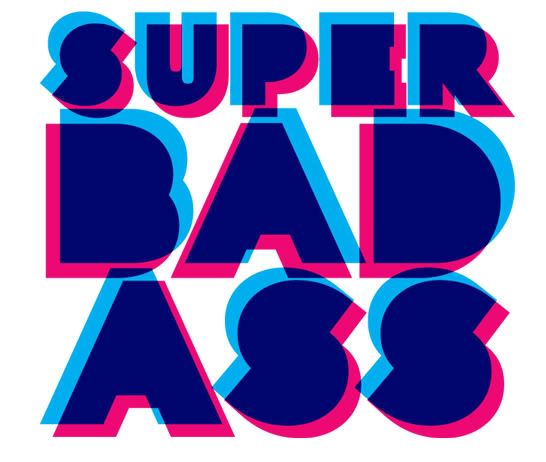 It's that time of year again. Select Media Festival 8 begins tomorrow. Here is the run down.
When | November 19th and runs through November 22nd
Where | the experimental cultural center, the Co-Prosperity Sphere, and other venues across the city. Check out the specifics for each event
via Select Media Festival:
The eighth annual festival will feature video programs, a group exhibition, performances and presentations in conjunction with live music and action. This year we are keeping the festival short and sweet. We have no filler, no excuses and no doubts.
In our group show, Super Bad Ass, we will exhibit and present the work by artists that continue to inspie and baffle us with their work ethic, craft and aesthetic sensibilities.
The festival is produced by the non-profit arts organization, Public Media Institute, and is organized by artists, musicians and cultural workers based in Chicago.
Select Media Festival was born in 2001.
The festivalexplores contemporary art and media in local and global art communities. The festival promotes experimental work, interactive media, and social activism. Artists involved in Select Media Festival from the past include The Yes Men, Paper Rad, Kenneth Hung, Paul Chan, Future Farmers, Josh On, Cody Hudson, Jon Løvøen and hundreds of others.
For more info check out Select Media Festival's site.
Got a response to this post? Let us know! Email your comments to  mail@badatsports.com. We'll feature thoughtful responses to issues generated by our posts in our Letters to the Editors Feature on Saturdays.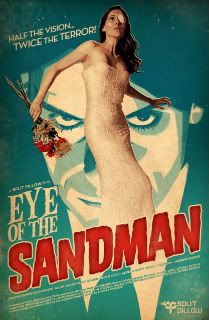 Last night I checked out a screener for an upcoming film Eye of the Sandman. I should say that the version I saw was not complete. The soundtrack and sound effects were not totally done, leaving the film void of any sound in a couple of the scenes. I actually enjoyed some of these scenes the best. The film has an air of poorly acted community theater and the scenes seemed even more enhanced when actors would silently play a piano or cars would drive by without any sound.  I would also like to state that ironic tongue in cheek films are not my thing. That being prefaced, Eye of the Sandman directed by M.T. Cozzola, Jeffrey McHale, Dennis Belogorsky tells the tale of a woman who has recently inherited a rather spooky mansion in the middle of nowhere. While her and her fiancé begin to tour her newly acquired home they are greeted by an eerie scientist who manipulates his way into staying with them while Natalie, our main character who happens to coordinate her eye patches with her outfits (I counted eight), attempts to avoid her past and marry her long time fiancé.
The film was produced by Chicago-based not for profit Split Pillow. I was unfamiliar with this organization but was interested in checking out the film because of their Chicago roots. Aesthetically the film seems pretty well produced. The shots are well framed and the "spook" scenes hark back to early horror films.  The acting on the other hand, although purposeful, was poor at best and the screenplay could have been stronger with flushing out some of it's plays on the horror genre. I did however find it interesting that I might have enjoyed this film more if it was a web based series. Sort of in the vein or Doctor Horrible's Sing-Along Blog or Chad Vader. Although clocking in at only 75mins the humor was a bit trying. [Read more]
On this week's pick we bring you James Blagden's animation "Dock Ellis & the LSD No No".  The short film chronicles Ellis' infamous game where he pitched a no hitter while on LSD. Although the animation is entertaining, Ellis' own account of the historic event is what really makes this video work.
via No Mas:
Sadly, the great Dock Ellis died last December at 63. A year before, radio producers Donnell Alexander and Neille Ilel, had recorded an interview with Ellis in which the former Pirate right hander gave a moment by moment account of June 12, 1970, the day he no-hit the San Diego Padres. Alexander and Ilels original four minute piece appeared March 29, 2008 on NPRs Weekend America. When we stumbled across that piece this past June, Blagden and Isenberg were inspired to create a short animated film around the original audio.
For more information please chec out No Mas.
Got a response to this post? Let us know! Email your comments to  mail@badatsports.com. We'll feature thoughtful responses to issues generated by our posts in our Letters to the Editors Feature on Saturdays.