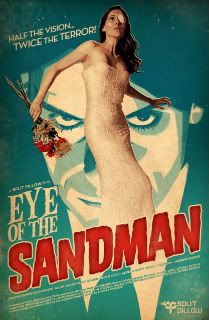 Last night I checked out a screener for an upcoming film Eye of the Sandman. I should say that the version I saw was not complete. The soundtrack and sound effects were not totally done, leaving the film void of any sound in a couple of the scenes. I actually enjoyed some of these scenes the best. The film has an air of poorly acted community theater and the scenes seemed even more enhanced when actors would silently play a piano or cars would drive by without any sound.  I would also like to state that ironic tongue in cheek films are not my thing. That being prefaced, Eye of the Sandman directed by M.T. Cozzola, Jeffrey McHale, Dennis Belogorsky tells the tale of a woman who has recently inherited a rather spooky mansion in the middle of nowhere. While her and her fiancé begin to tour her newly acquired home they are greeted by an eerie scientist who manipulates his way into staying with them while Natalie, our main character who happens to coordinate her eye patches with her outfits (I counted eight), attempts to avoid her past and marry her long time fiancé.
The film was produced by Chicago-based not for profit Split Pillow. I was unfamiliar with this organization but was interested in checking out the film because of their Chicago roots. Aesthetically the film seems pretty well produced. The shots are well framed and the "spook" scenes hark back to early horror films.  The acting on the other hand, although purposeful, was poor at best and the screenplay could have been stronger with flushing out some of it's plays on the horror genre. I did however find it interesting that I might have enjoyed this film more if it was a web based series. Sort of in the vein or Doctor Horrible's Sing-Along Blog or Chad Vader. Although clocking in at only 75mins the humor was a bit trying. [Read more]
On this week's pick we bring you James Blagden's animation "Dock Ellis & the LSD No No".  The short film chronicles Ellis' infamous game where he pitched a no hitter while on LSD. Although the animation is entertaining, Ellis' own account of the historic event is what really makes this video work.
via No Mas:
Sadly, the great Dock Ellis died last December at 63. A year before, radio producers Donnell Alexander and Neille Ilel, had recorded an interview with Ellis in which the former Pirate right hander gave a moment by moment account of June 12, 1970, the day he no-hit the San Diego Padres. Alexander and Ilels original four minute piece appeared March 29, 2008 on NPRs Weekend America. When we stumbled across that piece this past June, Blagden and Isenberg were inspired to create a short animated film around the original audio.
For more information please chec out No Mas.
Got a response to this post? Let us know! Email your comments to  mail@badatsports.com. We'll feature thoughtful responses to issues generated by our posts in our Letters to the Editors Feature on Saturdays.
Guest post by Damien James
I walked into Woman Made Gallery on Wednesday, October 14th, to view and review the Beatrice Fisher retrospective, which surveyed fifty years of art making. Intrigued by the gallery's website, which noted that this was Fisher's first solo exhibition and that she had studied under such renowned Chicago artists as Karl Wirsum and Don Baum, for better or worse I had fairly high expectations.
Everything had just been hung, and the space was still a bit of a mess—the opening wasn't for two more days and I hadn't let anyone know that I was coming—then I realized that the mess consisted mostly of Fisher's work, of which there was just too much to fit on the walls. (I was told that Fisher had thousands of pieces in her Evanston studio. Thousands was later corrected to hundreds.) After a moment of orientation amidst the clutter, I was able to focus on the walls, on her art, and was instantly taken, overtaken, by not only the range of her work but its consistent beauty and energy.
Fisher's Attachment/Separation series focuses on divorce in the most physical terms; bodies in surreal Siamese union, some split apart by knives or attached by zippers rendered with a level of detail which brings the stark flatness of the paintings and their sharp lines into a kind of focused intimacy that looks cleanly through you. At least, they seemed to look through me. Some are paintings of women and men joined at the hips or shoulders, others of women joined to women, skin stretching into long bands waiting to be broken, their faces staring so pointedly, hypnotically. On another wall were military-themed works which dressed disembodied penises in camouflaged field gear, while across the room a group of small paintings of Jesus clad in ruby slippers and floating in the clouds shimmered. The slippers were glitter. Jesus had a beatific and tranquil face. Maybe it was the shoes.
Truthfully, there was so much work that this could easily have been a group show of six or seven entirely different artists, though it wasn't difficult to see the common thread—the unique handwriting as it moved through all the pieces; the tongue-in-cheek humor, the cultural critiques, the exploration of sexuality and religion—yet each period in her career seemed to point to the absolute need to make art, out of anything and everything available. It was without a doubt the life of an artist on the walls of Woman Made, not just her art. [Read more]
Over the weekend, we received a tip about an online controversy surrounding news that New York artist Tom Sanford's 2005 painting "The Assassination of Dimebag Darrell Abbott" will soon be auctioned for charity at Philips de Pury. (Note that Sanford is one of Bad at Sports' regular New York correspondents). The painting depicts legendary guitarist and Pantera founder Darrell Lance Abbott on the night of his murder onstage during a Damageplan performance in Columbus, Ohio. (Also killed that night were Jeff Thompson, 40, Nathan Bray, 23, and Erin Halk, 29). When the website Blabbermouth posted a story announcing that the painting would be auctioned, numerous metalheads voiced a renewed sense of outrage and disgust via comment boards and forums like this one on Metal Underground. (Metafilter also picked up on the controversy).
Much of the anger seems to stem from the idea that Sanford is exploiting Abbott's death by depicting the much-loved figure in a disrespectful and even lurid manner.  And yet, if you read through the discussion on Metal Underground's site, amongst the myriad "what a douche" comments and death threats (!) you'll also find some polite dissension from metal fans themselves, as in this comment, by MetalBro4Life: [Read more]
The Galaxy Dress is the center piece of the "Fast Forward: Inventing the Future" exhibit at the Museum of Science and Industry in Chicago. The museum is celebrating its 75 years and has commissioned the GalaxyDress for their permanent collection.
The wearable dress made up of over 24,000 full color super thing LEDs, 4,000 Swarovski crystals & enough bateries to keep it on up to an hour at a time is something to be seen first hand and no photo or video recording does it justice. All this makes The Galaxy Dress the largest wearable display in the world.
Designed by Francesca Rosella and Ryan Genz, the London-based design duo behind interactive clothing company CuteCircuit