Preview: Temples of the Mind at LACMA from Emily Lacy on Vimeo.
On this week's pick we bring you a preview to a performance by Emily Lacy at LACMA. I am heading out to LA in the next couple of weeks for the holiday and am really psyched if I can check this out. Lacy will be in residence at the Pavilion for Japanese Art over December and January where she will be performing a piece entitled Temples of the Mind. Lacy has stated that, "throughout this process an entire album will be recorded on-site at LACMA, mysterious radio transmissions will be available over the internet, and mystical reckonings will occur inside a tiny Hermit's Cabin, where performances transpire for just 1 to 2 people at a time. I hope to create something like a sanctuary, a fountain of sound shooting skyward, for your very own two-month temple."
Unframed, LACMA's blog, recently interviewed the artist about why she choose that specific location, her process, and work with Machine Projects. [Read more]
 
This Wednesday evening is the opening reception for Matthew Paul Jinks' exhibition On Sundrun at Gallery 400.  Matthew Paul Jinks' work consistently deals with issues of memory, ritual, and inherited identity.  Personal and cultural identity enacted, passed on, shared, re-enacted.  On Sundrun addresses identity relationships of English, Indian, and Pakistani individuals as postcolonial cultural representatives through an evolving game spontaneously elaborated on cricket.  Jinks' exhibition On Sundrun includes sculpture, film, sound installation and a performance in the gallery space.  Jinks explores cricket as an enactment of the mythology of cultural identity exploring the effects of assimilation. When speaking to his work as a
whole Jinks says, "My work performs culture and collects memory.  My installations, videos and performances appropriate and de-regulate social and historical constructs: self, nation, history. I use image and language as formal stand-ins for the latent territories that underlie these constructs and the thresholds that link them."  I think this exhibition will be an exceptional experience that continues Jinks' project of providing a platform for discussion and experience that fosters the ideological possibility for reconciliation through humor, engagement, and cultural iconological tradition. 
Jinks graduated his undergrad in 2005 from The Glasgow School of Art in Scotland, U.K. Since completing his MFA as a University Fellow at the University of Illinois at Chicago in 2008, Jinks has exhibited in the U.K and the U.S., most recently at the Green Lantern Gallery and the Hyde Park Art Center, here in Chicago.
U
pcoming Exhibition:

On Sundrun 
December 8, 2009 –January 16, 2010
Reception: Wednesday, December 9, 5-8 pm

[Please note Gallery 400 will be closed for Winter Break: Thurs., Dec. 24 –

Mon., Jan. 4]

Related Event:

Artist Talk: Saturday, December 12, 2:00 pm

Useful Links
 
http://www.mathewpauljinks.com/
http://www.uic.edu/aa/college/gallery400/
Got a response to this post? Let us know! Email your comments to mail@badatsports.com. We'll feature thoughtful responses to issues generated by our posts in our Letters to the Editors Feature on Saturdays.
I had a very small window of opportunity over the weekend to see Carrie Schneider's just-opened 12 x 12 project at the MCA. It was late Saturday afternoon, and I had about an hour and a half to take the El into the city from Oak Park in order to see the show before the Museum closed. So, I was a little annoyed when the announcement came on that the Blue Line would end at UIC/Halsted, which meant I'd have to take a shuttle to Jackson in order to catch the Red line. (I hate shuttles, even though there are always plenty of them and they don't slow you down all that much). Much internal bitching and moaning ensued. I made it to the MCA with 40 minutes to spare, watched Schneider's video "Slow Dance" until they literally kicked me out of the room, then got up and called my husband to pick me up at the Ridgeland station so I could take the Green Line home. I caught my first train without incident, but fucked up and took the hateful Brown Line instead of the required Green by accident (this, because I was on my iPhone trying to download OMD's Romance of the Telescope, which features prominently in Schneider's video). I could see that planned dinner out with my husband rapidly disappearing down the tubes (the parents' night out at our local children's art studio would end promptly at 8:30). Dammit. I got off the Brown, waited for the Green, told myself repeatedly DO NOT LOOK AT iPHONE. And then…..what the hell *is* that??? A train, wrapped like a present in sparkly twinkling Christmas lights and other holiday fizzies, zooming into the station.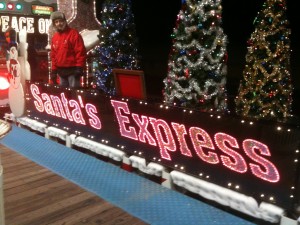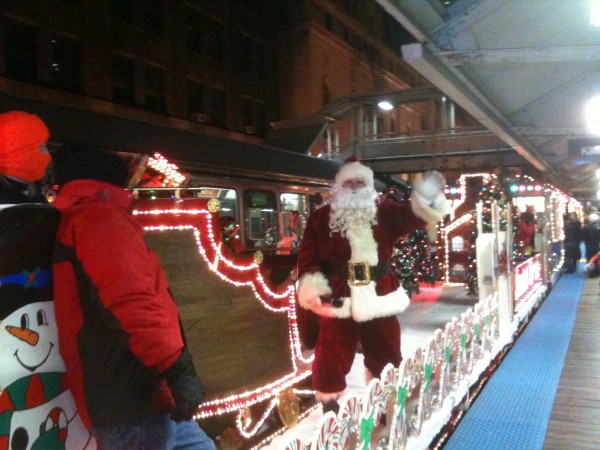 I was momentarily blinded (and, just for a second, terrified). Christmas carols spilled out merrily from the train, and my god…there is a Santa Claus. There was also a sleigh and a couple of reindeer and a beefy guy in a black ski mask who I think was supposed to be Santa's helper.  Only later did I learn that this was the CTA's fabled Holiday Train and I had totally, accidentally caught it! People plan all day for this and I did it without even trying! Wheeee! [Read more]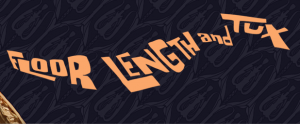 This coming Saturday evening (that means tomorrow night people), Floor Length and Tux (aka FLAT), the Chicago project space run by EC Brown, Catie Olsen, Michael Thomas and Meg Duguid will host a one-night only event they're calling "Untitled Circus." There will be refreshments and much conviviality and music and some free CD giveaways, but what I'm most interested in with respect to the proceedings is the compilation of critical writings on Chicago's thriving apartment gallery scene that Brown et. al have solicited from a number of Chicago artists who are deeply invested in it.
These booklets, which contain essays written by Caroline Picard (Green Lantern Gallery/Press), Liz Neilson (Swimming Pool Project Space), Eric Mays (Roots and Culture), Lucia Fabio (of the late lamented Mini Dutch) and many many more luminaries from the scene will be distributed via a spinning magazine rack owned by Mr. Thomas. With the kind permission of the writers, we'll be posting some of these essays here next week for the benefit of those of you living outside of Chicago – think of it as a kind of "mini-series" / online symposium on Chicago's apartment gallery scene, made possible by the ingenuity and generosity of the FLAT folks and, of course, all of the participating writers.
Over email, I asked EC Brown, Michael Thomas and Meg Duguid to answer a few questions about the event. Their responses follow. Check out the Circus for yourself tomorrow night, Saturday, December 5, from 7-10pm, at 2332 W. Augusta #3F.
What will FLAT 4: Untitled Carnival consist of beyond the distribution of the booklets? Will there be a discussion? What can people expect to see/experience? [Read more]
Yes, it is true, we have done a pretty lame job of getting the word out but Amanda Browder and Duncan MacKenzie will live at the NADA fair in Miami Florida! They will be recording all day for an upcoming series of interviews and episodes from the fair and they will be selling limited edition Bad at Sports TShirts. Come check it out and chat with them if you like. The days interviews will include Chris Duncan, Ruba Katrib, Heather Hubbs, Brendan Fowler, Atsushi Kaga, Paul Gabrielli, Scott Hug, Valerie Blass, Nicole Awai and several others…
check it out.