Mike Benedetto is still on a religious retreat to Kyrgyzstan, Tajikistan or Stan "The Man" Musial…… one of the three I can't remember which anymore. Regardless as a gift he (by not saying I couldn't via email) has enabled me to release a 7 part 70 minute movie review of the worst film that everyone waited 26 hours in line for while it rained and slept on concrete with the curb as a pillow, yes "The Phantom Menace".

Now you may ask yourself "Self, what can you say in 70 minutes that can't be said in 10 (even with bonus seconds) do you just say the word "suck" over and over till it stops sounding like a real word?" to that I would say see a therapist since your talking to yourself and also reply you can say a lot. Trust me start watching and quit whenever you want but don't make any plans for the next hour or so.
Enjoy your present from all of us here at Bad at Sports, the wibby as a whole and the kind gentleman who actually did all the work to make this review Red Letter Media, based out of Milwaukee, WI & Chicago, IL.
Apartamento Magazine, a bi-annual interiors journal, began in 2008, but seemed like folklore to most stateside bibliophiles, as it was incredibly hard to find. They had no known US stockist. Issue #1 was totally and completely sold out forever within months of its release. Post Poetics had Issues #2 & #3 for a while and I would frequently look at the page, tempting myself to buy the magazine, but the $30 international shipping permanently deterred me.
The first time I held Apartamento in my hands was just two months ago. A friend let me borrow a few of the past issues. It was as gorgeous in person as it looked in the photos I'd seen online. Thanks to art direction from designer Omar Sosa of Folch Studio and photographer Nacho Alegre, Apartamento is an object of immense beauty.
Issue #4 features watercolors of artist studios (Julian Schnabel, Jeff Koons, Kiki Smith) by Grillo Demo, an interview with CFDA award winning jewelry designer Philip Crangi's about his New York factory, an essay by Chloe Sevigny about her "70s preppy Connecticut" apartment, a photo tour of Kim Gordon and Thurston Moore's Northhampton home, and a kids supplement curated by Reference Library's Andy Beach with contributions from Geoff McFetridge, Enzo Mari, and more.
With the tagline "an everyday life interiors magazine," I was expecting Apartamento to be a sneak peek into regular, real normal, everyday interiors. My tiny apartment, a bus driver's home, the tenants who have lived in the same building for over 30 years. Apartamento is kind of like that, except if those things looked ten times better.
Issue #4 is OUT NOW and available worldwide through Bruil.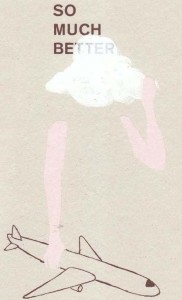 Bad at Sports' own Literary Correspondent Terri Griffith has published her first book "So Much Better" and is on sale now through Green Lantern Press & Amazon.com
"So Much Better" is a debut novel about a self-sabotaging Credit Union employee, a cold woman at odds with and alone in the world. In the absence of her lover, she seduces her lover s sister, wades through old storage units and wonders after her own absent family. Printed in an edition of 500 w/ silkscreen covers by Nick Butcher of Sonnenzimmer.
Terri Griffith's writing has appeared in Bloom, Suspect Thoughts, Bust and in the anthologies Without a Net: The Female Experience of Growing Up Working Class and Are We Feeling Better Yet? Women Speak about Health Care in America. Along with Nicholas Alexander Hayes, she is co-authoring a transgressive retelling of the Greek Myths. Terri is the literary correspondent for the popular contemporary art podcast Bad at Sports and she also co-hosts the online reading series The Parlor.

Writing for the Los Angeles Times' arts blog Culture Monster on December 14th, art critic Christopher Knight wondered why more arts bloggers did not receive Creative Capital Grants from the Warhol Foundation this year. "As writers on art, bloggers just don't seem to measure up," he notes (a bit smugly, I thought, although I may just be reading between the lines there).
While it isn't possible to know which blogs and bloggers applied for grants (or how many of those got tossed out as ineligible because they didn't fit entry criteria), a Creative Capital spokesman tells me that, for 2009, the blog category had 153 applicants. Yikes. Maybe art blogs are generally a waste or only really bad bloggers submit applications or the jury doesn't like the form.

The bad news doesn't stop there. Two successful applicants this year got grants to start blogs. That's a nice vote of confidence in those established writers' abilities, but it also suggests the jury's rather sizable degree of dismay with existing bloggers who applied for assistance.
"Is art blogging really that bad?" Knight asks in conclusion, leaving the answer open to comments. Weighing in on the issue are art bloggers such as C-Monster and Culturegrrl as well as Donald Frazell who I'd not heard of nor read before, but he commented at least three times.
There's some bitchy snarkery about past winners as well one or two musings on why the awards were awarded mostly to those planning projects in traditional print ("dead tree") media. But there's nothing that speaks to what makes art blogging valuable, what purpose art bloggers may serve within a larger art community, or why those contributions are worthy of any foundation's support (the fact that independent art bloggers can't make enough money off ads or other forms of revenue to support themselves is not, to my mind, a good enough reason to receive grant money. Just because you can't support yourself through the work you do doesn't automatically mean you *deserve* support for it).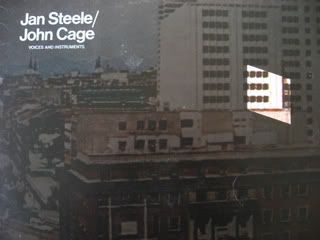 I seriously love WFMU's Beware of the Blog. I often find awesome tracks and albums that I would never have found on my own. While trolling their site for more info on the Masked Man and the Agents (check out their song Roaches) I came across John Steele and John Cage's 1976 album Voices and Instruments.
via Beware of the Blog:
"Brian Eno's Obscure Records label released only 10 albums during its existence from 1975 through 1978. Some of these have been reissued on CD (among them Eno's own 1975 masterpiece Discreet Music), but for some reason the album Voices and Instruments (Obscure No. 5, 1976) only exists on out-of-print vinyl. It is a very quiet and beautiful record, featuring three compositions by Jan Steele on one side, and five compositions by John Cage on the other side. Lyrics are by James Joyce and E. E. Cummings, performers include Jan Steele, Richard Bernas, Steve Beresford, Fred Frith, Robert Wyatt, and Carla Bley. It is not just mellow, it is avant-mellow…"
You can download the album via WFMU's site. If you do not already check them out you should add them to your list.