Yes, it is true, we have done a pretty lame job of getting the word out but Amanda Browder and Duncan MacKenzie will live at the NADA fair in Miami Florida! They will be recording all day for an upcoming series of interviews and episodes from the fair and they will be selling limited edition Bad at Sports TShirts. Come check it out and chat with them if you like. The days interviews will include Chris Duncan, Ruba Katrib, Heather Hubbs, Brendan Fowler, Atsushi Kaga, Paul Gabrielli, Scott Hug, Valerie Blass, Nicole Awai and several others…
check it out.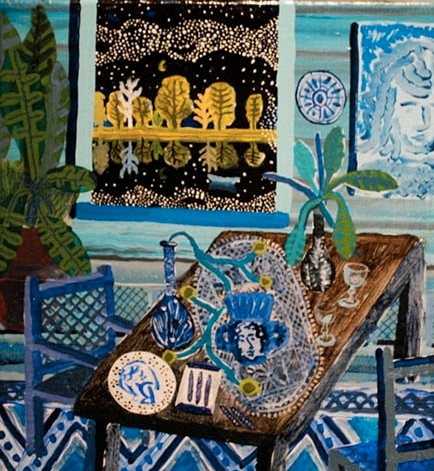 I feel better already, or at least I think I do is Austin Eddy's first solo show which opened at GOLDEN gallery a few weeks ago. The exhibition consists of 11 paintings and one installation of (when I saw them) dying tiger lilies in a hand-made clay vase perched atop a green doily (my Sicilian grandmother is very drawn to this particular shade of green). In the first room of the gallery the paintings depict intimate interior spaces, while a second room shows tighter painted portraits of plants.
The paintings are small, most under two feet, and at first glance the gallery appears a little empty. Perhaps this is because the last show I saw in the space was huge photographs that took up most of the walls. The paintings themselves, however, seem to vibrate with energy. They are incredibly, almost absurdly, overworked, with layer upon layer of texture and pattern. Yet somehow they feel restrained; there is a great tension between the almost grotesque amount of physical material and detail, and these moments that are executed with such control and gracefulness that make the pieces as a whole feel so much more comfortable to look at.
The perspective in the depictions of interior spaces is playful and storybook-like, imparting a super flat feel to all of the work. The few figures that appear function like the other objects in the room, feeling flat and expressing almost caricatures of emotions. The titling add another aspect to the playfulness of the work, with names such as "sometimes you have to just make things work, even when its really hard.", "my what a glorious view you have of the milky way there, pete.", and "sometimes some things seem far better in other places.". The name of the show and the titles impart a hesitant or unsure mood on the work, while I think the work itself appears super confident, almost cocky in railing against conventional views of less being more. They also suggest pretty bizzare narratives (at least in my head).
I was really interested in Eddy's practice and what he had to say about this new work, and he was kind enough to answer some of my questions (even though it was Thanksgiving day) [Read more]
Sup ya'll. Time for another rousing round of what the f*#k is Steph doing this weekend?, aka The Top 5! You ready? Well, here you go:
1. A Crash of Critters at Fill in the Blank
Ok, so I've got the love for Fill In The Blank, it's in my neighborhood, and they always put out a good spread and some tasty eye candy. This round is no exception. Based (as I understand) on the idea of ascribing hilarious names to groups of animals, this will appeal to all people interested in cartoon animals and those of us who own, willingly, a copy of James Lipton's "An Exaltation of Larks."
Fill in the Blank is located at 5038 N. Lincoln Ave. Opening reception Friday, 7-10pm.
2. Obsession In Ice at Carl Hammer Gallery
So, I'm not generally one for holiday themed art shows. As a matter of fact, I generally hate them. This show, however, is an exception. Featuring the work of Wilson "Snowflake" Bentley, this show brings to us some of the first images ever made of individual snowflakes. A farmer/scientist, Bentley captured the first image ever of an individual snowflake in 1885. So, go to the show, muse on old-school science, and remember: you are an unique and individual snowflake, just like everybody else.
Carl Hammer Gallery is located at 740 N. Wells. Opening reception Friday, 5:30-8:30pm. [Read more]
Off-Topic invites artists, curators, writers, and cultural workers to discuss a subject not directly related to the practice of making art. We would like to welcome Stacia Yeapanis as our latest guest with her post, "My Feminism is 80s Teen Movie Favored". Stacia is a Chicago based interdisciplinary artist who's first monograph was recently published as part of The Museum of Contemporary Photography's Midwest Photographers Publication Project this past spring.

My Feminism is 80s Teen Movie Flavored
Stacia Yeapanis
Not many people remember the teen movie The Legend of Billie Jean. Expected to be a box office hit in the summer of 1985, it disappointed producers, earning a measly $3.5 million, and has yet to be released on DVD. This movie is why I still own a VCR.
The plot is simple: Billie Jean Davy is a teenage girl from a trailer park, who becomes an outlaw after being involved in an accidental shooting. She goes on the run with her friends and cuts her hair and becomes a celebrity hero seeking justice. The tagline, according to IMDB, is "When you're seventeen, people think they can do anything to you. Billie Jean is about to prove them wrong."
I was 7, not 17, when it was first released. I can't remember exactly when or where I watched it for the first time. I remember that I believed the main conflict was between kids and adults. There's no doubt the movie was marketed to the MTV generation. The theme song, Invincible by Pat Benatar, had already made it to #10 before the movie was released. I probably related to the movie because I was a kid and because life constantly feels unfair when you're a kid.
But when I re-watched The Legend of Billie Jean at age 31, it was obvious to me that this overlooked teen movie is about more than a rebellious teen's sense that her parents aren't fair because they make her clean her room or get off the phone and do her homework. For me, it's one of my earliest feminist texts (and a scathing critique of capitalism, but that's another post). Watching it was like having myself and my experience of the world mirrored back to me. I don't mean that I've ever cut my hair short or been an outlaw or slept at an abandoned mini golf course. I just mean that I must have learned something watching this movie over and over again. And it's something I value. [Read more]
Wanna talk about new modes of global curation? Chicago-based arts writer Alicia Eler and video collector Jefferson Godard have teamed up to curate Performance Anxiety, a program of seven short videos by  Chicago and New York City-based artists which can only be seen in Europe via Souvenirs from the Earth, a cable television station broadcast in France on the freebox 129 station and in Germany on Unitymedia/Kabel BW. (Eler and Godard are currently in discussions about screening the program in Chicago sometime in January).
Eler is the Arts and Culture Community Manager for the Tribune-sponsored Chicago Now blog network, and Godard is a video art collector,  architecture professor and a founding member of EMERGE, the MCA Chicago's Collector's Forum. They met during Video as Video: Rewind to Form, a video art show that Eler curated with Peregrine Honig at Swimming Pool Project Space last Fall, and bonded over their mutual love of video art. When Godard invited Eler to his home for a tour of his collection, she was struck by the fact that so many works of video art were actually on display. "There's always video art on in Jefferson's home–he's admittedly obsessed with the medium. A video might play on two flatscreen televisions while a video projection screens in another room; or a video might play on an actual television while Jefferson views new video art online." Most of the videos in Performance Anxiety have been drawn from Godard's superb collection (for more on Godard's collecting habits, read Jason Foumberg's 2007 article in New City here). [Read more]