By Kevin Blake
I drift. A good drift. A perfect drift. One that will catch a nice trout. I swing my rod overhead and flick the tip upstream. Mend. Mend. Recover and drift….fish. My memory takes me downstream and the water sweeps my feet from underneath me. I allow the current to drag me away from here.
As I rush past the shores of my recollection, I realize that it may take a lifetime's worth of attention to learn the secrets of the river. I realize that each section of the stream requires a different understanding and consequently, a different approach, to unlock the mysteries of each pool, eddy, and riffle. I'm reeling but not too aggressively. I don't want to lose this fish.
Fly fisherman, like painters, have an uncanny ability to liken any conversation to their pursuits with a rod or paintbrush, on the theory that the essence of anything is in how it relates to their quests. In Kim Piotrowski's show, Catch and Release at Linda Warren Projects, this perpetual metaphor is alive and well and permeating from the walls of the gallery. The rush flows from one piece to another. The fish spook and swim under rocks and stay there until I walk away, only to emerge again as I distance myself from the work–forcing me to return and throw another glance at the image. These are freshwater works(predominately made with water-based media), bottomless and infinite–their currents creating a generative energy for their creator that seemingly erodes her immediate boundaries and transforms those limits into the conditions upon which the next work is made.
I lodge the toe of my boot underneath a submerged log as to brace myself for another run. It's trying to get away from me. I hold my rod high and behind me with my left hand and keep my right hand on the reel. My body twists to make the position possible. I'm adding line as fast as the fish rips it off. The cold water makes new seams around my legs, adapting to my temporary damn. I watch my line tighten. The fish changes direction–and once again–I'm reeling.
I stand suspended in the gallery, surrounded by effort–large and small. Piotrowski has transformed the space to not only display her achievements, but to advance her inquiry. In her debut exhibition with LWP, Piotrowski casts her lines in every direction. Her massive site-specific painting done directly onto a gallery wall that spans 43 feet, is a glowing example of her fearless attempts to allow opportunities to be the source of her invention. She has titled the piece Tide Tango and in her words, it represents "the dance we do with the rush of thoughts as life runs over and through us."
Like the river, Piotrowski's paintings meander, dash, swirl, and coalesce in spaces that cannot be confined by the limits of the page. She recognizes the necessity to expand the space into different formats(see Corner Lot, 2014), providing new borders to break free from and allowing new puzzles to emerge.
Piotrowski's paintings remind me of Matthew Ritchie's complexly scaffolded spaces that find organization in chaos. The ability of arbitrarily small occurrences to greatly affect the outcome of a painting is particularly present in both artist's works. Though Piotrowski seems to be making the paintings with much less discrimination. Less rules. Less fuss. More risk. Yet, in both artist's work, there are common mark-making strategies, similar viscosities in paint applications, and there is an ever present familiarity in the natural locomotion of fluids on the surfaces they paint on.  While Ritchie seems to be interested in corralling those fluids to work within his system, Piotrowski seems to let paint go where it wants, and her next move is a response to its uninhibited resting place.
I'm bringing him afoot. The line is tight but loosening. As the fish lays down, I pull him softly toward my free hand. In an instant, before I could grab him and at exactly the moment our eyes meet, he gives one last fit of terror and snaps free of the fly.
Fishing and painting are matters of timing in a changeable universe, and even when one returns to a place or moment of success, its doubtful that it will be under the exact conditions. Having broken the rhythm of a brilliant performance, it's possible to never go back at all, and one shouldn't go back–forward is the only worthwhile direction. The next hole upstream holds a trophy too, and its there that Piotrowski seems to be constantly aiming.
Life is a dangerous and unmanageable mess, but somehow these paintings have achieved a different description. Piotrowski's description of life and linear time, is something much more approachable. Catchable even. As life runs over and through her, Piotrowski stands in the river waving a stick, trying to catch the catchable and upon success, immediately releases it back into the water for the next fisherman to stumble upon.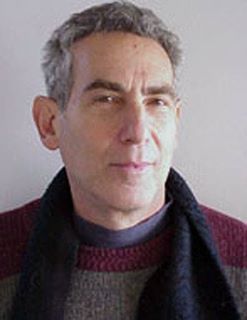 Michael Miller was an incredible educator, a great printmaker, a good friend, and my world feels a little smaller without him.
I met Michael in 2000 when I came to tour the School of The Art Institute of Chicago as a prospective graduate student. I went on to assist (TA) his classes for a couple of years and I learned much from his easy demeanor and casual laugh. He brought an unusual sense of calm to those of us lucky enough to be in his presence. As a TA, Michaels classes were heavenly. He gave me a bunch of materials and told me to work constantly and bring as much energy to the class as I could muster. If he thought I was doing something interesting, he would have me demo it for the students. It felt like the gift I needed to keep me connected to printmaking. I spent most of graduate school exploring video, photography, sound, and electronics, and I often felt like I was floating away from the discipline that had brought me to art in the first place. Michael seemed to instinctively recognize this and made sure I had a home there.
He had a remarkable commitment to his students and the students of the department of Print Media, where he taught for 40 years. He was the kind of professor you could reach out to several years after leaving school and he would happily buy you a beer and help you with your problems. His advice was always spot on and I was lucky to be have often been its beneficiary.
The thing I will miss the most about Michael is the warmth  he showed. He could always be relied upon to be a sympathetic face in an unfriendly crowd and his presence made a room easier for those of us who had to inhabited it.
I'm going to miss him.
Is it over already? Between the EXPO Chicago fair at Navy Pier, Gallery Weekend Chicago, and the opening of the fall art season around the world, September saw the art world at work. Over cocktails and high heels, we were able to check out the culmination of a year's worth of preparation by just about everyone in the visual art scene. Frankly, I'm a little overwhelmed by the thought of summing it all up. But I know you were busy, so I'll try to hit the highlights of what you might have missed in this month's What You Should Have Noticed in September. [Read more]
Guest post by Meg Santisi
Marc Fischer and Brett Bloom are not going to be at Expo, Chicago's huge international art fair on Navy Pier. Instead, they'll be down the street, operating a small publishing house as part of A Proximity of Consciousness: Art and Social Practice, opening Sept 19th at SAIC's Sullivan Galleries.  Curated by Mary Jane Jacob, the exhibit traces a history of Chicago's long engagement with social art practices from the 1800s to today, with a series of newly commissioned works.
Inside the exhibit, Temporary Services have built a fully operational publishing platform, an installation they've titled Publishing Clearing House. Evoking banking and financial surpluses as well the DIY spirit of giving stuff away for free, Publishing Clearing House will feature newly minted artists books written by artists, activists, lone archivists, amateur photographers as well as Marc and Brett themselves.
I sat down with Marc and Brett during their install to discuss their involvement with the exhibit, their relationship to social practices and publishing archives, and what the future might have in store for Temporary Services.
Meg Santisi: To start off, who is Temporary Services in their most current formation?
Brett Bloom: I'm Brett Bloom, and this guy sitting right here is Marc Fischer.  It's the two of us currently working as Temporary Services. Although in the past it's been as many as seven people, and for most of our history Salem Collo-Julin was working with us, right now it's the two of us. We started here in Chicago since 1998, and have been working together since then.
For this project we are collaborating with a ton of other people outside of our group, which is a common thing. Individuals, groups, activist organizations, exhibition spaces – a variety of different things.
Marc Fischer:  One of the earliest ways we've worked is to create a kind of creative structure that contains the work of other people, so this project is very much in keeping with past projects where we, in this case literally, create something like a house or a hut from which about 15 new publications will be created and then move out beyond the exhibit. One of the intense limitations of a space like this is that it's so unknown to so many people in the city. So a big challenge for us was to figure out how to do something that was social beyond the pre-existing or current audience of the gallery and that would have a life beyond the three-month duration of the exhibit. The creative distribution of work by ourselves and others that we feel deserves an expanded audience is something we've always been obsessed with and publications are a particularly cheap and effective way of making many, many copies of things, at least a few hundred copies of each publication, in some cases 1,000 is more typical for us, so it can go other places, in Europe in libraries, like Harold Washington Library down the street.  So we are always thinking of what exhibits can do beyond their short term.
BB:  Yeah, it's to create surpluses out of the situation we are given – an archive of material surpluses – as well as social and political surpluses. In this case we have 15 publications and roughly 1,000 copies of each. We have published over 102 publications under our own imprint, Half Letter Press, which started in 2008 for publishing offset 4-color publications, sometimes our own, sometimes those of other people.  So, yeah, as Marc was saying, it's important for us to take an opportunity like this in a show that will have a nice amount of visibility and that's well resourced, to share it with these large communities we are a part of, and that intersect with a variety of concerns that we have.  We wrote recently that publications are this sort of social, spatial, and political currency, and we really use them in this way, to activate a bunch of different subject matters and audiences.
MS: And so what kind of topics are being addressed in the publications coming out of Publishing Clearing House?
MF: Well there's one publication by a group who, because of the sensitivity of the materials they are working with, don't want to be named. But the other authors one of them is Sarah Ross, but there are multiple others, consisting of both artists and teachers, as well as people in prison who are doing these writings about time and what different types of time structures exist for in prison. So there's writing and also a creation of timelines talking about the movement of time.  Melinda Fries who formerly did the artists web project called AUSGANG (ausgang.com) for many years, is doing a booklet which is also kind of a map and walking tour about a riot, a racially motivated riot, that took place in 1919 in the Back of the Yards area. So there's some fairly far distant Chicago history.
MS: Not dissimilar to Paul Durica's audio tour for the exhibit, which is also a nod to far-reaching Chicago history as well as the present moment.
MF: Yeah his work also taps into those more obscure local histories.
BB: There's another publication by Tracy Drake and Sharon Irish about a cartoonist for the Chicago Defender in the 1930s and 40s named Jay Jackson who was depicting the really violent racial segregation that existed in this city – I mean it still exists in this city – and these cartoons make it so explicitly absurd. They are pretty powerful cartoons. Tracy is an historian and Sharon is an art historian and they collaborated on this publication together.  I think there will be a lot of unearthing, or reflecting on, or pulling into the present, some of these deep histories of the city, and how it influences the various ways in which people work that are included in this exhibition.
MF: There are also some people we've invited that are based in Michigan, Wisconsin, and Indiana so the Midwestern region.  Stephen Perkins is writing a ten-year history of a space that his family started in their spare bathroom, called WC Gallery, to deal with just the complete lack of space for experimental, or political, or just weird art culture in Green Bay, Wisconsin.  He administered the space for a long time and he goes over each exhibit and the issues they brought up.
MS: So did you keep the publications decidedly local to the Midwest?
BB/MF: Yeah/Yes
BB:  I mean so many people have a connection to this city, they work in the city or continue to work in the city, and they sort of socially engage with it in some capacity.  So the stuff we chose didn't necessarily have to deal with that, but it was important that we had some connection to the Midwest or to the region.  There's a lot of amazing stuff being made here, and we tapped into that. The audience for this will be quite a large international audience, so we [want to] push some of this art further into the world.
MS: And so Brett, you are based out Copenhagen. How often do you get to work in Chicago?
BB: At least once a year. I've been here a lot for this [the Proximity of Consciousness exhibit] maybe five or six times? Many trips for this project in particular.
MF:  Which is an unusual luxury for us, and for our way of working.
MS: So you guys are you usually collaborating over the internet?
MF: Well, we come in for the installation, sometimes one of us sometimes both of us, and you know the return visits for site research.  Mary Jane Jacob and all have been great –
BB: They've really taken great care of us.
MF: They value a slower process. I mean there's been other projects where we were invited just two or three months in advance and we were expected to produce, well, a miracle (laughs) with not nearly as much time or money.
MS: And it seems like Mary Jane has done something really smart, which is to realize that for all the exhibitors involved there are differing relationships between created objects and the social aspects of their work. The challenge seems to be how to best represent a socially engaged practice inside of a contained space, and what objects best represent those practices.
MF: Yeah and that's something we struggled with for a long time.  It's a hard situation. I mean I think we felt that if we tried to do everything outside the exhibit, then people who wandered into the gallery, where there was nothing to look at, would get frustrated.  Or if the thing terminates within the exhibit, then [we] would get frustrated that maybe we didn't reach as many people as we possibly could have, or that we made it too much for a school's audience or something.  I think there are many people who teach here that use this as a teaching opportunity for their students, which is exciting of course, but Chicago is a really diverse place.  I mean I teach too, and my students six blocks down the street don't know that this place exists.  So that's a concern, you know.
MS: And that touches on something I love about you guys. For me personally I'm really interested in examining gentrification, especially the ways in which artists gets lumped into a narrative about gentrification. And your practice, in my opinion, has always sought to counteract artist-led gentrification by assimilating or quietly inserting yourself within each neighborhood you've worked from.  For example, I've heard that one of the reasons you chose the name Temporary Services was to blend with your neighboring storefronts on Milwaukee Ave. Same with Mess Hall in Rogers Park.
BB:  Yeah and you know you train as an artist and you immediately have a kind of access and class status, but you also have a certain kind of poverty. Especially if you work with explicitly non-commercial or anti-commercial work. So at that beginning point we were in this very precarious place, I mean federal funding for experimental exhibition spaces, which had been nationwide – that collapsed right when we came out. We wanted to do experimental work, so we were in this very precarious place where there was no infrastructure. So it kind of made sense to see ourselves, as we still do, in relationship to people who were struggling to survive in some capacity.  It made for a really ambiguous relationship as to what the hell was going on in our space.  Mess Hall maybe did this way better in terms of pulling all kinds of different groups of people [together]. Like radically different groups of people would show up depending on what was being presented at that space. We didn't learn how to do that until much later, but it was definitely an idea at the beginning, to have conversations with people that will give you unfiltered feedback. People wouldn't necessarily see what you were doing as art and they would tell you pretty quickly.  And you learn an immense amount about what you are up to, how people see it, whether it's relevant, or whether it's a throw-away.  It was good training for us.
MS: Do you work from a specific space now?
MF: The basement of my house. (laughs)
BB: We only had a shared workspace for a few months really. At Northwestern, a dedicated studio, but we work mostly on-site and that is our shared workspace.
MS: Your work has a lot to do with the formation of archives and the voices they do or do not include. Often you work features narratives that are left out or ignored by more institutionalized archives. I'm thinking of some of projects like The Library Project, Prisoners' Inventions, or more recently Marc's work on Public Collectors. I'm wondering if you can speak to how the archives become activated in your work, or how archives can become living exhibits.
MF:  Well it certainly helps if there are people who maintain archives that feel some kind of connection with that archive, and to the materials they are saving. They activate that stuff by knowing enough and being able to guide someone to it.  We've benefitted enormously from Doro Boehme at the Joan Flasch Artist Book's Collection, because we've known her throughout the entire time we've been a group. I mean we could give them everything but if they never bring those publications out or show them to students when classes visit, then how much does that help? But almost every time I go in to drop off stuff to her [Doro], I see something of ours sitting on a table waiting to be looked at by a visiting student or group. So we've benefitted enormously from people who advocate for our work.  Also our materials are included in Harold Washington Library, if anyone wants to look at our stuff. At Harold Washington the value is more that they are willing to care for and preserve these things, rather than actually direct people to them.
Then there are those people's practices that we really admire, but maybe they are not the best at putting themselves forward, and we are going to bug them until they make something. One of the people we invited for this is Oscar Arriola (https://www.flickr.com/photos/fotoflow/) who has been an incredible fixture of documenting a million things around the city.  He's in some publications but not a lot.  He has a very active flickr account and we wanted to see him leave more of a paper trail.
MS: Have you ever come across anyone who has not wanted to be archived or published about?
MF: For the most part people want to have a printed thing made. There are people who, for whatever reason, haven't had much printed, like the group Lucky Pierre (http://www.luckypierre.org/) doesn't have a ton of publications, and when we invited them they were great. We knocked it out in three weeks, and it was exciting to them, and it was exciting to us to be able to distribute. But you know, on their own, they'd probably find something more pressing to do.
BB: It's a way to have your work circulate in all these different ways and at different volumes. We often give stacks of our publications over to curators or museums and that can have a tremendous impact, to just give somebody ten years worth of publications. It opens things up in a way.  It's a way to get our ideas out there.
MF: It's really rare to get the kinds of invitations where someone has developed an exceptionally creative strategy for disseminating someone else's work. Because usually it will just be in a space, it will be up for a month, we ship them our stuff, they ship it back to us. Pretty much always when someone is starting a new and more interesting kind of library we'll send them things if they ask. There's a project in New York, Petrella's Imports, where they are using an old fashioned newsstand to sell artist books, just like any other kind of periodical. So someone's going to put themselves out in public and have those awkward conversations all day long, like, 'Don't you have ESPN magazine? What is this artist shit?' Or similarly there was a project in Chicago called SOUND CANOPY. The artist M.W. Burns working with Experimental Sound Studio, [played] people's sound art through speakers under a scaffold. The results were really mixed, and it was hard to deal with the level of noise in the Loop, so during the day it would be hard to hear, and at night it would be really loud, but the opportunity to think about a sound piece for anyone was exciting.  When we organized [the Library Project] you know, adding books by artists to the Harold Washington Library collection without permission, there were a couple of people who just didn't respond, but I don't think there was anyone who actively said no. Everybody said yes, and gave us multiple copies of their books, and they were really generous about it, because who wouldn't want to extend the reach of their work? Even if we couldn't guarantee that the books would stay there.
MS: How well do you know the other exhibitors in the A Proximity of Consciousness exhibit? Have you discovered or known about the connections between all of your work?
BB:  Almost all the people we know quite well.
MF: It's also really fantastic that everything is a new project. I mean, it's all commissioned, which is extremely uncommon.
BB: Some of these people we know quite well from the Chicago community and others have intersected with it. Yeah and most of the people we have worked with multiple times or have had years of conversations with.
MF: Or been in exhibits with. We've had many exhibits now with [Michael] Rakowitz.
BB: Or Pablo [Helguera] helped bring us to MoMA to talk. We remember doing actions out on the street in the 90s with Laurie Jo, so there are some nice histories in this place.  Dan Peterman is a mentor of mine.
MS: So it's great that this exhibit is not just about everyone as individuals but you all as a community as well.
MF: In Chicago, people are so accessible.  That's the nature of this city.
BB: Also this work has had a tremendous impact, but the literature that has been written around socially engaged practices has really focused on other narratives, and other places, but Chicago has had tremendous impact. Because it is far from the markets, [so] people just kind of do things. I think we come out of that culture of just doing things. The stuff shows up in New York or London in different ways.  It's way more of a spectacle because it has to compete in a different kind of a way. It's really nice that all this care and attention has been given to this work, and this city that really deserves a lot more credit. These conversations and this way of working have been developing on top of things happening in the 1960s, the 1930s, even the 1800s, proving there's a continuity that's being drawn out here. It's not just some easy to market thing.  Some people have turned it into that, taking the social aspects and making them into spectacles, and making a lot of money.  But this work didn't start from that place, it didn't start so that people could make, like, Social Practices MA's, all those kinds of things. It started out of really basic needs, out of making an experimental culture in a tough place and a tough economy.
MS: So what kind of services are next for Temporary Services? Any continuations of Publishing Clearing House work after this exhibit closes?
MF: We definitely [have extended] our capabilities as far publishing. There was enough of a budget to buy a Risograph printer so we'll probably be starting a new chapter in our publishing.  We also keep adding to this library of flat packable furniture that can be used to make other spaces. There's a book fair coming up in Berlin, there's an exhibit in Kansas City that we'll probably be taking part in November. It's like the second things are done we always find multiple homes for the work.
—
Temporary Services is included in Proximity of Consciousness: Art and Social Action from September 20 – December 20, 2014 at Sullivan Galleries, 33 S. State St., 7th Floor.  The exhibition also includes projects by Jim Duignan, Paul Durica, Pablo Helguera, J. Morgan Puett, Inigo Manglano-Ovalle, Dan Peterman, Michael Rakowitz, Laurie Jo Reynolds, and Rirkrit Tiravanija. Publications by Oscar Arriola, Cultural ReProducers, Tracy Drake & Sharon Irish, Melinda Fries, Wes Janz, Kaitlin Kostus, Nicolas Lampert, Dylan Miner, Stephen Perkins, Prison Neighborhood Art Project, Project NIA, Anthony Rayson / South Chicago ABC Zine Distro, Dan S. Wang and George Wietor / Issue Press.
Meg Santisi is a Chicago-based writer and artist. See more of her work at www.megsantisi.com.
Using breath from mouth to ear:
"I'm going to write something on your back and you have to guess what it is."
Using gesture from finger to back:
"I need to know if you feel it too."
They're two teenage girls and they're getting ready for the prom and one is wearing a marching band uniform. We'll see that uniform again, in another movie, but everything will be different. For now, Jennifer Reeder needs us to feel it too. I had the privilege of working with Reeder for the last two years, while she served as my advisor at UIC. I am the beneficiary of her attention and support, her acerbic and absurd sense of humor, her immense intelligence and her ceaseless fierceness. She insists on vulnerability, even as so many of our interactions are goof sessions.
Her work—primarily in video, primarily for the cinema—is teenage girls, it's pop noir, it's language heavy, it's singing Madonna to an ET figurine, it's death metal brides in a graveyard on a toy camera, it's impeccably pencil-rendered vulvae in the halls of a school, it's electromagnetism of the heart, it's an all-girl choir singing Judas Priest. It also looks and sounds more and more like the way movies look and sound. It is thankfully and unrepentantly feminist, deeply personal and idiosyncratic. And, luckily for Chicago readers, she's doing a big hometown show tonight at the Gene Siskel Film Center as part of the integral and much beloved Conversations at the Edge program.
When I'm doing what I'm so often doing, when I'm doing what I'm doing right now, when I'm trying to convince people of the merits of someone's work, to convince someone to attend a show, I say that Reeder's movies feel like movie movies, but better. That even people who don't like a lot of what they think I like will like her movies. That they're smart and funny, surprising and deeply feeling, that they're clever and daring. I heard something recently that felt insightful for a lot of creative practices. A comic said that sketch comedy privileges the joke over the character and will always sell the character out for the joke, whereas most episodic or narrative comedy privileges the character over the joke, such that every joke must feel real or at least, let's say, diegetic. I was thinking about how this idea could be resonant in a number of forms while rewatching Reeder's work. Deploying, as she invokes, bathos, she is able to maintain emotional credulity while covering and uncovering new layers of humor, trauma and complexity.
Her work has been screened and exhibited at venues like the Venice and Whitney Biennials, Ann Arbor Film Festival, Kurzfilmtage Oberhausen, New York Film Festival, Yerba Buena Center for the Arts, PS1, Pacific Film Archive, Rotterdam Film Festival, Chicago Underground Film Festival, Vienna Short Film Festival and many, many more. She's won countless awards, grants and other —including being named one of Chicago's Top 50 Artists' Artists by Newcity—while maintaining a vigorous teaching practice as an Associate Professor and the Head of the Art Department at the School of Art and Art History at UIC. She is represented by Andrew Rafacz Gallery in Chicago and distributes her videos through the Canadian Filmmakers Distribution Centre, shortfilmagentur, LUX and independently. She earned her MFA from SAIC and her BFA from Ohio State University in her hometown of Columbus, Ohio. She is the mother of three boys and lives in Indiana.
As your work has progressed, its resemblance to conventional cinema—to what people think we mean when we say we make movies—has grown. Do artists too often limit their potential for engaging wider audiences by sticking to niche forms and the safe spaces those enable? Has making work that looks right enabled you to sneak in more of your own idiosyncratic ideas and stories? Is convention camouflage?
I set out to make very functional films, but honestly, narratives are very challenging. I compare my process to sewing. If I set out to make a fully functioning pair of pants but cannot get the pockets right, I sew them shut. BOOM, no pockets on these pants. Then I put super striking patches on the knees (or something) and hope that no one notices the pocket situation.  Other times, the "experimental" parts of my narratives are much more directed and intentional from the get go. I start out making this move to pocketless pants because, ya know, people expect pockets and it's more satisfying on my end to do the unexpected. I do appreciate so much, however, that these more conventional narratives I have been making over the past several years have reached a larger audience. I have a solid fan base of film lovers and programmers who fully support and encourage the wonky way I tell a story.
We've talked before about multipronged ways of moving culture towards a greater sense of inclusivity and social justice. Shows like Modern Family or Will and Grace—with their mainstreaming of gay culture, or, more precisely, with their insistence that obviously and already mainstream culture includes people who are gay—are important in that they provide hungry brains stories that include a wider variety of represented protagonists. At the same time, there's a need for more radical cultural shifts, ones that at their cores those shows and the machinations through which they're made are at odds with. As an educator and cultural producer, how do you balance these concerns? Are there, perhaps, times in our lives when it makes more sense to fight for same-sex marriage and others when it makes sense to dismantle marriage? Do we need more television shows with more people or fewer TVs?
Representation matters! Since the beginning, since White Trash Girl (1995-97), I have made work with some sort of justice component. My protagonists have agency. The enormous popularity of shows like Orange is the New Black and Transparent, confirm that general audiences want and need to see themselves and their friends/family reflected back from the small screen. I do not understand what still motivates lots of film and TV makers to actively ignore diversity in terms of casting and storyline.
In a way that is totally unsurprising, I am always drawn to your use of text on screen. A Million Miles Away (2014) makes use of emojis, subtitles that read occasionally as transcriptions of characters thoughts and other times like a rogue radio signal piped in through diving braces on crooked teeth. Tears Cannot Restore Her: Therefore, I Weep (2010) prominently features a classroom sign language interpreter détourning a lecture on electromagnetism into an intimate and crushing tale of love gone awry (or maybe just love gone away). As much as your films are filled with visual nuance and striking characterizations, I often think of your work in writerly terms. What about the screen seems so keen on rendering multiple modes of address?
During an emotionally charged conversation in real life, there also exists these multiple layers of iteration. There is what you say out loud, and what you are thinking when you say it and what you have written to someone else prior about what you will say. Then there is how the other person interprets what you have said and speculates about what you might actually mean and how later they retell the conversation without precise accuracy (adding parts or leaving parts out). I fill my films with many layers of translations, as you pointed out, because it's how I unpack communication and interactions in my real life. Perhaps not everyone does this, but it cannot be just me, right?
Does the film exist on paper before you begin to shoot or do those extra-textual moments come in the editing room?
The extra language (texts, subtitles, etc.) exists in the script from the beginning. Often the actual words change during post as the temperature of a scene changes from script, through production to post.
Another striking component of your films—and one that extends into a gallery practice potentially—is the way that customized objects find their ways onto the screen. Keychains, ringtones, aprons and t-shirts, either purchased or constructed, telegraph something additional about the characters as well as providing another textual mode of address. Sometimes they signify subcultural statuses, sometimes they feel like gifts from someone off-screen and might not even fit right. Can you talk about these choices?
Art direction matters—this includes the props and wardrobe which are specific and intentional. The art direction is another layer of narrative language, a sub-plot even. It operates as bathos does in literature. A stupid image or phrase on a coffee mug visible in an emotionally revealing scene can disrupt the narrative in a charged and challenging way—injecting humor or absurdity or magic even into an otherwise pretty deadpan exchange. This happens in real life also. It is what makes "a serious talk" tolerable. I cannot resist a visual prank.
As your work has shifted to take more of the forms and processes of recognizable conventional productions, you've increased the number of people with whom you work. To what degree do you conceive of these productions as collaborations? Is there a way that working with so many more people on set changes how you think of the works? Are there auratic or affective overlaps in the jobs of director, parent and teacher?
I have worked with the same crew (Steven Hudosh, Chris Rejano and Paul Dickinson) over a few films now and the same editor (Mike Olenick) for over 10 years. These films are like relationships. I have to fall in love with the film then eventually break up with it to move onto the next film. It's an emotional process and I need to surround myself with people I trust and who trust me back.  I listen to everyone's opinion from the script writing stage through post-production and distribution, but ultimately the final decisions are up to me. This could change with a different kind of financing model. There is a kind of collaboration in the scoring (music), because I depend on the composer (Jenne Lennon) to directly translate my notes in terms of how I want to film to sound. I appreciate what trained actors bring to set. I allow the cast to know and play their characters on their own terms, but I do not allow for improvisation. The dialogue is very specific. Don't mess with my dialogue! Ok, and yes, I am quite parental on set. I am bossy but more mom bossy than boss bossy—lots of hugging and head patting, for real.
What is Tracers Book Club? How do the various spaces Tracers inhabits function together or separately? What can exhibitions do that online fora or real-life discussions cannot? What is lost or gained by making art in a group, orienting more toward making an argument or experience than originating from authorship?
Tracers (www.tracersbookclub, www.feministasfuck.org) is a free form collective dedicated to promoting feminism as a means toward social justice. Over this past year, we have had two gallery exhibitions in addition to many other events like a mini-conference (a day of panel discussions about intersectionality), two iterations of a radical crafting fair called "FEMINIST PARKING LOT," films screenings, rock concerts, a youth poetry workshop and informal conversations (often around a book or presenter). Each event attracts a different audience. Feminism is personal and so Tracers makes an effort to offer lots of ways to get your dose. As we gain momentum, we are likely to expand the range of events. We are not a one size fits all kind of operation. If we are committed to inclusive, which we are, we must super-size the options. A narrowly actualized social justice mission is not very just in my opinion.
In rewatching your work for this piece, I found so many little moments that felt synecdochic, like they expressed something big about your entire practice in a small way. I know that you aren't making work simply about your work—the equivalent of an advertisement for an ad firm—but over the course of your career, you seem to be honing in on a series of concerns. One of the most exciting is the continual and ever-changing challenge of communication and connection. In addition to shared concerns and themes, the reuse of props and costumes gives a hazy continuity to your work. Do you think of these works as being fully distinct or part of a much larger project? Are there ideas that you'll have that you have to abandon because they don't work within the scope of your current activities? Since we're dealing with and in the world of narrative cinema, is there a Reeder universe, nestled somewhere near the speculative and psychic universe of John Hughes? Are the unnamed sites for these recent works in one unnamed town?
Ok, so yes, it's all intentionally connected—stacks upon stacks of parallel universes. I feel as though I am making the same film over and over and over again. This tic is related to my need to provide multiple translations of narrative language within a single scene. I must keep prodding, "did you get that? Here let me put it another way. Ok, now, did you get it that time? Let me try again." It's an obsession with being heard and understood. I appreciate that my films are recognizable as mine. My favorite filmmakers are the auteurs. I am at a loss to understand how some filmmakers make entirely distinctive moves from one film to next. Ya know, like Ang Lee made both The Ice Storm and Hulk. No thank you.
What can the admittedly porous worlds of experimental and independent cinema learn from each other?
The experimentals should be less afraid of being liked/popular and the indies should be less afraid of taking some artful risks in terms of the form. It's like the jocks versus the nerds. The jocks should get weirder and the nerds should get tipsy and make some prank phone calls.
What is your process for working with actors? Is there a sense that an actor is being instrumentalized—walk over here when the camera gets here, say these words in this order, wear this shirt and face this way—or is there a consideration of and conversation around the more mystical way that a person can embody another person? What has directing taught you about performing? How has your approach to directing actors changed from your White Trash Girl days to now?
The performers in WTG were all amateurs (including myself). No one could act, which is why all the "dialogue" is in the form of a voice over. Plus all the physical action is hyperbole—it's like a live action comic book. Overdoing it was the only way to do it. My direction to the performers in WTG was like, "haul ass and then pretend to vomit." In the past several years, I have worked primarily with trained professional actors, which is lovely. These are people who know how to transform themselves into another person—it's a magic trick really. I am in awe when it works.
I am particular about my dialogue, as I mentioned, so I am known to ask for many takes of a scene (or even a specific line) until I hear it the way I want to hear it. I actually think that I hold my breath during some on-camera exchanges. I get very anxious behind the monitor but I have gotten much better at bringing performances out of the actors. They need to know who I think the character is and why I think they are doing what they are doing (after all I wrote it, I should know). Its all about defining the motivation and clearly communicating the emotional temp of a scene. So for instance in the film I just shot (Blood Below the Skin, currently in postproduction), a young woman has the lines, "you want a best friend? I can get you a best friend. I can get you a best friend forever, but you have to be ok with the pain and the blood." She was not saying it right and so I eventually told her to say the lines as though she was talking about a dead body….."you want to hide a dead body? I can help you hide a dead body…." It worked. Gone are the days of simply yelling, "haul ass," but I don't miss those days.
If my math is right, White Trash Girl is nineteen years old—right on the precipice of leaving its teenage years. When was the last time you revisited the character and that work? How do you think of her relating to your current work?
I still screen WTG occasionally. I have not made a WTG tape since 1997 but I am still very much making films about unruly women and the midwest. The trajectory from WTG to the current work is very clear and direct for me. It's the same film over and over again, just now with better acting, better equipment and better fonts.
I'm hoping you'll say more about why so much of your work centers around teenage girls? Are they both the subject and audience for the work?
In my opinion, no other group of humans is more misrepresented in cinema (in all of media really) than the teenage girl. We are a culture obsessed with female youth and we get it wrong every time. I am just trying to set the record straight or at the very least offer up an alternative—a disruption. I write scripts from observation and my own experiences. There is a kind of art therapy component to my filmmaking process—a lullaby that the adult me hands back in time to the teen me. It's a retroactive survival strategy. Indeed my primary audience is the teen girl but these recent films seem to appeal to a much wider audience which is a surprise and fantastic. My dream is to pitch an idea to Nick at Nite for an edgy, racy (complicated) teen girl TV show (both for and about). Or better yet, a series of David Lynch-esque after school specials—weird but accurate and entirely in celebration of the teenage girl.
This will happen.