I had a very small window of opportunity over the weekend to see Carrie Schneider's just-opened 12 x 12 project at the MCA. It was late Saturday afternoon, and I had about an hour and a half to take the El into the city from Oak Park in order to see the show before the Museum closed. So, I was a little annoyed when the announcement came on that the Blue Line would end at UIC/Halsted, which meant I'd have to take a shuttle to Jackson in order to catch the Red line. (I hate shuttles, even though there are always plenty of them and they don't slow you down all that much). Much internal bitching and moaning ensued. I made it to the MCA with 40 minutes to spare, watched Schneider's video "Slow Dance" until they literally kicked me out of the room, then got up and called my husband to pick me up at the Ridgeland station so I could take the Green Line home. I caught my first train without incident, but fucked up and took the hateful Brown Line instead of the required Green by accident (this, because I was on my iPhone trying to download OMD's Romance of the Telescope, which features prominently in Schneider's video). I could see that planned dinner out with my husband rapidly disappearing down the tubes (the parents' night out at our local children's art studio would end promptly at 8:30). Dammit. I got off the Brown, waited for the Green, told myself repeatedly DO NOT LOOK AT iPHONE. And then…..what the hell *is* that??? A train, wrapped like a present in sparkly twinkling Christmas lights and other holiday fizzies, zooming into the station.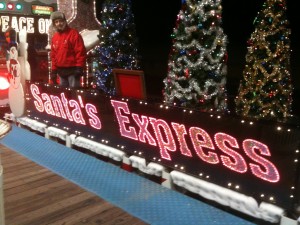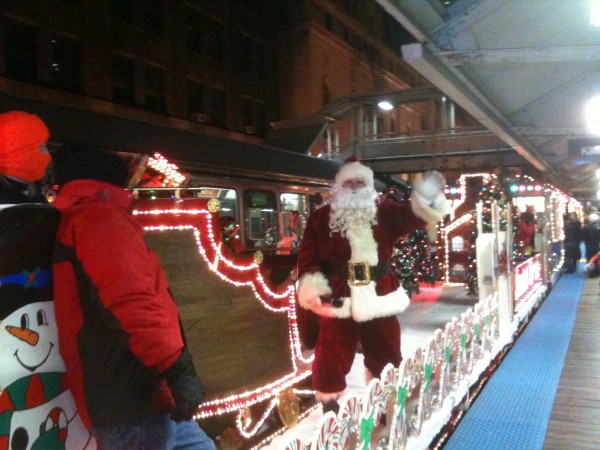 I was momentarily blinded (and, just for a second, terrified). Christmas carols spilled out merrily from the train, and my god…there is a Santa Claus. There was also a sleigh and a couple of reindeer and a beefy guy in a black ski mask who I think was supposed to be Santa's helper.  Only later did I learn that this was the CTA's fabled Holiday Train and I had totally, accidentally caught it! People plan all day for this and I did it without even trying! Wheeee! [Read more]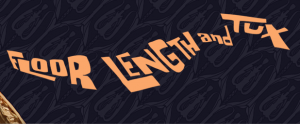 This coming Saturday evening (that means tomorrow night people), Floor Length and Tux (aka FLAT), the Chicago project space run by EC Brown, Catie Olsen, Michael Thomas and Meg Duguid will host a one-night only event they're calling "Untitled Circus." There will be refreshments and much conviviality and music and some free CD giveaways, but what I'm most interested in with respect to the proceedings is the compilation of critical writings on Chicago's thriving apartment gallery scene that Brown et. al have solicited from a number of Chicago artists who are deeply invested in it.
These booklets, which contain essays written by Caroline Picard (Green Lantern Gallery/Press), Liz Neilson (Swimming Pool Project Space), Eric Mays (Roots and Culture), Lucia Fabio (of the late lamented Mini Dutch) and many many more luminaries from the scene will be distributed via a spinning magazine rack owned by Mr. Thomas. With the kind permission of the writers, we'll be posting some of these essays here next week for the benefit of those of you living outside of Chicago – think of it as a kind of "mini-series" / online symposium on Chicago's apartment gallery scene, made possible by the ingenuity and generosity of the FLAT folks and, of course, all of the participating writers.
Over email, I asked EC Brown, Michael Thomas and Meg Duguid to answer a few questions about the event. Their responses follow. Check out the Circus for yourself tomorrow night, Saturday, December 5, from 7-10pm, at 2332 W. Augusta #3F.
What will FLAT 4: Untitled Carnival consist of beyond the distribution of the booklets? Will there be a discussion? What can people expect to see/experience? [Read more]
Yes, it is true, we have done a pretty lame job of getting the word out but Amanda Browder and Duncan MacKenzie will live at the NADA fair in Miami Florida! They will be recording all day for an upcoming series of interviews and episodes from the fair and they will be selling limited edition Bad at Sports TShirts. Come check it out and chat with them if you like. The days interviews will include Chris Duncan, Ruba Katrib, Heather Hubbs, Brendan Fowler, Atsushi Kaga, Paul Gabrielli, Scott Hug, Valerie Blass, Nicole Awai and several others…
check it out.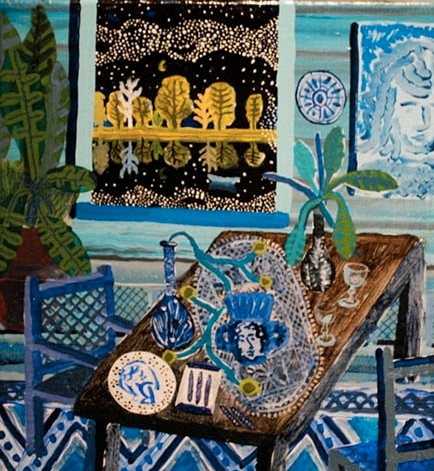 I feel better already, or at least I think I do is Austin Eddy's first solo show which opened at GOLDEN gallery a few weeks ago. The exhibition consists of 11 paintings and one installation of (when I saw them) dying tiger lilies in a hand-made clay vase perched atop a green doily (my Sicilian grandmother is very drawn to this particular shade of green). In the first room of the gallery the paintings depict intimate interior spaces, while a second room shows tighter painted portraits of plants.
The paintings are small, most under two feet, and at first glance the gallery appears a little empty. Perhaps this is because the last show I saw in the space was huge photographs that took up most of the walls. The paintings themselves, however, seem to vibrate with energy. They are incredibly, almost absurdly, overworked, with layer upon layer of texture and pattern. Yet somehow they feel restrained; there is a great tension between the almost grotesque amount of physical material and detail, and these moments that are executed with such control and gracefulness that make the pieces as a whole feel so much more comfortable to look at.
The perspective in the depictions of interior spaces is playful and storybook-like, imparting a super flat feel to all of the work. The few figures that appear function like the other objects in the room, feeling flat and expressing almost caricatures of emotions. The titling add another aspect to the playfulness of the work, with names such as "sometimes you have to just make things work, even when its really hard.", "my what a glorious view you have of the milky way there, pete.", and "sometimes some things seem far better in other places.". The name of the show and the titles impart a hesitant or unsure mood on the work, while I think the work itself appears super confident, almost cocky in railing against conventional views of less being more. They also suggest pretty bizzare narratives (at least in my head).
I was really interested in Eddy's practice and what he had to say about this new work, and he was kind enough to answer some of my questions (even though it was Thanksgiving day) [Read more]
Sup ya'll. Time for another rousing round of what the f*#k is Steph doing this weekend?, aka The Top 5! You ready? Well, here you go:
1. A Crash of Critters at Fill in the Blank
Ok, so I've got the love for Fill In The Blank, it's in my neighborhood, and they always put out a good spread and some tasty eye candy. This round is no exception. Based (as I understand) on the idea of ascribing hilarious names to groups of animals, this will appeal to all people interested in cartoon animals and those of us who own, willingly, a copy of James Lipton's "An Exaltation of Larks."
Fill in the Blank is located at 5038 N. Lincoln Ave. Opening reception Friday, 7-10pm.
2. Obsession In Ice at Carl Hammer Gallery
So, I'm not generally one for holiday themed art shows. As a matter of fact, I generally hate them. This show, however, is an exception. Featuring the work of Wilson "Snowflake" Bentley, this show brings to us some of the first images ever made of individual snowflakes. A farmer/scientist, Bentley captured the first image ever of an individual snowflake in 1885. So, go to the show, muse on old-school science, and remember: you are an unique and individual snowflake, just like everybody else.
Carl Hammer Gallery is located at 740 N. Wells. Opening reception Friday, 5:30-8:30pm. [Read more]