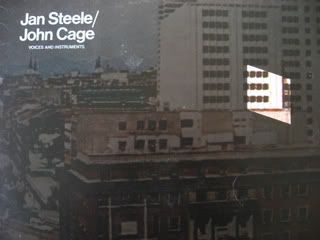 I seriously love WFMU's Beware of the Blog. I often find awesome tracks and albums that I would never have found on my own. While trolling their site for more info on the Masked Man and the Agents (check out their song Roaches) I came across John Steele and John Cage's 1976 album Voices and Instruments.
via Beware of the Blog:
"Brian Eno's Obscure Records label released only 10 albums during its existence from 1975 through 1978. Some of these have been reissued on CD (among them Eno's own 1975 masterpiece Discreet Music), but for some reason the album Voices and Instruments (Obscure No. 5, 1976) only exists on out-of-print vinyl. It is a very quiet and beautiful record, featuring three compositions by Jan Steele on one side, and five compositions by John Cage on the other side. Lyrics are by James Joyce and E. E. Cummings, performers include Jan Steele, Richard Bernas, Steve Beresford, Fred Frith, Robert Wyatt, and Carla Bley. It is not just mellow, it is avant-mellow…"
You can download the album via WFMU's site. If you do not already check them out you should add them to your list.
On this week's pick we bring you The Marvelous Misadventures of Flapjack's "The Plague Song".
Photographer Larry Sultan has died at the age of 63. The New York Times reports that the cause was cancer. From his obituary:
Larry Sultan, a highly influential California photographer whose 1977 collaboration, "Evidence" – a book made up solely of pictures culled from vast industrial and government archives – became a watershed in the history of art photography, died on Sunday at his home in Greenbrae, Calif. He was 63.

The cause was cancer, said his wife, Katherine, who is known as Kelly.

In the mid 1970s using a grant and a letter of introduction from the National Endowment for the Arts, Mr. Sultan and Mike Mandel, who had met as students at the San Francisco Art Institute, somehow managed to persuade several large companies, agencies and research institutions like the Bechtel Corporation, the Jet Propulsion Laboratory, the San Jose Police Department and the United States Department of the Interior to let them rummage through their documentary photo files.

Highly influenced by the West Coast brand of Conceptualism then percolating out of places like the California Institute of the Arts, both men were interested, as Mr. Mandel later said, in exploring photography as "more than just the modernist practice of fine-tuning your style and way of seeing." The pictures they chose from the archives, out of the hundreds of thousands they examined, were a strange, stark, sometimes disturbing vision of a late-industrial world: a space-suited figure sprawled face down on a carpeted floor; a car consumed in flames; a man holding up a tangle of weeds like a trophy; a shaved monkey being held down by a gloved hand.

Some of the images seemed to have been picked for their uncanny resemblance to installation art being made at the time. But the 59 photos published, with no captions to explain what they showed or where they came from, pursued a much broader, Duchampian agenda of harnessing found photographs for the purposes of art while using them as a way to examine the society that produced them. The critic Kenneth Baker of The San Francisco Chronicle wrote that the project demonstrated brilliantly the degree to which "we have no calculus to unravel relations between what a picture shows and what it explains."
You can read more about Sultan's Pictures from Home, a photographic series on his parents' lives post-retirement, here, as well as an essay that Sultan wrote about his photographic series The Valley for the L.A. Weekly here.
Editors' Note: Liz Nielsen's is the last post in our week-long series on Apartment Galleries in Chicago, all of which were originally written for Floor Length and Tux's "Untitled Circus" event a few weeks ago. A number of essays on Chicago's thriving domestic/apartment gallery art space scene were solicited from local writers/artists/curators involved in the running of such spaces, and we posted some of them here on Bad at Sports as a way to extend the discussion. I'll be posting some summarizing thoughts on this series later on, along with links to where you can find a .pdf file containing additional essays on Chicago's Apartment Galleries written for the Untitled Circus event. Please feel free to email us with your comments at mail@badatsports.com, or if you'd like to contact the folks at FLAT directly, you can email Erik at erik@ floorlengthandtux.com.
Guest Post by Liz Nielsen
A few thoughts
Erik Brown and Michael Thomas invited me to write down my thoughts regarding the recent spurt of apartment/domestic/project spaces in Chicago with the intent of pushing forth a few waves of constructive criticism that might consequently enable some of these spaces to re-calibrate their homegrown efforts. Now, I run my own space too, the Swimming Pool Project Space in Albany Park, and so I began by looking at my own reflection in the mirror and asking myself why I do what I do, and why I am where I am.
I am a Chicago artist. I have seen my reflection many times but this time I saw something, a stark reality, with more clarity than I had seen in the past. Louder than ever before I heard a resonating sentence echoing inside my head: If Chicago's art scene is second or third tier then naturally it produces second or third tier artists.
But if Chicago's art scene is second or third tier, does it follow that it would naturally produce second or third tier artists? I am better than that. I know that we are better than that.
So the question becomes: can Chicago raise the bar? Can it rise above the standards set by third tier expectations? Do we ourselves want honorable mentions, or gold medals? The artists who do make it into the top tier usually leave Chicago shortly before or immediately after their success starts to happen. So this leads me to wonder, if Chicago artists want to be gold medal-winners and recipients of national and international recognition, must we leave Chicago?
I've been running circles in my mind trying to figure out why we are where we are, and why we don't, apparently, have the means to get the gold. We obviously have the energy. The innumerable independent spaces are one indication of this. I have come up with several reasons but there is one that I continually spiral back to, and that is that Chicago has very few "parent galleries", relative to the number of artists. At risk of being cutesy, parent galleries are the commercial venues that give us artist children shelter, that help us with our homework, hang our work on the refrigerator, talk us up like crazy, send us to art camps/residencies, and above all help us grow into the artists that we are capable of becoming. As it stands, hundreds of art students are pumped out of our schools in Chicago every year – and these are great schools – only to be orphaned with nowhere to show, nowhere to go.
So we parent ourselves.
We build our own tree-houses and clubhouses in the backyard or in our living rooms. We start our own spaces and exhibit our own work. We share our own ideas and show our friends. But to a certain extent, the pragmatic facts of "being an orphan" wear us down: the fact that the challenge of making work increases when we're also completely responsible for ourselves, for promoting our art, and paying the bills through other means. In the end, these tree-house projects, no matter how exciting and productive in certain instances, don't bring in much money, and don't get enough support from the city or its institutions, and eventually most of us run out of gas without even making it onto any sort of global art map. [Read more]
The New Issue of Rebus is out! For those of you who don't know but ought to, Rebus is an online journal of art history and theory organized and published by doctoral students out of the University of Essex, UK. I've been a fan of Rebus since I was first made aware of it last spring. I was struck by the straightforward agenda of sharing ideas. Which, under normal circumstances, are rarely read or disseminated much beyond their academic system. To a certain extent I think Rebus mediates the gaps between those dust-collecting hardbound dissertations lining the shelves of collegiate libraries next to the esoteric journals published within any field of study which a requisite level of specificity to necessitate doctoral study and the casual contemporary art writing consumer. Put another way, I dig the accessibility of this journal. So Rebus issue 4 is hot off the presses and is edited by Dr. Matthew Bowman and Dr. Stephen Moonie. I've been so very lucky, as Dr. Bowman agreed to my idea that he share some of his thoughts on the journal and on his specific interests within the scope of critical theory. I particularly enjoy his interest in time as an under investigated element in art history, theory and criticism, most probably to do with my own personal interest in mitigated meaning and ways of understanding experience. Check out the new issue
 http://www.essex.ac.uk/arthistory/rebus/issue4.htm
The following is a short, simple and earnest interview with Dr. Matthew Bowman.
JG– Would you share a bit about yourself for our lovely readers, for introductions?
MB-I originally completed my degree in fine art, but soon comprehended my preference was to write about art rather than produce my own. I wrote my MA dissertation on Marcel Duchamp's Fountain, arguing that its processes of reproduction functioned as open-ended conditions of displacement which are immanently temporal, a manifestation of Duchamp's fascination with "delay." My PhD research took a different tack, analyzing the October journal. I focused mostly upon the journal's early years (1976-1981), years which virtually transformed the face of art-critical discourse. Rather than give a straightforward historical account of October, however, I elected to argue that the journal in those years fundamentally reconfigures our comprehension of medium-specificity by pointing to the way artworks, especially after "the crux of minimalism," reinvent the medium. Of course, early October perceives itself as rejecting the question of medium-specificity as a modernist issue, but I contend there are resources within October that encourage us to reconsider what a medium is, and how it operates within an expanded field. I completed my dissertation October and the Expanded Field of Art and Criticism in 2008. At present I'm lecturing part-time in contextual studies at Colchester Institute, and working in the History of Art department as well as Arts on 5 at the University of Essex. Between these activities I co-edit Rebus: A Journal of Art History and Theory.