A couple of weeks ago the New York Times ran a lengthy article profiling what writer Penelope Green described as "a new wave of gallerists who for a grab-bag of reasons-economic, philosophical and purely pragmatic-are turning their homes into art galleries" in New York City. Titled "Is it Art or Their Shoes?" the piece's headline image featured Sarah Gavlak, one of the curators of such spaces, wearing a bright red mini-dress whilst sitting primly on her cream-colored bedspread, framed on either side by the artworks displayed on her bedroom walls.
Green goes on to note that Gavlak's home is "stunningly spare":
Ms. Gavlak's personal effects are in one of two walk-in closets; artwork is in the other. Like a good saloniste, she eats breakfast on a tray in bed and then slides it underneath the dust ruffle. Her kitchen is as clean and uncluttered as that of a model apartment in a new condominium. (Home gallerists as a whole are not given to the display of random tchotchkes; further, they know how to hide their hair brushes and the Verizon bill).
This description made me laugh. Although no two apartment galleries are alike (therein lies the true beauty of the form), if you visit a domestic art space in Chicago you're apt to see freely trafficking pets (and kids), overstuffed bookshelves, and cozy kitchens where something yummy-smelling always seems to be bubbling on the stove. Whereas Gavlak has transformed her entire home into an exactingly considered art installation (a tactic that I admittedly find compelling) many (though certainly not all) of the domestic art spaces I've visited in Chicago favor an alternative tactic: one that embraces the unabashedly lived-in. [Read more]
We received word from the folks at the Chicago Artists' Coalition that applications are now being accepted for the 12th Annual Chicago Art Open exhibition. From the CAC's website:
The Chicago Art Open features 300 professional, emerging, and student artists with artwork in all media selected by guest curators. This major exhibition serves as the centerpiece of Chicago Artists' Month. Members receive a discount on the application fee.
Here's the information on the application process. If you have questions or need further information, contact Pepper Coate, Community Outreach Coordinator: pepper.cac@gmail.com.
Welcome to the Application for the 12th Annual Chicago Art Open!

The Chicago Art Open, an annual program of the Chicago Artists' Coalition, exhibits established, emerging and student visual artists side by side in a professionally curated exhibition.

ELIGIBILITY GUIDELINES:

Please read the following guidelines before continuing the application process:

CRITERIA

All artists must meet the following criteria:

Must live or make visual art in Chicago or in the greater Chicago area
Must be 18 years of age or older
Must have created their entries within the last two years.
Entry pieces must not have been exhibited in any prior Chicago Art Open
ARTIST CATEGORIES

Professional Artist
Professional Artists must meet the following criteria:

Not currently enrolled in a degree-seeking studio art or design program
Must have participated in at least one professional exhibition within the last five years (not including the Chicago Art Open). Any artist that has exhibited at a professional exhibition in the last five years (see our definition below) MUST apply for this category even if otherwise he/she is considered "Emerging".
Artists who have participated in professional exhibitions, but not within the past five years, may be accepted at the discretion of the Jurors.
Professional exhibitions include: juried, curated, group, or solo exhibitions taking place at a gallery, art center, museum, or other similarly recognized exhibition space. Public art commissions and representation in a commercial gallery can also be used to meet this requirement.
PLEASE NOTE: If your exhibition history ONLY includes the following types of exhibitions, you do not qualify for the Professional Category (see Emerging category guidelines instead):

Restaurants, coffeehouses, art fairs and festivals or retail environments
Web-based exhibitions or online galleries
Exhibits in a college or university gallery as part of an academic course of study or in fulfillment of a degree program
Emerging Artist

Emerging Artists must meet the following criteria:

Not enrolled in a degree-seeking studio art or design program.
Have no prior professional exhibition experience and have exhibited primarily in restaurants, coffeehouses, online galleries, art fairs/festivals, and other retail environments
Student Artist

Student artists must meet the following criteria:
Must be at least 18 years old and currently enrolled in a degree-seeking academic program.
TYPES OF ELIGIBLE ARTWORK

2D Artwork

Original artwork completed during the last two years
Cannot exceed 48″ height x 48″ width (framed dimensions)
Must include a frame or mount of professional quality. (Clip frames and other temporary framing devices are NOT APPROPRIATE.)
Must be installation-ready with wire and hooks already attached to the back of the work.
Paintings on stretched canvas may be left unframed only under these conditions: if the edges of the canvas are painted as an integral part of the work or if the edges of the canvas have been neatly primed and do not contain staples.
Artwork with a fragile surface (pastel, charcoal, wet oil, etc) must be protected by Plexiglas
All other canvases, including those with unprimed edges, marks or staples, must be framed!
3D ARTWORK

Original artwork completed during the last two years
Cannot exceed 60″ height x 60″ width x 60″ depth (including pedestal or mount). PLEASE NOTE: If your work weighs more than 150 lbs, you must arrange a time for drop-off and installation with the Exhibition Director.

INSTALLATION AND TIME BASED WORK

Original artwork completed during the last two years
Installation entries should include a brief written description of the work that addresses materials, approximate dimensions, and viewer interaction (if applicable)

Images or sketches of the finished or proposed installation.
Installations cannot exceed 60″ height x 60″ width x 60″ depth. Once accepted, you must contact the Exhibition Director to arrange a time for installing the work.

VIDEO AND MEDIA WORK

Original artwork completed during the last two years

Video and Media entries should be represented by a CD or DVD sample and a brief written description of the AV equipment involved (artist's responsibility to provide).

INELIGIBLE ARTWORK

Collaborative pieces, films, and performances

PLEASE NOTE:

The Chicago Artists' Coalition reserves the right to refuse any work due to inadequate framing and/or mounting hardware or if the actual work differs significantly from the submitted images. Warped or shoddily constructed frames, canvasses or board will not be exhibited.

Use glass at your own risk — it will not be insured.

SALES & COMMISSIONS

CAC retains a 40% commission of the sales price of any work. Artists are paid 60% no later than 30 days after the close of the exhibition.
APPLICATION INSTRUCTIONS

REQUIRED MATERIALS

Artists' CV with exhibition history to determine if application was submitted for the appropriate category
Artist Statement
CD with 3 high resolution with titles, medium, size and selling price
Artist name, email, mailing address, phone number
Entry Fee (see categories below). Online applications may submit a secure payment on CAC's web site or may mail a check to the CAC office – MANDATORY FOR PAYMENT TO BE MADE BEFORE JANUARY 29, 2010
Send all mailing materials to:
Att: Chicago Art Open
Chicago Artist Coalition
1550 N. Damen
Unit 201
Chicago, IL 60622
Send all email applications to: pepper.cac@gmail.com

PAYMENT CATEGORIES
Professional Category, non-CAC member: $100
Professional Category, CAC member: $70

Emerging/Student Category, non-CAC member: $45

Emerging/Student Category, CAC member: $35

PLEASE NOTE: We cannot reserve a spot in the exhibition for you until

ALL of the required items have been received, including payment.
Mike Benedetto is still on a religious retreat to Kyrgyzstan, Tajikistan or Stan "The Man" Musial…… one of the three I can't remember which anymore. Regardless as a gift he (by not saying I couldn't via email) has enabled me to release a 7 part 70 minute movie review of the worst film that everyone waited 26 hours in line for while it rained and slept on concrete with the curb as a pillow, yes "The Phantom Menace".

Now you may ask yourself "Self, what can you say in 70 minutes that can't be said in 10 (even with bonus seconds) do you just say the word "suck" over and over till it stops sounding like a real word?" to that I would say see a therapist since your talking to yourself and also reply you can say a lot. Trust me start watching and quit whenever you want but don't make any plans for the next hour or so.
Enjoy your present from all of us here at Bad at Sports, the wibby as a whole and the kind gentleman who actually did all the work to make this review Red Letter Media, based out of Milwaukee, WI & Chicago, IL.
Apartamento Magazine, a bi-annual interiors journal, began in 2008, but seemed like folklore to most stateside bibliophiles, as it was incredibly hard to find. They had no known US stockist. Issue #1 was totally and completely sold out forever within months of its release. Post Poetics had Issues #2 & #3 for a while and I would frequently look at the page, tempting myself to buy the magazine, but the $30 international shipping permanently deterred me.
The first time I held Apartamento in my hands was just two months ago. A friend let me borrow a few of the past issues. It was as gorgeous in person as it looked in the photos I'd seen online. Thanks to art direction from designer Omar Sosa of Folch Studio and photographer Nacho Alegre, Apartamento is an object of immense beauty.
Issue #4 features watercolors of artist studios (Julian Schnabel, Jeff Koons, Kiki Smith) by Grillo Demo, an interview with CFDA award winning jewelry designer Philip Crangi's about his New York factory, an essay by Chloe Sevigny about her "70s preppy Connecticut" apartment, a photo tour of Kim Gordon and Thurston Moore's Northhampton home, and a kids supplement curated by Reference Library's Andy Beach with contributions from Geoff McFetridge, Enzo Mari, and more.
With the tagline "an everyday life interiors magazine," I was expecting Apartamento to be a sneak peek into regular, real normal, everyday interiors. My tiny apartment, a bus driver's home, the tenants who have lived in the same building for over 30 years. Apartamento is kind of like that, except if those things looked ten times better.
Issue #4 is OUT NOW and available worldwide through Bruil.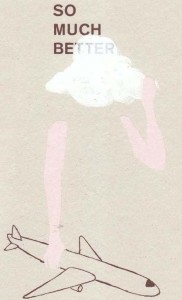 Bad at Sports' own Literary Correspondent Terri Griffith has published her first book "So Much Better" and is on sale now through Green Lantern Press & Amazon.com
"So Much Better" is a debut novel about a self-sabotaging Credit Union employee, a cold woman at odds with and alone in the world. In the absence of her lover, she seduces her lover s sister, wades through old storage units and wonders after her own absent family. Printed in an edition of 500 w/ silkscreen covers by Nick Butcher of Sonnenzimmer.
Terri Griffith's writing has appeared in Bloom, Suspect Thoughts, Bust and in the anthologies Without a Net: The Female Experience of Growing Up Working Class and Are We Feeling Better Yet? Women Speak about Health Care in America. Along with Nicholas Alexander Hayes, she is co-authoring a transgressive retelling of the Greek Myths. Terri is the literary correspondent for the popular contemporary art podcast Bad at Sports and she also co-hosts the online reading series The Parlor.