"Forever Vegetal" is the head-scratching title given to two concurrent solo shows at Roots and Culture featuring new work by Brian McNearney and Edra Soto. The exhibition opened earlier in December and will close this weekend on January 16th. Over the weekend I spoke (o.k., emailed with) Edra Soto about the new works she created for the exhibition, which tackle all the Big Issues: Life and Death, Heaven and Hell, Roman Catholicism, Michael Jackson's pet mouse Ben, and Soto's lovable canine, Foster, aka "the Jesus of Dogs."
Your show at Roots and Culture begins with a piece that takes the form of a shrine and is titled "In Memory of Who I Was." To me it seems to frame the entire show.
Edra Soto: "In Memory of Who I Was" is a shrine that commemorates my innocence, my past and the person I will never be again. I was also trying to make a memorial for myself as form of representing a transition. It's never been a problem for me to find ways of representing art, but when I've been involved in great projects that have taken a lot of time and emotional investment, like my latest show at the MCA, it was making perfect sense for me to "kill myself" theoretically, to be able to speak about something different. There are a few transitional pieces in the show.
Initially, I was trying to make an art piece that compiled photos of me from childhood to the present, and have a small memorial of who I was until yesterday. I have explored the concept of time passing with memorials, like in A Year In Review and Landfill exhibited at Gallery 400 and Memorial at Polvo, all in 2005. [Read more]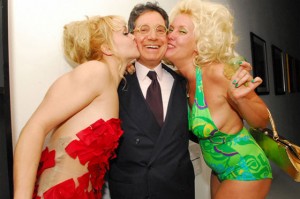 The art press and art blogosphere are all a-Twitter over an article in last Friday's L.A. Times suggesting that New York big-man art dealer Jeffrey Deitch is among the top candidates for the directorship of L.A.'s Museum of Contemporary Art. You'll recall that MOCA has been without a leader (save for Eli Broad's not so behind-the-scenes machinations) since Jeremy Strick resigned in disgrace over his poor handling of MOCA's finances, which nearly ran the institution into the ground. [Read more]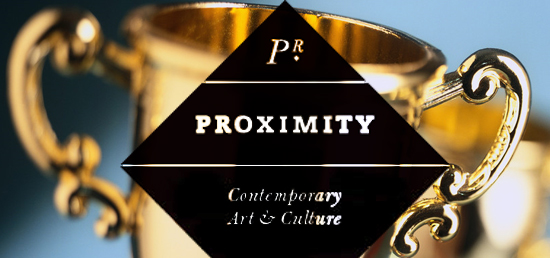 Proximity Magazine Names B@S "Best Website for Local Arts Coverage" and says some very kind words:
Bad at Sports should have received a a grant from the XYZ foundation last year to help them make their art podcast website a real day job. But the powers that be often sleep on what is engaging, innovative and important in favor of the familiar, lame and business as usual. Bad at Sports was our top local art resource of the year. Thank you guys.
No thank you Ed, Rachael & everyone at Proximity and the Public Media Institute. We really appreciate the kind words and look forward to 2010 and what Proximity Magazine has in the works.
Also we have taken your advice and hired a few free interns to track down this XYZ foundation and get that grant asap. I can only assume that the Xavier Young Ziebold award is biennial so maybe next year 🙂
Off-Topic invites artists, curators, writers, and cultural workers to discuss a subject not directly related to the practice of making art. We would like to welcome Alicia Eler as our latest guest with her post, "Where did all the Tweets go? A conversation lost on Twitter". Alicia is a writer, critic, curator and the Arts & Culture Community Manager of ChicagoNow.com.
Where did all the Tweets go? A conversation lost on Twitter
GUEST POST BY ALICIA ELER
Is it easier and more efficient to host conversations on Twitter or Facebook? This was my only question when I began research for this blog post. Things changed when Twitter lost the conversation, which is ironic because the conversation is the entire point of Twitter.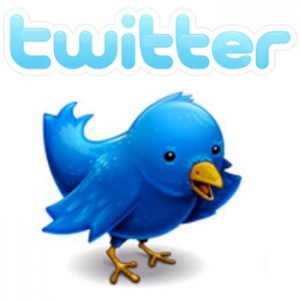 I, @aliciaeler, organized what was to be my first of many conversations about lesbian movies on Twitter. The conversation would begin with tweets from Chicago celesbians @trishtype, the Afterellen.com Blog Editor; lesbian erotic fiction writer @deviantdyke; queer sex blogger @annapulley; freelance writer and bonafide lesbian @jennispinner; and ChicagoNow tattoo blogger/AfterEllen.com music blogger @chubbyjones. Later, we could move to Facebook and try it again. For the Twitter convo, @jennispinner and I came up with the idea to label tweets with hashtag #lezflix. The chat began promptly at 2pm on Tuesday, November 24, 2009, and lasted well over the 10 minutes we had originally planned. Lesbian twitterers from all over the country jumped in. [Read more]
…To Start Off The New Year!
Hey everyone! Hope ya'll had a good hooliday! And now we stride fourth, from the 'Ots to the Onezies, with many a show to look forward too. This weekend (especially Friday) is particularly ripe for new year pickings, so in celebration of all that, I give you…
THE FIRST 10 OF THE NEW YEAR!
(In not much of a particular order)
Happy 'Effen 2010!
1. In Stereo at Rotofugi
I feel like I should hate this work for being hip and trite, but it just makes me think of Rosler's 60-era "Bringing the War Home" too much for me to hate it. Make your own decision.
Reception Friday from 7-10pm. Rotofugi is located at 1953 W. Chicago Ave.
2. 3-for-1: Queen of Heaven, R&R (…&R), and Up Is Down at the Chicago Cultural Center
I am generally in favor of 3-for-1 shows, especially when there are actually three big shows in one place, something few other places do as well as the Cultural Center. On top of that the work looks worth seeing, to boot. Sheesley presents nearly photo-real paintings of puddles, Faier forces confrontation with death (or our refusal to confront it) with his images of mausoleums and their waiting rooms, and Slavick explores carnage in Afghanistan, Iraq, and Lebanon through over painted photographs.
Reception Friday from 6-8pm. The Chicago Cultural Center is located at 78 E. Washington St.