We all know about artists banding together to work as a collective, but who knew that art collectors could operate under similar principles? File this one in your 'how to collect art even when you don't have much money' drawer: An article in last week's Financial Times looks at group-owned art collections in London, New Zealand and Australia. Although clearly not for everyone, collective group purchases of artworks enable households that normally don't make enough to buy substantial artworks to pool their money, purchase works voted on by the entire group, and then share custody of the piece as it rotates from home to home.
It's fascinating to see how collective acquisition practices — not unlike collective art-making — encourage individual members to question their own assumptions about and habitual ways of looking at art. From the article:
"Anne Dekker, who has participated in two groups in Australia – one focused on contemporary artists and the other interested in indigenous art – says the fact that the work is owned collectively allows members to be more honest. "Friends who see the work at your house will engage in a more open discussion. It's less subjective because it's not a comment on your own taste."

Robert Lee, of the London collective, believes appreciation of the work is enhanced by the fact that the various pieces look so different in each member's home – one lives on a houseboat, another in a flat in the city centre, while others have houses in the suburbs ranging from small Edwardian terraces to large Victorian villas.

Rotating artwork around members' houses is not without its problems, however. "Sometimes people get attached to a picture and don't want to see it go. Sometimes we find people are reluctant to hang a work – we'll find it sitting in a garage or a spare room," says Betts. Tim Eastop says for that reason one of the London collective's rules is that "even if there's a piece that we don't like, we have to hang it".

Fox believes "it works best when someone has to hang something they hated. Nine times out of 10 at the end of the six-month hanging period they love it. They are confronted by something challenging every day."
One London art-buying group, which calls themselves The Collective and even has their own website, purchased a work of performance art by Kathryn Fry titled "Home Suite," and hosted rotating performances of it in each member's home (see details of the piece on the artist's website here).
I especially like how The Collective channels the discursive rhetoric of social and collective art-making into the practice of art buying. On their website, The Collective states that they aim to:
nurture the collection of contemporary art in a domestic setting as a more affordable and socially inclusive activity
encourage adults, young people and children to build their knowledge of contemporary art by living with it, meeting artists, visiting exhibitions etc.
build bridges between new audiences, the art market and artists
help to grow a larger, more culturally diverse population of collectors
encourage direct support for emerging contemporary artists and curators.
I wonder if there are any similar groups like this in the U.S.? Wouldn't it be great if someone started something like this in Chicago (hint, hint)?
Via @AiANews.
I don't think I have ever touched on this before but I love soul music from the 60s. It's about one of the only things I listen to. For this week's pick I couldn't pass up this amazing video of Etta James, who I adore, just rocking it out on Something's Got a Hold on Me. If your familiar with the her Chess Records release you will immediately see the differences in this performance. Often a belter, James turns it up on this one. I watched it at least five times in a row.
While we are on the subject of soul music I just wanted to mention my new favorite archival based record company who happens to be based in Chicago, Numero Group. I just picked up five albums from them and are so impressed with their, design, sound, and research. There are not too many people turning out records like these. If you are interested in soul music from the Midwest other than Motown I would highly recommend giving them a shot. Plus they recently published their first book, Light: On The South Side, which takes a look at the history of night clubs on Chicago's Southside through the photographs of Michael Abramson. This year they will also be releasing their first dvd which features the work of Al Jarnow titled Celestial Navigations. Okay, that is all I should say without sounding like I am plugging them too much.

We've received a few very interesting announcements and solicitations over the past few days, so we're passing them along, in no particular order, in the hopes that one or more will be of interest to you. Read on:
1. Union League Civic and Arts Foundation Visual Arts Competition
Currently seeking submissions. The competition is open to artists, 30 and younger, who are currently enrolled in school in the Chicago metropolitan area. Click the link below for guidelines for the Visual Arts competition.
http://www.civicandarts.org/images/uploads/Visual_Arts_Guidelines_2010.pdf
This competition is a great opportunity for young artists to get their work noticed and to make connections with people in the art world. Past judges have included curators from the MCA, the Art Institute, etc. Angel Otero was a Visual Arts competition winner in 2007-2008. For more information, contact Susan Carlson at SPCarlson@gmail.com, or Gina Demke at civicandarts@ulcc.org.
2. Upcoming Slot for ThreeWalls TinkerTank Residency
Because of scheduling complications related to the recent renovations at ThreeWalls there is currently a 9 week window in the tinkertank residency program between March 1st and April 30th that they would like to fill. Residence could take place during any portion of those weeks. Program fees are $150/week. From the website:
"The tinkertank self-directed residency offers creative thinkers and producers a supportive environment in the heart of Chicago's West Loop gallery district. threewalls encourages applications from artists working in all disciplines, scholars researching projects in all fields, and other creative researchers working on projects that would benefit from 3-5 weeks of focused time in Chicago connecting to its rich history and lively community."
There's a really interesting discussion taking place on Tenured Radical right now about the merits of pursuing a Ph.D. when the job market sucks so badly and there is precious little likelyhood that newly minted Doctors of whatever will find a place in academia after graduation. Tenured Radical, aka Claire Bond Potter, is Professor of History and American Studies at Wesleyan University, Middletown, Connecticut specializing in United States political history, queer studies, and the history of gender, sex and feminism. In a post titled "Playing the Blame Game: Or, How Should Graduate Schools Respond the the Bad Job Market," Potter writes,
"While I am deeply sympathetic to those whose dreams of a teaching life are discouraged and perhaps dashed by a foul job market that gets only fouler, I am entirely unsympathetic to claims by disappointed job seekers that they have been lied to and bamboozled by the schools that admitted them to the Ph.D. because they were not cautioned at the very beginning of their education that they might not succeed in finding a tenure-track job.

"In fact, I don't know a single form of professional education that guarantees its graduates a job, whether the market is good or bad, and why Ph.D. granting programs have a special moral responsibility to do this is unclear. But on the job wikis and the blogs there is an emerging consensus that the jobless should have received a waiver of liability with the letter of admission (which Brown University actually used to send its graduate students in English back in the sad old 1980s, and most of us who knew someone who received one were horrified by the practice.) Resentful job seekers , in other words, speak in the language of fraud rather than regret. This I find astonishing, given that an hour of research prior to applying, or accepting an offer of admission, could tell any prospective graduate student what their academic job prospects might look like six to seven years hence."
Potter goes on to argue (quite persuasively, to my mind) that Ph.D. programs should not allow graduate students to matriculate within three years of having attained the bachelor's degree, Ph.D. programs should consider devoting at least one year of graduate support to administrative labor, and and that professional associations, particularly in history and literary studies, need to think about accreditation of graduate programs. A lengthy, fascinating and often heated discussion about the issue follows in the comments section afterwards. The full post is definitely worth a careful read, especially if you're thinking about pursuing a Ph.D. right now (the discussion, while not specifically touching on the art M.F.A. or Ph.d., translates quite readily to that issue too). Related: Duncan's conversation with James Elkins about the Art Ph.d. on Podcast Episode 191.
(Via @briansholis).
Ahoy again, me mateys! Thar be arts in them thar  waters. Yarg! And for this week's briny picks, we'll be casting broad our ores…or something. Ok, enough of that. But really, we are a bit scattered about for this weekend's picks. I'll be driving my trusty Jeep round, dashing through the snow and such. Perhaps, I'll see yo ass out there? And now…
The True and Trusty Top 5:
1. Matters at Golden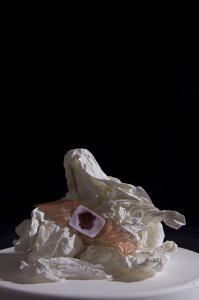 Golden Gallery has impressed me with their selection of work since they opened about a year and a half ago with my buddy Jill Frank's work. This round looks like more of the same, in the good way. Opening this week is a solo show of Joseph Cassan. And really, anyone who can take Kleenex and a bloody Band Aid, put it together, and make me think of Caravaggio is worth a look in by book. Rock on, dear Golden Gallery.
Golden Gallery is located at 816 W. Newport. Opening reception is Friday from 6-9pm.
2. The Dog and the Wolf at Monique Meloche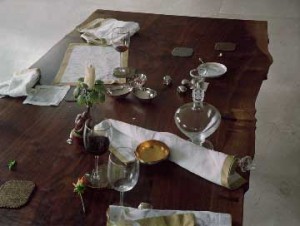 I friggin' love Laura Letinsky. 'Nuff said. She's having a solo show at Meloche's joint. Go see the show.
Monique Meloche is located at 2154 W. Division St. Opening reception is Saturday from 4-7pm.