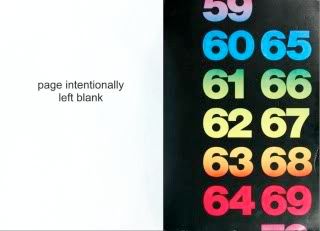 Yesterday LACMA launched a new addition to their website that showcases out of print and hard to find publications. I haven't had a chance to check out a lot of the books that are currently up for their first series "Southern California Art of the 1960s and 1970s" but; I am really excited to see what they will be offering in the following months.
via Culture Monster:
Dubbed the 'Reading Room,' the new site is intended to make books, catalogs and other literature available that would otherwise be difficult to access, according to LACMA. The museum said that the site currently features 10 rare art catalogs, including 'Six More,' the catalog for LACMA's 1963 exhibition on L.A. pop; "Billy Al Bengston," a rare 1968 monograph; and the surveys 'Late Fifties at the Ferus' (1968).
Among the features of the site are the ability to browse the publications page by page, perform text searches and  download the volumes in PDF format.
For more info check out LACMA's Reading Room
Richard Rezac has a wonderful exhibition up right now at Rhona Hoffman Gallery (through February 2, 2010). In addition, the Modern Wing of the Art Institute is currently displaying six Rezac sculptures (spanning the years 1985-2008) from its Collection — they'll be on view through early May. Rezac had a survey exhibition at the Gahlberg Gallery of the College of DuPage last year (the exhibition's catalogue, which contains an enlightening essay by James Yood, is available for download on the Gahlberg Gallery's website; just click on the link above to go there).
Richard generously agreed to answer a few questions about his latest works via email. I'm very grateful to him for taking the time to provide such illuminating and thoughtful responses.
You won the Rome Prize fellowship in 2006, which enabled you to travel to Italy to study Roman architecture in greater depth. To what extent did having a more sustained, daily interaction with Roman architecture impact your work?
That 11 month experience in Rome and in numerous parts of Italy has had a strong, and I trust, lasting effect, though because it was so substantive, I still do not know the extent of the influence. My purpose was to study the Baroque architecture of Francesco Borromini, whose 11 or so buildings are all in Rome. My approach in taking this in was naturally one of an artist, not an historian, though I certainly read what I could about his work and that of his immediate predecessors and those he influenced, especially Juvarra and Guarini in Turin.
The great pleasure was in seeing Borromini's architecture (and eventually a large group of drawings in Vienna) on a near weekly basis, allowing me to feel aspects of his accomplishment and study many details. I was also privileged, by the American Academy's offices, to gain entry to parts of his buildings normally off-limits.
The effect on my sculpture is not so clear to me, other than a continuation of some complexity – several materials or layers or juxtaposed forms within one work resulting in a, perhaps, more broad, gently argumentative, dynamic. In the long arc, though, of my sculptural language from the past 25 years, there has been an evolution from simple and concrete form to more extended, thin, linear and colored form, so the desire to be around Borromini's architecture was in some sense anticipated by my work before I went there.
Along with architecture, I often think of interior design when viewing your sculptures. Some of them, for me, bring to mind things as mundane as contemporary kitchen and bathroom fixtures! After coming home from viewing your show, the kitchen faucets, towel racks, and cabinet knobs in my house–the particular geometries of their placement and their relationship to my body–all of a sudden stood out for me. Even the old-fashioned diamond tile in my bathroom floor started to "dance" for me in new ways. Am I being overly-specific here, or do you yourself ever draw inspiration from commonplace domestic interiors?

There is certainly a resemblance to ornament, facets of interior design objects, furniture, and architectural detail, such as moldings, in my sculpture of the past 6-8 years. I attribute this mainly to geometric form – the basic language in which my sculpture originates. Perhaps most manufactured applied design objects rely on the ease of elemental, efficient geometric forms. So there is an overlap, to be sure, between the common domestic accessories often handled or those elements produced in multiples as in tile flooring and the appearance of some of my forms or combinations.
I consider most of my sculpture, and all of those that are untitled, to be abstract and they may only arrive at some suggestiveness or association to domestic elements when completed and then exist in our space. I have rarely begun a work with the intention of representing another existing form, if anything it is in pursuit of a persona or complex phenomena. I am most interested, in as much as is possible for me, in starting with nothing and finding a satisfying form or arrangement.
Off-Topic invites artists, curators, writers, and cultural workers to discuss a subject not directly related to the practice of making art. We would like to welcome Molly Schafer and Jenny Kendler who are tag teaming this post with , "Snakes on a Plane, Lemurs on a Plate: How Human Beings' Actions Can Have Unexpected Consequences for the Natural World". Both Molly and Jenny are Chicago based artists that have collaborated on numerous projects. Their most recent endeavor is The Endangered Species Print Project, which has recently been featured on numerous blogs. ESPP raises money through limited-edition art prints for critically endangered species.

Snakes on a Plane, Lemurs on a Plate: How Human Beings' Actions Can Have Unexpected Consequences for the Natural World
Molly Schafer and Jenny Kendler
If you've heard much about Guam, you most likely know it as the U.S. Territory that was the site of the Battle of Guam. In 1944, the U.S. took back possession of this tropical West Pacific island from the Japanese, who had occupied it following the attack on Pearl Harbor. You may have also heard the interesting story of a Japanese soldier, Shoichi Yokoi, who was discovered by hunters in 1972, having lived in a cave for 27 years.
Although Shoichi's story is probably one of the strangest to come out of Guam, during his 27 years living in Guam's forests, he would have been an intimate witness to one of the island's saddest stories.
Let us imagine our unlikely protagonist on the night of the American invasion (with no accounting for exact historical accuracy): Our Shoichi hears shouts from the beach as the Americans land, and being a simple kind of nature-loving guy, and wanting no part of this fuss, he grabs a canteen and a flashlight and makes his way deep into the forest, nimbly leaping over lianas and roots down the forest paths he's grown to know during his time on the island. He heads to a cave that he had found some months before, where he'd frequently camped out and laid in some supplies, most importantly, a pair of binoculars. You see, our make-believe version of Shoichi is an avid bird-lover. So, while our Shoichi was evading American troops in his grottoed refuge and keeping his ears open for the sound of shots or approaching footsteps — as darkness settled heavily on the steamy tropical night, he listened with a keen pleasure to the rich chorus of tropical birdsong filling the air.
If you or I were to walk Shoichi's favorite paths through Guam's forests today, we'd have a very different experience. Sure, you'd see all the hallmarks of tropical forests worldwide: lush vegetation, a truly huge variety of living growing things, moisture hanging thick and low in the warm tropical air — but then as your ears tuned into the sounds of the forest and your eyes strayed upwards, you'd notice two very unusual things — two strangely interrelated changes to the forest, with a single historic origin. Yes, you might hear the sound of insects, the sound of leaf litter being crushed under your feet, but you'd hear no birds. And as you looked upwards through your binoculars, to spy out these unusually silent birds, you'd catch a sticky web across your face, and wiping it away, you'd notice that there were webs everywhere. Guam is a tropical island now devoid of the music of birdsong and filled with enormous colonies of spiders. Clearly, these are the signs of an environmental imbalance — but what could be the cause? [Read more]
Hello again, my lovelies. So, as I was sayin' on my gallery crawl blog, I was a little worried Monday when I started putting the listing together. At that point it was looking a little bleak. Thankfully that situation has remedied itself. It's always nice when the weekend picks are relatively easy, and this weekend there is so much good stuff that picking was easy, it was whittling down that was hard. Here are a few places that still look awesome, but didn't make it to the Top 5: Visions from a Foxhole at Pritzker Military Library, Rune at Ben Russell (dude, get a website, please! or if you have one, tell me where it is), We Are the World at Roots and Culture, and Ethan Greenbaum and Katrin Sigurdardottir at The Suburban. This is seriously the Alt. Space Weekend! As an odd testament, not one opening (that I could find) in River North. So go out, support your local project spaces, alternative spaces, apartment galleries, garage galleries, corners-of-living-rooms-with-art-badly-hung-in-them places, and enjoy the (inevitable and awesome) cheap beer. SALLY FOURTH!
1. ChicagoLand at PeregrineProgram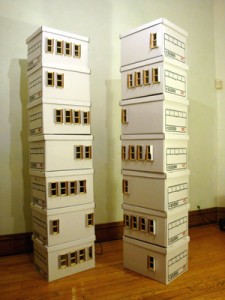 So I saw Daniel Lavitt out in the streets last weekend and asked him about the show. I'd seen the announcement card around (you've probably seen it too, him staring Godzilla-style through a tiny window), but wasn't sure exactly what the hell was going on. Well, my friends, this stuff looks like a whole pile of awesome! I love miniaturized work, it's always a bit creepy and awkward. For this work, Lavitt is not only miniaturizing Chicago, he's doing it to culturally and personally significant places AND wiring them along an economic gradient. I've never been to this space, so I'm super stoked on seeing a new venue and Lavitt's new work.
PeregrineProgram is located at 500 W Cermak Rd, #727. Reception is Friday from 6-9pm. [Read more]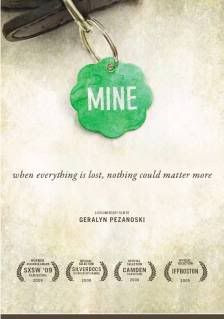 In 2005 when Hurricane Katrina hit the Gulf Coast it left about 80% of New Orleans flooded. Approximately 1,800 people lost their lives and almost five years later the community is still rebuilding. There are not too many subjects that I continue to source out documentaries on but Katrina and it's aftermath has produced some great docs including Spike Lee's epic, "When the Levees Broke", and the 2008 winner for best documentary at Sundance, "Trouble the water". With her debut feature film Geralyn Pezanoski adds to the growing collection of films about Katrina but instead of first person narratives Pezanoski focuses her lens on the pets left behind. Aptly titled "Mine", which won the SXSW Audience Award for Best Documentary Feature, showcases not only the rescue efforts of these animals but the complications many pet owners faced when they returned home.
When the citizens of New Orleans were forced to evacuate, many people were not able to take their pets with them. According to the film, "in New Orleans alone, an estimated 150,000 animals died in the aftermath of Hurricanes Katrina and Rita." Many of the animals that did survive were rescued by volunteers and shipped to shelters throughout the country. We meet a handful of people that have returned to New Orleans and are looking for their pets. Pezanoski does a great job finding subjects and shows a great amount of compassion when portraying their grief. 80-year-old Gloria was forcibly removed from her home after it had flooded because she would not leave her black lab named Murphy Brown. Jessi James rescued 20 members of his family but had to leave his dog JJ, short for Jessi Junior, behind. As they search for their dogs, all of which have been adopted by new families, we see the same discrimination that has been associated with the Katrina events unfold again. Many of them cannot afford lawyers to help with the return their animals. But, we soon see complex networks of people from around the country form that handle the daunting task of searching for one pet at a time. [Read more]