The community & arts organization in Atlanta LiFT held its first Art Salon in November 2014 and has been holding them once a month since. The most recent, #CreATL, featured glass artist Marselle Harrison-Miles, R&B singer ASH who just dropped her first EP, The Perfect EP, DJ D LaShae, and the entrepreneurial initiative Human Capital Theory that focuses on community-building through sustainable economic development which encourages professionals to donate their expertise and services to fledgling businesses.
Each Salon, though there have been only five, draws a sizable crowd. (Let me tell you, it can get CROWDED!) I have been to a few of these events and know two of the founding members: Clint Fluker, who is also in my doctoral program at Emory University – The Graduate Institute of the Liberal Arts – and Nasim Mahboubi Fluker.  The third founder is Miriam Denard. Since I think what they're doing is exciting and also historically important in terms of its relationship to and with Atlanta's vibrant black community, I decided to get a conversation going with them. Here are the results of that discussion: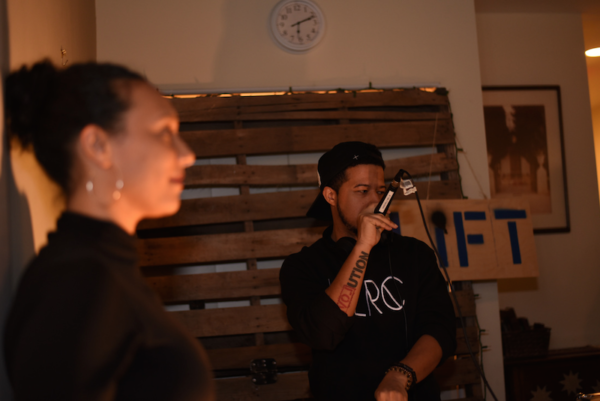 Meredith Kooi: What prompted you all to start LiFT?
LiFT Art Salon [Miriam Denard]: Plainly, I think Nasim and Clint, and at the same time myself, were all in need of something to DO. Something that wasn't going to a bar or going to a club or a concert. Something that felt cool and fun but also mature and important and worth our time. So, when you sit there and think to yourself, "if there was something I could go to, some event that had other people that are like me, good music, and actually was about something that I'm into or that I care about, I would be there in a second." So, when we all thought about the things that each of us are passionate about, LiFT came about. Music, Art, and Community projects each play a significant role in each of our lives so everything came together organically like that. It was like a marriage of all of our networks and passions. We always joke about how this is really about giving people something cool to do on a Sunday on Edgewood that doesn't involve drinking and partying. There's more to Edgewood than that.
MK: What are its main goals? What are you hoping to achieve?
LiFT [Miriam Denard]: I think one of our main goals with LiFT is to showcase local talent. Atlanta is known for a lot of things right now through the media and the music industry. But we feel…we KNOW that Atlanta has so much more to offer artistically than what is at the forefront right now. This city is full of incredible DJs and musicians, artists and poets, and really special and unique community projects and developments. So, if anything, we hope that holding these salons every month will raise awareness about the Atlanta that we all know and love and will give people a venue to showcase their talents and their positive contributions to society.
MK: What is the community you are trying to reach?
LiFT [Miriam Denard]: Our main demographic is young professionals. That's who we are. We are all in our late 20s early 30s (actually I'm the only one in my 30s) and we want to give our friends and colleagues something interesting and different and fun to do. We also have a lot of friends or people in our network that are insanely talented, so we are also trying to reach out to them and give them a stage to share their talents. We believe that our generation, these educated, talented, engaged young adults who are seeing what's going on in the world and wanting to do something about it, or are super passionate and talented at something and want to make a career out of it, need a catalyst. To us, the catalyst is getting all of this energy into one room and then just watching what happens. Hopefully the outcome will be something very important.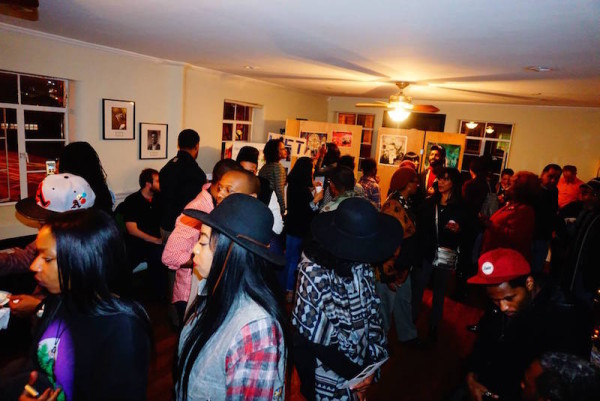 MK: What are the issues LiFT is trying/hoping to tackle? Your January salon #ferguson2ATL addressed the important issues concerning race and police brutality. In February it was #ATLsoulfoodie which addressed food, food access, and other related topics. Can you talk a bit about the politics of LiFT?
LiFT [Clint Fluker]: As an organization, we are concerned with helping to shape an Atlanta that is not only welcoming to artists but also encourages an exchange of ideas between artists and other professionals in different fields. It is important to remember that art fosters creativity and enables individuals from all walks of life to recognize the connections between us all that often lay hidden amidst society's political structures. This is why we use a salon model. It enables us to provide a platform where people can relax in a creative space, participate in conversation about an intriguing subject matter, and hopefully meet somebody new in the process. The objective here is to foster a community of engagement where people gather to understand issues like police brutality and food access from an intellectual AND artistic point of view. So, in that sense, LiFT is a nonpolitical entity in that we shy away from making any explicitly political statements. Rather, our aim is to inform and inspire the people who attend LiFT events to continue conversations started at our salon and create their own mechanisms for change throughout the great city of Atlanta.
MK: Can you talk a bit more about the category of "young professionals"? Does this include the artists that show their work? Or does this describe the audience?
LiFT [Clint Fluker]: The category of young professional is a necessarily broad one for LiFT. We consider anyone with a youthful spirit and a desire to create something new in the city a young professional. Often, when we think of "young professionals," we picture a 25 year old in a suit eagerly putting together PowerPoint presentations and attending mixers for networking purposes (we still do this ourselves…daily). These people are indeed young and professional, but it's a very limiting view of the category. Activists, artists, students, and entrepreneurs are also part of this category, and we want to make sure that we attract as many different kinds of "young professional" people that we can. In a way, our salon format is designed specifically to break out of the "mixer" routine and attract young people to have conversations with each other for purposes other than professional networking.
Though the majority of people who attend our events are like us, between the ages of 20 to 40, we are just as interested in providing space for a graduating senior moving into the job market as we are for a retiree who has recently found the passion for painting. Our aim is to engage and encourage individuals who are taking steps in new and varied directions. Indeed our audience skews young, but our goal is to provide a family-friendly environment and we have found that families often bring their children to our events. Some of the most fruitful conversations at LiFT have been initiated by children still in grade school. Many of the most eye-opening questions during our salon have been posed by our more mature attendees.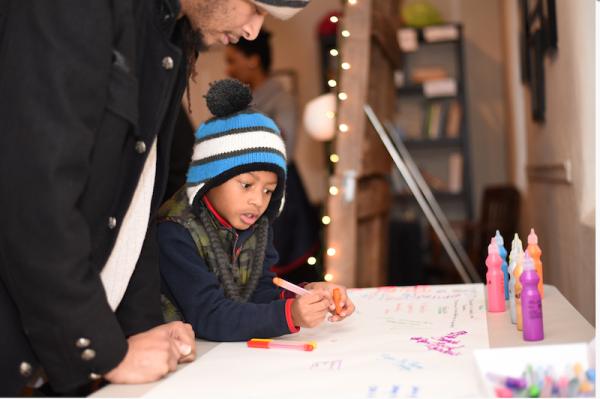 MK: The first LiFT salons were held at the Atlanta Baha'i Center on Edgewood, right in the middle of a wild nightlife scene. What prompted the decision to hold them there? What is the relationship between the Center and the surrounding area?
LiFT [Nasim Mahboubi Fluker]: The Atlanta Baha'i Center is actually one of the older buildings in the Edgewood Corridor. It was built in the 1940's by an African American Baha'i Architect and his son because during that time in Atlanta's history, it was very dangerous for the interracial Baha'i community to meet in homes. As a result of numerous threats from white supremacist groups, the Center was built in the bustling African American business district. It was this rich history of creating inclusive spaces for progressive thought and building diverse communities that attracted us to the Baha'i Center.
On a more personal note, I am a member of the Baha'i Community, and my parents actually met in the Center in 1978. I personally think that faith-based communities have a role to play in contributing to positive community growth.
That said, as an organization, LiFT is a mobile entity. Our March LiFT, #CreATL was held at the Decatur ArtHouse, a great organization with an open floor plan that really allowed us to spread our wings in a new section of the city. We are grateful that they too have opened up their space to us as we try to bring the LiFT experience to new areas. We are very interested in partnering with different organizations around the city to get the word out about how important it is for young professionals, artists, and activists to work together on the issues facing our city.
MK: LiFT has only had a handful of salons so far, but you've been able to draw 150+ people to each event. Why do you think this is? What, if anything, have you homed in on that wasn't already going on in Atlanta?
LiFT: I think Atlantans (especially 20-30-somethings) are thirsty for the type of space we have been able to create: a space that is inviting, creative, and at times challenging. We have found that by finding connectivity between the arts and social issues, we have been able to appeal to a wider audience than if we were just focusing on one or the other. We really wanted to create opportunities for young professionals and artists to dialogue because we found that these two communities were way too segregated. We just felt like in order to begin tackling some of the most pressing social issues in the city, we really needed to foster the nexus between creative energy and institutional knowledge. We are still trying to nurture more dialogue at our events – and our real objectives for LiFT are to inspire more people to take action and exercise agency in creating the Atlanta they want to live in. This sentiment [was] the impetus for our March Salon #CreATL.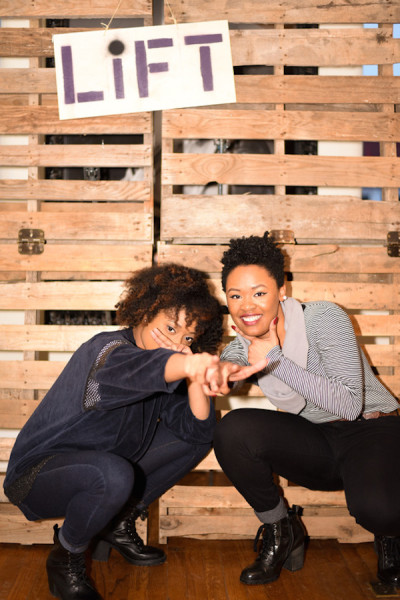 MK: What plans do you have coming up? What else is on the horizon for you all? Also, what's behind the decision to title each salon with the #?
LiFT [Nasim Mahboubi Fluker]: We currently have a few exciting partnerships in the works. We will be partnering with the Hammonds House Museum for a quarterly series starting this summer called #GetLiFTed. We are thrilled to be able to collaborate with such an important cultural institution in Atlanta. This partnership will also allow for our artists to have an opportunity to display their work as part of our #GetLiFTed campaign for longer periods of time. Currently, as a pop-up, the art goes up and comes down in an evening. Now, [with the partnership with Hammonds House], artists may be able to show their work for as long as a month in an actual exhibition space. We are experimenting with our event format so look out for brunches, garden parties, and even more intimate salon-style dialogue sessions popping up around the city. For those interested in donating to this campaign, they should visit our Power2Give site!
The hashtags are just fun – they help us stay clear about the monthly theme and help folks tag us on social media.
MK: I'm also wondering if you would add some sort of statement about LiFT's engagement with race and particularly where you see it within the conversation surrounding/about African-American art and Black art or Black aesthetics. Clint, I remember you mentioning that you didn't want LiFT to be recognized as being only a Black organization. What are your thoughts on LiFT's position within the ecology of art and race in Atlanta?
LiFT: We explicitly, though not exclusively, highlight young black artists, activists, and entrepreneurs. A large part of the contingent that comes to our events might identify as black (we don't know all of them personally), and we are happy for it. We market to them on purpose. We feel that this is a community that wants and needs to be engaged, especially considering Atlanta has a sizable black population and an incredibly rich history as it relates to civil and human rights issues, the development of black-owned businesses, and the forging of the country's leading HBCUs [Historic Black Colleges and Universities]. However, we are not looking to carve out a place in the larger abstract notion of "blackness" or "black aesthetics." There are people and organizations dedicated to that cause, but that is not our mission. We wish to engage people in concerns that go beyond just race, but also extend to varying socio-economic backgrounds, sexual orientations, gender perspectives, and spiritual practices.
Which leads me to another point, we have attendees and have featured individuals from different backgrounds. Our planning team includes members from different backgrounds. Everyone is welcome to attend LiFT events and participate to the degree they wish to be involved. Thats what LiFT is really all about, its a welcoming place where people can gather and exchange ideas. When it comes down to it, we are really just giving the people what they want, and what we want. Its a ball! But, I don't have to tell you that, Meredith, you have been to LiFT. Keep spreadin' the word!
Past LiFTS
November: #NeighborhoodArts with visual artist Shady Patterson; musical performance by St. Beauty (Wondaland); and special guest Dr. Candy Tate from Emory University
December: #GeorgiaSoul with visual artists Carolyn Grady, Brian Hebert, and Masud Olufani; DJing by Agent 45; and special guest Brian Poust (aka Agent 45).
January: #Ferguson2ATL with visual artist Julian Plowden, DJ Xavier BLK (Werc Crew), and special guests from Atlanta Word Works.
February: #ATLSoulFoodie with visual artists Gerald Lovell and Jurell Cayetano, DJ Jeremy Avalon (Werc Crew), food artists Jamila Crawford (Earth Candy) and Will Edmond (Werc Crew), and special guest Atlanta Mobile Market.
March: #CreATL with visual artist Marselle Harrison-Miles, musical performance by ASH, DJing by D LaShae, and special guests from Human Capital Theory.
Guest post by Tiffany Funk
Kanye West recently disclosed to France's Clique TV that the School of the Art Institute will grant him an honorary doctorate during their May commencement ceremony. Walter E. Massey, President of the School of the Art Institute of Chicago, invited West on March 4 through Twitter. As of the writing of this essay, the news has been confirmed by a variety of sources, including the Chicago Tribune.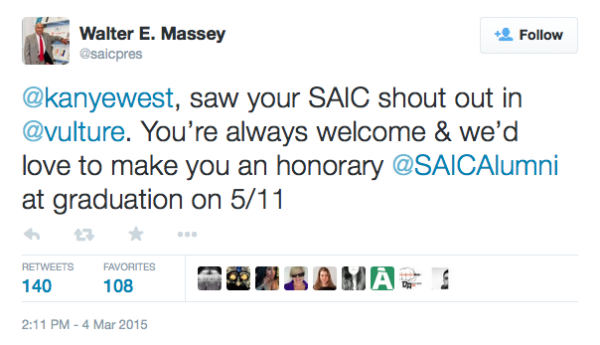 Full disclosure: I am pursuing a PhD, hoping to get my own doctorate in the fall. At first when I heard this, I rolled my eyes so hard they almost flew out of their sockets. I like Kanye West's music enough, but I'm no super fan. I'm not directly affiliated with the School of the Art Institute, but I'm close with many who are. I usually avoid tabloid press, but the honorary degree rumblings piqued my interest when I noticed the art blogs picking up the story and running with it. Then my Facebook feed lit up. I read countless responses from people defending the decision, deriding it, or simply questioning its veracity. Even while writing this, my opinion changed several times. Regardless, the whole issue seems to have hit a nerve amongst artists, and certainly the art community in Chicago.
Why is this? What is it about Kanye West and the School of the Art Institute that we feel this kind of immediate gut reaction? Why the vitriol? How can we approach this critically, getting to the heart of the real crisis here—that is, if there is one at all?
Here are a few of preliminary questions I asked myself and quickly dismissed:
Q: Does an honorary doctorate mean the same thing as a "regular" doctorate?
A: Of course not. Next.
Q: Does it matter than West never went to the School of the Art Institute when he was a Chicagoan, but instead went to the American Academy of the Arts and was—supposedly—a Columbia College Chicago dropout?
A: Not at all. (Besides, aren't we all supposed to be applauding successful people who self-identify as dropouts? Bill Gates has an honorary doctorate from Harvard, and he dropped out sometime around 1975.)
Q: Is what Kanye West does "art"?
A: Maybe—Yes—No—ugh, are we still asking these kinds of questions?
Q: Should an institution that does not grant doctorates be able to confer honorary doctorates?
A: Why not? If it's an honorary award, any institution should be able to confer any damned award they want. (Again: an honorary doctorate does not make one a PhD.)
The tradition of giving honorary doctorates has been around for a very long time, at least as long as the institutional convocation ceremony turned into an opportunity to invite prestige guest speakers. Many public figures have been awarded honorary doctorates for any number of reasons. The School of the Art Institute has in fact awarded many honorary degrees; last year's recipients were Theaster Gates, Ellen Sandor, and Franz Schulze. Gates, of course, is a well-known Chicago-based artist and educator, and Sandor and Schulze are both Chicago-based and heavily associated with SAIC. Many of the higher-profile past recipients have some sort of Chicago connection, or had even attended SAIC: for example, Apichatpong Weerasethakul (director of Uncle Boonmee Who Can Recall His Past Lives) received an SAIC MFA in 1998; Gahan Wilson was born in Evanston; Eric Fischl worked at the Museum of Contemporary Art as a security guard in the 1970s; Jeff Koons also attended SAIC before moving to NYC to become a commodities broker. However, not all honorary recipients are affiliated with Chicago or the Art Institute at all: Patti Smith, for example, is most associated with New York (have you read Just Kids yet? You have to read it). Yoko Ono's closest Chicago connection is that she headlined the Pitchfork Music Festival in 2007.
So why is Kanye West different? He has a strong Chicago connection. He is a wildly successful recording artist. He's shown himself to be a fascinating figure in the visual arts, to say the least. Clearly it's not so much that West's work isn't worthy of recognition, but seems to be an issue of what he represents. It brings up some really interesting questions regarding trends and kinds of art practice, particularly the business of art versus the more locally-recognized radical politics of social practice that begins in so many graduate programs. It brings up some interesting comparisons between the practices of more recent honorary recipients—Gates et al.—and the multifaceted work that we've seen from West.
What West represents is certainly not a social practice or radical politics—he's pretty clear, or clear in that he is so very, very unclear—that he is largely uninterested in social issues. In the same interview as his declaration that he is receiving the honorary doctorate, he states about race,
"Racism is a dated concept. It's like a silly concept that people try to touch on to either… to separate, to alienate, to pinpoint anything… It's stupid. The real true freedom isn't in the words."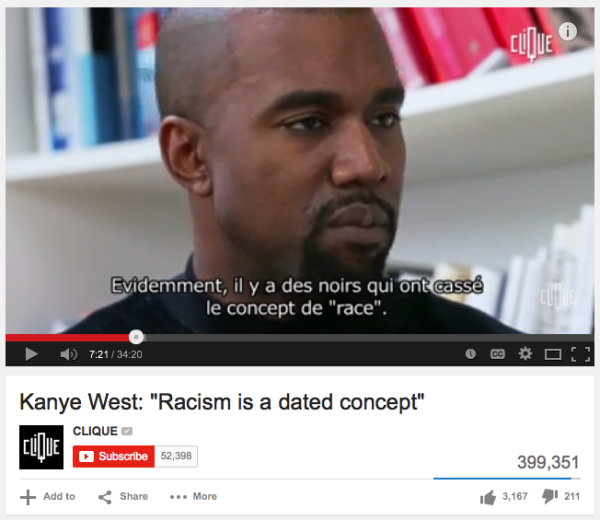 Many have read that statement as being far too flippant about race. But should we pillory West for his reaction to conversations about racism? It is old-fashioned. It is embarrassing that we still have to talk about it. And, yeah, it is stupid—not because race doesn't exist, or that it isn't still an incredibly embattled and complicated issue in America, but because racism as a concept is itself is a shorthand that allows us sidestep conversations about alienation and segregation. Kanye West is tired of talking about it, and doesn't want his work simplified in such a manner. Can you blame him?
Is this dismissal of racism part of the problem? Is it because West refuses to become an advocate, a definite voice against racism, and instead dares to focus upon a more autobiographical practice, that he is so often defined as self-absorbed and vapid?
Perhaps there is something in the fact that West is still relatively young, and often taken to task for being without the sort of self-reflection that seems to come with age. Perhaps it's because he announced the degree conferral himself before it was announced officially, and in that announcement, seemed to intimate that he feels he deserves it. Perhaps he didn't seem humble enough.
Perhaps it's because he's black.
Perhaps it's all those things, and because he's black.
Since many who are better equipped than I have taken on the issue of Kanye West and race, I propose that we not make this a question about him, his work, or the fact that he may be receiving an honorary degree—besides, if you were offered an honorary degree, would you say no?—and instead interrogate the motives of the honorary degree-granting institution. How/why should an art institution confer honorary doctorates, and what does that mean symbolically for the institution? And more importantly, what values and attributes does this privilege, and who does it privilege?
In shifting the attention from West to SAIC, here are a few more specific questions I propose we focus upon in future discourse as the 2015 commencement approaches:
1) How are people of color included/excluded by an institution that is known both for its art and for its prohibitively high tuition?*
2) Why give an honorary award to such a high-profile person of color? Is this honorary award in addition to, or in the place of, making institutional strides toward improving diversity in its student population?**
3) How does such a high-profile awardee persuade or dissuade matriculation and/or individual and corporate donation?
4) What communities/hegemonic structures does/should an art institution actually serve?
5) What does the conferral of honorary degrees mean for art institutions in general, and does this have any real impact on art education, practice, and discourse?
In the meantime, I'll be over here, listening to Graduation.
---
* Undergraduate tuition for SAIC, as of Fall 2015, is $43,140 for the year.
** The Fall 2014 enrollment statistics, according to SAIC's own website, are as follows:
American Indian or Alaskan Native 0.4%
Asian 11.2%
Black or African American 3.3%
Hispanic or Latino 7.8%
White 42%
Multiethnic 2.4%
Race/ethnicity unknown 3.6%
1. Weird Telephone, Only Dials One Number at The Nightingale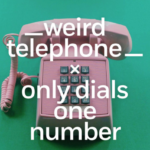 Presented by VGA Gallery.
The Nightingale is located at 1084 N. Milwaukee Ave. Event Saturday 5-10pm, auction at 7pm. $5.
2. Our Debt, Your Debt at FLATspace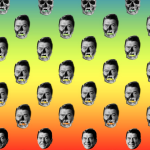 Work by William Schweigert.
FLATspace is located at 2233 S. Throop St. Reception Friday 6-10pm.
3. BEING ESSEX FLOWERS at ADDS DONNA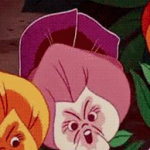 Work by Justin Berry, Phillip Birch, Amanda B. Friedman, Heather Guertin, Tatiana Kronberg, Joshua Smith and Lizzie Wright.
ADDS DONNA is located at 4223 W. Lake St. #422. Reception Sunday 1-4pm.
4. View With a Room at Heaven Gallery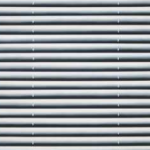 Work by Mika Horibuchi and Dan Rizzo-Orr.
Heaven Gallery is located at 1550 N. Milwaukee Ave. Reception Friday 7-11pm.
5. Spine Crack Transfigure at Roots & Culture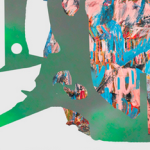 Work by Daniel Luedtke and Ben Seamons.
Roots & Culture is located at 1034 N. Milwaukee Ave. Reception Friday 6-9pm.
an Essay by Vanessa Gravenor
Is liberation a blessing, or a curse?
A curse disguised as a blessing, or a blessing feared as a curse?
Zymunt Bauman[1]
I.
The Internet is as anarchist zone where virtual creolization and dissolution of cultural boarders can occur ad infinitum facilitating intellectual freedom by masses access to global commodity culture. Yet a typical and altogether problematic West/ East and first world/ third world dichotomy emerges when considering Cuba's use of the Internet, highly moderated by the government, to the proper "West's" open and constant access. Two exhibitions, In the Absence of a Body (February 2015) and Cuban Virtualities[2] (December-February 2014), explore the complex semantics of freedom through virtual mobility and emigration asserting but also blurring this traditional dualism. Cuba as a country has a unique relationship with digital technology as connectivity and access are largely withheld from general populations and heavily moderated by the state. Historically, Cubans also faced impingements upon travel, mobility to the U.S. through the embargo, and immigration. For these reasons, America could be characterized as a designated promised-zone that, if ever reached, would help to facilitate liberation. The Internet and digital media can be seen as another gateway to mobility and freedom. The artists Alejandro Figueredo Diaz-Perera (In the Absence of a Body) and Susana Pilar Delahante Matienzo (Cuban Virtualities) reverse this traditional dichotomy by drawing the audience attention to the artificial promises of these thresholds and desired states. While not present directly, the post-Snowden discourse that ensued after the wikileaks scandal offers another enforcing layer that freedom and endless free-speech in the West might in fact have much more in common with Cuba's overt censorship.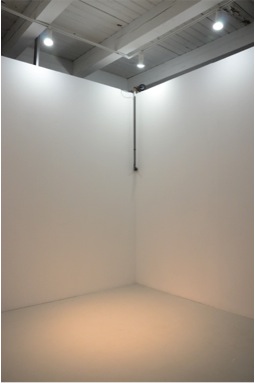 II.
During In the Absence of a Body the artist, Alejandro Figueredo Diaz-Perera, explores his current status as a Cuban émigré in the United States. With a childhood marked by the Cuban embargo and the collapse of structures in 1991, Diaz-Perera has in many ways broken through the invisible iron wall and reached the ultimate post-modern utopia through travel as an artist: acceleration and mobility.[3] Yet, it seems that he commiserates this freedom because he is cut off from his family and political moments. It is for these reasons that his installation takes on the appearance and the motif of the prison cell where he has taken up occupation for the twenty-day duration of the show.
In Diaz-Perera's installation and performance, he is invisible from the audience's gaze yet present behind the false wall of the Chicago Artists' Coalition gallery space, where he pulls a make shift levy system attached to a microphone. The undulating pulling motion causes the microphone to thud loudly against the wall— a rhythm reminiscent of a beating heart or an internal pounding of the head when the body's equilibrium has been overturned. Diaz-Perera's performance is reminiscent of Vito Acconci's Seed Bed and other early performance artists such as Valley Export's early occupation of architectural spaces. It is the austerity of The Silence (…) is overrated, part of the larger installation of In the Absence of a Body, that links it immediately to 1960's and 70's performance artists and also connects Diaz-Perera's work to earlier generations of action-based performance artists such as Tania Bruguera (Cuba) and Regina José Galindo (Guatemala).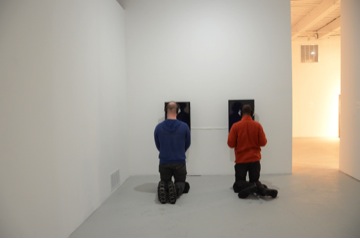 The Silence (…) is overrated, a performative gesture, is founded between two auditory documents from activist figures that have also suffered a loss of voice and silencing by the government. The audience is asked to kneel in order to hear the audio from the two activists figures inviting them to make a choice between hearing what officials call dissident speech and what others call proclamations of freedom. When the viewer makes the choice to kneel down, he or she is confronted with a strange dialectic between being in a position of crouching that can be used as a tool of political torcher or the spiritual position of prayer. This dialectic is mirrored by the artistic choice to only include two voices and accounts: that of Tania Bruguera, a performance artist living in New York but from Cuba, and Assata Shakur, an American and member of the former Black Panther Party and Black Liberation Army who resides in Cuba as a political refugee. Both attest to their homeland as a place of surveillance and political assailant on free speech and property. Particularly, Bruguera testimony demands that the government release performers and the artist's property, which were seized in the unrealized performance #YoTambienExijo (I also Demand) in December 2014.
There are no images attributed to the sound that the viewer hears through headphones. Instead a black monitor screen with white text that translates the speech either English or Spanish depending on the language of the speaker. This suggests that experience and testimony can always be mirrored into another lens by language and through this simple refraction can turn into incriminating testimony. In this case, it is Shakur attesting to the hegemony of the American police mirrored against Bruguera's assertion of Cuba as a police-state. The black TV-monitor is oddly reminiscent of a narrow window, the type of geometric form that one would find in a gothic cathedral, and yet in reality is a threshold for a virtual world that has been foreclosed.
Yet to view Diaz-Perera's work as a closed circuit triangulated work would be to miss the political context or the absent link. This missing link is Bruguera and her uncompleted and censored work #YoTambienExijo (I also Demand). Writing on the failed work's reception, Coco Fusco discusses #YoTambienExijo, a performance that was planned to take place in Revolutionary Square in Cuba but was censored by the government, as a work that neither the Cuban world nor the Western world understood because of the restricted means of communication and organization imposed by the Internet.[4] The plan for the performance, Fusco explains, was to place a large microphone within the public square for citizens to step up and call the government out for its crooked and what Fusco calls "draconian" censorship. Instead, Cuban citizens criticized Bruguera for creating a grand gesture that was completely out of touch with the possible realms for real subversive actions. Exhibition planners of Cuban Virtualities, J. Gibran Villalobos and Wil Ruggiero, explain that Cuban artists toe the line between political action and submission so that this vacillation between two oppositions could somehow function as a safety net against incrimination. Diaz-Perera hints to this paranoid conflicted zone and space by borrowing key motifs in his In the Absence of a Body. His overturned microphone becomes a direct referent to Bruguera's unrealized performance that in many ways was supposed to fill in what she presumably deemed as a public space vacant of expressed concerns. Yet, since Bruguera lives most of her time outside of Cuba, she is seen as a cultural elite and her extreme plans for the performance in December of 2014 only exacerbated an already heated situation. Therefore, Diaz-Perera's work can be seen as a complex meditation but also response to Bruguera's failed gesture. In his iteration, the microphone itself has lost all of its utility and can only create a deafening music.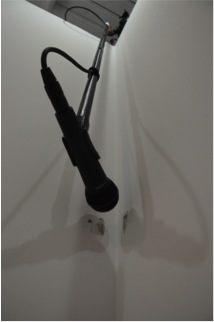 III.
Cuban Virtualities, a traveling exhibition that was on view at Sullivan Galleries from December-February, explores the individual's relationship to the Internet. Unlike Diaz-Perera's work, which questions the role of the émigré caught between two opposing yet similarly violent worlds, Cuban Virtualities focuses on individual's access to the Internet and how this can be a tool for political expression. Cuban Virtualities suggests a similar US/Cuban dualism as the viewer experiences the works from a point of estrangement.
Geert Lovink authored a 2014 article in Journal #54 of e-flux where he claims that the digital world had returned to a point pre-1984, which he then explains as the year before the apple computer had been introduced and marketed to the individual.[5] Before, he states, computers were large expensive machines for corporations and were not associated with file sharing programs, chat rooms, and borderless connections between individuals. Geert Lovink writes "Now, thirty years later, the computer is once again the perfect technical instrument of a cold, military security apparatus that is out to allocate, identify, select—and ultimately destroy—the Other." Lovink is writing for a journal based in the U.S.—the proper West— that unlike the Cuban artists at hand, enjoys a very specific so-called freedom.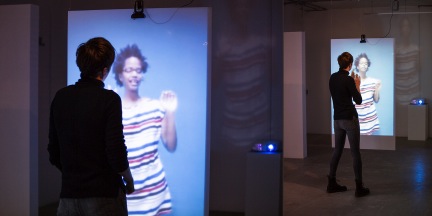 On the island where the artists of Cuban Virtualities live, their experience of the Internet is radically different than that of the United States. The Internet is overtly monitored, withheld, and often times not available to the individual. In Cuba, the Internet never reached a post-1984 position, yet that is not to say that individual expression ever suffered, rather that individual expression on the Internet was always elevated to political action. For instance, in Mirror of Patience, Susana Pilar Delahante Matienzo is present in the gallery through a live feed. Exhibition organizers J. Gibran Villalobos and Wil Ruggiero explain the huge monetary negotiation that had to take place in order to allow Matienzo to be present in the live feed. They explain that ultimately a company called ONCuba Magazine provided sponsorship for a network connection to broadcast with SAIC.
In the live feed, which was ultimately only possible at certain points in the exhibitions duration because of cost, the artist calls out to the viewer and asks him or her to place his or her hands on the backlit projection screen in order to mimic her actions. While playing the game, the viewer wonders if he or she has been dubiously tricked into staring into an unknown or othered reflection of the self. During the opening night, Matienzo waited for participants to come interact with her. Many looked on her with caution and often would utter anemic laughs while shooting glances to the virtually present artist. Often times Matienzo would laugh herself and ask— "who is there"— unable to see beyond the shallow range of the web cam.
Mirror of Patience, conceived by the artist in 2013, at first seemingly places the viewer and artist on a level playing field. Upon closer inspection, while the gallery has unlimited Internet access, the artist is only able to use the Internet through a special sponsorship she was able to receive because of her status as an artist, someone who in Cuban society has much more mobility and capital power, Villalobos and Ruggiero explain. In a post-Snowden cultural climate, Matienzo use of the Internet is a testament to the remaining possibility of dissident action. Yet, one is all too aware that the gesture is not utopian, she is not celebrating the world without borders but pointing to the artifice of the image of a timeless and borderless space.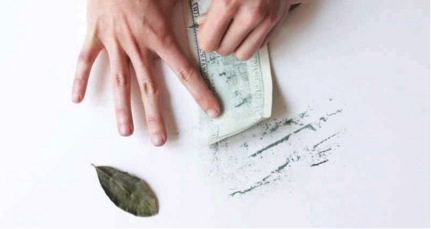 Glenda Leon's Inversion also muses on structures of meaning. In the single channel video, the artist scrapes the ink off a 100 dollar bill and then snorts the particles that remain after her intervention. This could be interpreted as a metaphor of the Internet, for accessing the Internet in 2014 or 15 is to reach a promised utopia but when one scrapes the surface, this essential freedom seems to fall apart. Cuban citizens can create a simple act of protest out of a simple action of hacking, and yet these actions and words are always being archived, cross-listed, and can and will be used against them.
IV.
In the CAC take-away pamphlet, Diaz-Perera describes how he was born in Havana, Cuba in 1991 "at the beginning of the Special Period, an economic crisis resulting from a combination of the collapse of the Soviet Union, the U.S. Embargo, and the internal systemic controls." Most of the artist in Cuban Virtualities also lived through this Special Period where power structures crumbled and the nation was isolated by the embargo. In many ways, Cuban life has been defined by the cross-pollination of U.S. and Cuban relationships and the continual reconfiguration of identity through absorption of other cultures in colonial periods. Yet in a sense, these other cultures, specifically American in this incident, have been an imposition. Villalobos' comments on Mirror of Patience as a "laying bare" of the reality of this co-dependency or in other words, the hell that connectivity can usher in as one side waits to begin to continue to communicate. It is in fact this waiting (awaiting) for information, for a sentence, or for connectivity, the same game that Diaz-Perera also plays in jest, that turns the would be freedom of emigrating or live-stream into the first of many entrapments.
[1] Bauman, Zygmunt. Liquid Modernity. 2nd ed. Cambridge: Polity Press, 2012. 9-19. Print.
[2] Cuban Virtualities: curated by Rewell Altunaga and Liz Munsell, Assistant Curator of Contemporary Art, Museum of Fine Arts, Boston; organized at SAIC by Gibran Villalobos (Dual MA 2013) and Wil Ruggiero
[3] Zygmunt Bauman explains one of the attributes of power in post-modern or liquid modern times is the access to mobility and the rate of this acquisition: "Velocity of movement and access to faster means of mobility steadily rose in modern times to the position of the principal tool of power and domination" (9).
Ibid
[4] Fusco, Coco. "The State of Detention: Performance, Politics, and the Cuban Public." e-flux.com. N.p., 6 Jan. 2015. Web. 8 Mar. 2015.
[5] Lovink, Geert. "Hermes on the Hudson: Notes on Media Theory after Snowden." e-flux.com. N.p., Apr. 2014. Web. 8 Mar. 2015.
If someone slips on a banana peel in a forest and no one sees it, does anyone laugh?
The current exhibition at Atlanta Contemporary Art Center walks us dangerously close to the banana peel. We are the sucker about to unwittingly step onto the banana peel, and the audience waits with bated breath for us to make that final descent into unavoidable disaster.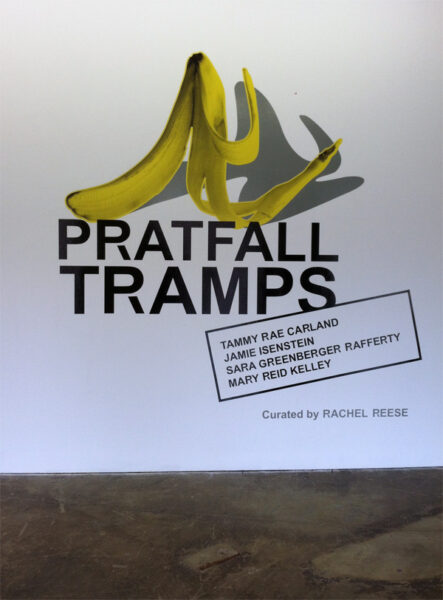 Pratfall Tramps is a sprawling group show, filling the galleries and spilling over into the accompanying Gilda Radner Research & Translation Center. Entering the galleries, the curtain is lifted, setting the stage and revealing the impetus that gathers the seemingly disparate works together.
Jamie Isenstein's Inside Outside Backstage Vase welcomes visitors to the space. From a distance the vase fills with vibrant, fresh flowers, but something is off. Some of the flowers wilt, revealing the perfect false blossoms and crumbling real flowers. A comically large, teetering stack of pancakes obscures Sara Greenberger Rafferty's Performance Document: Self Portrait With Pancakes.
Isenstein's Sand Lamp is funny as theatre of the absurd is funny. The joy and lighthearted moments of our lives, sheathed in the mundane, ready-made lamp shade burst from the sand that seems to entrap us, yet we cannot realize our electric cord still snakes to find sustenance.
Mary Reid Kelley's Sadie The Saddest Sadist builds from the same tradition. The audio fills the space, looping just often enough to unobtrusively juxtapose its songs, chants, snippets of speech with other works. The mounting layers resist translation, but they create a new way of viewing the works, a shifting, performative veneer over the entire gallery.
As the best comedy does, the works reveal larger issues at work in the world. Greenberger Rafferty's Testing I (Whisk), Testing II (Baster), Testing III (Spoon), Testing IV (Shotgun Whisk), and Testing V (Scoop) anchor the exhibition, upending the tools of performance and standup comedy. It elevates Martha Rossler's Semiotics of the Kitchen to the stage, making explicit Rossler's performativity and revealing a silence doubly loud for the lack of amplification and absent performers.
Tammy Rae Carland's series of acrylic ladders Pratfall Effect lead nowhere. The glass ceiling is not a fixed height. It is everywhere and nowhere.
If someone slips on a banana peel as daylight savings time begins, how long does it take for them to hit the ground?
Just as the individual works in Pratfall Tramps seem slightly off, the exhibition as a whole does not sit quite right within the gallery. This shifting in the exhibition, however, opens the curtain to an empty stage. We have already stepped on the banana peel, and the embarrassing, laughter-inducing fall is inevitable. We are continually reminded that the exhibition is funny or deals with comedy – the bananas, the artist bios, the accompanying quotes, the title of the show itself.
The curator, Rachel Reese, writes, "Pratfalls—bodily or object-based—are funny because they are a paradox. While suggesting lack of control, there is indeed complete and conscious control at play: in comedy, the performer can rewire failure as success." Similarly, the quote from David Robbins's On Concrete Comedy: An Alternative History of Twentieth-Century Comedy included on the title wall reads, in part, "Consider the fool. The fool is supposed to fail, that's part of the fool's function—his 'project.' And because it is to some degree his project, the fool in fact cannot fail."
These statements foreclose our ability to interpret the work critically. The show prevents viewers from experiencing the humor in the work by insisting it is funny, that it is successful when it appears to fail. Even if we see the artworks or the artists' "projects" as failing, seemingly out of place, or unsuccessful, we are told that is precisely when they work the best.
The insistence on comedy and the comedic connections underpinning the artists' work disrupts the exhibition, jars us out of the moments the works immerse us within, lands us on our backs as everyone laughs. We do not need to be reminded how funny it is. The assertions and repetitions undercut the fact that it is a strong show that coheres on its own.
If I tell you someone slips on a banana peel, is it still funny?