Congratulations to Hamza Walker, curator at The Renaissance Society — it has just been announced that he's won the Ordway Prize from Creative Link for the Arts and the New Museum! Walker, along with artist Artur Zmijewski, will receive an unrestricted award of $100,000. Here's the text of the announcement in full:
"Creative Link for the Arts and the New Museum have announced Hamza Walker, the Director of Education and Associate Curator at Chicago's Renaissance Society, and Polish artist Artur Zmijewski, as the recipients of the Ordway Prize. An international panel of Nominators and a Jury of leading arts world figures-led by Jennifer McSweeney, Director of Creative Link for the Arts, and Richard Flood, Chief Curator at the New Museum-selected the Ordway Prize recipients from a global pool of nominees. Walker and Zmijewski will each receive an unrestricted cash prize of $100,000.

"Working with artists is a reward in itself, and I feel privileged at being so generously honored for my passion. I wish I had a grand vision for the award, but as it stands, the bricks and mortar of my life are in severe need of tuckpointing," said Hamza Walker.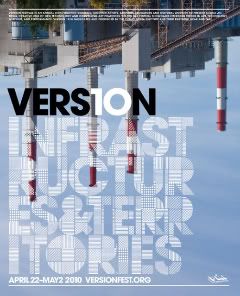 It is that time of year again. Version is now looking for submissions for their 10th festival entitled Infrastructures and Territories. It will be taking place from April 22nd to May 2nd. Deadline for all submissions is March 1st, 2010.
via Lumpen:
"Version 2010: now seeking proposals and presentations about tactics and strategies that help sustain our communities, find better uses of our resources, and maintain and expand our networks. For eleven days and nights, we will explore the best practices and boldest failures in interventionist, participatory, and collective social, political, and cultural practices. This year's theme is presented in order to bring together groups and individuals seeking additional methods for connecting our networks and creating solid foundations for the practice of art, education and social activism well into the next decade. We want to use this opening during the current economic and political crisis to expand and amplify our shared ideals, values and strategies for survival and expansion.
Join us to amplify micro-movements and nowtopian ideas!
The festival will include: community gardens, historical re-enactments, antiwar organizing, an art parade, an artist-run art expo, a catalog of interventionist strategies, networking between independent groups and spaces, inflatable art, one-night exhibition formats, anti-oligarchy planning sessions, DIY and DIT media, the Terminator Bar, a mobile silkscreen printing cart, a national WPA-inspired public poster project, a free school, impressive musical performances, boring theoretical nonsense, mapping projects, pop-up galleries, Korean/Polish BBQ and your proposals.
If you would like to participate in this year's festival please view our Program Platforms.
When you are ready you will be able to submit your proposal online via this website.
All submissions are public."
"The Art of the Steal" chronicles the long and dramatic struggle for control of the Barnes Foundation, a private collection of art valued at more than $25 billion. In 1922, Dr. Albert C. Barnes formed a remarkable educational institution around his priceless collection of art, located just five miles outside of Philadelphia. Now, more than 50 years after Barnes death, a group of moneyed interests have gone to court for control of the art, and intend to bring it to a new museum in Philadelphia. Standing in their way is a group of Barnes former students and his will, which contains strict instructions stating the Foundation should always be an educational institution, and that the paintings may never be removed. Will they succeed, who has the right to direct the future of the collection?
Last night was the season premier of RuPaul's "Drag Race". While I do not have cable, I did find myself sifting through videos from the 90s and was a little surprised when I watched his 1993 video for Supermodel (You Better Work). Maybe I was too young to remember the campy greatness that is this week's pick but this video is so amazing. Especially if you think of what was popular at the time, typically grunge and gangster rap.
If you saw the header, yes that is RuPaul as both Michelle and Barack Obama
"You can call me he. You can call me she. You can call me Regis and Kathie Lee; I don't care! Just as long as you call me."
The School of the Art Institute kicks off its current Visiting Artists Program with a lecture by Saya Woolfalk tomorrow, Tuesday February 2nd, at 6:00pm. From the Visiting Artist's Program website:
SAIC alumna Saya Woolfalk (MFA 2004) will present her ongoing project No Place, a multimedia, fictional future that reworks tropes of sexual, racial, and gender difference. The characters and stories in Woolfalk's constructed reality evoke travel narratives, science fiction, and the rhetoric of anthropology to investigate human possibilities (and impossibilities). Through diverse forms of installation, video, painting, drawing, performance, and sound, she reflects on human life and its future through configurations of biology, sociality, and the environment. Woolfalk's selected exhibitions include PS1/MoMA; Museum of Contemporary Art, Chicago; Indianapolis Museum of Contemporary Art; Studio Museum in Harlem; and Momenta Art. She has been an artist in residence at Skowhegan, Yaddo, Sculpture Space, and the Studio Museum in Harlem. Presented in collaboration with SAIC Alumni Relations.
Want to bone up on Woolfalk's work prior to the lecture? Here are some links to get you started:
Interview with Saya Woolfalk on Art21 Blog
Saya Woolfalk Artist's Page at Zg Gallery, Chicago
Saya Woolfalk Performs No Place: A Ritual of the Empathic at Performa 09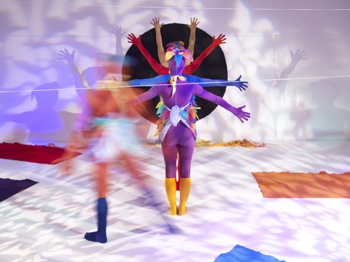 Woolfalk's lecture will be held at the SAIC Columbus Auditorium, 280 S. Columbus Drive.
This round of VAP lectures is especially strong. Don't forget to mark your calendars for these upcoming SAIC Visiting Artist Program lectures (click here for further details):
Doug Aitken, Monday, February 22nd, 6pm
Amy Franceschini, Thursday, March 11, 6pm
Doris Salcedo, Monday, March 15, 6pm
Matt Keegan, Tuesday, April 6, 6pm
Ryan Trecartin, Wednesday, April 14 and Thursday, April 15 at 6pm