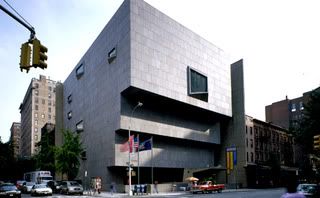 The New York Times has just posted the full list of participants for the 2010 Whitney Biennial. As you may recall, next year's biennial will be curated by former BaS guest Francesco Bonami and Gary Carrion-Murayari. Congratulations to Julia Fish, Curtis Mann, Scott Short, Theaster Gates, and Jim Lutes who are the only five Chicago based artists to make the list.
For a full list of particpents please check out the New York Times article here.
Guest Post by Jennifer Breckner
Some Notes on Hosting
Brian O'Doherty, in his seminal 1976 book, Inside the White Cube: The Ideology of the Gallery Space, takes the traditional gallery space to task, critiquing the manner in which its white walls became the de facto authority that conferred the status of art upon any object that resided within its space. Serving as a template, the white cube format—white walls, rectangular or square shape, wooden floors, and lit from the ceiling—may be utilized anywhere and continues to be implemented widely, including in most of Chicago's beloved apartment galleries.  What are some tactics for moving beyond this model in these types of smaller domestic environments so that a more equitable space may be envisioned?[1]
Presented as neutral but being far from it, the sanitized, white-walled space came into being during Modernism and quietly claimed more and more power over time so that eventually it became more important than the art that was displayed within.  "We have now reached a point where we see not the art but the space first," asserts O'Doherty. [2]  The white-cube model continues to be the premier method for the display of art within institutions such as the formidable museum, blue chip commercial gallery, and even the not-for-profit "alternative" gallery.  Its structure conveys knowledge and authority; it asks of the viewer a quiet, almost religious-like devotion.  While it often is a useful background for artwork to be seen on, the white-walled gallery may also be a place of exclusion and judgment where privilege, breeding, economic status, educational background, and social cache allow various stages of access and exclusion. It is a space of contention, often leaving visitors in the precarious position of questioning their right to be there.
If this type of space is rife with anxiety and power, then shouldn't the apartment gallery be an antidote to this situation since the power within these spaces resides with individuals who have broader latitude and more autonomy—because the stakes are not as high as the commercial gallery or museum—to experiment with setup?  Yet most Chicago apartment gallerists seem interested in perpetuating the white cube and all its inherent structure and exclusions, even if the directors are not consciously aware that they are doing this.  In large part, the use of this modernist template is due to the fact that most apartment gallery owners are renting the space that they live in and serious changes to the infrastructure of their domestic space could have a negative effect on their lease. Or perhaps they do not see the gallery space as elitist and find it useful to follow the professional set-up.  More importantly, though, the institutionalization of exhibition methods has infiltrated even the tiniest self-produced endeavor and carries such weight that many individuals see their apartment gallery as a calling card to gain entrance to the realm of more professional institutions.
There are many of these self-initiated exhibition venues that do away with the materials of everyday life and gravitate towards the white cube blueprint.  An article on Chicago's apartment galleries mentions an owner who was pleased that the exhibition part of her living space resembled a commercial venue and that all of the evidence of people living there had been removed out of sight.[3] This kind of approach is a mistake for how can one's living space compete with the likes of a commercial gallery?  Instead of the domestic space striving to be more commercial and always falling short of the pristine effect and voice of authority that the museum or formal gallery embodies, the focus should be on finding inventive and innovative strategies of display that mingle art with living materials.[4] [Read more]
Guest Post by Caroline Picard
This essay was first published in the Artists Run Chicago Digest published jointly by threewalls and Green Lantern Press in 2009.
On the matter of public (1) space : or my apartment gallery is an arctic explorer
"'Oh, you have a roommate?'
" 'Yeah, she's actually here right now, but she's sick….Don't do that—she's trying to sleep.'
"I heard them but pretended to remain asleep by keeping my eyes closed; [closing your eyes] is what passed for privacy then. My 'room' was in a corner of the kitchen on the other side of a folding screen. If you were tall enough, you could see me from either side at any time. The above exchange took place during the installation of a show when I happened to have a cold. I lived at the Green Lantern from 9/06 to 8/07. Recently out of college, I moved to Chicago to get my bearings. I had just spent two years living in the French countryside with no heat, no car, no Internet, no noise, no zines, no sushi, no shows, no jargon. When I moved in, I had never owned a computer. Suddenly I was in the middle of an art scene. [Read more]
Guest Post by Eric May
(Ed. Note: May's essay takes the format of responses to a series of questions about Chicago's apartment gallery scene, posed by EC Brown of Floor Length and Tux).
Do these space have real cultural or regional impact? Does anyone really care if Chicago has 2.3 trillion small project spaces?
The overall arc of sixty+ years of independent art spaces in Chicago clearly has significance in that it's become the tradition it has, and an activity that folks here seem to stay interested in. Beyond that, the factors of cheap rent, lack of venues, and DIY spirit lend to the reason why every other undergrad starts their own space and we end up with 2.3 trillion things going on. I think that perhaps one of the strongest cultural benefits is the self- education of young folks in organizing- something risky and entrepreneurial. It almost doesn't matter if their project is "successful"- at least they've gone through the motions of taking on something bigger, outside themselves, and collaborative. And who will see all these activities? I think that's up to the folks running these spaces and how hard they are willing to work to promote themselves and stay dedicated. Some survive, some don't- lesson learned. A recent train of thought has questioned whether these spaces are a mere surrogate for the healthier, better supported art venues of the bigger cultural centers- a last ditch effort for artists to get their work shown. All said, in the end of the day, the work gets shown. Chicago can have a really healthy community-supported art scene. Regional impact beyond our own metropolitan area? Folks that I know in Indianapolis, Milwaukee, Detroit, Grand Rapids, Kansas City, St. Louis, Ann Arbor, and Minneapolis pay attention to what happens here. I know people that, inspired by the independent space scene in Chicago, have embarked on their own spaces in their home cities. Flyover maybe, but at least Chicago's got the busiest airport (do we even anymore?). Beyond that? Eh. Maybe I'm the wrong person to ask – I've been here my whole life! More press would be helpful… [Read more]
Guest Post by Jaime Groetsema

Brecht's Modus Operandi for Writers and Truth-Seekers:
Another trial against apartment gallery documentiers
In the 1966 English translation of Galileo, an interpretation of Galileo Galilee's life written by Bertolt Brecht in the form of a stage play, Galileo, an important Italian figure who is considered responsible for the development of modern science in the early 17th century, is for Brecht, just an example. Within the play, Brecht highlights the consistency to which Galileo is both challenged and forced to deny the validity of his own astronomical observations by authority figures within the church and those that support the church. But only in the face of his potential execution–he is literally shown the instruments of torture and death–does Galileo publicly renounce his ideas to those figures so that he might live and finish his final work, the Discorsi. In this work he describes two new valuable properties that influenced the creation of modern physics: the strength of materials and the motion of projected objects. The completed Discorsi was taken by an old student from Galileo when he was on house arrest in Italy towards the end of his life. The student, Andrea Sarti smuggled the book into the Netherlands where it could be printed without permission or approval. [Read more]