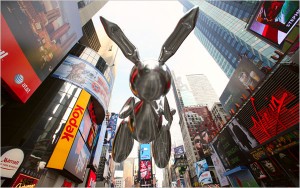 Ah, I've been wanting to bring back this little Rant of the Week column for awhile now, but have been stymied by either a) lack of good material or b) lack of time to scour the internet in search of good material. But today's rant is a two-fer, or a three-fer, or something…anyway it's good, it's still sorta fresh, and although it's easy enough to find on your own via the art twit- and blogosphere I present the following, for those of you who are not already aware of the Jerry Saltz vs. John Yau smackdown.
Here's some quick background: Last December Jerry Saltz wrote a column in New York magazine praising Jeff Koons' Puppy as the art work of the aughts–or the naughts–or the whatevers!– and Koons himself as "the emblematic artist of the decade—its thumping, thumping heart." Saltz goes on to argue that
All of Koons's best art—the encased vacuum cleaners, the stainless-steel Rabbit (the late-twentieth century's signature work of Simulationist sculpture), the amazing gleaming Balloon Dog, and the cast-iron re-creation of a Civil War mortar exhibited last month at the Armory—has simultaneously flaunted extreme realism, idealism, and fantasy. Puppy adds to that: It is a virtual history of art, recalling the mottled surfaces of Delacroix (albeit on 'shrooms), the fantastical fairy-tale beings of Redon, a mutant Frankenstein canine from Seurat's La Grande Jatte, and the eye-buzzing Ben-Day dots of Roy Lichtenstein. As it emits the swirling amorphousness of Tiepolo and the pathos of Watteau, it is also a magnified, misshapen abstraction of Duchamp's urinal—a similarly deliberate gesture of antic outlandishness, and one that, of course, was signed "R. Mutt."
Koons's work has always stood apart for its one-at-a-time perfection, epic theatricality, a corrupted, almost sick drive for purification, and an obsession with traditional artistic values. His work embodies our time and our America: It's big, bright, shiny, colorful, crowd-pleasing, heat-seeking, impeccably produced, polished, popular, expensive, and extroverted—while also being abrasive, creepily sexualized, fussy, twisted, and, let's face it, ditzy. He doesn't go in for the savvy art-about-art gestures that occupy so many current artists. And his work retains the essential ingredient that, to my mind, is necessary to all great art: strangeness."
And so on. A few weeks later, critic John Yau responds to Saltz's piece with an essay of his own in The Brooklyn Rail (where Yau serves as art editor), titled "The Difference Between Jerry Saltz's America and Mine."Â  Yau starts out with a reference to a bit by the late comedian Bill Hicks, one in which Hicks rips on Jay Leno for shilling Doritos, despite the gazillions of dollars Leno already has; the implied question being how much more cash does this bloated gazillionaire need that he has to sell us junk food, too? Yau says, of Hicks,
He believed that there are some things that you just shouldn't do, and one of them was to be a spokesperson for bad or unhealthy products. I was reminded of Hicks's routine when I read Jerry Saltz's paean to Jeff Koons's Puppy, which 'assumed the form of a West Highland white terrier constructed of stainless steel and 23 tons of soil, swathed in more than 70,000 flowers that were kept alive by an internal irrigation system.'"
Adam Ekberg has a lovely exhibition of new photographs up at Thomas Robertello Gallery that closes Saturday, February 6th — that's tomorrow people! — so if you haven't seen it, you should do the proverbial rush right out and see it thing before it closes. After that, get yourself over to the MCA, where Adam's work can be seen in the group show Elements of Photography, up through April 6th. I had a brief virtual chat with the very busy Mr. Ekberg this week, and am most appreciative of him for taking the time to answer my questions.
CI: In the brief statement that accompanies the portfolio of images on your website, you mention 'lens fallibility' as one of the means by which you activate otherwise ordinary environments.  Could you elaborate a bit on how the notion of fallibility operates in your process?
AE: These pictures have been discussed as referential to spirit photography but I like to think of them more in terms of the camera malfunctioning due to misuse. Pointing the camera at the sun is generally recognized as a bad idea on the level of putting balled up tinfoil in the microwave. If you are to go to a camera shop you can even purchase a variety of lens shades that prevent this effect from happening. I love the mistakes within images, Diane Arbus had a tendency to have  vignetting in her prints and Nan Goldin always used flash in an elementary way which made her work feel even more personal and intimate.
Congratulations to Hamza Walker, curator at The Renaissance Society — it has just been announced that he's won the Ordway Prize from Creative Link for the Arts and the New Museum!  Walker, along with artist Artur Å»mijewski, will receive an unrestricted award of $100,000. Here's the text of the announcement in full:
"Creative Link for the Arts and the New Museum have announced Hamza Walker, the Director of Education and Associate Curator at Chicago's Renaissance Society, and Polish artist Artur Żmijewski, as the recipients of the Ordway Prize. An international panel of Nominators and a Jury of leading arts world figures-led by Jennifer McSweeney, Director of Creative Link for the Arts, and Richard Flood, Chief Curator at the New Museum-selected the Ordway Prize recipients from a global pool of nominees. Walker and Żmijewski will each receive an unrestricted cash prize of $100,000.

"Working with artists is a reward in itself, and I feel privileged at being so generously honored for my passion. I wish I had a grand vision for the award, but as it stands, the bricks and mortar of my life are in severe need of tuckpointing," said Hamza Walker.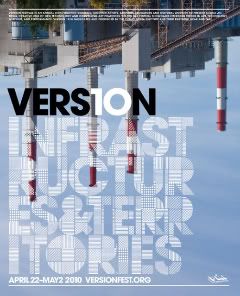 It is that time of year again. Version is now looking for submissions for their 10th festival entitled Infrastructures and Territories. It will be taking place from April 22nd to May 2nd.  Deadline for all submissions is March 1st, 2010.
via Lumpen:
"Version 2010: now seeking proposals and presentations about tactics and strategies that help sustain our communities, find better uses of our resources, and maintain and expand our networks.  For eleven days and nights, we will explore the best practices and boldest failures in interventionist, participatory, and collective social, political, and cultural practices. This year's theme is presented in order to bring together groups and individuals seeking additional methods for connecting our networks and creating solid foundations for the practice of art, education and social activism well into the next decade. We want to use this opening during the current economic and political crisis to expand and amplify our shared ideals, values and strategies for survival and expansion.
Join us to amplify micro-movements and nowtopian ideas!
The festival will include: community gardens, historical re-enactments, antiwar organizing, an art parade, an artist-run art expo, a catalog of interventionist strategies, networking between independent groups and spaces, inflatable art, one-night exhibition formats, anti-oligarchy planning sessions, DIY and DIT media, the Terminator Bar,  a mobile silkscreen printing cart, a national WPA-inspired public poster project, a free school, impressive musical performances, boring theoretical nonsense, mapping projects, pop-up galleries, Korean/Polish BBQ and your proposals.
If you would like to participate in this year's festival please view our Program Platforms.
When you are ready you will be able to submit your proposal online via this website.
All submissions are public."
"The Art of the Steal" chronicles the long and dramatic struggle for control of the Barnes Foundation, a private collection of art valued at more than $25 billion. In 1922, Dr. Albert C. Barnes formed a remarkable educational institution around his priceless collection of art, located just five miles outside of Philadelphia. Now, more than 50 years after Barnes death, a group of moneyed interests have gone to court for control of the art, and intend to bring it to a new museum in Philadelphia. Standing in their way is a group of Barnes former students and his will, which contains strict instructions stating the Foundation should always be an educational institution, and that the paintings may never be removed. Will they succeed, who has the right to direct the future of the collection?