While I was looking at the photographs of Anna Shteynshleyger at the opening of this Russian-born, Chicago-based artist's new solo exhibition at at The Renaissance Society, a middle-aged woman wearing a fluffy, faux-fur coat sidled up next to me. "Do you know what that is?" she asked me, pointing to the image I was peering at intently. It was a blue-tinged photograph of some sort of twisted, fleshy material that looked like raw bread dough.
"I'm not exactly sure," I replied. "I can't tell if it's soaking in a bowl of something or what."
"It looks organic," the woman mused, "like an organ from a body."
"Well, it's challah….It's not baked yet. But I can't make out what this part is," I said, gesturing to the circular, fan-like opening out of which the doughy form appeared to be rising.
"Oh, it's challah!?" she exclaimed. "I know what challah is — I make challah. But that looks more like a body part. How do you pronounce the artist's name?" I told her I had no idea, and she nodded. "She should have changed it to Smith!" [Read more]
Artist Blake Fall-Conroy is in the process of making a sculpture that enables everyone to earn minimum wage (or rather, the wage set by the state of New York–Illinois law guarantees a minimum wage of $8.00 per hour for workers 18 years of age and older). From Conroy's website:
"The minimum wage machine allows anybody to work for minimum wage. Turning the crank will yield one penny every 5.04 seconds, for $7.15 an hour (NY state minimum wage). If the participant stops turning the crank, they stop receiving money. The machine's mechanism and electronics are powered by the hand crank, and pennies are stored in a plexiglas box."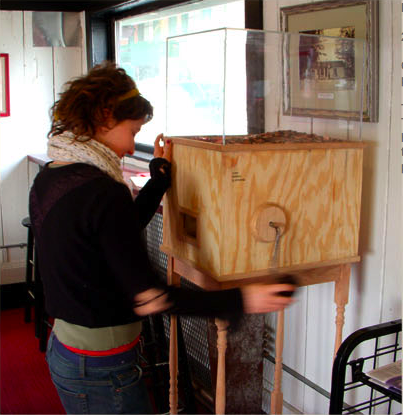 Via New Art via Tomorrow Museum.
Right now your doing one of two things probably
1. Shoping for beverages for a party
2. Looking for music for a party playlist
Well BaS is here to help and even though our tastes run a bit indie-rock and instrumental we can promote the biggest hits of 2009. Luckily someone has done the work for me and remixed the top 25 songs of this year in one song. Yes one song and one music video. Hopefully this will help in your search, if not you can always go with "Blitzkreig Bop" but that's like black it goes with anything.
I still think "Take Your Shirt Off" by T-Pain is a underrated masterpiece that will be remembered years from now 🙂
UPDATE: We want to thank DJ Earworm for the remix and here is the download for the hi-bitrate mp3 file. Happy New Year!
Infosthetics.com a site dedicated to collecting, sharing and promoting the art of pleasing data visualization celebrates it's 5th birthday with a flash visualization of all their posts over that time broken down by time, category, comments & author using color and line. Bad at Sports would like congratulate Infosthetics "Where form follows data" and we follow them. Keep up the good work!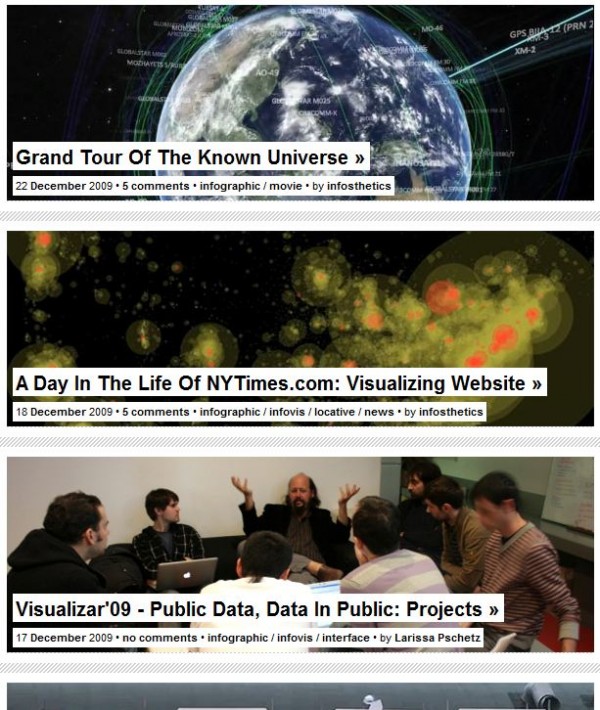 Ghillie Suits
Guest post by Jeriah Hildwine
Recently on display at 65 Grand was An Object In The Woods, featuring artwork by Bob Jones.  One of Jones' works is titled Ghillie Suit.  I hardly needed the title to know what it was about; I'm quite familiar with that soft-edged overspray of Krylon Camouflage Ultra-Flat spray paint (available in Brown, Olive Green, Black, and Khaki) anywhere, particularly with the telltale silhouettes of foliage (in this case hay).  The association is a fond one, and the work fits well into Jones' theme.  It is a distinctly rural image, the quintessential "object in the woods."
A ghillie suit is a garment intended to provide the wearer with concealment, typically in a wooded environment (although desert and snow versions do exist).  The most common etymology is that the garment was named after the gillies ("lads" or "servants"), who were Scottish game wardens tasked with protecting a landowner's game from poachers.  These gamekeepers sometimes wore suits of shredded rags to help them blend in with their surroundings, either as a form of portable hunting blind or to conceal themselves from the poachers they were pursuing.  The suits entered military usage with the Lovat Scouts, a Scottish Highland unit of the British Army formed during the Second Boer War (1879-1915).  This unit served as sharpshooters, and were in some ways the antecedents of the military sniper, who remain the primary users of ghillie suits to this day. [Read more]