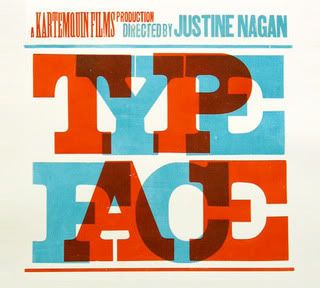 Directed by Justine Nagan, Typeface takes a look at the obsolete techniques used to create and print  wooden type. The film centers itself on The Hamilton Wood Type and Printing Museum located in Twin Rivers Wisconsin. Housed in Hamilton's factory the understaffed museum gives tours, hosts workshops, and attempt to archive the boxes upon boxes of wooden type that are piled about. In the opening scenes we get an overview of the museum while on tour with former Bad at Sports guests the Post Family. Throughout the film we  weave in and out of mostly Chicago studios as, printmakers/graphic designers discuss their love for wooden type. The Walker Art Center recently caught up with Nagan and spoke with her about making the film:
W: Why make a film about an obsolete technology?

JN: I became fascinated with exploring the changing importance of analog technologies in our digital age. There is this theory that as we as a society sit at our computers all day, in the off hours, tactile and sensual experiences become all the more important. People are craving things with texture that they can hold in their hands—whether it's knitting or playing guitar… Then there's the whole nostalgia factor: LPs vs. ipod, film vs. video, letterpress vs. inkjet.

W: Some obsolete technologies manage to take on a second life by addressing a different need or being adopted by a new (sub)culture in a different context. Do you think a revival or re-interpretation is inherent to any successful preservation movement?

N: I think evolution is key to preservation. Re-imagining and adapting technology, while maintaining the elements that made it interesting in the first place, ensures longevity of the medium. I think the new interest in letterpress and craft is sustainable. The current styles of letterpress may fade, only to be re-invented again by some future generation. [Read more]
Well if you are in America today you are largely going to hear about one of two things, either President Obama's first State of the Union and the new expected focus on the Economy in place of War or Healthcare or Apple announcing it's new iTablet iPad and the statement that you can buy them in Apple stores right after the announcement.
Either way the current economy is going to be the catchword of the day and in the Art world that goes double since it is largely dominated both by the current economic trends and Apple products.
So here is hoping for the best in both areas but it is an interesting contrast happening. Which has more sway? Government run economic plans or Market run announcements?
To help visualize the current debate we present a rap video since it is ever fitting of a discussion about fools and their money. It's John Maynard Keynes vs Friedrich von Hayek in a showdown over what works best (the fact that BaS is based in Chicago, home of Hayek & the Chicago School of Economics should not be considered an endorsement of either party lol ).
Enjoy
This week's pick is not for everyone. Clocking in at about 20 minutes we bring you Sharon Hayes' keynote address for the Creative Time Summit: Revolutions in Public Practice.
via Creative Time
"Sharon Hayes discusses how moving to New York City in the early 1990s and witnessing the AIDS crises and artistic community has forever affected both her life and artistic practice during her keynote address at the 2009 Creative Time."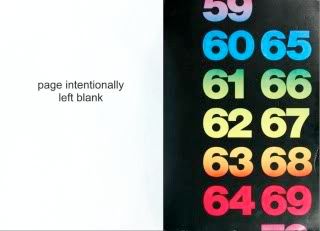 Yesterday LACMA launched a new addition to their website that showcases out of print and hard to find publications. I haven't had a chance to check out a lot of the books that are currently up for their first series "Southern California Art of the 1960s and 1970s" but; I am really excited to see what they will be offering in the following months.
via Culture Monster:
Dubbed the 'Reading Room,' the new site is intended to make books, catalogs and other literature available that would otherwise be difficult to access, according to LACMA. The museum said that the site currently features 10 rare art catalogs, including 'Six More,' the catalog for LACMA's 1963 exhibition on L.A. pop; "Billy Al Bengston," a rare 1968 monograph; and the surveys 'Late Fifties at the Ferus' (1968).
Among the features of the site are the ability to browse the publications page by page, perform text searches and  download the volumes in PDF format.
For more info check out LACMA's Reading Room
Richard Rezac has a wonderful exhibition up right now at Rhona Hoffman Gallery (through February 2, 2010). In addition, the Modern Wing of the Art Institute is currently displaying six Rezac sculptures (spanning the years 1985-2008) from its Collection — they'll be on view through early May. Rezac had a survey exhibition at the Gahlberg Gallery of the College of DuPage last year (the exhibition's catalogue, which contains an enlightening essay by James Yood, is available for download on the Gahlberg Gallery's website; just click on the link above to go there).
Richard generously agreed to answer a few questions about his latest works via email. I'm very grateful to him for taking the time to provide such illuminating and thoughtful responses.
You won the Rome Prize fellowship in 2006, which enabled you to travel to Italy to study Roman architecture in greater depth. To what extent did having a more sustained, daily interaction with Roman architecture impact your work?
That 11 month experience in Rome and in numerous parts of Italy has had a strong, and I trust, lasting effect, though because it was so substantive, I still do not know the extent of the influence. My purpose was to study the Baroque architecture of Francesco Borromini, whose 11 or so buildings are all in Rome. My approach in taking this in was naturally one of an artist, not an historian, though I certainly read what I could about his work and that of his immediate predecessors and those he influenced, especially Juvarra and Guarini in Turin.
The great pleasure was in seeing Borromini's architecture (and eventually a large group of drawings in Vienna) on a near weekly basis, allowing me to feel aspects of his accomplishment and study many details. I was also privileged, by the American Academy's offices, to gain entry to parts of his buildings normally off-limits.
The effect on my sculpture is not so clear to me, other than a continuation of some complexity – several materials or layers or juxtaposed forms within one work resulting in a, perhaps, more broad, gently argumentative, dynamic. In the long arc, though, of my sculptural language from the past 25 years, there has been an evolution from simple and concrete form to more extended, thin, linear and colored form, so the desire to be around Borromini's architecture was in some sense anticipated by my work before I went there.
Along with architecture, I often think of interior design when viewing your sculptures. Some of them, for me, bring to mind things as mundane as contemporary kitchen and bathroom fixtures! After coming home from viewing your show, the kitchen faucets, towel racks, and cabinet knobs in my house–the particular geometries of their placement and their relationship to my body–all of a sudden stood out for me. Even the old-fashioned diamond tile in my bathroom floor started to "dance" for me in new ways. Am I being overly-specific here, or do you yourself ever draw inspiration from commonplace domestic interiors?

There is certainly a resemblance to ornament, facets of interior design objects, furniture, and architectural detail, such as moldings, in my sculpture of the past 6-8 years. I attribute this mainly to geometric form – the basic language in which my sculpture originates. Perhaps most manufactured applied design objects rely on the ease of elemental, efficient geometric forms. So there is an overlap, to be sure, between the common domestic accessories often handled or those elements produced in multiples as in tile flooring and the appearance of some of my forms or combinations.
I consider most of my sculpture, and all of those that are untitled, to be abstract and they may only arrive at some suggestiveness or association to domestic elements when completed and then exist in our space. I have rarely begun a work with the intention of representing another existing form, if anything it is in pursuit of a persona or complex phenomena. I am most interested, in as much as is possible for me, in starting with nothing and finding a satisfying form or arrangement.