Philip Bloom has been testing/demoing the new Canon 7D for a while showing what you can do with the upper end Prosumer camera. The results are jaw dropping to say the least and it's all almost within reach. Who said you can't shoot porn in Dubai? Oh and hit the fullscreen button when you watch to get the full experience.
If you want to see what a Pro Camera can do then you can do no better then this shot in Prague with a Canon 1d mkiv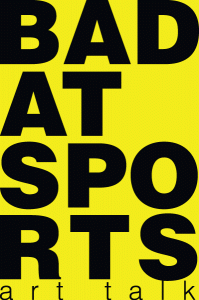 Bad at Sports is coming to apexart in New York, and we're all giggling with excitement like a pack of schoolgirls. As a collective we are organizing a star-studded exhibition that will run from April 7 – March 22nd and we want you to be there and make your presence known! More advance intel to come via the podcast and here on the blog, of course, but we wanted to start banging the drums and lighting the homefires and whatever the hell else one does to get people all rowdy and enthusiastic about what's to come.
The exhibition is titled Don't Piss On Me And Tell Me It's Raining, but feel free to call it the Bad at Sports show. It'll be like the podcast, but in three dimensions (or wait, isn't sound already three dimensions?? This is why I failed that Physics of Music class). There will be tons of works submitted by former guests of the show on view, free giveaways, a special talkback section (more info on this soon) and weekly live events of the conversational sort. Don't expect any slabs of honey-drizzled meat, golden cakes, or chocolate Koons sculptures at said happenings, but maybe there will be beer?
Here are the deets, hot off the keyboard – stay tuned for info on specific events as they are finalized.
"Part archive, part arts journalism, part in-depth conversation and part record-breaking run-on sentence: the Chicago-based collective Bad at Sports is many things at once, but it is first and foremost a collaboration between artists and their communities. Don't Piss On Me And Tell Me It's Raining provides a visual counterpart to the extensive audio archive that Bad at Sports has amassed over the past five years and 300+ hours of its weekly podcast. Hundreds of small-scale drawings, texts, and other physical objects made specifically for this exhibition will be on view, each piece produced by the artists and other cultural figures who have appeared on the show over the past five years. Numerous live interviews, panel discussions and performances, many of which will be recorded for future broadcasts, will also take place in the gallery on a twice-weekly basis. In addition, a special "talkback" section of the exhibition asks viewers to direct their own questions to art world personages, thereby enabling audiences to take part in the sprawling, provocative, irreverent and timely conversation that is Bad at Sports."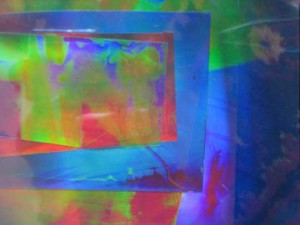 An article published in the January 15th, 2010 issue of New Scientist proposes that yes, perhaps we are.  Writer Marcus Chown reports on this provocative new theory, which I, having failed even the gut class "Physics of Music" requirement as an undergraduate, can barely grasp, even after my husband tried to explain it to me this morning. So I'll excerpt a few introductory passages from the article to spark your curiosity:
"If this doesn't blow your socks off, then [Craig] Hogan, who has just been appointed director of Fermilab's Center for Particle Astrophysics, has an even bigger shock in store: "If the GEO600 result is what I suspect it is, then we are all living in a giant cosmic hologram."

The idea that we live in a hologram probably sounds absurd, but it is a natural extension of our best understanding of black holes, and something with a pretty firm theoretical footing. It has also been surprisingly helpful for physicists wrestling with theories of how the universe works at its most fundamental level.

The holograms you find on credit cards and banknotes are etched on two-dimensional plastic films. When light bounces off them, it recreates the appearance of a 3D image. In the 1990s physicists Leonard Susskind and Nobel prizewinner Gerard 't Hooft suggested that the same principle might apply to the universe as a whole. Our everyday experience might itself be a holographic projection of physical processes that take place on a distant, 2D surface.

The "holographic principle" challenges our sensibilities. It seems hard to believe that you woke up, brushed your teeth and are reading this article because of something happening on the boundary of the universe. No one knows what it would mean for us if we really do live in a hologram, yet theorists have good reasons to believe that many aspects of the holographic principle are true."
I'll admit, the we-are-all-just-reflected light particles theory totally weirds me out. It was like waking up to discover that I've been living in Whoville all my life. I don't want to be just a refraction, dammit! I was literally chewing my own arm this morning to prove to my husband that I was indeed three dimensional flesh and blood. He told me I didn't really get it.
At any rate, political blogger Matthew Yglesias thinks we shouldn't sweat this whole hologram thing:
"…instead of saying "everything we thought we knew about the world is wrong and it's all fake!" we could just say "aha, this is an interesting new fact." After all, at one point it was determined that what we thought we knew about solid objects was all wrong. Solid objects, it turned out, aren't actually solid at all—they're made up of atoms, and the atoms are composed of protons and neutrons and electrons and are actually mostly empty space.

But people didn't run around freaking out at the discovery that the world is fake and actually it's all just a bunch of empty space. Instead, we learned that molecules are made of atoms and atoms are made of protons and neutrons and electrons. Further discoveries about the nature of sub-atomic particles are, similarly, interesting and important scientific discoveries but they're not taken to somehow debunk our previous knowledge of the existence of macroscopic objects. Similarly, if subatomic particles are "really" a reflection from a different 2D surface I think the important thing is to take the revelation in stride, as we have a whole series of scientific revelations about the nature of matter."
Perhaps if this theory takes hold, all of those under-appreciated holographic artists will suddenly find their work in high demand. Get in now while the market's still cool.
Amy Beste is a woman of many hats. "She is the director of public programming for the department of Film, Video & New Media at the School of the Art Institute of Chicago where she organizes the visiting artist series 'Conversations at the Edge' at the Gene Siskel Film Center." Has curated numerous screenings across the country; and is "currently working on a PhD at Northwestern University where she is writing a history of experimental and industrial/educational filmmaking in Chicago." Amy was kind enough to take the out of her schedule and answer some of my questions about Conversations at the Edge's current season.
There has been a lot of press about individual screenings from Conversations at the Edge but not very much about the program itself. Could you give a little background on how the series came to be?
Sure, the series Conversations at the Edge started in 2001 as an effort between the School of the Art Institute of Chicago's department of Film, Video, & New Media, the Gene Siskel Film Center, and the Video Data Bank to showcase innovative and experimental media and makers. The Film Center had long screened experimental film and video (its roots are, in fact, in an experimental film series from the 1960s called the Magick Lantern Society) and the Video Data Bank, and the Film and Video departments (now the Film, Video, & New Media department) had been hosting important media makers as visiting faculty from their inceptions. The series presented an opportunity for these different groups who were associated with SAIC to join forces and present a very dynamic series that showcased a range of aesthetic approaches, histories, and politics, while also providing a unique opportunity for direct conversation between media artists and a broad public audience.
How is the series curated? There is such a great balance of work. You have very well known artists such as Dara Birnbaum, up and coming artists such as Ryan Tricartin, but also artists that are not well known.
Thanks–we work hard to get that balance. I organize the series in very close consultation with the Video Data Bank and the department of Film, Video, & New Media which serve as the series' curatorial advisory board–making suggestions for artists and programs—as well as a sounding board for each season's overall shape. [Read more]
For this week's pick we bring you video artist Sophia peer's video for the Baltimore based band Ponytail entitled, Celebrate the Body Electric (It Came From an Angel).
Check out Sophia Peer's Youtube page