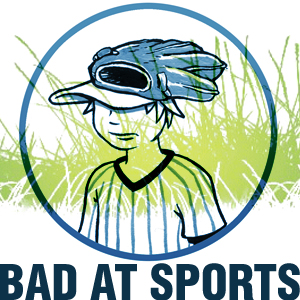 On this week's podcast, Duncan has a special announcement regarding our upcoming exhibition at Apexart in New York. It's group participation time, folks, so I'm passing along Duncan's message to all of the blog's readers to get the word out (actually, I just transcribed what he said on the show, as I'm too knackered to come up with any words of my own). Sayeth Duncan, speaking for the entirety of Bad at Sports:
"What [Bad at Sports] is doing is asking questions to our artworld. What we're more interested in than anything is in asking, 'what's the deal? HEY ARTWORLD, WHAT'S THE DEAL?' We're trying to figure out how to encapsulate that as an element in the exhibition, this curiosity about our artworld.
We need your help. We want you to bust out your Mac, go to Photobooth, and make a little video of yourself asking a question to your artworld. It could be directed to us, it could be to other personalities, it could be to an abstract artworld. What we'll do is we'll try and find an answer. So if you have a question for Damien Hirst, we'll try and get to him. If you have a question for us, we'll do our best to answer it. If you have an abstract question we will find someone who can answer that question and have them respond on video. We're looking for everything from, "how do I become a better human?" to "Hey Damien Hirst, can't you get enough?"
We will track down these answers. Questions can run from the pithy to the abstract to the theoretical. You send us a video, and we'll incorporate it into the project and you can come find your answers in New York at Apex. If you have a newish Mac, Photobooth will take the video for you. if you have an oldish Mac or a PC, we'll have to figure that out but we'll be posting further instructions for how to do it on the blog soon. So please, get involved, send us a video and let us find you answers. You've listened to us find our own answers. What questions do you have?"
PLEASE SEND YOUR VIDEOS TO THIS EMAIL ADDRESS: video.badatsports@gmail.com
Thanks!
Kathleen Hannah was first-wave feminism, for me. I took all the requisite women's studies classes when I was in college, but it wasn't until I started listening to bands like Bikini Kill (and later, Le Tigre) that I ever felt any kind of emotional connection to feminism and its larger history. So I pretty much revere Kathleen Hannah and I lap up every interview and what not with her that I come across. Watch this video, and take note: Ms. Hannah doesn't need to get all pretentious with the theory (though she totally respects it, too) to be crystal clear about who she is and what she's all about. Also note: you can talk like a Valley Girl and still be super fucking smart. Kathleen makes some important points about the dangers of mistaking bullshit insecurities-cum-personal politics for authentic politics. So true. And also has some interesting things to say about zines vs. blogs, and the state of female political leadership today.
via Girldrive.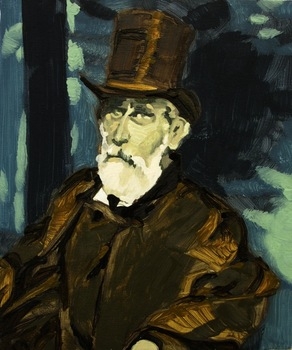 Andreas Fischer, who is Associate Professor at Illinois State University's College of Fine Arts, has concurrent shows of his latest paintings up right now at the Gahlberg Gallery at the College of DuPage and the Hyde Park Art Center. The Gahlberg Gallery show closes in two weeks (February 27th) so even though it may be a bit of a haul for those of us who live near Chicago, make a plan to get out there before it's too late! Luckily, Fischer's show at HPAC is up a little longer, through April 18th. These two exhibitions are comprised of related bodies of work, both of which I wrote about in the catalogue essay that accompanies them. Below is an excerpt from that text; I'm in the midst of a brain-squeezing allergy attack and can't produce much in the way of original thought this morning, so this'll have to do.
"In many ways, Andreas Fischer's recent paintings can be understood as ghost stories told with paint. Each of his works attempts to represent imaginative experiences that cannot be conveyed linguistically, often by taking the form of something they are not, be it a faded archival photograph or a snapshot of a picturesque Montana landscape. Using paint to weave together the factual and the ineffable, Fischer provides us with information that cannot be confirmed by a source outside of the painting: meaning must be intuited via the paint itself. Fischer's concurrent exhibitions at the Hyde Park Art Center and the Gahlberg Gallery at the College of Du Page consist of two separate but conceptually related groups of paintings: the first, titled Original Location, is a series of landscapes depicting various Montana settings, the second, titled Sunday Best, consists of portraits based on found tintype (also known as ferrotype) images of anonymous individuals dressed in 19thcentury-style attire.

Fischer draws on metaphors of historiography and the archive to explain how these two bodies of work relate to one another:
'History often gets represented through a collection of fragments or an archive and it has been argued that what is important in archives is what is left out – what can't be represented factually, actual experience in other words. Both parts of Ghost Town attempt to use painting to address this absence. Through material facts of paint these bodies of images attempt to extend beyond basic linguistic representation into broader experience. Both bodies of work are meant to mimic kinds of historical fragments. They pretend to document. More importantly, though,they attempt to use paint activity to tap into imaginative characteristics that make up subjective experience.' "
I also highly recommend that you attend Andreas' talk at the Hyde Park Art Center on Sunday, April 3rd at 3:00pm. He is so much fun to talk to: so curious, generous, and thoughtful — I enjoyed our studio visits tremendously and I can pretty much guarantee that this talk will not be a one-way lecture type thing. HPAC has billed it as "not your grandmother's artist's talk. Please come with plenty of questions and be ready to discuss painting techniques, research tips, points of interest and other spontaneous topics with Andreas." Although when they were alive my own grandmothers wouldn't have known what the heck an 'artist's talk' was, much less given one, I do know they would have felt comfortable at Andreas' because he is is so kind, generous and open with his own and other people's musings on the subject of painting. Be there people!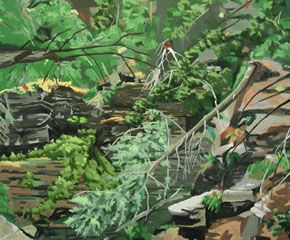 It's that time again. This was another week full of many worthy options for viewing. I'll be going to quite a bit more than just these five, but these looked particularly interesting:
1. You Can Lose Your Balance at 65 Grand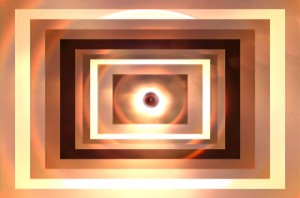 I've been a fan of 65Grand for quite a while. I am not terribly familiar with Scott Wolniak, but I took a trot over to his website, and it looked like interesting stuff. Corbett vs Dempsey or Noble and Superior are both close by, so why not go for a two- or three-for-one? See y'all at the top of the stairs.
65Grand is located at 1378 W. Grand Ave. Reception is Friday from 7-10pm.
2. Sarah Best: Daily Photos at Antena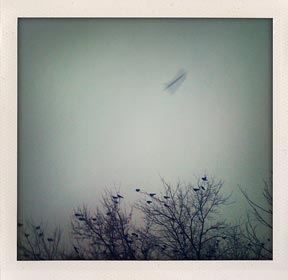 There are two shows opening at Antena this Friday, and this is actually the smaller of the two. The premise involves cell phone pictures, a medium that I still find dubious, but which I need to see more of, so as to fully form my opinion. The one image available is beautiful, as you can see.
Antena is located at 1765 S. Laflin St. Reception is Friday from 6-10pm.
3. UnCommon Territories at Heaven Gallery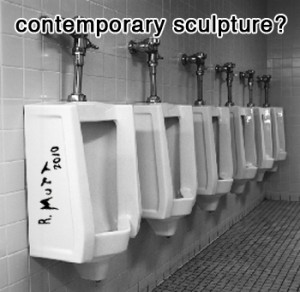 A group show of (primarily) SAIC sculpture kids, including: Marissa Benedict, Christopher Bradley, Scott Carter, Lauren Carter, Younghwan Choi, Colleen Coleman, Allison Fall, Elise Goldstein, Katya Grokhovsky, Samantha Hill, Holly Holmes, Scott Jarrett, Selena Jones, Maya Mackrandilal, Lisa Nonken, Luis Palacios, Ben Stagl, Stephanie Victa, Andrew Norm Wilson. Come spend an evening in Heaven.
Heaven Gallery is located at 1550 N Milwaukee Ave. Reception is Friday from 7-11pm.
4. Duncan R. Anderson at Kasia Kay Gallery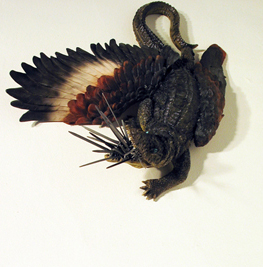 The best exhibition I ever saw at Kasia's place was Anderson's previous exhibition. I'm super excited to see that he's back, and I can't wait to see what new craziness he has on display. This dude's work is friggin' awesome.
Kasia Kay Gallery is located at 1044 W. Fulton Market. Reception is Friday from 6-8pm.
5. Room-a-Loom at Swimming Pool Project Space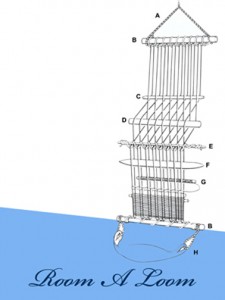 Come see the spectacular culmination of the Room-A-Loom! People have ween donating their blue weaveable material for almost a month now. It is time now to experience what a giant loom and a giant room can make together! It's gonna be fort-tastic!
Swimming Pool Project Space is located at 2858 W Montrose Ave.Reception is Saturday from 6-10pm.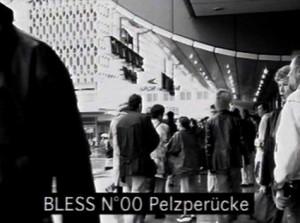 During a recent visit to Los Angeles I picked up the video compilation BLESS: Celebrating 10 Years of Themelessness at Ooga Booga. When I asked Wendy, the shop owner, about the dvd I was told "It's not for people new to Bless. You won't learn more anything about them. It's for the true Bless fan." For a moment I considered whether or not I was a true Bless fan and decided that I was.
Bless is a conceptual fashion house based in Paris and Berlin started by Desiree Heiss and Ines Kaag in 1996. They release products designed to "make the near future worth living for." They make thoughtful garments, jewelry for electronic cables, hanging wardrobe mobiles, and other items intended to be used, lived with, and sometimes discarded.
BLESS: Celebrating 10 Years of Themelessness, released by Bureau des Videos, collects 15 short videos from the Bless archive. Many of the pieces are documentation from the public presentations of their varied collections. In No25, Uniseasoners, as people enter the dining area of a restaurant they are seated by servers wearing Bless clothing. The servers take orders, bring wine, and later bring food. Everything is normal, maybe even boring, except for occasional pauses to highlight elements of the clothing. A scarf turns into a hooded sweater. In another video, No13 Basics, a narrator lets me know that we're in an apartment in Paris where several friends have spent the day together "wearing sweaters, bodysuits, trousers and customized Levi's jeans" as if they were their own.
There is nothing precious about Bless. Bless is a project that presents ideas about living. There is no lifestyle to buy, you must bring your own. As their modest iWeb page says, FITS EVERY STYLE.