Amy Beste is a woman of many hats. "She is the director of public programming for the department of Film, Video & New Media at the School of the Art Institute of Chicago where she organizes the visiting artist series 'Conversations at the Edge' at the Gene Siskel Film Center." Has curated numerous screenings across the country; and is "currently working on a PhD at Northwestern University where she is writing a history of experimental and industrial/educational filmmaking in Chicago." Amy was kind enough to take the out of her schedule and answer some of my questions about Conversations at the Edge's current season.
There has been a lot of press about individual screenings from Conversations at the Edge but not very much about the program itself. Could you give a little background on how the series came to be?
Sure, the series Conversations at the Edge started in 2001 as an effort between the School of the Art Institute of Chicago's department of Film, Video, & New Media, the Gene Siskel Film Center, and the Video Data Bank to showcase innovative and experimental media and makers. The Film Center had long screened experimental film and video (its roots are, in fact, in an experimental film series from the 1960s called the Magick Lantern Society) and the Video Data Bank, and the Film and Video departments (now the Film, Video, & New Media department) had been hosting important media makers as visiting faculty from their inceptions. The series presented an opportunity for these different groups who were associated with SAIC to join forces and present a very dynamic series that showcased a range of aesthetic approaches, histories, and politics, while also providing a unique opportunity for direct conversation between media artists and a broad public audience.
How is the series curated? There is such a great balance of work. You have very well known artists such as Dara Birnbaum, up and coming artists such as Ryan Tricartin, but also artists that are not well known.
Thanks–we work hard to get that balance. I organize the series in very close consultation with the Video Data Bank and the department of Film, Video, & New Media which serve as the series' curatorial advisory board–making suggestions for artists and programs—as well as a sounding board for each season's overall shape. [Read more]
For this week's pick we bring you video artist Sophia peer's video for the Baltimore based band Ponytail entitled, Celebrate the Body Electric (It Came From an Angel).
Check out Sophia Peer's Youtube page
Mark Staff Brandl has released a full length video version complete with illustration of his speach presented at the CAA (College Art Association, art historians organization) annual conference in Chicago this past week as well as at the Kunstschule Lichtenstein, in 2010. It concerns description and criticism of the standard conceptions and models of fine art history and the history of comics, while offering a new one model for conceiving of and teaching these histories.Also Mark Staff Brandl gave a video interview with Columbia College while in town that is fun as well.
I'm looking forward to checking out afriCOBRA and the Chicago Black Arts Movement later on this week. The exhibition is open for a very short period of time – February 12th through March 17th, 2010. I myself have trouble seeing shows early on in their run, and find myself scrambling to see stuff the week before it closes. Don't be like me.  Here's a short preview video put together by the organizers at Northwestern University's Dittmar Memorial Gallery.
Dittmar Winter 'AfriCOBRA' Exhibition Opens to Public Feb. 12 from Northwestern News on Vimeo.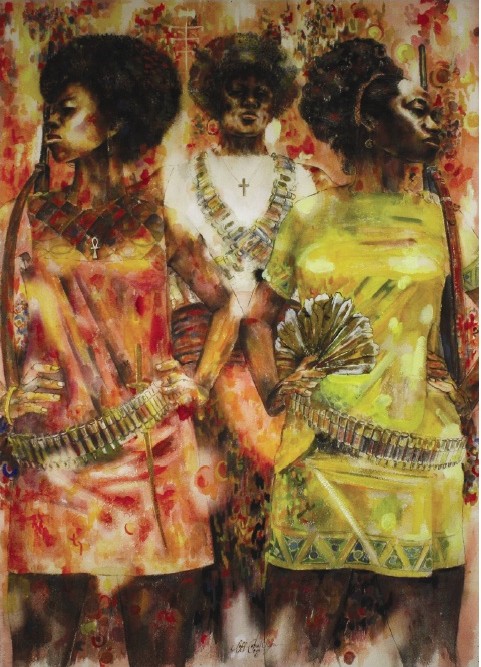 I was a bit behind the curve when it came to checking out The Object of Nostalgia, up through this Saturday, February 12th at Columbia College's A+D Gallery, having only learned about it last week in conjunction with the CAA panel on the same topic. The show's central organizing question–what is worthy to speak about when one is making "important" art?–is of great personal interest (I'm also keen to apply that same question to criticism, but that's another post). So any exhibition that takes an unapologetic look at our (so-called) "nostalgic" connection to the object in contemporary art-making, or as the curators put it, contemplates the nature of "sentimentality and its conflicted relation to contemporary art" is a most welcome thing for me to behold and overall, a project to which I'm pretty much automatically sympathetic.
Curators Rene Marquez and Lance Winn invited four artists to participate in the show, and asked each of them to select another artist  whose work resonated with the exhibition's themes. This all worked quite well, and the result is an exhibition filled with strong pieces, in which aesthetic genres such as portraiture, ceramics, the family snapshot (framed and resting on shelves, no less) and even 19th century dog paintings make a return. I especially liked Dawn Gavin's altered paper map pieces, which serve to remind us that in the age of augmented reality, the two dimensional map has already gone the way of the LP record. Although I tend to think maps alone are compelling enough to contemplate as-is, Gavin's delicate incursions into the map-as-physical object changed my mind. They're surgically precise yet seem to tremble with unspoken feeling.
I also thought Clayton Merrell's paintings were terrific (the one featured in the catalogue is actually not in the show). They're old fashioned plein-air type landscapes in oils and egg tempera, but their surfaces have been brushed over, scratched and scraped and otherwise distressed, if you will, in a manner that suggests a desire to caress the surface, perhaps to the point of being unable to leave it alone.
What's more, Merrill adds all manner of abstract geometric as well as biomorphic forms to his open skyscapes–sunbursts, droplets, along with numerous fractal elements that skitter and unfold and otherwise ladder their way across his compositions.  Like all great paintings, Merrill's look better in real life than they do in reproduction, so try and see them in person if at all possible.
There's not a single bad piece in the show. I would, however, have liked to have seen a lot more of Julia Lothrop's tiny oil portraits — there are only two on view here, not enough to make the impact that I'm betting a whole long row of them would have made. Also: if this is the same Julia Lothrop who is a RISD alumni and makes cloth dolls out of vintage fabric — someone made a very grave error in not including those dolls in this show as opposed to the more acceptable little oil paintings. I shouldn't have to elaborate why – take another look at the show's main argument. But if it's not the same Julia Lothrop, then, uh, scratch that.
I also liked Elaine Rutherford's installation very much, but wished that the small video screen of lapping waves wasn't part of it. It's not that I'm against the presence of technology in a show like this, I just didn't want my attention to be taken away, even for a second, from the gilded porcelain cabbage leaves strewn on the wooden shelf before me. [Read more]