This looks to be a great lecture!
DOUG AITKEN
Monday, February 22, 6 p.m.
Fullerton Hall, The Art Institute of Chicago,
111 S. Michigan Ave FREE ADMISSION
Widely known for his innovative fine art installations, Doug Aitken is at the frontier of 21st-century communication. Utilizing a wide array of media and artistic approaches, Aitken's eye leads us into a world where time, space, and memory are fluid concepts. Aitken's work effortlessly slips into our media-saturated cultural unconscious allowing the viewer to experience cinema in a unique way by deconstructing a connection between sound, moving images, and the rhythms of our surroundings. Treating the world as his studio, he edits together frenetic and unique models of contemporary experience. Aitken has had numerous screenings, and solo and group exhibitions around the world, including the 1999 Venice Biennale, where he won the International Prize for his acclaimed installation electric earth. He's exhibited work in institutions such as the Whitney Museum of American Art, New York; Museum of Modern Art, New York; and the Pompidou Center in Paris.

The folks at Temporary Services are puttin' on a Fair in conjunction with their current Gallery 400 show, Art Work (January 26 through March 6, 2010). This Friday and Saturday from 12-6pm Bad at Sports will be there, selling t-shirts, giving away stickers, and recording your questions on video for our upcoming exhibition at apexart!
Please join everyone at the Fair for two days of art, books, talks, things for sale, things for free, and more….including short discussions about the work of various participating organizations scheduled throughout the day.
The whos (as in, who will be at Fair):
Antena
AREA Chicago
Bad At Sports
CAFF: "Find us in the real world motherfuckers!"
Gallery 400
Esteban Garcia
Golden Age
Green Lantern Press
Half Letter Press
Terence Hannum
Harold Arts
Imperfect Articles
InCUBATE
Clifton Meador & guests
David Moré
No Coast
Onsmith Dog Stew & Monkey Nudd Wine
Pros Arts Studio
Proximity Magazine
Radah & Team
Spudnik Press
Bert Stabler
threewalls
WhiteWalls
The whens, wheres and hows:
Friday, February 26, Noon – 6 pm
Saturday, February 27, Noon – 6 pm
Two days of art, books, talks, things for sale, things for free, and more!
Organized by Temporary Services in conjunction with ART WORK: A NATIONAL CONVERSATION ABOUT ART, LABOR, AND ECONOMICS • www.artandwork.us
LOCATION
G400 Lecture Room & Gallery 400 at the Art & Design Hall, University of Illnois, Chicago
400 S. Peoria St (at Van Buren)
www.gallery400.aa.uic.edu • 312-996-6114
And while you are there:
Check out The Free Store, a concurrent exhibition at Gallery 400 taking the form of "a nomadic, temporary free store that irregularly visits a variety of Chicagoland neighborhoods." The Free Store asks you to get involved by coming to the store, bringing stuff you want to give away, and taking stuff that you want. There is no restriction on what you can take. You don't even have to haggle!  Just take it!
**Items can be dropped off at Gallery 400 during open hours. The Free Store organizers are always happy to accept donations (everything except for people, animals, and illegal/toxic substances).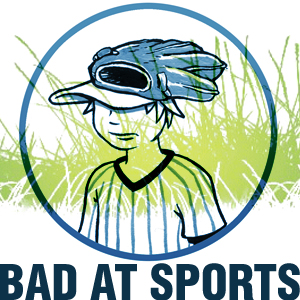 On this week's podcast, Duncan has a special announcement regarding our upcoming exhibition at Apexart in New York. It's group participation time, folks, so I'm passing along Duncan's message to all of the blog's readers to get the word out (actually, I just transcribed what he said on the show, as I'm too knackered to come up with any words of my own). Sayeth Duncan, speaking for the entirety of Bad at Sports:
"What [Bad at Sports] is doing is asking questions to our artworld. What we're more interested in than anything is in asking, 'what's the deal? HEY ARTWORLD, WHAT'S THE DEAL?' We're trying to figure out how to encapsulate that as an element in the exhibition, this curiosity about our artworld.
We need your help. We want you to bust out your Mac, go to Photobooth, and make a little video of yourself asking a question to your artworld. It could be directed to us, it could be to other personalities, it could be to an abstract artworld. What we'll do is we'll try and find an answer. So if you have a question for Damien Hirst, we'll try and get to him. If you have a question for us, we'll do our best to answer it. If you have an abstract question we will find someone who can answer that question and have them respond on video. We're looking for everything from, "how do I become a better human?" to "Hey Damien Hirst, can't you get enough?"
We will track down these answers. Questions can run from the pithy to the abstract to the theoretical. You send us a video, and we'll incorporate it into the project and you can come find your answers in New York at Apex. If you have a newish Mac, Photobooth will take the video for you. if you have an oldish Mac or a PC, we'll have to figure that out but we'll be posting further instructions for how to do it on the blog soon. So please, get involved, send us a video and let us find you answers. You've listened to us find our own answers. What questions do you have?"
PLEASE SEND YOUR VIDEOS TO THIS EMAIL ADDRESS: video.badatsports@gmail.com
Thanks!
Kathleen Hannah was first-wave feminism, for me. I took all the requisite women's studies classes when I was in college, but it wasn't until I started listening to bands like Bikini Kill (and later, Le Tigre) that I ever felt any kind of emotional connection to feminism and its larger history. So I pretty much revere Kathleen Hannah and I lap up every interview and what not with her that I come across. Watch this video, and take note:Â  Ms. Hannah doesn't need to get all pretentious with the theory (though she totally respects it, too) to be crystal clear about who she is and what she's all about. Also note: you can talk like a Valley Girl and still be super fucking smart. Kathleen makes some important points about the dangers of mistaking bullshit insecurities-cum-personal politics for authentic politics. So true. And also has some interesting things to say about zines vs. blogs, and the state of female political leadership today.
via Girldrive.
Andreas Fischer, who is Associate Professor at Illinois State University's College of Fine Arts, has concurrent shows of his latest paintings up right now at the Gahlberg Gallery at the College of DuPage and the Hyde Park Art Center. The Gahlberg Gallery show closes in two weeks (February 27th) so even though it may be a bit of a haul for those of us who live near Chicago, make a plan to get out there before it's too late! Luckily, Fischer's show at HPAC is up a little longer, through April 18th. These two exhibitions are comprised of related bodies of work, both of which I wrote about in the catalogue essay that accompanies them. Below is an excerpt from that text; I'm in the midst of a brain-squeezing allergy attack and can't produce much in the way of original thought this morning, so this'll have to do.
"In many ways, Andreas Fischer's recent paintings can be understood as ghost stories told with paint. Each of his works attempts to represent imaginative experiences that cannot be conveyed linguistically, often by taking the form of something they are not, be it a faded archival photograph or a snapshot of a picturesque Montana landscape. Using paint to weave together the factual and the ineffable, Fischer provides us with information that cannot be confirmed by a source outside of the painting: meaning must be intuited via the paint itself. Fischer's concurrent exhibitions at the Hyde Park Art Center and the Gahlberg Gallery at the College of Du Page consist of two separate but conceptually related groups of paintings: the first, titled Original Location, is a series of landscapes depicting various Montana settings, the second, titled Sunday Best, consists of portraits based on found tintype (also known as ferrotype) images of anonymous individuals dressed in 19thcentury-style attire.

Fischer draws on metaphors of historiography and the archive to explain how these two bodies of work relate to one another:
'History often gets represented through a collection of fragments or an archive and it has been argued that what is important in archives is what is left out – what can't be represented factually, actual experience  in other words. Both parts of Ghost Town attempt to use painting to address this absence. Through material facts of paint these bodies of images attempt to extend beyond basic linguistic representation into broader experience. Both bodies of work are meant to mimic kinds of historical fragments. They pretend to document. More importantly, though,they attempt to use paint activity to tap into imaginative characteristics that make up subjective experience.' "
I also highly recommend that you attend Andreas' talk at the Hyde Park Art Center on Sunday, April 3rd at 3:00pm. He is so much fun to talk to: so curious, generous, and thoughtful — I enjoyed our studio visits tremendously and I can pretty much guarantee that this talk will not be a one-way lecture type thing.  HPAC has billed it as "not your grandmother's artist's talk. Please come with plenty of questions and be ready to discuss painting techniques, research tips, points of interest and other spontaneous topics with Andreas." Although when they were alive my own grandmothers wouldn't have known what the heck an 'artist's talk' was, much less given one, I do know they would have felt comfortable at Andreas' because he is is so kind, generous and open with his own and other people's musings on the subject of painting. Be there people!