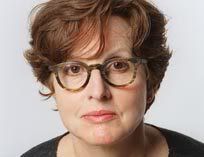 via The New York Times:
Q. I was wondering if you could talk about what kinds of things art reporters think about when they look at an art piece (painting, ceramics, sculptures and so on — but particularly paintings) and have to decide whether it's a worthwhile piece to write about. I know part of the job is done for you if the pieces are sitting in the Met or other well-established museums, but what is often elusive is the criteria reporters might use to judge and talk about the quality of an art piece. What elements should a painting satisfy at the very basic level? Before you even see a piece, what things might you anticipate looking for before you can get to the part where you say, "O.K., now let me look at how this painting is speaking to me."
— Chandra Tiwari
A. For this meaty question I offer the floor to one of our fabulous art critics, Roberta Smith, who spends her days (and nights) not just in the great museums but in the nooks and crannies of the art world, not just in New York but in thriving scenes elsewhere in the United States and abroad:
My main activity is looking, looking and more looking, and trying to listen to my subjective reactions as objectively or neutrally as possible. I learn from everything I look at, good, bad or indifferent. I follow my eye reflexively; if it is drawn toward something, I pay attention and try to find out why. You train your eye, build up a mental image bank, and constantly try to pinpoint why some things are convincing and others aren't.
When I look at new work, my image bank goes into action. I pay careful attention to the names of other artists that flash in my brain as I look at the work. How many other artists exactly come to mind? There's nothing wrong with this up to a point. I always loved Frank Stella's observation that when you start out as a painter, you make other painters' paintings, then you gradually begin to make your own paintings. I try to figure out what's left in a younger artist's work once I've subtracted the other artists' influences. Does what remains seem original or at least promising? Is the younger artist aware of the debt and trying to get free of it? Or is that artist just unconsciously accepting received ideas and therefore making work that is generic or derivative? Obviously, the fewer names that come to mind, the greater the odds that you are looking at something fresh that you haven't quite seen before.
And I do feel that there is a basic human drive to see something new. We don't want to listen to endless cover bands playing Beatles' songs, why should we look at the same abstraction or still life, the same photograph or Conceptual performance piece being done again and again by different artists with only slight variations?
At the same time, "newness" or originality are often matters of subtle degree. The new doesn't have to be an epoch-shifting breakthrough. Just as we all have different fingerprints and handwriting, we all have a potential for some increment of originality. I am always on the lookout for a spark of necessity — a feeling that this particular artist had no choice but to make this particular artwork this particular way. That is the only way authenticity or even originality can start to emerge."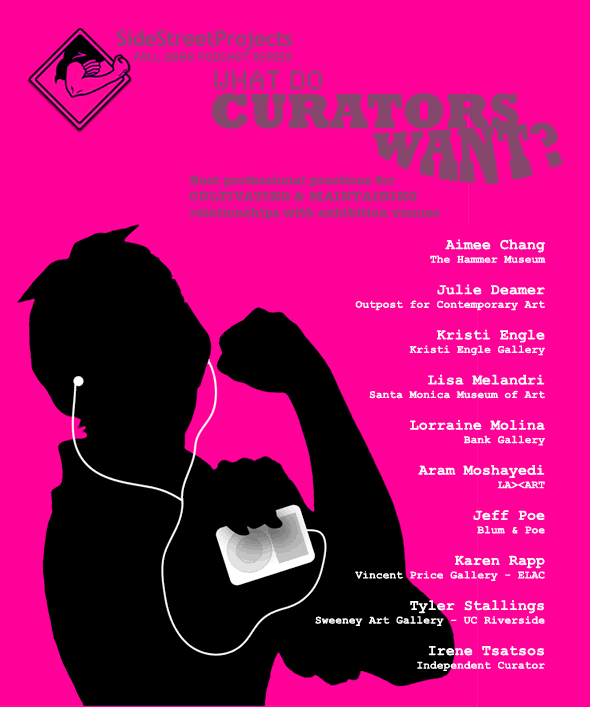 Side Street Projects presents…
What Do Curators Want?
A free, 10-part podcast series addressing
best professional practices for contemporary visual artists.
New episodes every Thursday — 09/18/08 thru 11/20/08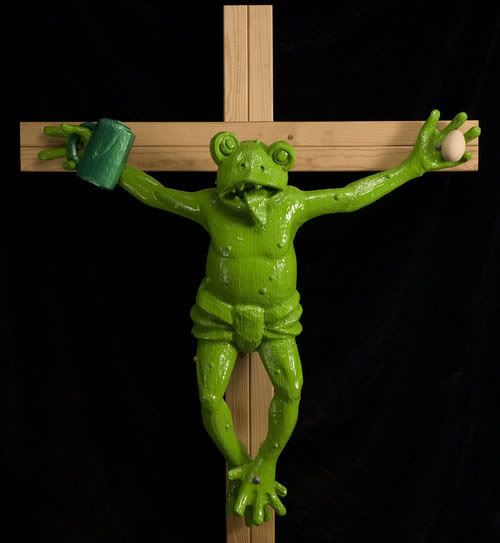 via Christopher Knight for the LA Times
Austria Today, an online business-oriented daily, reports today that Pope Benedict XVI has condemned as blasphemous a sculpture of a crucified frog being shown in an Italian museum. A version of the work is also on view in Los Angeles, in the Museum of Contemporary Art's newly opened retrospective of Martin Kippenberger, the late German artist who made it.
The brief article in the Internet daily, which is a pay-per-view site, reports:
"In a letter written last month, Pope Benedict said that the sculpture 'injured the religious feelings of many people who see in the Cross the symbol of the love of God and of our salvation, which deserves recognition and religious devotion.'"
The museum, however, insists that the work is a self-portrait of the artist "in a state of profound crisis" and is not an attack on religion.
Curators of the Museion, a modern and contemporary art museum in Bolzano, Italy, reportedly plan to remove the work, which is on loan from an Austrian private collector.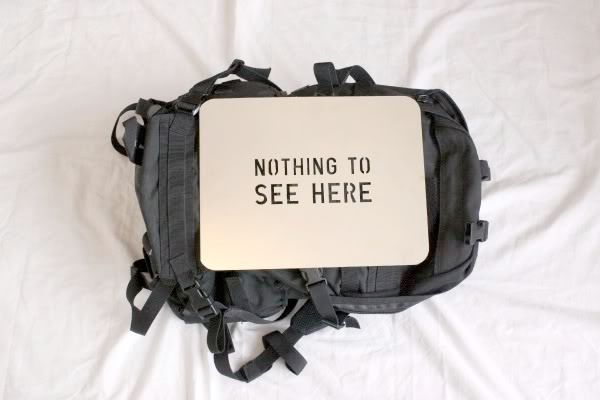 via Make
"One of my favorite artists, Evan Roth, is working on a project that will be released soon – the pictures say it all, it's a "carry on" communication system. These metal places contain messages which will appear when they are X-Rayed. The project isn't quite done yet, Evan needs access to an X-Ray machine to take some photos and document. If you have access to an X-Ray machine he's willing to give you a set of the plates for helping out (email fi5e [at] ni9e.com]."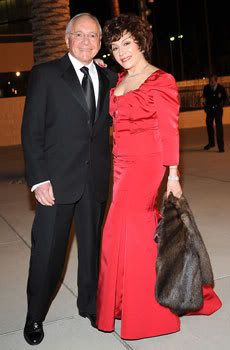 via the Los Angeles Times:
LOS ANGELES — The Los Angeles County Museum of Art plans to announce on Monday that it has received a $45 million cash gift and the promise of $10 million in artworks from Lynda and Stewart Resnick, a Beverly Hills couple who are longtime supporters of the museum.
The cash gift, $25 million of which had previously been disclosed, will be used to finance a new 45,000-square-foot exhibition pavilion designed by Renzo Piano. It will be immediately behind the Broad Contemporary Art Museum, which opened in February on the museum's campus.
Construction of the building, which is intended to house special exhibitions and will bear the Resnicks' name, began earlier this year and is expected to be completed in 2010.
The gift comes at an uncertain time for the art world generally and for the museum, which has been moving quickly to overhaul itself since Michael Govan, who formerly led the Dia Art Foundation in New York, took over as museum director in the spring of 2006.
The museum has already raised the $201 million needed for the first phase of the rebuilding plan.
Cultural institutions have been left wondering in recent weeks what will become of some of their largest financing sources as a national economic crisis unfolds. Four prominent financial institutions that were significant contributors to museums and arts programs — Bear Stearns, Merrill Lynch, Lehman Brothers and Washington Mutual — have shut down, been acquired or seized by regulators.
In 2006, before Mr. Govan's arrival, the county museum announced that a new entrance pavilion, part of Mr. Piano's redesign of the campus, would be named for the Resnicks in recognition of their $25 million gift. But when the museum received a separate $25 million contribution last year from the oil company BP, the Resnicks agreed to let the company have naming rights instead to what is now the BP Grand Entrance, a new open-air entryway on Wilshire Boulevard between the Broad Contemporary and the museum's older buildings.
Mr. Govan said that the new building, to be known as the Lynda and Stewart Resnick Exhibition Pavilion, would free up more space to display the museum's permanent collection.
The Resnicks share the chairmanship of Roll International, a private holding company that owns Paramount Citrus, one of the country's largest citrus producers, and Paramount Farms, which distributes almonds and pistachios. The company also owns Teleflora, the flower-delivery service, and the consumer brands Fiji Water and Pom Wonderful pomegranate juice.
The glass-and-marble Resnick exhibition pavilion will be a large open-plan light-filled space with a concrete floor and sawtooth roof to complement the one in Mr. Piano's Broad building.
Details of the couple's $10 million art donation have not been revealed. The Resnicks are particularly known for their collection of old master paintings and sculpture. Mrs. Resnick, who has been on the museum's board since 1992, is chairwoman of the acquisitions committee. Museum officials declined to make the Resnicks available for comment before the announcement on Monday.
The new building is part of the second phase of the county museum's redesign, which includes the installation of several outdoor artworks, including Michael Heizer's "Levitated/Slot Mass," a 400-ton boulder to be suspended on two concrete rails above a pit carved out of the earth, into which visitors are expected to be able to walk.
The museum has also embarked on a feasibility study for the installation of a Jeff Koons sculpture, "Train," which consists of a 70-foot replica of a 1940s locomotive to be suspended from a 161-foot-tall crane over a plaza on the museum campus.
The second phase of the rebuilding plan is also to include the renovation and refurbishment of the former May Company department-store building, now known as Lacma West, at the southwestern corner of the 20-acre campus. That building will house flexible gallery space, education space, administrative offices, a new restaurant, a gift shop and a bookstore, as well as study centers for the museum's departments of costume and textiles, photography and prints and drawings.
Lacma West will also include a roof sculpture garden with two works by James Turrell, "Missed Approach" and "Boullée's Boule," one of Mr. Turrell's "skyscapes."