Not acquainted with the work of Robert Overby? Here's a chance to start. If you live in Chicago you can currently see two stunning examples of this still under-appreciated artist's work (which isn't surprising, since not only did Overby die in 1993, he stopped showing his artwork in commercial contexts early on in his art career). Concrete Screen Door, 1970, now part of the Art Institute of Chicago's permanent collection, is now on view in the Modern Wing, and Two Window Wall Map, 1972 has just been installed as part of a group show of gallery artists in the back half of Rhona Hoffman Gallery in the West Loop.
Born in 1935 in Harvey, Illinois, Overby attended the School of the Art Institute in Chicago in the mid-1950s and later moved to Los Angeles, where he worked as a graphic designer and taught advertising and graphic design. Whereas artists like Gordon Matta Clark took a surgical approach to architectural materiality, slicing into buildings in order to unearth new and previously impossible perspectives, Overby focused on the outer layer: making latex casts of building facades and canvas "maps" of building interiors that functioned simultaneously as images and recordings. In a 2000 Freize review of Overby's retrospective at the UCLA Hammer Museum, Charles La Belle described the artist as "specializing in a brand of corrupted (he called it 'Baroque') Minimalism." Writes La Belle:
"He instilled a highly personal, poetic, and social content into what were basically reductive, process-oriented works; marrying pure materials such as rubber, lead, canvas, concrete, resin, and wood to banal objects and abject spaces. All manner of crappy, dirty, broken things formed the subject of his work: socks and handkerchiefs, shattered windows and splintered doors, bondage masks, beaver shots, coat-hangers, cans, belly-buttons, and man-hole covers all cropped up during the high point of his production in the 1970s. With his been-down-so-long-it-looks-like-up-to-me sensibility Overby wasn't afraid to crawl in the gutter and the resultant work refused to accommodate itself to the expectations of market or spectator."
Overby's 2000 Hammer retrospective generated lots of attention and several follow-up exhibitions at galleries and smaller museums over the following couple of years, but for now, those who wish to learn more about Overby's work will have to check with their local museum to see if any of this artist's works are in its collections. Chicagoans have an opportunity to see two very good examples on public view right now; hopefully one day the Art Institute or the MCA may acquire one of Overby's more spectacular (if such a word can be applied to this low-key grunge minimalist) latex pieces as well.
During the month of January the Gene Siskel Film Center hosts a series that spotlights new works of documentary films in a series called, Stranger Than Fiction: Documentary Premiers. For this month we will check out a couple of films including Mine, Prodigal Sons, and this week's pick, An American Journey: In Robert Frank's Footsteps.
Directed by Philippe Seclier, An American Journey: In Robert Frank's Footsteps documents the filmmaker's attempt to capture scenes from Swiss photographer Robert Frank's seminal work The Americans. Published in 1959, the book first came under criticism before it was heralded as a body of work that portrayed a complex portrait of American life on the cusp of the 60s. Beginning his journey after winning a Gugenheim Fellowship Frank traveled 15,000 miles documenting a side of America that typically was not portrayed in photography at the time.
While meeting with friends and collegues we get a better idea of how the artist worked. Primarily editing from contact sheets and often throwing away unwanted negatives Frank appeared to have an intuitive approach when it came to selecting his frames. A scene that really stands out in the film happens near the beginning when we get a chance to see the mauquette Frank put together for the first edition. It's worn down and dirty but the object almost feels as if it reflects many of the subjects within the series, humble, dignified, and underrepresented.
I have to give Seclier some credit, he knows how long to make a doc. Clocking in at only 60 minutes, the film, although filmed with a handheld (which I hate), quickly moves through the American landscape. It is unclear if he visited every location from the book but after viewing a handful it would be hard to show all without feeling repetitive.  Although we walk away with small stories about Frank's travel it is not a particularly powerful portrait of the artist. Instead, we are left with the notion of changing landscapes, urbanization, and mortality.
An American Journey: In Robert Frank's Footsteps will be playing:
Thursday, January 14th at 6:00pm
Gene Siskel Film Center
164 North State Street
Chicago, IL 60601-3505
(312) 846-2600
If you  have never watched any of these videos and have the smallest notion of the Star Wars galaxy; then,  I would highly recommend watching all of this video. The French had a really great grasp of what Lucas was doing wrong. Screw the Jedi, any plot, or any other characters beside Darth Vader and C3PO. Fucking C3PO, the pussiest of all Star Wars Characters! Thanks to Michael Czerepak for sending this my way.
This is the only info that I could get translated and it is pretty shaky to say the least:
"If star Wars had been Frenchman…
And definitely this would have had of the face…
When they think that Lucasfilm dared to take out five nouvels opus after this frenchy masterpiece"
"Forever Vegetal" is the head-scratching title given to two concurrent solo shows at Roots and Culture featuring new work by Brian McNearney and Edra Soto. The exhibition opened earlier in December and will close this weekend on January 16th. Over the weekend I spoke (o.k., emailed with) Edra Soto about the new works she created for the exhibition, which tackle all the Big Issues:Â  Life and Death, Heaven and Hell, Roman Catholicism, Michael Jackson's pet mouse Ben, and Soto's loveable canine, Foster, aka "the Jesus of Dogs."
Your show at Roots and Culture begins with a piece that takes the form of a shrine and is titled "In Memory of Who I Was." To me it seems to frame the entire show.
Edra Soto: "In Memory of Who I Was" is a shrine that commemorates my innocence, my past and the person I will never be again. I was also trying to make a memorial for myself as form of representing a transition. It's never been a problem for me to find ways of representing art, but when I've been involved in great projects that have taken a lot of time and emotional investment, like my latest show at the MCA, it was making perfect sense for me to "kill myself" theoretically, to be able to speak about something different. There are a few transitional pieces in the show.
Initially, I was trying to make an art piece that compiled photos of me from childhood to the present, and have a small memorial of who I was until yesterday. I have explored the concept of time passing with memorials, like in A Year In Review and Landfill exhibited at Gallery 400 and Memorial at Polvo, all in 2005. [Read more]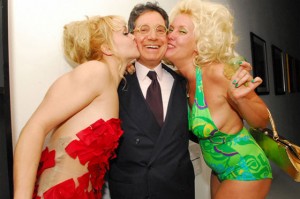 The art press and art blogosphere are all a-Twitter over an article in last Friday's L.A. Times suggesting that New York big-man art dealer Jeffrey Deitch is among the top candidates for the directorship of L.A.'s Museum of Contemporary Art. You'll recall that MOCA has been without a leader (save for Eli Broad's not so behind-the-scenes machinations) since Jeremy Strick resigned in disgrace over his poor handling of MOCA's finances, which nearly ran the institution into the ground. [Read more]