My relationship with representational painting must be a common one:  drawn in, as a child, by the painted illustrations in books about dinosaurs, in particular.  Who hasn't been awed by the "gee whiz!" factor of an impressive piece of realism?  As much as we are taught that photography is a form of abstration from reality, "It looks just like a photo!" remains synonymous in common usage with looking like reality.
Howard Ikemoto is famous for the anecdote in which, after telling his daughter that he teaches people to draw, she replies, "You mean they forget?"  It's adorable, and certainly there is something to be said for the childlike sense of wonder that comes from drawing without fear, without self-consciousness, but drawing for the pure pleasure of it.  Thinking back, maybe when I was very young I had this.  I still have a few of my early drawings, almost all of prehistoric life:  "a caveman daddy building a fire," a prehistoric whale I knew as Zeuglodon (since I learned of it in the early 1980s, its name has reverted to Basilosaurus, a name dating to when it was mistakenly believed to be a reptile, but proper according to taxonomic rules), and an Apatosaurus guarding a nest of eggs.
I was inspired in this early drawings by the magical ability of paleoartists, through their paintings, to bring extinct animals back to life.  The realism of the paintings made, in a very literal sense, their subjects real.  Without life restorations, who would really believe in dinosaurs, and who would care about them?
In early adolescence I felt a precursor of John Berger's notion (from Ways of Seeing) that to possess a painting of a thing was to possess in effigy the thing itself.  I built an army, an empire, by drawing warriors and their weapons.  My archetypes here were defined by the illustrations in Martin Windrow's Soldier Through The Ages series, and by the airbrushed sihlouettes of airplanes in the works of Bill Gunston and others.
This interest in military history and technology led, through an interest in medieval combat, to an interest in fantasy.  I bought Dungeons and Dragons sourcebooks, not to play the game, but to look at the illustrations.  Keith Parkinson and especially Larry Elmore were my heroes.  As with my early interest in paleoart, I admired their ability to drag, by brush and pen, unreal worlds into reality.  Related to the illustrations in this role-playing sourcebooks are the work of other fantasy illustrators, among them Boris Vallejo, Wayne Barlowe, and Tim Bradstreet.  These artists formed the core of my artistic interest in my mid teens.
The recurring theme with the representational painters and drawers whom I admired in my childhood and adolescence was that they were all illustrators.  One doesn't imagine Vallejo and Elmore debating semiotics.  Questions of meaning, of significance, of the role of their work in society, simply do not come up.  The artists content themselves with honing their craft, with creating original compositions which tell the story that they want, or were hired, to tell.
There is nothing new about this.  Medieval and Rennaissance painters working for the church weren't expected nor allowed to take liberties with the Biblical narrative.  It wasn't part of their job to provide a new perspective on religion.  Later artists working as hired portraitists were similarly expected to play it straight, though in some cases, such as Goya's painting of the royal family, they may have slipped in some subtle criticism.
In technical terms, prior to the invention of the camera (Vermeer's camera obscura notwithstanding), realistic painting reached its zenith in the Baroque era paintings of Rembrandt.  In the years after Rembrandt, representational painting slipped into a state of what could be called decadence.  Braoque became Rococo, and Fragonard took the place of Rembrandt.  About two hundred years went by before anything new truly appeared under the sun.
As Monet and the Impressionists were changing our understanding of what art was and of what it could be, the sort of art beloved by the Academy (which has in hindsight become maligned as a backwards, short-sighted, atavistic institution) continued to be made, and beloved by the public.  In particular Bouguereau is known for his playful scenes of frolicsome nudes.  There was no Salon de Refuses for Bouguereau; his work sold exceptionally well throughout his life, and while intellectuals in Paris might have rooted for the underdog of Impressonism, collectors loved to adorn their walls with Bouguereau's tits and ass.
It was this fork that consigned realism to the ghetto where it now finds itself:  for decades, criticality become synonymous with the apparently unstoppable march towards formalism.  The purity of abstraction was seen as a prophesied messiah, an inevitable goal towards which art had always, unknowingly, been striving.  Artists who rejected this direction, who failed to march in lock step in Greenberg's army, found themselves marginalized.  Norman Rockwell, Maxfield Parrish (whom Rockwell described as "my idol"), and the aforementioned Bourgereau achieved commercial success but have been pushed to the margins of art history.
The idea of the abstract expressionists that one could find God through painting may in hindsight seem painfully naïve, but for those caught up in its fervor it must have felt very real.  What those its sway should have seen coming, but of course never do, is that like any movement, abstraction was doomed to hit a high water mark, to buoy up a generation of painters and then break on the shoals of something new.  Pop art carried us through a couple of decades, but it was the last of the major -isms, and it was followed by the new pluralism within which we now find ourselves.  One might bemoan this pluralism as constituting a lack of direction, but in this openness is infinite opportunity.  As they say in Fight Club, "It is only after we've lost everything, that we're free to do anything."
Abstract expressionism had been a might castle, and Pop art had assaulted it by mining under its walls.  When the supports were burned away, the mine and wall collapsed, leaving a great breach, into which rushed a vast army of would-be successors.  Figurative representation counted itself among these, and in several forms.
"Photorealism" is what many in the laity say when referring to any work of particularly accurate representation, but in saying so they generally miss what is most obvious.  As revealed by the name itself, Photorealism isn't a direct representation of reality:  it's a representation of a photograph of reality.  The differences between how the eye sees and how the camera sees are inherent to Photorealism.  This is not to say that the camera does not remain a valid and powerful tool for the representational painter.  Working from source images offers many advantages over direct observation, as well as many disadvantages.  These concerns are entirely separate from the practice of Photorealism, which focuses on these process artifacts, rather than working around them.
If figurative representation had a rock star of the 20th Century, it was undeniably Lucien Freud.  Freud's earliest known work dates from 1940, but he really hit his stride in the 1990s, expanding his distinctive style of impasto figuration.  Freud's influences (acknowledged and otherwise) include Medieval Flemish painting, German Expressionism, and his Abstract Expressionist contemporaries in the mid-20th Century.  In auction at 2008, his 1995 painting Benefits Supervisor Sleeping set a world record price for a work by a living artist, selling for $33.6 million.  Freud died in 2011.  Other representational painters who have cut their way into the heart of the contemporary art world include Eric Fischl and Neo Rausch.
Odd Nerdrum, born in 1944, was the next generation figurative realist darling.  Represented by Forum Gallery in New York, collected by museums the world over, Nerdrum is hardly ignored by the art world, but his reception has always been mixed.  Defining himself as a painter rather than as an artist, his manifesto On Kitsch was a response to his feeling of weariness at seeing a Rauschemburg combine including a goat and a spare tire.  Unlike Freud (and other painters like Eric Fischl), Nerdrum seems to have intentionally positioned himself in an adversarial relationship with the art world.  When he says, "If I were an artist I would not paint," it is less a declaration of intent, and more a tautology:  if, as Nerdrum believes, artists don't paint anymore, then if he paints, he is not an artist, and conversely, if he were an artist, he wouldn't paint.
Nerdrum was a pivotal figure in my education in painting.  In school, we learned that realistic representation wasn't cool anymore (though there were many of us who stubbornly persisted in doing it), but Odd Nerdrum gave us hope.  He showed us that there was at least one person out there in the art world, with a gallery and a monograph and everything, who was still using the realistic painting techniques of Rembrandt and his kin to tell stories.  Nerdrum was better for us than Freud, for a couple of reasons.  Firstly, Freud was of an older enough generation that we always sort of suspected that his figuration was a kind of legacy.  Secondly, Freud's imagery was pointedly mundane:  a woman on a couch, a man in bed with a dog, etc.  Nerdrum's apocalyptic landscapes reminded us, or at least me, of the sort of fantasy illustration that had drawn us into painting in the first place.
In graduate school, our knuckles were bruised as we were taught that no, Nerdrum wasn't a good artist, wasn't someone to emulate.  The problems were never clearly elucidated to us, but in hindsight I think they were twofold.  In both cases, what we loved best about Nerdrum was exactly what was wrong with him.
Firstly, Nerdrum's technique was too well-established.  Even Freud seemed to innovate technically, beginning in the 1950s with a sort of retro-Flemish, sable-brush pointillism, and moving by the 1990s towards a knife-thick impasto.  Nerdrum's technique seemed to say, "Rembrandt nailed it; why look for silver if you've got gold?"
More importantly, though, Nerdrum's theatrical melodramas clove too closely to the illustrative fantasy end of the representation spectrum.  While Freud and Fischl, like Leipzig painter Neo Rausch, painted people in open-ended environments loaded with psychological tension, Nerdrum's scenes approached the same objective but created too specifically literal of an alternate reality.  This, again, is part of what we loved about Nerdrum:  that he had created a plausible world, a bleak apocalyptica in which we could imagine each painting being just over the horizon from the next.  But in the era of semiotics and theory and all that, it was too close to the lowbrow world of comic books and role playing game covers.
Jenny Saville's recent work (judging from the advertisement in ArtForum for her upcoming show) seems to have drifted away from her earlier, meaty depictions of surgery and obesity, and towards Cecily Brown's drippy, linear, erotic cartoons.  Saville's adaptation is indicative of the sort of change figurative realists are adopting in order to survive in today's "cult of the new" art world.  Another example can be found in Walton Ford, who has continued for decades now to paint Audubon-style depictions of wildlife enacting human dramas.  Saville and Ford provide us with examples of how figurative realism can remain relevant.
Chicago's art scene is as pluralistic as any, but in between the queer performances, feminist videos, conceptual abstraction, and sound art (just to name a few), traditional techniques of representational painting endure.  Laurie Hogin, Stephen Cephalo, Julia Haw, and Rory Coyne are just a handful who leap immediately to the forefront of my mind.  Each strikes their own unique niche in the spectrum of figurative representation, showing that realistic depictions of people, animals, and spaces remains a potent force for expression.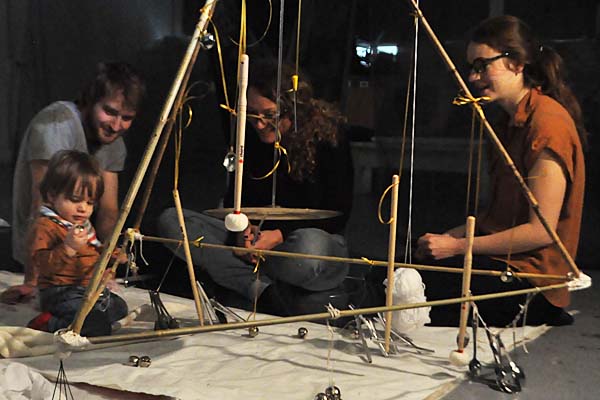 If you think the regular art crowd can be critical, spare a thought for Najia Bagi. The Manchester based musician and artist has been making work for babies. Now that's a tough gig.
Baby Art Club is a collaboration with Naomi Kendrick at Manchester City Art Gallery. The duo have prepared multi-sensory installations based on current exhibitions. Lots of work goes into these and the audience may fail to respond at all.
"The first time I did baby art club was really difficult," she tells me via phone. "They don't do anything. They don't really move around very much and they don't want to create anything." The audience were, as she says, "Incredibly challenging"
"I just thought, What do you do with these tiny little creatures who don't want to make anything and don't understand words!" And where verbal communication isn't possible, received ideas about art go out the window.
Yet Bagi and Kendricks have perservered, creating stimulating environments which, thanks to their strong aesthetic sensibilities, rightly belong in a gallery. "Then you just watch what the babies do and whatever they do is right."
If times get tough, Bagi has musical talents to fall back on. "I've twice played my guitar and sang, and had these really magical moments where tiny babies sing with me, making noise," she tells me.
"But I felt like I had a lot more to learn from them than they did from me." It is soon clear that Bagi is "genuinely interested" in child development. And the gallery treat her and Kendrick as artists, rather than educators.
So when the progressive Manchester venue wanted sound art to accompany a show of paintings of the Scottish Highlands, one half of Baby Art Club was right in the frame. "I was surprised at how well it worked," she says of her evening event.
"One woman was in there for 45 minutes and people were standing in front of each painting for a really long time. They were allowing themselves to be absorbed." One happy visitor described the experience as painting in four dimensions.
Thanks to mics, headphones and 150 objects (mostly spoons), the busy sound artist is currently adding an extra dimension to the family space at Tate Liverpool. The benefits, unlike most of those in art, are tangible
"In terms of being in an installation or in an art gallery with sound, you know that the other person in the same space is hearing what you're hearing," she points out. "And that creates a form of human connection which is really good for wellbeing".
Next on the agenda could be a public artwork in the form of an interactive sound sculpture. Bagi has been inspired by the Scandinavian origins of the adventure playground, which, in the 1940s, were called Junk Playgrounds.
"It's completely unthinkable now. You couldn't do it because of health and safety but it was amazing. There were hammers and nails and tyres and nails and wood and saws and bricks".
Bagi's art playground will, of course, be a much safer space but she is still excited about the chance for kids to respond to the landscape buy creating sound. She envisions this project being realised in a central outdoor space in either Liverpool or Manchester.
"In my head they're creating sound art and I would say it like that, but in their heads they're just having a great time." And that's how to make art for people who have no interest in art.
What You Should Have Noticed in June, 2014
Welcome back to this month's edition of What You Should Have Noticed, wherein I try to sum up this month's happenings from around the art world with a little extra special attention paid towards events here in Chicago. June has been a relatively quiet month, more pretty and foggy and full of football and mass executions than big art news, but what action we've had is certainly noteworthy. So come aboard this ship of blog highlights and retweets and lets blast off together.
We Wanted to Believe: Marilyn Monroe Sculpture Found! in Chinese Dump
Permit me a little editorializing: Seward Johnson's Forever Marilyn was a piece of shit sculpture that should never have happened in Chicago. Absolute trash. Bad sculpture. Bad bad bad. However, even and especially in times of great emotion, as when dealing with evil as great as Forever Marilyn, we must keep in mind that social media is, ultimately, probably, a search for truth, and that even the surge of joy we felt imagining Johnson's sculpture literally rotting somewhere in art hell (a Chinese dump in Guigang) shouldn't distract us from this higher calling or lead us to make rumor out of fantasy.
The pictured sculpture, which made its enthusiastic rounds on Facebook this month – drawing more attention than even the America student trapped in a German vagina sculpture – is a knock-off, a Chinese fake, some sad weird copy of the original, which is still festering on view in Palm Springs, California. Too bad, but too true too.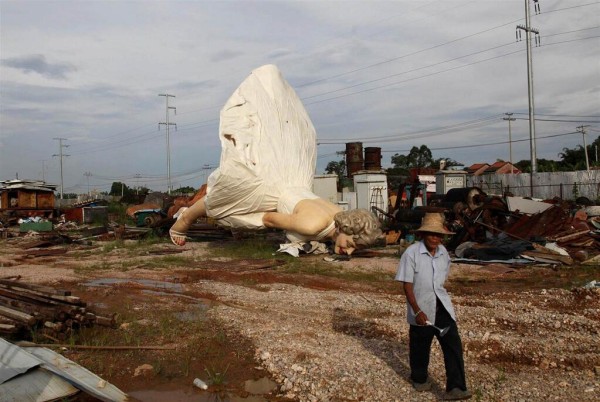 New CTA Art Announced for Red Line Stops
On Monday, June 23rd, the Chicago Transit Authority unveiled the results of the Red Line South call for artists, which began last year. The winners include: Indira Johnson, who will paint Overlapping Connections, a set of Chinese characters at Cermak/Chinatown; Paula Henderson, whose window mural Game Day is a kind of psychedelic cross-town baseball game at Sox/35th; Andrew Hall's Portraits in Time: From Bronzeville to Back of the Yards at 47th street, a mural of portraits and architectural collage; a text and image window-piece by Cecil McDonald Jr., titled Presenting the Pictures You Wanted to See at Garfield; a garden-friendly mural at 63rd Street, Growing Englewood…, by Emmaneul Pratt & Olalekan Jeyifous; a watery mural titled Sanctuary at 69th Street by Doug Fogelson (hey, I know him!); McArthur Binion's Seventyninth:Street:Shuffle, a Jasper Johnsy work at 79th Street; and a painting grid at 87th Street by Thomas Lucas, titled Time Traveler, Part 1 and Part 2.
Want more? The next round of public art on the CTA will feature Bad at Sports friends Edra Soto and Dan Sullivan, who will join Patrick McGee and Benjamin Ball/Gaston Nogues in placing new artworks at Blue Line stops.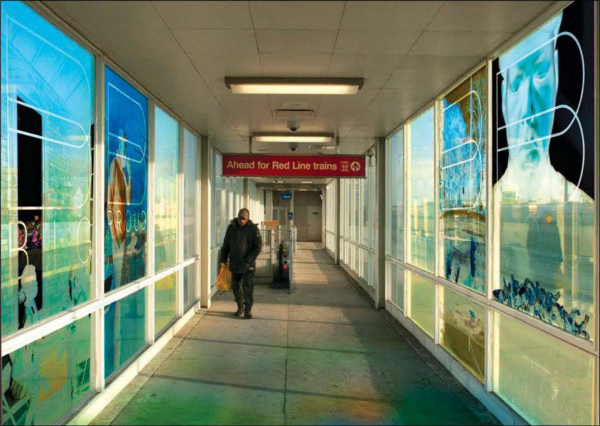 Lucas Museum Coming to Chicago
Despite some weak minute pressure from San Francisco and a challenge from Friends of the Park, it looks like the $1 billion, 17-acre George Lucas Museum of Narrative Art will go ahead as planned and join the city's museum campus sometime in 2018. The site will also soon include the Barack Obama Presidential Library and Museum. Museums and libraries were all the rage this month: the Atlantic reported on statistician Justin Grimes' discovery that the nation's 17,000 public libraries and 35,000 museums outnumber both McDonalds and Starbucks locations combined, though none of those feature backlit Star Wars storyboards or interactive Norman Rockwell paintings.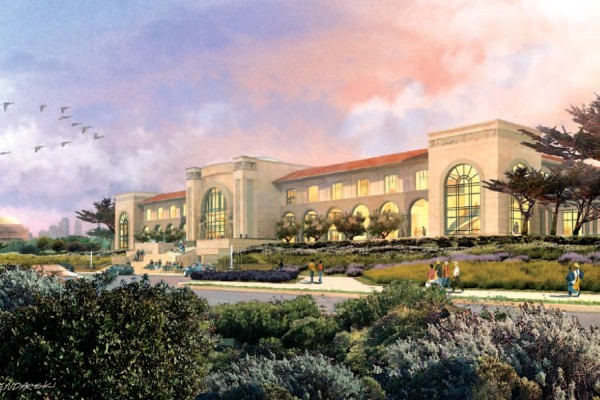 Jeff Koons Ass Opens at the Whitney
This month the Whitney Museum opened its retrospective of the virile titan of art Jeff Koons, supported by a popular butt-based social media campaign which, if you haven't seen it, well, now you have. The critical response has been complex, with most writers seeming to like the show while simultaneously mourning the cultural environment that could produce an artist like Koons. Andrew Russeth reluctantly celebrated the retrospective in Gallerist, Jason Farago questioned the dire consequences of Koons' relevancy for the Guardian, Jerry Saltz obviously cited his Facebook feed when describing Koons in Vulture as the opposite of an artist's artist, and Carol Vogel at the New York Times gave the Whitney Museum a nod for going out with a brilliant, problematic bang. Spectacular!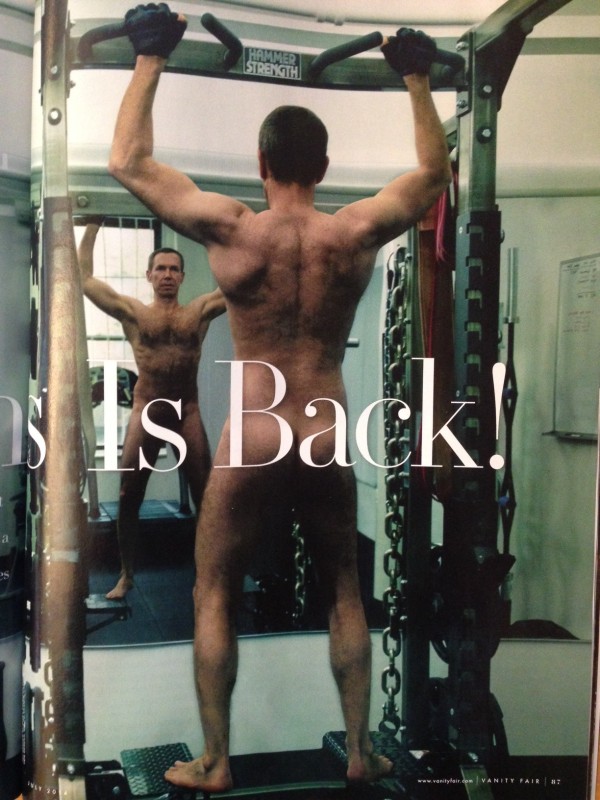 Abstract Painting, Still Crazy After All These Years
Today's art world still can't make up its mind about abstract painting. Is it complete market-driven bullshit, ready to flip and turn from season to season, with a produced popularity existing at a level above and apart from cultural relevancy, or is it a paradoxically enduring form of radicalism? Does the tossed-off, rapidly consumed, quick and sorta-challenging semi-abstraction even need justification, or is it all about making a democratic form of DIY abstraction?
This month saw lots of discussion following Jerry Saltz' article on the resurgent form of abstraction variously titled Modest Abstraction, Neo-Modernism, M.F.A. Abstraction, Chickstraction, Dickstraction, Dropcloth Abstraction, or Zombie Formalism. Meanwhile, today's artists continued attempts to make sense of post-provisional painting – now too popular to ignore – by exploring a historical basis through the Supports/Surfaces exhibition at Lower East Side gallery CANADA. It's a serious show.
Because these issue may bring on a creative crisis for some of our readers, and since this monthly feature is all about saving you some time, I've gone ahead and done the thinking for you. Here's the takeaway: revolutionary fuel burns fast, so don't let changing political or aesthetic history be your reason for getting into the studio. Whether we like it or not, our culture has carved out a cozy complicit place for aesthetic rebellion in painting, and I promise you that the familiar, collectable kind of shock brought on by a tastefully sloppy painting will never, never, ever wear off. Does this make today's abstract painting's "revolutionary" or "anti" critical position a complete sham, closer to avant-garde marketing language than political commitment? Absolutely yes, though the paintings can still be great. Let this be a reminder that the function of art – especially painting for Christ's sake – is not to bring on a revolution of taste or politics, but rather to create something interesting for fellow human beings to think about, appreciate, and maybe enjoy in one way or another.
So chill out, dear abstract painters! and cheer up too – keep giving us something to look at. Hey, Molly Zuckerma-Hartung won a Tiffany Award this month, and just look at how much fun Lucian Smith is having! See?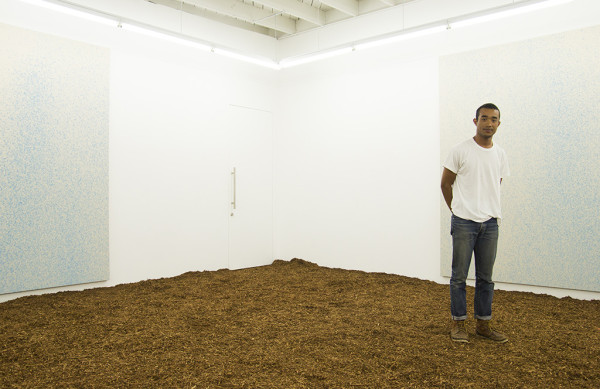 And anyway, that's really about it for this month. As always, I've probably left out a good half of what's interesting (I refuse to link to that our-brains-are-wired-for-art story), but read this blog entry again and I'm sure you'll agree that I picked some winners. Have a swell summer, wear that sun block, and check in next month for What You Should Have Noticed in July.
Guest Post by Lise McKean
Tom Denlinger, When Worlds Collide: The Kingdom of Monera @ 710 S. Highland
Terrain South, Oak Park
June 1 to June 29, 2014
Victoria Fuller, Nature2
Packer Schopf Gallery, Chicago
June 6 to July 12, 2014
Current shows by Tom Denlinger (Terrain) and Victoria Fuller (Packer Schopf) bring to mind the opening scene of Blue Velvet. At first glance, their works seem friendly with their eye-catching colors and curious configurations. But on closer look the viewer senses something more menacing.
Let's start outdoors with Denlinger's installation, When Worlds Collide: The Kingdom of Monera @ 710 S. Highland. The work consists of two panels (acrylic and paper on canvas), one larger than the other with a swathe of grass between them. The panels are stretched across the lawn of an empty lot between two early 20th century houses. The installation measures 12 ft. x 19 ft.
Denlinger covers the canvases with large, layered forms, shaped like capsules or bacteria. The layering hints at perspectival space. But flatness prevails, especially since viewers look down to see the work. Just as scientists use fluorescent dye to study bacterial activity with fluorescent microscopy, Denlinger uses yellow-green fluorescent paint to distinguish a subset of the forms. Other elongated oval forms are painted taxi-cab yellow and emergency orange, or are black and white photographs affixed to the canvas. What's more, the intense colors trick eyes into seeing the white as purplish, as if under black light.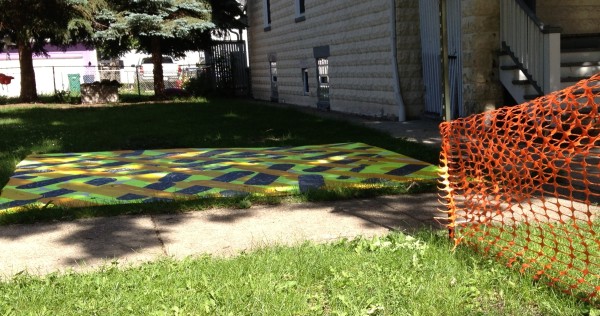 Chicago's residential streetscapes, i.e., parkways, sidewalks, front yards, and lawns intrigue Denlinger. On and off over the past couple decades his work has explored this Möbius strip of public and private space. With his Terrain show he occupies the very space that fascinates him with a work whose dimensions replicate the front yard of Terrain founder, Sabina Ott.
The concept of umwelt, local or surrounding environment, developed in the 1930s by Jakob von Uexküll, a biologist and pioneer of biosemiotics, figures in the thinking behind Denlinger's When Worlds Collide. Umwelt is the totality of an environment as subjectively perceived and experienced by an organism. Since it's subjective, another's umwelt whether familiar or not is essentially foreign territory. But von Uexküll proposes that it's possible to better understand alien environments by inventing "images" of them through art or photography.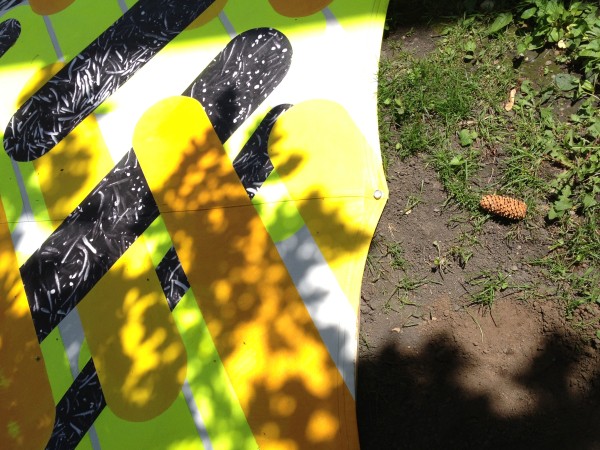 Of the many umwelts Denlinger might have chosen to image, his work brings us the human and the microbial. In fact, the Kingdom of Monera isn't a legendary land, but rather the taxonomic realm of one-celled organisms, of bacteria. The collision between the umwelts of bacteria and humans sprawls across his installation. Discarded cucumbers fill the black and white collaged photos, Romanian scapegoats of a lethal outbreak of E. coli in Europe.
When Worlds Collide is a skewed reference to the expansive, energetic, and frequently optimistic space of modernist abstraction. Denlinger's is a distinctly twenty-first century umwelt. Splayed next to the sidewalk in living color, the work can't but grab the attention of passersby. And in exchange, Denlinger's installation—staked to the ground and speckled with dirt, crawling with ants, fading under the June sun, and changing hue in the long twilight—evokes a lifeworld all its own.
Fuller is known for work that uses everyday objects, e.g., electrical cords and outlets, doorknobs, faucets, books, and shoes, to create sculptural works that can be metaphorical, allegorical, and whimsical. For example, her 2001 exhibition at the Chicago Cultural Center included Bad Plumbing (2001), a sculptural installation made of copper pipe, mop, gourd, suitcase, rope, books, horn, microphone and sound.
Nature2 diverges from this established practice in that Fuller combines everyday objects, and particularly pipes, faucets, and hoses with representational objects of her own creation. Unlike Bad Plumbing where she used a large coil of real rope, Rope Trick (2014; resin, epoxy clay, and acrylic; 18 1/4″ diameter x 8 1/2″) looks like real rope—except the coil's start and finish morph into the front and end of a snake. It's Fuller's twist on Ceci ne pas une pipe.
In contrast to Denlinger's exploration of perception and subjectivity, Fuller investigates complex systems invented by humans with processes and effects that permeate our daily lives. She explicitly takes on the behemoths of industrial agriculture, food production, and resource extraction—and their collisions with nonhuman creatures and systems. For example, Everything Is Connected (2014; wood, acrylic, plasti-clay, artifical plants, chain, and gas pipe; 24″x30″x6″) is the first sculpture inside the gallery's entrance and could be the show's subtitle. From its subterranean fungi to the dandelion popping up on top with spewing smokestacks in between, Everything Is Connected offers a 3D portrait of global warming.
Deep Down (2014; carved wood, epoxy clay, wooden cube, gas pipe, and acrylic; 16″ x 8″ x 8″) can be seen as a riff on cubism, using five faces of a cube to reveal multiple perspectives on life above, on, and beneath the ground. A chipmunk is curled up and cozy in its burrow and ants carve their passageways underground. Plants shoot up and their roots reach down while snake and earthworm straddle above and below. There's no sign of human activity and nothing seems amiss or at risk.
Fuller draws on the visual languages of the educational diorama, mechanical schematic, and flow chart, as well as a host of materials and a lot of ingenuity and wit to create the show's nine mixed media sculptures. With its solitary bee and empty honeycomb cells, Spelling Bee (2014; craft fur, epoxy clay, acrylic, resin, mylar, and chloroplast; 33 3/8″x 19″ x 2 1/2″) combines organic form with tactility, fuzzy and smooth, and an ecological reference to complete colony collapse, an epidemic afflicting honeybees.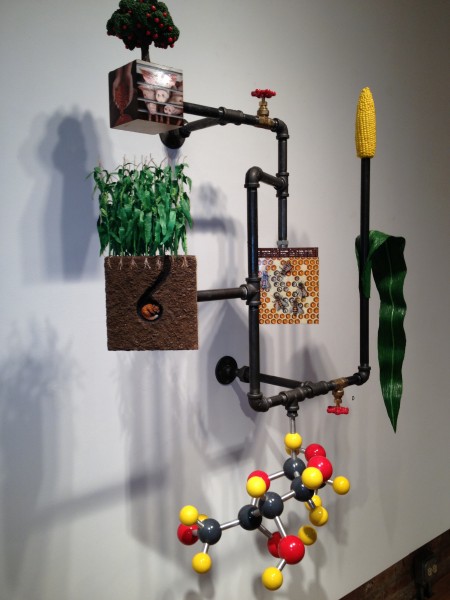 Factory Farm (2014; wood, epoxy clay, wooden cube, gas pipe, acrylic, resin, found objects, paper, and metal tube; 45″ x 34″ 17″) is particularly apropos for an artist based in Chicago, the corn belt's metropole and profit center of what environmental scientist Jonathan Foley calls the corn system. Fuller creates a compelling narrative of the system's moving parts, complete with feed lots, pigs behind bars, colony collapse, GMO-corn, and a molecular model of high fructose corn syrup. I'm grateful to Fuller for prompting me to learn more about the corn system. For example, large-scale honey producers maximize profits by feeding honeybees high fructose corn syrup, and bacteria and fungi are two of the enzymes used by industrial bioscience to manufacture high fructose corn syrup, the gooey backbone of processed food.
Fuller's work brings to mind Margaret Wharton, another immensely inventive artist whose posthumous show recently closed at the Riverside Arts Center. From the craft fur on the giant bee to the erector set fracking rig and plasti-clay mushrooms, Fuller's artistry ranges across a wide repertoire of media and adroitly melds form and content. What's more, her assemblages accomplish the rare feat of being at once playful and polemical.
Guest post by Jacob Wick.
I met Keith J Varadi—artist, poet, writer, performer, and Associate Director at Greene Exhibitions—at the HMS Bounty, one of my favorite bars in Koreatown. We began by talking about Lance Stephenson's conduct in the recently-concluded NBA Eastern Conference Finals, athletes behaving badly, athletes as role models, and artists as role models, which led me to ask Keith a question in which I confused the term "digressive" for the term "transgressive."
KJV: Well, I hope that nobody's looking up to anybody for digressing. I hope that people would look up to somebody for transgressing. If you're going to be an artist, isn't that the point? To be transgressive and push boundaries and fuck with people's expectations. If artists owe anybody anything, that's what I'm saying artists owe. I was actually talking about this with a friend of mine about a week or two ago: What do artists actually owe people? Do they owe apologies? Do they owe their "souls"? Do they owe donations to benefit auctions? Do they owe anything? I don't know, but I think that at the very least, they owe intellectual rigor. If we're coming to your exhibition, or if we're coming to your panel discussion, what are we actually, really getting out of this? And it's important to think of what it means to be transgressive these days? What are new ways of being transgressive? Tino Sehgal—whether or not you or I or anyone at this bar like or would like his work—he's an artist who has actually changed "the game" in some way. He has stopped people in their tracks. People walk around an art fair, drinking expensive drinks, double-cheek-kissing people they haven't seen in a couple of weeks or months, looking at each others' handbags, and it's like, "Oooh, that's a nice painting!" But when he's doing some freak-nasty shit at Marian Goodman, they want to go see what that's all about. That's interesting. There are plenty of artists in this current market, and in the last boom, and in the boom before that…there are plenty of young, white, straight dude painters who are making the system work for themselves. They tend to also make abstract paintings. How do you make painting interesting? I still think it's possible, which is why I make paintings, and why I think artists I dig make them. But it's like…if all you're going to do is smear paint around a canvas like cream cheese on a bagel, yeah, you might get $50,000 a pop, but what are you contributing? What are you gaining other than money in the bank? Does this artwork need to exist?
JW: Does Tino Sehgal's artwork need to exist?
KJV: Well, it barely exists.
JW: It's very low-impact. Is it punk? What is punk?
KJV: I have a particular personal history with punk, and my own particular understanding of what that means. I started talking about suburbia before, which I don't want to talk too much about because I think that conversation about suburbia is boring. But when you do grow up in a suburban area, the first time you do hear anything or see anything that is somehow disruptive—and for a lot of people in suburbia, that's punk—that can be a really exciting, uplifting feeling or sensation. I was always conflicted. I played basketball for a long time—I was a point guard—but I also skated—I was a skateboarder. I played in punk bands and I made sketch comedy videos with my buddies…
JW: Really?
KJV: Yeah. I was in a few punk bands at first when I was younger. I played guitar. It was the equivalent of what you make in Painting I or Painting II or Sculpture I or Sculpture II: none of that shit matters! It's about fucking around, getting weird, picking up some skills. Very rarely does somebody with master skills make any real sort of impression on me. But if you're going to try to make paintings and you don't know color or composition, that's probably going to be a problem. If you're going to try to make sculptures, you don't necessarily need to understand how to weld, you don't necessarily need to be great with any saw, you just need to intuitively know things like: How does this shit fit together? When I assemble these things, is it going to fall to shit? So basically, it's like dick around a little bit, pick up some tools, learn how to paint or sculpt or make videos or sound or whatever, enough so that once your ideas and sense of self develop to a more sophisticated place, you'll better be able to articulate yourself. So I feel like I was able to do that by being in those punk bands, and that led me to eventually be in free jazz bands and noise bands and far more punk things as far as I'm concerned.
JW: I feel like my bad feeling about punk is from hanging around people who just used punk to identify all the things they didn't like, including and especially other people who call themselves punks.
KJV: Right, but I don't think that that is by any means particular to punks. Any type of group is going to be like that. "That's not punk enough," "that's fake punk," "I'm not a hipster." These conversations are inane, yet we all end up participating in them. This sort of talk bums me out. If I'm going to define what I think punk means to me, it's being able to get to a place where you feel confident enough and mature enough to not have that conversation.
JW: To not give a fuck.
KJV: Yes. To not give a fuck. I mean, look at me…I'm wearing J. Crew chinos! You think I give a shit whether any mohawked ding-dongs think I'm punk or not punk? I mean, the point is: my art, my poetry, my critical essays, my painting, et cetera et cetera, they're punk.
JW: It's not like: "I'm wearing a leather jacket, therefore I'm punk," it's like "I have an attitude, therefore I'm punk."
KJV: That's all that matters to me.
JW: That helps.
KJV: Altman: punk director. Cassavetes: punk director. I mean, Cassavetes was like the most dapper man, too!
JW: I've never seen a picture of him, but his movies are fucking crazy.
KJV: He's probably my favorite director. Have you seen Husbands?
JW: No. Have you seen The Long Goodbye?
KJV: Yeah! And what's-his-face, Elliott Gould, you know what his other big role was? I mean, aside from Ocean's 11, 12, 13, you know what else he's really known for? Being Ross and Monica's father on Friends…!
JW: Really?
KJV: Yeah. That's Elliott Gould from The Long Goodbye.
JW: I love the use of one song as the soundtrack.
KJV: Repetition! A lot of my favorite artists use repetition as a very effective device, and it's something that I have definitely recognized—the power that it has had on me, seeing certain films. Spring Breakers is one of my favorite recent movies, and there is so much repetition in that movie. Spring Breakers will kind of put you in a trance. I think Harmony Korine is a really interesting example of a punk, or a transgressive artist, in the sense that I'm talking about these things. He's just an interesting figure, period. He had all those sequential visits on the Letterman show, where he totally freaked out Dave—have you seen those?
JW: No, I haven't. But tell me about them.
KJV: He went on a few times in the mid-late 90s. He was just "being himself," whatever that means. But Dave couldn't even try to understand or access his persona or vibe. He was later accused of snooping around Meryl Streep's purse backstage during one of his visits. You know, people use the phrase "thrust in the spotlight," but I feel like artists or athletes or whoever might get to that point ("the spotlight") most likely wanted that their entire lives. There was probably a point where they were like, "I would love to be on the David Letterman show," or "I would love to show at David Zwirner" or "I would love to play for the Yankees." When you're at that point, you know what you want and you're just figuring out how to get it. For me, another thing that's important is how you deal with that position: you're placed in a position, you have volition, you have autonomy—if you want it—it's there for the taking…
JW: What do you mean by autonomy?
KJV: You were talking about archetypes earlier, in whatever field, and how there are certain roles you're supposed to play, certain duties or obligations you're supposed to fulfill, but the best artists, the best athletes, the best musicians—or rather, my favorite artists, athletes, musicians, or whatever—don't fulfill those duties or obligations; they redefine the roles, they try to figure out how they can determine their own destiny, as opposed to thinking that things actually need to be so predetermined. This is a major problem for me: "I chose to be an artist, so therefore I need to get my BFA from RISD; I need to get my MFA from Columbia; I need to go to Skowhegan; I need to do the Whitney Independent Study Program; I need to show at a gallery in the Lower East Side; then after two shows, I need to show at a gallery in Chelsea; after three shows, I need to…" It's like, "Holy shit! It doesn't have to be this way, guys!" I mean, it can be, and there is nothing wrong with that—I think certain artists who have followed that trajectory are really interesting artists that we should all pay close attention to, but a lot of them are very derivative and predictable because they follow this path that they feel has been set out for them in order to be a successful artist. And I think the same thing goes for film directors, musicians, athletes, whatever. Dennis Rodman, "The Worm," is one of my favorite athletes ever. I mean, the guy averaged upwards of 20 rebounds a game for a large portion of his career and he did press conferences in wedding dresses, he dated women like Carmen Electra, he has had people like Phil Jackson say he's one of his favorite players he's ever been privileged to coach, that he's the most athletic player he's ever coached. And Phil has coached Michael Jordan, Kobe Bryant, Shaquille O'Neal. These are without a doubt some of the best players ever, and he was like, "That dude is a freak beyond freaks!" I admire the shit out of Dennis Rodman. And another example, Matt Korvette, the frontman of the band Pissed Jeans…he's one of the better performance artists I've ever seen. That dude's a wildly entertaining man and one slippery fish. I'd rather watch him do his thing on stage or in some basement than watch most people who are invited to perform at this or that biennial do whatever it is that they do. And I mean, Korvette comes from punk roots, too. But now he's a claims adjuster, singing about going bald and having car problems. But it's the attitude with which he presents the material that gives him agency and charms his fans. I think a lot of these self-righteous punks that you talk about having issues with, they seem to be the types of folks who believe the most punk thing you could ever do is to "kill your idol," to "fuck shit up." But actually, I think someone like Harmony…he fucks shit up, for sure, but he also gives a lot of respect and pays a lot of dues. He references the history of cinema, he references pop culture and includes pop cultural figures in his films, and he even does things like get Werner Herzog to star as a brutal father figure in Julien Donkey-Boy. For him, it's not just about killing idols, it's about understanding them. I think that's a major thing that I respect about Harmony Korine. He seems to have a strange sense of empathy. People sometimes think he's just a smartass, thumbing his nose and mocking people, trolling the hell out of Hollywood. But I think he has more curiosity and self-reflexivity than most people in his position. I just saw an ad for Dior that he directed, which was kind of hilarious to me. And he also recently had a solo show at Gagosian. For him to be able to get away with having a solo show at Gagosian and doing an ad for Dior, and neither of them totally sucking…that's pretty punk. No?
JW: There's a lot of bad performance art or things in galleries happening made by actors.
KJV: Well, he's a director. And the show was a painting show. He had a painting show at Gagosian, and it was quite good.
JW: It wasn't bad.
KJV: It was good.
JW: It was good? I'm impressed.
KJV: The paintings are actually good; they don't just "not suck." Generally speaking, I think he's actually paying homage to folks, while also trying to carve his own path, which is radical to me, given the current circumstances of things. There seem to be plenty of naïve purists and distracted cynics who won't acknowledge the benefits of accepting influences in the creation of one's work. I mean, if you're hanging out with good painters like Rita Ackerman and Christopher Wool, you're going to notice a few things. But don't just ape someone else's style. You know?
[Roy Orbison comes on]
JW: I love it when Roy Orbison comes on.
KJV: You missed it. Before you came in, I was sitting here by myself and they played "It's My Life" by Bon Jovi, which I think is kind of funny given the stuff we've been talking about tonight. But anyways, I think the apprehension that it seems like you're feeling as a result of punk, and directed towards punk is valid. I sort of address that at the beginning of the "Biting the Hand that Feeds You" essay, when I illustrate this teenage mall punk narrative. I think that certain people are unable to or feel like they lack the ability to grow out of that mentality. It's one thing to have those tendencies or proclivities if you're a 16-year-old brat, but if you're a 32-year-old brat who thinks you're fucking shit up in Barstow, California, get a grip. Seriously, man, get a grip. And it's the same thing with graffiti culture, you know, tagging. The actual art form—graffiti art, well, what it has been turned into, that is "street art"—is, as far as I'm concerned, some of the worst art on the planet—but the culture surround tagging is fascinating to me.
JW: What's the dividing line?
KJV: Having a city dictate or map out things out for you. "Hey, Pratt student or SFAI student, we're designating this zone as a safe zone for you to do your thing, and make something really beautiful and colorful and vibrant that appeals to the community." It's like saying to a sculptor: "We have this park, why don't you put a sculpture in it that won't offend anybody, but that's kind of big and expensive?"
JW: And even if it does offend somebody, it'll be in a sculpture park, so people will encounter it expecting a certain offensiveness.
KJV: Basically, as long as there's not a dick and there's nothing political, it's deemed acceptable. That's why Richard Serra can make public sculptures, because it's just like big sheets of rusty stuff. Or Mark di Suvero stacking I-beams. It's just stuff. It's the worst, man. We don't need that shit. And we don't need any more supposedly zany, but in reality, tepid wannabe Cartoon Network crap on the side of some building in Bushwick. I mean, come on. The chase, the allure, the territorial disputes, the swagger—that's what's interesting about tagging. But if you're a 37-year-old, still just tagging? Yo dude, you need to stop. It's not about tagging not being a valid art form or graffiti culture not being a valid art forum. But like…don't you want to take it further? Don't you want to go somewhere else? If all you're doing is getting in disputes, if you're just calling people out, at a certain point…it's like, "Who cares? What's the point?" Pusha T is a good example of what I'm talking about. He's a guy who's defining what progression means to him. And nobody is really questioning his legitimacy. That dude is legit, no doubt. But he's also like, "Hey man, A$AP Rocky wants me to be on a track? Okay, that's cool, whatever." Or he's like, "You want to put me on a track that's going to be on Power 106? Word." I mean, that's like next level gangster—or punk—where you say, "I'm going to continue writing these lyrics and projecting this image that I've been working really hard at pushing forward all these years, and I'm not going to do anything to jeopardize that, but on the other hand, if you're going to give my persona and my product more visibility, hell yeah, I'll take it." That's rad to me. Or in the case of Tino Sehgal, it's like, "You're going to pay me six figures to not give you anything tangible, and it's going to be in cash? Fuck yeah. I'm in." That's rad, too. That's some gangster-ass punk shit. The punks you're talking about can't really escape living in a world of capitalism. It's like, okay…on the one hand, you can say there are certain punks who are not filling up their car with gas from Arco or BP or wherever. Instead, they're putting some type of corn oil fusion whatever in the tank. Oh, and don't forget…their car was definitely purchased used. And the only clothes that they purchase are from Goodwills and consignment stores and otherwise, they just wear hand-me-downs. It's the same thing with freeganism and whatever else. You brainwash yourself into thinking that you're doing the "right thing," but in the end, you're still driving a car, a car that at some point was produced by one of the more laissez-faire companies in the world! If you're a freegan, you didn't purchase those Levi's, but who made those Levi's? Whoever made them probably made them in the 70s, and labor laws were even worse back then! Instead of devising a system or making up rules that they think everybody else ought to abide by, they should maybe reconsider all of the contradictions inherent and apparent in their ideologies. And that's the thing—they feel like the rest of the planet should be obliged to deal with their parameters they set up: "This is the right way of living, and anybody who would not acknowledge the merits of this belief system is out of their mind." They're the ones who are delusional. There is no distance. There is no self-reflexivity.
JW: I guess it's like any system that functions needs entropy, needs a part of the system that doesn't function at all—and from that non-functioning, the system gets better. So any sort of life system or economic system or ideological system needs the things or the people that are fucking it up, but it needs those things to be fucking it up in a way that's predictable and predicted by the system. So what bothers me about punk is the extent to which punk only fills that role that the system needs in order to continue.
KJV: But that's such a caricature. That's a misrepresentation. If you're a real punk, you're not trying to fuck up someone's day. What you're trying to do is fuck with their current perspective. But you're still a real person, trying to make rent, or you're trying to pay for your kids or fill up your tank of gas to go back to work the next day. The people you're describing don't have this realization—it's kind of cliché—but the realization of: "Oh my god, I'm becoming my mom" or "Oh my god, I'm becoming my dad." They don't have the realization of "Oh my god, I'm becoming the idol I tried to kill." Angst has an expiration date.
Keith J. Varadi is at keithjvaradi.com.
Jacob Wick is an artist, writer, and improviser who lives in Los Angeles. "Scripting Misperformance, Misperforming Scripts," an essay co-written with Byron Peters, appears in the current issue of Fillip. objet a, a collection of improvised duos with guitarist Shane Perlowin, was released by Prom Night Records in May 2014.