Tomorrow afternoon (Thursday March 11th), our own Duncan MacKenzie and Richard Holland will moderate a roundtable discussion at the Chicago Comics Symposium, hosted by the School of the Art Institute of Chicago (SAIC). The evening's events start at 4:30 pm and go on 'till 7:00. The event is FREE and is located in the SAIC Ballroom at 112 S. Michigan Ave. But wait, there's more! This is a two-day symposium exploring Chicago's place in the comic book scene so there's another round of events taking place on Friday March 12th, also from 4:30-7pm.
Full information can be found below. It's free, it's (mostly) in the evening, so nothing should stop you from going on over and soaking it all in!
The stubborn work ethic of Chicago's comic scene will be explored in the first ever Chicago Comics Symposium, hosted by the School of the Art Institute of Chicago (SAIC) on March 11th and 12th 2010. Through panel discussions with over fifteen local comic makers, the Symposium will investigate the city's influence on the comic making process, tackling the sad, serious, and silly topics that reign supreme in the realm of sequential art. All events are free and open to the public.

CCS will be comprised of four separate panel discussions with multiple artists on each and will be moderated by some of Chicago's greatest thinkers, critics and (of course) readers of comics. The questions posed to the Windy City makers will address many issues including: the tasks of self-publication, the changing cultural status of comics and the difficulty of representing identity. The queries will oscillate between common knowledge and the complexity of the nitty-gritty details, giving equal enjoyment opportunity to new readers as well as true-blue comic connoisseurs.

Comics are infiltrating movie-theaters and chain book stores, sustaining independent comic shops and edging their way into academia. Comics are made any and every where, but Chicago has a distinct community of hard working doers, makers and shakers. The event will attempt to unite and uncover the inner workings of Chicago's comics.

Attracting artists who currently live and work in the city, as well as former Chicago residents, the Symposium will bring together the old, new, big and small. Attendees include: Sarah Becan, Jeffrey Brown, Christa Donner, Surabhi Ghosh, Beth Hetland, Nicole Hollander, Paul Hornschemeier, Joey Jacks, Lucy Knisley, Ian McDuffie, Bernie McGovern, Anders Nilsen, Laura Park, John Porcellino, and Jeremy Tinder.

The Chicago Comics Symposium
Hosted by The School of the Art Institute of Chicago
Thursday-Friday, March 11-12, 4:30-7pm
SAIC Ballroom, 112Â S. Michigan Ave.
Free
Email:Â chicagocomicssymposium@gmail.com
A few noteworthy links and stories for your midweek perusal…plus a freebie at the bottom.
****College Art Association (CAA) has made eighty-one audio recordings from the panels at last month's conference in Chicago available for download. They're kind of expensive ($149.95 for the complete Set of CAA 2010 Conference Recordings on Interactive MP3 Audio CD-ROM or MP3 download; $24.95 for an individual panel MP3 download), but if you couldn't come up with the cash to attend the conference in full, like moi, this could be a great way to access the panels you missed in person. I'll be choosy, but will most likely buy at least one.
****"Palestinian Avatars": This is fascinating; apparently, the movie Avatar and its indigenous aliens the Na'vi have been appropriated by Palestinian rights activists, who painted themselves blue and wore costumes inspired by the Na'vi during a recent protest in Bil'in, a Palestinian town divided in half by the wall. This post on Provisions Library provides further background along with some pretty brilliant analysis: "The most striking aspect of this re-appropriation of a distinctly American, Avatar meme, is the irony. And right across the barbed-wire fence opposite from Bil'in are Israeli soldiers whose weapons supplied by American taxpayers. So, as Joseph Nye would explain, that's an example of U.S. "hard power." Then, on the other side, the Palestinians to score by appropriating imagery siphoned with sophistication from the mighty currents of American "soft power." Wow. Elsewhere, you can find additional photographs of what's been dubbed the "Palestinian Avatar"  protests here, along with a video of the demonstration.
****Artnet's Charlie Finch asks "Who is Dakis Joannou?" Finch speculates that Joannou's future as the Chairman of J&P (Overseas) and J&P-AVAX, both publicly traded Greek companies, "could yield two divergent prospects for a complex, interlocking business, dependent on amortization and wide debt-to-capital ratios. The first is that Dakis is smart enough and aggressive enough to take advantage of buying opportunities during a worldwide recession and increase his bottom line significantly. The second is that J&P is so overleveraged and so dependent on the luxury market that it is at serious risk of default, should its capital pipeline dry up. J&P's low stock price would indicate a potential problem in this area." If it's the latter, it's probably safe to assume that Joannou may indeed peel off some of that Skin Fruit in the not-so-distant future.
****Ikea plans to commission major works by contemporary artists Piotr Uklanski, Jeppe Hein and Jim Lambie for its "airport-sized," Moscow-based development slated for  2012.
****Auction sales for work by African-American artists surged at recent Swann sale, and the market for art by African Americans continues to grow.
****The Grand Rapids Art Museum will present GRAM and Ox-Bow: Joint Centennial Celebration Exhibition and Artist Series this summer. 30+ artists from throughout Ox-Bow's history will be featured at the Grand Rapids Art Museum in a special exhibition. (via Curated).
****I Like Your Work: Art and Etiquette: a pamphlet published by the contemporary art journal Paper Monument, addresses the topic of "manners in the art world" via interviews with 38 artists, critics, curators and dealers. Read this excerpt, a series of questions about art-world politesse posed to artists Michelle Grabner and Ryan Steadman, online here.
****Ohhhhh. So. Incredibly. Beautiful: An Elizabethan Bestiary: Retold. Go click on this one right away, you won't be disappointed.
****I am not one of those women who is "into shoes", but Dezeen's top ten list of past shoe features makes me wish I were a bit more of a fetishist when it comes to this particular area of my body. Though no way in  hell would I ever wear these french bread loafers.
****Jokes: Philosophical Thoughts on Joking Matters, by Ted Cohen, is now available for free download at The University of Chicago Press website – for the month of March only. (The Chicago Blog). The U of C Press offers a free downloadable book each month, so check back to see what else they'll have available for you in the future!
****An exhibition of Grateful Dead paraphernalia opens at the New York Historical Society…and no, its not that kind of paraphernalia.
****And finally….all you need to know about Professional Female Stoners. This is not, unfortunately, a description of an up-and-coming growth sector in the jobs market.
Bad at Sports would like to welcome Devin King as our latest guest blogger. "Devin King lives and works in Chicago. His first book of poetry, CLOPS, is out from the Green Lantern Press and the newest production of his serial opera, Dancing Young Men From High Windows, was part of the 2010 Rhino Theater Festival."
Before Stephen Lapthisophon moved to Dallas in 2008, he worked and taught in Chicago for over 25 years. He's represented in Dallas by The Conduit Gallery, has shown work recently in San Antonio at Unit B, will be doing an installation soon for The Henderson Art Project and currently teaches art and art history at The University of Texas at Arlington. I spoke with him over a few weeks last summer about his installation practice.
Through this, I've been interested in how his installations, paintings, and text/image essays effectively erased old conceptions of relationships between objects and their histories. As you'll see, we spend a bunch of time trying to nail down exactly what he's getting at. Lapthisophon says its an attempt to rethink our surroundings. I'm not sure we ever answered the question.
In Graham Harman's recent book on the French sociologist of science Bruno Latour (Prince of Networks: Bruno Latour and Metaphysics), Harman describes Latour's philosophy as "play[ing] out amidst microbes, tape recorders, windmills, apples, and any real or unreal actors that one might imagine." Moreover, Harman continues, "Latour has no real interest in the pathos of depth: though his actors can always surprise us, these surprises always emerge at the surface of the world, not from some veiled underworld ruled by the shades of [philosophers, theologians, or poets.]" Against Harman's description of Latour, Lapthisophon welcomes the irrational and poetic in our own responses to his work–Lapthosophon's work with disjunctive elements reinforces Latour's image of actors (be they objects, ideas, pictures, or personas) and their surprising emergence at the surface of a world of shifting relations.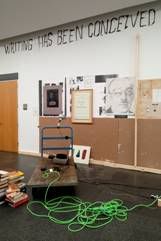 The first thing I wanted to talk about was arrangement. You have an intuitive installation technique: you start with a small number of found objects/photocopies and build out into more materials–finding resonances through addition.
I think this is the result of an interest in limits and boundaries between art and everyday life experiences. I enjoy testing the tolerance level of a situation to see how much or how little can be added or changed while still living in the world of art. It is very much process oriented and, I hope, an open process–embracing flux and change: an open process reliant on intuition and chance operations. However, the method of working additively is neither sequential nor additive itself. I am guided by willful irrationality, chance, accident and mistake. I want to challenge accepted ideas concerning causality and intention.
Can you talk a bit about your idea of a "tolerance level of a situation" and how it manifests in your installations? [Read more]
For this week's pick we bring you Stanley Kubrick's 1951 documentary  "Day Of The Fight".
Not Coming to a Theater Near You has a great article about Kubrick's early docs including today's pick.
Many, though certainly not all, Chicago gallery exhibitions are geared towards openings; often, attending the opening reception of an exhibition is the easiest and most practical way to see a show because the gallery's subsequent public viewing hours are either infrequent or by appointment only. I dislike seeing works of art during openings because the presence of crowds of people make it very difficult for me to quiet my mind and my body in the manner that many artworks demand (this is especially true if I plan to write about the work later). Because of this, I'm always dashing around trying to make sure I've seen all the exhibitions on my list during the last weeks of their run. Here are a couple of shows I've seen recently that will close after this weekend. They're at galleries with standard Tu-Sat viewing hours, and well-worth the effort to check out, if you haven't already.
Greg Stimac at Andrew Rafacz Gallery (last day open is Saturday, March 13th). Walking into the gallery, you might at first assume that Stimac's photographs are of a starry night sky, or some kind of close-up shot of dandelion fluff scattering in the wind. Nope. They're bugs splattered at full speed against Stimac's car windshield, each inkjet print a record of a particular road trip undertaken by the artist (as Karstun Lund has pointed out in his press release text for the show). My own take on the images veers in a slightly different direction; I like to think of them as a form of battlefield photography. The torn limbs and smashed wings of each dive-bombing bug is reproduced in astonishingly delicate detail. We're able to focus our attention on the individuality of each dead or dying creature but, inevitably, that attention is quickly revoked,  overwhelmed by the chaotic vision of mass carnage.