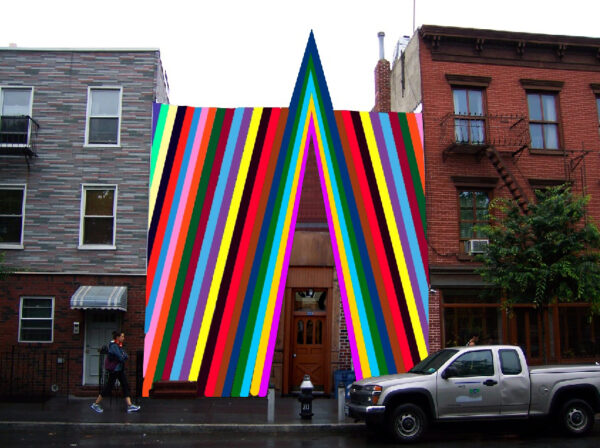 Hey all, Bad at Sportswoman and Brooklyn-based artist Amanda Browder, along with the North Brooklyn Public Art Coalition (NbPac) are in the process of constructing Future Phenomena, Browder's temporary public art project sponsored by NbPac and the Brooklyn Arts Council. The goal is to create a fabric public art sculpture on the facade of a building in Greenpoint, Brooklyn, NY. In her description of the project, Amanda notes that "Greenpoint and Williamsburg are at the center of the current transformation of our economic life from mass consumption, with its end product of ever more degraded earth, water, and air, to one based on feedback, reuse, recycling…mass re-consumption. Greenpoint (bordered on the north by a waterway so polluted that it has rendered state and local governments catatonic) and Williamsburg are century-long experiments in the sustainability of urban life.
"The public display of art is a critical element in generating and focusing neighborhood responses of the realities of gentrification, ancient toxic waterways, and urban migration. Public art can bring life and awareness to static architectural objects but the "Future Phenomena" will be not only a spectacle of bright colors and flowing shapes, but also a social space for pedestrians, participants and residents. Into this space will flow work, materials, comments, all manner of human energy, to be recycled until the project vanishes, leaving behind a memory of the power of art to transform the mundane."
If you live in the NYC area, you can help bring this immense, sewn artwork to life at three NbPac-hosted COMMUNITY SEWING DAYS. All of the details provided directly from the source can be found below….
Saturday, March 27th
St. Cecilia's Convent (with Round Robin)
21 Monitor Street, Greenpoint, Brooklyn
12-4pm
Sunday, April 18th
Lutheran Church of the Messiah
129 Russell Street, Greenpoint, Brooklyn
2-5pm
Saturday, May 1st
St. Ann and Holy Trinity Church
157 Montague Street, Bushwick, Brooklyn
2-5pm
DONATE – Contribute your unused fabric to help make the piece! We are covering a building and we need a lot of materials! Looking for cotton, sheets, pants, and non-stretchy fabric, and sewing tools such as needles, thread, and scissors. We are also seeking to borrow sewing machines for just one day or donations of machines for the project. For questions or to arrange donations, send an email to anne.palermo@gmail.com with "NbPac" in the subject header.
CUT – Help cut fabric to form the chevron shape which will make a true spectacle!
SEW – Help sew with easy straight stitches on a sewing machine (tutoring available!) to physically bind the donated fabrics into it's awesome shape.
CONVERSE – Help cheer on people working, make new friends and meet other community members, learn and collaborate
It will be a fun day of volunteerism and artmaking! Bring your craft-loving family members and friends!
Future Phenomena will be installed in Greenpoint, Brooklyn in Spring 2010. To learn more about this project, visit:
http://futurephenomena.wordpress.com/2010/03/04/about-the-project/.
The Incredible San Fancisco Artists' Soapbox Derby, 1975. from Mike Haeg on Vimeo. (via Swissmiss)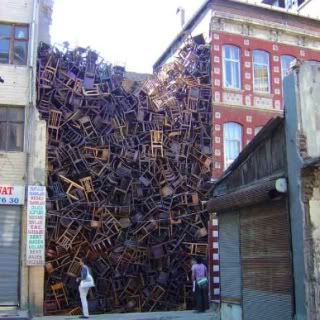 Tonight the Visiting Artist Program at the School of the Art Institute of Chicago will be hosting a lecture by Colombia-based artist Doris Salcedo. I know where I am going to be tonight!
via VAP:
Monday, March 15, 6:00 p.m.
SAIC Columbus Auditorium, 280 S. Columbus Dr.

Colombia-based artist Doris Salcedo explores the significance of everyday objects and their power to implicate history. Her sculptures and installations infuse domestic materials with gestures of political and psychological archeology, and their sense of absence hovers in the space between the empowered and voiceless. Salcedo's work has appeared in major exhibitions at Tate Modern, London; Castello de Rivoli, Turin; and Museum Boijmans Van Beuningen, Rotterdam, among others. She has participated in the T1 Triennial of Contemporary Art, Turin; Documenta; 8th International Istanbul Biennial; and the Liverpool Biennial of Contemporary Art. This lecture is co-presented by the William Bronson and Grayce Slovet Mitchell Lectureship in Fiber and Material Studies at SAIC and is part of the Common Languages lecture series.
$5 per person for the general public; $3 per person for SAIC alumni, non-SAIC students, and seniors; and FREE for students, faculty, and staff of the Art Institute of Chicago.
For more information on this event and other lectures from the VAP please check out their website
Michael Czerepak who sent me the French Star Wars video a couple of months ago just sent me this Stefania Rotolo classic. Italian disco, Star Wars, and sparklers that never run out?! I know where my morning will be wasted. Check out more videos after the jump [Read more]
1. This is Not for Sale at Parking Space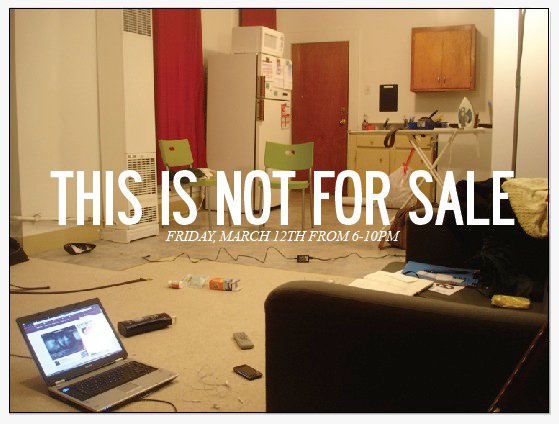 Anyone who's event description sounds like a ranting manifesto has my vote. This is a one night only even, so don't drag your damn feet or you're gonna miss it. Parking Space is, and I quote, "is a collaborative project initiated by artists Andrew J. Greene, E.J. Hill and Matthew Schaffer." This Is Not For Sale features the work of Karen Bovinich, Austin Eddy, Nick Fraccaro, Danny Greene, Xavier Jimenez, Alexa Loftus, Nina Mayer, Dorian McKaie, Annie Purpura, Kristen VanDeventer, and Tannar Veatch.
Parking Space is located at 2246 W. 19th St. Reception is Friday from 6-10pm.
2. Surrender Dorothy at Concertina Gallery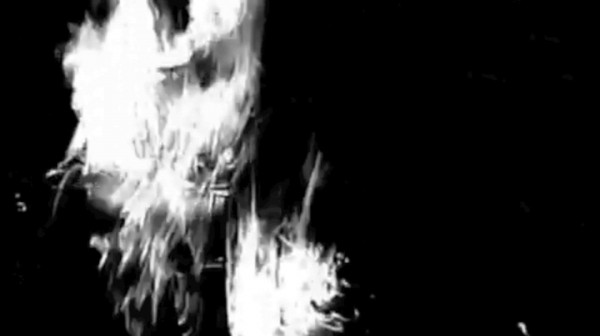 "Mining the tropes of adolescent identity, both artists share nostalgia-even obsession-for the stylized rebellion of teenage subcultures." Mmmm…sounds like drinkin' beer and burning shit. Or maybe that was just my teen years. Can't help but wonder about what's going to happen to Dorothy too. Surrender Dorothy consists of a large scale collaboration between Jesse Butcher and Corkey Sinks.
Concertina Gallery is located at 2351 N. Milwaukee Ave. Reception is Saturday from 7-10pm.
3. Hexenhaus at No Coast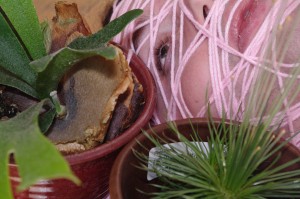 I have a think for work that involves animals. It's personal taste, but eh, you stick an animal in there, I'll at least give it a second look. I also like gardening. So, when I read a description like, "The private lives of humans, animals, and houseplants exist betwixt and between the magic and glamor of polarized human emotions in Hexenhaus" I obviously become intrigued. Hexenhaus features to work of Tessa Siddle.
No Coast is located at 1500 W. 17th St. Reception is Friday from 6-9pm.