Ever feel like you wish you could take on painters in a one-on-one art debate!? NOW you can!!! Sink those battleships!! FIGHT FIGHT FIGHT!!! Embrace your inner art competitor!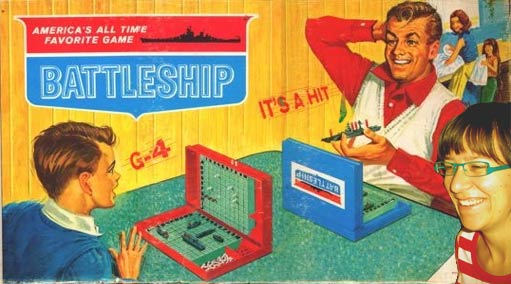 Join our own NYC Correspondant / Referee: Amanda Browder (possible recording) For an afternoon of Battleship gaming at the Winkleman Gallery where two groups go head to head in an art conversation battle.
Sunday, February 28, 2010 / 2pm / part of the William Powhida – Jennifer Dalton exhibition #Class
HOST : Amanda Browder – Bad at Sports Podcast – NYC Correspondent
Address: 637 West 27th Street, NYC – btw 11th and 12th
Battle One: Formalists vs. Conceptualists.
– Why do people still fetishize the object?
– Why can't I buy a performance?
– Can we actually believe half the work that is out there?
– What has more value: objects or ideas?
Battle Two: Painters vs. The World.
– Are painters just magicians? or illusionists?
– Why do painters always make more money?
– Isn't photography a better version of painting?
– Painting sucks…why?
Battle Three: Artist vs. Dealer
– Why can't I believe in my dealer?
– Why are artists so fucked up?
– Dealers suck because they use the artist for their own advantage.
– Artists have no idea what is going on, they need handling.
All are welcome and encouraged to choose your weapon. At the end we will tally up the points and see who really reigns supreme. It's a WAR ON THE SHORE!
It is possible if all works out that some of it might be recorded for Bad at Sports….also an open soap box for ranting.
Bring it Sailor!!!! – I double dog dare you!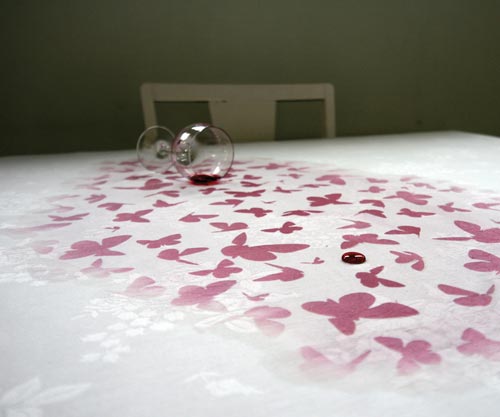 It seems the big talk coming out of the 2010 Stockholm Furniture Fair is the "Underfull Table Cloth" by Norwegian designer Kristine Bjaadal's simple damask pattern table cloth with a twist.
Built into the table cloth is a layer with a separate pattern and absorption level so that when a colored liquid is spilled the hidden design (in this case a butterfly pattern) shows through in line with the spill mark. The item is looking for a production agreement but the possibilities are endless and it's pretty original for a product over 2000 years old.
Off-Topic invites artists, curators, writers, and cultural workers to discuss a subject not directly related to the practice of making art. We would like to welcome Randall Szott as our latest guest with his post, "More Tailgating, Less Curating". In his own words, Randall  "has described himself as a chef, a merchant marine, or a schmuck with some blogs." When not spending part of his time at sea, Randall can be found at He Said, She Said.
More Tailgating, Less Curating
Randall Szott

I'm a cook. When I tell people this there are no quizzical looks or sheepish follow up questions. People get it and want to hear more. Sometimes the fact that I have two grad degrees in art makes its way into the conversation and things get awkward. This, to me is a problem, a fundamental problem that I've been invited to say a bit about here at BaS. What follows is my highly anecdotal account of why I believe the art world should strive to be more like the culinary world. It is rooted in my experience and obviously suffused with my values. If you don't share those values (pluralism, flexibility, openness, egalitarianism, inclusiveness, conviviality, approachability, diversity, etc.), find those values misapplied or irrelevant to the context, or if you have had a radically different experience with the art or culinary world then obviously this account will be of questionable value to you. I am talking about the capital A art world – the one that BaS almost exclusively engages itself with – not the immensely diverse "real" art world of sidewalk art fairs, church craft shows, potters in Memphis, painters in Sedona, and the multiplicity of creative artists that work outside the "recognition" of the network of biennials, jet-set curators, international journals, art historians, big city newspapers, and elite colleges/universities. [Read more]
I've been in bed sick for about a handful of days so this week's pick is a little late. After catching up on the latest horrendiously bad Christian rock band I found an equally disturbing video of Kirsten Dunst directed by McG and produced by Takashi Murakami entitled, Akihabara Majokko Princess. Is it just me or does this video feel very similar to Dunst's performance for the end credits of Bring it On but set in Japan? There are even cheerleaders at one point! Is this just a pop culture reference, a sign of a lack of imagination when it comes to casting, poor acting, or all of the above ?
1. Pamela Fraser at Golden Gallery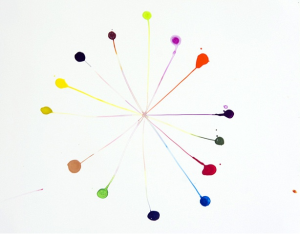 Golden Gallery, generally a crowd pleaser, is putting up another strong show. This round it consists of works on paper by artist Pamela Fraser. The works (from what I could find and discern) are all abstract, hyper-color pieces. Is "eye candy" a bad word in the art world?
Golden Gallery is located at 816 W. Newport Ave. Opening reception is Friday from 6-9pm.
2. Alumni at David Weinberg Gallery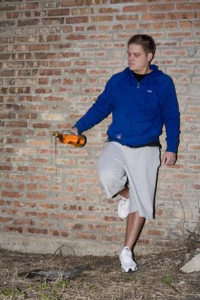 I went to SAIC for grad school, but I don't believe that gives me a complete bias for SAIC grad work. However, when I see good work from my fellow alums, I got to give it a shout.  David Weinburg is putting on an exhibition of "recent" SAIC grad work, including that of Amy Mayfiled, Noelle Allen, Helen Maurene Cooper, & Michael Ratulowski. If you haven't seen their work yet (which, if you've been in Chicago a while, is unlikely) make sure you stop by. If you already know their work, head over for a refresher on why they're awesome.
David Weinberg Gallery  is located at 300 W. Superior St. Opening reception is Friday from 5-8pm. [Read more]