Bad at Sports would like to welcome Devin King as our latest guest blogger. "Devin King lives and works in Chicago. His first book of poetry, CLOPS, is out from the Green Lantern Press and the newest production of his serial opera, Dancing Young Men From High Windows, was part of the 2010 Rhino Theater Festival."
Before Stephen Lapthisophon moved to Dallas in 2008, he worked and taught in Chicago for over 25 years. He's represented in Dallas by The Conduit Gallery, has shown work recently in San Antonio at Unit B, will be doing an installation soon for The Henderson Art Project and currently teaches art and art history at The University of Texas at Arlington. I spoke with him over a few weeks last summer about his installation practice.
Through this, I've been interested in how his installations, paintings, and text/image essays effectively erased old conceptions of relationships between objects and their histories. As you'll see, we spend a bunch of time trying to nail down exactly what he's getting at. Lapthisophon says its an attempt to rethink our surroundings. I'm not sure we ever answered the question.
In Graham Harman's recent book on the French sociologist of science Bruno Latour (Prince of Networks: Bruno Latour and Metaphysics), Harman describes Latour's philosophy as "play[ing] out amidst microbes, tape recorders, windmills, apples, and any real or unreal actors that one might imagine." Moreover, Harman continues, "Latour has no real interest in the pathos of depth: though his actors can always surprise us, these surprises always emerge at the surface of the world, not from some veiled underworld ruled by the shades of [philosophers, theologians, or poets.]" Against Harman's description of Latour, Lapthisophon welcomes the irrational and poetic in our own responses to his work–Lapthosophon's work with disjunctive elements reinforces Latour's image of actors (be they objects, ideas, pictures, or personas) and their surprising emergence at the surface of a world of shifting relations.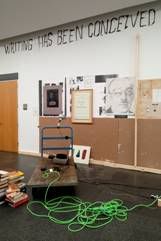 The first thing I wanted to talk about was arrangement. You have an intuitive installation technique: you start with a small number of found objects/photocopies and build out into more materials–finding resonances through addition.
I think this is the result of an interest in limits and boundaries between art and everyday life experiences. I enjoy testing the tolerance level of a situation to see how much or how little can be added or changed while still living in the world of art. It is very much process oriented and, I hope, an open process–embracing flux and change: an open process reliant on intuition and chance operations. However, the method of working additively is neither sequential nor additive itself. I am guided by willful irrationality, chance, accident and mistake. I want to challenge accepted ideas concerning causality and intention.
Can you talk a bit about your idea of a "tolerance level of a situation" and how it manifests in your installations? [Read more]
For this week's pick we bring you Stanley Kubrick's 1951 documentary  "Day Of The Fight".
Not Coming to a Theater Near You has a great article about Kubrick's early docs including today's pick.
Many, though certainly not all, Chicago gallery exhibitions are geared towards openings; often, attending the opening reception of an exhibition is the easiest and most practical way to see a show because the gallery's subsequent public viewing hours are either infrequent or by appointment only. I dislike seeing works of art during openings because the presence of crowds of people make it very difficult for me to quiet my mind and my body in the manner that many artworks demand (this is especially true if I plan to write about the work later). Because of this, I'm always dashing around trying to make sure I've seen all the exhibitions on my list during the last weeks of their run. Here are a couple of shows I've seen recently that will close after this weekend. They're at galleries with standard Tu-Sat viewing hours, and well-worth the effort to check out, if you haven't already.
Greg Stimac at Andrew Rafacz Gallery (last day open is Saturday, March 13th). Walking into the gallery, you might at first assume that Stimac's photographs are of a starry night sky, or some kind of close-up shot of dandelion fluff scattering in the wind. Nope. They're bugs splattered at full speed against Stimac's car windshield, each inkjet print a record of a particular road trip undertaken by the artist (as Karstun Lund has pointed out in his press release text for the show). My own take on the images veers in a slightly different direction; I like to think of them as a form of battlefield photography. The torn limbs and smashed wings of each dive-bombing bug is reproduced in astonishingly delicate detail. We're able to focus our attention on the individuality of each dead or dying creature but, inevitably, that attention is quickly revoked,  overwhelmed by the chaotic vision of mass carnage.
The Art of the Steal, the much–discussed documentary film about the controversial struggle over the Barnes Foundation's extraordinary collection of Impressionist works of art, will have its Chicago premiere at Northwestern University's Block Museum of Art this Wednesday evening. Located in Merion, Pennsylvania at the explicit behest of Dr. Albert C. Barnes himself, the Foundation's collection is now slated to be moved to downtown Philadelphia, a decision which has caused a national uproar.
The film screens this Wednesday, March 10th, at 7pm at the Mary and Leigh Block Museum of Art, Northwestern University, 40 Arts Circle Drive, Evanston, IL 60208. Tel: 847.491.4000.
Here's the blurb and the trailer from the film's official website:
"In 1922, Dr. Albert C. Barnes formed a remarkable educational institution around his priceless collection of art, located just five miles outside of Philadelphia. Now, more than 50 years after Barnes' death, a powerful group of moneyed interests have gone to court for control of the art, and intend to bring it to a new museum in Philadelphia. Standing in their way is a group of Barnes' former students and his will, which contains strict instructions stating the Foundation should always be an educational institution, and that the paintings may never be removed. Will they succeed, or will a man's will be broken and one of America's greatest cultural monuments be destroyed?"
Don't forget! Bad at Sports is asking you to pose your own questions to your artworld in conjunction with our upcoming exhibition at apexart. The questions should be videotaped (if you have a Mac, Photobooth should work nicely, otherwise your camera's video function or your iphone's video should do the trick too), need only be a few seconds to a minute long, and should contain a question you've always had a burning desire to ask of…well, anyone connected to the world of art (provided they're still alive….although….we have always wanted to conduct spirit seances with the dead….but nah, we'll save that for another project). We can pretty much accept any video format, but the most ideal is .m4v file format. Once you've shot your video, email it to us at
video.badatsports@gmail.com
and, not only will we include it in our upcoming exhibition at Apex Art, we'll go directly to the source to find answers to your questions.