Hee. This is good.  Hyperallergic reports that New Museum Director Richard Flood had a few choice words to say about arts bloggers and Jerry Saltz, during a talk he gave at the Portland Art Museum on "Creating Networks: The New Internationalism." From Lisa Radon's post on Hyperallergic:
"I just found out about blogs three months ago," Flood said referring to the time questions were being raised, particularly by Tyler Green on Modern Art Notes and James Wagner on JamesWagner.com, about ethical conflicts for the New Museum regarding Skin Fruit. "The internet is still a ghetto." Flood said he was trying to learn more about them via Lauren Cornell (executive director of Rhizome, affiliated with New Museum since 2003), but he says:

'Blogs are like being out on a prairie and one prairie dog pops up; none of the others can see it, but they can feel the movement in the earth. So another pops up. And another. They are not communicating with each other. They have no idea. History means nothing to them. Truth means nothing to them. They have no mechanism in place for checking [facts].'

In the three months since Flood has become aware of blogs, it's surprising that he appears not to have noticed the hyperlinking that is integral to the blog as a tool for communication. He might not be expected to be aware of the dynamic back-channel communications among arts bloggers via twitter and other platforms, but the linking is front and center. But the analogy shows a more fundamental disdain for the practice of online arts journalism. A blog is just a tool, a platform. It's what's built on that platform that we should be talking about, and that may be a gossip rag or it may be considered, rigorous, accurate reporting and/or criticism."
Go on over and read the full post here, it's an eye-opener. Very good editorial response by Radon, as well.  Jerry Saltz posted something about it on his Facebook page, and there are some comments there too, natch.
Performance artist Anya Liftig costumed herself as Marina Abramovic's double (long blue dress, sideswept braid) and sat across the table from Abramovic all day long last Saturday, March 27th, during Abramovic's marathon performance piece "The Artist is Present," part of her current retrospective at the Museum of Modern Art. Liftig considered her action to constitute a performance of her own, and even has a title for it: "The Anxiety of Influence." Bombsite has an interview with Liftig here. An excerpt:
Tatiana Berg: When I read reviews of "The Artist is Present," writers often describe Abramovic's piece as her "interacting" with her audience, which I think is a misnomer. The performance is really as far from interaction as you can get, since in the museum setting surrounded by guards on all sides—who won't even let you take a picture—the audience's available set of actions is very limited. So rather than interacting with Abramovic, it's more like she's inviting the audience to sit there and contemplate themselves, not her.

What I liked about your performance was that you totally played by the museum rules: no one said you couldn't be dressed a certain way, no one could say you had to get up and let someone else have a turn. Did you nevertheless feel like a transgressor? A museum interloper?

Anya Liftig: I did feel like a transgressor but I love the subtle art of subversion—playing with ideas from the inside out. As I was sitting there, I felt like that was one of the strongest elements of Marina's piece. She is attempting to "interact" with the audience, but really, the endeavor for empathy is one of implicit sadness, as we connect and miss one another. It is not meant to be read at face value. It also brings up the role of the artist, how they connect on an individual, emotional level with others when they are constantly being observed and commented upon by the masses held at bay by the guards.
Read the full interview on Bomb's website; it's really interesting and, based on the interview, Liftig seems to have approached her action with sensitivity and thoughtfulness rather than as a cheap stunt.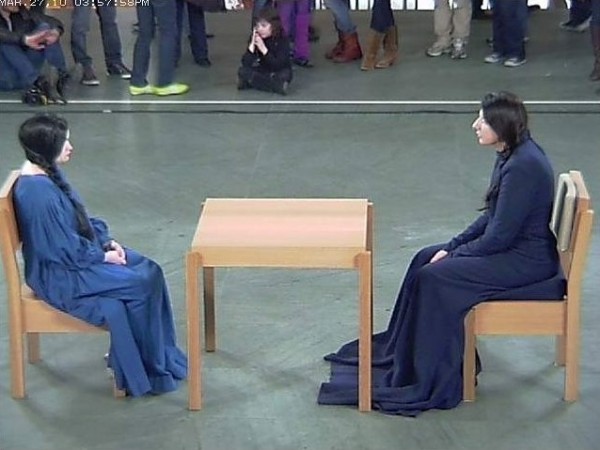 I love sifting through online image archives, especially those of a historical nature. I've been going through the Library of Congress' collection of posters from the Works Progress Administration and thought I'd share a few of the ones that caught my eye for one reason or another. The collection consists of 908  posters produced during the period 1936 to 1943 as part of Franklin Delano Roosevelt's New Deal. Of the 2,000 WPA posters known to exist, the Library of Congress's collection is the largest. They include silkscreens, lithographs, and woodcut posters designed to promote health and safety programs, cultural programs and art exhibitions, travel and tourism, educational programs, and community activities.  Click on the image to be taken to its LOC link.
This week New City published an essay by its arts editor Jason Foumberg on the state of art criticism amidst the rise of blogging, online websites, and other forms of interactive media titled The State of the (Visual) Art. I didn't read this as a piece on the status of art criticism in Chicago per se, as I think some may have, but rather as about the difficulties of defining (much less practicing) this thing called 'criticism' at all in online, social-media driven contexts. Foumberg's essay is part of a larger series of articles at New City that are exploring the state of criticism in the age of Yelp!,  Amazon book reviews, and other online social feedback devices. The other pieces can be found here, here, and here (this last one is about Yolp!, a Jersey Shore parody of Yelp that's really funny). The comments that ensue are interesting, but there aren't a lot of them and there's not too much back-and-forth…yet. But today Christopher sent me a link to Michael S. Thomas' blog Stagnant Vowels, in which he's posted a response, of a sort, to the New City article, which immediately bumped Mr. Foumberg's piece up to "hot topic" status in my mind. (Thomas' response might itself almost qualify as a good old-fashioned Rant, and as I've said before, I am to rants as a moth is to a flame….Jason, in contrast, doesn't rant: he muses.).
In his post, Mr. Thomas, who was the director of the well-respected and now defunct Dogmatic Gallery in Chicago, calls us out over here at Bad at Sports for basically being slutty opinion mongers on a par with t.v. talk show pundits. He writes:
"The flux or crisis isn't with experts or authority per say, its in the distribution of opinion as though it were reasoned discourse. It's in the ongoing creation of model's for the dissemination of hyperbole without rational checks or balances. Whether it's Glenn Beck, or Jon Stewart, or Bad at Sports these models can do much to obfuscate legitimate dialogue if not entirely cripple its formation."
I have to assume he's talking about our blog in particular, as the podcast's one-on-one interview format is pretty much the antithesis of opinion journalism. But I want to know — where is all this 'legitimate dialogue' (emphasis on the word 'legitimate') that we in particular are guilty of obfuscating? Tell me where it's happening, and I'll gladly get the hell out of its way!
In all seriousness, though, I don't at all disagree with Thomas on his larger point. In fact I think most of his post hits it right on the mark, particularly in his assessment that lack of editorial oversight might be precisely what makes online art criticism so problematic (I'm paraphrasing his argument, but that's what I took away from it). Thomas finds fault with the recently launched Chicago Art Magazine for precisely these reasons, and although I shall remain neutral on the matter of his specific target, I tend to agree with many of the larger arguments he's making. Such as this one:
"But I would argue that without editorial oversight or a progressive long term vision for growth, an endeavor such as this one is hopelessly mired. After all criticism and opinion are not the same. Amateur criticism is little more than the ALL-CAPS and bold fonts version of a comment roll, and paying said amateur is in no way a transformation of this reality. So what makes a misinformed critic not, a knowledgeable and, or an opinionated amateur? Time, energy, condensed thoughts, research, an apishly large library surrounded by lovely black and white photographs of water fowl, and other bric-a-brac? No its constancy and persistence in the pursuit of understanding and conveying the qualities that define the arcane and metaphorical reality of objects and their surroundings."
Hallooo! My darling dearies, it's me again, the bringer of picks and the peddler of shows. Again, I'm not actually going to be around this weekend (this and next I'm in Cali, weekend after that Kentucky, then New Your the following weekend, if all works correctly). I will think of you all as I drink a 40 on Potrero Hill and watch the sun set over San Francisco Friday night. I'll be thinking of you, and ALL THE ART YOU ARE OUT SEEING IN MY ABSENCE! No getting lazy just 'cus the crawler's out of town. Get your ass out there and support your community. Got it? Good! All right, here you go…
Where did #1 go? To the land of Outdated Press Releases, that's where. Continue on to #2.
2. Waiting Room at Spoke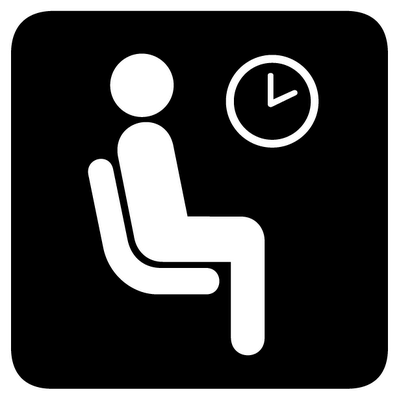 Waiting Room, a piece presented by Stephanie Nadeau, involves, you guessed it, waiting. I know Stephanie from out time at the 'Tute, and have admired her work for as long as I've known her. For this work, ya'll who show up will be invited, and I quote, "to come spend your time. Our mission is to allow you to contribute your time comfortably and productively while remaining completely idle. Wait for as little or as long as you like, it's entirely up to you. Stop by anytime for your free timecard and we'll get you started on a rewarding and enjoyable waiting experience." Come wait with us.
Spoke is located at 119 N. Peoria. Waiting Room is open Saturday from 12-8pm.
3. Radical Semantics at Pentagon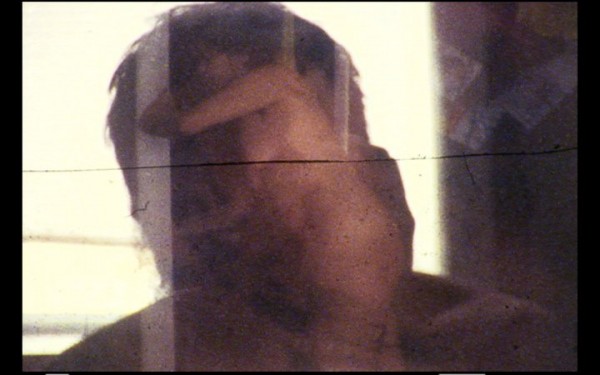 Here is another prime opportunity to sit and wait. Well, perhaps not wait. Held alongside Music From Big Pink, Radical Semantics features 16mm films by Eric Stewart, Alex Lake, Ross McFessell, Adam Neese and Randy Sterling Hunter. And I quote, "Radical Semantics is a survey of 16mm films by film-makers whose methods stand in opposition to the algorithmic and computer assisted processes that define many contemporary media works. Often working with home-made optics and developing their film in sinks and buckets, these filmmakers create short works that emphasize the expressive and opt for complexity rather than reproducibility and homogeneity."
Pentagon is located at 961 W. 19th St., 1F. Screening is Saturday from 8:10-10:10pm.
4. Grand Opening of the New OpShop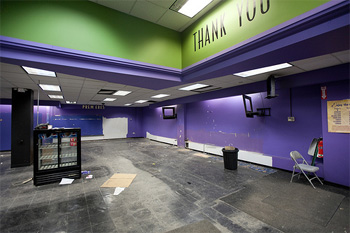 Round two of Laura Shaeffer's marvelous project, the OpShop. And I quote, "The Op Shop v.2 is thrilled to announce the grand opening of Adhocity: an ongoing, evolving where-it's-atmosphere of dialogue and opportunities for the exchange of ideas, objects and histories inspired by the principles of adhocism." Oh, and be sure to head downstairs to THE CREEPIEST BASEMENT EVER! Hooray!
The OpShop is located at 1613 E. 55th St. Reception is Saturday from 5-9pm.
5. Up For the Downstroke at 65 Grand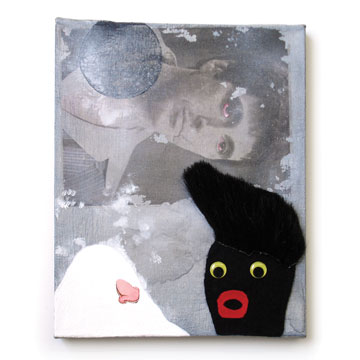 65Grand is awesome, and this work is awesome. What more can you ask for? Work by David Leggett.
65Grand is located at 1378 W Grand Ave. Reception is Friday from 7-10pm.