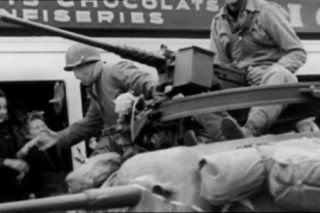 For the month of March the Gene Siskel Film Center is hosting the13th Annual European Union Film Festival. There are a lot of Oscar contenders that are being shown and I would highly recommend perusing their listings, which offers close to 60 films. Recently, I was able to catch the 2008 Belgiun documentary "Modus Operandi". Directed by Hugues Lanneau, the film chronicles Belgium's direct relations with Auschwitz.
Lanneau mixes interviews with grainy footage from the era, some of which had never been shown before. Although the film feels a little long (clocking in at 98 minutes) it is beautifully arranged. I found myself lost in the grain of the film but was often brought back by the numerous amounts of photographs that were filmed while being layered on strings. My description does not do it justice but the confrontation of individual portraits helps aid the statistics of the number of victims from the camps. According the film, 24,916 Jewish people were deported to Auchwitz between the years of 1942 and 1944 from Belgium. An overwhelming 95% of which never returned. As we hear personal statements from people that fled Belgium, we begin to see how the Nazi regime gradually infiltrated the Belgian government (which proved to be rather easy) and used it's very own authorities to implement their agenda. Their methods are chronologically broken down which helps with the linear flow of the movie.
Throughout the film there are several shots of facades and interiors that have images of documents and footage of soldiers marching projected on them. Immediately I thought of Jenny Holzer's projections and appreciated Lanneau's attempt of activating these historical spaces. His careful consideration with framing these shots made them significantly more powerful when in reality they could have easily been gimmicky. Although this film is somewhat on the dry side (I would mainly recommend it to history fans) it separates itself from historical documentaries that are made for television. The combination of well-organized images, captivating subjects, and skillfully framed shots elevates "Modus Operandi" beyond the cold hard facts and allows the viewer to feel a small personal connection to the people that lost their lives in concentration camps. [Read more]
1. Containers at DIG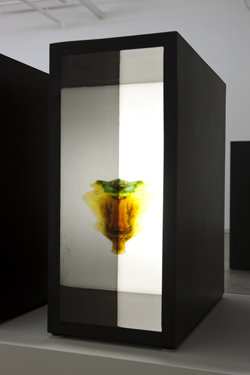 A space over by Monument 2, DIG looks like it could be a new place we all might want to start going to. As usual, it is hard to tell from the photos what the actual work will be (when it's 3-D), but the light box Rorschach thing going on looks interesting. What to see a "new" place (new to me at least)? Head on over.
DIG is located at 2003 N Point #3. Reception is Friday from 6-9pm.
2. Anatomy in the Gallery at The International Museum of Surgical Science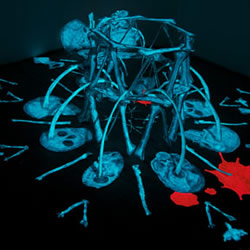 Now, I will admit a "conflict of interest" here (if you believe in those), I am good friends with Annie Heckman. Now that the formalities are taken care of, HOLY CRAP, these shows are going to be awesome. I've known Annie's work for a while now, and saw Lauren Kalman's work at, I think, SOFA. Heckman's exibit is called "You thought that you were alone but I caught your bullet just in time," and Kalman's is called "Blooms, Efflorescence, and Other Dermatological Embellishments." Glow-in-the-dark bones and skin rashes made of precious stones? How can you go wrong?
The International Museum of Surgical Science is located at 1524 N. Lake Shore Dr. Reception is Friday from 5-8pm.
3. Twelve Hundred Miles Down the Street at Linda Warren Gallery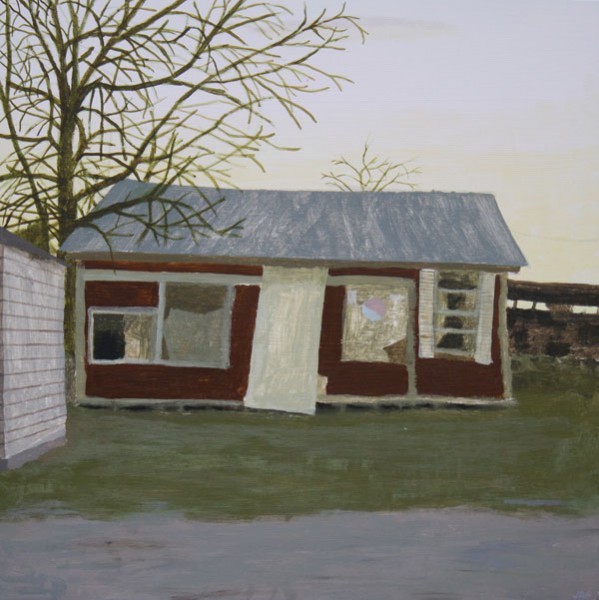 I think I'm attracted to this work because it reminds me of my own photography, in a weird, round-about way. Depressed places rendered formally for contemplation, I guess you could say. I am generally a lover of Linda Warren's place, and this looks like another good show for the books. All the paintings in Twelve Hundred Miles are by Joseph Noderer. Michael Stillion will be showing in the Project Space.
Linda Warren Gallery is located at 1052 W. Fulton Market St. Reception is Friday from 6-9pm.
4. Carnival of Curiosity at Holy Mountain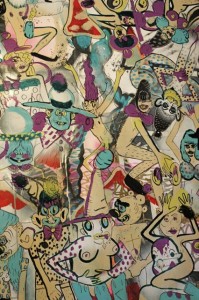 You ever heard of Holy Mountain? I hadn't until earlier this week. For those of you new to it, Holy Mountain is a women-owned BDSM Studio in the West Loop.  And I quote, "Carnival of Curiosity is intended to bring a new audience into an environment they might not otherwise explore, and to showcase the talents of a collective of Pro Dominas who already contribute to Chicago's artistic zeitgeist in their own ways." Sounds like a party to me!
Holy Mountain is located at 120 N. Green. Reception is Friday from 6-9pm.
5. The Strange Case of William Mumler at The Renaissance Society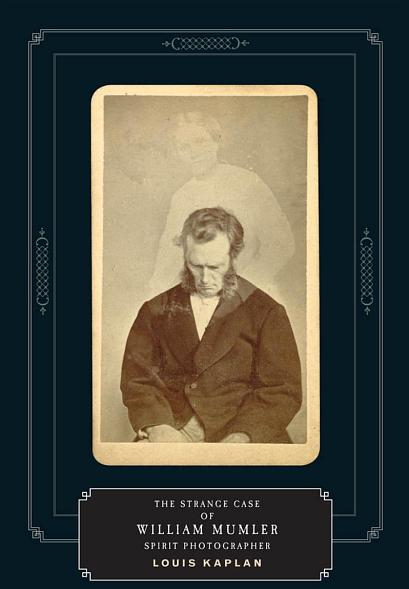 Spirit photography is rad! Now Louis Kaplan from the University of Toronto will be discussing the work of one the most famous, William Mumler. And I quote, "As Kaplan's case study of William Mumler shows, faith in the truth-telling abilities of photography has always been accompanied by skepticism about the objectivity of the photographer. Beginning in the early 1860s, Mumler became famous in Boston and New York for taking "spirit photographs" in which ghostly images of departed family members or friends appear in portraits of living subjects." Hooray for ghosts!
The Renaissance Society is located at 5811 S. Ellis Ave. The lecture will be held Sunday in  Swift Hall, Room 106 at 2pm.
This has nothing to do with Art in even the most remote way but I would be amiss to not post this since it is some of the best comedy for a while and doesn't appear on TV, Cable or Cinema. No, it's specifically made and shown on Funny or Die. I could say much more but it would only ruin the best casted skit almost ever.
This is quite possibly the first time you have every SNL Presidential Doppelgänger on screen at the same time ever (just missing Rich Little) and showcases Will Ferrell, Chevy Chase, Jim Carrey, Fred Armisen, Darrell Hammond, Dan Aykroyd, Maya Rudolph, Dana Carvey & Directed by Ron Howard to promote the Consumer Financial Protection Agency that is under debate/creation right now. Here is a behind the scenes video of the shoot.
I'm bringing this weekly links post back from the dead. There's too much good stuff out there not to share. So, let us begin:
****Piss Wars: First-person accounts of a performance art kerfluffle involving Ann Liv Young that took place at PS1 Contemporary Art Center last week, over at Art Fag City. Dirty looks, upraised middle fingers, and spilled urine…yup, classic performance art. Follow up reports here and here.
****On the other hand, Wafaa Bilal makes the kind of performance art I can stand behind. Or support. Or whatever. His "….and Counting" will take place at the Elizabeth Foundation for the Arts in New York on March 8th. In it, Bilal's back will be tattooed with a borderless map of Iraq–one dot for each Iraqi and American casualty near the cities where they fell. "The 5,000 dead American soldiers are represented by red dots (permanent visible ink), and the 100,000 Iraqi casualties are represented by dots of green UV ink, seemingly invisible unless under black light." (via we make money not art).
****A really good think-piece on the questionable status of Outsider Art, by Monica Westin, over at New City this week.
****Anaba profiles artist Margo Mensing, who "studies the work and life of an individual who died at her current age… and spends the year creating artwork responding to and inspired by that person." Fascinating. She's done Elizabeth Bishop, Donald Judd–and just check out her fantastic, Joan Mitchell-inspired knitted socks!! I am DYING over here.
****Wanna peek inside The Art Institute's fashion archives?
****Photographer Luisa Lambri, whose work is consistently amazing, has a solo show titled "Being There" that just opened at the Hammer Museum. The Los Angeles Times profiles Lambri here and here.
****This is from way back in October, but still relevant: F Magazine, itself a student-run art journal, has a nice rundown of other local student-run art journals, including where to find them.
****Still Life: Adventures in Taxidermy, a new book on the art and history of taxidermy by Melissa Milgrom. (Via Morbid Anatomy).
****A really interesting piece (which includes videos and links) on Manshiyat Nasser (Garbage City), a suburb of Cairo, at Provisions Library.  Garbage City is home to more than 20,000 people, many of whom are Zabaleen (Arabic for "Garbage Collectors"). The Zabaleen gather one-third of Cairo's trash every day, bringing it back to Manshiyat Nasser where it is systematically sorted and recycled into raw materials or manufactured goods before being resold or reused worldwide.
****In Defense of Anonymity. Joanne MacNeill of Tomorrow Museum says, "Anonymity is a good thing. Don't conflate it with online trolling, it's good to have a secret life online." She elaborates why in her podcast, linked above.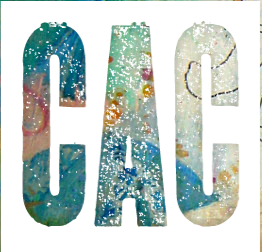 This announcement landed in my inbox this week and I thought I'd pass it along. It sounds like a fantastic opportunity for aspiring curators who are still in school (and in fact, it's aimed at student curators only). The Chicago Artists Coalition (CAC), as part of their "Around Town" program and in partnership with Merchandise Mart and Art Chicago, is launching its Merchandise Mart/CAC Pop Up Gallery, a new six-month exhibition opportunity for student curators and student artists (undergraduate or graduate students are eligible). THE DEADLINE FOR THIS IS MARCH 12TH, so if you are interested, apply soon! Details follow:
"CAC Around Town creates alternative exhibition opportunities for CAC Artist Members including pop up galleries, restaurants, office lobbies, cafes and more. By joining CAC, artists are eligible to participate in Around Town where they can attract new and diverse audiences.
Beginning in March, 2010, CAC will manage a new gallery space in the Merchandise Mart, a location that welcomes more than three million visitors each year. With 150 showrooms and over 4,000 professional designers, Merchandise Mart offers an unparalleled opportunity for artists to be discovered and commissioned.
Curators select the artists for their proposed exhibition. Both selected curators and artists must be currently enrolled students.
EXHIBITION INFORMATION:
• Three curators will be selected to develop shows that will be up for approximately 6 weeks
• The gallery measures 1900 square feet, with 4,200 square feet of possible exhibition space
• Shows will be promoted city wide to over 60,000 Chicago residents
• CAC will host a reception for each show
APPLICATION GUIDELINES:
Email to pepper@caconline.org by 5:00pm, March 12.
Application must include:
• Curatorial Statement (200 words or less describing their vision for the show)
• Resume
• Two References
Curators must be CAC members to apply.
There is no application fee.
Curators may only exhibit student artist work.
Selected exhibiting artists must also be CAC members.
The cost of a student one-year membership is $45
(for more information on CAC membership benefits, visit www.caconline.org/services). Following the application, runners-up will be interviewed in the gallery space.
Administrative Contact is Pepper Coates;
Email application to pepper@caconline.org by 5:00pm, March 12.