Over the last 48 hours a story has been jumping around the Chicago art world stirring the minds and causing the hand wringing of countless people. Much of the talk has sadly been via email, Twitter, Facebook & other secondary venues of communication. That story is of the article in the Chicago Tribune about the artwork & marketing done by Patrick Skoff. Mr. Skoff has been taking his work and leaving it around town for people to take for free while giving hints as to locations over the internet.
Some people said it's bad arts coverage, some people railed against it as playing to the base of humanity, some even wondered what Chicago art coverage has come to post Artner. The general consensus was that this isn't Art's coverage and better work is getting skipped; my thoughts are reprinted below from facebook (yea classy I know)……
It's Entertainment coverage not Arts coverage (and correctly categorized). Honestly is anyone surprised since we continuously seem to exclude/ignore/insult/talk-around the main stream people who read the tribune?

I agree the work/story isn't that notable (even though I do give kudos to the artist arranging this with the reporter, don't think for 1 second Christopher Borrelli just happened to be there, this was coordinated, the reporter is as much the artist as the artist in this event) but am I shocked that people will eat this story up in the lack of anything else? No.

People want art in their life, I have seen it, everyday Joe and Jane urban, suburban & rural people love art they just are not being spoken to or at least not spoken to in a vernacular they have any chance to engage in.

Is this new? No. Will this change soon? Probably not. The only thing that grinds me is how everyone is so "shocked" that this is going on every time it happens. I don't mean you guys as much as people I have had conversations with over the last 5-10 years.

Every time this happens everyone is "amazed" that this gets coverage and not something of more merrit. That is because we don't talk to them in a way they would be interested or understand and we leave it to people like Borrelli & Skoff to fill the gap.

I swear I feel like Michael J Fox in the "American President" some days, I know I can come off as venal at times but people want Art, they want what that can offer (the creativity, the hope, the joy for the new) and the only people who are doing the talking are people that have nothing really to say. I don't blame them but we can't be shocked when the only words that get out are treasure hunts. When by and large everything they love and want we label as modernist and scoff at. There has to be a way to bridge the gap?
Feel more then free to comment by calling 312-772-2780 or emailing us and keep up the good work Chicago even if no one is writing about it.
The Red Dot Art Fair's NYC edition which was cancelled less then a month before it's opening during Armory in 2009 has been rebooted in combination with MillionTreesNYC, a project initiated by Mayor Michael R. Bloomberg and New York Restoration Project (NYRP) Founder Bette Midler.
The new venue will be held at Skylight NYC, a renovated contemporary event space located on 10th Avenue and 36th Street right next to the Lincoln Tunnel.
The previous venue was their office space in the 500 block of West 25th Street.
Off-Topic invites artists, curators, writers, and cultural workers to discuss a subject not directly related to the practice of making art. We would like to welcome Stephanie Burke as our latest guest with her post, "Firestarter". Stephanie is a Chicago based photographer who graduated from the School of the Art Institute of Chicago in 2009. She currently writes for Bad at Sports, runs Art Talk Chicago and works as the Managing Editor for Chicago Art Magazine.
Firestarter
by: Stephanie Burke
Last night I had a dream: my husband and I were living in an abandoned church in some metropolis. The church was high on a hill overlooking the city. I was sitting in the scrubby grass outside the church, watching the sun go down and listening to talk radio. An announcer cut into my program, saying the mayor had decided to start shutting the power off at night to save money. I looked out over the city to the west, and watched the lights blackout below me as the sun dipped below the horizon. As the last rays of sunlight disappeared, I started thinking about how I was going to build a fire without drawing attention to myself. In mid-thought, I woke up. I rolled over and related my dream to Jeriah, including my quandary as to how to build an un-noticeable fire. Without skipping a beat, he said flatly, "a Dakota Fire Hole, that's what you'd use." Yes, that's what I would use. Knowing how to build things like a Dakota Fire Hole, and a fire in general, is an important part of wilderness and disaster preparedness, a topic of great import to me. Thus, I have decided to dedicate my Bad at Sports Off Topic entry to fire building in context of survivalism.
Fire is one of the most important things you will need in a survival situation. Fires provide heat to dry clothes, warm bodies, cook food, and boil water to destroy pathogens. It also provides light to work by, to use as a signal for rescue, and to aid in general peace of mind. For all these reasons, you need to plan ahead and understand the basics of starting and maintaining fires.
First, you need to understand the needs of a fire. A fire needs three things: fuel, air, and an ignition source (or spark). Fuel is what is feeding the fire, usually in the form of wood, paper, leaves, twigs, etc., and generally, the drier the fuel the better. Overly wet fuel can be used once a fire is going, assuming it has been dried out near the fire before use, or the fire is raging extremely hot. Be careful when gathering your fuel, many parks and wilderness areas have restrictions on wood gathering.
There are three main fuel types you need to gather: tinder, kindling, and denser, long burning material. Starter and kindling are essential to starting a fire (without gasoline or road flares), and it continues to surprise me when a watch people try to start fires without them. If I had a dollar for every time I've seen someone crumple up 2 wads of newspaper, cover them with 4 or 5 four-inch diameter logs, then light it expecting a the newspaper to get the logs going, I'd have, like, a few hundred dollars.
Ok, so for those of you who don't know yet, CAA (College Art Association) has dubbed Chicago worthy for it's pedagogical adventures, and has settled in our fair city for the weekend. As a member of CAA, I'll be cruising from lecture to lecture the next few days, trying to suck up as much strange knowledge as I can while the circus is in town. But I'm not the only one excited about the CAA crew. As a result of the conference, just about everyone else in town is trotting out something or other, much of which is AWESOME! As a result, I bring you The Biggest Top 5 You've Ever Seen! Rather than picking individual galleries for the Top 5, I've corralled a Top 5 of places (in no particular order) you should go this weekend. Hope ya'll enjoy.
1. Pilsen
The self-proclaimed Chicago Arts District is holding it's monthly 2nd Fridays round of openings. Here's the places I'd go if I were you:
Chicago Art Department – 1837 S. Halsted. Cultural Excavation, work by Christopher Piatt, Ben Valentine, Wayne Bertola, Virginia Broersma, Allison Rae Butkus, Seth Gershberg, Jennifer Hines, Jennifer Jackson, Sarah Leitten, Amanda Paulson, Aaron Wooten and others. Reception Friday, from 6-10pm.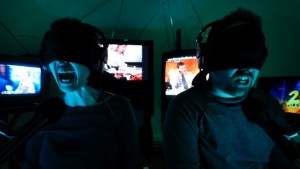 ROOMS Gallery – 645 W 18th St. ORACLE:CHANNELING, with Marrakesh & Todd Frugia. Performance Friday, from 8-10pm.
Today marks the start of the 2010 College Art Association (CAA) Conference, the annual conference for college professionals working in the field of visual arts. If you're in town for the event, don't miss Duncan MacKenzie and Richard Holland presenting in person on Friday on the topic of "meta-mentors" and the role they play as producers/founders/meta-mentors of the entire Bad at Sports universe! Their panel, titled Meta-Mentoring: Opt Out of Obscurity, will take place on Friday February 12th at 12:30 pm at Columbus GHIJ, Gold Level, East Tower, Hyatt Regency Chicago. Duncan and Richard will be talking about the history of Bad at Sports, the process of putting the show together, the role they play as artists and cultural producers, and so! much! more! So come armed with your questions, your autograph books and 8 x 10 black and white glossies…and get ready to be meta-mentored by Bad at Sports!
Be sure and check out some of the panels listed below, featuring B@S' fellow contributors, friends, and other groovy folks of note. (For the full schedule of panels at CAA, click here.) PLUS: Students at Columbia College are blogging the entire conference! So we don't have to! Thank you Columbia College Students!  Without further ado, let the academic hob-nobbing commence!
On Thursday:
Futures of Criticism
Thursday, February 11, 9:30 AM–12:00 PM
Grand B, Gold Level, East Tower, Hyatt Regency Chicago
Chair: Lane Relyea, Northwestern University
Criticality, Critique, Critical Practice
Gail Day, University of Leeds
The Critique of the Incitement to Discourse and the Basic Problems of Phenomenology: Two or Three Critical Models in/around Tino Sehgal
David Lewis, Graduate Center, City University of New York
Who Needs an Art Critic: Law and the Space of Writing
Sergio Munoz Sarmiento, Clancco: Art and Law
Historicizing Contemporary Art: The Living, the Dead, and the Undead
Simone Osthoff, Pennsylvania State University
Criticisms, Publics, Communities
Frazer Ward, Smith College
Recent Research in Chicago Architecture
Thursday, February 11, 9:30 AM–12:00 PM
Grand A, Gold Level, East Tower, Hyatt Regency Chicago
Chair: David Theodore Van Zanten, Northwestern University
The Skyscraper Street and Design for the Crowd ca. 1900
Joanna Merwood, Parsons the New School for Design
Marketing the Movies: Chicago Picture Palace Movie Theaters
Rachel Remmel, University of Rochester
A Preliminary Survey of the Chicago Courtyard Apartment Building: The North and West Sides
Michael Rabens, Oklahoma State University
From PWA to CHA: Chicago Architecture and the American Public-Housing Debate
Alison Fisher, Art Institute of Chicago and Northwestern University
The Inland Steel Building Inside Out
Amanda Douberley, University of Texas at Austin
Aspects of the Civic: Chicago's Daley Center and Plaza
Sharon Irish, University of Illinois, Urbana-Champaign
New Challenges for Art Criticism: Relational Aesthetics, Social Collaborations, and Public Interactivity
Thursday, February 11, 12:30 PM–2:00 PM
Regency A, Gold Level, West Tower, Hyatt Regency Chicago
Chair: Kathryn Hixson, School of the Art Institute of Chicago
Michelle Grabner, School of the Art Institute of Chicago
Joseph Grigely, School of the Art Institute of Chicago
Joao Ribas, Massachusetts Institute of Technology
The Object of Nostalgia
Thursday, February 11, 2:30 PM–5:00 PM
Columbus GHIJ, Gold Level, East Tower, Hyatt Regency Chicago
Chairs: Rene J. Marquez, University of Delaware; Lance Winn, University of Delaware
Installation and Nostalgia: Landscape of Desire
Marlene Alt, Southern Oregon University
Try a Little Tenderness
Pamela L. Fraser, University of Illinois, Chicago
Ah, but It Was Good
Elaine B. Rutherford, College of Saint Benedict and Saint Johns University
The Interstice between the Sentimental and Cynical Act of Painting
Brian Bishop, Framingham State College
***There is an exhibition titled
The Object of Nostalgia
running concurrently at Columbia College's A+D Gallery, curator's talk and reception on Thursday night at 5:30pm.
On Friday:
***Meta-Mentors: Opt Out of Obscurity***
Friday, February 12, 12:30 PM–2:00 PM
Columbus GHIJ, Gold Level, East Tower, Hyatt Regency Chicago
Chairs: Sabina Ott, Columbia College Chicago; Reni Gower, Virginia Commonwealth University
Curator's Perspective
Michelle Grabner, School of the Art Institute of Chicago and the Suburban
Critic's Perspective
Corey Postiglione, Columbia College Chicago and "Artforum"
Gallerist's Perspective
Gosia Koscielak, Koscielak Gallery
Producer's Perspective
Duncan MacKenzie, Bad at Sports: Contemporary Art Talk
Richard Holland, Bad at Sports: Contemporary Art Talk
On Saturday:
Comics in Art History, Part I
Saturday, February 13, 9:30 AM–12:00 PM
Grand CD South, Gold Level, East Tower, Hyatt Regency ChicagoChairs: Andrei Molotiu, Indiana University, Bloomington; Patricia Mainardi, Graduate Center, City University of New York
James Boaden, University of York: Dick Racy and Nance: The Comic Collages of Jess
Andrei Molotiu, Indiana University, Bloomington: Kirby after Lichtenstein
John P. Hogan, independent artist, Los Angeles: Comic Conceptualism and Critical Comedians: Two Sides of a Wooden Nickel
Simon Grennan, University of the Arts London: Reading Seth through Appropriation Theory

Mark Staff Brandl, University of Zurich: Posthysterical: The Study of Comics Advances a Plurogenic View of Art History