Memo: To Whomever It May Concern
Re: Acquisition of an iPad
From: The Bad at Sports Team
Okay, it has come to our attention that we can't afford an iPad, either collective or individually. And while we are neither a formal non-profit at the moment, or a worthwhile cause, you can't get help if you don't ask.
We want an iPad(s). The art potential here is big big big! There is all sort of amusing shit we could do with one of those bad boys. We'll take donations of any recent technology for that matter, computers, audio gear, advanced military weapon systems. Send us your working discarded wazmos. You'll be contributing to … a cause, not a good cause mind you, but a cause none the less. And with the growing numbers of BAS folks with kids, or kids on the way, we surely could use some entertainment. If we're jolly, we're funnier, and who wants to listen to a bunch of cranky jerks. Well, you probably, as you are reading this instead of something meaningful, but you catch my drift.
Call our hotline (312) 772-2780 with details. And thank you!
Image below from lunchbreath (via).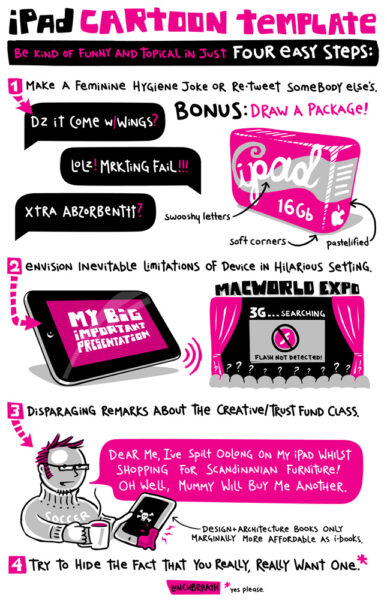 Tonight (Monday, April 4th) Andrea Zittell will speak about her work as well as her unusual studio space in the high desert of California at the Museum of Contemporary Art, in conjunction with the exhibition Production Site: The Artist's Studio Inside/Out. The talk is co-presented with Gallery 400.  This should be a good one; full details below.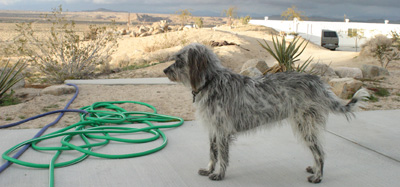 Andrea Zittel: artist
Monday, April 5, 6 pm
Co-presented with the Museum of Contemporary Art, Chicago, in conjunction with the exhibition Production Site: The Artist's Studio Inside-Out
Special location: the MCA Theater, 220 East Chicago Avenue
General admission $10, MCA members $8, students with valid ID $6
"Internationally renowned artist Andrea Zittel speaks about her work and describes how her studio in the high desert of California serves both as a space for exploration and as a place for crafting and presenting objects, materials, spaces and ideas. Zittel's sculptures and installations transform everything necessary for life — such as eating, sleeping, bathing, and socializing — into experiments in living.
Andrea Zittel is an assistant professor of the Roski School of Fine Arts at the University of Southern California, who has had many solo exhibitions worldwide. She has received a Lucelia Artist Award from the Smithsonian American Art Museum; a Coutts Contemporary Art Foundation Award; and an Alfried Krupp von Bohlen und Halbach Foundation catalogue support prize. Zittel has also organized the smockshop, "an artist run enterprise that generates income for artists whose work is either non-commercial, or not yet self sustaining" by selling smocks; and High Desert Test Sites, "a series of experimental art sites" which "provide alternative space for experimental works by both emerging and established artists."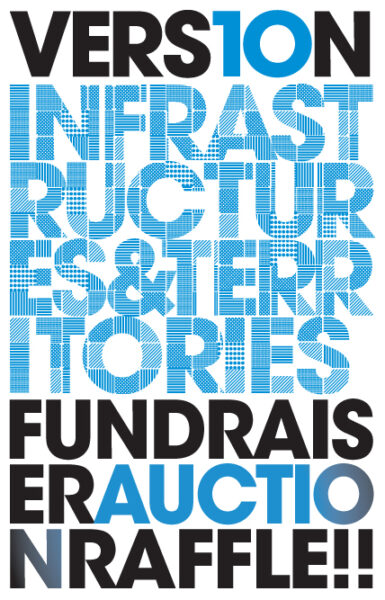 Listen up everyone, this one's important! Tomorrow Tonight, Saturday April 3rd, from 7pm – 1am Co-Prosperity Sphere will be putting on their *only* fundraiser for the year, the one that helps fund the projects, publications and exhibitions that are part of their wonderful annual arts convergence, Version Festival. Version's Silent Auction and Raffle will have extraordinary work on display generously donated by friends of Version fest. This year's list of participating artists is a good one. You can bid on works by the following artists:
Lora Fosberg
Anna Shteynshleyger
Tom Torluemke
Tyson Reeder
Cody Hudson
Aron Gent
Stephen Eichhorn
Juan Chavez
Mathew Hoffman
Dayton Castleman
Jeff Zimmerman
Jordan Martins
Peter Skvara
Seripop
Le Dernier Cri
Gunsho
Chris Roberson
Emily Clayton
Rod Hunting
Chad Kouri
Se Young
Nathan Baker
Scott Cowan
Caitlin Arnold
Ian Whitmore
Scott Fortino
Nick Wylie
Tom Burtonwood
Nate Lee
Zachary Abubeker
Aaron Delehanty
Jame Jankowiak
Erik Debat
+ others
You can also bid on these services:
A Pocket Guide to Hell Tour by Paul Durica
A Chicago Pedway Tour by Hui-Min Tsen
NFO XPO Booth for Version
Reuben Kincaid Project Window Installation for one month
Advertisement in Lumpen
Advertisement in Proximity
A Set of Bridgeport WPA posters
All of the art works and services will be offered for silent auction which means no dorky paddles – you do it all by writing your bid on a piece of paper. To make it even easier – many of the works may be purchased at "Buy it Now" prices! You can also win via raffle (raffle tickets are one for $5 and three for $10.).  There will also be performances by MR 666 and Deep Earth, and The Hornswagglers will be slinging their specialty drinks for the evening.
Version 10 Silent Auction and Raffle
Saturday April 3, 2010
7pm to 1am
Co-Prosperity Sphere
3219 S Morgan St
$10 admission (you get two raffle tickets)
Show up tomorrow night and bid on something great to show your support for Co-Prosperity Sphere and everything that they do. And mark your calendars for April 22, 2010 when Vers10n begins!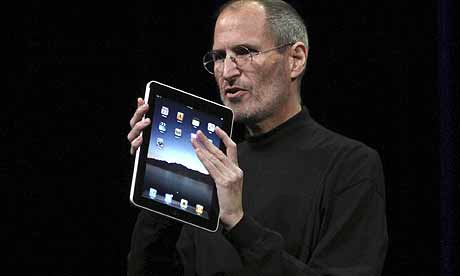 One of my favorite BoingBoing contributors, Cory Doctorow, provides this week's most memorable rant: Why I won't buy an iPad (and think you shouldn't either). I certainly don't agree with everything he says, but it's well-argued. Unfortunately, it doesn't make me want one any less. Doctorow's case for why the new Marvel Comic App for the iPad is just. plain. wrong. is particularly compelling– see the excerpt below, then go read the whole lengthy piece.
"I mean, look at that Marvel app (just look at it). I was a comic-book kid, and I'm a comic-book grownup, and the thing that made comics for me was sharing them. If there was ever a medium that relied on kids swapping their purchases around to build an audience, it was comics. And the used market for comics! It was — and is — huge, and vital. I can't even count how many times I've gone spelunking in the used comic-bins at a great and musty store to find back issues that I'd missed, or sample new titles on the cheap. (It's part of a multigenerational tradition in my family — my mom's father used to take her and her sibs down to Dragon Lady Comics on Queen Street in Toronto every weekend to swap their old comics for credit and get new ones).

So what does Marvel do to "enhance" its comics? They take away the right to give, sell or loan your comics. What an improvement. Way to take the joyous, marvellous sharing and bonding experience of comic reading and turn it into a passive, lonely undertaking that isolates, rather than unites. Nice one, Misney."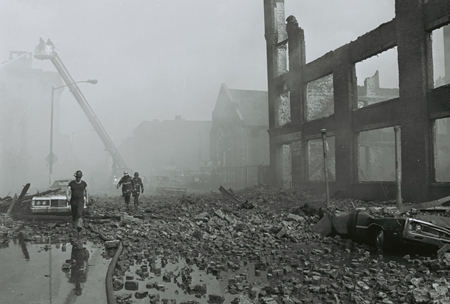 Bad at Sports' own Tom Sanford, along with Guillermo Creus, Marcel Hüppauff , and Photios Giovanis,  have put together a giant, grand-slam of a two-day only Pop Up painting show in Brooklyn, NY! The details:
BUSHWICK SCHLACHT! Half Germans, Half Americans – a battle royal of painters to see once and for all which country is the super power of contemporary painting.
The is no better place to do this than the urban war zone that is Bushwick Brooklyn, SATURDAY APRIL 3RD, 6-10PM, 245 Boerum Street, Brooklyn NY.
Exhibition hours: Sunday April 4th, 12-7pm and Monday April 5th, by appointment.
Artists include:
Gregory Amenoff, Axel Anklam, Kamrooz Aram, Abel Auer, Josh Blackwell, Christophe Boursault, Nicholas Buffon, André Butzer, Brendan Cass, Amanda Church, Elizabeth Cooper, Holly Coulis,  Ariel Dill, Hannah Dougherty, Raynald Driez, Sven Drühl, Dawn Frasch, Sven Drühl, Brian Faucette, Bella Forster, Tine Furler, Rico Gatson, Alicia Gibson, Torben Giehler,  Andrew Gilbert, Tamara Gonzales, Sebastian Gross-Ossa, Stefanie Gutheil, Michelle Hailey, Daniel Heidkamp, Andreas Hofer, Richard Holland, Ridley Howard, Alexa Hoyer, Marcel Hüppauff, Eric Jahnker, Aaron Johnson, Dorota Jurczak, Benjamin King, Henning Kles, Shawn Kuruneru, Molly Larkey,  Christopher Lee, Erik Lindman, Brett Lund, Duncan MacKenzie, Chris Martin, Eddie Martinez, Stefan Marx, Paul-Aymar Mourgue d'Algue, Brian Montuori, Jan Muche, Jeanette Mundt, Aakash Nihalani, Richard Phillips, Humberto Poblete-Bustamente, William Powhida, Orlando Mostyn-Owen, Aaron Ribeiro, Benedikt Richert, Ted Riederer, Les Rogers, Daniel Rosenbaum, Christoph Ruckhäberle, Adam Saks, Sam Salisbury, Christian Sampson, Tom Sanford, Ryan Schneider, Thomas Schumann, Markus Selg, Astrid Sourkova, Juli Susin, Mamie Tinkler, Maria Walker, Wendy White, Jeremy Willis, Thomas Winkler, Ulrich Wulff, Michael Wutz.