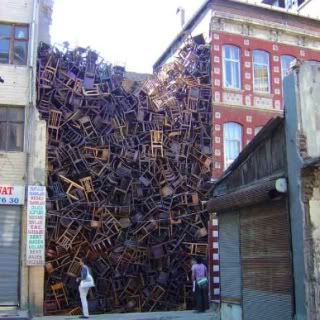 Tonight the Visiting Artist Program at the School of the Art Institute of Chicago will be hosting a lecture by Colombia-based artist Doris Salcedo. I know where I am going to be tonight!
via VAP:
Monday, March 15, 6:00 p.m.
SAIC Columbus Auditorium, 280 S. Columbus Dr.

Colombia-based artist Doris Salcedo explores the significance of everyday objects and their power to implicate history. Her sculptures and installations infuse domestic materials with gestures of political and psychological archeology, and their sense of absence hovers in the space between the empowered and voiceless. Salcedo's work has appeared in major exhibitions at Tate Modern, London; Castello de Rivoli, Turin; and Museum Boijmans Van Beuningen, Rotterdam, among others. She has participated in the T1 Triennial of Contemporary Art, Turin; Documenta; 8th International Istanbul Biennial; and the Liverpool Biennial of Contemporary Art. This lecture is co-presented by the William Bronson and Grayce Slovet Mitchell Lectureship in Fiber and Material Studies at SAIC and is part of the Common Languages lecture series.
$5 per person for the general public; $3 per person for SAIC alumni, non-SAIC students, and seniors; and FREE for students, faculty, and staff of the Art Institute of Chicago.
For more information on this event and other lectures from the VAPÂ please check out their website
Michael Czerepak who sent me the French Star Wars video a couple of months ago just sent me this Stefania Rotolo classic. Italian disco, Star Wars, and sparklers that never run out?! I know where my morning will be wasted. Check out more videos after the jump [Read more]
1. This is Not for Sale at Parking Space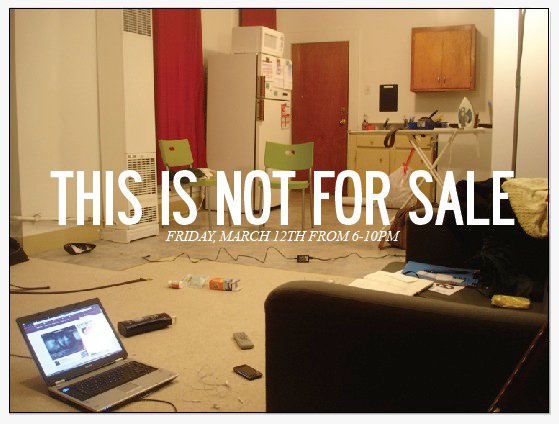 Anyone who's event description sounds like a ranting manifesto has my vote. This is a one night only even, so don't drag your damn feet or you're gonna miss it. Parking Space is, and I quote, "is a collaborative project initiated by artists Andrew J. Greene, E.J. Hill and Matthew Schaffer." This Is Not For Sale features the work of Karen Bovinich, Austin Eddy, Nick Fraccaro, Danny Greene, Xavier Jimenez, Alexa Loftus, Nina Mayer, Dorian McKaie, Annie Purpura, Kristen VanDeventer, and Tannar Veatch.
Parking Space is located at 2246 W. 19th St. Reception is Friday from 6-10pm.
2. Surrender Dorothy at Concertina Gallery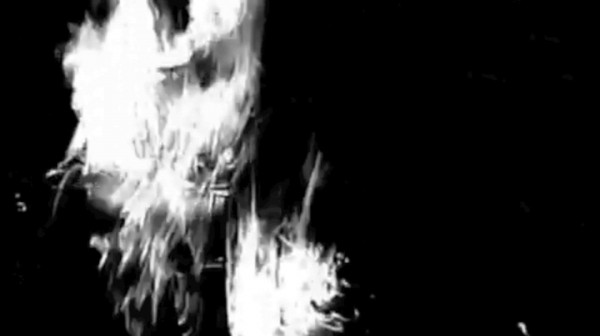 "Mining the tropes of adolescent identity, both artists share nostalgia—even obsession—for the stylized rebellion of teenage subcultures." Mmmm…sounds like drinkin' beer and burning shit. Or maybe that was just my teen years. Can't help but wonder about what's going to happen to Dorothy too. Surrender Dorothy consists of a large scale collaboration between Jesse Butcher and Corkey Sinks.
Concertina Gallery is located at 2351 N. Milwaukee Ave. Reception is Saturday from 7-10pm.
3. Hexenhaus at No Coast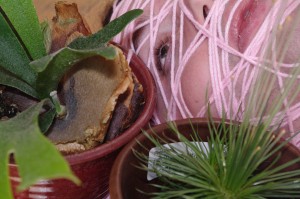 I have a think for work that involves animals. It's personal taste, but eh, you stick an animal in there, I'll at least give it a second look. I also like gardening. So, when I read a description like, "The private lives of humans, animals, and houseplants exist betwixt and between the magic and glamor of polarized human emotions in Hexenhaus" I obviously become intrigued. Hexenhaus features to work of Tessa Siddle.
No Coast is located at 1500 W. 17th St. Reception is Friday from 6-9pm.

Tomorrow afternoon (Thursday March 11th), our own Duncan MacKenzie and Richard Holland will moderate a roundtable discussion at the Chicago Comics Symposium, hosted by the School of the Art Institute of Chicago (SAIC). The evening's events start at 4:30 pm and go on 'till 7:00. The event is FREE and is located in the SAIC Ballroom at 112 S. Michigan Ave. But wait, there's more! This is a two-day symposium exploring Chicago's place in the comic book scene so there's another round of events taking place on Friday March 12th, also from 4:30-7pm.
Full information can be found below. It's free, it's (mostly) in the evening, so nothing should stop you from going on over and soaking it all in!
The stubborn work ethic of Chicago's comic scene will be explored in the first ever Chicago Comics Symposium, hosted by the School of the Art Institute of Chicago (SAIC) on March 11th and 12th 2010. Through panel discussions with over fifteen local comic makers, the Symposium will investigate the city's influence on the comic making process, tackling the sad, serious, and silly topics that reign supreme in the realm of sequential art. All events are free and open to the public.

CCS will be comprised of four separate panel discussions with multiple artists on each and will be moderated by some of Chicago's greatest thinkers, critics and (of course) readers of comics. The questions posed to the Windy City makers will address many issues including: the tasks of self-publication, the changing cultural status of comics and the difficulty of representing identity. The queries will oscillate between common knowledge and the complexity of the nitty-gritty details, giving equal enjoyment opportunity to new readers as well as true-blue comic connoisseurs.

Comics are infiltrating movie-theaters and chain book stores, sustaining independent comic shops and edging their way into academia. Comics are made any and every where, but Chicago has a distinct community of hard working doers, makers and shakers. The event will attempt to unite and uncover the inner workings of Chicago's comics.

Attracting artists who currently live and work in the city, as well as former Chicago residents, the Symposium will bring together the old, new, big and small. Attendees include: Sarah Becan, Jeffrey Brown, Christa Donner, Surabhi Ghosh, Beth Hetland, Nicole Hollander, Paul Hornschemeier, Joey Jacks, Lucy Knisley, Ian McDuffie, Bernie McGovern, Anders Nilsen, Laura Park, John Porcellino, and Jeremy Tinder.

The Chicago Comics Symposium
Hosted by The School of the Art Institute of Chicago
Thursday-Friday, March 11-12, 4:30-7pm
SAIC Ballroom, 112Â S. Michigan Ave.
Free
Email:Â chicagocomicssymposium@gmail.com
A few noteworthy links and stories for your midweek perusal…plus a freebie at the bottom.
****College Art Association (CAA) has made eighty-one audio recordings from the panels at last month's conference in Chicago available for download. They're kind of expensive ($149.95 for the complete Set of CAA 2010 Conference Recordings on Interactive MP3 Audio CD-ROM or MP3 download; $24.95 for an individual panel MP3 download), but if you couldn't come up with the cash to attend the conference in full, like moi, this could be a great way to access the panels you missed in person. I'll be choosy, but will most likely buy at least one.
****"Palestinian Avatars": This is fascinating; apparently, the movie Avatar and its indigenous aliens the Na'vi have been appropriated by Palestinian rights activists, who painted themselves blue and wore costumes inspired by the Na'vi during a recent protest in Bil'in, a Palestinian town divided in half by the wall. This post on Provisions Library provides further background along with some pretty brilliant analysis: "The most striking aspect of this re-appropriation of a distinctly American, Avatar meme, is the irony. And right across the barbed-wire fence opposite from Bil'in are Israeli soldiers whose weapons supplied by American taxpayers. So, as Joseph Nye would explain, that's an example of U.S. "hard power." Then, on the other side, the Palestinians to score by appropriating imagery siphoned with sophistication from the mighty currents of American "soft power." Wow. Elsewhere, you can find additional photographs of what's been dubbed the "Palestinian Avatar"  protests here, along with a video of the demonstration.
****Artnet's Charlie Finch asks "Who is Dakis Joannou?" Finch speculates that Joannou's future as the Chairman of J&P (Overseas) and J&P-AVAX, both publicly traded Greek companies, "could yield two divergent prospects for a complex, interlocking business, dependent on amortization and wide debt-to-capital ratios. The first is that Dakis is smart enough and aggressive enough to take advantage of buying opportunities during a worldwide recession and increase his bottom line significantly. The second is that J&P is so overleveraged and so dependent on the luxury market that it is at serious risk of default, should its capital pipeline dry up. J&P's low stock price would indicate a potential problem in this area." If it's the latter, it's probably safe to assume that Joannou may indeed peel off some of that Skin Fruit in the not-so-distant future.
****Ikea plans to commission major works by contemporary artists Piotr Uklanski, Jeppe Hein and Jim Lambie for its "airport-sized," Moscow-based development slated for  2012.
****Auction sales for work by African-American artists surged at recent Swann sale, and the market for art by African Americans continues to grow.
****The Grand Rapids Art Museum will present GRAM and Ox-Bow: Joint Centennial Celebration Exhibition and Artist Series this summer. 30+ artists from throughout Ox-Bow's history will be featured at the Grand Rapids Art Museum in a special exhibition. (via Curated).
****I Like Your Work: Art and Etiquette: a pamphlet published by the contemporary art journal Paper Monument, addresses the topic of "manners in the art world" via interviews with 38 artists, critics, curators and dealers. Read this excerpt, a series of questions about art-world politesse posed to artists Michelle Grabner and Ryan Steadman, online here.
****Ohhhhh. So. Incredibly. Beautiful: An Elizabethan Bestiary: Retold. Go click on this one right away, you won't be disappointed.
****I am not one of those women who is "into shoes", but Dezeen's top ten list of past shoe features makes me wish I were a bit more of a fetishist when it comes to this particular area of my body. Though no way in  hell would I ever wear these french bread loafers.
****Jokes: Philosophical Thoughts on Joking Matters, by Ted Cohen, is now available for free download at The University of Chicago Press website – for the month of March only. (The Chicago Blog). The U of C Press offers a free downloadable book each month, so check back to see what else they'll have available for you in the future!
****An exhibition of Grateful Dead paraphernalia opens at the New York Historical Society…and no, its not that kind of paraphernalia.
****And finally….all you need to know about Professional Female Stoners. This is not, unfortunately, a description of an up-and-coming growth sector in the jobs market.