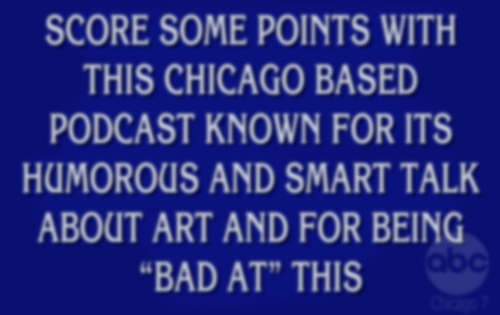 In yesterdays Jeopardy episode #5887 for Tuesday, March 30th during Double Jeopardy contestants Manny, Stacy & Emily were presented with a category titled "Podcasts" in which the $1200 question was:
Score some points with this Chicago based podcast known for its humorous and smart talk about art and for being "Bad at" this
Sadly neither Manny, Stacy nor Emily could correctly guess "Sports" but it was worth it to hear Alex Trebek say with that part sad & lightly condecending tone "The correct answer is Sports, What is Bad at Sports. I am sorry, Emily it is your board please pick again."
From everyone here at Bad at Sports we would love to thank Alex Trebek, the writting staff & crew that have continued to produce the last bastion of intelligent daytime television for the past 26 years. Being name dropped with the likes of Diggnation, The Podfather Adam Curry, Mugglecast , Brian Ibbott's Coverville & Leo Laporte's This Week in Tech is a great honor.
The timing couldn't have been any better with the Bad at Sports gallery opening at Apex Art in NYC next week titled "Don't Piss on Me and Tell Me It's Raining". This honor has really made our April 1st, 2010 a memorable day. You haven't made it till you have been name dropped on Jeopardy & satirized on SNL (looking at you Bill Hader). One down, one to go.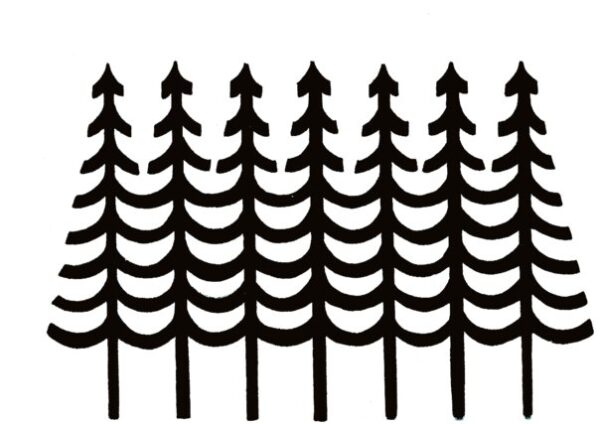 Harold Arts, a nonprofit, Chicago-based artist residency programs, is now accepting applications for Summer 2010. Sounds heavenly. Application details can be found below.
The Harold Arts Residency Program is an opportunity for artists and musicians to further their artistic goals and interact with like-minded individuals in a pastoral environment.  Situated in the Appalachian foothills of Southeastern Ohio on the grounds of the Jeffers Tree Farm, the Harold Arts Residency Program provides a remote location with shared and individual studio facilities, comfortable accommodations, and chef-prepared meals.  Throughout each 11-day session, residents are offered a forum to develop new work alongside their contemporaries while enjoying lectures, performances, and workshops presented by our staff and visiting artists. Harold Arts aims to foster exchange and dialogue across artistic disciplines while offering a platform for the production and dissemination of new works.

Attending the annual residency program opens the door to an array of opportunities for both artists and musicians. Musicians attending the residency will have the chance to collaborate with our staff in producing an annual compilation record, in addition to other projects administered by our creative partners, Captcha Records,  Sundmagi Records, and Vosotros. Visual artists attending the residency will find themselves within a matrix of working artists and cultural producers, devising curatorial projects to be deployed nationally throughout the year.  All residents are also invited to participate in our annual multimedia arts festival, Harvest, in Chicago each fall.  New to the residency are two thematic sessions led in partnership with DFLUX and threewalls.

An application with complete information about our programs can be found on our website:Â  haroldarts.org

Please submit applications by May 15th. Contact info@haroldarts.org with questions.

You will be notified on the status of your application by May 31st.

Harold Arts is a 501(c)3 arts organization based in Chicago, IL, devoted to fostering the collaborative and interdisciplinary endeavors of emerging and mid-career artists.
Threat Level and the Nightingale will be presenting CHANNELING: an invocation of spectral bodies and queer spirits curated by Latham Zearfoss and Ethan White.
Doors 7:00, Screening 7:30
$5-10 sliding scale
1084 N. Milwaukee
via CHANNELING
CHANNELING is an entryway into the spirit realm and the queer body politic: a program of experimental moving image work that calls up the ghosts of the past and the specters of the future. The intent of the program is to re-imagine film and video as occult technologies that allow us to connect with the bodies, experiences, and emotions that are often invisible– ghostly, even–in everyday life.
RUNNING ORDER:
Vanessa Renwick – 9 is a Secret (2002, 6:00, video)
Elliot Montague – Well Dressed (2006, 10:00, Super 8mm on video)
Shana Moulton – Whispering Pines #7 (2006, 5:00, video)
Michael Robinson – Carol Anne is Dead (2008, 7:30, video)
EMR (Math Bass & Dylan Mira) – Somethings Gonna Soon (2008, 4:00, video)
Aay Preston-Myint – Some Ghosts (2007, 2:00, video)
Jillian Pena – Compromise (2005, 10:00, video)
John Di Stefano – (tell me why): The Epistemology of Disco (1990, 24:00, video)
Total Running Time: ~68 min.
CHANNELING is now available for screening rental and institutional purchase from the Video Data Bank! To book a show for your town or buy a copy for your library, visit
www.vdb.org.
facebook.com/threat.level
myspace.com/threatlevelqueershorts
For this week's pick we bring you some silent footage of Mark Twain at his home in Stormfield, CT, in the early 1900's. This film was shot by Thomas Edison and shows Twain walking around his estate and playing cards with his daughter.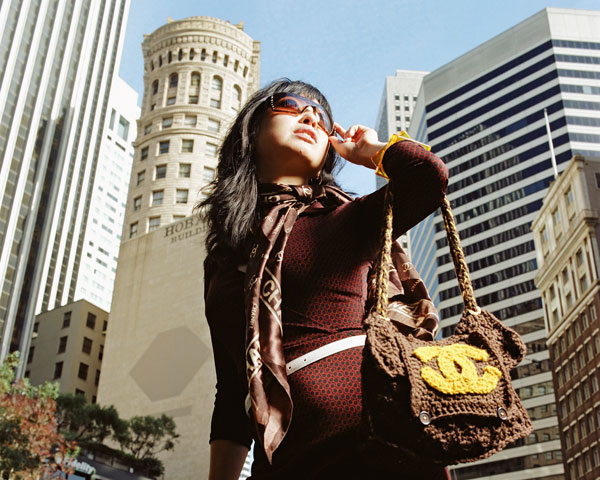 San Francisco artist Stephanie Syjuco will lecture tomorrow (Tuesday March 30th) at 5pm at Gallery 400 as part of UIC's ongoing Voices lecture series. According to the artist's website, Syjuco is also slated for a solo exhibition at Gallery 400 in September of 2010. Syjuco's work resides in the realm of the copy: the bootleg, the body double, the knock-off. Commissioned for a piece to be presented at last year's Frieze Art Fair in London, Syjuco set up a booth and called it COPYSTAND: An Autonomous Manufacturing Zone, where she and other artists busily produced small-scale reproductions of lesser-known works based on other famous art works: third generation copies-cum-tchotkes priced at a fraction of the price of the original. Described on the Frieze Foundation website as a "parasitic workshop," Syjuco's copy stand apparently did brisk business at the fair.
Recently Syjuco was featured in a solo exhibition titled notMOMA at Washington State University at Pullman, which closed last week. For this show, Syjuco teamed up with Washington State University art students to recreate, by hand, famous works of art from MoMA's permanent collection. "A fully handmade show," as Syjuco's statement describes it, "notMOMA attempts to bridge a gap in students' understandings of "high art" and invites them to access the works via their own do-it-yourself collective vision. Whether considered copies, translations, or even mis-translations, all resulting works are unique expressions in their own right. As an illicit travelling exhibition "borrowed" from their collection, notMOMA creates a dialogue between WSU's art department and an inaccessible, perhaps reluctant art institution located on the other side of the country."
Syjuco also recently started an extremely cool website, particulated matter, that provides a centralized collection of artists books made through print-on-demand processes. She links entries to the publication's homepage, where they're available for purchase or download.
Syjuco's lecture definitely seems worth checking out. The talk will be held in the Gallery 400 Lecture Room, 400 South Peoria Street, and admission is free.