Ahoy everyone! It's that time again, the weekend is almost here. In the relentless march toward Art Chicago, there are another slew of TTF (through the fair) shows opening this weekend, primarily concentrated in River North. This weekend I also have work in VideoStore7.375x4x1 at The Op Shop in Hyde Park, which, by the way, has one of the creepiest basements in the entire world. But none of that is on the Top 5. Here's what is…
1. Hagia Sophia at Spoke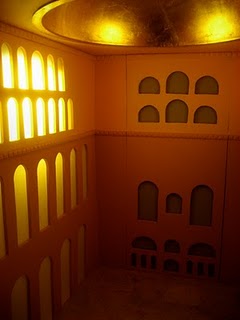 Go and hang out inside a miniature model of the Hagia Sophia. Just think of it as your "safe place." Hagia Sophia (the model at Spoke, not the Basilica in Istanbul) was created by Gwendolyn Zabicki. This is the closing reception, and your last chance!
Spoke is located at 119 N. Peoria. Closing reception is Saturday from 6-9pm.
2. The Last Unicorn Art Show at The Tattoo Factory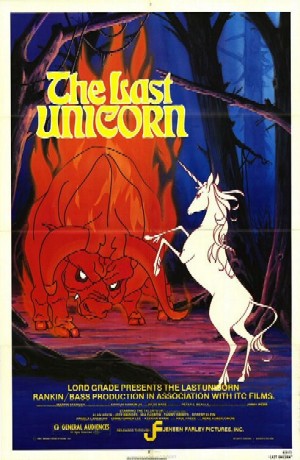 Ok, so, I haven't seen any images from the show, but how can I not pick this? An entire show that exists solely as a tribute to the Last Unicorn? So awesome. Watch out for the Red Bull, and stay away from the sea shore, if you know what I mean.
The Tattoo Factory is located at 4441 N. Broadway. Reception is Friday from 7-11pm.
3. Printervention: Printing for the Public at The Chicago Tourism Center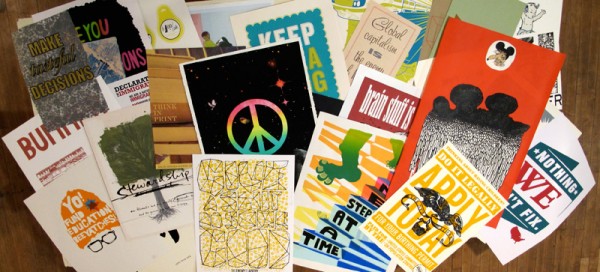 Version Fest is back my friends. This yearly art-stravagaza organized by Co-Prosperity Sphere will be popping up all over in the next couple weeks. Head on down and check out this WPA-inspired print event.
The Chicago Tourism Center is located at 72 E. Randolph St. Reception is Friday from 5-7pm.
4. Night Painting 1995-2010 at Peregrineprogram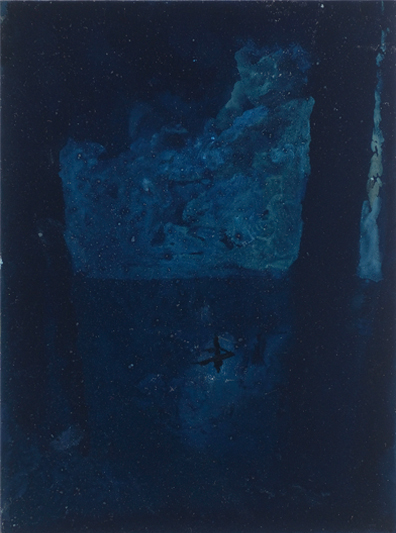 Paintings by Susanna Coffey that aren't self portraits? That's right. Stop on by Edmund's place, but be sure to write down the number (#727), it can be a little are to find, as the building is HUGE.
Peregrineprogram is located at 500 W. Cermak Rd., #727. Reception is Friday from 6-9pm.
5. In a Paperweight & Home for Hobo Too at Tony Wight Gallery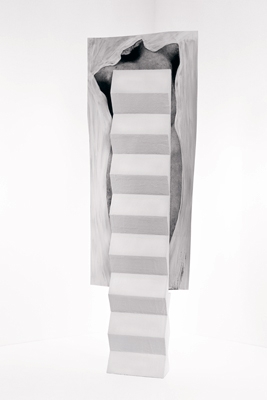 If you haven't already been to Tony's new place, here is another opportunity with a star line-up: Walead Beshty, Sebastiaan Bremer, Daniel Gordon, Tamar Halpern, Barbara Kasten, Sara VanDerBeek, and James Welling in In a Paperweight. In the South Gallery: Home for Hobo Too, work by Allison Schulnik.
Tony Wight Gallery is located at 845 W. Washington Blvd. Reception is Friday from 5-8pm.
I profiled Ali Bailey last year on the occasion of his solo debut in Chicago at Golden Gallery, an exhibition titled "You are Young" (the piece appeared in New City; you can read it here). Bailey is definitely what I'd consider to be 'a comer.' (Isn't that a terrible word to apply to artists? It has such unfortunate equine associations). His works sold well at last year's Next Fair at Art Chicago – no small feat in an extreme down market – and he's already busted out with his second Chicago solo show, at Andrew Rafacz: a startling new body of work that he thinks is his most complicated to date. I agree. Bailey's sculptures have changed a lot since his first exhibition, and I wanted to talk to him in greater depth about the progression from that last body of work to this one.  Sadly for Chicago, Bailey's next big move is a geographic one: he'll be setting up digs in Los Angeles soon because his wife, artist and curator Kristen Van Deventer, will be attending graduate school there. I am very grateful to Ali for taking the time to provide such well-considered answers to my often clumsy and inordinately detailed questions. His show continues through May 8th at Andrew Rafacz Gallery.
CI: The most obvious shift or change that's apparent in your new body of work at Andrew Rafacz is that it is much more abstract than the group of sculptures shown at the "You Are Young" show at Golden last year. That earlier work drew upon recognizable and sometimes even iconic imagery: a basketball and a baseball, an ice cream cone, a tree stump covered in gum and graffiti. Your latest work still gives me the feeling that there are exterior referents at play but now they seem more art historical and less pop-cultural. For example, I saw in your use of the grey felt material in the piece East Meets West / Worked Out a little Beuys joke, I loved how it's slung over a sculpture that looks like a looming, abstracted version of a Stairmaster or some other type of exercise equipment that quickly becomes 'useless' and soon comes to function primarily as a clothes hanger. Can you tell me a little bit about this shift between the two bodies of work — what have you been thinking about lately that's caused this move towards less immediately recognizable forms?
AB: You're right about there being a distinct move toward a more abstract language, both in terms of subject and form and in a way, this shift is a direct result of problems that I've created for myself. For me, the last body of work operated in two different ways and that was very important. On one level it was about objecthood in a broad sense, making (and the presence of the hand), and a kind of tension resulting from a push-pull dynamic between inherent contradictions in the work and a kind of Gober-esque uncanny. The other prominent characteristic of the work was a pop-cultural critique and I suppose that this is where you could talk about the poetic content and the more accessible qualities the works had. In these ways I think the work was successful. The thing that really didn't work and this is what I've been battling with recently, is being able to convey a distancing or a kind of knowing-naivety or to set up a dialogue that talks about authenticity. In my mind, it was clear that what I was presenting was not authentic in any sense nor was it really concerned with being 'truthful' – I was trying to examine certain narrative tropes but instead ended up giving people an easy out – they often never got further than the narrative or the overt poetic strand of the idea. [Read more]
Thank you, Chicago magazine, for picking Bad at Sports' upcoming event at the MCA Chicago for its weekly Guide section this week.  Duncan MacKenzie will be hosting a Cabinet of Curiosity show at the Museum on the evening of April 20th. (We'll have more details on the event soon, but we can promise that it will be magical).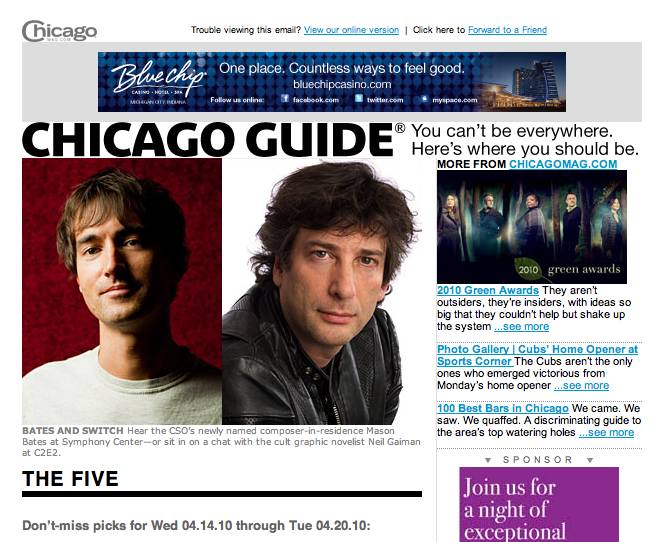 Lots of Ryan Trecartin action happening 'round these parts tonight and tomorrow night. First up, Trecartin's artist's talk at the School of the Art Institute on Wednesday (tonight). The following Thursday night at 6pm SAIC's Conversations at the Edge series screens two pieces from Trecartin's latest project, Trill-ogy Comp (2009-10): Sibling Topics (Section A) (2009) and P.opular S.ky (section ish) (2009). Trecartin will introduce the films that will be screened. Full details on both events below:
Ryan Trecartin – Visiting Artists Lecture

Wednesday, April 14, 6:00 p.m. – Artist Talk (FREE admission)
SAIC Columbus Auditorium, 280 S. Columbus Dr.
"Both in form and in function, Ryan Trecartin's video practice advances understandings of post-millennial technology, narrative, and identity, while also propelling these matters as expressive mediums. His work depicts worlds where consumer culture and interactive systems are amplified to absurd or nihilistic proportions and characters circuitously strive to find agency and meaning in their lives. The combination of assaultive, nearly impenetrable avant-garde logics and equally outlandish virtuoso uses of color, form, drama, and montage produces a sublime, stream-of-consciousness effect that feels bewilderingly true to life" (Kevin McGarry).
Ryan Trecartin is the recipient of the first Jack Wolgin Prize in the Fine Arts (2009), presented by Temple University's Tyler School of Art. He has had solo exhibitions at the Hammer Museum, Los Angeles; Wexner Center for the Arts, Columbus, OH; Kunsthalle Wien, Vienna, among others. Organized by the Visiting Artists Program and Conversations at the Edge, in this special two-evening presentation, Trecartin will present selections from his newest body of work, Trill-ogy Comp (2009-10): K-Corea INC. K (Section A), Sibling Topics (Section A), and P.opular S.ky (section ish).
Screening admission $10 general public, $7 students, $5 members, $4 Art Institute of Chicago staff and SAIC faculty, staff, and students. Advance tickets available at GSFC box office or via Ticketmaster.
Ryan Trecartin: Conversations at the Edge
Thursday, April 15, 6:00 p.m. – Screening
Gene Siskel Film Center, 164 N. State St.
This evening, as part of a special two-part presentation organized by the Visiting Artists Program and Conversations at the Edge, Trecartin will introduce two pieces from his latest project, Trill-ogy Comp (2009-10): Sibling Topics (Section A) (2009) and P.opular S.ky (section ish) (2009). Ryan Trecartin, 2009, USA, HDCAM video, ca. 90 min.
CATE is organized by the School of the Art Institute of Chicago's Department of Film, Video, and New Media in collaboration with the Gene Siskel Film Center and the Video Data Bank.
Programs take place Thursdays at 6pm at the Gene Siskel Film Center (164 N. State / Chicago, IL / 312-846-2600), unless otherwise noted.
"fluxlasers — March 08, 2010 — A level I created using Little Big Planet on a PlayStation 3 based on the film Cremaster 1 by Matthew Barney"
(via TWBE)