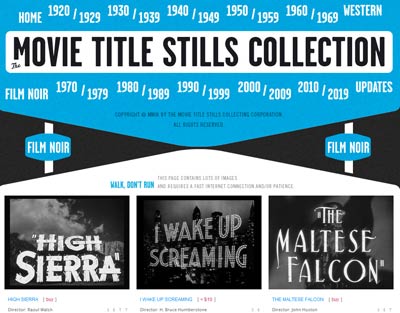 Christian Annyas is a graphic designer and like me a huge cinema buff and has gone about capturing the title card (and in some cases the end title card) for some of the greatest films from 1900-2010 and loaded them into one site. [Read more]
****On WBEZ Chicago Public Radio this week, Eight Forty-Eight ran a report about artist Chris Drew's fight against Chicago's restrictive laws concerning street art vendors. The report compares Chicago's laws on the issue to those of San Francisco and New York City, and the results are mostly unfavorable to the Windy City. This quote from Drew's attorney Mark Weinberg sums it up nicely: "Mayor Daley has an idea of beauty which includes sort of an orderliness, you have the black wrought-iron fences, you have beautiful buildings and you have flowers in between the streets. It's a nice idea of beauty, but it's a very limited idea of beauty."
****Time Out Chicago noticed that The Art Institute seems to be instituting "rolling blackouts" in its galleries. They asked the Art Institute's Director of Public Affairs Erin Hogan if this was indeed the case, and Hogan told them yes — it's a cost-cutting measure. Read the story here.
****On his blog, Tyler Green criticizes The University of Chicago Press' recent publication Gerhard Richter: A Life in Painting for being "essentially an authorized biography, 389 pages of praise rather than examination and contextualization." The book was written with the full cooperation of the artist himself, and with full access to Richter's archives. Green adds that the "book rarely contextualizes Richter within broader history. It veers toward as-told-to territory. The prose is often grating, overly laudatory and almost always reads as if it was ripped from a press release."
****Chris and Sam of the great Midwest painting blog MW Capacity have curated an exhibition titled undercrowded at University of Central Missouri Gallery of Art & Design. The exhibition dates are March 11-April 10, 2010. It features paintings and videos that depict depopulated public spaces and includes artists Joey Borovicka, Sam King, Kristin Musgnug and Stephanie Pierce.
****This special New York Times report on major museums whose gains in attendance are due to being "vibrant destinations where the exhibitions are sometimes besides the point" certainly isn't breaking news, but it bears being reminded that "the rise of merchandised culture" is more than likely where the future of the behemoth arts institution (and those institutions who wish to join the ranks of the elephantine) lies. Another reason why Jeffrey Deitch's move to MOCA makes perfect demonic sense.
****Art World Salon wonders if things might be looking up, just a smidge, for print-based arts reporting? The Wall Street Journal announces it is hiring additional arts reporters for its soon-to-be launched local section. The New York Observer says it will also expand its arts coverage on March 31. Good news for NYC-based arts bloggers? Will be interesting to see if expansion of newspaper arts coverage spells greater opportunities for arts bloggers, or if newspapers instead cull from reporters whose background lies exclusively in print media.
****These photographs by Estelle Hanania reminded me of Jeriah Hildwine's Off-Topic essay about Ghillie Suits. Hanania's performance images make me think we need an art theory of the ghillie suit, something that delves into performative acts of covering and uncovering, and the art of camouflage. Anyone? (via Nihilsentimentalgia).
****Stunning, and gut-wrenching, if you're a fan of modern architecture: Chris Mottalini's After You, They Took It Apart: a series of photographs of demolished homes by modern architect Paul Rudolph. (Via Culture Monster). The only building designed by Paul Rudolph in Illinois was the Christian Science Study Center at the University of Illinois, which was demolished in 1987.
****Eyeteeth: A Journal of incisive ideas is one of our favorite blogs. Paul Schmelzer is in the process of cataloging art blogs based in Minneapolis. He's also tallying Twin Cities-based Artist's Blogs, and Graphic Design Blogs. If you can add to his list, go on over and help him out!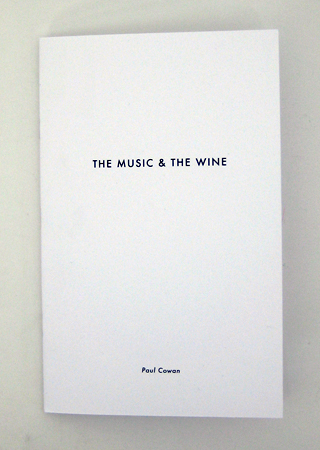 I just started reading Six Nonlectures by E.E. Cummings and I love it. Each time I set down my book I fantasize about being a Harvard grad class of 1936 (or earlier) and I want to write in that canonical W.A.S.P.-y  literary style. A style first introduced to me in middle school through The Great Gatsby and Catcher in the Rye, and later impressed upon me in college through Burroughs, Stevens, Kerouac, and other dudes. These frequently referenced stories are part of an American myth that I can't seem to shake.
My friend Paul Cowan knows what I'm going through. He recently released a collection of short stories entitled The Music and the Wine that follow a series of unnamed protagonists through everyday scenarios. The vignettes are about "nothing," meaning ideas that are hard to describe: why your favorite pants are your favorite or what it feels like when someone steals your jokes. Paul once told me that he thought reading fiction was indulgent and his writing is decidedly enjoyable.
The Music and the Wine is a bizarre homage to the great American novel. In Wilke Dairy Co. Cowan acknowledges his indirect nostalgia for a time that only really exists in retrospect. He celebrates the Midwest and the 1950s. In Wilke Dairy Co. the narrator recalls a perfect night making out with Ann Wilke, a dairy heir, in her parents' basement. The narratives are funny, nearly satirical, and my favorite is about a divisive social butterfly. It begins, "It's a thin line between love and hate. And I never walk that line."

The Music and the Wine is available from Paul Cowan and Golden Age. On Saturday, March 27th 7-10pm please join us at Golden Age for Alla Prima, a show of new works by Paul Cowan. Visit www.shopgoldenage.com for more information.
Oh, may darling lovelies, I will miss you all this weekend. I must leave you to travel north for the weekend. Friday night will find me sitting in a cabin on the edge of a lake, drinking rum and trying to figure out how to not loose at poker. It will be good, and I so dearly need it. But, I am not leaving you with nothing. Though I've been looking forward to this trip for a while now, I am bummed about the line-up I'm going to be missing this weekend, for it is a good one. Before I go on to the list, I did want to mention one thing. My friend Laura Shaeffer (of Home Gallery) is running the second iteration of the Op-Shop down in Hyde Park and is looking for proposals for the space. It is an old Hollywood Video with, I shit you not, the CREEPIEST FUCKING BASEMENT in the whole of time. Want to make some crazy site specific art ASAP? Proposals are due by Saturday! And now, for the list…
1. WTF 1.0 at Kunz, Vis, Gonzalez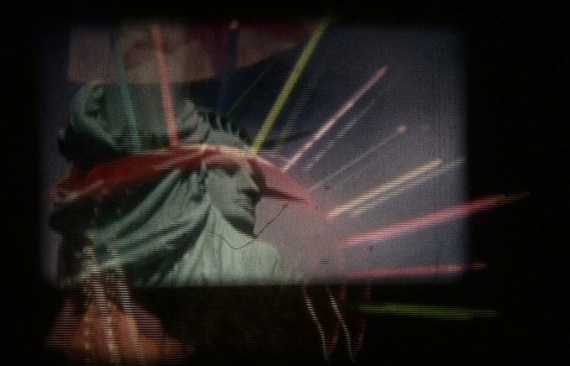 And I quote, "KVG cordially invites you to attend the opening of WTF 1.0 curated by Rosalinda March 19th 2010 from 6-10pm at 2324 Montana Chicago, IL. WTF is a Kunz, Vis, González exhibition series introducing the viewer to contemporary ideas on the cult of  'new and youth.'  WTF uses humor and the absurd in visual art to delight the viewer and create a reflexive lens in which to view radical shifts in cultural perspectives." Can't argue with anyone who calls an art show WTF. Perhaps my next show will be called FUBAR, or possibly BOHICA.
Kunz, Vis, González is located at 2324 W. Montana St., in the garage. The reception is Friday from 6-10pm.
2. Irena Knezevic: Gesture Guild at Threewalls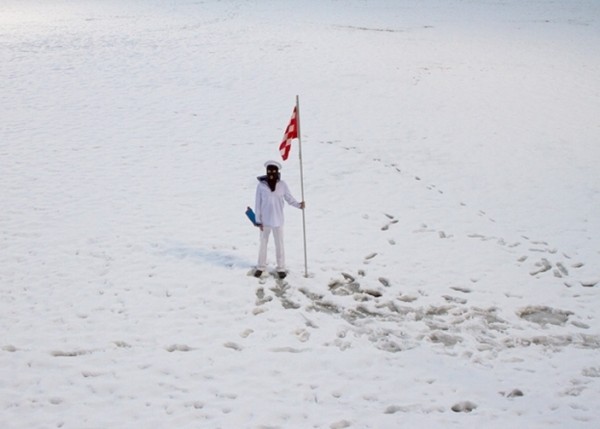 And I quote, "The League of Dark Departments have joined forces in the Gesture Guild, a bureau for the recovery and acquisition of lost gestures. The Gesture Guild aims to return and reinforce the primordial anxieties responsible for head-bending weight and other liquid spiraling disasters, topical and tropical." Oh and I love the editors note: Sailor attire is strongly encouraged, those who do not arrive as sailors will be made into sailors.
Threewalls is located at 119 N. Peoria St, #2C. The reception is Friday from 6-9pm, performance begins at 7pm.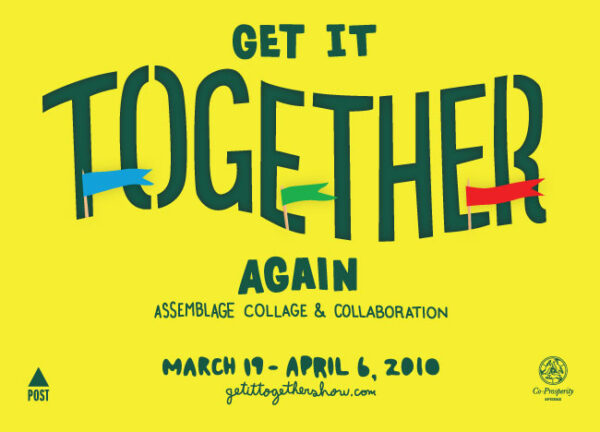 Get out your scissors and glue: Chad Kouri of the Post Family and Ed Marszewski of Co-Prosperity Sphere are unveiling a new incarnation of last summer's "Get It Together" exhibition – it opens this Friday, March 19 from 5-7 and it sounds like so much fun! Full details below; make sure to scroll down to the bottom for a really beautiful video of last summer's "Get It Together" event. I love all the Chicago art hipsters sitting around, totally engrossed in their cutting and pasting, just like scrapbookin' mamas!! Super sweet.
After the success of "Get It Together" in July 2009 at Co-Prosperity Sphere we are running the show again at Chicago Tourism Center Gallery with an extended lineup as well as new work from our old friends.

"Get it Together Again," is an exhibition of assemblage, collage, and collaborative work by local, national, and international artists. Organized by Chad Kouri of the Post Family and Ed Marszewski of Co-Prosperity Sphere, the exhibition includes over 25 works on paper, mixed media, and installations including a grocery store with hand drawn products made out of paper. Gallery visitors of all ages can sit down at a collage table and create their own work. Materials such as magazines, scissors and glue will be provided or bring your own.

The Show includes works by: Adrianne Goodrich, Alex Valentine, Anthony Zinonos, Ben Speckmann, Chris Roberson, Chris Schreck, Doug Shaeffer, Emily Clayton, Greg Lamarche, Hisham Akira Bharoocha, James Harry Ewert Jr, Joe Tallarico, Jordan Martins, Mario Wagner, Matt Nichols, Matthew Rich, Michael Pajon, Netherland, Peter Skvara, Richard Smith, Rod Hunting, Ron Ewert, Ryan Duggan, Sarah Jeziorski, Scott Massey, Stephen Eichhorn, and Tom Torluemke.

Chicago Tourism Center Gallery
72 E. Randolph Street
Opening reception March 19th, 5 – 7pm

Show runs March 19 – April 6, 2010
Thursday, March 25 at 12:15pm, artist talk
Thursday, April 1 at 12:15pm, hands on collage workshop

HOURS: Monday to Thursday, 8am – 7pm; Friday, 8am to 6pm; Saturday, 9am -6pm;
and Sunday, 10am – 6pm. Admission to the gallery and exhibition events is free.
Get It Together from LanjersOaken on Vimeo.