Organized in conjunction with the CAA conference taking place this week/end, this constellation of four Chicago gallery shows on painting is not to be missed. The exhibitions relate to the following panel, taking place this Saturday at CAA:
On Painting
Saturday, February 13, 9:30 AM–12:00 PM
Grand A, Gold Level, East Tower, Hyatt Regency Chicago
Chair: Michelle Ann Grabner, School of the Art Institute of Chicago
Ann Craven, Yale University
Anoka Faruqee, California Institute of the Arts
Peter Halley, Yale University
Rebecca Morris, Pasadena City College
Thomas Lawson, California Institute of the Arts
Judy Ledgerwood, Northwestern University
Sabina Ott, Columbia College Chicago
Scott Reeder, School of the Art Institute of Chicago
Molly Zuckerman Hartung, independent artist, Chicago
Susanna Coffey, independent artist, New York
Carrie Moyer, Rhode Island School of Design
Jon Pestoni, independent artist
Rowley Kennerk Gallery
,
Western Exhibitions
,
Julius Caesar
and
Shane Campbell Gallery
will host exhibitions that feature the work of the 13 painters who comprise CAA's Studio Art Session: Painting Panel.
From the press release:
"What's to be done about painting?" is a perennial yet ungraspable question
that continues to spur contemplation and examination within the
contemporary art apparatus. The first sentence to the catalogue essay
accompanying the 1999 exhibition "Examining Pictures," it is the rhetorical
response to the statement "painting is dead." This session will investigate
the position of painting and painting practices. It will not only ask:
"what's to be done about painting" but "how is painting valued?" How does
painting assert its authority? What is painting's speed? Can painting enact
radical social and cultural critique? What is painting's place within the
mainstream? How does painting implicate itself in capital?
As a means of examining these questions the artists Carrie Moyer, Ann
Craven, Susanna Coffey, Anoka Faruqee, Peter Halley, Thomas Lawson, Judy
Ledgerwood, Rebecca Morris, Sabina Ott, Jon Pestoni, Scott Reeder, Molly
Zuckerman Hartung and Michelle Grabner will present a 10 minute position on
painting at the panel. Each of these artists will also exhibit their work
at four Chicago galleries hosting consecutive openings on February 13,
2010.
Please also join the following galleries on the night of the opening, Saturday, February 13:
Rowley Kennerk: (7-10pm): Rebecca Morris, Molly Zuckerman-Hartung, Mary Heilmann, and Varda Caivano
Julius Caesar (4-7pm): Thomas Lawson, Scott Reeder, Carrie Moyer, and
Michelle Grabner
Shane Campbell Gallery (6-8pm): Ann Craven, Peter Halley, and Jon Pestoni
Western Exhibitions (7-10pm): Anoka Faruqee, Judy Ledgerwwod, Sabina Ott,
Susanna Coffey and Richard Hull.
This College Art Association panel and accompanying exhibition at Columbia College's A+ D Gallery looks super-interesting. The CAA panel takes place tomorrow, Thursday February 11th, from 2:30-5:00pm. Afterwards, there will be a reception and a curator's talk at the A+D Gallery from 5 to 8pm.
The Object of Nostalgia
Curated by René Marquez and Lance Winn

January 14 – February 20, 2010
February 11th, 5-8 pm
Closing Reception with a curators' talk at 6:30 pm

"Could it be that the Avant Garde, still the dominant discussion in new art, and the self-anointed "breaker" of cultural aesthetic rules, has been the creator of a great number of tacit laws that govern the landscape of contemporary art? What is worthy to speak about when one is making "important" art? The Object of Nostalgia contemplates the nature of "sentimentality" and its conflicted relation to contemporary art. Each of the artists represented copes with nostalgia and the condition of longing in a unique and personal way, eschewing both the cold, universalist demands of Modernism and the distanced superficiality employed by Postmodern practices in favor of personal investigation, private narratives, and the full breadth of creative tools and language available to the artist.

Featuring Marlene Alt, Brian Bishop, Pamela Fraser, Dawn Gavin,Kathy High, Greg Hopkins, Erika Leppmann, Julia Lothrop, Clayton Merrell, Elaine Rutherford, and Raychael Stine.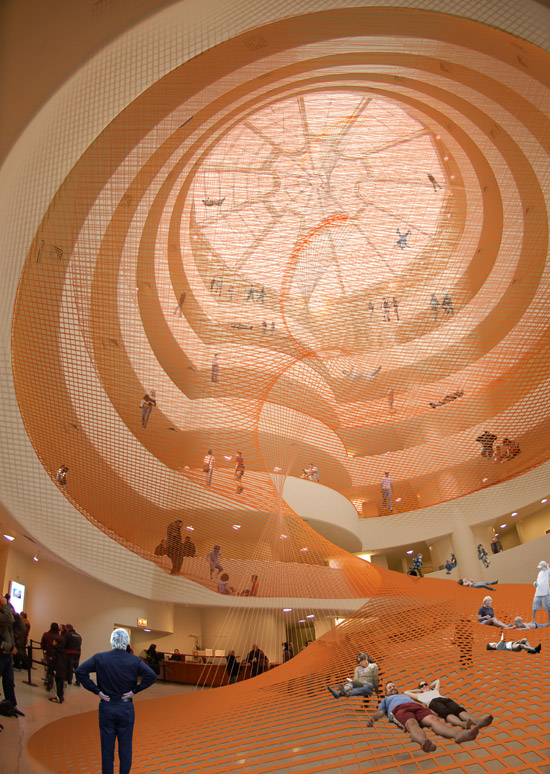 It's part installation art, part sculpture & part performance art JDS architects: experiencing the void is a proposal for the interior core of the Solomon R. Guggenheim Museum, New York where a heavy duty orange mesh net is installed like a archimedean screw so people can walk, run, lay and marvel at the space floating 6 stories up in the air.
The installation & sculpture art is obvious, the performance part comes into play when the lawyers standing at the base of the work all fall over dead like dominoes from the mind shattering liability at stake.
So needless to say the odds of this ever happening are much the same as Bad at Sports taking over the reins of MOCA. Which sadly like Leno we are more then willing to do if Mr. Deitch doesn't quite work out.
The CAA which holds it's yearly conference in Chicago is this weekend and to give a face to the economic downturn (and nightmares to every newly minted MFA looking for a teaching position) they realesed a report detailing the decline in positions from FY2008 to FY2009. In short we are talking almost a 38% decline across the board.
Ceramics & Fiber continue the steepest decline posting around 40% and Sculpture/Installation/Environmental Art posts a surprising growth of 125%. Art History continues to be the most resistant to overall change but still shows growth in Asian studies at the limited expense of Modernism/20th Century American Art.
More detailed data (including state by state breakdowns) and the entire report can be seen here
| | | |
| --- | --- | --- |
| Studio Art | FY09 | FY08 |
| Any | 629 | 1,005 |
| Graphic/Industrial/Object | 185 | 246 |
| Digital/Media/Animation | 150 | 220 |
| Drawing/Printmaking/Paper | 96 | 130 |
| Sculpture/Installation/Environmental Art | 92 | 99 |
| Ceramics/Metals/Fiber | 89 | 92 |
| Photography | 85 | 143 |
| Art Education | 73 | 90 |
| Film/Video | 70 | 89 |
| Foundations | 59 | 90 |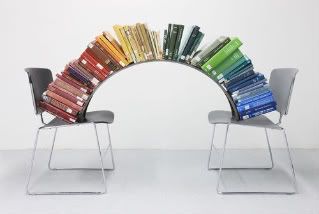 Aspen Mays has been a busy woman with both a  12×12 show at the MCA (February 6-28) and an installation at the Hyde Park Art Center (January 24-April 25). She was kind  enough to take some time out of her busy schedule  to answer some of my questions about both exhibitions, her process, and her plans for her Fulbright Grant to Chile.
Recently you spoke at threewallsSALON in a discussion called The Doctoral Artist: Research & Practice. What role does research play in your practice? How do you typically begin a series/piece?
Research is often the catalyst for my work. I studied Anthropology as an Undergraduate student- that's what my degree is in, and I think that sort of academic training has found its way into my practice mostly because I enjoy it so much. I've always been a really curious person, and I try to channel that as an artist.  I love spending time in the library chasing down ideas, and I also try to get out and do a lot of hands-on research.  Perhaps its my background in another field, but I read a lot of books about science and astronomy, and as an artist, I love speaking to folks in different research areas. A lot of projects start by tracking down experts in different fields that I'm interested in. I enjoy that interaction and these sort of "field trips" can be a great source of inspiration and potential collaboration. The video piece Larry, for example, was made with the help of the Adler Planetarium in Chicago. I contacted them after I'd been looking into weather ballooning, and I just started visiting the planetarium speaking to several of the astronomers that launch research balloons as part of the Astro Science Workshop each summer for high school students. I started attending the Workshop – for pleasure really because I thought it was all so interesting….one thing lead to another and I struck up a friendship with Mark Hammergren (an Astronomer there) and the video piece I ended up making sort of evolved out of all of that. That process is a pretty good example of my practice- I love seeking out that interaction. It makes making art feel a lot less solitary to me.