Like I said, there's a shitload of great stuff happening in town this week. Tonight only, a video program curated by Alicia Eler and Jefferson Godard titled "Performance Anxiety" will screen at Gallery 400 at UIC at 8pm. Here's how the press release describes it: "a program of short video works dealing with performances of cultural identity. In navigating complicated understandings of gender, race, class, sexuality, or existence in on- and off-line spaces, individuals accept and internalize cultural rules or ideologies and pass; reject them, identifying such performances as a form of cultural oppression; or even scramble and combine rules and codes in personalized constructions. Performance Anxiety (run time: approximately 50 minutes) features the work of American artists Rochelle Feinstein, Kate Gilmore, James Murray, Jeroen Nelemans, Greg Stimac and Stacia Yeapanis."
I wrote about the films on the blog a few months back – I'm reposting a slightly revised version of that essay below, for those who are too lazy to click. (No judgment there, I myself am often that lazy). [Read more]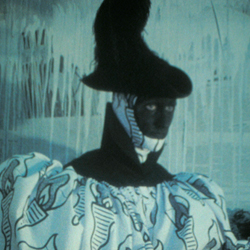 There are a ton of interesting screenings and lectures taking place in Chicago this week, (did anyone catch Andrea Zittel's talk at the MCA Theater on Monday?). Next up: tonight and tomorrow, British experimental filmmaker Emily Wardill will present five short films and her new feature film, Game Keepers Without Game, over two nights of screenings at the Gene Siskel Film Center and the School of the Art Institute of Chicago.
The deets, from the press release: "Wardill's films are brilliant cinematic labyrinths. Visually striking and playfully rigorous, they draw upon an array of sources — underground theater, psychoanalytic case studies, the writings of Friedrich Nietzsche and Jacques Rancière, and even the game logic of Nintendo Wii — to pose fundamental questions about vision, representation, and media and their role in how we come to know ourselves."
Here's the schedule of events:
April 8, 2010 at 6pm: Everything I Tell You Now Is True: The Short Films of Emily Wardill
Conversations at the Edge, Gene Siskel Film Center, 164 N. State Street, Chicago
$10 general admission, $7 students, $4 for students and faculty of the School of the Art Institute, and staff of the Art Institute, $5 Film Center members. Visit www.saic.edu/cateblog and www.siskelfilmcenter.org.
In this special program, Wardill presents five of her 16mm short films, all of which are Chicago premieres: Born Winged Animals And Honey Gatherers Of The Soul (2005, 9 minutes), Basking in What Feels Like 'An Ocean Of Grace' I Soon Realise That I'm Not Looking at It, But Rather I Am It, Recognising Myself (2006, 8 minutes), Ben (2007, 10 minutes), Sick Serena and Dregs and Wreck and Wreck (2007, 10 minutes), and The Diamond (Descartes' Daughter) (2008, 11 minutes).
Wardill will introduce the screening and take questions afterwards. In conjunction with this presentation and in keeping with Conversations at the Edge's commitment to supporting SAIC's curricula, Wardill will also visit several graduate classes in the Department of Film, Video, and New Media during her stay.
Friday, April 9, 2010 at 6pm: Emily Wardill's Game Keepers without Game
Eye & Ear Clinic, School of the Art Institute of Chicago, MacLean Theater
112 S. Michigan Ave #1307. Free and open to the public. Visit www.saic.edu.
Game Keepers Without Game (2009, 87 minutes), the subject of Wardill's solo show at The Show Room in London until late March 2010, takes Pedro Calderón de la Barca's Life is a Dream (La Vida es Suena, 1635) as its starting point. Game Keepers tells the story of Stay, a girl put up for adoption due to her destructive behavior, whose father is trying to bring her back to the family home. Wardill presents us with a melodrama, aping tropes of British soap operas. She casts her characters and objects against a sterile white frame, setting them to a repetitive drum beat soundtrack. People and props do not touch, and objects in particular take on a symbolic form, acting as both status markers and evidence. Acts of violence are emptied of drama, conjuring up stories of the sadistic and antisocial behavior of British youth in inner cities and depressed coastal towns. The film is a long-form continuation of many of Wardill's ongoing themes and strategies: disjointed sound, image, and dialogue; fragmented narrative; stilted action; and provocation of the viewer — all in search of some new, alternate attempt at communication.
The Eye & Ear Clinic is organized by graduate students at the School of the Art Institute of Chicago. This screening is made possible with support from the Department of Film, Video, and New Media, and the Dean's
Office at SAIC.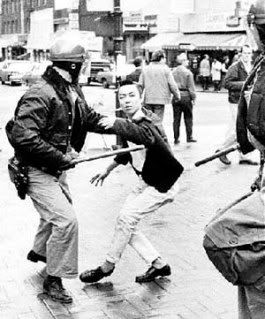 "Japanese American Black Panther Party founding member" reads at first like a mislabel in the description of the 2009 documentary AOKI. Mike Cheng and Ben Wang chronicle  the life of Richard Aoki (1938-2009) from his early years in a WWII internment camp through his days as an activist in Oakland. Shot over the last five years of Aoki's life, we follow him as he continues his career as a social activist in Oakland. Clocking in at ninety-four minutes the film is pretty much what you would expect. Straightforward framing and first person narration steers us through Aoki's life as an early activist. Aoki is a very charismatic, opinionated, and often blunt character who's peers speak of him with the utmost respect.  Although the film lacks much of an artistic direction (the film poster would have you think differently) I really enjoyed revisiting famous photographs of Huey Newton and Bobby Seale but locating Aoki as a background character. The documentation of  his search for social justice involves him in not only the BPP but also the Asian American Political Alliance and the Third World Liberation Front.
In 2006 Wayie Ly taped an interview with Aoki about his life. It is pretty in depth and worth checking out. Below is an excerpt about his thoughts on Richard Nixon and John F. Kennedy:
People Change, History Moves On

Politically, I would be labeled a conservative at the time, because of the fact that I voted for Richard Nixon in the 1960 presidential election, when he ran against John F Kennedy. Now I will explain the logic of my political position to you as weird as it may sound today. First and foremost, Richard Nixon was from California. Kennedy was from Massachusetts. Richard Nixon was a homeboy. Kennedy spoke with a foreign Boston accent. Richard Nixon married a good housewife. Kennedy married some arrant socialite later to be known as Jackie O. Richard Nixon grew up poor and humble. Kennedy grew up rich. I think his father's or his family's fortune was based on the rum running trade during the prohibition days when alcohol was outlawed here in the United States. I think rumor has it that his family built their fortune up smuggling (laughs) hard liquor across the border.

Richard Nixon was a Quaker. The Quakers were the only religious group that, or were one of the few that opposed the internment of the Japanese Americans during World War II. Kennedy was a Roosevelt man, and Roosevelt signed Executive Order 9066 that put us Japs in the camps. So, it's payback time… Meanwhile, one of the other reasons why I voted Republican was the fact that Abraham Lincoln, who was the first presidential candidate of the Republican Party, freed the slaves. And to me and my sensitivity to African Americans, indicated that I should be in favor of somebody that emancipated the slaves.

For the entire article please check out the Richard Masato Aoki Memorial page.
Aoki will be playing at the Gene Siskel Film Center
April 8th—8:15pm
164 North State Street
Chicago, IL 60601-3505
Recently I have begun to read  a journal based out of the University of Texas called Velvet Light Trap. In issue #60, entitled Documentary Now, Jaimie Baron has an essay, Contemporary Documentary Film and "Archive Fever": History, the Fragment, the Joke that has inspired this week's pick. In the essay Baron uses both the archive and notions of humor/jokes to delve into several documentaries. One of which being Andre Silva's spam letter + google image search = video entertainment. In spam letter we have an experimental film that looks to document, well, spam. Combined with images pulled from Google Image Search we follow the often read, and hopefully seldom believed "dead relative" scam.
…Moreover, its use of the archive is so disturbing to conventional notions of history that, I contend, the film is forced to change genres, ousted from the realm of documentary to be classified and contained in the category of the experimental. Looking at it as a documentary, however, challenges the distinction between "proper" and "improper" uses of the archive as well as refined notions of the historical.
This just in: Wellington Reiter, who was appointed the School of the Art Institute of Chicago's fourth President in 2008, has resigned. He sent the following email to members of the School of the Art Institute / Art Institute of Chicago community earlier this afternoon:
Dear Members of the SAIC/AIC Community,

It has been an honor and privilege to serve the School of the Art Institute over the past two academic years and to establish rewarding relationships with all of you.  It is thus with the greatest respect and deep sentiment that I inform you of my decision to step down as president of the School of the Art Institute of Chicago following graduation.

The past few weeks have been a time of deliberation for me as I contemplated the direction of my career, the needs of the School, and what we have accomplished together.  As I highlighted in my most recent newsletter to the community, there are many items to celebrate at SAIC thanks to the collective effort of faculty, staff, students, and the Board of Governors. However, after much thought, I have decided to return to my ongoing work linking the fields of art, design and sustainable urbanism. These issues have always been my passion and I look forward to devoting my full attention to the creation of sustainable city models on a global basis.

Chicago is an extraordinary city and I am grateful for the experiences I have enjoyed here and within the School.  I believe that SAIC is on a trajectory that will strengthen the student experience in ways that will ensure continued growth and success. I depart knowing that there is a strong and talented faculty and administration dedicated to supporting these most ambitious students as they develop into mature artists, designers, and thinkers.  It is their optimism and hopefulness that certainly drives us all.

As I begin the transition to my new research efforts, a committee composed of senior administrators and faculty will work closely with the Chairman of our Board of Governors to help assure that the School's operations will continue uninterrupted.

It has been a pleasure to contribute to this community and I wish each of you and SAIC the best in the future.

Sincerely,

Wellington "Duke" Reiter
UPDATE: Here's a copy of SAIC's Official Press Release on Reiter's resignation, via Pedro Velez/@JonesDistrict. Reiter, an architect and artist, was appointed President in 2008, after Tony Jones was appointed to the position of Chancellor of the School of the Art Institute.