1. Robert Buck at Iceberg Projects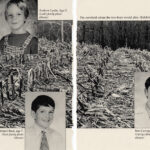 New work by Robert Buck
Iceberg Projects is located at 7714 N. Sheridan Rd. Reception Saturday, 6-9pm.
2. Geometry in Outer Space or Heaven at Monique Meloche Gallery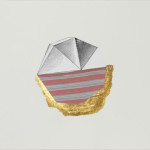 Work by Karen Reimer.
Monique Meloche Gallery is located at 2154 W. Division St. Reception Saturday, 4-7pm.
3. People always say a house is like a body and the body is like a house… at Terrain Exhibitions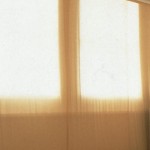 Work by Jeanne Dunning.
Terrain Exhibitions is located at 704 Highland Ave. Oak Park. Reception Sunday, 2-5pm.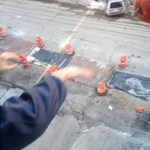 Work by Bria Williams, Kacie Lambert and Lauren Quin.
Outhouse is located at 212 N. Sangamon St. #3B. Reception Friday, 6-10pm.
5. A waiting, April 10, 2015 at Aspect/Ratio Gallery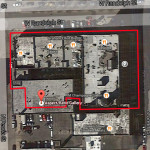 Performance organized by Diaz Lewis.
Aspect/Ratio Gallery is located at 119 N. Peoria St. Reception Friday, 6-9pm.
Saying good bye is always hard. But sometimes, saying good bye is more like saying "See you later."  This is the case for us this month at Bad At Sports. Both Richard Holland and Jamilee Polson Lacy have revised their participation with our project and entered semi-retirement.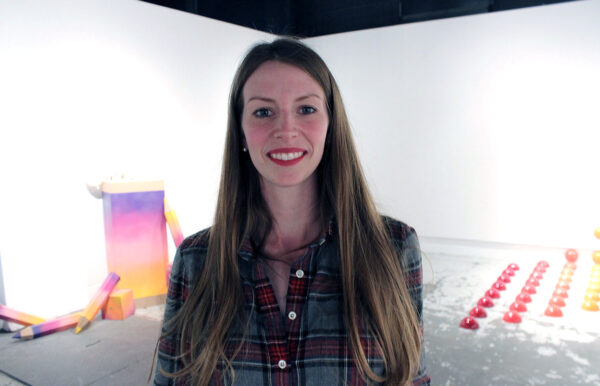 Jamilee left Chicago six months ago and took along her brilliant artist husband Steve Lacy (of Academy Records.) She remained as our Blog Czar for a couple of months before quietly handing the reins over to Dana Bassett. Jamilee embraced her role with B@S with gusto. Reshaping what Caroline Picard had produced and building a more efficient machine on top of it. Her strength allowed B@S to start seeing a stronger future for the project.
Jamilee left Chicago to be appointed Director and Curator of PC Galleries at Providence College in Providence, Rhode Island, and she leaves all of us with a great hole to fill in our independent curatorial ranks. Few and far between are curators with the creativity, curiosity, depth, breadth, business sense, and raw ambition of our Jamilee.
Jamilee's last Chicago exhibition at Columbia College's A+D gallery, "Types by Display," was easily the best graphic design-oriented exhibition presented in Chicago last year and I was grateful to spend a significant amount of time with it.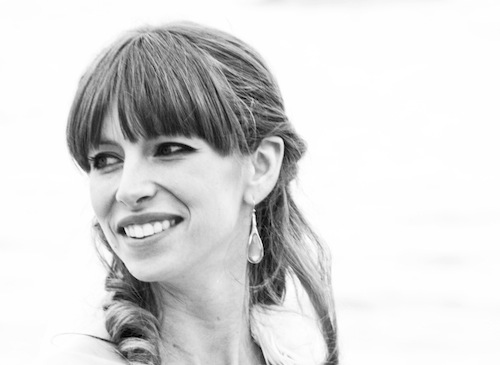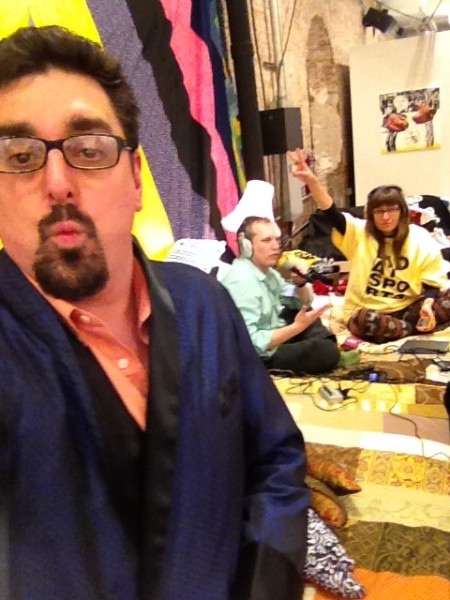 Richard Holland's retirement is a harder thing to get my head around.  What can one say about the leaving of a partner and founder? We have worked arm-in-arm together for 500 weeks and I love him like a brother. It is difficult for me to imagine the project without him. Our show will miss its ever-present host and his wit and erudition.
Richard leaves to focus on his growing Real Estate and Legal practices, and to spend a little more time with his family. There are also rumors he is amassing an army of hybrid space crafts for an intergalactic war.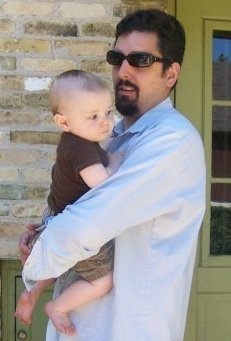 "Thank you," hardly seems to cover the debt we owe Richard and Jamilee. They have made a defining impact on the project's past and it's future and both leave shoes that can never be filled. But we will not be completely without Richard as he will continue to be a dominant voice on our twitter feed and occasionally will reprise his role as interviewer, producer, and editor. Likewise, Jamilee swore to me that she would return to writing and sharing the East Coast's art world just as soon as she settles into a solid groove.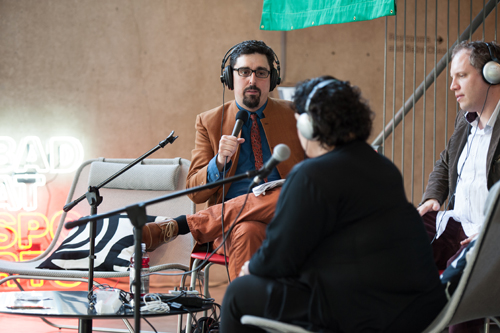 For the past year and a half, I've been teaching Foundations at Northern Arizona University. Recently I was invited to present at a session at the FATE Conference "Tectonic Shifts" in Indianapolis. (The whole #boycottindiana thing didn't start until our last day there.) It was, among other things, an opportunity to reflect on what, exactly, Foundations is, as a subject, and what it could and should be.
Foundations programs typically include Drawing, 2D Design, and 3D Design. They often also include Color Theory, Figure Drawing, and (very occasionally) an introductory Digital Media class. This presupposes a certain set of priorities that influences students' perceptions of what art is, and bear in mind that within a college or university setting, most students in a Foundations course will not necessarily be art majors.
The premise seems to be that most of the classes are set up to prepare a student to work in two-dimensional plastic arts, chiefly painting. And indeed, in the popular imagination, painting serves as the holotype for what art is. The combination of Drawing, 2D Design, and Color Theory is perfectly geared towards preparing a student for Painting I, or perhaps Printmaking. In my own studio practice I am a painter, and perhaps I was drawn into this medium by a similar set of assumptions. (What I thought I was attracted to, in my teens and early twenties, as "painting," was in fact primarily illustration, albeit rendered in paint.) 3D Design is a nod to sculpture, and some departments have begun introducing various courses in Digital Media in an attempt to "contemporize" their departments.
I'm not particularly interested in reinventing Foundations, certainly not in the sense of being on some sort of crusade to throw out the traditional model. But I am interested in how and why we have formed our assumptions about what comprise the fundamental building blocks of an artistic practice. Certainly the type of Foundations that I learned when I was in college, that I used to build the technical skills that form the basis of my practice, and that I now teach to my students, have much more in common with the kind of art we saw before 1965 than since.
I should here also mention that I attended community college and then a four-year public state university, and now teach at a similar university, so my experience was and is very different from what one might have at an art school. The foundations curriculum at MICA, RISD, or SAIC might very well be very different from what I'm used to. If I were to look at a cross-section of contemporary art, and use that as my starting point to reverse engineer what a Foundations program should be, I would imagine that the first semester would consist of Introduction to Art Theory, Art History Since 1965, Digital Photography (probably camera phone based), and Writing For Artists. If there was a first-semester foundations studio course at all, it would probably be Found Object Assemblage.
I should be clear here that this isn't some Swiftian "Modest Proposal" in which I argue that contemporary artists have no hand skill anymore, and that it's all showmanship and networking and name dropping. Not that it's not, just that I recognize that there's no point in bemoaning the fact. Rather, I am saying that over the past few decades, the new work being produced has often (not always) emphasized concept over technique (I am under no illusions of this being a groundbreaking revalation), and that when contemporary work does require hand skill, that hand skill might have little or nothing to do with traditional plastic art skills of drawing, painting, carving, and casting. Rather we see cabinetmaking and welding, mechanics and electronic engineering, computer programming and choreography, each used as it suits the artist's needs. Indeed, an art education that geared students to produce for the contemporary market might look something like two years of hardcore art history and theory, culminating in a "sophmore seminar" in which the student produces a written proposal for an ambitious thesis project. The following year is spent on exchange to a vocational trade school where the student learns whatever skills he or she needs to execute the project, whether that be horseback riding or taxidermy, mountaineering or tattooing, explosive demolition or flintknapping. The fourth year consists solely of guided studio time coupled with a class in professional practices. The thesis show is presented at the end of the fourth year, and the fifth year is devoted to developing a new, post-thesis body of work intended for submission to grad schools or galleries.
I don't know if this would be any better or worse than what we have now. I, for one, would feel the loss of the traditional media in art programs. I'd certainly be out of a job. But if art education exists not as a sort of pyramid scheme in which we enlist the help of the next generation in taking our classes so that we can repay our student loans, in the hope that they will one day pass on this curse to students of their own (like the monstrous antagonist in It Follows), but as an actual service to our students, then it must prepare them for the world that they will actually face.
I'm left with the question of what role my beloved traditional media play in an ever-changing world. There are only so many hours in the day, indeed, only so many hours in a lifetime, and every new skill that is introduced must of necessity displace something else. Introduce Robotics, and a student never takes Lithography. Introduce Relational Aesthetics (which I'm currently teaching), and perhaps it's Figure Drawing that gets left behind. Earlier today, a student was planning her schedule for the Fall, and had to choose between my Color Theory class and a 3D Printing class being offered at the same time.
In some cases, the progression seems natural: that digital photography has relegated the entire darkroom to the role of alternative process makes sense, for the same reason that wet collodion printing isn't taught in Beginning Photo. The technology has evolved. (I love oil painting, but for me, Beginning Painting makes more sense in acrylics.) But the kind of theory-driven, technique-thin program I hypothetically described above sacrifices some of the most important elements of artmaking. The "wow, I made that!" satisfaction of a well-executed representational drawing can be what inspires a student to pursue art as a degree, a career, a life. For all the practicality of digital photography, there is an alchemical magic to the darkroom that can never be rendered in pixels. And as any observational painter or drawing teaching will tell you, you've never really seen something until you've tried to draw it. This is the magic, the power to inspire, that we must preserve at all costs as we chase the spotlight of new technologies and ideas through the prison yard of the art world.
It is intriguing to wonder if, given a hundred year's worth of hindsight, there are dealers working today who might earn, by way of tribute, a major show at the National Gallery. Such has been the case for Paul Durand-Ruel (1981-1922), the Parisian art mogul who brought Impressionism to the notice of the world.
NG visitors can see for themselves how Durand-Ruel not only 'invented' Impressionism, but arguably did the same for the art market as we know it today. The dealer was responsible for innovations in marketing and market manipulation. It is even said that he invented the solo retrospective. Today we wouldn't think twice about seeing a Monet show, but when the French painter was still alive, it was harder for some to countenance.
Along with Monet, the dealer can lay claim to have discovered Pissarro, Renoir and Degas. And he once lamented that he lacked the funds to buy up every last piece by Manet (haven't we all), firmly confident that this shocking new painter would repay his investment: "In fifty years they will sell for fifteen or twenty times more," said the oft-called prophet of Impressionism.
Numbers alone tell a story. In his custody at one time or another were some 1,500 Renoirs, 1,000 Monets and 800 paintings by Pissarro. The Musée d'Orsay owes nearly 100 of its Impressionist stock to the dealings of Durand-Ruel and the National Gallery in London owns 40 of his previous sales. In the US, meanwhile, renowned collector Albert Barnes wrote to the French dealer with the words, "My collection is practically an annex of your business".
The current show is well staged with a lot more drama than you might expect from a dry lesson in art history. Visitors can enter by way of the dealer's New York branch, a black and white photo of which fills the lobby. Then once inside he or she will find a partial recreation of Durand-Ruel's well-populated sitting room. Later in the exhibition is a room devoted to the innovative Monet show and another which takes a major London show as its theme.
So what of the artwork? Well, sexed up by the wheeling and dealing, it is more fresh and exciting than any show about a 19th century moment has any right to be. There are family portraits by Renoir, pastoral scenes by Pissarro and trademark poplars by Monet. In one especially thrilling corner, one finds an oil sketch for Manet's great masterpiece Bar at the Folies-Bergère.
Manet is well represented, a still life here, a portrait there. But what's this… a naval battle? In 1864 the French master painted a duel between the U.S.S. Kearsage and the C.S.S. Alabama. As most will be aware this was a moment from the American civil war. But curiously, these ships engaged off the coast of Normandy in North France. In 1886 A New York critic commented that it was "so grand in its treatment of the water that it makes us forget the ships".
If that scene appears off kilter, it is next to nothing compared with those of the dealer's other great investment, Edgar Degas. Whether of ballerinas or race horses, these works might just have been the toughest sell of all. Paintings with no central focus still challenge the eye today. Yet somehow, thanks to that, and to the generally polite picture making of the time, we know we gaze upon genius. But what is most remarkable is that Ruel-Durand knew it as well so long ago.
So yes, it makes you wonder if we'll see his like again. An even better question might be to ask, when faced with today's market, what would Ruel-Durand do?
Inventing Impressionism is at National Gallery, London, until May 31. The show travels to Philadelphia Museum of Art from June 24 – September 13 2015.
1. Were the Eye Not Sunlike – PHYSICAL at Fernwey Gallery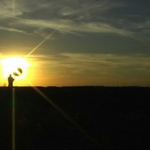 Work by Lauren Edwards, Assaf Evron, Danny Floyd, Danny Giles and Mia Nolting.
Fernwey Gallery is located at 916 N. Damen Ave. Reception Friday, 6-9pm.
2. LEANDRO & AMARAL SNOW at The Franklin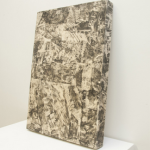 Work by Melissa Leandro and Kirk Amaral Snow.
The Franklin is located at 3522 W. Franklin Blvd. Reception Saturday, 6-10pm.
3. Acerbunundrum at Ballroom Projects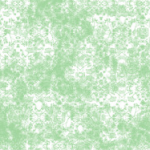 Work by Guy Eytan, Kelly Lloyd, Michael Donovan Moore, Judith Pedroza, Patrick Reynolds, Yuri Stone, Michal Lynn Shumate, and Tina Tahir.
Ballroom Projects is located at 3012 S. Archer Ave. #33. Reception Saturday, 7-10pm.
4. Spatial Agreements at Chicago Artists Coalition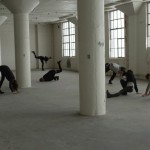 Work by Sanaz Sohrabi
Chicago Artists Coalition is located at 217 N. Carpenter St. Reception Friday, 6-9pm.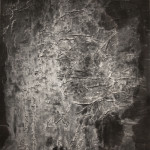 Work by Soheila Azadi, Jessica Cobb, Meg Nafziger and Lauren C. Sudbrink.
Gallery 400 is located at 400 S. Peoria St. Reception Friday, 5-8pm.