1. VERSIONFEST 2015: 100 Watts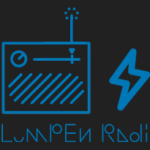 The 15th annual Versionfest, held throughout Bridgeport and debuting Lumpen Radio.
VERSIONFEST takes place at various locations throughout Bridgeport and events range in price from free to $85. Versionfest runs from 4/23-5/3.
2. The Mayor at The Hills Esthetic Center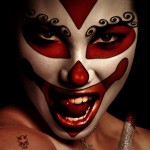 Work by Marcel Alcala.
The Hills Esthetic Center is located at 128 N. Campbell St. Reception is Saturday, 7pm.
3. Double Dialogues at DfbrL8r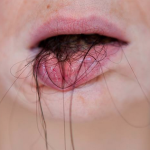 Presenting work by Manuel Vason, in collaboration with Guillermo Gomex-Pena, Heather Cassils, Jamie McMurry, Keijaun Thomas, Linda Montano, Marilyn Arsem, Mat Fraser and Zachery Drucker.
DfbrL8r is located at 1463 W. Chicago Ave. Performance and discussion Saturday, 8-11pm.
4. When Are We? at Comfort Station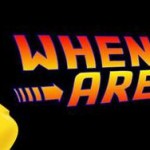 A happening by Heinze Flores (Alejandro Jimenez Flores and Paul Philipp Heinze)
Comfort Station is located at 2579 N. Milwaukee Ave. Happening Friday, 8:30-10:30pm.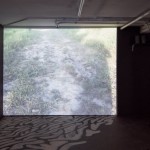 Work by Maya Mackrandilal.
THE MISSION is located at 1431 W. Chicago Ave. Closing reception Friday, 6-8pm.
Ingrid Burrington recently spoke at the 4th Floor, "a public laboratory and educational facility with a focus on information, design, technology, and the applied arts" at the Chattanooga Public Library. She talked in detail about her research into the physical internet and the ways in which we can interact with that physical presence, including Networks of New York: An Internet Infrastructure Field Guide. My infrastructure seeking eyes that follow power lines and stormwater overflow and ears that stop at buzzing transformers and traffic signal cabinets have been renewed by Burrington's investigations and provocations.
Chattanooga has one of the fastest internet speeds in the world. That internet is advertised widely and its impacts on development and gentrification within the city are readily apparent. The infrastructure of that internet is, however, still hidden in plain sight. Burrington reminds us that the powerful forces that mold our lives and are felt in the lived experience of the city are rooted in physical places and pipes and wires. Vast hidden networks, systems, and bodies power and maintain our daily lives. We can begin to see the full richness of the world and understand how to change it by questioning and attempting to see through the built world, by noticing the infrastructure under our feet, over our head, within our walls.
Similarly, we can begin to see the full richness of artworks by questioning and attempting to understand the context of the gallery and the museum that hold them. It is no surprise the wall color, the lights, the temperature, the presence of other bodies affects our experience of artworks. The context of the museum exists in plain sight, if we know how to look for it and if we are vigilant in investigating the traces that cannot be erased.
Gajin Fujita's solo exhibition opened this month at the Hunter Museum of American Art. It is centered around four large, vibrant paintings that dominate the gallery. His paintings are bright and action-packed, and they reveal increasingly complex layers as they are unwrapped. They blend the figures, faces, themes, and composition of Japanese woodblock prints, contemporary pop cultural references, and graffiti culture. They mirror the digital world of anonymity and multiplicity. Beneath the flat, richly patterned, and layered surface, they reveal serious questions about the boundaries of appropriation and collaboration, formal cultural institutions and street art, traditional craft and the porousness of digital life.
A quote from Fujita on the wall above his painting K2S Crew reads, "Collaboration plays a role in my larger works…I invite friends from my crews to come in and tag the backgrounds. I started doing this because I wanted to mimic how we work on the street …the yard walls became heavily layered with graffiti, and I wanted to recreate a small piece of that within my paintings; the layer over layer over layer look."
The paintings visually reflect that process, but the paintings themselves are far removed from the context of street art. The white walls of the gallery are sparsely hung; the paintings have labels explaining historic and contemporary references. Visitors are reminded that the gallery contains mature content. The "friends" and "crews" remain as anonymous as they would if they tagged buildings, yet Fujita is the only named and celebrated artist within the exhibition. The context of the Hunter is inextricable from the experience of Fujita's work there, but I have questions about the work that can only flourish outside of the museum. I want to know more about Fujita's process, the lived experience of co-creation, and the ways in which the infrastructure and people of LA intertwine with his work beyond the surface.
Fujita's work, and all art, must live in multiple locations, within white cubes and out among the blooming trees, the pipes that carry sewage under our feet, and the electromagnetic waves that fuel our daily lives as they pass through us. We have hidden the world from ourselves, and we hide artworks within museums and galleries. It is the physical form of the internet that facilitates our simultaneous experience of locations around the world. How will museums and galleries help us experience the artwork they contain with similar simultaneity?
We were late and I was sweating. I had botched my own plan to arrive: my plan was to meet a friend at his house nearby, then walk together to Bikini Wax from there. I never told my friend that we would meet him at his house, however, and when we arrived there he was gone, on his way to Bikini Wax, hurrying because he thought he has going to be late. So we walked up Patriotismo, through Escandon, up to Benjamin Franklin—the avenue Bikini Wax is perched on, the avenue that divides upper-middle-class Escandon from bougie Condesa from lower-middle-class, sometimes slummy Tacubaya. There is an Oxxo down the street and a mediocre restaurant next door. One of my favorite vegetarians once told me they had great burgers there. I don't believe him.
You enter Bikini Wax through an alley. The layout is famously bizarre: a one room ground floor with an enormous stairwell, a claustrophobic second floor with a kitchen that doubles as a main room and a narrow hallway that leads to apartment's three bedrooms and the bathroom, which, like the apartment, is famously dirty. Exiting the kitchen/main room, there is a precarious spiral staircase that leads to an expansive roof, from which you can see a fair amount of the city at night. This show — "Object – Space – Behavior," Isauro Huizar's first solo show at Bikini Wax — was not at night.
On the ground floor, there was a toy organ. I appreciated it, not yet knowing that it wasn't part of the show. We quickly took the stairs to the second floor, where Huizar's work was, but nobody was there. We walked around for a second, noticing a sagging stack of freshly-done shrink-wrapped laundry in the main room—Bikini Wax's usual exhibition room. In the near bedroom, a ring of books, stacked neatly according to their corresponding letter of the alphabet—As here, Ms there, no Xs or Ys—stood sentinel around the bed. In one of the far bedrooms, a tight oval of house plants barred entry; in the room across the hall, the only room without a bed, objects huddled in like colors against the far wall. The entire apartment was clean and orderly, the soft Sunday light calming what might otherwise have seemed lurid and manic into something that felt soft and generous.
We then took the steps to the roof, where everybody was. People were sitting in U, chatting. Our friend was there, sitting quietly behind an umbrella that was perched on a table in the middle of the U, vaguely shading an assortment of fruit, donuts, fruit juices, and fruit-flavored vodkas on the table, blocking one side of the U — the side my friend was on, where we sat — from the rest of it. In the corner nearest to us, a boy sat sullenly drinking one box of milk after the other. I wondered vaguely if this was a performance, and if it was part of the show. I thought about him vomiting. Isauro came over and offered us a donut. We accepted.
We stayed for quite a while, much longer than we usually stay at openings, chatting idly with people, meeting a dog, drinking fruity vodka drinks. People kept talking about the trash, that it was all squirreled away somewhere, that the apartment looked so much different without it. People were milling around, relaxing. Having the opening in the morning seemed to turn the usual opening routine on its head. I thought for a second about Pablo Helguera's book Art Scenes: The Social Scripts of the Art World, wherein he dryly dissects the event of the art opening into a set of calcified roles, pervasive, unavoidable, and detrimental to the formation or circulation of new ideas—perhaps you're the disruptive artist? the regulating academic?—and wondered if this shift of context perhaps allowed for a shift in sociality. Everything seemed friendly, nice, unforced. The few people trying to network seemed to have forgotten their cards. A woman across the umbrella from us regaled the people near her with stories of her life in the sort of lightly accented English specific to middle-aged women visiting Mexico. I thought, what a nice subtle gesture.
Was it? Look at that image of objects stacked against the wall: don't they look a bit scared? If you were standing in that room, how would you feel? What would you do? What can you do? Huizar works as an interior designer, making commercial or domestic space more condusive to spending or living for its inhabitants; here, he uses interior design to make a series of domestic spaces unlivable. Or rather, while one could certainly live in one of these rooms, sleep in that bed surrounded by 20-odd stacks of watching books, or in the other room, disguised by a huddle of house plants, it would be a sort of living in which it would impossible to discount the presence of those objects.
Objects cast affects; this much we know well. Usually these affects are instrumentalized by design, interior or otherwise: a long table suggests a feeling of familiarity and comfort, a speed bump suggests an attitude of alertness and care. They also limit the field of possible action: in the restaurant with one long table, you feel discouraged from eating alone; in the street with the speed bump, you must slow down. In Protocol: How Controt Exists after Decentralization, Alexander Galloway describes the speedbump as the quintessential protocological object—an object that delimits a field of possible action.
Read in this way, "Object – Space – Behavior" was neither subtle nor nice. Rather, it is a violent intervention into domestic space, bringing the objects that normally disappear to the forefront, forcing us to reckon with them, to decide what to do now.  Most people, including myself, just got the hell out of there and went upstairs. The new arrangement of the objects, as present—looming, watching, in a scrum, backed against the wall—created a space that didn't necessarily feel like an art space but did absolutely feel like an object space. That room belongs to these books. How can we live in a domestic space that does not privilege humans? How do we reckon with our objects? What are our options? What field of possible action does the laundry cast?

Isauro Huizar (Culiacán, Sinaloa, México. 1985) Develops professional work in interior design focusing on commercial spaces.
1. Twist-flip-tremble-trace at Johalla Projects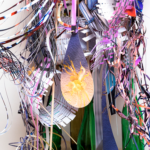 Work by Aimée Beaubien.
Johalla Projects is located at 1821 W. Hubbard St. Reception Friday, 7-10pm.
2. Scenic Overlook at Hyde Park Art Center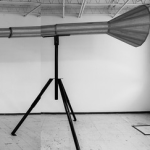 Work by Susan Giles
Hyde Park Art Center is located at 5020 S. Cornell Ave. Reception Sunday, 3-5pm.
3. Shadowboxing the Axis at Gallery 400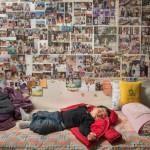 Work by Soohyun Kim, Meredith Lackey and Sherwin Ovid.
Gallery 400 is located at 400 S. Peoria St. Reception Friday, 5-8pm.
4. The Arrows Like Soft Moon Beams at 65Grand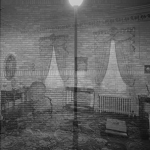 Work by Ian Pedigo.
65Grand is located at 1369 W. Grand Ave. Reception 6-9pm.
5. Y'all and A Rock (me too) at Hidden Dog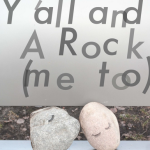 Work by Yani Aviles, Justin Chance, Connor Crable, Hunter Foster, Alyx Harch, Andrew Lu, Katie Rapheal, Amina Ross, Chase Schoonmaker, Emily Schulert, Simone Siegel, Cait Smith, Kelsey Strebler, Kate Ulschmid and Tongyu Zhao.
Hidden Dog is located at 2151 W. 21st St. Reception Friday 7-10pm.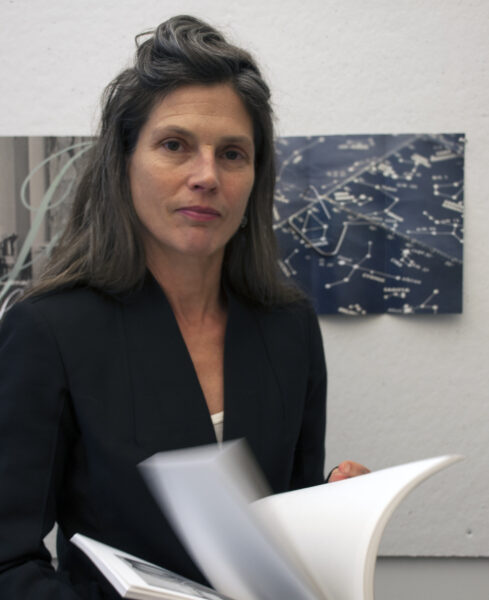 Publicly announced two weeks ago, Ingrid Schaffner will curate the fifty-seventh Carnegie International, an exhibition staged every third to fifth year at the Carnegie Museum as the oldest international survey of art held in America. Until this appointment, Ingrid has been Chief Curator at the Institute of Contemporary Art in Philadelphia for fifteen years.
Seated often in her office encircled by exhibition posters and pinned cards, Ingrid is sprightly, with waist-length hair twisted into an arabesquely wound bun. As Ingrid relocates to Pittsburgh, her birthplace, she leaves behind her distinctive Philadelphia home built by architect Anne Tyng, whose designs and methods Ingrid presented in a 2011 solo exhibition at the ICA. Ingrid's formed sympathy with the architecture is underscored by her zeal for living within its walls, and sharing Tyng's building with visitors. The three-story wooden house is taut and narrow, with a structural complexity that, rather than being cold and foreboding is warm and inviting. This attitude is readily visible in every exhibition she organizes, which include thorough monographic presentations of Karen Kilimnik, Jason Rhoades, and Polly Apfelbaum, among others.
Also left behind will be biographical anecdotes that I think of as synonymous with her: enthusiastic mention of a favorite museum, the Puppet Theater Collection in Munich, Germany; preparations of meals from the Ottolenghi cookbook; a retained dislike of green peppers but an enthusiasm for bread; an askew framed word portrait above the dining table, reading "fine light fair/ clear skin and a/ sharp yet delicate/ truly elegant/ appearance"; and a strict observation of Sunday as a day for oneself.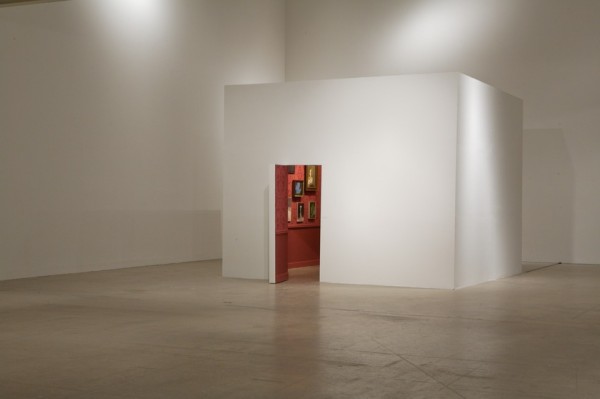 Karen Kilimnik, 2007, installation view, Institute of Contemporary Art, University of Pennsylvania
Erin: As part of your described plan to curate the Carnegie International alongside a group of "traveling and thinking partners", will the curatorial partners operate as advisors to you, as sounding boards, or as auxiliary curators who also put forward artists for possible inclusion?
Ingrid: The traveling and thinking partners are not expected to also serve as curatorial advisors. Though I do hope the sense of partnership will extend beyond the limits of each journey ~ and that we will be (telegraphically) traveling and thinking together in terms of our collective body of work throughout the process of my organizing Ci18. Since it's impossible to touch down everywhere, I imagine we will convene in Pittsburgh first, to decide where in the world it seems most urgent and relevant to travel.
Erin: Your proposed research strategy for curating the Carnegie involves travel to unfamiliar regions, unfamiliar both to you and to your partners. By "unfamiliar", do you mean traveling for the first time to regions of the world unknown to you? Or does unfamiliar also imply visiting artists who you have had a long-standing, but unfulfilled, curiosity about?
Ingrid: Yes to all. But most simply put: say you're expert in the Antipodean art scene, then I want to go to Eastern Europe with you. Because if we went to New Zealand we would just see what you already know and you would be my guide. I would rather we were both equally open to who we meet and what we experience. At the same time, the knowledge and predilections each traveling partner brings to the table—or itinerary—will be extremely valuable to creating the connections and starting points you need to navigate new terrain.
Erin: Does this working method imply an avoidance of art you have previously exhibited?
Ingrid: I hope not. Working with an artist over time is a privilege. Plus I don't think that the charge of the Carnegie is to run around and discover completely other ways of seeing and doing one's work. Rather, it's an opportunity to widen and deepen the scope and beat of what one knows and is passionate about—and then transmit that through the form of an exhibition.
Erin: I am looking to your previous interest in archives, particularly demonstrated in the exhibition you initiated, "Deep Storage" first curated at Haus der Kunst in 1997. Does your attraction to archives parallel your interest in curating? Is the uncovering of a remnant in history similar in behavior to seeking out unnoticed or overlooked aesthetic production?
Ingrid: I like to be in exhibitions that operate on many different levels, that ignite sparks of association—formal, conceptual, historical, political, theoretical, subjective—and that slow you down in the process of looking, participating, or whatever is called for in the process of absorbing the work on view. So yes, there is something to being in an archive and doing research—to letting what you find lead to places unknown—that is for me fundamentally akin to my curatorial approach.
I approach my projects as informed, but open inquiries—not defining statements—about a resonant theme or body of work that invites further investigation. I'm a great fan of independent study and surrealist-style questionnaires. For one of my favorite shows at ICA, the catalogue took the form of this bristling compendium of 80 answers to a solicitation to describe the queer voice, which seemed suddenly increasingly heard across culture. Talk about atomizing the binary in a single blast.
Erin: Recurring survey exhibitions such as the International often propose to display the most timely, geographically inclusive, and methodologically diverse group of artworks possible. Is there a term that you would like to add or remove from the list?
Ingrid: For now, I plan to shut my eyes and ears to such lists, as if diversity and inclusiveness could be so prescribed. No artist wants to be invited because they are "French" any more than they want to fill the "Community Engagement," "Black," or "Woman" slot. I'm always interested in how artists are making what we think about and see plural as well as prickly – critical of mainstreams that tend to run fast and not too deep. I'm all for art that eddies the flow.
Erin: Are you expecting this opportunity to change how you curate? Or how you looked for avenues and artists at the Institute of Contemporary Art and even prior?
Ingrid: I am leaving the ICA—one of the best jobs a curator can have, excellent colleagues doing inspiring work, a great university—to do the Carnegie exactly because it is bound to enrich my work. The opportunity is an amazing gift and goad, both. Because on the one hand, it's like a giant research grant, on the other you have to realize your own ideals of what an exhibition of this scope and visibility can be.
Erin: The curators cooking for and hosting visiting artists have been a central component of your time at the ICA. Do you imagine cooking for the curators of the Carnegie International? And will being an adept chef be a litmus test for your traveling partners?
Ingrid: HA! At the Carnegie, we will have to see, but there's good precedent: Rirkrit Tiravanija cooked and served Thai food to visitors of the 1995 Carnegie International. Actually, because I didn't want it to be a retention issue for the curatorial department, initially, I cooked all the long table dinners following public events. It's a way of honoring our guests and being more inclusive of colleagues. Just yesterday Anthony Elms reminded me that when he was considering coming to ICA, his friend the curator Anthony Huberman said, "I hope you like to cook."