Guest post by Lise Haller Baggesen
On Saturday September 19th –while Chicago was hustling and bustling with all things EXPO—the Suburban opened the doors to its new Milwaukee location.
Housed in a former Laundromat, which had suffered a total burnout leaving only the carrying structures intact, the property has had a gut rehab –Brad Killam style—and presents as a fresh, clean slate. Above the gallery is an apartment inhabited by de-facto gallery directors Alexander Herzog and Rosa DiSalvo-Herzog, who will be running the daily business of the space, as well as welcoming out-of-town artists in the residency upstairs.
With its large storefront right onto a street corner, the new Suburban vibe is less that of a backyard BBQ (sadly, Brad's brats were missing), and more of a Mom & Pop Store of all things minimalist.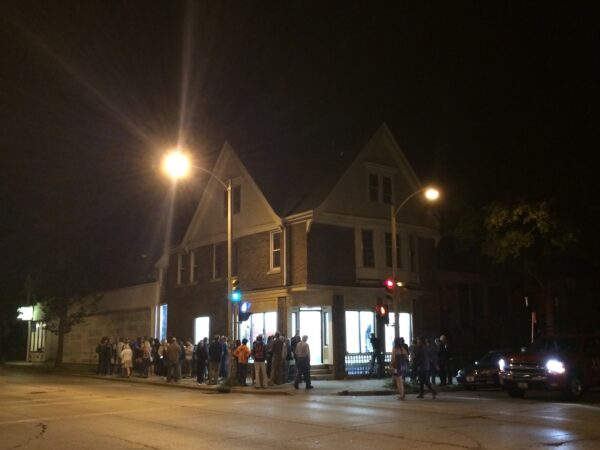 The works on show, by Scottish artist Fergus Feehily, were just that, as well as ethereal, elusive and cheeky –and as Michelle Grabner points out "not at all generous in the way Milwaukee is used to."
This was more than made up for in the in the adjoining alleyway, which doubled as the site of Paul Drucke's contribution to the 2015 Terrain Biennial –a pleasant reminder that you can take the Suburban out of Oak park, but you cannot take Oak Park out of the Suburban. A plaque on the wall baptized it "Angelique Roy's Passage" and the narrow space set the perfectly confined stage for a "Gangway Performance" featuring Joshua Bellow, Margaret Noodin and Laura Hunter.
As the evening progressed, and police officers on bicycles watched from across the street, a mellow crowd of art students and weathered Suburbanites co-mingled outdoors and in, and neighbors stopped by to say hello. After hours the party proceeded to a nearby craft brewery featuring a homegrown DJ, organized by Green Gallery's John Ripenhoff, but this was where I had to hit the road back to Chicago.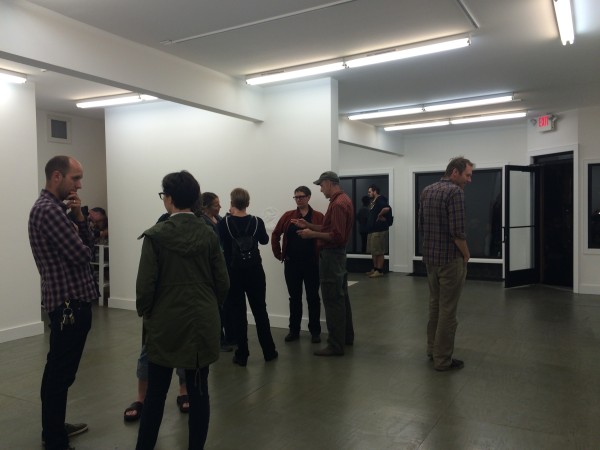 I made it home before midnight, and to all of you Chicagoans who used to be Suburban regulars, I will say: it is really not that far. So, if the post EXPO blues is getting you down, head North for some Suburban Saturday Night Fever!
Sensors for the Unsound at Andrew Rafacz Gallery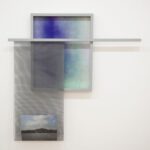 Work by Jeremy Bolen
Andrew Rafacz Gallery is located at 835 W. Washington Blvd. Reception 6-9pm.
Seduced and Abandoned at Boyfriends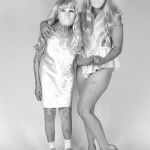 Work by Chanel Von Habsburg-Lothringen
Boyfriends is lcoated at 3114 w. Carroll St. Reception 7-11pm.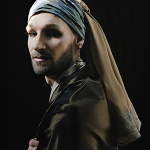 Work by James Kinser and Niki Grangruth
C33 Gallery is located at 33 E. Congress Pkwy. Reception 5-9pm.
APPROPINQUATION at Carrie Secrist Gallery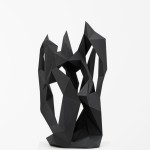 Curated by Britton Bertran
Carrie Secrist Gallery is located at 835 W. Washington St. Reception 5-8pm.
Faith & the Devil at Center for Book & Paper Arts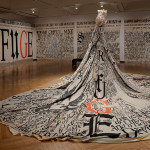 Work by Lesley Dill
Center for Book & Paper Arts is located at 1104 S. Wabash Ave. Reception 5-9pm.
Urban Interruption and (Re)generation at Glass Curtain Gallery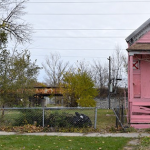 Work by Amanda Williams, Emmanuel Pratt and Andres L. Hernandez
Glass Curtain Gallery is located at 1104 S. Wabash Ave. Reception 5-9pm.
My life as an INFJ at Julius Caesar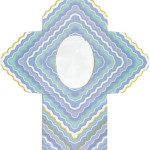 Work by Shana Moulton.
Julius Caesar is located at 3311 W. Carroll Ave. Reception 7-10pm.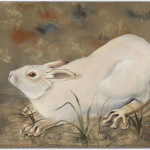 Work by Autumn Ramsey
Night Club is located at 3325 N. Pulaski Rd. Reception 6:30-9:30pm.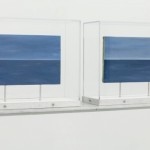 Work by Daniel G. Baird, Kadar Brock, Alex Chitty, Mika Horibuchi, Samuel Levi Jones, Mtthew Metzger, Bryan Savitz, Nick van Woert, Kristen VanDeventer, JPW 3 and Liat Yossifor
PATRON is located at 673 N. Milwaukee Ave. Reception 6-9pm.
New Work at SAIC Sullivan Galleries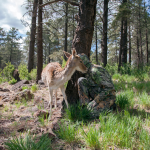 Curated by Raquel Iglesias and Jacelyn Keework with work by Bobby Gonzales, Allyson Packer, Linda Tegg, Derrick Woods-Morrow, and Guanyu Xu
SAIC Sullivan Galleries is located at 33 S. State St. Reception 6-9pm.
DEMO Chicago at TCC Chicago and the Archer Beach Haus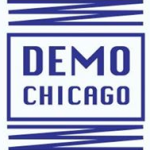 Work by Paula Nacif, Violet Systems, Nanae Shimazu, Christine Janokowicz, Kevin Carey, Lisa Claire Green, Ursula Andreeff, Rebecca Elliot, Maggie Harrington, Julia Kriegel, Coco Menk, Anja Morel, Sawako Okayasu, Vettii, Aaron Von Krupp, Allison Zuckerman, Shawné Michaelain Holloway, Bryan Peterson, Alp Seyrekbasan & Adrien Stein, Reina Taniuchi and Saya Yamauchi
TCC is located at 2547 W. North Ave.; Archer Beach Haus is located at 3012 S. Archer Ave. Reception 6pm-12am.
Although the summer does not seem to end, the mornings have a barest scent of fallen leaves. The angle of light at mid-afternoon has changed. The responsibilities of work and school and life have returned. This last gasp of summer is its most painfully sweet moment. It concentrates long, drawn out summer months into shortening days; it overwhelms us with sweetness while acknowledging its own limits. These limits, these glimpses ahead at fall are reminders that the trees and houses that have stood hidden, robed in summer splendor persist underneath the green.
Last week, the Hunter Museum of American Art hosted Art Alive!, a night of conversation and performance inspired by Helen Frankenthaler's Around the Clock with Red. The large painting was the backdrop for the evenings activities. Assistant Curator of Education Rachel White led conversation about the painting, placing the work and Frankenthaler into a larger historical context and the context of the museum and the other paintings in the gallery. Kayla Mae Anderson's performance with four dancers and the conversation that followed extended the time spent with the painting and invited wide ranging interpretations from audience members.
I left the museum, filled with the discussion, the movement, thoughts of what type of attention I paid. The evening stayed with me as I moved through the week, eating lunch, looking again at Frankenthaler's other paintings, checking the mail, and it followed me through the gallery walk last weekend, accompanying me through crowded receptions of small talk and open studios.
I visited Around the Clock with Red again a few days later, still holding the evening, the performance, the conversation, and, as I looked at the painting again, I realized that more than the evening, I had been living with the painting. It had not changed. Its paint was as static as ever. The textured reds still anchored my eyes while sending them towards the edges of the canvas. The large apricot swath across its middle was as raw and exposed as before, still making me feel as if the top of my head were taken off. The multitude of gestural languages Frankenthaler speaks were as compelling as the first time I saw them. The painting persists through the other layers built up around it. I saw the same painting with the same eyes, but the permanence of the painting, its lasting objectness stripped away the layers I had built around it.
The historic, economic, cultural, and other frameworks Around the Clock with Red and any painting have accrued over time are inescapable. We cannot separate it from the art market with its presence in a survey museum and the reminder of who the donors were. We cannot view it outside the structures of power and cultural domination inherent in a museum and the white male dominated art world that Frankenthaler knew and we still know. We cannot lift it from endless cultural consumption which thins our attention every direction we look.
Saying the painting still lives within those layers is obvious and facile, but, within that statement's simplicity, we should not forget the power of an object to leave us breathless, to move us beyond words, to help us carry and share the weight of those frameworks. There is work to be done to identify and name the structures that support and enable our cultural and civic institutions and our personal lives. We must acknowledge that we continue to exist within a series of large and small, more and less noticeable frames. We are not erasing those frames by recognizing and celebrating the objects they contain. We revel in our bodies precisely because we carry our skeletons around with us wherever we go.
The long hot summer is over. The season is beginning again. Thus, for this week and next, we shall feature a Top 10 Picks! Enjoy.
Friday 9/4/15 –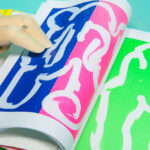 Work by Alexander Valentine.
Fernwey is located at 916 N. Damen Ave. Reception 7-10pm.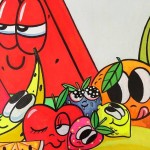 Work by Chris Uphues, Buried Diamond, and Killer Acid.
Galerie F is located at 2381 N. Milwaukee Ave. Reception 6-10pm.
Tertiary Dimensions at Sector 2337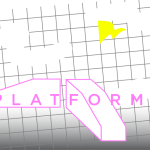 Curated by Alexandria Eregbu with work by Aay Preston-Myint, Adam Liam Rose + Alex Zak, Amina Ross, Betsy Odom, Elijah Burgher, Gordon Hall, Katie Vota, Kiam Marcelo Junio, Margaret Bobo-Dancy, Matt Morris, Oli Rodriguez, and Rami George.
Sector 2337 is located at 2337 N. Milwaukee Ave. Reception 5-8pm.
Garcia, Rios + Romero at Trunk Show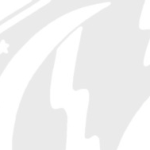 Work by Anthony Romero, Josh Rios and Eric J. Garcia.
Trunk Show is located at 1859 W. 19th St. Reception 6-8pm.
Saturday 9/5/15 – 
What Would Barbara Do? at Defibrillator Gallery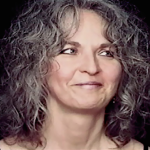 Curated by Joseph Ravens, Oli Rodriguez and Frederic Moffet with work by Miao Jiaxin, Zachary Harvey, Caitlin Bacon, Whitney Johnston, Charles Lum, Barbara DeGenevieve, Amber Hawk Swanson, Kean O'Brien and Isaac Leung.
Defibrillator Gallery is located at 1463 W. Chicago Ave. Reception 7-10pm.
Cohen + Ruiz at Roots and Culture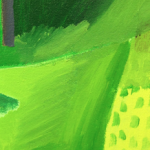 Work by Alex Bradley Cohen and Steve Ruiz.
Roots and Culture is located at 1034 N. Milwaukee Ave. Reception 6-9pm.
Their, Their at Slow Pony Project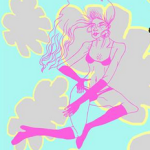 Work by Local Honey.
Slow Pony Project is located at 1745 W. 18th St. Reception 6-9pm.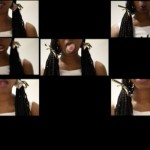 Curated by Scott J Hunter with work by Daniel Baird, Jessica Caponigro, Alexandria Eregbu, Danny Giles, Sofia Moreno, Matt Morris, Amina Ross, Alfredo Salazar-Caro, Ivan Lozano and Dan Paz.
The Franklin is located at 3522 W. Franklin Blvd. Reception 6-10pm.
A short and pleasurable journey at Vertical Gallery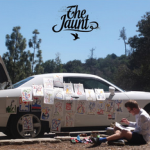 Work by Collin van der Sluijs, Mike Perry, Cody Hudson, Daniel Frost, Hedof, Jordy van den Nieuwendijk, Amanda Marie, David Shillinglaw and more.
Vertical Gallery is located at 1016 N. Western Ave. Reception 6-10pm.
Sunday 9/6/15 – 
Warm Kitty, Soft Kitty at Hyde Park Art Center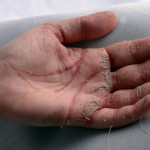 Work by D. Denenge Akpem, Eliza Bennett, Laci Coppins and Nakia Gordon, Alexandria Eregbu, Isaac Facio and Benedickt Diemer, Whitney Huber, Taylor Hokanson and Dieter Kirkwood, Cole Don Kelley, Barbara Layne, Hiro Murai for Flying Lotus, Tameka J. Norris, Betsy Odom, Scout Paré-Phillips, Jennifer Ray, Aileen Son and Fo Wilson.
Hyde Park Art Center is located at 5020 S. Cornell Ave. Reception 3-5pm.
1. Rough Idle at Chicago Artists Coalition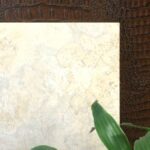 Curated by Allison Lacher, with work by Jessica Caponigro, Jeffrey Michael Austin, and Rafael E. Vera.
Chicago Artists Coalition is located at 217 N. Carpenter St. Reception Friday 6-9pm.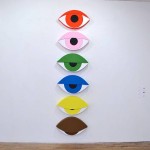 Work by Jaime Angelopoulos and Cody Tumblin.
LVL3 1542 N. Milwaukee Ave. Reception Saturday, 6-10pm.
3. Primary Care at Julius Caesar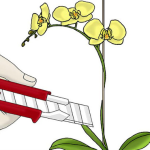 Work by Murat Adash, Mark Barker, Levi Budd, Anna Bunting-Branch, Robert Crosse, Angharad Davies, Lila de Magalhaes, Peter Ferry, Stephen Kwok, Mitsu Salmon, Michal Samama and Keijaun Thomas.
Julius Caesar is located at 3311 W. Carroll Ave. Reception Sunday, 1-5pm.
4. Corner Stores: A Co-Op Exhibition to Feed the People at The Carlos & Dominguez Fine Arts Gallery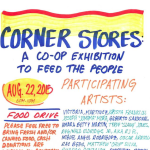 Work by Victoria Martinez, Krista Franklin, Josue Mora, Gilberto Sandoval, Amara Betty Martin, Tyrue "Slang" Jones , Reginald Eldridge, Jr., aka RJ EL, Miguel Angel Rodriguez, Oscar Arriola, Rae Bees, Matthew Silva, Ricardo Gonzalez, Gloria "Gloe" Talamantes, Emmanuel White Eagle, Tissueart and Perpetual Rebel.
The Carlos & Dominguez Fine Arts Gallery is located at 1538 W. Cullerton St. Reception Saturday, 6-11pm.
5. Impossible Heat at Hidden Dog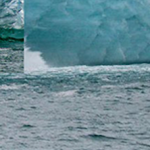 Work by Travis Krupka.
Hidden Dog is located at 2151 W. 21st St. Reception Friday, 6-10pm.