Having finished his speech to the visiting journalists, Christian Ringnes picks a beer from a large bucket of ice and retires to a chair. The bottle has his name on the label. And perhaps if it wasn't for his ownership of Norway's largest brewery none of us would be here. Indeed beer, and interests in restaurants and hotels, have allowed the Oslo businessman to amass one of the world's largest private collections of art. Just as they have allowed him to spend $70 million on the sculpture park that the UK press are here to see.
Ekeberg Park is on a hill to the East of the Norwegian capital. It commands views of the stunning modern opera house which sits on the edge of the nearest fjord. After lunch, Ringnes shows us round a few of his favourite pieces, a Dalí here, a Rodin there, a good showing from Scandinavia, a skyscape by James Turrell, a pavilion by Dan Graham. The philanthropist scrambles around the wooded hillside in suede shoes, oblivious to the drizzle, with evident glee about his collection. 
Some 40 miles north is sculpture park Kistefos, which is expanding at the same rate as Ekeberg. Two days after Ringnes unveils new work by Damien Hirst and the Chapmans, rival and friend Christen Sveaas, is cutting the ribbon on a monumental new piece of steel engineering by Philip King. The colourful arrangement of beams and struts may be symbolic of a family unit but there is nothing homely about its juxtaposition with the forested landscape of Oppland county.
Subsequent to the applause and the de rigeur gasps, the assembled crowd, comprising some of the wealthiest people in Norway, make their way to the complex of museum and gallery buildings for a charity auction. At this former mill, they are raising money for water supply in the developing world. A man from Sotheby's rattles through 49 lots while the guests drink prosecco and bid five figure sums, as if for fun. A smaller piece by Philip King goes for more than half a million Krone, almost $70,000. And when the final bid is sold, we are rewarded by a set from a local covers band.
Kistefos is another family business, an investment company which began life in the lumber business. Visiting their offices on the waterfront in Oslo, the contemporary paintings are wall to wall, all of them monumental. A suite of mirrored clouds by Tomas Saraceno has just been installed in the atrium. And the company employ a young man in an impeccable suit to direct the company's art holdings on a full time basis. We have been in Oslo for no more than 48 hours and already it is clear that wealthy collectors are thick on the ground.
A few hundred yards along the waterfront, Astrup Fearnley glitters in the sun: a private art gallery with a private beach. This space stems from a merger between two foundations, the founders of which both descend from shipping magnate Thomas Fearnley, born in 1841; his father, another Thomas, was one of Norway's preeminent Romantic painters and the family's chief love remains collecting art. Unprepared visitors may be surprised to find Jeff Koons' iconic statue of Michael Jackson and his pet chimpanzee has made it this far north.
Things get more unexpected in Asrtup Fearnley's temporary exhibition space. Here lie holdings by another magnanimous collector, Erling Klagge. This famous character has published his own book on purchasing art. It figures he is also a lawyer. You might just buy the fact he's a philosopher. But if you're not Norwegian, the fact that Klagge is a polar explorer to boot is fairly hard to swallow. No one in the UK is so adventurous and at the same time as discerning, as this additional Oslo player.
In short, the capital of Norway is rich and rich in art. There are collectors with money to spend, plus an educated audience with time to kill. At the Office of Contemporary Art (OCA) we even learn that, despite having less than a million inhabitants, Oslo has among the highest numbers of artist led spaces of any major city. As the National Gallery and Munch Museum move to larger premises in the city centre, they bring with them two versions of that famous scream. If Munch could see the city now, he might have had no complaints.
1. Rapid Pulse at multiple locations throughout Chicago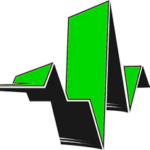 A multi-site performance art festival.
Performances occur at various locations. Rapid Pulse runs from Thursday 6/4 – Sunday 6/7 and Thursday 6/11 – Sunday 6/14.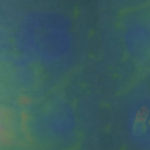 Work by Jillian Mayer.
Aspect/Ratio is located at 119 N. Peoria St. Reception Friday, 5-8pm.
3. Hard Heads, Sweet Knees, Forked Tongues at The Ukrainian Institute of Modern Art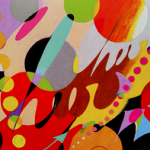 Work by Art Paul.
The Ukrainian Institute of Modern Art is locate at 2320 W. Chicago Ave. Reception Friday, 6-9pm.
4. Funeral Mountain at Kavi Gupta Gallery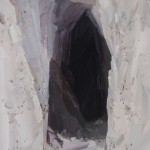 Work by Claire Sherman.
Kavi Gupta Gallery is located at 835 W. Washington Blvd. Reception Saturday, 4-7pm.
5. Negative Jam: Last Year On The Internet at Ordinary Projects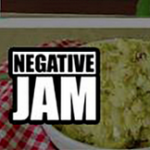 A project by Negative Jam
Ordinary Projects is located at 2233 S. Throop St. Reception Saturday, 6-10pm. RSVP on website.
Ed. note: This is the second in a four part series hosted in collaboration with The Ladies Almanack, a feature-­length experimental narrative film written & directed by Daviel Shy, based on the novel of the same title by Djuna Barnes. The second post of the series is by actor, Brenna Kail.  
---
It's been said, "one generally takes Loy – or does not – as one takes a vow". I believe she would find this most pleasing: the clarity within a simple statement that brings truth. I would describe Mina Loy as a truth seeker of sorts, not for her own satisfaction, but to pick up the lids of the world's sleepy eyes. The tone of her poetry is so matter of fact, like "how could you be alive and not see this world around you?" As Loy in The Ladies Almanack, I say lines like "Oh come on!" and "You know it…" Lines that stay true to her disposition. Daviel says she wrote these lines for me, but I think they are an elixir that we all are drinking. All of these characters/humans are opening ideas that have worn a tight lid for so long.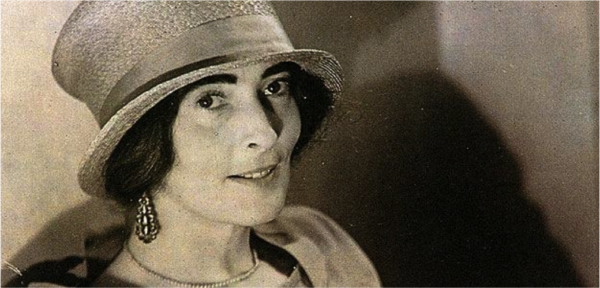 Mina Loy wasn't trying to make waves or ruffle feathers; she was being without effort. After all, this type of effort would be a waste. She could and would be no other. It was her nature, pure and simple, that created the disturbance she knew best. Mina used written words to sing her song. She belonged to a community, but I'm not so sure she really ever wanted to "belong". When you have a vision, or a sense of responsibility which drives you, it's difficult to see reasons for this type of need. Without effort, she attracted booming voices which exclaimed her convictions. She, herself, need not shout, when others did it so well.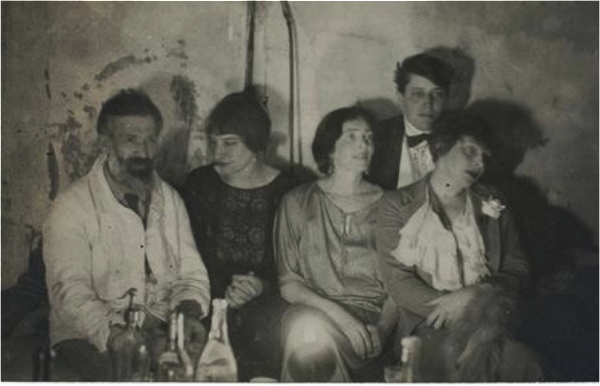 However much I wasn't looking for this doesn't matter, because it found me. Already feeling like an outlier among these self-identified "artists," could I cross over into a world which looked so different from mine? I honestly had made up mind beforehand that we wouldn't mix. I spend my days following rules, while this group is redefining them. I'm so used to having to plead my case first, before I am able to be understood. What I didn't know was that I was tired of this. I'm pushing and moving as well. I want to start from a mutual understanding. I had thought that this "pleading" was how I could make a difference. I realize now that communities are strong and forceful. Just being already there, together.
Filming in Paris awoke my desire to take support without judgement. When you forget this, it's easy to box yourself in and become protective of your desires. Instead, doors opened, minds questioned, arms curled, intellect was exchanged, energy was respected, beauty was expanded, life became pure. My host Welela's low lights, perpetually burning incense and purple sheets, became my home. I consumed, eagerly, the energy which showed me its face. The Ladies Almanack, Paris Edition, set the stage for me to evolve through these characters and humans. I rarely stumble upon unconditional support like this, outside of my family, who have set the bar high.
Am I representing this person? Am I this person? Is this Daviel's made up version of this person? My mother asks me these questions and I've attempted numerous answers. Each time disagreeing with myself as the words leave my mouth. I look up at my mother and see a tight-lipped, nodding head. My answer was incomplete. Finally, one day I overheard Daviel answer these same questions and it turns out the answer is "yes", to all.
What a relief.
It is a blend in which one could not do without the other. This may be a proper theme for The Ladies Almanack. I'm still figuring out how to blend these on film, though. It makes sense in my head, but we are still getting to know each other, Mina and I. I have learned that Mina needs me, and I need her, to make this relationship work. I wait with anticipation to see and feel us entwine during the upcoming shoots in Chicago. We all needed this and each other for so many crossed over reasons. When I think of Paris, I can still see the rainbow of energy bouncing among us.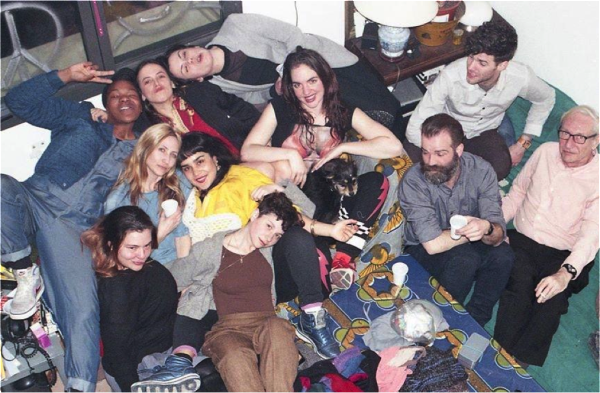 Well, last month's column was a little dark. What can I say? I was in a bit of a mood. I do stand, mostly, by what I wrote then: I'm pretty sure we're all fucked. It was pointed out to me, though, that it may only be awareness that is on the increase, not existential threats themselves. After all, things looked pretty apocalyptic when we Europe lost a quarter of its population to the Black Plague, and we made it through that all right.
If we are going to survive the next few decades, the next century, it seems pretty clear that some issues are going to need pretty immediate addressing. The two biggest threats to the survival of civilization as we know it are, I would argue, militant Islam (in the short term) and climate change (in the long term). Artists have addressed both sets of subject matter. The question, however, remains: can artists actually play a role in crafting a solution to the issues, or do artists merely document this moment in civilization's crisis without meaningfully altering the outcome?
I have written previously about the problems with political art: when too overt, too direct, it fails as art, falling into the role of propaganda, but generally lacking the mass media distribution of actual propaganda, it falls short of the goal of communicating a message clearly to large numbers of people. In some cases, politics may inspire a great work of art (e.g. Guernica), but the artwork doesn't change the world (the Spanish Civil War still happened). The question is, need this always be the case? Can a work of art actually have the power to alter the course of history, allowing us to avoid these potential threats to the world as we know it?
I have already written about the threat of militant Islam in a previous article, and so I think it fitting to focus here on a few artists who deal directly with environmental themes in their work, and who might stand a chance of making an impact on the world.
Jenny Kendler's work routinely addresses the idea of engangered species. Very often this subject matter manifests itself as aesthetically beautiful images or objects, quite successful as art objects in and of themselves. The question remains as to whether these images or objects can do anything to save the creatures so endangered. In most cases I am skeptical of their influence, but in at least one case, Jenny found a way to engage viewers/collectors in the actual building of awareness with regard to an endangered species.
In February 2012, I attended the College Art Association conference in Los Angeles, where Kendler told me about an event she was involved with, In A Landscape Where Nothing Officially Exists, at UnSpace Ground. This was situated in the outdoor plaza in front of the Los Angeles Convention Center, where CAA was taking place. For this event, eight artists and one biologist collaborated to create 35 art works representing endangered species living in southern California. In order to spread awareness of the endangered status of these organisms, viewers were invited to sign up to take custody of a work of art, in exchange for a commitment to learn and care about the species represented, and to reproduce or represent the artwork online. I wrote an article as my fulfillment of the pledge that I took on that day (this paragraph is a condensed extract from that article). The format ran something like a silent auction, with viewers selecting the work and species they wanted to care for, and signing up on form. As the event unfolded, Jenny announced each species, artwork, and its new caretaker, auctioneer-style. Both Stephanie Burke and I took custody of pieces by Jenny Kendler, a friend of ours whose work we have admired for a long time. Kendler's work frequently addresses issues of ecology and conservation, but what I've always appreciated about its soft, quiet beauty, which has always reminded me of the animated film The Last Unicorn. This delicate aesthetic carries through her drawings and paintings, her sculptures, and makes an important subject palatable, avoiding any possibility of being called shrill or preachy. It is pretty with a purpose.
Kendler's contributions to In A Landscape Where Nothing Officially Exists were rendered in graphite and watercolor on little circles of paper, which were then mounted on vintage ribbons, like one might get for Best Pig at the county fair. They are similar to, although I believe separate from, an installation called Selection: 23 Endangered Species, executed in the same medium and also mounted on ribbons. Stephanie took custody of Muntz's Onion, and I went for the Southern California Steelhead Trout.
This project, unlike most environmental art, required viewers to actively engage in the issue of endangered species, not merely to gain an awareness themselves but to share that awareness with others.
Another friend of mine who makes work addressing environmental themes is Osvaldo Budet. Osvaldo is a Puerto Rican artist who has, in his recent work, been specifically interested in the warming of the Arctic. He discusses this at length in the artist statement on his website:
Beneath the scenic surface of this frozen landscape lies another history rooted in human exploration and exploitation. European explorers, sailers, hunters, fur trappers and whalers used these shores for riches as early as the 17th century. But the Arctic wilderness is also rich in natural resources and has long been dotted and scarred by coal ming communities and structural remains. Through these lands, above and below the surface presents a remarkable story of twentieth century man's struggle against the elements and our present technocratic society's challenge to fathom the speed and implications of this changing place. In conjunction with the 'Alfred-Wegener-Institut für Polar and Meeresforschung' and the 'Hanse-Wisseschaftskolleg Institute for Advanced Study', I embarked on a month long expedition as artists in residence to the 'AWIPEV-Koldeway Station' Arctic Research base in Ny- Ålesund, Svalbard. Here I lived and worked with the community and the scientists working there to respond to the physical and political dimensions of the changing polar environments stressed by profligate human activity. Using the mediums of painting, photography and documentary film making I used this white stage of the Arctic to explore the idea that the landscape is a construct or reflection of our culture and interests of the system we inhabit. I photographed the visible scars and human impact of the landscape with the intention to then construct a 'new reality' in the studio and artificially 'clean' and change the images to create vistas that encompass the beauty of the wilderness we may expect to find in this region. By digitally eliminating any visible human activity in the landscape I aim to question the the social and political implications of our technocratic societies management of our resources and lands in such fragile part of the world. These fictitious places I create in my photos are imaginary vistas of grandeur and serenity; the ideal Arctic which we project in our collective memory and expect to find there in the flesh. In opposition to these romantic looking photos, my simplistic graphite line drawings of out of place and awkward structures and people, dwarfed in white space of the sheet of paper describe exactly that which has been eliminated, void or missing in the photographs. These drawings record the missing human dimensions of the photos and all at once the graphite and ink drawings point to unreal looking situations and an even stranger reality. Playing with reversals of imagination, construction and elimination these photos and drawings invite us to discover contradictions and connections, continuities and breaks which are a contradictory experience to the harsh reality of the places I seek to evoke.
Osvaldo's partner Shonah Trescott works with similar themes at times, and the two have collaborated on several pieces including the artist residency that involved an expedition to the Arctic. Their work generally fits the traditional gallery model in which artists makes commodities for wealthy collectors to purchase, and therefore while inspired by and based on a vital environmental concern, the works themselves may not reach a wide enough audience to alter the course of climate change. (That being said, Osvaldo is fairly well recognized internationally, and his prominence may bring some additional attention to the issue.)
However, Osvaldo has also worked in documentary film, and he and Shonah were the subjects of a BBC short documentary called "Drawn Into The Light."
The documentary film 'Drawn into the Light' follows the artists Shonah Trescott and myself on expedition to the high Arctic to live and work for a month in the most Northern Settlement of the world. Featuring interviews with the artists, international scientists, policy makers, builders, researchers and ordinary citizens. The film asks, "Who is allowed to shape our landscape, and what are the criteria for these decisions? Questioning the well-documented concerns that we are in the throes of a climate crisis that threatens life on Earth as we know it. I delved into a world of ice and snow, to tells a story woven in ice, revealing the heavy human ties which bind us all with this fragile region of the world.
Documentary film is an excellent medium for activism, and by its wider distribution may reach audiences that the artworks themselves do not.
A final artist I would like to mention in closing is Grant W Ray. I wrote about his 2010 exhibition at Spoke in my former project, the Chicago Gallery Snack Report at Art Talk Chicago. Ray's piece in which viewers were invited to attempt to clean pieces of coal with a toothbrush and soapy water was hilariously Sisyphean, and made the point (that coal will always be a dirty fuel) in a fun, playful way.
Despite my earlier doomsaying, there are some artists who see the problems facing humanity in our future, and are not dismayed, but rather encouraged, in that they see the situation as being resolvable with sufficient effort. These artists are making work that is not only based on environmental concerns, but represents a real effort at working towards a solution.
David Weinberg Photography
Chicago, May 22 – July 25, 2015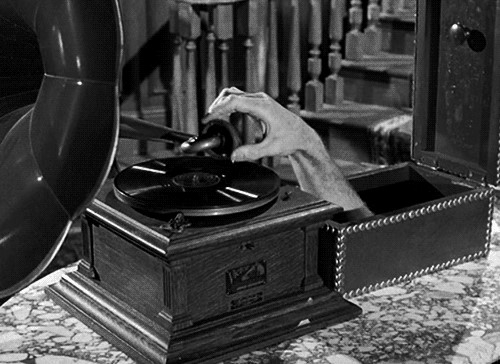 The savvy title caught my attention. The Reader's wording in its art listing, "group show about the experience of living with poverty," was even more curious. Was the description referring to works about the artists' own cash-strapped lives? I made my premier visit to David Weinberg Photography in River North without advance review of the gallery's website or An Invisible Hand press kit. It was a cold call.
The show's curator Meg Noe greeted me and then I talked with gallery owner David Weinberg. With its white walls, creaking wood, and bright lights, the gallery seemed like others in the neighborhood. It didn't take long to figure out that this gallery marches to a different beat. That is, Mr. Weinberg told me that last year the gallery began to collaborate with local social justice organizations when mounting exhibitions. The collaborators develop shows that serve as catalysts for creative thinking and critical conversations about serious issues.
Two such exhibitions preceded this one. Try Youth as Youth, a collaboration with the American Civil Liberties Union (ACLU) Illinois brought together work by artists committed to changing the juvenile justice system. We All We Got exhibited Carlos Javier Ortiz's installation of photographs, essays, and letters in collaboration with Art Works Projects for Human Rights, the Pulitzer Center on Crisis Reporting, Latitude Chicago, and ACLU Illinois. It acquainted audiences with the realities of youth violence and its impacts on the lives of individuals and communities. The gallery also hosts Filter Photo Festival, an annual juried exhibition of contemporary photography.
An Invisible Hand is a collaboration between the gallery and Sargent Shriver Center on Poverty Law in Chicago. Poverty fuels human suffering and art about poverty is an ethical minefield. Contentious issues abound, such as the politics of photographer, subject, and framing and varnishing poverty with aesthetics. The Shriver Center is exceptionally trustworthy in matters relating to poverty. It has earned this trust by decades of work in solidarity with people of all ages, colors, shapes, and sizes who struggle with "the experience of living with poverty"—whether it has to do with hunger, education, healthcare, childcare, unemployment, wage theft, usury, transportation, housing, clean air and water, violence, mental illness, civil rights, crime, police, jails, lawyers, prosecutors, judges, penitentiaries, probation and parole officers.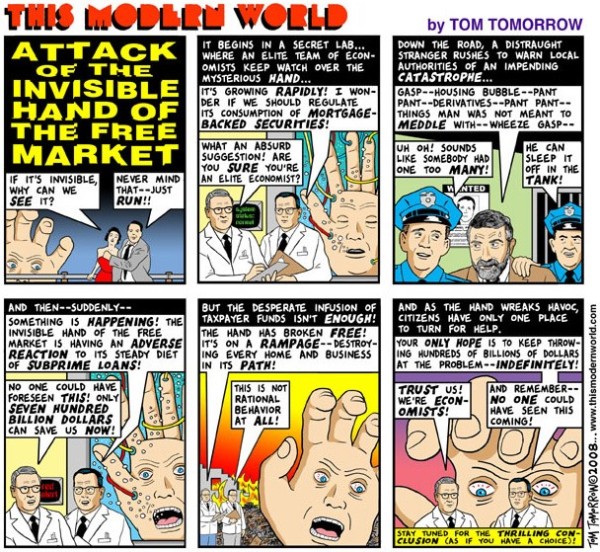 An Invisible Hand isn't an exhibition for the art-for-art's-sake crowd. Let's start with the title since its provenance isn't universally known. The expression predates cartoonist Tom Tomorrow's twenty-first century Attack of the Invisible Hand and Invisible–Hand–of-the-Free-Market Man. In fact, it dates back to the 1700s and Scottish moral philosopher Adam Smith.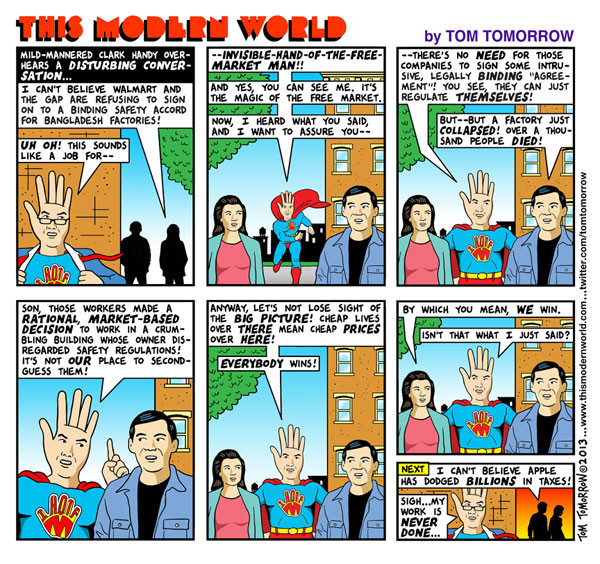 One of the places Smith invoked the hand was in his magnum opus Wealth of Nations: "Every individual necessarily labours to render the annual revenue of the society as great as he can. He generally neither intends to promote the public interest, nor knows how much he is promoting it … He intends only his own gain, and he is in this, as in many other cases, led by an invisible hand to promote an end which was no part of his intention. Nor is it always the worse for society that it was no part of his intention. By pursuing his own interest he frequently promotes that of the society more effectually than when he really intends to promote it. I have never known much good done by those who affected to trade for the public good."
Like the legendary philosopher's stone that transmutes base metals into gold, Smith's invisible hand of the free market transforms a nation's cacophony of competing self-interests into prosperity. Ever since his formulation, economists, historians, politicians, and cartoonists have been conjuring their own invisible hand.
An Invisible Hand artists (96 Acres, Patricia Evans, Jeremiah Jones, Dave Jordano, Lisa Lindvay, Billy McGuinness, John Preus, David Schalliol, and Lisa Vinebaum) create works based on their explorations of lives shadowed by hardship and need. Whether approaching their subjects as an insider or outsider, these artists aren't voyeurs. Their work doesn't equivocate. Living with poverty or hand-to-mouth, being underprivileged, poor, or broke, sleeping rough or being homeless: whatever it's called, doing without is a hard way to live. Jeremiah Jones's The Information is a montage of fourteen YouTube videos by people vlogging from the fracked up boomtown of Williston, North Dakota. Wal-mart looms large. Its sprawling parking lot doubles as a campground for migrants who sleep in their vehicles. On a dim winter morning one logger from Kentucky explodes in response to online comments asking for more information about Williston: "This town is hard. The whole fucking town. Everywhere, everywhere, everywhere. Everywhere."
Photographers Patricia Evans, Dave Jordano, Lisa Lindvay, and David Shalliol tell stories about excessive scarcity and tribulation, about dignity and wit. Time too is a subject of their photography. Snapshot-like photographs freeze moments, but taken together they depict the constancy of change and fallibility of progress. Portraits showing individuals older than their years make visible the ravages of hard times. Yet portraits of other individuals echo can-do optimism.
96 Acres, a collaborative ethnographic investigation and intervention that's led by Maria Gaspar and deals with life in and around the Cook County Jail is represented here with audio stories and zines. The installation civics 101 / homeopathy invites visitors to take a seat and engage with 96 Acres. Cast off furniture of Chicago Public Schools and other found objects are the raw material for civics 101 and other works by John Preus and William Fitzpatrick. Exquisite woodworking, sensual surfaces, and whimsy induce looking, touching and use. Like children's playground laughter or an aromatic balm, the curves and luster of the wooden objects ease the angst pervading the show. The beauty and solidity of these compositions of salvaged materials are reminders that once upon a time things like furniture were built to last—and that making remnants into new things is as much a creative and a political act as surveying Cook County Jail's 96 Acres.
Billy McGuinness's three works (foot traffic on canvas) are visceral encounters with mark-making by people in places where poverty is the norm. McGuinness placed the canvases on the floor at a homeless shelter, soup kitchen, and underground passageway between Cook County Jail and the Criminal Court Building. The canvases look like a gritty urban sidewalk and slyly invoke the canon of abstract painting.
David Weinberg Photography's new direction is a boon for artists, social justice activists, and art audiences. Artists and collaborating organizations split proceeds of sales; exhibition programming brings new audiences to activist art and social action; and new ways of envisioning life and art come into view. Keep this gallery on your radar.