I went to a holiday market over the weekend. I had a wonderful time, talking with friends, seeing their new work, purchasing a few items, but the market itself has stuck with me, has left me feeling uncomfortable, cold, and alone instead of gathered with a community of makers, together in a world we shape.
It is easy to think of the art market as a painting that sells for hundreds of millions of dollars, blue chip galleries, and the spread of art fairs. The reality for most people in the creative economy is, of course, far more mundane and precarious. The objects we see and buy at markets are supplemented by the work in and out of the creative economy that most artists must do – teaching, curating, arts administration, waiting tables. The proliferation of markets – seasonal markets, local business Saturday, the internet – has increased our ability to support artists and live with the unique items they produce. I love being able to buy beautiful objects from the people who have made them, yet this readiness, this instantaneous access to the local, unique object is exactly where my uneasiness lies.
The hand-made, bespoke, curated life has, not surprisingly, been turned into marketing opportunities for corporations who can sell them back to us conveniently, at the tip of our fingers. They show us a world full of just the right lamp or rug or coaster or pitcher or plant arrangement; they shape the visual culture we cannot escape in subway ads, internet banners, and instagram feeds; they give us a world full of things to be consumed. The unique, curated life masks middle class consumption, an artistic patina that coats the same marketplace that has driven us to extract oil from the ground at ever-expanding rates, lay now-abandoned railroad tracks across the globe, and develop ships and exploitative supply chains that make it easier to manufacture a shoe halfway around the world from its wearer.
By no means am I suggesting we should not support local artists, artists we know and whose work we love. We should buy their plates and prints and sweaters. We should attend their performances and readings. We must also recognize that buying one of their works is not enough to sustain them and may in fact perpetuate a cycle of subsistence. We all know artists who make a living, but how many artists do we know who are thriving? The solution must go beyond shopping locally. Capitalism's tools cannot dismantle the house it has so successfully and seamlessly built.
How can we support all of the artists, farmers, and dancers we know beyond giving them money for goods and services? How can we shape a world more fully equal and just? We can begin by acknowledging and honoring the many types of support we all need – a friend holding our baby, a neighbor lending us a tool, a ride to the grocery store. We can recognize that, although we live within it, capitalism does not shape or underlie all of the many types of support we give and receive. We may already have the tools to rebuild an entirely new way of seeing and living in the world. We may not yet be able to topple the stalls in the market, but perhaps we can fashion a raft in the sea of consumption that threatens to drown us all.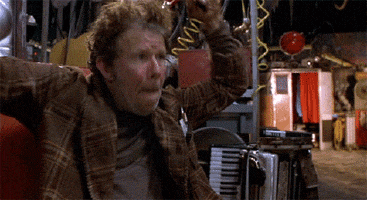 Sportster.
It is that time of year again where we think back on all the great experiences and maybe not so great experiences we've had this year. We do so with gratitude for the learning and thanks for the love and it is with those two ideas in mind that we humbly suggest that you consider supporting these two great endeavors.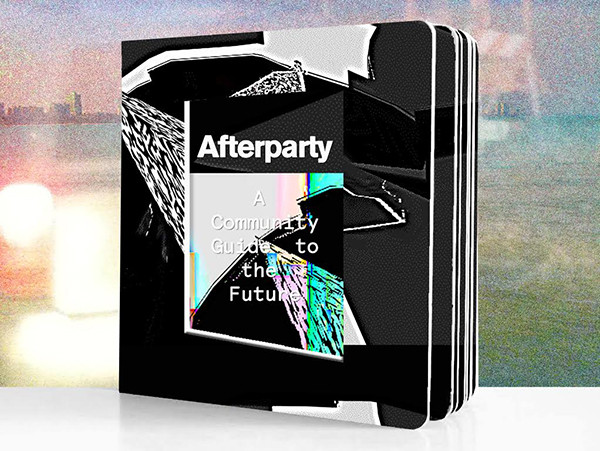 The second is a fundraiser for one of the city's favorite culture halls. (Also, the one that
Duncan (and Christian Kuras)
did a solo show with earlier in the year and published a
book
with. So, it's really no surprise that it's one of his favorite culture halls in the Chicago.) Home to artists, poets, book clubs, a bar, and performances. it is bound to be a fantastic event and a great opportunity to pick out some outstanding work. Including a recent work by our own Duncan Mackenzie. But we are not telling which works we're super interested in picking up you have to be there and find out for yourself.
from Sector and the GL…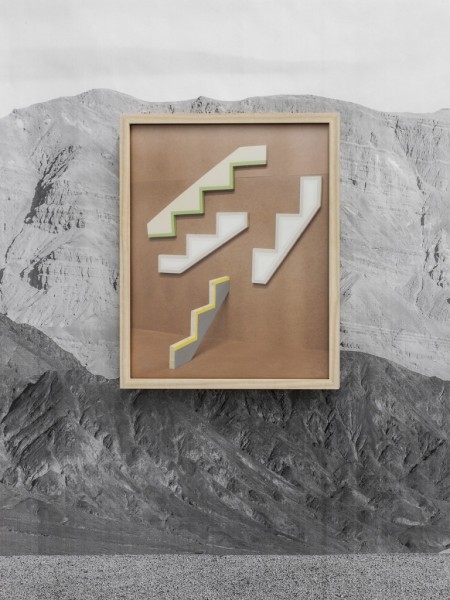 This

Saturday, December 12th

, is a fundraiser for The Green Lantern Press, a nonprofit I started in 2005. At the time, it was easy to turn a loft apartment into a gallery and, with the help of a lot of friends, start publishing books. Since then the organization has grown into something more formal and deliberate. In 2007 we got nonprofit status and just last year found a permanent home at Sector 2337, a newly rehabbed storefront bookstore/bar in Chicago's Logan Square. The press continues to publish books, produce exhibitions, and organize regular public events at Sector with visiting and local poets, artists, and intellectuals. It is a vibrant place and I feel incredibly fortunate to be a part of it. (To see what it looks like, go here.)
In all of its endeavors, The Green Lantern Press platforms a rich, multi-disciplinary discourse full of free public events that encourage intellectual and cultural discussion in a non-institutional setting. Within that model, it is nevertheless committed to paying contributing artists and authors — a goal made possible with help from our audience and community. I'm sure you're fielding any number of requests like these this time of year, but your support would mean the world.
Consider—
Despite its ten year commitment to art, literature, and publishing, this is the first fundraiser the GLP has had in seven years, and only the second fundraiser in the history of the organization. With that in mind…
We hope we can all find ways to support these two great endeavors.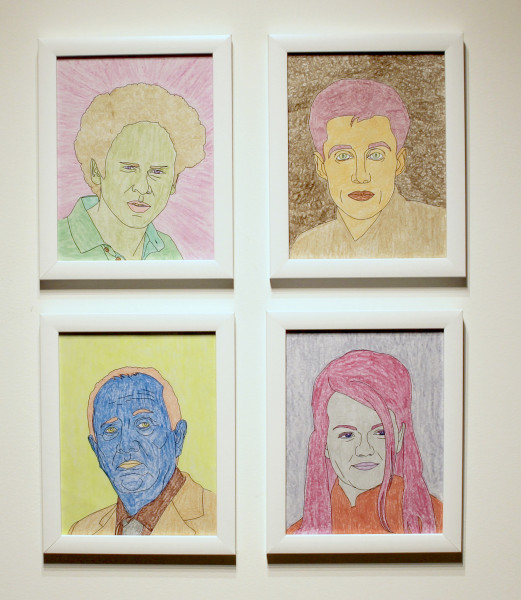 and frankly without the GL you would never have been treated to this magical spinning Marx Head by Christian Kuras and Duncan MacKenzie…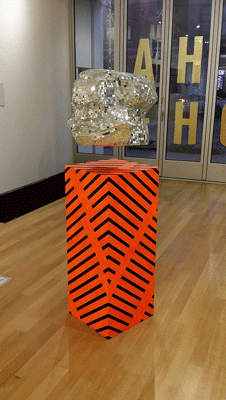 by Jessica Cochran
In her recent memoir poet laureate Elizabeth Alexander wrote of her deceased husband, "he left us with his eyes on the world." He was a painter.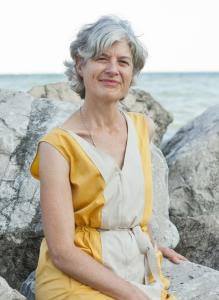 Deborah Boardman (1958 – 2015), who once described herself as a "painter and…" worked in Chicago for nearly three decades. We saw her "eyes on the world" through solo exhibitions at the Gahlberg Gallery at the College of DuPage, the Chicago Cultural Center, Ebersmoore, and, most recently, the Experimental Sound Studio to name a few that were local. There were many more nationally and abroad. An educator at the School of the Art Institute of Chicago since 1997, she influenced hundreds of artists, some of whom became her collaborators.
Deborah worked across painting and drawing, installation, writing, environmental sustainability and sound/video, and she often employed dowsers to "map" her installations. Through it all, she became known for her approach to color, pattern and poetic text as vehicles for emotional content and narrative potential, as well as a uniquely gestural approach to mark making and hand lettering. Years ago, Deborah was of the first Chicago-based artists I discovered utilizing the bookform in a way that I found captivating. And as critic Lori Waxman wrote recently, newer work addressing her struggle with cancer grappled with the unseen and ineffable, articulating "what life looks like in that gracious limbo between life and death."
Testimonial after testimonial gives evidence that Deborah's "fierce," visionary and "generous" creative ethic was not confined to her artworks, but also it governed the lived spaces of her life as an educator and collaborator: there are the students she engaged as her studio interns and treated like family; the friends with whom she sang joyfully in her living room and purposefully in the gallery; there were the women artists' reading and figure drawing groups in the early 1990s; a spectacular dance party at Oxbow; "meaty" collaborations over years and years, and the concurrent friendships that burned slowly and brightly; pivotal residency and art-making trips to India to learn things like Vastu and develop exhibitions like Magic Mountain at Bangalor and Rooting: India with Akshay Rathore and Tricia Van Eck for the Kochi Biennale. Morning walk after morning walk to Albion Beach with her beloved dogs. The students she taught to write grants, not to "overpaint" and to make artists' books. The yoga, meditations and gurus: she was a Catholic child turned seeker, spiritualist.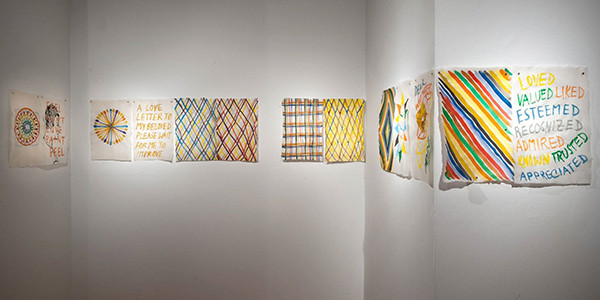 Perhaps the sum of the many, many contours of Deborah's art-making life is this: in each studio visit was an implicit gift; embedded in every syllabus was an invitation; in each collaboration an emergent provocation; and in every artwork a public offering, a lesson.
My relationship with Deborah grew over six years or so through some group shows I curated, periodic studio visits and friends in common. But was in the last eight weeks of her life that she, her family and close (and by close, I mean indescribably loving) friends invited me into the more intimate dimensions of her life to begin to do the curatorial work of considering her oeuvre, to embark on a deep engagement with her work in order to develop a retrospective exhibition down the line. To begin to locate the magnitude of her influence, position her output within a broader historical and social context, and to understand the genesis of her work over decades—is a project I am coming to understand through a new and fascinating curatorial lens and as my own biggest collaboration with Deborah.
Deborah worked through her final days of treatment and hospice—finishing her memoir, setting into motion plans for a new sound installation and making her last exquisite painting with the help of those at her bedside. By all accounts her fervor was punctuated with wit and that inimitable smile.
In an artist's book produced for a recent exhibition at 6018 North, Deborah wrote: "Xavier Le Pinchon, a plate tectonic expert, suggests that fault lines, the open spaces between the plates in the earth's crusts are… analogous to human frailty. Because we are vulnerable, we find it necessary to depend on others for survival. It is through our vulnerability that we bond with others and thrive."
Deborah's work had many facets, but it is her brave articulation of her own perceived faults, frailties and vulnerabilities—her commitment as an artist to learning in public—that will demand of us and viewers of her work for years to come a deep reciprocity, a Deborah-like generosity. Through these exchanges—made possible by the "work" of her artwork—she will live on and her ideas will continue to shape the world in meaningful, collaborative ways.
There is a palpable disjunction between the experience of Howardena Pindell, Pindell's stunning solo exhibition at the Spelman College Museum of Fine Art, and its representation in the following words and photos. Beyond the ways in which photographs cannot capture the minute detail inseparable from the immense scale of Pindell's work, the exhibition builds a complex understanding of a way to view her work that draws us in by asking us to look deeply and closely at and beneath its surface.
It is easy to overlook a grouping of six, small works, hanging in one corner of the gallery, washed by Pindell's voice from Free, White and 21 and dwarfed by the large-scale paintings from the Autobiography series that dominate the space. These works speak with a sure voice and power of their own, and they compel and reward close looking. The regularity of the grids of Parabia Test #4 seem disrupted by the paper dots across and beneath the sheets of vellum, but the deliberate, drawn gestures across the tiny circles anchor them in their places and reinforce the depths plumbed beyond our sight. Untitled, 1975 explodes with and centers color. The layered, reversed, and obscured words of Text resist an easily read comprehension, making explicit the ways in which collage buries meanings, fracturing understandings we assume we know.
The intimate gesture – ink on paper, hole punched paper within paint, words spoken with deliberate calm, canvas ruptures sutured – is central to all of Pindell's work in this exhibition. The staggering beauty and power of Pindell's work has been built slowly and deliberately through these gestures, and those gestures demonstrate the futility of easy comprehension, the impossibility of walking away from the exhibition with a fixed understanding of Pindell and her work. We must match her accumulated, repeated gestures with multiple viewings, with re-seeings that slowly accrue and reveal meaning over time.
Ultimately, these words cannot do Pindell's work justice. There will always be more to learn from Pindell's work just as there will always be more to learn within this world. Pindell's first solo exhibition of paintings and drawings was at Spelman College. Thankfully, in specifically re-presenting Pindell's work here, this exhibition asks us to re-view that work and re-see that world. Fortunately, this exhibition reminds us that we will not find a just and equal world, but perhaps we can build one through small, intimate gestures.
I will continue living with Pindell's work, the small gestures that built those works and the larger gestures of her career, and I will heed the call to re-see the world, to watch the news for what it does not say, to view the world through which I live as a series of negotiations of power, privilege, and inequity, to work to reveal and realign my place within that world.
Howardena Pindell is on view at the Spelman College Museum of Fine Art through December 5, 2015.
Many of us have at least once known the feeling: Am I being too loud? Am I yelling right now? Can everyone hear me chewing? Is the sound of moving my chair along the floor driving everyone else into a steaming rage? You pull out your headphones or look up from your work and glance around, anticipating dirty looks from officemates or strangers. Our sense of sonic etiquette is based in substantial part in the assessing of external responses to our behavior. But imagine now, if it requires imagining, that you have never been able to hear yourself. That your sense of which sounds are too loud or too soft, which sounds are good and not good, which sounds are deemed appropriate for which situations, has been determined by the reactions and standards of people whose experience of the world is radically different from your own.
Christine Sun Kim is a sound artist who has been deaf since birth, and who uses the medium to question "the ownership of sound". She uses myriad forms (performance, drawing, painting) to explore her relationship with sound and its role in social behavior and spoken communication. Earlier this fall, I had the delightfully grating experience of Kim's Fingertap Quartet at Links Hall, presented by Illinois Humanities. Fingertap Quartet engages with the social valuation of sound through a play on Harry Roseman's contribution to Draw It With Your Eyes Closed: The Art of the Art Assignment. Replacing Roseman's use of "a work [of art]" with "a sound" yields the quartet of prompts in the piece:
1. A sound that you like and think is good.
2. A sound that you don't like and don't think is good.
3. A sound that you like, but suspect might not be good.
4. A sound that you don't like but have to admit is good.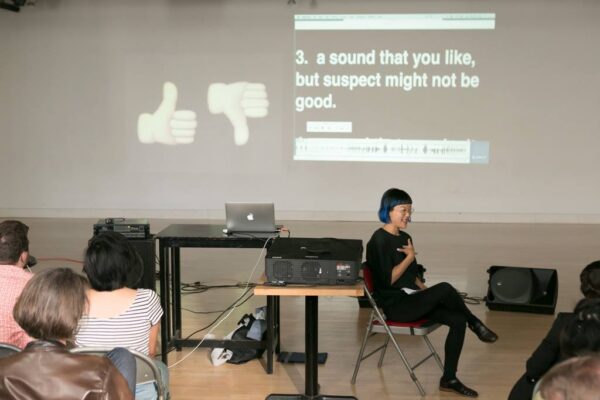 Christine Sun Kim. Photos by Claire Britt, via Illinois Humanities.
Just prior to the performance, I had the opportunity to participate in a Master Class with Kim and Danielle Linzer (Director of Access and Community Programs for the Whitney Museum of American Art), as a part of the Elective Studies series. (If you aren't familiar with Elective Studies, it's a fairly new and truly special bit of programming from Illinois Humanities that provides unique educational opportunities for artists. I heartily recommend keeping an eye on it.) Kim's professional practice is somewhat two-pronged; in addition to her personal art practice, she is also an active educator. Kim and Linzer have been working together for years on something called The Vlog Project, a video series created by the Whitney Museum to provide inclusive access to contemporary art. The videos feature a mix of American Sign Language and visible text, and Kim and Linzer have been experimenting throughout the process to find the right blend of techniques to yield the best results. In addition to hosting the master class, Illinois Humanities also worked with Kim, Linzer, Jennifer Hart, and Matt Dans to film two new vlogs in Chicago, which should be available online soon.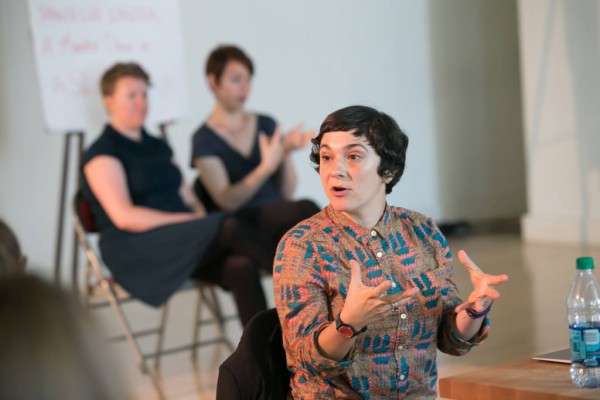 Danielle Linzer.
These vlogs are also certainly accessible to hearing viewers, and are listed amid other content on the Whitney website, so while they are searchable under the "Access" tab, they can also be stumbled upon by visitors to the site. More than merely comprehensible to a hearing audience, they are interesting to watch, providing information not only about a specific exhibition or artwork, but also giving a glimpse into the personality of the individual, and the unique expressive qualities of ASL. For example, in this video, Kim discusses the Whitney exhibition Singular Visions, with particular attention to Paul Chan's 2005 piece 1st Light. You can really see here, especially in her description of the exhibition layout, the spatiality of ASL.
The master class was largely a discussion of best practices and lessons learned as they've developed this initiative. The range of attendees was fairly broad within people working in the arts and/or accessibility, including representatives from large, established institutions like the MCA to more DIY endeavors like the Chicago Home Theater Festival, as well as individual artists and professionals. Perhaps more importantly, the range of familiarity with Deaf culture and access initiatives was vast. Some of us knew little beyond perhaps the ASL alphabet and a general awareness that ableism is an issue in the art world. Some were professional ASL translators, some were deaf artists, educators, and other professionals.
While the class was at times a bit dry for someone already somewhat experienced in video, and not necessarily planning to generate this specific kind of content in the future (which was, after all, what everyone was there to learn to do), this was a really illuminating experience. In addition to providing me with a bigger picture understanding of Kim's practice, the workshop allowed me to witness conversations around the culture and concerns of certain deaf individuals and of Deaf communities as relates to media production. For example, content created by hearing people for deaf people can sometimes miss the mark on how much visual information is occurring at once. A one-shot video of someone standing still signing in front of a single image or blank background feels like a dry PSA, but a video with signing, captions, infographics, jump cuts, and other complexities may be too dense to really be absorbed. (Which isn't to say hearing people creating content for hearing audiences don't often hit the same stumbling block.) It was getting the sense of the personalities and interests of particular individuals in the room, however, which contributed most to my appreciation of the performance afterward.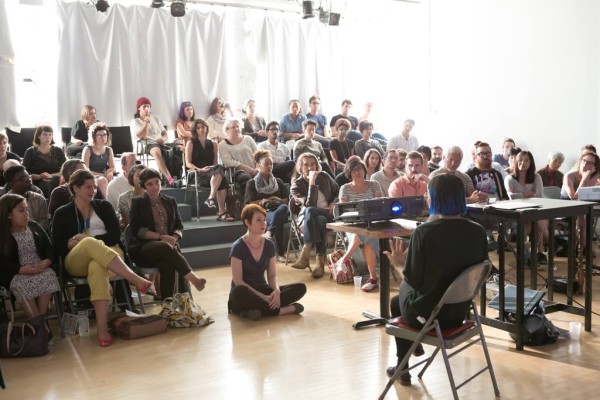 Kim, smiling at you from behind a laptop, begins Fingertap Quartet by addressing the audience without the use of ASL or an interpreter, as you watch her typing and scrolling projected live behind her. Her voice–her unique personality in communicating–comes through clearly in the timing of her typing, her facial expressions, her sense of humor. She introduces you to the project, explaining the four prompts that led her to create the Quartet. The sound files within the performance were created through collaboration with Dev Hynes of Blood Orange, (another compelling artist, whose media presence often engages with other activist issues). Kim used her voice, transducers, and recording equipment to create audio recordings, as well as textual descriptions to use in working with Hynes on the compositions.
When we were seated, a section at the front to one side was reserved for audience members who would need ASL interpretation. This was not, however, a simple facilitation of access, but a fundamental part of the performance. As each of the four sound sequences was played, the hearing members of the audience experienced a high-volume audioscape of Kim's good and bad sounds. ("Sorry!", Kim typed after seeing me put in my ear plugs–not to keep the sounds out, but to reduce them to a volume I could more comfortably understand. My hearing difficulties are the self-imposed result of youthful foolishness and noise bands.) The deaf members of the audience, however, had a totally different experience. Kim sat near them, and held an animated conversation in ASL about (I think) what kinds of experiences she was alluding to in her texts and recordings. There are sounds that are pleasing to make, but seem to bother the people who hear them: a sound that you like, but suspect might not be good. I found myself bouncing my attention between the sounds and attempting to understand snippets of the conversation, several of the participants of which were people I had spent the prior hours with, but now without the intervening speech of the interpreter. Despite my understanding of facial expressions and body language, and a slight familiarity with the conversationalists, this was something I could not be a part of. This was not something I could even fully comprehend. This part was not designed for me, just as the auditory part of the performance was not designed for some of the others. But all parts were necessary for the event to take place.
After all the dialogue about inclusivity, about how to invite larger populations into something shared, here was a great example of the power of having totally different experiences running parallel to each other as a part of the same piece. We all could see the visual representation of the sound file, the peaks and valleys of the .wav as we moved along its timeline, and could read Kim's typed text, but for much of Fingertap Quartet each audience member was on one of a few possible tracks. Not everyone was at an identical performance, but I suspect the salience of that fact was a part of all of them. The sounds were certainly not all sounds most people would like, and the inability to access an aspect of the performance was potentially frustrating, but the overall experience was challenging in a pleasing way. An attempt to categorize it into one of the four prompts brought me to this compromise: A sound you don't like, but that you enjoy.
Experiences are always tempered by the bodies in which they occur. Sometimes an increased awareness of this fact results in efforts to produce content that can be accessed by a larger percentage of those bodies. Another approach, as found here, is to create work that weaves those very difference into the fabric of the art itself.