Friday, October 23, 2015
 to 
Thursday, November 12, 2015
Opening Reception: Friday, October 23, 6 – 9 pm
The Chicago Artists Coalition is proud to present Nitty Gritty, a HATCH Projects exhibition of new works by Alejandro T. Acierto, Kayla Anderson, and Blair Bogin, and curated by Sadie Woods.
Nitty Gritty features artists who examine the modus operandi of ritual, preservation, and paradoxical longings through sculpture, sound, photography, video, and installation. Through these works, concerns of the social, ecological, and alternative practices come to light.
Exploring the significance of the human voice as a communicative tool, Alejandro T. Acierto considers narratives of marginalized identities and histories through the use of breath. As a play on futuristic archaeology, Kayla Anderson stores organic objects in acrylic reliquaries as a speculation on the contradictory practices of environmentalism and preservation. Blair Bogin generates documentary-based combinations of photography, video, and writing with a series of interpretive astrological charts, where esoteric divination meets folk psychology. In this work, Bogin narrates her life to accentuate individual characteristics with poetics, humor, and an aptitude for expression.
Acierto, Anderson, and Bogin query notions of community, survivalist cultures, and identity formation in the exhibition, Nitty Gritty. You are cordially invited to attend the opening reception on Friday, October 23 from 6 – 9pm. Participating artist Blair Bogin will host her monthly Wax Long, a full moon storytelling event, at the Chicago Artist Coalition on Monday, October 26 from 7 – 9pm.
WAX LONG / Hunter's Moon (in Taurus)
A night of bare hands, blood and blades for food, recreation or trade under full HUNTER'S MOON. This month featuring scary tales and performances by local artists, acrobats & unexpected apparitions.
Gathering in various apartments, venues, urban farms and parks around the city of Chicago, Wax Long invites the community to share personal stories, found folklore or performances that coincide with the seasonal themes of the full moon. If interested in ever hosting or telling tale, email waxlongstorytelling@gmail.com
---
ARTISTS BIO
Alejandro T. Acierto is an artist and musician working in time-based media.  He has exhibited his work at the Film Society of Lincoln Center, Issue Project Room, Participant, Salisbury University, SOMArts and presented performance works at the Brooklyn International Performance Art Festival, Center for Performance Research, Center for New Music and Technology, and Slingshot Festival for Music, Art & Technology. Acierto has held residencies at Skowhegan School of Painting and Sculpture, Virginia Center for the Creative Arts, Banff Centre, and High Concept Laboratories. He is currently a 2014-15 HATCH Projects artist-in-residence and a 2015 FT/FN/FG Consortium Fellow at the University of Chicago. Acierto received his undergraduate degree from DePaul University, a MM from Manhattan School of Music,  an MFA in New Media Arts from University Illinois at Chicago, is a recipient of the Kranichsteiner Musikpreis at the Darmstadt Festival for New Music, and founding member of contemporary chamber orchestra Ensemble Dal Niente in Chicago.
Kayla Anderson is an interdisciplinary artist and writer. She received her BFA with dual emphasis in Film, Video, and New Media and Fiber & Material Studies in 2013 and her BA in Visual and Critical Studies in 2014 from The School of the Art Institute of Chicago. Her work has been exhibited in venues throughout the United States and abroad including Currents International New Media Festival, West Virginia Mountaineer Short Film Festival, Regis Center for Art,; Detroit Center for Contemporary Photography, Grey Projects, N?i Projects, Johalla Projects, Tritriangle, Woman Made Gallery, The Nightingale Cinema, and the Museum of Contemporary Art. Her writing has been published by Leonardo Journal & MIT Press and presented at SIGGRAPH 2014, SIGGRAPH 2015 and the Interdisciplinary Humanities Center at the UCSB. Anderson is a 2014-15 HATCH Projects artist-in-residence, a 2015 Visual Arts Fellow of the Luminarts Cultural Foundation, and recently completed residencies at ACRE and Elsewhere.
Blair Bogin is an interdisciplinary artist living in Chicago. She earned a BA from Indiana University Bloomington and an MFA from the School of the Art Institute of Chicago. She is founder and host of Wax Long, a full moon performance event in Chicago, Illinois. Additionally, she conducts Circle for Square, a pop-up community art space at the Logan Square Farmers Market. She is a William Merchant R. French Fellowship recipient, a 2015 Edes Foundation Fellowship Nominee and a recent artist-in-residence at HATCH Projects, ACRE, Elsewhere Museum, Ox-Bow, Platte Forum Colorado, Spread Art Detroit & Hub14 Performance in Toronto.
CURATOR BIO
Sadie Woods earned her BA in music at Columbia College. She participated in Ecole du Magasin's international curatorial program in France, received a Visual Arts Certificate from the University of Chicago Graham School, and has exhibited work at Anchor Graphics, Chicago History Museum, City of Chicago, and Hyde Park Art Center. Woods has performed nationally and internationally as a deejay for cultural institutions and tastemakers 3Arts, 6018North, Alliance of Artist Communities, Audience Architects, Chicago Cultural Center, EXPO, Chicago Humanities Festival, Chicago Public Art group, Jane Addams Hull-House Museum, Magasin-CNAC, Make Music Chicago, Marwen, Museum of Contemporary Art, National Museum of Mexican Art, Ragdale Foundation, Rebuild Foundation, Reva and David Logan Center for the Arts, and the School of the Art Institute while holding residencies throughout Chicago. Woods is a 2014-15 HATCH Projects resident curator and is currently pursuing her MFA in Sound at the School of the Art Institute. Her practice includes exhibition making, theater sound design, and participation in collaborations within communities of difference.
http://www.chicagoartistscoalition.org/programs/hatch-projects/nitty-gritty
Friday, October 23, 2015
 to 
Thursday, November 12, 2015
Opening Reception: Friday, October 23, 6-9 pm
The Chicago Artists Coalition is pleased to present, Kim Jong Un Americans, a solo exhibition with new works by BOLT Resident, Aram Han Sifuentes.
Rumors had it that on March 26, 2014 Kim Jong Un issued a mandate to make all North Korean men to wear the same hairstyle as the Supreme Leader, himself. His haircut is specifically known as the "Chinese Smuggler". North Korean state-sanctioned haircuts serve as a way to keep out Western influences. Come get your own free Kim Jong Un haircut or hairstyle from our professional hair stylist. For the opening cuts and styles will be offered on a first-come, first-served basis. Afterwards, get your photo taken and we'll add your image to the growing collection of Americans sporting North Korean's newest fashion trend.
---
ARTIST BIO
Aram Han Sifuentes is a social practice fiber artist and works closely with Chicago-based non-profit organizations, community centers, and public schools to facilitate workshops for immigrant communities. She has exhibited her work nationally and internationally. Her solo exhibitions include "A Mend" at Hollister Gallery in Wellesley, MA, and her workshops include "Immigrant Takeover" at the Center for Craft, Creativity and Design in Ashville, NC, and "US Citizenship Test Sampler" at the Smithsonian Institution. She is also a DCASE grant and Puffin Foundation Ltd grant recipient. Han earned her BA in Art and Latin American Studies from the University of California, Berkeley in 2008, and her MFA in Fiber and Material Studies from the School of the Art Institute of Chicago in 2013.
http://www.chicagoartistscoalition.org/programs/bolt-residency/kim-jong-un-americans
We as Bad at Sports have mourned mentors, friends, and family here, but we have never had to mourn one of us.
Jeriah Hildwine was a complex member of Bad at Sports and his "take" on the issues we approach was often divisive, but we all respected and never questioned his commitment, enthusiasm, and the tenacity he showed. He never did anything in half measures whether you agreed with him or not.
We will all remember and honor his standard of engagement with art and the world, a standard that few could match.
Tonight we raise a glass to a comrade who lost his way.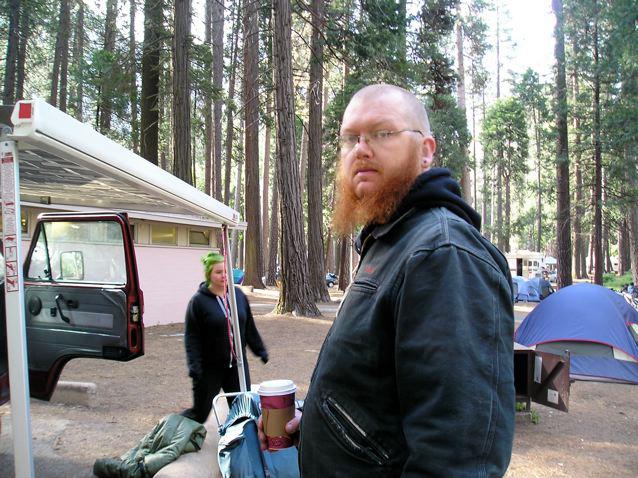 Guest post by Lise Haller Baggesen
On Saturday September 19th –while Chicago was hustling and bustling with all things EXPO—the Suburban opened the doors to its new Milwaukee location.
Housed in a former Laundromat, which had suffered a total burnout leaving only the carrying structures intact, the property has had a gut rehab –Brad Killam style—and presents as a fresh, clean slate. Above the gallery is an apartment inhabited by de-facto gallery directors Alexander Herzog and Rosa DiSalvo-Herzog, who will be running the daily business of the space, as well as welcoming out-of-town artists in the residency upstairs.
With its large storefront right onto a street corner, the new Suburban vibe is less that of a backyard BBQ (sadly, Brad's brats were missing), and more of a Mom & Pop Store of all things minimalist.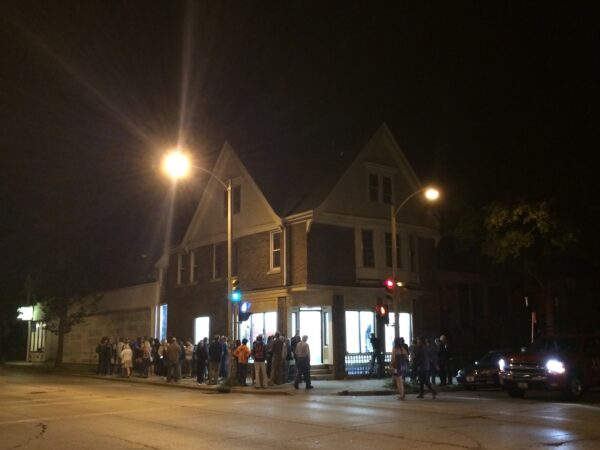 The works on show, by Scottish artist Fergus Feehily, were just that, as well as ethereal, elusive and cheeky –and as Michelle Grabner points out "not at all generous in the way Milwaukee is used to."
This was more than made up for in the in the adjoining alleyway, which doubled as the site of Paul Drucke's contribution to the 2015 Terrain Biennial –a pleasant reminder that you can take the Suburban out of Oak park, but you cannot take Oak Park out of the Suburban. A plaque on the wall baptized it "Angelique Roy's Passage" and the narrow space set the perfectly confined stage for a "Gangway Performance" featuring Joshua Bellow, Margaret Noodin and Laura Hunter.
As the evening progressed, and police officers on bicycles watched from across the street, a mellow crowd of art students and weathered Suburbanites co-mingled outdoors and in, and neighbors stopped by to say hello. After hours the party proceeded to a nearby craft brewery featuring a homegrown DJ, organized by Green Gallery's John Ripenhoff, but this was where I had to hit the road back to Chicago.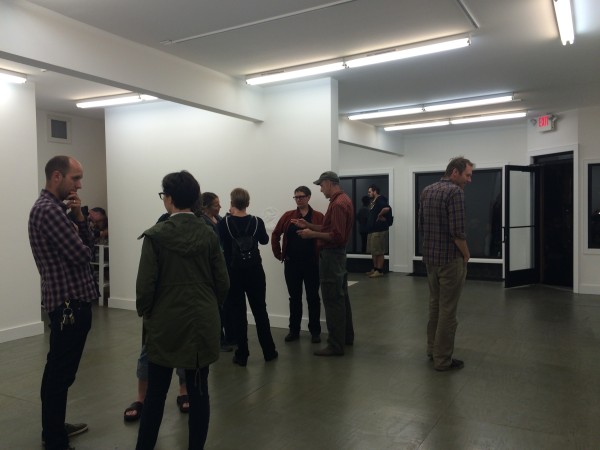 I made it home before midnight, and to all of you Chicagoans who used to be Suburban regulars, I will say: it is really not that far. So, if the post EXPO blues is getting you down, head North for some Suburban Saturday Night Fever!
Sensors for the Unsound at Andrew Rafacz Gallery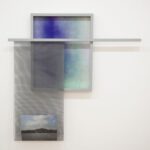 Work by Jeremy Bolen
Andrew Rafacz Gallery is located at 835 W. Washington Blvd. Reception 6-9pm.
Seduced and Abandoned at Boyfriends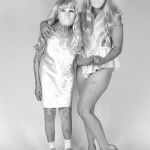 Work by Chanel Von Habsburg-Lothringen
Boyfriends is lcoated at 3114 w. Carroll St. Reception 7-11pm.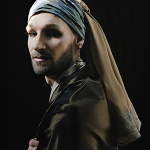 Work by James Kinser and Niki Grangruth
C33 Gallery is located at 33 E. Congress Pkwy. Reception 5-9pm.
APPROPINQUATION at Carrie Secrist Gallery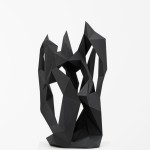 Curated by Britton Bertran
Carrie Secrist Gallery is located at 835 W. Washington St. Reception 5-8pm.
Faith & the Devil at Center for Book & Paper Arts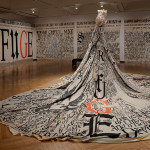 Work by Lesley Dill
Center for Book & Paper Arts is located at 1104 S. Wabash Ave. Reception 5-9pm.
Urban Interruption and (Re)generation at Glass Curtain Gallery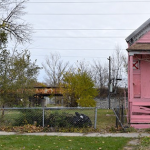 Work by Amanda Williams, Emmanuel Pratt and Andres L. Hernandez
Glass Curtain Gallery is located at 1104 S. Wabash Ave. Reception 5-9pm.
My life as an INFJ at Julius Caesar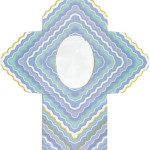 Work by Shana Moulton.
Julius Caesar is located at 3311 W. Carroll Ave. Reception 7-10pm.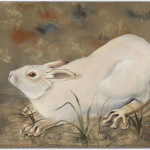 Work by Autumn Ramsey
Night Club is located at 3325 N. Pulaski Rd. Reception 6:30-9:30pm.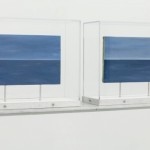 Work by Daniel G. Baird, Kadar Brock, Alex Chitty, Mika Horibuchi, Samuel Levi Jones, Mtthew Metzger, Bryan Savitz, Nick van Woert, Kristen VanDeventer, JPW 3 and Liat Yossifor
PATRON is located at 673 N. Milwaukee Ave. Reception 6-9pm.
New Work at SAIC Sullivan Galleries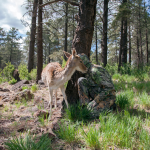 Curated by Raquel Iglesias and Jacelyn Keework with work by Bobby Gonzales, Allyson Packer, Linda Tegg, Derrick Woods-Morrow, and Guanyu Xu
SAIC Sullivan Galleries is located at 33 S. State St. Reception 6-9pm.
DEMO Chicago at TCC Chicago and the Archer Beach Haus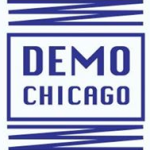 Work by Paula Nacif, Violet Systems, Nanae Shimazu, Christine Janokowicz, Kevin Carey, Lisa Claire Green, Ursula Andreeff, Rebecca Elliot, Maggie Harrington, Julia Kriegel, Coco Menk, Anja Morel, Sawako Okayasu, Vettii, Aaron Von Krupp, Allison Zuckerman, Shawné Michaelain Holloway, Bryan Peterson, Alp Seyrekbasan & Adrien Stein, Reina Taniuchi and Saya Yamauchi
TCC is located at 2547 W. North Ave.; Archer Beach Haus is located at 3012 S. Archer Ave. Reception 6pm-12am.