There is a palpable disjunction between the experience of Howardena Pindell, Pindell's stunning solo exhibition at the Spelman College Museum of Fine Art, and its representation in the following words and photos. Beyond the ways in which photographs cannot capture the minute detail inseparable from the immense scale of Pindell's work, the exhibition builds a complex understanding of a way to view her work that draws us in by asking us to look deeply and closely at and beneath its surface.
It is easy to overlook a grouping of six, small works, hanging in one corner of the gallery, washed by Pindell's voice from Free, White and 21 and dwarfed by the large-scale paintings from the Autobiography series that dominate the space. These works speak with a sure voice and power of their own, and they compel and reward close looking. The regularity of the grids of Parabia Test #4 seem disrupted by the paper dots across and beneath the sheets of vellum, but the deliberate, drawn gestures across the tiny circles anchor them in their places and reinforce the depths plumbed beyond our sight. Untitled, 1975 explodes with and centers color. The layered, reversed, and obscured words of Text resist an easily read comprehension, making explicit the ways in which collage buries meanings, fracturing understandings we assume we know.
The intimate gesture – ink on paper, hole punched paper within paint, words spoken with deliberate calm, canvas ruptures sutured – is central to all of Pindell's work in this exhibition. The staggering beauty and power of Pindell's work has been built slowly and deliberately through these gestures, and those gestures demonstrate the futility of easy comprehension, the impossibility of walking away from the exhibition with a fixed understanding of Pindell and her work. We must match her accumulated, repeated gestures with multiple viewings, with re-seeings that slowly accrue and reveal meaning over time.
Ultimately, these words cannot do Pindell's work justice. There will always be more to learn from Pindell's work just as there will always be more to learn within this world. Pindell's first solo exhibition of paintings and drawings was at Spelman College. Thankfully, in specifically re-presenting Pindell's work here, this exhibition asks us to re-view that work and re-see that world. Fortunately, this exhibition reminds us that we will not find a just and equal world, but perhaps we can build one through small, intimate gestures.
I will continue living with Pindell's work, the small gestures that built those works and the larger gestures of her career, and I will heed the call to re-see the world, to watch the news for what it does not say, to view the world through which I live as a series of negotiations of power, privilege, and inequity, to work to reveal and realign my place within that world.
Howardena Pindell is on view at the Spelman College Museum of Fine Art through December 5, 2015.
Many of us have at least once known the feeling: Am I being too loud? Am I yelling right now? Can everyone hear me chewing? Is the sound of moving my chair along the floor driving everyone else into a steaming rage? You pull out your headphones or look up from your work and glance around, anticipating dirty looks from officemates or strangers. Our sense of sonic etiquette is based in substantial part in the assessing of external responses to our behavior. But imagine now, if it requires imagining, that you have never been able to hear yourself. That your sense of which sounds are too loud or too soft, which sounds are good and not good, which sounds are deemed appropriate for which situations, has been determined by the reactions and standards of people whose experience of the world is radically different from your own.
Christine Sun Kim is a sound artist who has been deaf since birth, and who uses the medium to question "the ownership of sound". She uses myriad forms (performance, drawing, painting) to explore her relationship with sound and its role in social behavior and spoken communication. Earlier this fall, I had the delightfully grating experience of Kim's Fingertap Quartet at Links Hall, presented by Illinois Humanities. Fingertap Quartet engages with the social valuation of sound through a play on Harry Roseman's contribution to Draw It With Your Eyes Closed: The Art of the Art Assignment. Replacing Roseman's use of "a work [of art]" with "a sound" yields the quartet of prompts in the piece:
1. A sound that you like and think is good.
2. A sound that you don't like and don't think is good.
3. A sound that you like, but suspect might not be good.
4. A sound that you don't like but have to admit is good.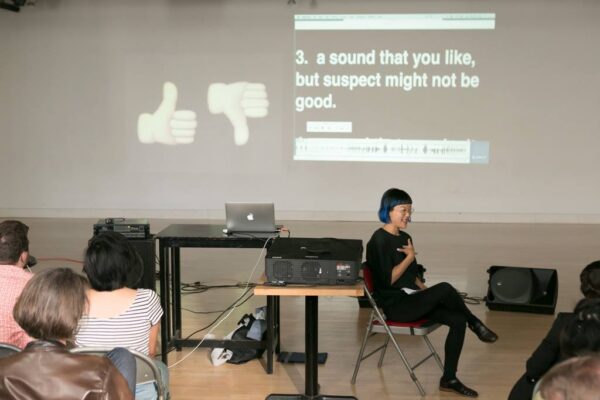 Christine Sun Kim. Photos by Claire Britt, via Illinois Humanities.
Just prior to the performance, I had the opportunity to participate in a Master Class with Kim and Danielle Linzer (Director of Access and Community Programs for the Whitney Museum of American Art), as a part of the Elective Studies series. (If you aren't familiar with Elective Studies, it's a fairly new and truly special bit of programming from Illinois Humanities that provides unique educational opportunities for artists. I heartily recommend keeping an eye on it.) Kim's professional practice is somewhat two-pronged; in addition to her personal art practice, she is also an active educator. Kim and Linzer have been working together for years on something called The Vlog Project, a video series created by the Whitney Museum to provide inclusive access to contemporary art. The videos feature a mix of American Sign Language and visible text, and Kim and Linzer have been experimenting throughout the process to find the right blend of techniques to yield the best results. In addition to hosting the master class, Illinois Humanities also worked with Kim, Linzer, Jennifer Hart, and Matt Dans to film two new vlogs in Chicago, which should be available online soon.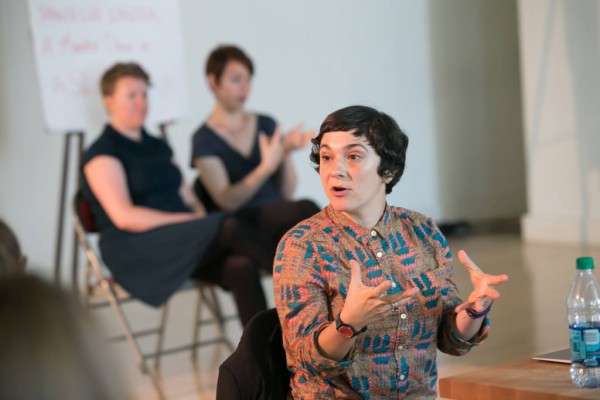 Danielle Linzer.
These vlogs are also certainly accessible to hearing viewers, and are listed amid other content on the Whitney website, so while they are searchable under the "Access" tab, they can also be stumbled upon by visitors to the site. More than merely comprehensible to a hearing audience, they are interesting to watch, providing information not only about a specific exhibition or artwork, but also giving a glimpse into the personality of the individual, and the unique expressive qualities of ASL. For example, in this video, Kim discusses the Whitney exhibition Singular Visions, with particular attention to Paul Chan's 2005 piece 1st Light. You can really see here, especially in her description of the exhibition layout, the spatiality of ASL.
The master class was largely a discussion of best practices and lessons learned as they've developed this initiative. The range of attendees was fairly broad within people working in the arts and/or accessibility, including representatives from large, established institutions like the MCA to more DIY endeavors like the Chicago Home Theater Festival, as well as individual artists and professionals. Perhaps more importantly, the range of familiarity with Deaf culture and access initiatives was vast. Some of us knew little beyond perhaps the ASL alphabet and a general awareness that ableism is an issue in the art world. Some were professional ASL translators, some were deaf artists, educators, and other professionals.
While the class was at times a bit dry for someone already somewhat experienced in video, and not necessarily planning to generate this specific kind of content in the future (which was, after all, what everyone was there to learn to do), this was a really illuminating experience. In addition to providing me with a bigger picture understanding of Kim's practice, the workshop allowed me to witness conversations around the culture and concerns of certain deaf individuals and of Deaf communities as relates to media production. For example, content created by hearing people for deaf people can sometimes miss the mark on how much visual information is occurring at once. A one-shot video of someone standing still signing in front of a single image or blank background feels like a dry PSA, but a video with signing, captions, infographics, jump cuts, and other complexities may be too dense to really be absorbed. (Which isn't to say hearing people creating content for hearing audiences don't often hit the same stumbling block.) It was getting the sense of the personalities and interests of particular individuals in the room, however, which contributed most to my appreciation of the performance afterward.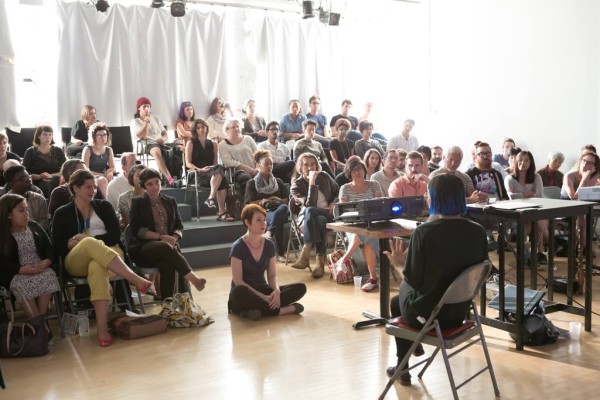 Kim, smiling at you from behind a laptop, begins Fingertap Quartet by addressing the audience without the use of ASL or an interpreter, as you watch her typing and scrolling projected live behind her. Her voice–her unique personality in communicating–comes through clearly in the timing of her typing, her facial expressions, her sense of humor. She introduces you to the project, explaining the four prompts that led her to create the Quartet. The sound files within the performance were created through collaboration with Dev Hynes of Blood Orange, (another compelling artist, whose media presence often engages with other activist issues). Kim used her voice, transducers, and recording equipment to create audio recordings, as well as textual descriptions to use in working with Hynes on the compositions.
When we were seated, a section at the front to one side was reserved for audience members who would need ASL interpretation. This was not, however, a simple facilitation of access, but a fundamental part of the performance. As each of the four sound sequences was played, the hearing members of the audience experienced a high-volume audioscape of Kim's good and bad sounds. ("Sorry!", Kim typed after seeing me put in my ear plugs–not to keep the sounds out, but to reduce them to a volume I could more comfortably understand. My hearing difficulties are the self-imposed result of youthful foolishness and noise bands.) The deaf members of the audience, however, had a totally different experience. Kim sat near them, and held an animated conversation in ASL about (I think) what kinds of experiences she was alluding to in her texts and recordings. There are sounds that are pleasing to make, but seem to bother the people who hear them: a sound that you like, but suspect might not be good. I found myself bouncing my attention between the sounds and attempting to understand snippets of the conversation, several of the participants of which were people I had spent the prior hours with, but now without the intervening speech of the interpreter. Despite my understanding of facial expressions and body language, and a slight familiarity with the conversationalists, this was something I could not be a part of. This was not something I could even fully comprehend. This part was not designed for me, just as the auditory part of the performance was not designed for some of the others. But all parts were necessary for the event to take place.
After all the dialogue about inclusivity, about how to invite larger populations into something shared, here was a great example of the power of having totally different experiences running parallel to each other as a part of the same piece. We all could see the visual representation of the sound file, the peaks and valleys of the .wav as we moved along its timeline, and could read Kim's typed text, but for much of Fingertap Quartet each audience member was on one of a few possible tracks. Not everyone was at an identical performance, but I suspect the salience of that fact was a part of all of them. The sounds were certainly not all sounds most people would like, and the inability to access an aspect of the performance was potentially frustrating, but the overall experience was challenging in a pleasing way. An attempt to categorize it into one of the four prompts brought me to this compromise: A sound you don't like, but that you enjoy.
Experiences are always tempered by the bodies in which they occur. Sometimes an increased awareness of this fact results in efforts to produce content that can be accessed by a larger percentage of those bodies. Another approach, as found here, is to create work that weaves those very difference into the fabric of the art itself.
From white cubed commercial galleries to experimental project spaces, from closely packed artist studios to pop-up celebrations out in the dark, Nashville's first Saturdays are bustling, vibrant, overbrimming with activity. Moving between openings at the beginning of October, I repeatedly heard the mock-lament that there was too much to do, too many places to be for any single night. The looming feeling of always-more fueled movement – walking and driving between galleries, negotiating crowded rooms, navigating shifting frames of mind and sight. Virginia Griswold's pop-up exhibition Equal Parts at The Packing Plant, however, stopped me in my tracks.
The walls in the gallery were unfinished, construction frozen before sheetrock hung. The crowd gathered around the small sawhorse table, bending low over the ceramic and resin objects, slowed the momentum of entering from other exhibitions. Joining the circumnavigating stream, I slowly observed the objects on the table. The stasis of the room lengthened my gaze, extended my ability to consider the work.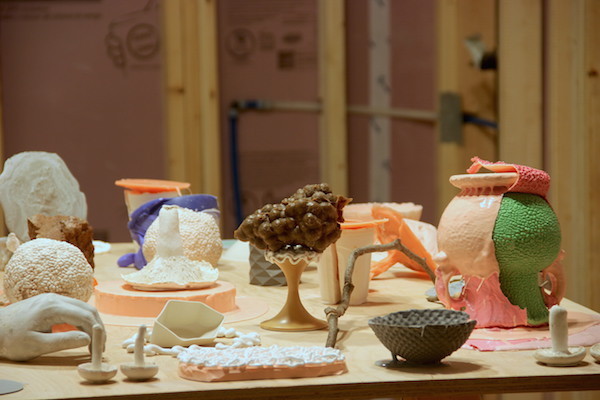 As I moved, the textures, lines, and colors of the objects reflected around and across the table – an osage orange, mushroom gills, vessels containing one another – the visual equivalent of musical themes shifting, shimmering in different forms, reappearing across time and space. This echoing revealed the ways in Griswold views the "table as site for transformation." The table had always been in motion. Its initial stasis was an illusion of my eyes used to the outside world. My time spent within the work transformed singular, static objects into relationship with one another, enlivened the location, proximity, and contact of objects into conversations.
Griswold's objects are lived with, accruing meaning in the moments of making and across days and weeks of time spent living through the same spaces. On initial viewing, they carry a weight that we cannot feel. They ghost objects we cannot know, recall memories we cannot imagine. The table transforms these long-known objects for Griswold, and the table begins the transformation of just-seen objects for the viewers.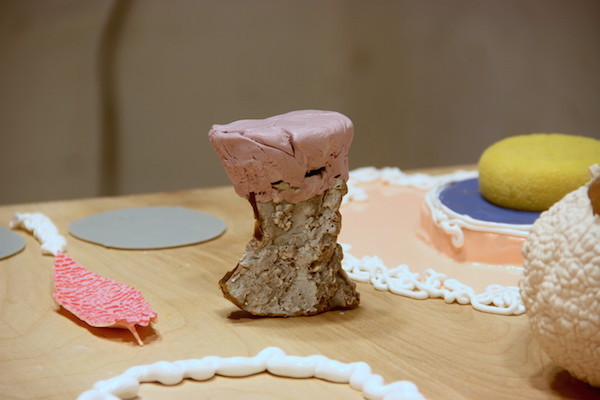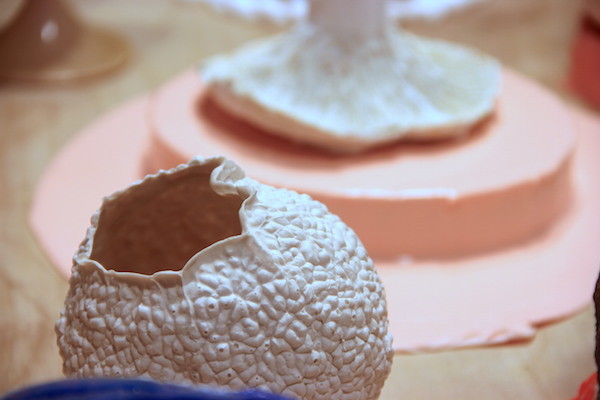 In the weeks since viewing it, I have lived with the exhibition, sorting and filing the images and echoes, the feeling of the resin, the reflections of the objects I see in my coming and going. The transformation is no longer just within the objects and their relationships; the transformations live within the way I have slowed to watch for the "questionable state" Griswold strives for in her objects and accomplishes in Equal Parts. Her work lives on in that state, neither movement nor stasis, embodying the complexity and reality of our daily lives. As with all living objects, her work enters our lives, transforming the futures we find as we rejoin the movement of the exterior world, the ever-rushing into the night.
Bad at Sports would like to congratulate the 2015 Propellor Fund Grant Recipients! 
Propeller Fund proudly announces the fifteen grant recipients for 2015. Selected from a pool of over one-hundred candidates, these small, self-organized, and radical projects are vital to Propeller's mission of encouraging more varied models, spreading these activities into more diverse areas, and to spark ambitions beyond current formats in Chicago's visual art world. Propeller Fund offers $50,000 (five grants at $6,000 and ten grants at $2,000) annually to artists producing a wide range of public culture.
Propeller Fund recognizes that such independent artist-organized events, informal roundtables and workshops, collectively organized exhibition spaces, and publishing endeavors constitute a large catalyst for the creative activity and vitality of the Chicago visual art world. These projects are responsible for much of the complexity and richness in the art community.
Propeller Fund 2015 Award Ceremony and Reception
This year's recipients will be recognized in an award ceremony on Wednesday, November 18 at the Jane Addams Hull-House Residents' Dining Hall. Join grant recipients and the community to celebrate with food, drink, and a reception.
Wednesday, November 18, 6–9pm
Jane Addams Hull-House Residents' Dining Hall
800 South Halsted Street
Chicago, IL 60607
Award Ceremony: 6:30pm
Awardee Reception: 7–9pm
Free and open to the public
Propeller fund would like to thank this year's distinguished jury: Jen Delos Reyes, Associate Director of the School of Art & Art History at UIC and Founder and Director of Open Engagement (Chicago, IL); Deana Haggag, Director of The Contemporary (Baltimore, MD); Nicole Marraquin, Artist, Co-Organizer of Multiuso, and Associate Professor of Art Education at SAIC (Chicago, IL); Meida McNeal, Artistic/Creative Director of Honey Pot Performance and Arts and Culture Manager for the Chicago Parks District (Chicago, IL); and Astria Suparak, independent curator and author (Pittsburgh, PA). And much appreciation to the Andy Warhol Foundation for the Visual Arts, funder of Propeller Fund through its Regional Regranting Program.
2015 Awardees
$6000
BRUJOS (Stephanie Jeter, Ben Kolak, Ricardo Gamboa)
BRUJOS is a queer-of-color, radically politicized web series following four gay Latino doctoral candidates—that are also witches. They navigate magic, sexuality, and surviving a witch-hunt led by a secret society of white heteronormative male descendents of the first New World colonizers. BRUJOS blends Latino soap opera and U.S. sitcoms to deliver 12, seven-minute episodes developed through queer men of color testimonies, interviews with magic pracitioners, and cultural studies academics. In a world conditioned by white supremacy and inequality, BRUJOS makes visible people and ways of life that have been made invisible by dominant culture and mainstream media.
filmfront (Alan Medina, Malia Haines-Stewart, Alyx Christensen, Rudy Medina)
filmfront is a multidisciplinary project that uses the exhibition of film, video, and new media from around the world and down the street to facilitate exciting, challenging conversations that are open, free, and accessible to everyone. Curation is based on a collaborative model of programming in which artists, curators, and free thinkers are invited to work together to create exhibitions, interactive projects, performances, workshops, and lectures open to the community.
Floating Museum (Faheem Majeed, Jeremiah Hulsebos-Spofford, Andrew Schachman)
Floating Museum is a mobile exhibition structure and structural interpretation of the DuSable Museum of African American History that will move by land and water through the city of Chicago in 2016 and 2017. The project blends creative place-making, activism, and exhibition design to make a platform for conversations, art viewing and community engagement.
https://museumfloating.tumblr.com
In the beginning, sometimes I left messages in the street (Allison Glenn)
In the beginning, sometimes I left messages in the street is a public art exhibition that couples artists and practices with the materiality of the built environment. Through the use of junior billboards, sculpture, performance, media, and sound, the artists in the exhibition will consider landscape and the built environment, encouraging viewers to traverse rich and varied expanses of the city.
Report to the Public: An Untold Story of the Conservative Vice Lords (Benneth Lee, Lisa Junkin Lopez)
Benneth Lee will organize film screenings and train young people to lead tours expanding upon the exhibition, Report to the Public: An Untold Story of the Conservative Vice Lords. By training former gang members to become community docents and targeting youth audiences, the project demonstrates that young people in gangs are capable of addressing the most challenging issues in their communities. Report to the Public draws upon the thesis that gang members, like all of us, have "multiple, conflicting identities" and that we must affirm their positive identity formation in order to decrease violent and destructive behavior.
$2000
The Chicago ACT Collective (Sarah Atlas, William Estrada)
The Chicago ACT (Artists Creating Transformation) Collective is a diverse collective of artists creating work to support movements, struggles, and communities in Chicago. Through a partnership process, this project generates art that reflects on and responds to current and local needs identified by those most impacted. This project has many facets—building a collective of socially and politically engaged artists, forming partnerships with grassroots organizations and social justice movements, and producing prints, graphic arts, and visual campaigns for social change that promote collaboration and dialogue across multiple communities.
Fielding (Amber Ginsburg, Sara Black, Billy Dee)
Fielding is a collaborative art and design practice, a youth workshop series, a design/build service and a social justice initiative. Fielding leads workshops for girls, young women and gender variant youth to design and build structures while learning to use woodworking tools competently and confidently. In addition, a diverse core crew of skilled women and gender variant carpenters will respond to invitations (local, regional and international) to design and construct building projects.
Freedom Dreams (Alice Kim ) 
Freedom Dreams is a project that creatively connects Illinois prisoners serving long-term sentences with local and national artists. Their writings and visual art will be featured in a multi-media exhibit and series of events centered on the question: What does freedom look like?
HAIR CLUB (Suzanne Gold, Kelly Lloyd, Michal Lynn Shumate )
HAIR CLUB is a growing community of artists, writers, and scholars whose aim is to conduct a collaborative inquiry into the multi-valent topic of HAIR in our wider culture via conversation, publication and meaningful programming, and organizing HAIR-centered work across medium and discipline into thematic publications, exhibitions and events.
https://www.facebook.com/hairclub
Kitchen Space (Traci Fowler, Trevor Schmutz, Mirko Velimirovic)
The organizers of the project/exhibition space Kitchen Space will develop a cookbook that provides readers with a variety of recipes for main dishes, appetizers, drinks, etc. from the unique perspective of two artists who have to combat monthly exhibitions in the very kitchen they cook their meals.
https://www.facebook.com/kitchenspace
One Room (Kate Thomas, Devin Pendergast, Kitty Conde, Jessica Rosenbaum, Roxy De Luca, Jeanne Walker)
One Room is a social practice project that invites the public into conversations with CPS artist-teachers to playfully explore the complexity of a teaching practice within our current climate of constraints and monitoring. Artist teachers in conversation with the public will generate creative approaches to systemic problems.
Paper Work (Third Object: Gan Uyeda, Ann Meisinger, Raven Munsell, Elisabeth Smith)
Paper Work is an exhibition organized by Chicago-based curatorial collective Third Object that, through a central exhibition site and office-bound satellite locations, explores a range of current artistic responses to notions of bureaucracy, administration, and the ordering of information.
Social Furniture (John Preus, Jamie Kalven )
Social Furniture produces 2x4s out of materials salvaged from closed Chicago Public Schools. Working with Lathrop Community Partners and the Invisible Institute, we will work to develop projects that provide both a source of income for Lathrop residents and a forum for developing relationships between the developers and the residents. The 2x4s are both literal and figurative building materials to produce new structures.
UnJustified (Jacob Klippenstein, Crista Noel, Ric Wilson, Teresa Campagna, Deonta Terry) 
A series of screenings and discussions will debut a series of UnJustifiable mini-docs. The series will provide a retrospective and prospective look at Chicago Police violence from the 1800s to the present with a timeless focus on educating and engaging Chicagoans especially youth through dialogue led by community elders, analogue, and digital media.
W.A.R.P. Westtown Artist Residency Program (The Weaving Mill: Emily Winter, Matti Sloman, Eva Joly, Monika Kimrey, Envision Unlimited, and more)
W.A.R.P is a series of short-term residencies at The Weaving Mill, a small-scale production mill in Humboldt Park. In partnership with Envision Unlimited's Westtown Center, The Weaving Mill pairs artists with developmental disabilities with visiting artists from the wider Chicago community. The groups are guided through a series of workshops that allow the artists to approach an unfamiliar industrial textile technology together.
About Propeller Fund
Launched in May 2010, Propeller Fund is administered jointly by Gallery 400 at the University of Illinois at Chicago and threewalls. Propeller Fund provides grants to artists, curators, and groups living and working in Cook County, Illinois, and seeks to support projects that are independent, informal, and self-organized. Propeller Fund receives support from Andy Warhol Foundation for the Visual Arts through the Regional Regranting Program.
Further descriptions of Propeller Fund projects can be found here.
I was standing with Rolando, looking at ¿por qué no fui tu amigo?, a solo show by Daniel Aguilar Ruvalcaba, curated by Chris Sharp, currently on view at Kurimanzutto, in the rear gallery. We were looking at an array of audiovisual equipment — rechargeable batteries nestled in their recharger, an audio recorder, a printer, a hard drive, an iMac, a mouse, a keyboard, a couple GoPros, some stands for cameras or audio, headphones, and so on — on the floor of the gallery, against the smooth white walls. Rolando was telling me, pointing to the thick-stock, laminated gallery notes he was holding — he had the ones for Aguilar Ruvalcaba's show, I had the ones for Minerva Cuevas's show, in the main gallery — that the equipment had been used to shoot a video, that would later be shown elsewhere, and that now it was for sale on MercadoLibre, the eBay of the Spanish- and Portugese-speaking world. I was saying something stupid about how great of a MercadoLibre photo it probably was, or was going to be, when a gallery attendent walked in and asked us, in Spanish, "do you understand?"
In his later writing, Roland Barthes employed the figure as an organizing element. In each figure, anecdote, history, and philosphy collide, usually with notes in the margin about where they are from: Symposium, Taoism, Werther, A.C. Barthes describes the figure beautifully, longingly, as "what in the straining body can be immobilized," something that sticks in the memory, but is somehow incomplete, something that we catch in a moment, "insofar as we can recognize." The figure is necessarily incomplete, and in its incompleteness foregrounds that which suspends it. For me, this is the best way, or perhaps the only way, to talk about ¿por qué no fui tu amigo? There are three figures in the show: first, an ad in the newspaper am, distributed in the state of Guanajuato, in central Mexico; the second, two white-backed counterfeit bills, one MX$100 and one MX$200, each folded as if it were a tiny book; the third, the audiovisual equipment set up for a prosumer photo that Rolando and I were standing in front of when the attendent walked in. The blunt visual presentation of each figure—everything looks like exactly what it is—bounces attention away, into the notes or the guided presentation, teasing, cajoling, or maybe just forcing the viewer to learn about the various trajectories and interpretations that each figure strains between. It is in this learning that each figure becomes more complex, begins to blur, and the beauty of the show emerges.
The show is arranged in narrative order, beginning with an the ad in the newspaper am, which is distributed in the state of Guanajuato in central Mexico, where Aguilar Ruvalcaba is from. The ad originally appeared in am on December 31, 2014; and January 2 and 3, 2015. This is the first context in which the ad appears, and the first public to whom it appears. This public, people in the state of Guanajuato who purchase am for MX$10 and have an interest in the classifieds, viewed the ad in its original context, as an ad. At this point, being viewed by the classifieds-reading public of Guanajuato, the ad is not an artwork, it is an ad. It does not matter, at this point, that Daniel Aguilar Ruvalcaba, an artist, has printed this ad, hoping to use it as the starting point for a body of artwork. It does not matter that Daniel's father, Juan Manuel Aguilar, owed a debt to BBVA-Bancomer, nor that Daniel has recently received a grant for emerging artists from BBVA-Bancomer. It does not matter that Daniel has decided to use this grant from BBVA-Bancomer to try to pay off somebody else's debt to BBVA-Bancomer, more specifically somebody else named Juan Manuel Aguilar, not a particularly uncommon name. The ad is constricted by its context, in the paper, spread across somebody's lap, or a table, or a bar, maybe rolled up in a ball and stuffed under the grill to get the coals going. Maybe a few people in Mexico City knew about the ad, knew about it as an artwork, but am is not distributed in Mexico City. They couldn't help. The classifieds person-seeking ad, though, is a sort of visual-literary form, and this particular ad is interesting within that form. It is situated in tense relation between the sort of extortion schemes typified by the Nigerian prince e-mail, self-help product advertisements, and missing persons advertisements. Especially here in Mexico, where extortion, phony aspiration, and disappearance are all common, sometimes compounded into one: a few months ago I read that cartels often use the form of the aspirational ad—"this job could change your life!" sort of thing—to lure people into building tunnels, transporting goods, etc, for them, usually killing those hired once the job is done. Importantly, these are qualities available to any person in Mexico reading the classifieds; it is not necessary to be part of any sort of art-appreciating public to see any of these relationships. These are qualities the ad holds as an ad, and nothing more. Indeed, this is one of the things most engaging about ¿por qué no fui tu amigo?, how deftly it engages everyday visual forms without hiding behind a mask of faux-irony.
Then Juan Manuel Aguilar called. As the story goes, Juan Manuel Aguilar had two debts, a large one and a small one. The artwork could be created: the fake bills are printed in an edition to match the large debt of Juan Manuel Aguilar, and will be sold for an equivalent amount of real bills to an heir to the BBVA-Bancomer fortune; the audiovisual equipment could be purchased and used to shoot a video, supporting the provision of the BBVA-Bancomer grant that asked for part to be used in "production." Finally, the ad could appear in its second context, in the gallery. In the gallery, the ad, which is no different than the nearly 50,000 ads printed in the three days of am's production, is an artwork, in limited edition, presented to an artworld audience by a gallery attendent who explains it as such. Here it exists in relation to a history of artworks that have appeared in public newspapers, and here it holds a different kind of significance, a different sort of interest. Whereas many artistic interventions into public newspapers involve some degree of poetry, symbolism, or irony, this ad seeking people named Juan Manuel Aguilar who owes a debt to BBVA-Bancomer is exactly that, an ad seeking people named Juan Manuel Aguilar who owes a debt to BBVA-Bancomer. The "general" public, the ficitional public invented by all specialized fields to designate all those who are not in that field, who are assumed to receive something "beneficial" from art, often tied to antiquated ideas of enlightenment or genius, receive nothing. Juan Manuel Aguilar, one particular Juan Manuel Aguilar who decided, against the odds, to call, receives debt relief. This is also not aspirational—"just try!"—for if Daniel were a cartel, Mr Manuel would likely be dead.
Indeed, in the gallery, towards an artworld audience, the ad is almost hostile. There is nothing beautiful about it, there is no evident hand of genius. It does not neatly tie in with global discussions of any sort, being tied inextricably to two individuals, both named Juan Manuel Aguilar, to a Mexican financial institution, BBVA-Bancomer, to the particular local strangeness of BBVA-Bancomer giving grants to emerging artists. The ordinariness of the ad—sure, it's a little weird, but it's definitely not a piece by Jenny Holzer, you know? it makes no effort to explain or contain itself, it doesn't get deep and it certainly isn't universal—bounces the viewer's attention elsewhere. This, I suppose, is where the notes and/or the explanation comes in: they are necessary to see the work. They are necessary to see the ad straining between its trajectories between the newstand and the grill as 50,000 papers, the newstand and the gallery as a limited edition, the newstand and the collector's home, the newstand and the homes of any number Juans Manuel Aguilar; straining between being unread and unnoticed in print or presented online with the importance accordant to one of more important galleries of Mexico City; being interpreted by the concerned parents or fried or lover of one Juan Manuel Aguilar as a bad idea, don't call, you've heard about this kind of thing, and another very different Juan Manuel Aguilar as perhaps not so bad an idea, why not give it a try?
Each figure in ¿por qué no fui tu amigo? is like the first, straining in some way between locations, trajectories, interpretations, their mundanity initially deflecting attention to the web of possible trajectories and probable interpretations suspending them in their current position, making them shiver and blur. I am tempted to call this contingency "radical," but of course it isn't, it is a very mundane, very commonplace contingency. In their mundane contingency, the figures that comprise ¿por qué no fui tu amigo? reflect the daily strain of most objects and most bodies, caught in a momentary, yet brutally constricting, context, straining anonymously towards the next.