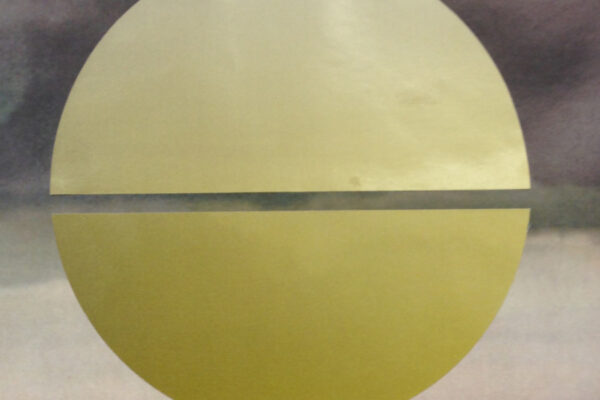 December 9, 2016, 7-11PM
Work by: Sage Dawson, Chiara Galimberti, Victoria Martinez, Katharine Schutta, and Selina Trepp
Heaven Gallery: 1550 N Milwaukee Ave, 2nd floor, Chicago, IL 60622
2. Speak Softly and Carry a Big Stick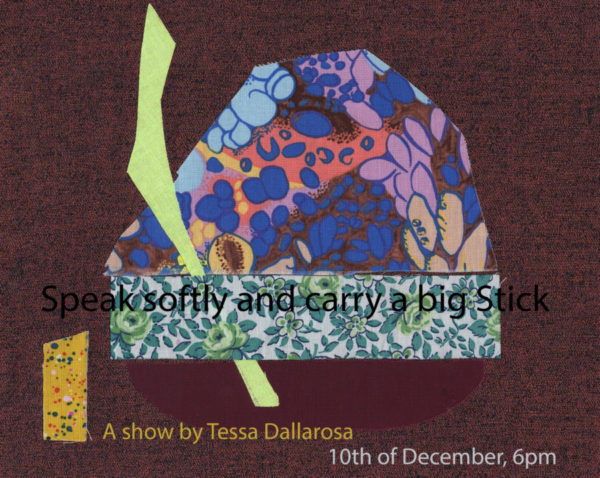 December 10, 2016, 6-9PM
Work by: Tessa Dallarosa
free range: 3257 W Lawrence Ave, Chicago, IL 60625
3. The QiQi-Underground Tea Party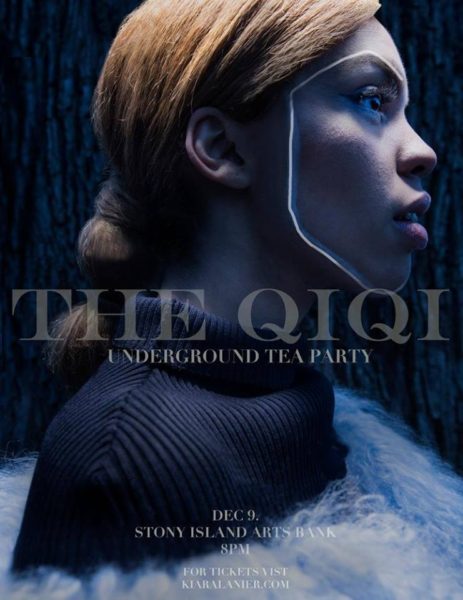 December 9, 2016, 8-10PM
Work by: KI, Darling Shear, Brandon Holmes, Cabin Fever Live Dance Company, and Daniel Villareal
Stony Island Arts Bank: 6760 S Stony Island Ave, Chicago, IL 60649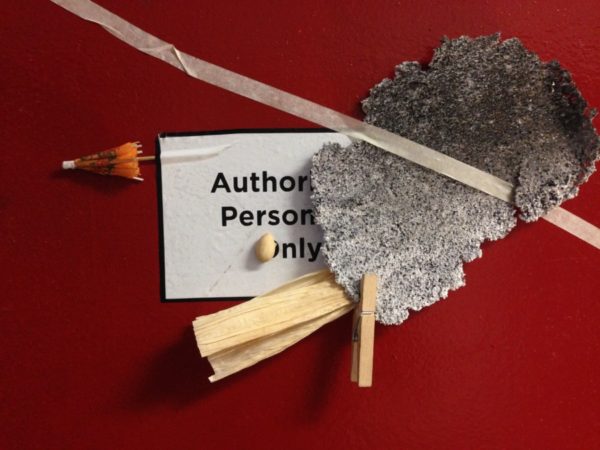 December 10, 2016, 6-9PM
Work by: Kirsten Donovan and Irene Trujillio
Friendzone: 3323 W Diversey Ave, Chicago, IL 60647
5.  The Crisis of Representation as Illustrated with Plants and Flowers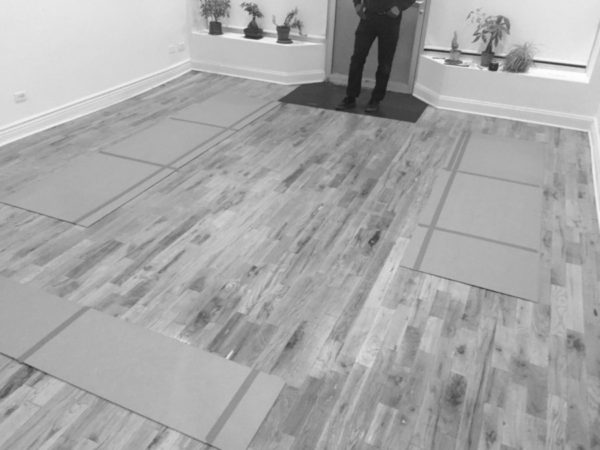 December 9, 2016, 7-10PM
Work by: Arno Auer & Ingo Mittelstaedt, Polly Brown, Garry Neill Kennedy, Janine Lariviere, Taryn Simon, Sturtevant, Penelope Umbrico, and Christopher Williams (From the collection of Hamza Walker)
Fernwey: 916 N Damen Ave, Chicago, IL 60622
Hey Chicago, submit your events to The Visualist here: http://www.thevisualist.org
What we want and when we want it comprise one of my favorite one-twos of every protest or rally. The answer to the first is always noble (justice, peace) but can feel less direct than the answer to the second: now. Always now. This urgency is twofold: the circumstances are dire and negotiations have to start somewhere. As if it were never not the case, many artists are finding increasing necessity that their work is addressing our complicated, critical political landscape. I've long been impressed by the clarity and grace of the images that Soohyun Kim creates. Soo is relentless, training his keen eye on landscapes, cityscapes and the people that inhabit—or have left traces on—them. The series Guryong Village in Seoul documents the enormous shantytown within the city's tony Gangnam district. The series of portraits—even if half the images don't contain people directly—distills large political shifts, like the displacement inherent to so-called development (here writ in literally Olympic proportions), into tiny, domestic moments. The series, made while visiting his mother in the home they once shared, reveals "what I see, as an inside observer, its ingenuity, perseverance, and pride." This empathy is equally on display in the photographs he produced for the Tamms Year Ten Family Room exhibition with Laurie Jo Reynolds and the Tamms Year Ten campaign, even if these were people he barely knew, whose homes were an ocean apart. And, this empathy is what drives the subject of our interview, the release of his new book (made in collaboration with Scott McFarland and Jangho Park), Fifteen Dollars, about the Fight for 15.
Soo graciously agreed to answer a few questions and explain a bit about the process by which it was created. For your own copy, visit Amazon. It's only fifteen dollars.
(all images drawn from the book)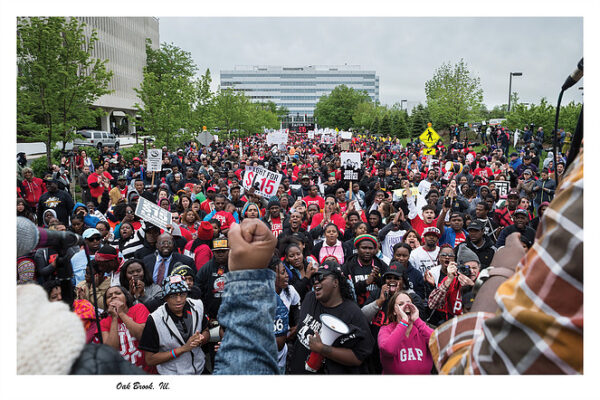 For those unfamiliar with it, what is Fight for 15?
Fight for 15 (FF15) is part of the national movement for a $15/hour wage that began in 2012, when fast-food workers in New York City went on strike. This movement has really changed the minimum wage debate. They have gotten some serious increases in some cities and states, and they are still going. I think the mainstream media has been fairly sympathetic to it. Even from the beginning. I guess it is obvious to most people that these workers are being exploited. And it is a pretty obvious question to ask: if McDonalds makes 6 billion dollars a year, why do their employees need public assistance just to get by? Why are taxpayers subsidizing the labor costs of these huge, profitable corporations?
What made you want to promote the Fight for 15 campaign?
A desire for social justice, and in interest in socially-engaged art. As an MFA student at UIC, I studied with Brian Holmes and Blake Stimson, and they introduced to the "extradisciplinary investigations" of artists like Trevor Paglen, Critical Art Ensemble, and Laurie Jo Reynolds. This kind of art practice appealed to me.
How did you come to this project?
In 2014 I worked with Laurie Jo Reynolds on an art installation at "The Proximity of Consciousness" show at Sullivan Galleries, curated by Mary Jane Jacob. For this installation, titled "Tamms Year Ten Family Room," I made portraits of members of Tamms Year Ten (TY10) their homes. TY10 was a grassroots legislative campaign that had worked for 4 years to close the state supermax prison in Tamms, Illinois. This installation at Sullivan was kind of "family room" in that the group used galley space for their meetings. At that time they were discussing the future of their campaign. For the portraits, I made home visits to TY10 members, and borrowed a piece of furniture, or decorative item, for the installation. So the belongings in the "family room" were visible in the portraits. I had worked with Scott McFarland on this installation, together, and he suggested that I do a portrait series of FF15 members.
What was Scott's connection to them?
He teaches in the English department at UIC, and he had connected with FF15 organizers through his work for, UIC United Faculty. So we went to FF15 and asked if they wanted to do a series of worker portraits. They liked the idea. Luckily, we then received a monetary award from the Graduate College at UIC that enabled us to produce a book. We expected this to be a book of portraits of FF15 workers. This was in April 2015, when I started taking photos for the campaign. Some of these photos will become part of the book of portraits that I'm working on, but I've also been sharing all the photos with FF15 to use in their publicity.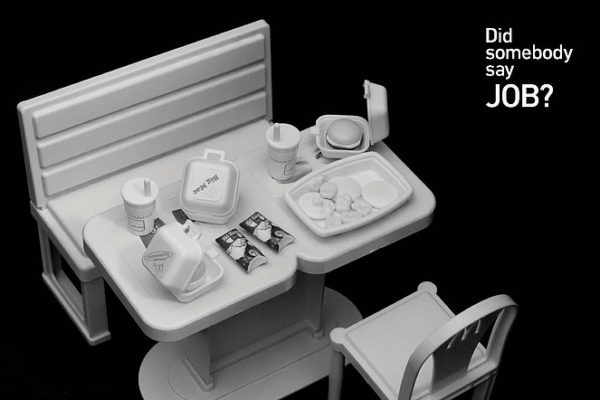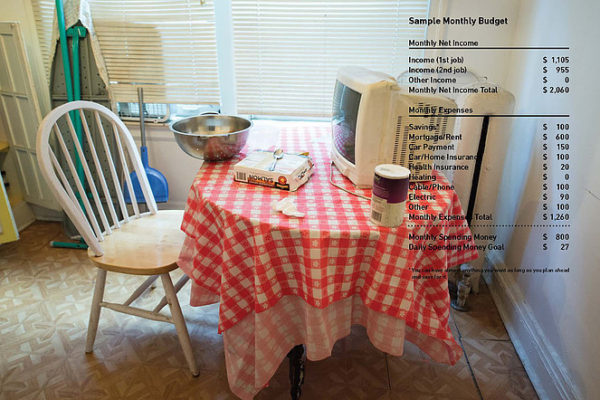 But you decided not to use portraiture in Fifteen Dollars. Given that it's a book about Fight for 15 (FF15), about fast food workers, one might expect to see photos of workers.
There are photos of workers at FF15 rallies in Fifteen Dollars, but these aren't, in this context, portraits of workers. I am planning a book of portraits that will include photos of workers at home and at rallies. I expect that these rally photos will feel more like portraits because you will see them as individuals, as mothers and fathers, as sisters and brothers, at home, or at work, before you see them—and recognize them—in a crowd.
This project uses labor as a lens for considering intersections of race, class, neoliberal economics, corporate structures and rhetoric, structural inertia and the movement. Do you find that the more specific your subject matter, the more the works open up into other avenues?
Yes, I think that is a good way to describe the way my work has become more political, or at least the way my intentions have become more political. I think aesthetic interests have evolved into more political ones. I am thinking here of my photos of Guryong Village in Seoul, a shantytown in the wealthiest area in the city, where my mother has lived in for the past decade. I lived there myself for three years. The photos I have been taking for this project are not really exercises in formalism, even though I always do want to make images that are visually compelling. It's been equally important to document the dire circumstances of Guryong's residents, to call attention to themselves. And I want the viewer to face the political realities as well as the visual evidence, to consider how shantytowns are symptoms of structural problems, of elite power structures and neoliberalism in South Korea.
Having seen the "Guryong Village" exhibition, both in its beginnings when we were at UIC and then as came more and more into focus, I'm wondering how your personal experience of class and mobility has affected your approach to this project?
For that project, I visited my mother for six weeks, documenting the village, and also providing much-needed photographic services, such as passport photos and funerary images. I wanted my portraits to show respect for my family members and their neighbors, to not simply document crushing poverty, but to document ingenuity, perseverance, pride, community. So my personal experience of poverty has shaped my political sensibilities. I think it's what has led me to doing the portrait projects we've been talking about, since I see my own family's circumstances in those of my subjects, I mean the members of Fight for 15 and also the members of Tamms Year Ten.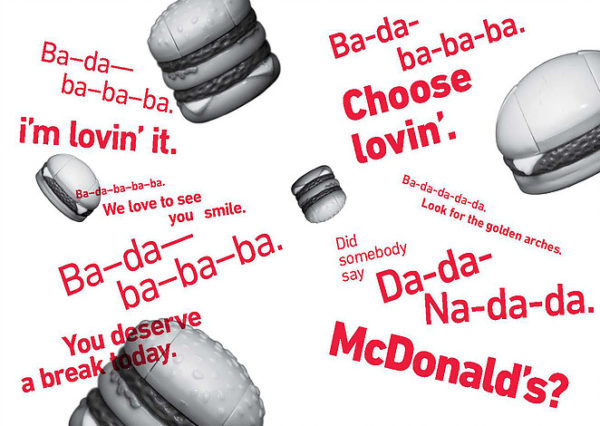 You employ a number of photographic styles and strategies in this work, from something akin to inverted advertisements, empty domestic spaces, portraiture and street photography. Will you discuss these various strains and your approach to picture-making and taking?
I think that, primarily, there are three visual languages that are employed, that of commercial, journalism, and "documentary-style" photography. They're used for different purposes, since they are in dialogue, in some sense, with the text they've been paired with. The texts in the book come from advertisements and media reports, but also from internet memes, academic studies, corporate handbooks, corporate documents, P.R. firms, lobbyists. Some of the photographs have been paired with were taken with that particular text in mind. The architectural photographs are inspired by the New Topographics. Others are inspired by print advertisements. So it varies. While images of the Fight for 15 rallies might have the photojournalistic feel, images of the workers' homes might seem more like fine art photography, in the sense that Walker Evans distinguished between documentary- style and documentary.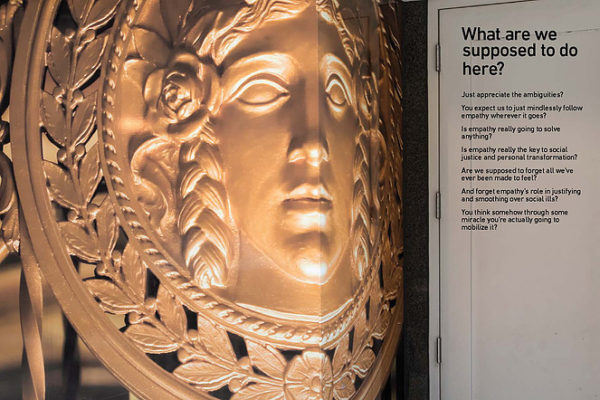 Was it important that this became a book (instead of a website, an exhibition, a film, etc.)?
Yes. We see this project as an "artist's book," rather than individual images. So it's important to us that each image in the book be understood as part of a whole. There is a lot of irony in the book that could be misunderstood if read out of context. For example, the meme: "Liberty will produce prosperity. Government mandates won't." The conceit of the book is that you're reading a McDonald's employee handbook from bizarro world, that everything is being said in the "voice" of the McDonald's Corporation. So the individual images in the book need to be seen in context—without it, their meaning is lost.
Tell me about the collaborative process between you and Scott.
There's not been a single process that I can describe, since we've been working together on many different things. A lot of it has involved just pitching ideas to each other and then making on-the-spot decisions, assigning ourselves different tasks, coming back with something, and then figuring out how to improve it. For Fifteen Dollars, Scott was more responsible for the conceptual aspects of the book, and I was more responsible for realizing it, for making the images. We hired graphic designer Jangho Park to do the book layout and design, but his role grew as the project developed, and we came to see him as co-creator.
What has collaboration taught you about your own practice?
It gave me a chance of reaffirming the possibility of mixed art, considering the relationship between image and text, which has a long history in art.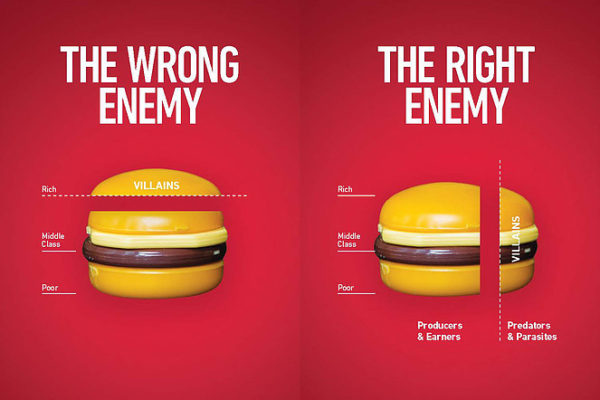 What is the future of political photography?
I take this question to be more about photography in contemporary art than about photography in journalism, or in general. In the near future, capturing images will involve collecting all information available, rather than some small, select amount that catches a "moment." This trove of information can be sifted through, and arranged, after the fact. I believe this and other technologies will open up new possibilities for all kinds of artists, but especially those that are engaged in "extradisciplinary investigations."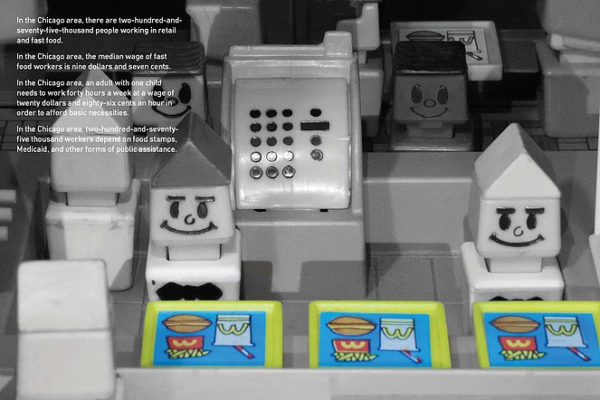 SOOHYUN KIM (b. Busan 1979) earned his MFA in photographic design from Hongik University and a second MFA in photography from the University of Illinois at Chicago. He researches the catalyzing potential of art for social change. In his role as Assistant Director at the National Photographers Association of Korea (2005-2010), he traveled to remote villages, working with families to preserve their photographs, document their homes and take portraits for use in daily life. He is working with the Fight for Fifteen campaign to raise the minimum wage. Kim has received awards for his work, including the 2016 CDS Documentary Essay Prize. Kim currently teaches at Saint Xavier University in Chicago.
JESSE MALMED is an artist and curator living and working in Chicago. His work in moving images, performance, text and occasional objects has exhibited widely in museums, cinemas, galleries, bars and barns. He is the curator of the Live to Tape Artist Television Festival, co-director of the mobile exhibition space and artist bumper sticker project Trunk Show, a programmer at the Nightingale Cinema, instigates Western Pole and curates exhibitions, screenings and performance events both independently and institutionally. His writing has appeared on and in Bad at Sports, Cine-File, Incite Journal of Experimental Media, The Official Catalog of the Library of Potential Literature, Temporary Art Review, Big Big Wednesday and YA5. A native of Santa Fe, he earned his BA from Bard College and his MFA from the University of Illinois at Chicago.
Absence and refusal, small culture as loud culture…
1. Visual AIDS Day With(out) Art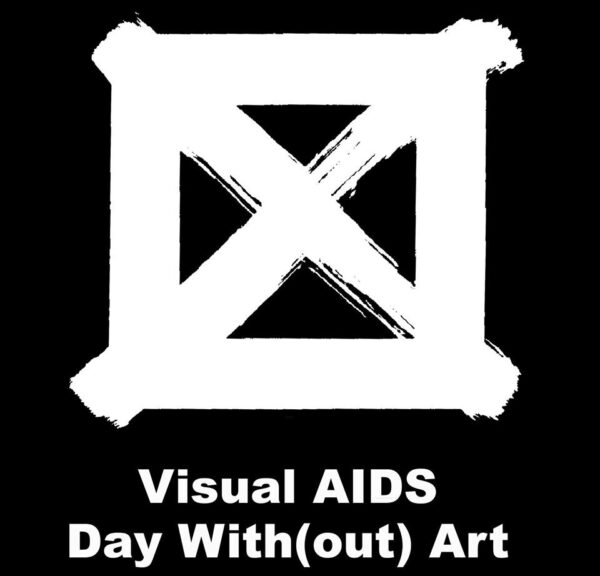 December 1, 2016, 10AM-6PM
Work by: Jean Carlomusto, Alexandra Juhasz, and Hugh Ryan, James Wentzy, Nelson Sullivan, Ray Navarro, Carol Leigh aka Scarlot Harlot, Juanita Mohammed, Luna Luis Ortiz, Mark S. King, Justin B. Terry-Smith, and the Southern AIDS Living Quilt, Darling Shear
Gallery 400: 400 S Peoria St, Chicago, IL 60607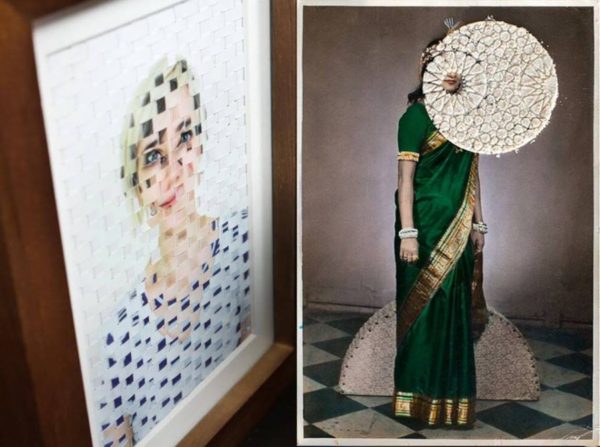 December 2, 2016, 6-9PM
Work by: Priya Kambli and Mel Keiser
Filter Photo: 1821 W Hubbard St, Suite 207, Chicago, IL 60622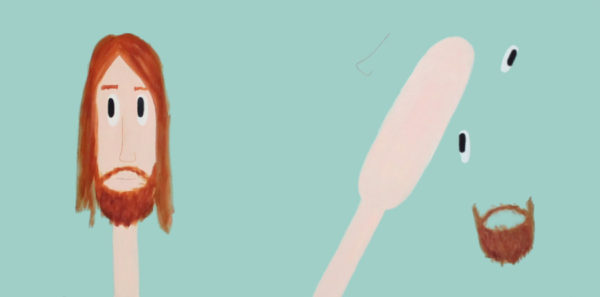 December 3, 2016, 6-9PM
Work by: Robert Burnier, Alex Chitty, Diego Leclery, Mican Morgan, Alison Ruttan, Chris Smith, and Jenn Smith
Slow: 2153 W 21st St, Chicago, IL 60608
4.  Nothing Is Too Small for a Revolution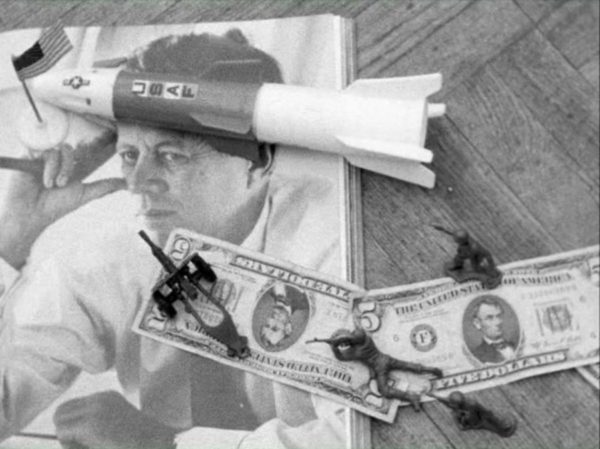 December 2, 2016, 7:30-10:30PM
Anarchist Films by Nick Macdonald
Reva and David Logan Center for the Arts: 915 E 60th St, Chicago, IL 60637
5.  A History of Counter-Fashion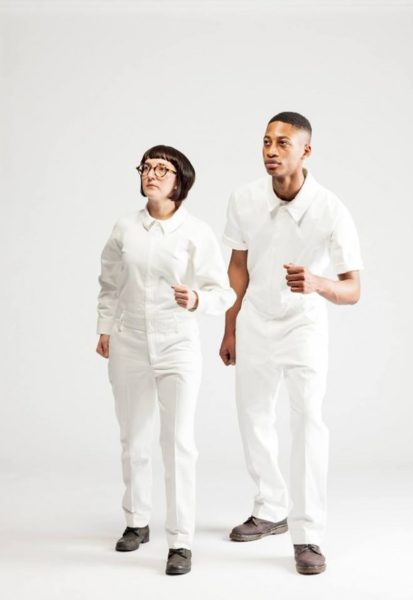 December 6, 2016, 6-7PM
Work by: Rational Dress Society
Museum of Contemporary Art Chicago: 220 E Chicago Ave, Chicago, IL 60611
Hey Chicago, submit your events to the Visualist here: http://www.thevisualist.org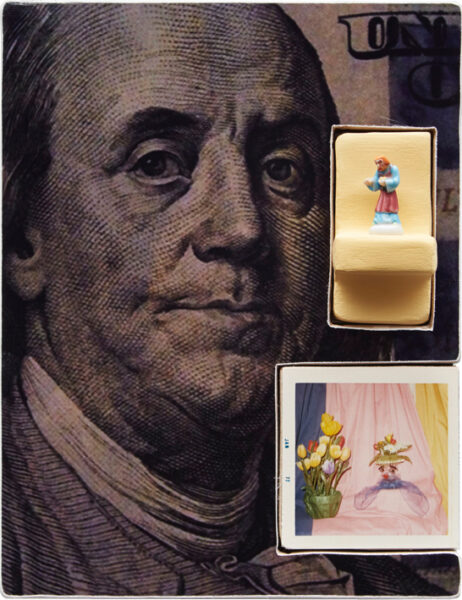 November 19, 2016, 5-8PM
Work by: Sadie Benning
The Renaissance Society: 5811 S. Ellis Ave, 4th Floor, Chicago, IL 60637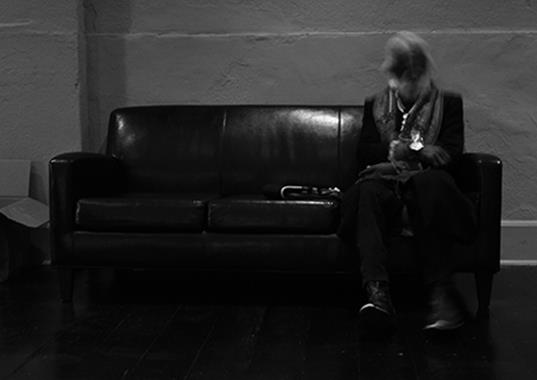 November 17, 2016, 5-8PM
Work by: Yaw Agyeman, Wesley Clark, Nathaniel Donnett, Shané K. Gooding, Esau McGhee, Johana Moscoso, Wanda Raimundi-Ortiz, Ellington Robinson, Stacy Lynn Waddell, Rhonda Wheatley, and Wilmer Wilson IV (Curated by Jeffreen M. Hayes, Ph.D)
Glass Curtain Gallery: 1104 S Wabash 1st Floor, Chicago, IL 60605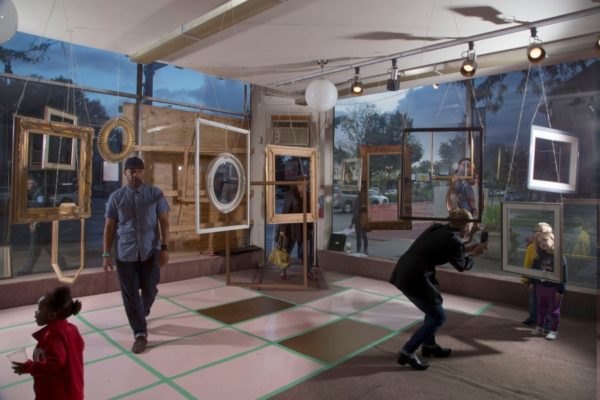 November 18, 2016, 7-10PM
Work by: Cecil McDonald Jr.
95th Street Gallery: 2135 West 95th St, Chicago, IL 60643
4.  Affinity in the Tall Grasses of California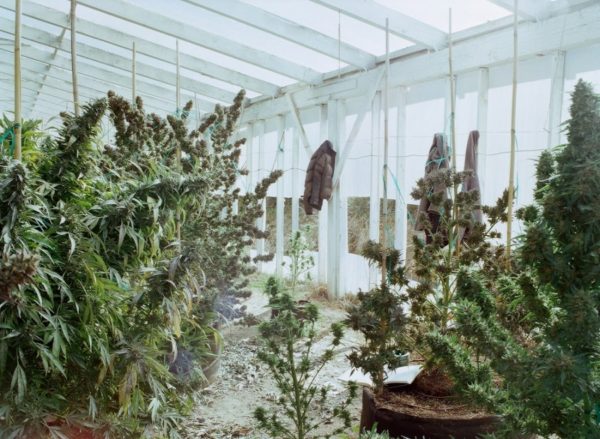 November 18, 2016, 6-8PM
Work by: Whit Forrester
International Museum of Surgical Science: 1524 N Lake Shore Dr, Chicago, IL 60610
5.  New Blood Ten: Festival of SAIC Performance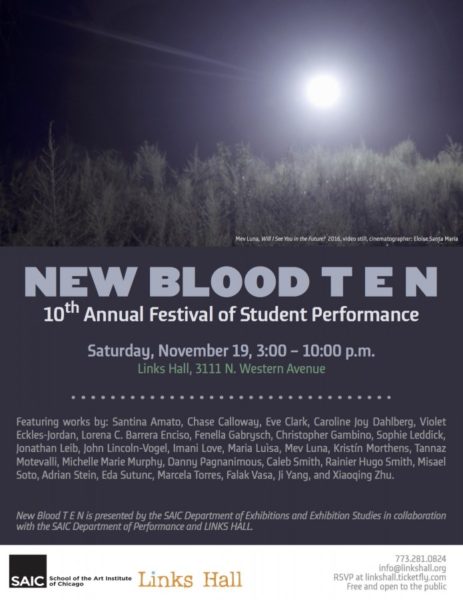 November 19, 2016, 3-10PM
Work by: Santina Amato, Chase Calloway, Eve Clark, Caroline Joy Dahlberg, Violet Eckles-Jordan, Lorena C. Barrera Enciso, Fenella Gabrysch, Christopher Gambino, Sophie Leddick, Jonathan Leib, John Lincoln-Vogel, Imani Love, Maria Luìsa, Mev Luna, Kristín Morthens, Tannaz Motevalli, Michelle Marie Murphy, Danny Pagnanimous, Caleb Smith, Rainier Hugo Smith, Misael Soto, Adrian Stein, Eda Sutunc, Marcela Torres, Falak Vasa, Ji Yang, and Xiaoqing Zhu (Coordinated by Jordan Murray, Maire Witt O'Neill, and Lauren Sternberg with Lindsey Barlag Thornton)
Links Hall: 3111 N Western Ave, Chicago, IL 60618
Hey Chicago, submit your events to the Visualist here: http://www.thevisualist.org
Interview by Lise McKean
New Works by Mario Gonzalez, Jr. at Maxwell Colette Gallery, Chicago
Opening Friday, November 18, 2016
LM: Some readers may have rediscovered your work in 2013 through Paint, Paste, Sticker, the show on Chicago street art that Nathan Mason curated at the Cultural Center. You've been away in recent years so how about reintroducing yourself.
MG: My name is Mario Gonzalez Jr, AKA Zore 64. Many of the old school 80s and early 90s artists knew me as Zorro because I started doing my big shows when I was 17.
LM: Did you grow up in Chicago?
MG: Yes, I'm from Chicago. I've been doing graffiti here since the early 80s, and started showing in Chicago in the mid- to late 80s. I was raised in the streets and the subways. But Randolph Street Gallery was my entry into fine art including performance and installation. And I was in and out of SAIC along with the Guild Complex so I became well versed. I was very fortunate because I was a shy street kid but had a fierce attitude with graffiti. I'm a very strict and firm believer in graffiti and its history throughout the world.
LM: Can you tell us how your experience with large scale work with graffiti intersected with your formal art education at SAIC?
MG: I would say that we were not popular in the art schools. A lot of graffiti writers were shunned by faculty and students. The galleries liked us. The Painting department never wanted to have anything to do with me. But I would find other faculty and professional artists. The most successful artists were the most positive artists. They were telling me, "You're already doing art. Keep doing it." It was important because in the streets we have a saying: "Don't stop." It's what you tell younger kids. "Don't lose the momentum."
I was fortunate to be part of the office of non-degree programs and later even worked there. I was the on-site coordinator for the Navy Pier art classes. We hired great artists who showed me that you can do great things. They opened a can of worms, and I haven't been able to shut up since then.
LM: What was in that can of worms? What did they open up?
MG: That I could do anything I wanted to do. And nobody could tell me otherwise. You can become pompous with that or be humble and do the most that you can with it. I wasn't afraid to participate in the high art world. I would apply for grants, propose shows, curate, and execute large mural work. But I felt like I was a crawling baby. I feel that's what the art world did to graffiti writers in the 80s. They started capitalizing on a movement that wasn't fully mature. A lot of people expected us to slap graffiti on a canvas and be okay with selling it for thousands of dollars, which we did. It turned me off and I ran away for 15 years.
LM: People might think of Basquiat in this context. Do you have experience of the scene that grew up around him?
MG: Basquiat wasn't just capitalized by galleries. He was capitalizing on other graffiti artists. They saw the moment. They were the original street artists who saw an opportunity and jumped on it. Their first shows were graffiti shows in the early 70s. The big boom, the golden era was the 80s. Everyone capitalized on the graffiti game, including the graffiti writers themselves.
I believe the pioneers built a platform that you can never turn back. It will always go forward from the late 60s. That includes my father. I have baby pictures in front of my father's graffiti. I wanted to be anything but a graffiti writer. In high school at De La Salle Institute my goal was college and becoming an architectural engineer. I wanted to design and build. My father asked, "Would you rather push a pencil or a broom?" I had no problem pushing a broom. I worked throughout high school. Who would have thought 30 years later my pencil strokes are paying the bills?
LM: Sweeping with a broom, spraying paint from a can, making pencil strokes—they're all physical acts with scope for expanding and minimizing the gesture.
MG: About graffiti and work large scale, I learned in art school is that there are unlimited resources and unlimited ways to present my work—puppet making, glass blowing, sculpture. Every new medium I discovered led to me thinking about what I could do in graffiti. I have sculptures from the early 90s and later Nathan Mason asked to see them. I did some in 2008 but they were stolen. It feels like every 10 years I return to things. My resurgence in the art world is about going back to go forward. Meaning everyone's in a hurry to do something new but they leave out the bare essentials. You can't leave out the salt, pepper, and onion. You can't leave out the fundamentals.
Everyone is so busy in the computer era doing new things. But they don't take time. I've searched my inner child. When you care so much that you stop caring, that's when you create. That's when nothing else matters and it just comes out. For example, everything that I use is discarded. Just like my generation.  We're a generation of discarded young artists. We were left out. Nathan Mason and other people were able to realize that there's a whole generation, over 20 years of a disenfranchised movement that comes from Chicago that should be acknowledged, celebrated, honored. We're discarded youth who have grown up to bite them in the ass. Since I was a kid I've been proving them wrong about what graffiti is and art is not.
LM: Who do you mean when you say "them?"
MG: Art school professors, galleries.
My last major show before I came back was at Randolph Street Gallery in 1993. At that time our work was talked about and dissed. The 1993 show was a renaissance piece with performance, public participation, and renegade, avant-garde style. I turned Randolph Street Gallery into an underground graffiti hip hop happening and invited everyone and their mother and child to participate in building a graffiti installation. The Fire Marshall came to shut the gallery down and 12 people were arrested standing in line. This was during the ban on spray paint. Chicago is the only place in the world that has a ban on spray paint. And it's the biggest market for it.
LM: It sounds like your Randolph Street Gallery show brought graffiti-making into the gallery to assert that it's art.
MG: The worst thing they could have done is to teach art history to a young graffiti writer. I've always been interested in art history, as a brown, Latino, native man. I've been in a position to hear massive contradictions about what things are and are not art. So it made me explore who I am as a Chicagoan, US citizen, native, Latino. It got me questioning authenticity and divisions like legal and illegal, graffiti or not. This constant nagging questioning made me realize that graffiti is the original art.
LM: By the original art, are you thinking of prehistorical paintings on cave walls as graffiti?
MG: Yes, graffiti was the original art and still is. Just like the average American who questions who the natives are. The people who are lost in the question are the natives. We're beyond the question of whether graffiti is art. Art is graffiti.
LM: Here we are in your studio. I'm wondering what are the differences and similarities in the ways you approach the two aspects of your art practice: studio made and street or public art.
MG: In the streets it's important to maintain tradition, style, and finesse. I have to be Zore, the graffiti master. Nothing less will do.
LM: Does that mean you're not experimenting much with your graffiti?
MG: No, never, I never experiment. The only experiment is how fast I can do it and how fast I can get away with it. I'm a seasoned graffiti writer. With subway graffiti you're mastering time. You're studying people, you're studying everything. It's like hunting. It's like a sport.
LM: So you're hunting for your moment.
MG: Right, you're looking for the moment— the 15 or 20 minutes it takes. Your heart is beating. It's pounding. You're painting feverishly in the Arctic cold. Or it's a beautiful summer night and you're looking down on the city like Spiderman. That moment, that action is the truest, finest moment of art as graffiti or graffiti as art. It's the performance. And it's impossible to re-create that energy. So why try to bring it into the studio. It's impossible. It's a disservice too. It's a different beast.
LM: So what goes on in the studio?
MG: In the studio comes the experimentation. In the studio I don't care about the graffiti world or the art world. I don't care about anything. I'm a beast in the studio and I'm a beast in the world. I wear out brand new shoes in a week. I find discarded pieces of wood or canvas like a stray dog. Discarded, just like I was. And refined, just like I will be. Like my style and my abstractions. I like making my own inks and markers. My supplies aren't bought in art stores. They're found in alleys. I use rollers, big sloppy paint brushes, sticks. I have a collection of pencils that I find every day in the street, in hallways. And they become a major part of my work.
LM: Do you have a cohort of other graffiti writers who have morphed into exhibiting art in galleries?
MG: I've been showcasing my work since I was a kid. My recent reentry into the art world came about after becoming discontent with the graffiti world not with the art world. When I was a kid they said your audience isn't born yet, you have to wait. So do I have to wait until I die? My audience is in their mid-20s and collectors are in their 50s. The art world has caught up and flourished, but the graffiti world has not. We seem to have gone backwards. There's a new generation of galleries, artists, and institutions that are more open minded. It's a double-edged sword. My point is that they swept graffiti under the carpet and now there's a new improved graffiti movement. And it's so far from what we were. The young can be manipulated. But I was very not cool with that. They're not dealing with us because I'm too bold. So now they use kids to replace us. There aren't a lot of graffiti artists who take their art and life seriously. So it's easy for people to come in and take over our movement.
I'm not going to let that happen. I want to set the record straight. I feel in this mess of street art there should be a representation of real graffiti and abstract expressionism. They've been saying painting and drawing are dead. But I like to paint and draw. I realized that nonconformity is not the way to do things. What happened is that I turned 40 years old and I said to myself, I'm going to do this—to go for it.
LM: Go for what? To be a commercially successful artist?
MG: Right, to be a successful artist. Just because no one's doing it doesn't mean you can't. When I'm in my studio I don't care. I just don't. I don't care about what is and ain't. I just do. It's very important to just do.
LM: How does your approach relate to what you just said about nonconformity not being the way to do things?
MG: You don't have to be so extreme. You can be real and participate. The world is waiting for something real. And that is what every artist, gallery, and dealer want. When people walk into my studio, they say I feel this, this is real. I look at them and think, of course it's real. We still have the old mentality of what fine art is and is not. Everything we learn is still in us. It can be pompous, arrogant, like saying my graffiti is real and yours isn't.
As a young artist, I thought fuck the art world. I'll never show in a gallery. I'll never paint. Then you realize you do everything that you said you'd never do. But at least do it your way. Give me a tattoo gun and I'll etch a style on you. It's a great feeling to reinvent your mentality, your energy. Being a born-again artist. A born-again graffiti writer. You hit the perfect note, you know it, and you keep going forward. Keep pushing it. On anything. I'm beyond conformity or nonconformity.
LM: So in this rebirth you're open to possibilities as they arise in your work.
MG:  I'm open. I'm doing whatever I want to do. I'm open-minded but I'm strict. I have things I want to do. The same tradition, the inner child. You go back and ask that 13 year-old, who says 'I just want to paint, be respected. Pay the bills. Travel the world. It's not like your inner child says I want do colorful paintings or white paintings. We all want to be free. Why don't you just go for it? Go for it. Be happy with what you want to do. Stop bitching. I still bitch and complain.
LM: There's a lot to complain about in the world. What bothers you?
MG: First world problems. I complain about food, radio—everything.
LM: What about solutions for complaints?
MG: I worked in social service agencies, in after-school programs. I've done my civic duties. Maybe I've taught more graffiti writers than anyone else. I'm grateful for it. And they're grateful. I've paid my dues in the streets, subways, classrooms. I owe nothing to anyone. I owe my inner child a chance to prevail. I'm not against that kind of work, I'm just done with it.  I know it's a big trend now social action in the arts. I did that 20 years ago when people were against it. Now it's cool to invest in the hood. It's called gentrification. After teaching other people's children and having apprentices, sometimes you get lost. Now it's time for me to explore and have fun. To paint and travel and influence in different ways. We're aesthetic priests. I don't have to speak. Either you feel it or you don't. Some people don't give a crap and shake their head and walk out. I see when people do care. And sometimes it's a 75 year-old couple or a teenage art student or a middle-age banker. I can tell they feel the energy.
LM: Do you have titles for your paintings?
MG: I call them drawings. It's cool you don't have to have labels. To break from graffiti and art is so refreshing. Art is a billion dollar industry. Back in the day you were a loser, an idealist, an art fag, a nerd. And idiot. I could go on and on. I came up in the art world when women weren't treated as artists, when people said women weren't painters. But graffiti was recognized. It (graffiti) was ahead of women and blacks. There were black gay women graffiti movements. We were kids. Now we have to nurture the kids in recognizing the true from the fads. I always end up talking about graffiti. I have to.
LM: What about your involvement with International Meeting of Styles (MOS)? I read that MOS goes back to 1997 and the Wall of Style at 30th and Kedzie in Chicago started in 2012. This past September MOS was at 2200 W 59th Street and other spots. Was your involvement in that international graffiti movement part of your civic work?
MG: For the civic work, I was developing programs, breakdancing, graffiti. I lived in California for 12 years. Going to Europe for MOS in Amsterdam opened my world. Graffiti writers were already internationally known to each other. International MOS brought the best graffiti writers together to paint. They came without their crew. Each one came on their own to represent their city, region, or country.  I said we have to have this in the US. If our graffiti has influenced the world, the world has taken it further. In Canada, Mexico, and South America too. I coordinated MOS for the West Coast and Midwest. The Chicago locations were mostly in Englewood and Little Village.
LM: Tell me about the Wall of Styles at 30th and Kedzie.
MG: That's my wall. It's traditional wild style. People started coming together to paint from Italy, Spain, Australia, the Bronx, San Francisco, Los Angeles, Serbia, Mexico, Singapore, Brazil. To bring the world—that was my gift to the Chicago graffiti world. I travelled the world and thought it would be great to bring people I met to Chicago to paint with them. MOS became huge, so huge that it got out of control. I think you should kill it when it's at the top. So I gave it a rest for a couple years.
I'm not so happy that the Mayor came out to the recent MOS. Thank God I was out of town. I was so embarrassed that he came. The Mayor is not a friend of Chicago. It's a slap in the face for him to come and take advantage of that opportunity. But a lot of graffiti writers ate it up. It was a moment for the graffiti writers and the mayor. I'm a world citizen. I have no borders, no allegiance other than to create. It sounds self-centered. But if you dedicate your life to others you lose yourself. Meeting of Styles is a venue, a platform for everyone to paint, to have a good time. In Chicago it's grown from one neighborhood to three and has gotten huge.
LM: You've traveled widely and entered many different local graffiti cultures. Are there places that have had an especially strong impact on you as an artist?
MG: As a human, Brazil impacted me. As a graffiti writer, San Francisco was a graffiti heaven. More recently my residency in Gwangju, South Korea was very spiritual, very disciplined, very enlightening. On personal and creative levels, it was perfect. Beyond belief. I had a small studio. I was by myself in a three bedroom apartment. I had my regime. I kept to my ideal schedule for breakfast, lunch, dinner. First coat of paint, second, third. Walking, eat healthily without trying. I was able to explore a culture that has a historic relation with calligraphy as an art of brushstrokes that I was doing already. I used to wonder why people asked if I'm Asian. I'm Latino. Okay maybe I have some Asian background. What is Latino? We were already mixed. I see the Asians paint on wood, they use bold strokes.
I don't know if it came from living in the Bay Area, where Asians are like Latinos are here. Bay Area culture has strong Asian influence. Or from the character of calligraphy and it's the bold strokes. Maybe I attached to some way of making bold strokes. I couldn't see on my canvases when I worked with colors. On the streets I'm a kaleidoscope, but it doesn't translate to the studio. I want to work with bare necessities in the studio. Black, white, brown of skin. Or bold flavors and spices. Evident, hard hitting spices. Sabor, flavor, style, boldness, confidence. It takes a lot of confidence to destroy a perfectly beautiful painting. Your hands and your vision have to have a sense of finesse.
LM: Looking around your studio, I see work that's going to be in your upcoming show. What can you tell me about it?
MG: I've done a group called Fresh Snow on Concrete also known as the white paintings. A few things are going on. It's a commentary on the Buff. The Buff is when society wants to whitewash your graffiti and make you go away. But the ink stains prevail. The ink stains saturate the buff. Our black and brown stains come through the white. So no matter how many layers of snow, the hot cement will wash it away and the stain will still be there.
In a nutshell it's about the under layer coming through the saturated whitewash. It another going back and forth. This time I'm not censoring myself or buffing myself. It's hard to describe. It's more about the under layer coming through the layers. You can whitewash, we will always prevail. We will always come through. It's social commentary, but also it takes a lot of confidence to white wash a beautiful painting. Sometimes the black can overpower the painting. It needs finesse. My works, Ghost Shadow 1 and Ghost Shadow 2 are in a museum in Torino. People got it instantly. It's the past coming through.
LM: The past comes through in your work in many ways. The past of recorded history. The past that's left out of history. Your own personal past. Looking in the other direction, what's on the horizon?
MG: There's a second part of Fresh Snow on Concrete where I'll have further explorations of mark-making on collage to collage, plexiglass, and silver paintings. It's pushing the lighter side of it. From darkness comes light. That's where I'm going. Expect to see very minimal pieces with masterful strokes and scribe assemblage—sound, metal, wood, plastic.