Bridget Donahue is standing in her own gallery of the same name overlooking the Bowery. Bridget Donahue is a space longer than it is wide, with two rooms. One room is a long spacious stretch; the second, smaller room also serves as an exhibition venue referred to as the Office. Works for the first exhibition are arriving in staggered shipments, and with each arrival, fresh anticipation of how the artworks will exist together in the cleared rooms. The gallery floors are a soft wood newly exposed and sanded; previously carpeted in a past life when the space was an industrial workroom. On February 19, the doors open for the first time to the public with a solo exhibition by Lynn Hershman Leeson. Just months after Bridget left her previous position as a director at Gavin Brown's enterprise in late 2014. Prompting the move was a frank curiosity: a desire for the ability to choose who and what to show.
Bridget and I discussed her beginnings as an archivist in Gladstone Gallery. Her favorite place to be was in the archives. When offered a promotion in the gallery, Bridget desisted, deciding instead to stay in the archives. And to this day, Donahue opened her own gallery with the archives in mind – a return to the research sparked by artists' interests, and in the articulations voiced by viewers. Talking casually, I ask what one of the greatest excitements will be in opening Bridget Donahue. She replies "…a new audience will walk into this space, connected by and bringing with them a conversation pertaining to the work in this room."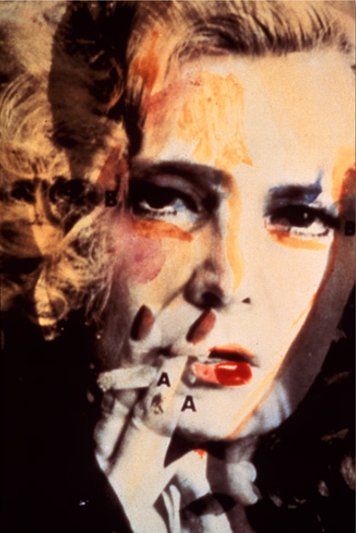 Lynn Hershman Leeson, Hero Sandwich Series: Rowlands/Bogart, 1980, Hand-painted silver gelatin print, 102 x 76 cm
Erin: You mentioned to me that you began your studies in anthropology, and by way of textiles, transitioned into visual art. Can you describe the change of interest?
Bridget: I moved to New York with my sights set on working with textiles. A friend pointed me towards NYFA's job listings and the post for Archivist at Gladstone Gallery caught my eye. I was already familiar with the gallery through my research and love for artists such as Alighiero e Boetti, Rosemarie Trockel and Thomas Hirschhorn. I applied, got two interviews and the job. Looking back to that time, I had no idea how important it was to land a job at such an important gallery. I was an absolute sponge to all printed matter around me. Barbara Gladstone has an impeccable archive and library. That job was a gift. It changed the course of my professional life in all ways.
Erin: The first exhibition at Bridget Donahue will be Lynn Hershman Leeson, followed by a benefit for Dancing Foxes Press, and then Susan Cianciolo, the selection moving from multimedia to publishing to fashion. Is there an indication of the gallery's focus between these upcoming artists?
Bridget: All of these exhibitions share the same core value – I'm deeply impressed and inspired by the artists and projects. I wholeheartedly believe in them, in all they do, for as long as they've been doing it. I could not fashion a better role for myself than to contribute to the success of their future.
Erin: Can you describe the difference in the role of creating a commercial path for an artist whose career you are helping to facilitate from the beginning, versus an established artist whose career you are renewing?
Bridget: For me there is no difference from the standpoint of my own conviction. For artists who have been working longer there is more material out there to discuss and more people have formulated opinions. I'm looking forward to rewriting some of the words around peoples' practices, offering a new perspective, and seeing what people think in 2015. I may have more to say about this after I've done it!
Erin: Moving from Gladstone Gallery, to D'Amelio Terras to Gavin Brown's enterprise, to now your own space, can you describe the most rewarding aspects of representing artists? As well, can you trace a consistent focus that you have maintained between all three experiences?
Bridget: The consistent focus has been to listen to artists, to learn from them and to also learn from the people who are interested in their work. It's an experience like no other to have a full picture of an artist's output. To know who their supporters are, who they look up to, who they learned from, who they are inspired by…that sends me off on myriad other paths of research and curious investigation. That's how I formulate what I want to learn about, what I want to see more of, and that is the main objective of my gallery.
Erin: You also help organize exhibitions for Cleopatra's, a Brooklyn nonprofit space, and the current curatorial team for this year's Looking Back – The 9th White Columns Annual. Do you see a difference in the value of curating within the collaborative environment of Cleopatra's as opposed to your own space? And has that difference changed from the difference between your involvement in Cleopatra's and your participation at Gavin Brown?
Bridget: I absolutely see the difference in the value of working with the group; it challenges you to look and think about things you may not otherwise stop to study. Cleopatra's changed as we all matured in our day-jobs-turned-careers. We want different things from it now; we have a greater appreciation for its distinct attitude. It is a labor of love and commitment to making projects among peers who are connected to one another through a community – people who we want to cheer on. In our recent – and really first published press mentions – the New York Times and New York Magazine, the writers have variously nodded to this spirit of Cleopatra's. It's taken almost seven years of our doing Cleopatra's for that to be fully articulated. It feels good and celebrates our resistance to turning that project into something different than it is. I'm very proud of that.
Erin: What is most daunting in opening your first gallery in this city?
Bridget: I am most daunted by the mystery of whether or not it will work.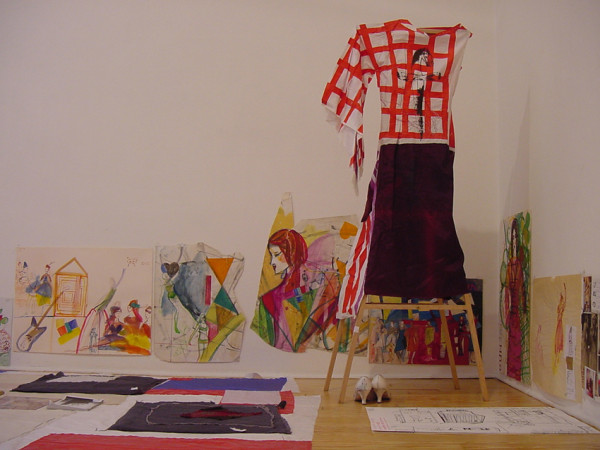 Susan Cianciolo, installation view of Run Retrospective, 2003, francesca kaufmann, milan
1. Double Exposure at Roots & Culture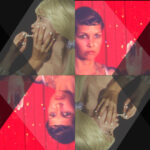 Work by Lyra Hill and Daviel Shy.
Roots & Culture is located at 1034 N. Milwaukee Ave. Screening Sunday at 7pm.
2. Visitation Rites III at The Franklin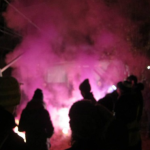 Work by Angie Evans, Phil Parcellano, Gwen Zabicki, Philip von Zweck, EC Brown, Vincent Dermody, Patrik Qvist, Irene Perez Gil, Catie Olson, Morgan Richardson, Kevin Jennings, Traci Hercher, Adam Farcus, Derek Weber, Bryan Volta, Brandon Alvendia, Jenyu Wang, Rebecca Beachy, Victoria Martinez, Dan Sullivan and Edra Soto.
The Franklin is located at 3522 W. Franklin Blvd. Reception Saturday at 6-10pm.
3. Try Youth As Youth at David Weinberg Photography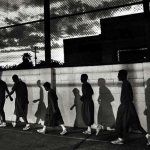 Work by Tirtza Even, Steve Davis, Steve Liss and Richard Ross.
David Weinberg Photography is located at 300 W. Superior St. Reception Friday at 5-8pm.
The current political differences between Moscow and Kiev seem intractable. But it remains true that both governments have an interest in cultivating sustenance. Both governments need to eat.
A new London show by Ukrainian artist Nikita Kadan revolves around a vegetable patch. Well-cared for lettuce and herbs grow in a square yard of rich, dark soil. The sight is nourishing, a stark contrast to the death toll of 5,000 killed since fighting began in 2013.
But there's more to this installation than plantlife. Straddling the small plot is a three-panel display stand designed to celebrate Soviet agricultural planning. Unimpressed by the memory, Kadan leaves off the sloganeering. The boards are blank.
"I combine my works from, let's say, confronting elements quite often," Kadan tells me from Kiev via Skype.
"I use forms from Soviet neomodernism often and somehow they represent this gap between having a Soviet era project and . . . then doing things for purposes you understand, not as part of any ideological programme."
You don't need to look far to find a response. A slide carousel projects images of protest from the capital's Independence Square, a pro-EU gathering which came to be known as the Euromaidan.
Here too they are growing food, albeit shabbily. Patches of greenery break out between makeshift tents. They indicate that non-Soviets can also sustain themselves. Supporters of European alliance can also reap a cabbage or two.
Programme or no programme the Maidan could claim a famous victory when in Feburary 2014, then president Yanukovych fled the Ukraine.
But the incumbent government was just as uneasy about the lively protest camp on their doorstep. Kadan recalls them wanting "a normal square," but persistent occupiers of the Maidan saw a chance to create what might be "an instrument of permanent control of power".
If Kiev was changed by events in its main square, so too were those who came to spend time there. "There was an experience of unity and an experience of violence and these were experiences which transformed us very much," says Kadan.
The politics of the Maidan were eclectic; it encompassed liberals, leftists, and nationalists. So the artist reports back on a phenomenon of "postponed questions" which allowed the camp to resist outside aggression. Over 48 hours last February there were some 77 people killed in clashes with police and security.
So the vegetation at Waterside Contemporary is as much a memorial as it is a utopian proposal. And in the midst of the square's garden, a mournful cross reminded passersby that this was a statement as well as a food source. "We have roots in the soil," as Kadan puts it.
It is sad and predictable that the Maidan was in August destroyed. But that just makes this show in East London all the more luminous.
"What is happening in Ukraine is very untransparent," says the artist. "It has to be analysed, researched, described, and somehow we need to make a step out and look at this from a certain distance."
So the history of the Maidan can now begin to grow, much like the faded crops which creep around the blasted and pockmarked city in Kadan's optimistic collage, as seen on the surrounding walls.
These need little political knowledge to read as a celebration of gardening over military power. Even tanks can be stopped, but plantlife never; guerrilla gardening remains a lot less contentious than guerrilla warfare.
When asked about the London context for his work, Kadan says: "I don't consider it as an act of cultural diplomacy between Ukraine and Western Europe." It's not, he insists, cultural journalism. His square yard of crop cultivation is more personal than that.
"It's maybe something between what happened in Ukraine, and in the world, and in me. So I think about such a constellation."
And so from the earth to the stars, Kadan has revealed a poetry of resistance, an idea which travels well, even as it anchors a people to their public space.
Nikita Kadan: Limits of Responsibility is at Waterside Contemporary, London, until April 4 2015
1. 2nd Floor Rear 24 Hour Alt. Space Festival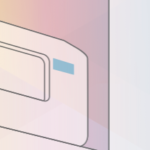 Including events at I am Logan Square Gallery, Hume Gallery, Crown Liquors, Dreamland D, Kitchen Space Gallery, Corner, Tritriangle, Uncharted Books, The Whistler, Autotelic Studios, Church of the Advent, and multiple residences.
2nd Floor Rear 24 Hour Alt. Space Festival will be located at various venues across the city. Events will take place at various times Saturday and Sunday.
2. Mossy Cloak at Roots and Culture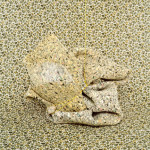 Curated by Third Object, with work by Samantha Bittman, Drew Broderick, Liz Ensz, Kiam Marcelo Junio, Tim McMullen and Laura Hart Newlon.
Roots and Culture is located at 1034 N. Milwaukee Ave. Reception Friday, 6-8pm.
3. A History-shaped Hole in the Universe at Chicago Artists Coalition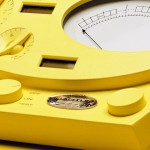 Work by Mara Baker, Hannah Barco, Nina Barnett, Cherith Lundin, Regina Mamou and Adam Liam Rose.
Chicago Artists Coalition is located at 217 N. Carpenter St. Reception Friday, 6-9pm.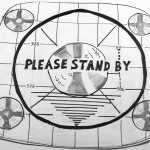 Work by Meg Duguid.
slow is located at 2153 W. 21st St. Reception Saturday, 6-9pm.
5. The Height Below at Heaven Gallery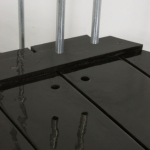 Work by Soo Shin and Liz McCarthy.
Heaven Gallery is located at 1550 N. Milwaukee Ave. Reception Friday, 7-11pm.
By Kevin Blake 
I'm watching a fly float over the clouds in the water's mirror of the sky. It skitters, flutters and floats–leaving behind a turbulent wake that appears in my imagination as an erratic line, proofing the fly's movements through space. The trace loops through the three dimensions of the surface. As I approach the water, the lines shorten in the distance,(we know the rules of perspective)and the view becomes topographical. Im now standing over the water–looking down to see the fly. Time is illustrated in the dissipating image of the oldest movements. As the fly plunges closer to the eye, its jet wash hurls swinging vortices in fattened, pressure soaked movements. I see the speed of the fly quicken as its impression gains purpose. The history of the fly becomes an image–a propeller–under which an amorphous yellow, seeps through like a memory of its former self, struggling to evolve. The water's mirror seizes this propeller at the concrescence of meaning. The lines become the language of the apparatus. The metaphor dissolves. My fly disappears. It is just a painting again–Christopher Smith's painting, Untitled IM32 in the north gallery at Riverside Art Center.
I pull away from the painting in the intimate room in which it is hung–weaving, in a backwards motion, through a crowded opening at this cultural oasis in the obscurity of urban sprawl currently demanding (through persistent quality offerings) our attention and travel. In RAC's latest offering, All In, curator Karen Azarnia has selected a group of painters who display a range of approaches to abstraction. From the cannon that binds them to the execution that separates them, these artists convey their painterly chops while maintaining a singularity whose description is, admittedly, just my reflection in the water. My ideas. Their images. I try to link them here–I try to create metaphors from visual cues to create meaning. I create meaning to locate my interaction with these images within my own experiential dictionary. I am both limited and liberated by the extents of my exposure.
Creeping into my frame at stage left in my back pedal, are two small paintings by Magalie Guerin. At first glance, I glean my expectations from her work. I calculate immediately that what I am looking at, and about to engage further, is figurative abstraction. I see the anatomical forms that I have come to know and believe I understand of her work. However, I also believe in looking further. I believe in experience as the means of dissolving boundaries built from previous experiences, and I pivot to an about face with the work, intent on discovery.
Scanning the paintings, I consider my entry. I consider having entered my reflection in the water by movement through it–I see the ripples as causation rater than effect–as they distance, the image clears. My eyes are directed to a deep space in the upper left corner of the painting Untitled (hat–red room) 2014. In this portion of the image there is, in fact, the painted description of a human profile topped with a hat in front of a red backdrop. The angled lines tunneling to it, suggest the architecture of the title as well as the essence of the total. Herein, I find the strategy for extrapolating from the learned historicity of painted space as a means of creating new visual syntax.
I see Guerin's visual clues to Matisse's red studio and to a number of his blue paintings wherein, Matisse forces the viewer to consider color fields as space, utilizing line only sparingly to describe perspective and scale. I see the clues she leaves behind about the figure and its relationship to space. I visualize the discourse Guerin alludes to when I discover what I think she has done with it. Out of the deep corner in the red room, the figure emerges. The painting is made of the figure. It is repeated over and over again. The figure is the space. The space is the figure. The repetition is utilitarian while maintaining enough ambiguity to force the viewer to work for the strategy.
The painting that commands this room looms large over my left shoulder as I circle around to it. John Phillips' Untitled 2014, is a slick veteran painting that showcases the artist's unflinching commitment to abstraction. It looks like bubble gum and cotton candy–the colors of nurseries and lawn storks. It is atmospheric while sharp. It is rigid and loose. It equally distributes the wealth throughout the gridded structure that maintains its form. Here the metaphors escape me and I'm left to decipher an analytic code–a code writ large in the history of abstract painting. The oval form that Phillips deploys isn't a reference to his massive record collection. They aren't planetary. They aren't a representation of anything. They are a serviceable geometric form that Phillips has utilized throughout his career to organize space.
My eyes make contact with the edges of the painting, where Phillips seems to be particularly deft. He encapsulates the expanse by maintaining his boundaries, pushing objects into a deeper field. The bars breaking up the painting horizontally, pulsate in and out of space. This undulating motion is dictated by where a bar meets an oval. The ovals assume the surface level and thus, control the space. Through a manipulation of perceived space that is his own, Phillips stamps another canvas with his potent investigations.
As I segue to the south gallery, I meet Melody Saraniti's work in a narrow walkway between galleries. The path and the crowd draw me into close proximity with the work, forcing an intimate encounter with the materials. It is through this piece, that my own thematic emerges.
I see Saraniti's dialogue. I can See what she means. We use this expression often, whether looking at an image or not: "I can see what you mean." It conveys the sense of dialogue. I became fixated on this idea, and how it resonated throughout the exhibition. In Hexylene 2015, Saraniti draws from the well of modernist vernacular to assume the position of the viewer. She amplifies this vocabulary by making three dimensional models of painting moves, such as the drip, the smudge, or the straight from the tube application. Within this framework, she views her own process and materials.
A similar trajectory can be found in the contributions from Diana Gabriel and Alexander Herzog, wherein painting grammar and language systems guide the viewer through their work. In Herzog's piece, Graft 1 2015, I was convinced that I was reading text in the cascading block forms in the foreground of the painting. I could see what he meant. I could see the connections he was making to visual language and the syntactical arrangement of painting gestures. Herzog seems to commit to the lexicon of language itself–to breed this existing familiarity within the act of seeing.
The behemoth of the show, Scott Stacks, Untitled 2013, is on its own plane–working with perspective one ardent line at a time. His persistence appears honest and painstakingly carried out. The matrix of lines projects a techno-narrative slant wherein I find yet another form of language manifested in paint.
At the exit, I take one last glance. I return to what I see. In this exhibition, I see more than seven different styles of abstract painting. I see the history of abstraction and the nature of its survival over time. I am reminded of a Bruce Lee quote:  "Notice that the stiffest tree is the most easily cracked, while the bamboo or willow survives by bending with the wind."  The parameters that have bound various historical art movements were also the factors in their inevitable deconstruction. Abstraction has survived time because it mutates in the eye of the receiver. It becomes them. It becomes their reflection in the water.