On Sunday February 7, 2016, the date that will now forever be known as the day a politically aware and majestic Beyoncé won the Super Bowl, an article written by Daniel Grant ran in the Education/Life section of the New York Times titled "

For These Pieces Hold the Paint: Social Practice Degrees Take Art to a Communal Level

." The Art and Social Practice MFA program at Portland State University (PSU), where from 2008-2014 I taught and was for the majority of my time there the Co-director and Chair,  was heavily featured in the article.  Before joining the faculty at PSU, I also founded the largest annual international conference on socially engaged art, Open Engagement. My background as the director of this conference, my intimate knowledge of the program at PSU, and my position in the world as a woman of color led me to read the article (one of the first circulating these ideas to a broad and mainstream readership) and wonder who gets to speak for socially engaged art? Whose voices are privileged? And what types of projects get circulated?Social practice feels as though it could hold the potential to change the world. As Harrell Fletcher stated in the article, many artists working in this way could be described as politically progressive, some "fairly extreme in their anticapitalism." I would say that much of the ethos behind this way of working as an artist is about re-evaluating and challenging systems of power. It is about the value of art in daily life and the belief that art is for everyone, not just the elite. Its commercial value can be slim as much of the time this kind of work might not look like art at all. This work promotes agency in artists, it is made alongside and with it's intended audience and necessitates being in the context of the world.

Because social practice can be so seemingly outside of what we have traditionally framed as art it often has a problem with tone and form. Artists wishing to tackle the most pressing and serious issues of our time sometimes land on a dinner party, or a walk as a way of addressing these problems. While I believe that real change can emerge from seemingly small gestures, it is undeniable that there are clear tropes that have emerged in socially engaged art. One of the most troubling things for me in the New York Times piece was that while Grant talked about social practice's historic connections to figures like community organizer and agitator Saul Alinsky—whose work was able to help lend power to the voices of so many who have been disenfranchised, that one of the main projects of graduates of the PSU MFA program that was featured was "Grocery Stories", a project installed at a locally owned Portland boutique chain grocery store, giving voice to artisanal cheese makers. I know from first hand experience that the PSU MFA program has produced projects and artists that deal with immigrant rights, housing justice, shifting institutional power, LGBTQIA communities, and media access. As I read I wondered where was the radical work? Why were only white students highlighted? In addition to this omission of these student projects, there was a lack of diversity in the interviewed leaders in the field ranging from program directors, to chief curators—many of these voices representing the usual suspects for social practice.

Grant's article ends with a sentence that is undoubtedly supposed to elicit a response and understanding in the reader about the new level of awareness that the students and artists working in this way have achieved, "They shuffle, reach, grasp the air, and ultimately open their eyes." If this is a practice that is truly woke I would hope that it would not continue to perpetuate the models of the dominant art world that continue to exclude women and people of color. In 2013 The National Museum of Women in the Arts estimated that 5% of artwork currently on display in the United States was made by women, and the famous Guerrilla Girls poster outlining the breakdown of artists in the 1991, 1993, and 1995 Whitney Biennials show that the numbers of women of color included in the art world are significantly less. Jillian Steinhauer's article for Hyperallergic titled, "The Depressing Stats of the 2014 Whitney Biennial" shows that sadly little has changed in almost two decades.

In

April the 8th

Open Engagement will feature Keynote speakers Angela Davis and Suzanne Lacy. This edition of the conference is the first in a trilogy that will explore the themes of POWER, JUSTICE, and SUSTAINABILITY,  2016 in Oakland at Oakland Museum of California, 2017 at University of Illinois at Chicago, and in 2018 back at the Queens Museum in NY.  Open Engagement has worked alongside practitioners and institutions to make sure that the conference symbolically and literally is as capacious as the art by spanning geography, recognizing spaces both inside and outside the academy, and embracing all people who are engaged in transforming the world through creativity and radical imagination. These struggles are continual and each year we acknowledge that this work is never done—that is the nature of social change.  As the Associate Director of the UIC School of Art & Art History currently developing socially engaged curriculum at a large public urban research university,  I hope that within this freshly institutionalized area of art making that has its roots in activism, social justice, and community organizing, the promise and values that I see in social practice will hold space in the art world for all of us. Before my own time at Portland State University ended I was told by an older white male tenured colleague that I had, "become too visible, and was taking too much credit for the work I was doing." If we can't shift these paradigms of oppression and fight these inequities within our own field, what hope do we fare when we take on the world?
Jen Delos Reyes is a creative laborer, educator, writer, radical community arts organizer, and author of countless emails. She is the director and founder of Open Engagement, an international annual conference on socially engaged art that has been active since 2007. Delos Reyes currently lives and works in Chicago, IL where she is the Associate Director of the School of Art & Art History at the University of Illinois Chicago.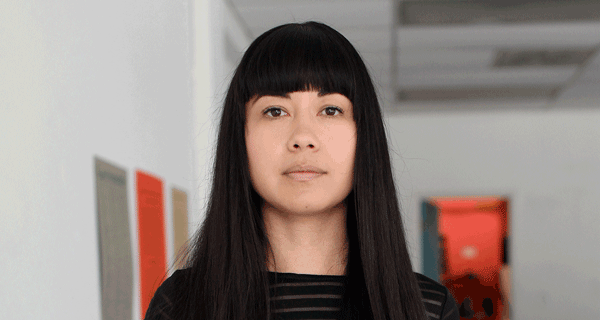 Black Salt Collective is a multidisciplinary group of four women artists of color based in Oakland and Los Angeles: Sarah Biscarra-Dilley, Grace Rosario Perkins, Anna Luisa Petrisko, and Adee Roberson. The collective's first curatorial project, Visions into Infinite Archives, which opened at SOMArts in mid-January, first struck me for its wild ambitiousness: the exhibition includes over thirty artists of color intervening with themes of time, oppression, history, and narrative. I met with Black Salt Collective soon after the show opened to walk through the challenging, at times dizzyingly complex body of work. We then moved online to expand on the themes of presence, magic, hospitality, and the presence of the artist's hand that emerged in our conversation.
Visions into Infinite Archives runs through February 10th at SOMArts in San Francisco. The closing reception will take place on February 4th.
---
One of the starting concepts for this show was creating "overwhelming presence," which plays out in one way into the multiplicity of voices in the show (30+ artists) and formally in terms of the sheer maximalism of the exhibition. Can you say more about this initial impulse to create overwhelming presence and how you translated that impulse into your curatorial choices?
Anna Luisa "Jeepneys": Whether or not the Western world validates it, people of color have BEEN here and we will continue to BE here making art. This show reflects that, and it largely represents a diverse spectrum of not only race but of gender, sexuality, ability and class– many underrepresented groups. It's not that we're not making work; it's just that it's not being shown, documented, publicized or archived. This infinite archive is a way to honor the voluminous and multiplicitous past, present and future work by artists often left out of the contemporary art canon.
Adee Roberson: When I think of the overwhelming presence in the show. I think of the artists we chose and their authenticity. In a culture that is currently held back so much by "Not being real," it feels especially important to me, as an artist, to be real and vulnerable.  That energy is overwhelming when you walk into the gallery.  Not only do you feel the presence of the artists via their work, but you feel their ancestors. Multiple people who came to to opening, and ourselves, at times were in tears!
Another theme that emerged in conversation is the role of spells and the role of the object as a conduit for magic (for example, with Petitions to Saint Anthony). Grace said that this setting of intention in offering objects as prayer is another way of seeing the exhibition as a whole. Can you say more about the role of magic in Infinite Archives?
Grace Rosario Perkins: In the case of Jose's work, as well of a lot of the work in the show, I think magic is a coded way of describing the way we all transmute our experience, our pains, our traumas, and joys into objects. I think as a whole… Adee and I were talking about it just yesterday and getting really emotional about it– this exhibition exemplifies this because it is full of energy and intention. Just in the way one would set an altar with objects, each representative of a hope, this show itself feels similar to that. There are dynamics we are creating in the space itself where all of us come together with cohesion because in a lot of ways our experiences of oppression and existence are not dissimilar and here we are all in 2016 working through it.
Our collaborative installation, which is what you see as you immediately enter the gallery space, is a way in which we are conjuring a mass meaning through objects with personal weight. Nothing arbitrary. It's really funny to me how still, though, this idea of magic or work that has a spiritual basis is being criticized. One of our artists in the show whose work is all about magic, all about spirituality, and all about culture was pretty much dissuaded in grad school at CCA from making that work– being told that it wasn't necessary, that it was questionable, so I'm kind of at a place where I'm wanting to pull people up and have us all come together again and say, "Well, anyway, here it is" in the face of dominant art culture because to separate those aspects from us as people of color has happened too many times, through force and cultural breakdown.
Sarah Biscarra Dilley: A teacher once explained to me, "Intention is nine-tenths of the magic." This has stuck with me through times of duress and spiritual fatigue as well as moments of beautiful regeneration, expansion and change. Intention is our ability to shape the world(s) around us, within us, beyond us.
In some circumstances, intention is all we have had: a sheer faith in our prayers being heard. In others, intention becomes a political act, a testament to our belief and grounding in relationship to spirit, to land, to blood, to our people, to each other, to ourselves. This show was crafted with the same intention we each hold in our day to day lives, one that is founded in mutual care and respect, in prayers for intergenerational healing and cultural resurgence, in our fumblingly human attempts at honesty and transformative joy. The varied manifestations of magic or communion with spirit that present themselves in this exhibition are gifts to ourselves and each other, from artist to audience and beyond, impacting us in embodied and intangible ways. It reflects a worldview that deprives nothing of life and enlivens us to everything. It represents the responsibility we claim to collective change that is needed on all levels, physical, emotional and spiritual.
One powerful aspect of Infinite Archives is the effect of hospitality that radiates through the work. I'm thinking most immediately of Essence Harden and Jihaari Terry's quilt, but this impulse is everywhere in the work, from preparing for a social event in postcommodity's work, Eve's photographs about the gifting around the sun dance, and the bar furniture for some times. What does hospitality and being a host or guest mean in the context of visiting this exhibition? Does that have political resonances in terms of the show's criticality about (post)colonialism? And finally, how does this play out in the form of the exhibition itself?
Sarah Biscarra Dilley: I think what is being read as hospitality in the exhibition are actually topographies of our resilience as indigenous people, as descendants of survivors of the middle passage, as peoples displaced by colonial expansion and imperial warfare. These are examples of our abilities and emerging attempts to transmute generations of grief and anger and fracture. These are examples of how we remain dedicated to loving ourselves and our communities despite being told our entire lives by dominant culture that we aren't worthy of it. These are examples of our respective communities' abilities to sustain vibrant and changing cultural practices that serve our communities and their physical, emotional, and spiritual well-being. And because there is nothing post about colonialism, in the context of the exhibition and where it is situated, unless we are of this place, we are all guests (welcome or not) on unceded Ohlone land.
Anna Luisa "Jeepneys" Petrisko: For jeepneys and some times' piece, we talked a lot about hospitality and how we as Filipinos are proud of our hospitable nature, but at the same time, we are uncomfortable with the fact that Filipinos are labeled as "hospitable" by Westerners, which we believe stems from a 500 year Colonial history. It's like one of those things– we can call ourselves "hospitable" but when you call us this it's problematic! Like most of the ideas in the show, it's complicated. And it's further complicated by the fact that we (as children of Filipino immigrants born in the US) are settler colonialists ourselves (on stolen Ohlone and other indigenous Native American land). If you sit with our piece for awhile, we hope that you will understand the complexities of this. People of color navigate complex situations everyday and one of the things that this show does, in my opinion, is sit with complexity and contradiction.
So much of the work in Infinite Archives shows its own process. Grace talked about how the presence of the hand was important to this show– versus the usual impulse in contemporary art to perfect, smooth, and not show the seams. Can you talk about the role of hands-on creation or "heavy-handed" process in the show as it moves into the contemporary art space?
Grace Rosario Perkins: I think the role it plays is basically just a vehicle of visibility. Thinking of a recent trip to a folk art museum got me thinking about how art that has a basis of cultural significance, spirituality, and tradition imbedded into its creation always gets a title that is not seen as "contemporary," but "folk" or "craft" or something completely tied to its origins/time. This keeps the work itself pinned into categories used to continually "other" the work. The way a lot of the artists work in this show is through a process where the hand is visible, and I think that is directly tied to the cultural experience of many of us– using what we have, abstracting tradition, and not feeling the need to align with the tidiness of that particular seamless white box work we see time and time again in galleries and museums. In a way that white box work isn't meant for us, really, so with that we work with what we have. It's like what Lonnie Holley (one of our artists in the show) said at an art talk I attended when he was called an "Outsider Artist," he responded, "Outside of what!? I'm an American and I'm an artist." These titles are so limiting so I think just having a bunch of objects with seams, with cracks, with hand stitching is really important.
Adee Roberson: When I think of the presence of the hand in the work the first things that comes to mind for me are the working class and touch. Building, planting, sewing, and painting. All of these actions infuse the maker/workers energy into whatever they are interacting with. As someone who is also a bodyworker, I also view touch as taking care of something or someone. Tending to. I watched Jose install his work for hours. Each addition and object has so much intention and I feel that work, time and care when I see his piece. And most of the pieces in the show.
Sarah Biscarra Dilley: I think this also emphasizes the interdependence of our bodies with the work. It's what brings each work to life in this world, this collaboration between emotion and spirit and our physical form, what makes each work performative in its own way. It is our own expression of generations of experience that maps lessons passed down to us from blood family and messages from otherworldly realms, lessons learned in stubbornly and ones that are gleaned through the ways we are changing on cellular levels. It asserts our presence with every stitch on marred canvas and fingerprint in smudged paint. It asserts our commitment to embodiment in a world that has tried to erase our histories at every turn but still cannot. The presence of handwork, of the body, in this exhibition disallows the separation of our lived experiences from the visual work and our practice as artists.
These two previous questions point to one of the most successful elements of Infinite Archives, which is its critical approach to institutional spaces while also inhabiting them. How planned was this move?
Jeepneys: This is the way we have to navigate everyday life! So in a way, it is both planned and unplanned, pre-meditated and intuitive.
Adee Roberson: The show coming together the way it did, was a really intuitive leap of faith. We put a lot of trust in the process of connection. I've never really been one to inhabit or create in institutional spaces. So when I do, as a black, working class woman, naturally it's always going to be a creative subversion.
How does the film series on January 30th relate to the rest of the exhibition? What will you be showing?
Jeepneys: We will be showing a group of multi-generational filmmakers, most of whom are emerging. I like how these films are both contemporary and archival, shot on various formats including 8mm, 16mm and digital, reflecting the sense of non-linear time that is one of the exhibition's themes. The feature film is Bontoc Eulogy, and it is one of my favorite films of all time.
More information about the screenings can be found here.
I'd love to hear more about how this show intersected with your own practices individually and as a collaborative group. Would you ever curate a show together again? What's next for Black Salt Collective?
Jeepneys: I have been thinking a lot about artistic and curatorial processes lately and how they differ when you are a person of color or any systematically-oppressed person. I am so interested in how identity and ancestral memory inform the artistic and curatorial choices we make. Whether they are aesthetic, political, formal, or content-based choices, our identities, histories and futures play a role. I think this interest is something we all share in the Collective.
Black Salt is a family. We know each other so well that we can work intuitively and with an immense trust for each other. And we all make each other laugh which helps. And make fun of each other, just like family.
Adee Roberson: I would love to curate a show with Black Salt again! What I would really love, though, is to see this show travel to different spaces. The work that we curated for this is so powerful and big. I'd like to see what it would look like to install in various spaces over time, and possibly add more to this current archive.
Our next endeavor is a book; we are working with E.M. Wolfman Editions in Oakland. We are still working out the content and vision.  I'm excited to have this hand held tangible object filled with stories, interviews, and reflections on our  process and practice. This year we are also all doing our own individual residencies around the country. So I'm excited to see what we all make and how it will come together back in the the collective process.
Grace Rosario Perkins: I just want to echo the sentiment, "Yeah! I want this show to travel" and  we definitely are not done curating together. I think doing this show and walking through one day after install with a little space between the process and the result I was like, "WHOA. What did we do?" in the best way possible, so yeah, so excited to keep the momentum going.
Sarah Biscarra Dilley: Yes! This has been such an immensely growthful process, one that we are still fully in the throes of- something that is marked in the ever-changing ways that our individual work is continually linked to our collaborative work. This collaboration has always felt like a natural extension of my personal practice because these babes are my family and co-conspirators, such immensely inspiring influences in my life. Black Salt has so much more to do together as goofball loners, as loving friends, as chosen family, as curators, as healers, as artists, as conduits, as archivists in our own understandings of that word. So yeah, from the book to other incarnations of this show and our entwined individual and collaborative practices– bring it on, universe!

An unprecedented flood of images of new Art Institute of Chicago president and Eloise W. Martin director, James Rondeau, have hit the internet this morning as the news of his appointment spreads from outlets in Chicago all the way to New York City. The images feature Rondeau standing pensively in front of various works of contemporary art in AIC's Collection. The most popular (and our favorite) is of the new director (who will take officially office Feb. 16th) in front of Georgia O'Keeffe's Sky Above Clouds IV, but choose your own favorite from the roundup of links below:
This news comes on the heels of artist Alberto Aguilar's take over of the institutions Instagram page, which was arguably very awesome.
For 30 years, AS220 has been a living example of innovation in non-profit arts programming, youth programming, community development, and creative placemaking. Growing from a small grassroots collective, AS220 has built a sustainable large-scale organization that now serves as an international model.
The residency program's goals are to inspire possibilities in participants and share information that is digestible and easy for them to apply to their own context. Participants will learn from both AS220 and other practitioners and reflect on how their own decision making provides opportunities for others in the arts. Tuition cost is $500.
AIR/AM recognizes artists/managers as anyone who works in the arts regardless of position. From those who identify as arts managers, arts educators, socially engaged artists, program coordinators, community organizers, arts researchers, cultural producers, or any other given title, AIR/AM seeks to bring a diverse group of practitioners together in a fertile environment to share and learn from each other. Residency program activities include a series of workshops, presentations by participants, a tour of Providence including visits to partner arts organizations, hands-on making sessions in AS220's Industries and, of course, a party!
Workshops will include presentations by AS220 staff and expert visiting faculty, and will allow plenty of time for discussion and debate. In the spirit of Practice//Practice, some workshops also involve working sessions, bringing theoretical discourse into the practical realm.
Read more and apply at the link below!
Whether here in Chicago or elsewhere, the art and music that I see and hear—much less find time to write about—are the proverbial tip of the iceberg. As 2015 morphs into 2016, I'd like to revisit things that riveted my attention and stuck with me as days, weeks, and months collaged into the past year.
Also I'd like to thank artists and musicians everywhere whose talent and work create transformative experiences: moment by moment and year after year.
Mahwish Chisty's work grabbed me when I came across it during an open house at the Carroll Street building where she has a studio. She juxtaposes features of South Asian miniature painting with other techniques and media to create tense, unsettling work.
The miniaturist style, with its associations of delicacy and beauty, antagonizes complacency about Predators, Reapers, and and other drones used by the US military to bomb Afghanistan, Pakistan, Iraq, Syria, Yemen, and Somalia. The Chicago Cultural Center's summer artists-in-residence show exhibited paintings, multimedia works, and a video from Chisty's trenchant drone series.
Marc Fischer and Public Collectors created Hardcore Architecture using home addresses for 1980s hardcore bands that were published in the fanzine MAXIMUM ROCKNROLL. The exhibition at The Franklin in Chicago showed punk rock ephemera along with recent Google Street photos of addresses where fans sent money in the hope of receiving their favorite band's latest cassette.
Public Collectors tracks down materials to document and memorialize cultural phenomena ignored by institutional collections. In addition to a catalog of color photos of bands' addresses, the Hardcore Architecture project published booklets of interviews with Cryptic Slaughter's Les Evans and photographer Bill Daniel, who got Texas hardcore on film.
For the past three years I've been wanting to get to one show or another at Roman Susan, a non-commercial storefront art space near the CTA red line stop at Loyola. There was no doubt I'd make the trek to Roman Susan for the show by Christine Wallers since her earlier work at Experimental Sound Studio and A&D Gallery displayed a signature mix of intelligence, finesse, and subtlety. Death of a Moth continued in this vein while staking out its own distinctive territory.
Since Roman Susan is usually closed, the challenge for artists showing there is to create an installation to be viewed from outside the gallery. During the day, Death of a Moth used the abundant light of a large south-facing window to illuminate pendulous sail-like forms burnished with ink. After dusk the storefront became an evanescent spectacle of projected images, angular volumes, and copper wire cats-cradle—all shimmering and accompanied by mysterious sounds audible through the door's mail slot.
Christine Wallers' creations of ink rubbed into crumpled Tyvek appeared on the walls of Links Hall, where lighting artist Christine Shallenberg worked more magic. The occasion was Signifier, the first performance of a long work by choreographer Joanna Furnans.
Furnans displayed her command of the lexicon of modern dance with choreography that bound the three dancers with geometrical precision. Whether introduced through movement or music, unexpected moments of wit counterbalanced the dance's en pointe feminist significations.
Jefferson Pinder orchestrates artworks that reference and use the human body, specifically bodies of color exhausting themselves as in Thoroughbred, an anxiety producing performance with four naked people running on treadmills that went faster and faster.
The theme of rhythmic exertion recurs in the extraordinary video, Overture: Star of Ethiopia that's part of Onyx Odyssey, Pinder's show at the Hyde Park Art Center until January 24. In works that display human bodies or inanimate objects, threat and menace cling to them like a shadow. Charred police clubs hang over the gallery entrance. Artifacts are trapped in a large glass showcase. Sharp-pointed rods thrust into the air. Pinder's works reveal worlds where everything is ominous and danger is never distant.
Onyx Odyssey shows and tells truths about race in America, painful truths that every generation must learn—and work to change. We need more artists such as Pinder with the chops to create art that activates  awareness, healing, and action.
2105 Milestones
Like artists across the world Chicago artists grumble about insufficient exhibition and performance space—and inscrutable decisions of curators, gallerists, and other gatekeepers. Thankfully artists don't settle for the status quo. They put their ingenuity to work and create spaces where art, friendship, and community flourish: in storefronts and storage rooms, front, back and side yards, vintage apartments, an abandoned bank, and the rafters-and-studs skeleton of a mansion.
The Suburban, Michelle Grabner and Brad Killam's home-based exhibition space finished an unusually long run in Oak Park in 2015 and shifted operations to Milwaukee. Meanwhile, at nearby Terrain, Sabina Ott and a phalanx of artists launched the second Terrain Biennial. It included 75 artists and 3 collectives at sites in 7 US states, Cambodia, Canada, and Denmark.
Elmhurst Art Museum Biennial: Chicago Statements is up until February 21. Curated by EAM's Staci Boris, this inaugural biennial features works by Chicago artists that are edgy, enigmatic, and playful. Ride on a swing, crawl in a tent; see, hear, and reconsider black and white assumptions about city life while discovering an art mecca in the park. Skycube by David Wallace Haskins remains on display until Spring 2016 and EAM's McCormick House by Mies van der Rohe is now integrated into the exhibition space.
Last October, cinephiles and other art lovers were treated to CinéVardaExpo. Agnès Varda in Chicago. During her week-long residency at the University of Chicago Agnès Varda gave workshops, public talks, answered questions after screenings, and had an exhibition at the Logan Center. From her classic Cléo from 5 to 7 to her no-holds-barred Vagabond and other films, television work, photographs and installations, Varda transmutes the world around her into art. She's incomparably her own woman et une artiste formidable.
Even if 100 is the new 80, it's still a lot of years. And that's how long the Renaissance Society has been showing contemporary art in Chicago. Since its founding, the Ren has exhibited over 3400 artists, racking up name-dropping shows: Henri Mattise, Alexander Calder, Käthe Kollwitz, Joseph Cornell, Louise Bourgeois, Felix Gonzalez-Torres, Joan Jonas, Kerry James Marshall, and Steve McQueen. With a full calendar of exhibitions and performances, this Chicago powerhouse makes the most of its quirky garret space in Cobb Hall, a neo-Gothic classroom building at the University of Chicago. Happy Ren-tenary!
Rebuild Foundation continues to expand an important portfolio of neighborhood-oriented arts and cultural spaces on Chicago's South Side with the 2015 opening of Stony Island Arts Bank. This latest rebuild by the organization founded by Theaster Gates, Jr. gives neighborhood residents and artists historic materials (Johnson Publishing's Library, Glass Lantern Slide collection, vinyl recordings, etc.) and space to gather and organize, make and exhibit art, reinvent history and create the future.
South Side and Magnificent Mile institutions marked the 50th anniversary of the Chicago-based Association for the Advancement of Creative Musicians (AACM) with distinctively different exhibitions. The Museum of Contemporary Art mounted The Freedom Principle: Experiments in Art and Music, 1965 to Now, displaying items from AACM musicians alongside works by AfriCOBRA artists (African Commune of Bad Relevant Artists) and others.
The DuSable Museum of African American History called its show Free at First: The Audacious Journey of the Association for the Advancement of Creative Musicians. It presented a streetwise view of AACM's political and historical contexts and accomplishments through photographs, sculptural objects, musical instruments, garments, archival materials, audio and video recordings. Getting a guided tour by Ernest Dawkins (current AACM chairman) to the DuSable exhibition was a windfall for me—as was discovering the AACM's liberating sound at the tender age of 18.
AACM articles of incorporation were displayed at the entrance to the DuSable show. Its founders listed nine points as the organization's purpose, starting with "To cultivate young musicians and create music of a high artistic level for the general public through the presentation of programs designed to magnify the importance of creative music." The 50th anniversary of course is being celebrated with live performances by AACM musicians in their spheres of influence across the globe. The next performance in a Chicago pop-up series at 1858 Grand is on January 31.
In 1965 the AACM stated that it would exist "in perpetuity." And so it does—thanks to musicians and publics who perpetuate the AACM's founding vision and principles.