By Kevin Blake 
This is a recurring dream.
I am suspended over an in-ground pool of which I can only see a portion. The pool juts out of the bottom left corner of the frame–a rectangular frame. The edge of the pool makes an L shape–horizontally to the middle of the frame and at a right angle to the bottom boundary. The negative space is a surrounding sun-bleached concrete–an infinite wall contained only by the imaginary frame of the image. My limbs are sprawled out as if they are tied to an invisible force that keeps me from retracting. I lay idle just inches from the water, but I cannot touch. I cannot feel the textures. I cannot sense the temperature, though it appears to be warm–it appears to be late afternoon. It appears to be desert-like. Arid. Crisp. Cloudless. Stark.
The same external force that keeps me afloat, pulls me wildly in a spinning motion to an extreme height where I can see the pool in its entirety. As I reach the apex of this pull, it allows me a brief pause before dropping me and stopping me just inches before I hit the water. It leaves me there, in what feels like dangerous proximity to a glass-like surface. I have no physical control. No power. I can only wait to be pulled from idle and dropped again. As I plunge toward the pool, the water disappears, and I break through the powerless dream–returning to a powerless reality. I wake up with the feeling of being dropped that often plagues the dreams of many. That uneasiness. That bubble in the stomach. That rush to the brain.
The value of a dream is only quantifiable in the mind of the dreamer. It becomes something more than a dream only when a metaphor is established–and thereby attached–as the answer to an otherwise abstract experience. Like spinning around with a blindfold and trying to find people in the dark, the recurring dream becomes something more, when anticipatory and imaginative thinking creates an alteration of behavior, a change in consciousness, or a way to find things in the dark. It can become the blueprint for an artistic practice.
In Tom Torluemke's latest offering at Linda Warren Projects, Blind Man's Bluff, the artist seems to be fueled by the necessity to communicate his ideas–both to himself and to a perceived audience. Here, metaphors(capitulated by the title of the exhibition) are born in cultural experience, unadulterated thought, and dreams–they are the conduit by which this artist transmits his signals in this densely populated exhibition.
The main gallery is filled with paintings, mostly executed with acrylic paint on irregularly shaped MDF panels. This device is useful. It appears to extend his metaphor. To exemplify the oddity that is his commodity–his ideas. Torluemke's ideas may be his bread and butter, but his ability to execute and transmute his thoughts into compelling objects, is equally evolved.
Torluemke's metaphors come alive in works like Day Dream 2015. This decisively cut panel adopts the profile of a man–a shape that is repeated again and again to develop the edge of the painting. A surreal landscape occupies the mind. Faces form the face. Dark matter makes the shadowy abyss beyond the dream. Paint is liberally applied to these slick surfaces, making it a joy to discover the miniature paint galaxies in the depths of the work.
In the smaller gallery a more intimate but more direct version of Torluemke's metaphor adorn the walls. The drawings are made while blindfolded, with one continuous line–details are added later. What is interesting to me about these works is less the product(though I like the drawings), and more so, the idea of creating an action born in metaphor.  If Torluemke feels like his artistic process is often like doing a frankenstein walk blindfolded in the dark, as a child does in Blind Man's Bluff, then it is this thought, this metaphor, that has driven him to thoroughly explore and excavate this idea and all of its potential. As a dream only becomes understandable by way of syntactic dissection and cultural grounding, so too must a metaphor be broken down into its component parts for reassembly as something new. Something learned. Something useful to the pursuant.
There is a multiplicity in these works that contextualize the conditions under which these objects are made. I can sense an urgency. I can feel the excitement. I can see ideas mutate on the surfaces. The work seems to be in constant transition–from panel, to sculpture, to blindfolded drawing and back again. Torluemke's process plays out like a dream as he traverses from one unexpected place to the next. There are no answers here, only snippets of dreams. Remnants of action. Links to a lineage of ideas that are constantly evolving.
By following the hunch, pursuing the dream, and unraveling the metaphor, Torluemke seems to have developed a method for finding his way in the dark.
Linda Warren Projects
327 N Aberdeen Suite 151
Chicago, IL
Gallery Y & Gallery X: Tom Torluemke, "Blind Man's Bluff"
April 17 – June 13, 2015
Opening Reception: Friday, April 17, 2015, 6-9pm
Artist Talk: Saturday, May 16, 2015, 3-5pm
Guest post by Vanessa Gravenor

Fraser Taylor's show Orchard/Dirge, on view at Threewalls gallery in Chicago, combines sculptures that suggest states of kinesthesis with drawings and paintings blackened to abject states. When entering the main room, one sees a cluster of metallic rods welded together to form angular shapes. These shapes both recall architectural origins but also clusters of beings: animals in a pack.
Austere and lustrous, the forms harken (like a hymn) back upon different artistic moments in the 20th century. Reminiscent of Russian Constructivism because of the linear and angular bisection of space, these specific forms in the sculptural installation Black Flowers recall Tatlin's The Proposed Monument to the Third International. In this way, the work pays homage to the utopian vision of art being linked to political life.
Just as the shapes seem to construct and recall these modernist roots, they also enter into a state of entropy and disintegration by suggesting a Giacometti-style disintegration of the figure. Contextually, Alberto Giacometti was incited by an overexposure to violence after WWI. He embodied a sort of cataract gaze and was concerned with redefining seeing when sight was impossible. Fraser's context is not post-world-wars but the AIDS epidemic in the 80's and 90's where he lost many friends to the disease. The exhibition write-up explains that purging of color "spoke of the wider index of loss" that all mass death brings.
In the adjacent room, there are banners that match this already precedent visual language. Again, abstract forms and ink turn to figuration. This figuration decisively recalls post-war abstraction because of the reduction of the body to pure expression, the body broken under panoptic watch, and of the individual that becomes part of industrial production.
The connection to William Kentridge seems inevitable especially in Taylor's handling of the suited form. Kentridge animated videos use the materiality of charcoal to reference the obliterated landscape of South Africa for mining, which references the colonized body. In Kentridge's work, human figures become landscapes only for the landscape to be erased and blotted out by the figure. There is a shiftless, transcendental character that Taylor's work shares with Kentridge's particularly the bannered work most recently completed (2009-11). However, Taylor's reference is not the black body under colonial or post-colonial Africa but the black body in America. In the sculpture installation Black Flower, on view in the main space, the exhibition write-up explains that the title references African-American painter, trumpeter, and jazz poet Ted Joans who aspired to incite revolution through a manifesto written in 1968. One can see the impact of beat poetry and soul music in the kinetic movements of banners in the project space.
The remainder of Taylor's work is comprised of three large square paintings all featuring a singular large inky mass. This inky mass appears to first be a negative field but shifts to become a birds eye view of a head. In one painting Peculiarities no6, there are several collaged images on the black surface. One image is a line drawing of phalluses, the other a print out of a neck, and another a pinky red color blotch. While the main bodily organ running through the show is the phallus, with some of the sculptures resembling Yayoi Kusama's white, sterile penile sculptures, the paintings' negativity suggests theoretical feminine or queer space. In this, I call upon second-wave feminist theory presented by Kristeva expressing how while the space of the feminine is the space of negativity it is also the space of the new. Furthering these theories, third wave feminist author Griselda Pollock describes how the space of the feminine is a radical space for encounter and con-division. Fraser's work seems to embody a post-colonial third-space between the feminine and the queer that shifts between forms, genders, identities, and landscapes delivering the gazer somewhere inside this void-space of creation.
Fraser Taylor's Orchard/Dirge is on view until May 23rd, 2015.
1. VERSIONFEST 2015: 100 Watts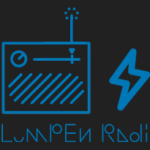 The 15th annual Versionfest, held throughout Bridgeport and debuting Lumpen Radio.
VERSIONFEST takes place at various locations throughout Bridgeport and events range in price from free to $85. Versionfest runs from 4/23-5/3.
2. The Mayor at The Hills Esthetic Center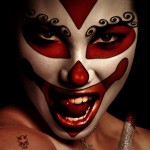 Work by Marcel Alcala.
The Hills Esthetic Center is located at 128 N. Campbell St. Reception is Saturday, 7pm.
3. Double Dialogues at DfbrL8r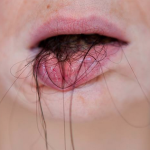 Presenting work by Manuel Vason, in collaboration with Guillermo Gomex-Pena, Heather Cassils, Jamie McMurry, Keijaun Thomas, Linda Montano, Marilyn Arsem, Mat Fraser and Zachery Drucker.
DfbrL8r is located at 1463 W. Chicago Ave. Performance and discussion Saturday, 8-11pm.
4. When Are We? at Comfort Station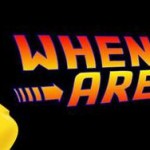 A happening by Heinze Flores (Alejandro Jimenez Flores and Paul Philipp Heinze)
Comfort Station is located at 2579 N. Milwaukee Ave. Happening Friday, 8:30-10:30pm.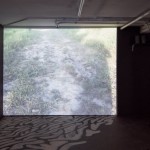 Work by Maya Mackrandilal.
THE MISSION is located at 1431 W. Chicago Ave. Closing reception Friday, 6-8pm.
Ingrid Burrington recently spoke at the 4th Floor, "a public laboratory and educational facility with a focus on information, design, technology, and the applied arts" at the Chattanooga Public Library. She talked in detail about her research into the physical internet and the ways in which we can interact with that physical presence, including Networks of New York: An Internet Infrastructure Field Guide. My infrastructure seeking eyes that follow power lines and stormwater overflow and ears that stop at buzzing transformers and traffic signal cabinets have been renewed by Burrington's investigations and provocations.
Chattanooga has one of the fastest internet speeds in the world. That internet is advertised widely and its impacts on development and gentrification within the city are readily apparent. The infrastructure of that internet is, however, still hidden in plain sight. Burrington reminds us that the powerful forces that mold our lives and are felt in the lived experience of the city are rooted in physical places and pipes and wires. Vast hidden networks, systems, and bodies power and maintain our daily lives. We can begin to see the full richness of the world and understand how to change it by questioning and attempting to see through the built world, by noticing the infrastructure under our feet, over our head, within our walls.
Similarly, we can begin to see the full richness of artworks by questioning and attempting to understand the context of the gallery and the museum that hold them. It is no surprise the wall color, the lights, the temperature, the presence of other bodies affects our experience of artworks. The context of the museum exists in plain sight, if we know how to look for it and if we are vigilant in investigating the traces that cannot be erased.
Gajin Fujita's solo exhibition opened this month at the Hunter Museum of American Art. It is centered around four large, vibrant paintings that dominate the gallery. His paintings are bright and action-packed, and they reveal increasingly complex layers as they are unwrapped. They blend the figures, faces, themes, and composition of Japanese woodblock prints, contemporary pop cultural references, and graffiti culture. They mirror the digital world of anonymity and multiplicity. Beneath the flat, richly patterned, and layered surface, they reveal serious questions about the boundaries of appropriation and collaboration, formal cultural institutions and street art, traditional craft and the porousness of digital life.
A quote from Fujita on the wall above his painting K2S Crew reads, "Collaboration plays a role in my larger works…I invite friends from my crews to come in and tag the backgrounds. I started doing this because I wanted to mimic how we work on the street …the yard walls became heavily layered with graffiti, and I wanted to recreate a small piece of that within my paintings; the layer over layer over layer look."
The paintings visually reflect that process, but the paintings themselves are far removed from the context of street art. The white walls of the gallery are sparsely hung; the paintings have labels explaining historic and contemporary references. Visitors are reminded that the gallery contains mature content. The "friends" and "crews" remain as anonymous as they would if they tagged buildings, yet Fujita is the only named and celebrated artist within the exhibition. The context of the Hunter is inextricable from the experience of Fujita's work there, but I have questions about the work that can only flourish outside of the museum. I want to know more about Fujita's process, the lived experience of co-creation, and the ways in which the infrastructure and people of LA intertwine with his work beyond the surface.
Fujita's work, and all art, must live in multiple locations, within white cubes and out among the blooming trees, the pipes that carry sewage under our feet, and the electromagnetic waves that fuel our daily lives as they pass through us. We have hidden the world from ourselves, and we hide artworks within museums and galleries. It is the physical form of the internet that facilitates our simultaneous experience of locations around the world. How will museums and galleries help us experience the artwork they contain with similar simultaneity?
We were late and I was sweating. I had botched my own plan to arrive: my plan was to meet a friend at his house nearby, then walk together to Bikini Wax from there. I never told my friend that we would meet him at his house, however, and when we arrived there he was gone, on his way to Bikini Wax, hurrying because he thought he has going to be late. So we walked up Patriotismo, through Escandon, up to Benjamin Franklin—the avenue Bikini Wax is perched on, the avenue that divides upper-middle-class Escandon from bougie Condesa from lower-middle-class, sometimes slummy Tacubaya. There is an Oxxo down the street and a mediocre restaurant next door. One of my favorite vegetarians once told me they had great burgers there. I don't believe him.
You enter Bikini Wax through an alley. The layout is famously bizarre: a one room ground floor with an enormous stairwell, a claustrophobic second floor with a kitchen that doubles as a main room and a narrow hallway that leads to apartment's three bedrooms and the bathroom, which, like the apartment, is famously dirty. Exiting the kitchen/main room, there is a precarious spiral staircase that leads to an expansive roof, from which you can see a fair amount of the city at night. This show — "Object – Space – Behavior," Isauro Huizar's first solo show at Bikini Wax — was not at night.
On the ground floor, there was a toy organ. I appreciated it, not yet knowing that it wasn't part of the show. We quickly took the stairs to the second floor, where Huizar's work was, but nobody was there. We walked around for a second, noticing a sagging stack of freshly-done shrink-wrapped laundry in the main room—Bikini Wax's usual exhibition room. In the near bedroom, a ring of books, stacked neatly according to their corresponding letter of the alphabet—As here, Ms there, no Xs or Ys—stood sentinel around the bed. In one of the far bedrooms, a tight oval of house plants barred entry; in the room across the hall, the only room without a bed, objects huddled in like colors against the far wall. The entire apartment was clean and orderly, the soft Sunday light calming what might otherwise have seemed lurid and manic into something that felt soft and generous.
We then took the steps to the roof, where everybody was. People were sitting in U, chatting. Our friend was there, sitting quietly behind an umbrella that was perched on a table in the middle of the U, vaguely shading an assortment of fruit, donuts, fruit juices, and fruit-flavored vodkas on the table, blocking one side of the U — the side my friend was on, where we sat — from the rest of it. In the corner nearest to us, a boy sat sullenly drinking one box of milk after the other. I wondered vaguely if this was a performance, and if it was part of the show. I thought about him vomiting. Isauro came over and offered us a donut. We accepted.
We stayed for quite a while, much longer than we usually stay at openings, chatting idly with people, meeting a dog, drinking fruity vodka drinks. People kept talking about the trash, that it was all squirreled away somewhere, that the apartment looked so much different without it. People were milling around, relaxing. Having the opening in the morning seemed to turn the usual opening routine on its head. I thought for a second about Pablo Helguera's book Art Scenes: The Social Scripts of the Art World, wherein he dryly dissects the event of the art opening into a set of calcified roles, pervasive, unavoidable, and detrimental to the formation or circulation of new ideas—perhaps you're the disruptive artist? the regulating academic?—and wondered if this shift of context perhaps allowed for a shift in sociality. Everything seemed friendly, nice, unforced. The few people trying to network seemed to have forgotten their cards. A woman across the umbrella from us regaled the people near her with stories of her life in the sort of lightly accented English specific to middle-aged women visiting Mexico. I thought, what a nice subtle gesture.
Was it? Look at that image of objects stacked against the wall: don't they look a bit scared? If you were standing in that room, how would you feel? What would you do? What can you do? Huizar works as an interior designer, making commercial or domestic space more condusive to spending or living for its inhabitants; here, he uses interior design to make a series of domestic spaces unlivable. Or rather, while one could certainly live in one of these rooms, sleep in that bed surrounded by 20-odd stacks of watching books, or in the other room, disguised by a huddle of house plants, it would be a sort of living in which it would impossible to discount the presence of those objects.
Objects cast affects; this much we know well. Usually these affects are instrumentalized by design, interior or otherwise: a long table suggests a feeling of familiarity and comfort, a speed bump suggests an attitude of alertness and care. They also limit the field of possible action: in the restaurant with one long table, you feel discouraged from eating alone; in the street with the speed bump, you must slow down. In Protocol: How Controt Exists after Decentralization, Alexander Galloway describes the speedbump as the quintessential protocological object—an object that delimits a field of possible action.
Read in this way, "Object – Space – Behavior" was neither subtle nor nice. Rather, it is a violent intervention into domestic space, bringing the objects that normally disappear to the forefront, forcing us to reckon with them, to decide what to do now.  Most people, including myself, just got the hell out of there and went upstairs. The new arrangement of the objects, as present—looming, watching, in a scrum, backed against the wall—created a space that didn't necessarily feel like an art space but did absolutely feel like an object space. That room belongs to these books. How can we live in a domestic space that does not privilege humans? How do we reckon with our objects? What are our options? What field of possible action does the laundry cast?

Isauro Huizar (Culiacán, Sinaloa, México. 1985) Develops professional work in interior design focusing on commercial spaces.