An unprecedented flood of images of new Art Institute of Chicago president and Eloise W. Martin director, James Rondeau, have hit the internet this morning as the news of his appointment spreads from outlets in Chicago all the way to New York City. The images feature Rondeau standing pensively in front of various works of contemporary art in AIC's Collection. The most popular (and our favorite) is of the new director (who will take officially office Feb. 16th) in front of Georgia O'Keeffe's Sky Above Clouds IV, but choose your own favorite from the roundup of links below:
This news comes on the heels of artist Alberto Aguilar's take over of the institutions Instagram page, which was arguably very awesome.
For 30 years, AS220 has been a living example of innovation in non-profit arts programming, youth programming, community development, and creative placemaking. Growing from a small grassroots collective, AS220 has built a sustainable large-scale organization that now serves as an international model.
The residency program's goals are to inspire possibilities in participants and share information that is digestible and easy for them to apply to their own context. Participants will learn from both AS220 and other practitioners and reflect on how their own decision making provides opportunities for others in the arts. Tuition cost is $500.
AIR/AM recognizes artists/managers as anyone who works in the arts regardless of position. From those who identify as arts managers, arts educators, socially engaged artists, program coordinators, community organizers, arts researchers, cultural producers, or any other given title, AIR/AM seeks to bring a diverse group of practitioners together in a fertile environment to share and learn from each other. Residency program activities include a series of workshops, presentations by participants, a tour of Providence including visits to partner arts organizations, hands-on making sessions in AS220's Industries and, of course, a party!
Workshops will include presentations by AS220 staff and expert visiting faculty, and will allow plenty of time for discussion and debate. In the spirit of Practice//Practice, some workshops also involve working sessions, bringing theoretical discourse into the practical realm.
Read more and apply at the link below!
Whether here in Chicago or elsewhere, the art and music that I see and hear—much less find time to write about—are the proverbial tip of the iceberg. As 2015 morphs into 2016, I'd like to revisit things that riveted my attention and stuck with me as days, weeks, and months collaged into the past year.
Also I'd like to thank artists and musicians everywhere whose talent and work create transformative experiences: moment by moment and year after year.
Mahwish Chisty's work grabbed me when I came across it during an open house at the Carroll Street building where she has a studio. She juxtaposes features of South Asian miniature painting with other techniques and media to create tense, unsettling work.
The miniaturist style, with its associations of delicacy and beauty, antagonizes complacency about Predators, Reapers, and and other drones used by the US military to bomb Afghanistan, Pakistan, Iraq, Syria, Yemen, and Somalia. The Chicago Cultural Center's summer artists-in-residence show exhibited paintings, multimedia works, and a video from Chisty's trenchant drone series.
Marc Fischer and Public Collectors created Hardcore Architecture using home addresses for 1980s hardcore bands that were published in the fanzine MAXIMUM ROCKNROLL. The exhibition at The Franklin in Chicago showed punk rock ephemera along with recent Google Street photos of addresses where fans sent money in the hope of receiving their favorite band's latest cassette.
Public Collectors tracks down materials to document and memorialize cultural phenomena ignored by institutional collections. In addition to a catalog of color photos of bands' addresses, the Hardcore Architecture project published booklets of interviews with Cryptic Slaughter's Les Evans and photographer Bill Daniel, who got Texas hardcore on film.
For the past three years I've been wanting to get to one show or another at Roman Susan, a non-commercial storefront art space near the CTA red line stop at Loyola. There was no doubt I'd make the trek to Roman Susan for the show by Christine Wallers since her earlier work at Experimental Sound Studio and A&D Gallery displayed a signature mix of intelligence, finesse, and subtlety. Death of a Moth continued in this vein while staking out its own distinctive territory.
Since Roman Susan is usually closed, the challenge for artists showing there is to create an installation to be viewed from outside the gallery. During the day, Death of a Moth used the abundant light of a large south-facing window to illuminate pendulous sail-like forms burnished with ink. After dusk the storefront became an evanescent spectacle of projected images, angular volumes, and copper wire cats-cradle—all shimmering and accompanied by mysterious sounds audible through the door's mail slot.
Christine Wallers' creations of ink rubbed into crumpled Tyvek appeared on the walls of Links Hall, where lighting artist Christine Shallenberg worked more magic. The occasion was Signifier, the first performance of a long work by choreographer Joanna Furnans.
Furnans displayed her command of the lexicon of modern dance with choreography that bound the three dancers with geometrical precision. Whether introduced through movement or music, unexpected moments of wit counterbalanced the dance's en pointe feminist significations.
Jefferson Pinder orchestrates artworks that reference and use the human body, specifically bodies of color exhausting themselves as in Thoroughbred, an anxiety producing performance with four naked people running on treadmills that went faster and faster.
The theme of rhythmic exertion recurs in the extraordinary video, Overture: Star of Ethiopia that's part of Onyx Odyssey, Pinder's show at the Hyde Park Art Center until January 24. In works that display human bodies or inanimate objects, threat and menace cling to them like a shadow. Charred police clubs hang over the gallery entrance. Artifacts are trapped in a large glass showcase. Sharp-pointed rods thrust into the air. Pinder's works reveal worlds where everything is ominous and danger is never distant.
Onyx Odyssey shows and tells truths about race in America, painful truths that every generation must learn—and work to change. We need more artists such as Pinder with the chops to create art that activates  awareness, healing, and action.
2105 Milestones
Like artists across the world Chicago artists grumble about insufficient exhibition and performance space—and inscrutable decisions of curators, gallerists, and other gatekeepers. Thankfully artists don't settle for the status quo. They put their ingenuity to work and create spaces where art, friendship, and community flourish: in storefronts and storage rooms, front, back and side yards, vintage apartments, an abandoned bank, and the rafters-and-studs skeleton of a mansion.
The Suburban, Michelle Grabner and Brad Killam's home-based exhibition space finished an unusually long run in Oak Park in 2015 and shifted operations to Milwaukee. Meanwhile, at nearby Terrain, Sabina Ott and a phalanx of artists launched the second Terrain Biennial. It included 75 artists and 3 collectives at sites in 7 US states, Cambodia, Canada, and Denmark.
Elmhurst Art Museum Biennial: Chicago Statements is up until February 21. Curated by EAM's Staci Boris, this inaugural biennial features works by Chicago artists that are edgy, enigmatic, and playful. Ride on a swing, crawl in a tent; see, hear, and reconsider black and white assumptions about city life while discovering an art mecca in the park. Skycube by David Wallace Haskins remains on display until Spring 2016 and EAM's McCormick House by Mies van der Rohe is now integrated into the exhibition space.
Last October, cinephiles and other art lovers were treated to CinéVardaExpo. Agnès Varda in Chicago. During her week-long residency at the University of Chicago Agnès Varda gave workshops, public talks, answered questions after screenings, and had an exhibition at the Logan Center. From her classic Cléo from 5 to 7 to her no-holds-barred Vagabond and other films, television work, photographs and installations, Varda transmutes the world around her into art. She's incomparably her own woman et une artiste formidable.
Even if 100 is the new 80, it's still a lot of years. And that's how long the Renaissance Society has been showing contemporary art in Chicago. Since its founding, the Ren has exhibited over 3400 artists, racking up name-dropping shows: Henri Mattise, Alexander Calder, Käthe Kollwitz, Joseph Cornell, Louise Bourgeois, Felix Gonzalez-Torres, Joan Jonas, Kerry James Marshall, and Steve McQueen. With a full calendar of exhibitions and performances, this Chicago powerhouse makes the most of its quirky garret space in Cobb Hall, a neo-Gothic classroom building at the University of Chicago. Happy Ren-tenary!
Rebuild Foundation continues to expand an important portfolio of neighborhood-oriented arts and cultural spaces on Chicago's South Side with the 2015 opening of Stony Island Arts Bank. This latest rebuild by the organization founded by Theaster Gates, Jr. gives neighborhood residents and artists historic materials (Johnson Publishing's Library, Glass Lantern Slide collection, vinyl recordings, etc.) and space to gather and organize, make and exhibit art, reinvent history and create the future.
South Side and Magnificent Mile institutions marked the 50th anniversary of the Chicago-based Association for the Advancement of Creative Musicians (AACM) with distinctively different exhibitions. The Museum of Contemporary Art mounted The Freedom Principle: Experiments in Art and Music, 1965 to Now, displaying items from AACM musicians alongside works by AfriCOBRA artists (African Commune of Bad Relevant Artists) and others.
The DuSable Museum of African American History called its show Free at First: The Audacious Journey of the Association for the Advancement of Creative Musicians. It presented a streetwise view of AACM's political and historical contexts and accomplishments through photographs, sculptural objects, musical instruments, garments, archival materials, audio and video recordings. Getting a guided tour by Ernest Dawkins (current AACM chairman) to the DuSable exhibition was a windfall for me—as was discovering the AACM's liberating sound at the tender age of 18.
AACM articles of incorporation were displayed at the entrance to the DuSable show. Its founders listed nine points as the organization's purpose, starting with "To cultivate young musicians and create music of a high artistic level for the general public through the presentation of programs designed to magnify the importance of creative music." The 50th anniversary of course is being celebrated with live performances by AACM musicians in their spheres of influence across the globe. The next performance in a Chicago pop-up series at 1858 Grand is on January 31.
In 1965 the AACM stated that it would exist "in perpetuity." And so it does—thanks to musicians and publics who perpetuate the AACM's founding vision and principles.
By Kevin Blake 
The front tire wobbles as the weight of the planking jerks the fork of the bicycle from side to side. It will take rhythm to get anywhere. It will require a centering–a perfect distribution of the unbalanced load. The salvaged wood scrap stretches across the handlebars, bending under its own heft as it distances from the bicycle on both ends. There are bricks in the back basket–a milk crate strapped with rope to the frame. It rubs the back tire like an out-of-place brake pad…the every-other-rotation kind of rub. The tires have the pancaked look of low air where the rubber meets the road. Conditions are ripe for an array of potentials.
This is a moment in a story. It is not necessarily the beginning, the climax, or the end. It is a picture of a picture–the recollection of an unclear memory, that morphs into clairvoyance only as it is repeated and deployed situationally. It is the word made flesh, and the flesh made word. It is the construction of one's identity from available material–material that is both tangible and ethereal.
As I walked through Kati Heck's inaugural exhibition, "Ins Büro!" at Corbett vs Dempsey, I found myself thinking about my own life as a scavenger–hoarding all the potential I could carry. I was seeing similar moments described in Heck's images–potentials picked out of the mundane, or the recently discarded, and harvested to distribute into complex riddles with seemingly endless possibility. On the canvases, I could see the dialogue between the painter and the thinker. Between the subject and the object. Between the story and the fragmented reality in which it exists.
These concurrent and perpetual dialogues in Heck's work are best understood through their relationships with the paint itself. For example, in the faces of central figures, there appears to be a deeply personal connection–not just to the sitter–but also to the technical precision by which she chooses to treat the face. Where there are sections of amplified care–smaller brushwork, attention to detail, and range in palette–there also seems to be amplified metaphor, or keys to following the artist's inner dialogue.
"Alles-Mehr," which google translated for me as "everything-more," exemplifies this notion. In "Alles-Mehr," one can follow the hierarchy of paint distribution–from the face, down to the jar of pickles, to the fabric, to the wood of the chair, to the skin, and to the wall. To me, the smaller marks represent larger roles in the image's story. The larger marks are painting maneuvers. Small is big. Big is small. All are equally important to its existence as a painting–or as an aesthetically considered object of contemplation.
Here, a man appears to be in a pickle–as they say–four fingers deep. This idiom becomes the bedrock of the painting and it places the character in an air of mischief with an assuming look of low-cunning. The disappearing arm holds the glowing decoy–the legerdemain of the common wizard.  Admittedly, this is merely one possible thread in a heap of narrative grist, but my guess is as good as the next viewer, and it doesn't matter much if anyone gets it "right."
In the painting, "Der süssliche Erinnerungsmehrwert," Heck introduces a sculptural element to the painting by sewing canvas to the bottom of the frame where it becomes an extension of the painted fabric–it literally flows off of the rectangle and spills onto the floor. This move is indicative of Heck's unflinching intuition–uninterrupted by any hesitation from exterior pressures. She doesn't make decisions based on how it will be received, (see the velvet frame around the bad girl, "Petit Pity," in the corner of the show)she responds directly to the impulse. Directly to the vision. Anything that is susceptible to transformation, is transformed. There is no shelter for this nomad–and although her work pulsates with influences from the establishment, she cannot be pinned down. She emerges with a triumph, or at least the execution and invention of something that could not be made by anyone else.
In an interview for the exhibition catalog, Heck tells gallerists John Corbett and Jim Dempsey, that the title of the show, "Ins Büro," means "go to the office" and for her, the office is the bed she keeps in her studio. It is a factory of dreams from which she extracts and deploys content, stamping them with her industrious logo before they leave the warehouse.  In a fractal universe fragmented further by processes of the human mind, it is no wonder that  Heck turns to her dreams as a means of deciphering any truth from the ether. The result may be a world without language. A visual world. A world seen and understood simultaneously.
The compulsion to realize this utopia is undeniable. It wants to be seen. It wants to be described. It is on the tip of your tongue too–the cusp of your visual field as you lay in the darkness and attempt to solve the world's puzzles in the most quiet of spaces–the safest of landscapes–your dreams. However, it never quite satisfies. It never quite gives you the tools to see that place and how it works. It appears partial. As disconnected. As unimportant. It appears as meaningless potential–a moment frozen until it is thawed and put to work. Kati Heck in her Antwerp studio, attempts to bring that flight of fancy out of the castle in the sky and into her own reality. Whatever is constructed there–out of whatever material is available to revolutionize–may not be true, but for the maker, it is true enough.
If I were you, I'd go have a peak at her temporary office.
Corbett vs. Dempsey
1120 N. Ashland Avenue 3rd Floor
Chicago, IL 60622
Kati Heck
December 11-January 26, 2016
Tuesday-Saturday 10am-5pm
      and by appointment
I was at a concert recently were I saw a piece by the American artist Devin DiSanto performed. It was Devin and my friends Rolando and Gudinni, folding papers, putting them in envelopes, placing the envelopes in certain positions, then doing some other stuff. Actually it wasn't that exactly, but that was the idea: three guys doing bureaucratic things. I felt like Bartleby a little bit. As in, I imagine that's what Bartleby's workplace was like, what it looked and sounded like. Paper pushing, bureacracy. "I prefer not to." The occasional bell ringing to signal something. I thought it was funny, and appreciated that it was happening. My friend came up to me and said they hated it. "It's fucking Fascist!" they said. I said, "really?"
I don't remember who wrote it, and because I never annotate novels, I'll never find it—it was either Javier Marías or Roberto Bolaño, in a novel—but somebody wrote that Fascist writing is not writing done by Fascists, but rather writing that affords the same possibilities, or lack thereof, that Fascism does. That is, anybody can write a Fascist novel, or a Fascist art review, or a Fascist poem; anybody can make a Fascist composition or perform a Fascist performance.
If a Fascist work is one that allows for the conditions of Fascism within its performance or execution, what are the conditions of Fascism? I don't know, really. I open one of my favorite books that I've never read: What do Rulers Do When They Rule? by Göran Therborn. I open the index to "F." Fabre, J., Fichter, T. It's an index of names. No Fascism. I think about what else I might have that might talk about Fascism and think of some books I left in Los Angeles, or maybe that I donated to Out of the Closet before I left—the one in Echo Park, on Sunset. I search Wikipedia: Fascism. The heavily annotated article—you can read it, too, obviously—tells us that there is no precise definition of Fascism, but that "one common definition" is that Fascism is composed of three negations: anti-liberalism, anti-communism, and anti-conservatism. It makes me think of Donald Trump, though: he's not liberal, not communist, and not conservative. Maintaining this kind of position—I'm not this, nor am I that, and I'm not that either—also seems to me that it would depend heavily on a narcissistic, insistent personality, the kind of person that can lie without effort and with convincing force. "I'm not, but you are!" That kind of thing.
The next part of the Wikipedia sentence: Fascism often carries within it a particular aesthetic, one that vaunts youth, romanticism, violence, and masculinity. I can't help but think of William Burroughs's later novels, only a couple of which I've bothered to read, overwhelmingly wide in range and full of teenage cocks and teenage blood. There's a great article online by Luc Sante that discusses whether or not Burroughs was Fascist, an article I found reading another great article, this time by Rebecca Solnit, where she wondered why read Burroughs when you can read somebody who didn't shoot their wife. Why look at Carl Andre when you can look at somebody who didn't kill Ana Mendieta. I think of the impressive-seeming Leon Golub retrospective that I avoided at the Rufino Tamayo, huge bleak mottled colors, young male blood, slogans. I felt my brain closing as I wandered in and left immediately. Maybe that's what Fascist art is: art that makes your brain close. It wouldn't be, I guess, just art that features beautiful young men, or art that is excessively romantic, or art that features violence; it wouldn't even be a combination of the three. And no, it wouldn't be art that makes your brain shut down, either; it would be art that makes you feel a strong sense of denial, art that unmoors something basic in you, something you need, something that you're afraid of. Art that makes you feel proud, defensive, powerful, anxious.
The wall text introducing Nairy Bagharian's Hand Me Down, at the Rufino Tamayo, is not helpful. Something about the contradictory legacy of minimalism, something about the visitor as muse, something about activating space or architecture, something about a second hand store. I walked through the show wondering what the contradictory legacy of minimalism is, exactly. The wall text said that it was about reducing sculpture down to its basic elements. I guess I was thinking: where does that become contradictory?
So I was thinking about Tony Smith's Black Box, the one that got Michael Fried all angry. It's a box, you know? A black box. I think the thing I've always said about Minimalism, usually to myself, is that it's weird to me that everybody thinks Minimalism is so complicated when it's really just about being a body in the room with a box. I thought about reading "Specific Objects" while walking into the space and looking at a charming photo of somebody's hairy legs in yellow socks and sandals, sitting on the ground in a three-quarters metal frame. Reading "Specific Objects" made me feel uncomfortable. I wasn't sure why. I wonder now if it's because it takes a simple phemonological idea, like putting a box in a gallery and being like, "yo," and makes it Very Serious. There's nothing wrong with being serious, but making a bunch of sculptures that are all about bodies in space and not really talking about bodies at all is kind of weird. Especially when every room in every one of your studio buildings in Marfa has a bed! Come on, Donald! What's it like to lay down and take a nap in a room with a Specific Object? What's it like to fuck in a room with a Specific Object, or masturbate, or snore? What's it like to get home late at night, reeking of campfire and whiskey, and vomit in a room with a Specific Object? That must be the contradictory legacy, I thought as I wandered around the vast empty spaces created by Bagharian's installation. Objects that create an immediate relationship with the body, but seem afraid of it.
I'm trying to find a citation, another one, this one about the tendency of male artists to favor—nay, to need—abstraction, and how goofy that is, how dumb to think that anything good will come of eliminating the body from one's work, and that women artists instinctually know that this is a ridiculous position, dumb, self-negating. Maybe it's Fascist. Anyway, I'm pretty sure I read it in n+1, so I look in the most recent issue. I can't find it in the review of Maggie Nelson's new book, The Argonauts, but I find this: "Do castration and the Phallus tell us deep Truths of Western culture or just the truth of how things are and might not always be? It astonishes me to think that I spent years finding such questions not only comprehensible, but compelling."
I think to myself, ok, maybe it's in this short story by Ceridwen Dovey, the a letter to Sylvia Plath by a combat dolphin mother who has recently committed suicide—it sounds ridiculous, maybe, but it isn't, it's touching, direct, astute, beautiful, one of my favorite things that I've read recently—anyway part of what she writes is about Ted Hughes, Plath's husband, who I guess wrote a lot about animals, vaunting them, vaunting animal-ness like Moretti vaunted machine-ness. "Reclaiming" some kind of -ness by submitting to some sort of "other" energy. But, like the dolphin says in her letter to Sylvia Plath, "human women need no reminder that they're animals." And later: "You took enormous creaturely satisfaction in food, in sex, in smells, in your own body and its workings. The smell of your pee first thing in the morning, the texture of your snot when you wiped it beneath a table, the feel of the sun tanning your belly brown and the fine hairs on it blonde, the 'cowlike bliss' of breastfeeding your infant son by starlight. You didn't need any symbolic scaffolding to describe your experience as a female animal." I don't need a reminder that I am a machine—that I'm constructed—not because I'm a man, but maybe because I'm queer.
Symbolic scaffolding: maybe that's the thing, the Fascist thing. The unmooring of something universal and basic but kind of scary, like being an animal, so that you feel suddenly this desperate and violent need to reclaim something that you've lost, but that you're afraid to name. You shout "yeah!" at somebody who tells you something strong, something convincing, something macho and hard. Specific Objects! Yeah! DiSanto's performance was certainly strong and convincing, self-contained and alienating, but in a way that was hard to notice—"really?"—that made you want to keep watching, keep participating as a viewer or listener or both. DiSanto ripped and walking around in a white t-shirt and jeans. If I remember right, there was a brief semi-participatory moment at the end, but everybody had already been negated and the cue was too subtle, so it didn't work. Or maybe it did work, maybe the point of the piece was to produce this Bartleby sentiment in the audience so that when they were finally asked to do something, their response was a bewildered, "I prefer not to."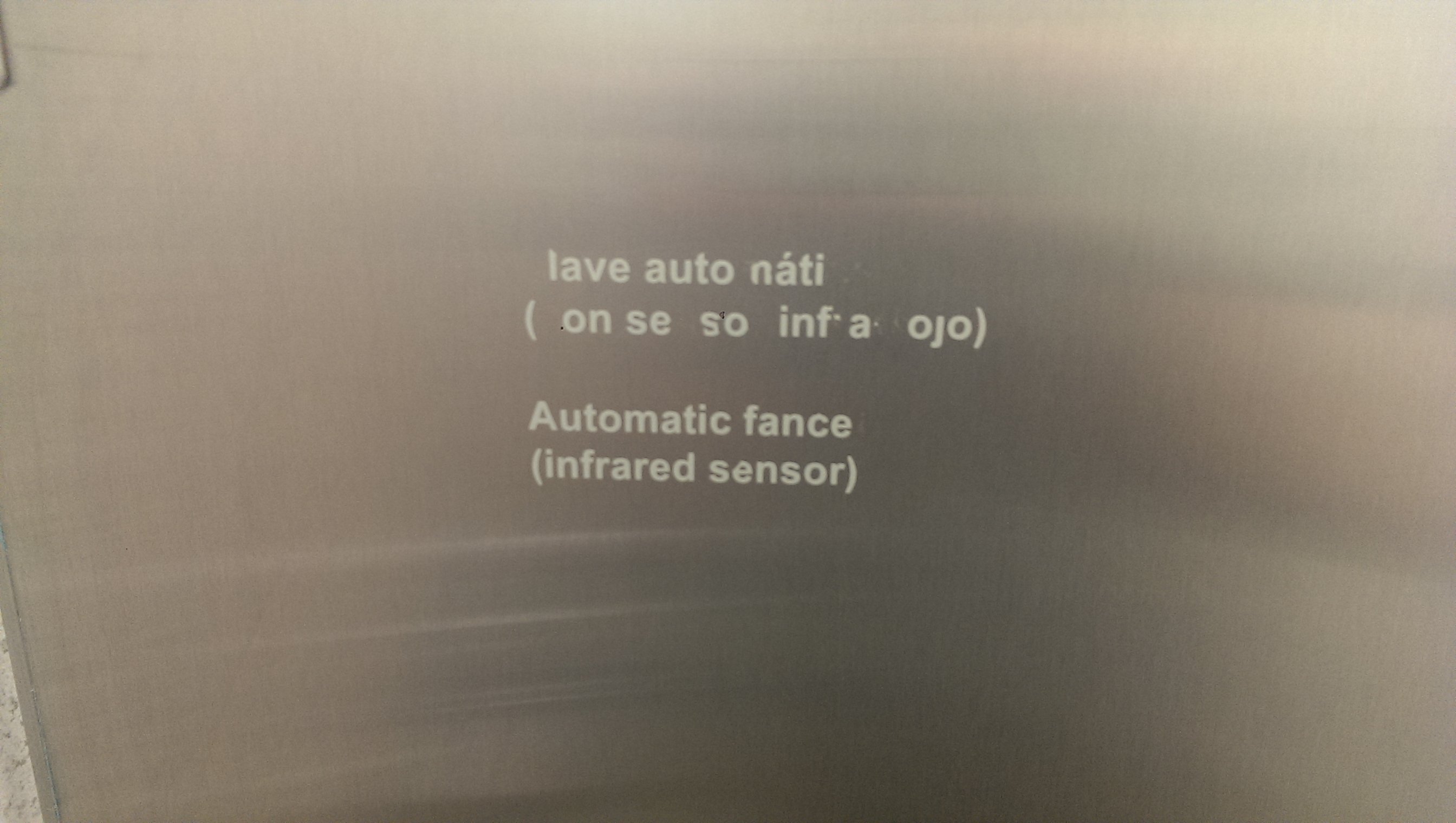 I don't know what I can tell you about Bagharian's show. I had a notebook, but no pencil; I had a phone that wasn't charged. I took a picture of a funny poem in the men's room, near the furthest urinal, and then it died. I asked the lady at the front desk if there were papers or anything I could take with me, but she said no, they were only selling catalogs for the other two shows in the museum. I've been wondering recently about my relationship with art, and this seemed emblematic. The other day, as I was eating a quesadilla de chicharron, Tina Turner wafted over the market's soundsystem like the smell of ripe fruit. I wondered, as everybody always does, "what does love got to do with it?" I wondered: do I have a crush on art? When I think about going to openings my hands get clammy and I find some reason, usually a dumb one, not to go. Then I tell myself I'll go to this museum before the show ends, make an appointment at that gallery before that show ends, but of course I never do.
In the last month or so, I have missed something like ten openings, or complete shows, that I wanted to see. On November 28th, I missed El Aire Entre Las Cosas, the final exhibition for the current SOMA class, as well an opening at LuLu. I haven't been to Bikini Wax since I went with Mauro, Rolando, and Jordan all that time ago. There have probably been 40 openings, and a bunch of them looked great. I haven't been to Obrera Centro, even though Nancy invited me, the day after the Bikini Wax night; I haven't gone to the Jeremy Deller show at MUAC. When I was in Oaxaca, I almost went to Parallel but then I looked at their website and saw they were in Miami. I'm sure somebody was at the gallery, but I didn't go. Last Saturday, on Virgin of Guadelupe Day, a day for which thousands of pilgrims travel by foot or bicycle or van from all corners of the country, choking the air with fireworks to mark their progression, Jordan and I went to Casa Maauad because I thought the SOMA show was still up. It wasn't. We walked to the taco cart on the corner of García Icazbalcega and Rosas Moreno, across the street from Luz y Fuerza. I looked at the poster hanging off the door at Lodos and wondered why I hadn't bothered to make an appointment for that day; I wondered if I knew Francisco well enough to knock. I don't. Jordan had two tacos de maciza and two de longaniza; I had one each of maciza, suadero, and longaniza. They were out of tripe. There's a guy frying meat, a guy chopping meat, a woman taking payments, a son fetching bottled drinks, a fat man skinning onions. The chopping meat guy grabs a chunk of meat from the frying meat guy, chops it up wets a pair of tortillas in the grease shakes his hand to get rid of some grease grabs some meat puts in the taco asks you if you want everything on it grabs a handful of onion and cilantro distributes it perfectly pours some of their red sauce on it hands it to you. This all takes, like, one second. Then you eat it. Get some cucumber and radish and salt the hell out of them; put some papalo on there if you're into it; there's some onion marinated with chiles. We went for a little walk through San Rafael, a formerly Lebanese neighborhood that isn't Lebanese anymore, to the Chopo. I wanted to see Martín Soto Clement's show. The museum was closed. We walked back to the metro.
When I encounter emotional issues, or issues that involve some kind of emotional question—why am I angry right now, why am I happy right now, what's love got to do with it—I turn to Susan Miller, the astrologist, or Roland Barthes, the semiologist. Spefically I turn to the Astrology Zone app on my smartphone and one of Barthes's last books, A Lover's Discourse. The other day, after finishing my quesadilla and my tlacoyo—a smallish paddle of corn masa, in this case filled with mashed fava beans and covered with cheese, chopped cactus paddles, and onion—I returned home and opened A Lover's Discourse. I wanted to think that I identified with the eighth entry under absence:
8. A Buddhist Koan says: "The master holds the disciple's head underwater for a long, long time; gradually the bubbles become fewer; at the last moment, the master pulls the disciple out and revives him: when you have craved truth as you crave air, then you will know what truth is."
I would like to think I've been missing all these events, avoiding all these galleries, people, and shows, because I am depriving myself of art in order to "prepare myself for what is Intractable" in it, like Barthes interprets the koan. But really I identify more with the first entry in anxiety: "I pick up a book and take a sleeping pill, 'calmly.' The silence of this huge hotel is echoing, indifferent, idiotic (faint murmur of draining bathtubs); the furniture and lamps are stupid; nothing friendly that might warm…" There's something addictive about making these kinds of bad decisions, doing things that you know will make you feel bad, make you feel negated, cold, the room closing in around you. Decisions that remove the spirit from objects, decisions that allow you to believe that you are isolated from them or independent of them. I think this is what Fascism feeds off of, also: taking a stance that leaves you in need of direction.
There were three varieties of sculpture in Hand Me Down: low-slung white igloo-ey sculptures, each pulled apart slightly to reveal a hollow middle, excessively strong steel skeleton, and a drab interior paint job; pillowy leather-clad sculptures, organic shapes, pinned high on the wall on steel bars that recall a dance studio, with cute-colored knobs on each end; and naked steel sculptures, same kind of thick steel bar, hulking like Bourgeois spiders. I don't remember how many of anything there were, but I remember wanting to lay down on the leather-clad ones (Chin Up), and I remember a rail created by two parallel bars on one of the naked steel sculptures (what were they called? you'll have to check) pointing directly at the face of the bored, but kind-looking, museum guard standing behind it. I wondered about the muse part of the wall text. I don't really understand what a muse is and I never have. When I compose or improvise I think of forms and fill them with content, or I play attention games: when this happens I'll do x, for the next 5 minutes I'll ignore everybody, etc. When I write I usually just vomit words for a while, take a break, then rearrange things so that they make sense, kind of. In no case do I receive anything from any supernatural source—are muses supernatural?—although maybe that would be cool. In Dodie Bellamy's new book she talks about Kathy Acker: "Acker: One thing I do is stick a vibrator up my cunt and start writing—writing from the point of orgasm and losing control of the language and seeing what it's like." Is that a muse? The vibrator? Now I'm pretty sure I read that bit about men needing to abstract things in Bellamy's book, When the Sick Rule the World, but I have no idea in which essay because, again, I didn't annotate anything. I read half the book in one sitting, on a bus on the way to Oaxaca. Everything bleeds together in my memory. It's like going to a city where you recognize enough of it that you always think you know where you are, but you never do. A place where you feel a kind of vague familiarity, but you're still alone and lost.
I'm pretty positive I wasn't the muse. I'm pretty sure I don't like the whole idea of a muse, a muse seems like a thing that comes from this idea of geniuses or genii and I'm in general not into that. I don't want to be part of it. Every old creepy art guy has a young "muse." It's like, why bother with the muse thing, just admit you like fucking young men/women. As I walked back through the Bagharian exhibition, after avoiding the Golub and being disappointed by the Heinz Peter Knes, I noticed that each room was at most half-filled, leaving a huge amount of space occupied only by guards and/or their chairs. I noticed, walking around, that the guards stood up from their chairs every time I entered the room. I wondered if that was part of their job description: when somebody enters, stand up. I noticed that, when they stood up, they would mirror me slightly, just to keep tabs. I entered a room and the the guards stood up; I moved and they moved. As I walked around each sculpture, wondering to myself if I look at sculpture like I look at guys in the street, if my art-viewing gaze is the same as my cruising gaze—I guess I'm not really cruising because I'm not intending for anything to happen, and I think cruising is pretty goal-oriented, but anyway, a gaze that is appraising and desirous, predatory and curious—a museum guard would be on the other side of the sculpture, keeping track of me without looking at me, keeping track of the sculpture without looking at the sculpture. I caught one guard looking at me while I stood behind one of the low-slung pulled-apart sculptures and looked at the shadow cast on it so subtilely, so thoughtfully and purposefully, by a nearby window. I moved, he moved, and I thought, "it's like we're dancing!" and loved it.