It's that time again. Each fall, Portland wakes up from its bucolic, sun-soaked summer reprieve just in time for Portland Institute for Contemporary Art's (PICA) annual Time Based Art festival, or T:BA. The only thing that can compel Oregonians to put away their tents, hiking boots, and kayaks each September is the promise of a healthy dose of culture served by PICA's Artistic Director, Angela Mattox, along with visual and performing arts curators, Kristan Kennedy and Erin Boberg Doughton.
Now in its 11th year, T:BA:13 has become a mainstay of the regional arts calendar, bringing a litany of international artists to Portland to present performances and exhibitions, as well as a robust program of workshops, talks, and late-night happenings. The festival is purported to seek out interdisciplinary art practices, supporting artists who challenge the notion of performance by transcending dan ce, music, theater, visual art, and new media to interrogate how the genre can engage contemporary audiences. For Portlanders however, T:BA brings a much needed glimpse of the outside world in. Marooned in the Pacific Northwest, the city tends to be a world unto itself, where imagination abounds but criticality is often in short supply. Presenting projects from Morocco, Algeria, Sweden, Argentina, Chile and beyond, T:BA transforms Portland into a thriving mecca for international culture… At least one week per year.
Presented in this post and in a follow-up next week is my T:BA rundown of select performances and installations in this year's compelling, (pleasantly overwhelming), lineup. One of the annual highlights of the festival is late-night programming at The Works. Organized in the spirit of the contemporary experience-driven cultural economy, The Works presents spectacular events of mass-appeal including an opening night performance by Julie Ruin and a Drag Ball moderated by Portland's own Kaj-Anne Pepper and Chanticleer Tru. Oh yes, and there's definitely a bar—a few in fact, along with a nightly selection of snacks prepared by some of Portland's most celebrated culinary superstars.
Thursday:
The Julie Ruin, (Kathleen Hanna, Kathi Wilcox, Kenny Mellman, Carmine Covelli, and Sara Landeau) at The Works, 9/12/13
The Julie Ruin opened T:BA:13 with a much-anticipated performance that left me nostalgic for my late-90s collegiate self in the best way possible. High-energy dancing, getting fired-up on feminism, and poising one's self with some weeknight boozing were mandatory. Former Bikini Kill and Le Tigre frontwoman Kathleen Hanna is ever spectacular—even the hipper-than-though art crowd couldn't help but shake-it. And Cathy Whim's Hawaiian hot dog was the delictable cherry on top of the already kickass sundae. Wins all around.
Friday:
Trajal Harrell, Judson Church is Ringing in Harlem (Made-to-Measure)/Twenty Looks or Paris is Burning at The Judson Church (M2M), 9/13/13
The question Trajal Harrell posed when creating this piece was: What would have happened in 1963 if one of the postmoderns went uptown to Harlem? The answer: a drawn-out, hypnotic chant of, "don't stop the dance," that progressed from a static aural performance to utter ecstatic dance chaos.
I'll admit: the first half of the performance was uncomfortable to say the least. At one point, I was scanning the room for fire exits and contemplating the point that discomfort transitions to become legitimate torture. The second half however, was joyfully absurd. Sampling sound and gesture across decades — from 1960s glamour to 1990s hip hop, the piece became about the evolution of culture and its re-contextualization with every emerging age.
Saturday:
Meow Meow & Thomas M. Lauderdale (of Pink Martini), co-presented with the Oregon Symphony Orchestra, 9/14/13
Meow Meow is simply fantastic, "exquisite sack of a body," and all. During the performance, she swilled wine, went through numerous on-stage costume changes, ordered around young men with the utmost commanding shrillness. As part of the grand finale, the incomparable diva crowd surfed across a sea of aging Oregon Symphony Orchestra season ticket holders.
Critical Mascara: A Post-Realness Drag Ball hosted by Kaj-Anne Pepper & Chanticleer Tru at The Works, 9/14/13
The only spectacle that could adequitely follow Meow Meow and Pink Martini is, of course, a drag ball.
Sunday:
Lola Arias, El Ano en que naci (The Year I was Born), 9/15/13
The Year I was Born was a poignant reflection on Pinochet-era in Chile that had me weeping in my theater seat like a complete wuss. The narrative was unpacked through memories and ephemera shared by 11 Chileans born between the mid-1970s to late-1980s during the Pinochet regime. Each cast member reflected on his/her parents, individuals representing every aspect of the social and political spectrum, many of whom fought each other during that contentious and bloody time. With youthful zeal, the Chileans mapped epic journeys across continents, read letters, told stories of love and regret, and put on the garments worn by loved ones. The performance was a heartbreaking reminder — punctuated by folksy musical interludes and poppy American Bandstand-esqe dance moves — of the many micro-narratives and everyday happenings that, cumulatively, add up to revolution.
Monday:
Linda Austin & David Eckard with music composed by Doug Theriault, Three Trick Pony, 9/16/13
Linda Austin's choreography combined with David Eckard's sculptures make for disconcerting and vaguely perverse antics to ensue. After viewing Lola Arias's performance the night before, Austin's dance transported me right back to Portland: where stunningly-crafted objects set the stage for imagination, absurdity… And something curiously close to twerking.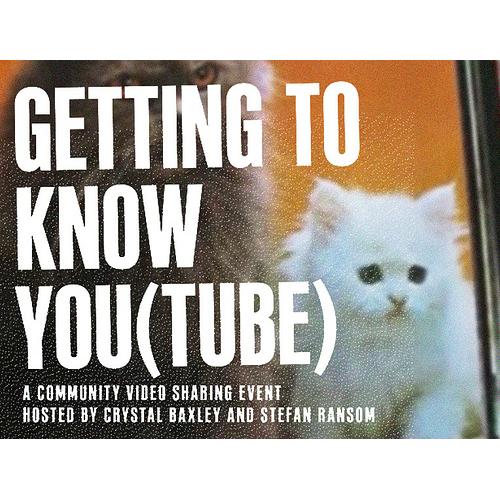 Getting to Know You(Tube) presented by Crystal Baxley & Stefan Ransom at The Works, 9/16/13
Much to my disappointment, I missed this event, so I asked my friend and colleague Emily Henderson to reflect:
Crystal Baxley and Stefan Ransom's project Getting to Know YouTube (GTKYT) invites people to make 15-minute presentations utilizing YouTube in any way with a Q&A after each presentation. The result ends up offering a unique perspective and commentary on YouTube videos if not the culture it generates. The program kicked off with Andrew Ritchey presenting a selection of various people doing covers of Taio Cruz's Dynamite. It offered a funny and interesting glimpse into wanna be star culture and also people who just wanna share their obscure musical abilities. Dalas Verdugo introduced some rare gems in what I would call some of YouTube's greatest hits in the lower views range. Jen Delos Reyes' selection was the heartbeat of the evening sharing videos dealing with Buddhism, education and compassion, Sister Corita making an appearance in the lineup. Jamie Edwards closed out the program with a hilarious monologue of YouTuber comments read alongside alien videos. The comments alone were priceless in the battle between different commentators regarding the validity of alien videos. The evening ended with a small dance party mixed by GTKYT's Baxley and Ransom alongside audience selected videos.
Tuesday:
Laura Arrington & Jesse Hewit, ADULT, 9/17/13
After 45-minutes of wild dancing and beautifully sultry tabletop humping, Laura Arrington and Jesse Hewit served the audience cereal and Jack Daniels and proceeded to get freaky with duct tape, face paint, and glow sticks. This performance, billed as "acting out collective fantasies on death and dying," did not exude the anxiety that the subject of morbidity and mortality generally inspires; rather, the choreographed frolicking expressed a rampant release of id, complete with allusions to masturbation and other physical discharges. Invoking gestures and sentiment of children through the bodies and desires of their fully-grown selves, the performers articulated a truth that has become increasingly clear as years pass: there's no such thing as an adult.
As promised, more to come on T:BA:13 next week! To view the full line-up of T:BA:13 events, go to the T:BA calendar.
Thanks to Emily Henderson, Gia Goodrich and the PICA Press Corps, and Patrick Leonard.
In the wake of the recently announced Detroit bankruptcy, and amid the uncertain fate of the Detroit Institute of the Arts' collection, the Knight Foundation revealed the winners of Knight Arts Challenge: Detroit last week. 56 winners — from individuals, collectives and established organizations and institutions — were awarded grant money ranging from $5,000 to $120,000, given the chance for art to lift a community in the way an emergency manager and bankruptcy cannot: spiritually, mentally, passionately; with love and tenderness. While the Detroit bankruptcy proceedings will be fat cats and brass tacks, pushing elected officials and community members further out of the decision making, the Knight Challenge grant recipients will aim to return power to the people, on micro levels, yet with respect and agency given to the very people in the communities these artists and groups will work with. Thus, the award winners, in total given $2.1 million, represent a ray of hope in the city's immediate future and may quickly change the landscape of the city if they are successful.
The Knight Arts Challenge: Detroit is an initiative of the John S. and James L. Knight Foundation, and is a $9 million dollar campaign to draw from the talent of the city, to keep creative people in the city, as an investment in the arts of Detroit. It follows from the adage "Where culture can breed, people will breed" (I just made that up), but its a lot like "If you build it, they will come" in that it is the arts that build a city or community, that the vitality of the culture sustains the soul and makes people want to live somewhere, that they need to live there, even if there's no public transportation, lack of basic services like trash removal or functioning street lamps; even if the rest of the country has given up on the place, it still has potential that can be seen and felt. Because art and music has a deep history in Detroit, as does innovation and invention.
The winning entries are diverse, and as all were required to take place in or affect Detroit directly, most of them are geared towards working with the communities of the city to instill positive change, empowerment and growth. They ranged from creating a lending library of contemporary Detroit artwork for residents to live with and potentially buy, creative writing workshops, hyperlocal radio broadcasts to create a sound collage while driving through the city, a residency program for musicians outside of Detroit to collaborate with the local musicians, a competition to foster more talent in contemporary Jazz, production of guitars made from reclaimed wood from demolished homes in the city, an artist residency program in city elementary school, seed money to expand an established film fest into a larger event with national status, a nationwide tour of an interactive project geared at engaging viewers with ground roots change, and many many more. One that I find compelling just from its blurb on the website is a video project conceived by the Charles H. Wright Museum of African American History:
"To illuminate some of Detroit's dark neighborhood streets physically and spiritually, the museum will commission a series of video art installations showcasing the faces and wisdom of the city's elders. In conjunction with a team of Detroit media artists, distinguished filmmaker Julie Dash will create the works. Each will seek to bring light to the legacy, vitality and fabric of Detroit, while providing safe passage for residents in a city in which a recent survey said some 40 percent of streetlights were in disrepair."
The phrase "40% of streetlights were in disrepair" is not an exaggeration, but should say "are not working at all". So many streets in the city are completely dark at night, inviting all sorts of violent crime, not to mention further lowering the quality of life experienced by residents in those areas. The temporary lighting of these streets, with proud images and text of the city's past will no doubt be a jolt to the senses. What is needed, of course, is for working streetlights to once again be installed. Ultimately, this will be more powerful than an artwork in terms of transformation. One hopes that this project acts as a catalyst for that to happen, by literally shining a light on a huge problem in the city.
I sincerely hope Emergency Manager Kevyn Orr is devising some way to get the street lamps, as well as other crucial needs of the city taken care of. Obviously, he isn't interested in the arts, as he wants to strip the city of its culture for quick cash. Which art institution will be next on the chopping block? It seems important that now someone is trying to invest in the arts of Detroit. Along with Kresge, a more established arts grant in the Detroit region, a big push is being made to not only keep talent in the city and to nurture the arts, but together they breed an outlook on the art of Detroit as a whole: within five years time (or hell, right now) if someone wanted to quickly distinguish the art of Detroit, they would probably throw out words like "community engaged", "guerrilla", "activist", or the foul phrase "social practice". Not to poop in the punchbowl, but as a narcissistic artist bent on only furthering my own artistic hopes and dreams, I find this potentially disturbing, that a city's identity could be considered along terms of social practice, as aesthetics are so often ignored with work that is community engaged. For now, though, I am more than happy to content to leave this issue for the future, a future where we can afford to consider beauty alone, and not pragmatism and politics. Knight Arts Challenge is opening doors that seemed demolished long ago. Hell, its national news that we just got a grocery store in downtown for christsakes.
It is important to note that ALL of the recipients of Knight Arts Challenge will only get funding if the recipients find matching funds within one year. For more information on the Knight Arts Challenge, visit their website:
http://www.knightarts.org/knight-arts-challenge/detroit
Guest Post by Hannah Verrill
I'd like to use this bit of time-space to introduce a series of posts that will use process as a way of looking at and unpacking a handful of contemporary performance practices.
Each segment exists first as an encounter between an artist and myself. In the space between maker and observer, together we excavate a process, a series of actions that the artist is currently using to create performance material. Each exchange is specific to the work at hand, necessarily time-based, and unfixed in form.
The writing, produced in response to each exchange, seeks to mirror the kind of thinking that happens for a viewer after a performance has ended. The faulty and exuberant process of sifting through, assembling, and organizing the experience of such an ephemeral form.
Why focus on process? I'll take my cue from Gertrude Stein: in order to know we always have to go back. 
I grew up in Brooklyn, NY and it was through my mother and her involvement as a performer with Elise Long's amorphous dance-theater company Spoke The Hub that I began performing at the age of four. Long's performance projects were interdisciplinary, using movement as their main component but regularly incorporating visual art and spoken text.
In one of my earliest performance memories I am six years old on a large stage at the Brooklyn Academy of Music. I am hiding behind a set piece waiting for a cue and watching Elise Long, dressed in a magnificent red lobster-gown costume, deliver a monologue to an audience of hundreds.
Two years later I was cast in Meredith Monk's work The Politics of Quiet; an ensemble piece addressing the Bosnian war for independence and Sarajevo in the 1990's. I recall the intensity of the audition for this piece: my eight-year old body crossing a room slowly, picking up a vessel, feeling its weight and carrying it with me through space, and later being asked to sit as still as possible, my legs folded in front, focusing my attention on the air surrounding me.
In contrast to these kinds of engagements, my experience with performance as a kid was just as often marked by amateur experiments: strange dance-theater pieces thrown together in collaboration with cousins and staged for the family after thanksgiving dinner; solo dance numbers set to Fleetwood Mac and performed for my brothers, my dad, and a video camera; improvised movement by myself and for myself in the attic space of my home.
Three months ago I completed an MFA degree from The School of the Art Institute of Chicago focusing in performance. From where I stand now in relation to these childhood memories, I am aware not only of the performances themselves—events characterized by the work meeting an audience—but also of a much larger and more complex sea of experiences surrounding and generating the work. Time does its thing and I am still standing inside of the processes of those past works: the scaffolding comprised of auditions, rehearsals, trials, notes, periods of waiting, of watching, of thinking, of doing.
Performance theorists assert that in the instant of performance, the work experiences a kind of disappearance. With twenty-two years as a performer, I have felt time and time again the loss that comes with a performance's end. My experience of my body as a learning-thinking-moving-performing thing, never fully knowing or comprehending the work that I was just then putting forth towards an audience—a you. This repeated rehearsal of loss drives my desire to spend time with and examine rigorously the nature of a process that works towards a disappearance.
What remains and what comes next? In a disappearing present, the past and the future takes on considerable weight. Process asserts a present. If we can agree that as a form performance undercuts the value of a static or fixed product—an end result—the questions of what remains and what comes next persist. How can the weight of the past and future be leveraged, made light and moveable? I can commit to the present just like I can feel the weight of my feet on the floor, just like I can feel my breath as it rises and sinks through the space of my torso—through a focus of attention. I will practice that attention to the present by way of this series called Process Notes.
Hannah Verrill is an artist living and making work in Chicago, Illinois.
Guest Post by Young Joon Kwak
This edition of salon talk is a conversation with artist and educator Patrick Jackson.  Jackson was born in Los Angeles, CA, where he also currently resides.  Working primarily in sculpture, he's had exhibitions in galleries and institutions internationally, including François Ghebaly Gallery, and the Hammer Museum in Los Angeles, Nicole Klagsbrun Gallery in New York, The Soap Factory in Minneapolis, MN, and CAPC Musee d'Art Contemporain in Bordeaux, France.  His next solo show The Third Floor opens at François Ghebaly Gallery in November 2013.  Jackson got his MFA from USC, where he is currently the Sculpture Area Head.  I first got to know Patrick Jackson through Mutant Salon barber Marvin Astorga, so I thought I'd ask him to say a few introductory words about Patrick:
Patrick Jackson is a regular visitor of the salon. Apart from making cool stuff, he prefers a #3 clip guard, as he likes a bit more length in the back and sides than most of our clipper-inclined clients. I've tried the #1 and #2 guards on him before, and the result was perhaps a bit too flashy. Patrick understands that, while his hair type is very forgiving (it's thick with a well-behaved curl), it's important to know what you want out of your hair, your art, and your life.—Marvin Astorga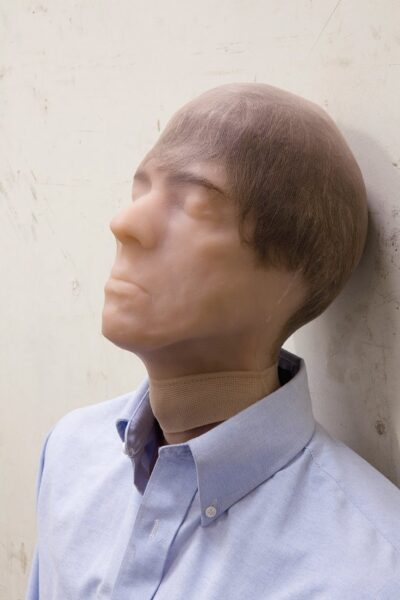 closeup of a sculpture from Jackson's All Cut Up, 2012
PJ:  Lately, I've been reading Philip Guston's writing and looking at his paintings.  I think his work is a good example of ideas and forms working off each other—clashing, in a productive way.  One can relate to it in a beyond-language kind of way, just thinking of objects like a clock and questioning it, taking it apart, and how it relates to us as an object and as an idea of time.
YJK:  Do you look at other sculptors or sculptures when you're starting a project?
PJ:  I look at a lot of sculpture, I like sculptors, but I feel like I sculpt mainly because that's what I'm good at and I enjoy it—it fits my personality.  I move slow—it's a contemplative medium by nature, I think.  But when it comes to looking at work, I'm more attracted to films and writing, just idea-wise.  Sculpture is not a thing where you can explore ideas in a really deep way.  I think if you wanted to do that, you'd turn to writing.
YJK:  What's a favorite film of yours?
PJ:  My favorite film is probably Terrence Malick's Badlands.  There's something about it similar to Guston's work, in a way.  They both deal with people's relationships to objects.  That's how I think about sculpture, as the study of relating to objects—from a rock, to something bought in a store …
YJK: Â How do you feel about a lot of sculptors today using stuff that they bought from stores, readymades?
PJ:  Some of it's too heavy on the "purchase and lay it on the ground" approach, without any alteration—or perspective.  But it's an important part of considering objects, I think—how we navigate the aisles.  I've always thought Rachel Harrison is good with that kind of stuff and I've flipped through her books, trying to figure out how to use them in my own work.  Her show, If I Did it, has been a big influence.  The title for the show came from OJ Simpson's book, by the same name, which I think is him telling how the murders would have gone, if he had done it—something like that.  But for Harrison, If I did it was the idea of the readymade and making.  If I buy something and put it in the gallery, am I the one who made it?  The whole show was really an open consideration of objects, how we relate to them, understand them, our connection to them, how we're involved with them …
YJK:  Yeah, I think it's interesting that you bring up Harrison.  There are so many different ways to engage with her work, so many entry points, like pop cultural references, a mixture of readymades, and there's a sense of play in her process and certainly in the experience of the work.  I'm also interested in the formal decisions she makes—her accumulation of material fragments and how she reconfigures to incite different interactions between materials, screwing around with hierarchies of different materials, and then how some of the same sculptures that she made continue to be reconfigured and shown in different ways for different shows, like the piece Green that she showed in the 1993 exhibition at the New Museum.
PJ:  Yeah, I've heard that she describes the way she makes work as similar to the way someone shops, where it's sort of like I'll try some of this, and try some of that, and like you described, a sort of movement through objects.
YJK:  Someone told me that John Kelsey thought of her sculptures as drag objects.  I'm also interested in your use of materials, and how you animate them, imbuing them with a sense of the body, but a sort of traumatized body or a precarious body, such as with your tchotchke stacks, and certainly the show where you had a body leaning against a wall, or the one with two bodies lying on the floor, or just kind of how they're positioned with their eyes closed—they do seem like they've been inflicted, like it's the aftermath of some sort of violence or disease or something like that. And then I thought that it was funny that one of the sculptures—I think there's a stocking pulled over the face…
PJ: That was from a body cast and the cast was made for the project in the apartment, House of Double, the one with the two figures lying down.  The one that has the stocking over its head is the same body, it's from the same molds, but it's made up of leftover pieces.  I sawed the body in half, so it could sit against the wall … ended up looking more like it's folded in half and crammed against the wall.
YJK: So was it a cast of your body?
PJ: Yeah.  When I first started working on House of Double I knew that I wanted to make a body, because other sculptures I'd made were more in relationship to the viewer's body, so I wanted to make a sculpture where this body would actually be the piece and then the viewer would have a relationship to this body, as opposed to their own.  I wanted to make it lying down, on the one hand because I felt like that's what would make it feel between object and person … then there's also this idea of violence.  Again, I was thinking a lot about Badlands, and there's this idea that goes through that film, a classic philosophical consideration, of one's relationship to the world—about what's an object and what's a subject.  The movie is based on the true story of Charles Starkweather, an American serial killer.  This character is continually considering what is worthy of living, and what's not, and then it gets applied to objects too, where he's sort of, "Well, what object is useful to me and which one is not?" And that's something all of us can enter into, like a more benign consideration of use, with animals, or the coffee cup you throw away.
YJK: I'm interested in knowing more about this sense of masochism I get from the work, I mean it's cast from your body, like you're enacting violence on yourself, or a projected self, or a surrogate self?
PJ: In the House of Double, there's a body in each bedroom, and the idea was they're supposed to be relatively identical, but in the experience of being in there, you can never see both of them at the same time, so it's sort of a memory comparison, or the idea that they existed somewhat in your head.  Of course when you look at them online you see both of those images at the same time, though … I guess that doesn't answer your question.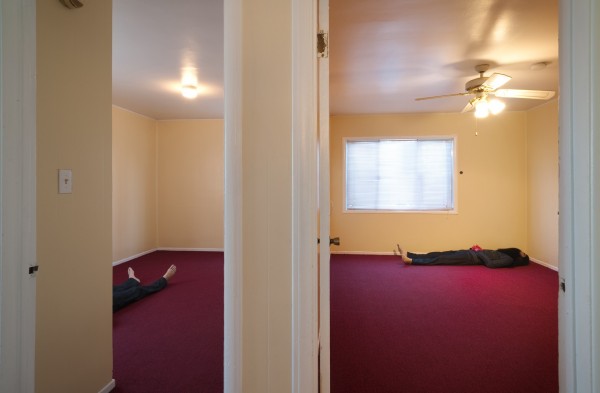 Installation view from House of Double, 2011
 YJK: I was thinking a lot about the relationship of yourself or your body, this body that you're creating in relationship to the viewer looking down at it, and there being this sort of hierarchy that's established between yourself and the viewer, so I was curious about your perspective of this body or your body or a more general idea of the self.
PJ:  A lot of ideas went into it: research, reading, movies, TV, and a lot of stuff I was going through in my own life.  It was a mix of a lot of things, and then it felt like it clicked in the end 'cause it took on a life of its own, it became something separate from my own ideas, but it was born from those. So what you're describing is really interesting and kind of true, but that's not the only thing that this piece is about.
YJK:  I think it's interesting that in relation to the work where you've created more representational bodies—you then have your Tchotchke Stacks, which are literally stacks of all these different kinds of statues and figurines, with their own histories, and the residue of their owners—They're also almost body height, but a bit taller maybe, more imposing, like a body that comprises a collectivity of varied parts. It's interesting to think about this collective body being composed of all these different little tchotchkes, and how that leads to questions of subjecthood and collective subjectivity, how we all relate to each other through objects, through tchotchkes.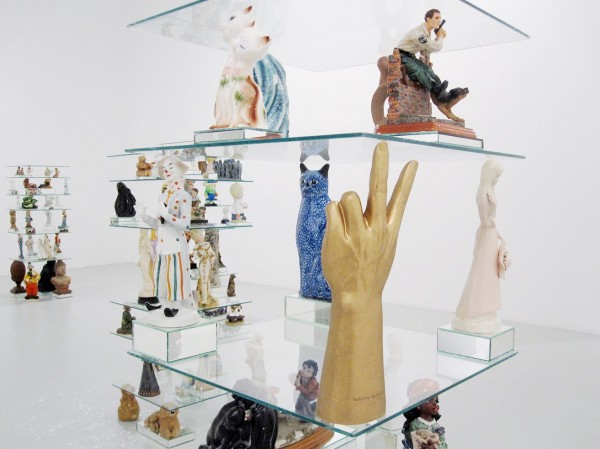 Detail view of one of Jackson's tchotchke stacks, 2010
PJ:  There's also just the fact that our relationship to our body is changing, it seems to me.   I'm a big Cronenberg fan, and he's someone who's thinking about our relationship to our own bodies and other bodies, all through changing media, from Videodrome to the availability of something on video, or through cable television, to eXistenZ and the internet.
YJK: Â With each project, does your conception of the body change or transform?
PJ:  I try to make individual projects, but as you start to make more work, it starts to add up and to turn into something on its own, like where they're not just completely divorced projects from each other, although that's usually how I try to start something, trying to make it autonomous—like a film or a book.  But before you know it, you've created this body of work, but also a reflection of yourself, basically. You see it differently than I do.  You come to the work and look at it as a whole, and you start to see these connections that I see too, when you bring them up, but I guess I don't try to approach it as this idea of "I make work about the body transforming."  But now when I hear you talk about the body transforming, I'm like, "Oh yeah, I think that makes sense."  Definitely with doing this sculpture that is partially based on my nephew for my show…
YJK:  Yeah, the scale of it's funny…
PJ:  Because I've seen him change a lot, knowing him since he's a little kid.  I've seen him go through life and that makes a lot of sense to me with thinking about that sculpture, and then also just him.  As a piece, it's just a boy, but what you're talking about … I can really see in relationship to this show.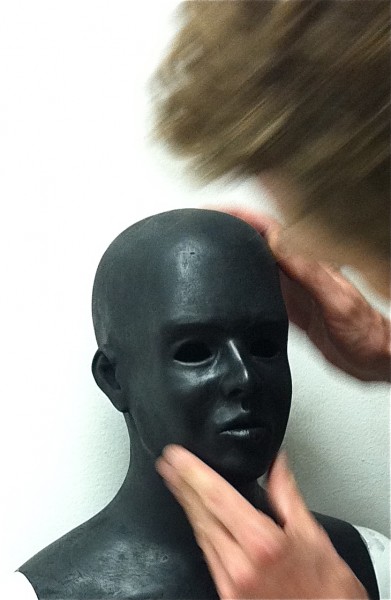 sculpture in process, 2013
YJK:  Can you tell me more about the other work you're making for your upcoming show at François Ghebaly Gallery, in the fall?
PJ:  Well, one of the things I was thinking about with the title of the show, The Third Floor, is a sort of relationship of one object to another object, or subject to subject, and this book Flatland, that classic book of circles or triangles that can only move through two dimensions of space—they can only go forward and backward, left to right.  And then us, being in the third dimension, we can see them and understand them in this really basic way, but they can't understand our world—our third vertical dimension.  And then there's an idea of the fourth dimension, where there are these eyes, this sort of knowledge that exists beyond us, that sees us as limited in movement and can observe us and can see all of time. I'm trying to do a similar thing with this show, where there's the narrative of the space where this boy's body is on the third floor, looking down, or sort of seeing everything as objects in relationship to him.  Then there's us as viewers, who come in and see him and everything else as an object in relationship to us. Also, I've been thinking of the idea of the uncanny, something like thinking that I just saw a person I'm attracted to, and then it's like, oh no, it's a 90-year old woman I just saw out of the corner of my eye, this feeling of like, "Oh, what's going on?"
YJK: How'd you end up working with ceramics for this show?
PJ: It came about because I didn't have any money.  I work at USC and I can use the facilities for free. On top of that, mold making can be really expensive, but slip molds and ceramic supplies, in general, are pretty cheap. Then I just got into the process, my hands in the clay and experimenting with the materials—especially the glazes.
YJK:  What's the relationship of your ceramics to the long history of ceramics in relation to contemporary art? Thinking particularly about how—I don't know whether it be right or wrong—ceramics occupies this place within sculpture discourse/greater art discourse of marginalization, this place of just being merely decoration?
PJ:  Well, it goes through stages.  I mean, ceramics is very popular right now, it's in every gallery, but it also has a history that you're talking about, which is, it's seen more as a craft and it's looked down upon, and there's also a certain form that I was really aware of when I was making it that I was trying to stay away from, which was just the look of something that was made in a parks and rec. course or in an elementary school, having that sort of "ceramic" look—which I think is fine, to maybe even harness, but for the look I was going for I tried to pick stuff that would look unceramic, in some ways. I've also added other materials: wax, epoxy and rocks.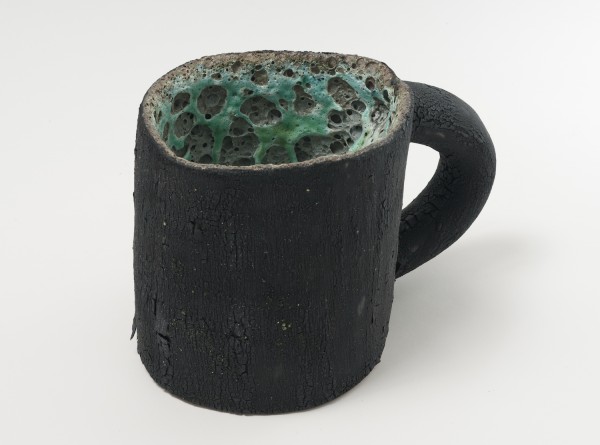 ceramic pieces from The Third Floor, 2013
YJK:  You've mentioned to me that the three floors of the space are three categories of sculpture, both in arrangement and form.  You're thinking of the lower level, where the ceramic vessels will be placed, as storage.  Do you feel like the ceramics, their importance or meaning arises more in relation to the other works that you create? Like in relation to the upper level, or more conceptual works, as you said?  And just the idea of these three floors…
PJ:  I think a big part of meaning comes from juxtaposition. It's like making a sentence, where words next to each other start taking on a different meaning instead of being autonomous. So that's part of the show, too.  I think this is something a lot of artists grapple with, nowadays.  You have the installation, which is however long, you know, six weeks, a few months, and things are arranged to be a certain way in relationship to each other and then they get broken up and they're never the same. So that's definitely what will happen to this show. And I'm trying to think about that a lot, as being part of it, of questioning what's an object alone? What is an object next to other things? But when I first started writing about the show, doing research—I have a notepad for every project I work on—I was thinking about this movie I'd seen about a girl who's discovered after being locked in her bedroom till she was like 11-years-old. So she had never learned to speak, and she hoarded.  One of the things that she did, that apparently is common with children who experience this sort of intense isolation and entrapment, is hoard water, usually containers of water, so when she lived with a therapist in her room she just had cups, she'd get cups of water in the kitchen and then leave them around her bed.
YJK:  Which makes sense with all of the ceramic vessels and cups you are making for your show…
PJ:  Yeah, it's like a hoarded kind of thing.  I looked in my notebook a few months after I started making these and I realized, "Oh yeah, I forgot about that, but that's what started it all.'
YJK: Â So is this show all about you being really isolated and trapped in the world?
PJ:  Ha-ha, no comment.  I don't know … It is what it is … I mean, it's about my family too. But it's also about thinking about a basic form, that everyone can relate to.  I've been thinking of Brancusi—he did a cup piece.  That's one of the fascinations with children like this. When children like this are discovered, it's like, every scientist, every therapist wants to work with them, because now we can get to the bottom of things, like how does language work? How do we develop it? When are you too old to learn how to speak and interact with another person? How is this person going to understand things? They're fresh, they've never been educated in anything. And so, to look at something that they do, like hoarding water, hoarding cups or … there's also the movie The Wild Child, which is about a child who was living out in the wild and was discovered by someone, a French scientist was studying him, and in that film there's a scene where he drinks from a glass of water while he looks out a window, it was one of his great joys and I think it was used as a reward when he was being trained how to read and stuff like that.  I'm just fascinated by that.  What is it about having a cup of water and looking outside?  Of connecting to nature, I guess, with water, this basic thing that we all need.
YJK:  We talked a bit about The Third Floor before, and how the unique architecture of the space—how on the second and third floors one can see the lower level—influenced formal decisions you made, such as extending the second floor with scaffolding, covering the lower level and making a basement of sorts.  I'm curious about your decision to have scaffolding, just thinking of all the exposed parts underneath.
PJ:  From underneath where one encounters t­he ceramics, it will look like regular scaffolding, and then from up top it will look like a wooden floor, or like an old wooden floor, 'cause you won't see any of the mechanics holding it up.  From underneath, it's more of what you would think of as an unfinished basement, where you see the structure of the house and everything that sort of holds things up, it's sort of the raw elements of things. So it seemed to just make sense that way and also, yeah, just sort of revealing the structure I think goes along with part of the narrative that basements have and of the show … I think of hidden things happening.
YJK: Â What keeps you going in your practice?
PJ:  I just want to make work that I like and that I feel like I changed because of it, like I had an experience out of doing it, where it affected me from making the work—it didn't feel like I was just going to a job and making stuff.  There's a Tarkovsky quote that I often think of and I have on a notecard, on my studio wall.  The Tarkovsky quote is something like … I'm gonna slaughter the quote, but it's something like, "Your work shouldn't be the next step in your career, but a turning point in your life." Like any quote that one pins up on their wall, it's a bit cheesy, but I think it's something that I agree with—and it's not practiced enough, these days.
Young Joon Kwak is resident Queen at Mutant Salon and performer in the band Xina Xurner.  Hailing from Chicago, she currently lives in Los Angeles while pursuing her MFA at USC.
Massive open online courses (MOOCs) are the future of education. I feel as certain of this as I am certain that one day cars will fly and that ironing will become obsolete. There's a Ted Talk with the co-founder of Coursera Daphne Koller and an episode of Charlie Rose with the CEO of EdEx Anant Agarwal that addresses this new way of teaching and learning. To summarize Agarwal on Charlie Rose, the thing that is fundamentally different about MOOCs versus the way traditional college works is that with traditional college all of the gatekeeping is at the front end. You have to apply. You have to be accepted. You have to have tuition. Sometimes you need to have prerequisites or test into the courses you want. With MOOCs it is different, at least for now. The gatekeeping occurs at the backend. Anyone can register for a course, but not everyone will finish. And for those who do, there is often the option of a certificate. With some courses there is even the option of credit…for a fee. This allows all kinds of learners to participate in a course. For example, some might only be interested in part of the course's curriculum. That student can participate in just that portion of the lectures, readings, and discussion, and ignore the rest. Of course, they will not receive a certificate, but then again, So what? Others might successfully complete all of the assignments for the entire sequence and receive a certificate. Both students got what they wanted from the course, but they dictated their level of involvement, not the instructor or the institution.
But how does this relate to contemporary art? Glad you asked. In the US, our contemporary art world is deeply shaped by academia. It's hard to imagine a curator with anything less than a Masters Degree. The same with visual artists. I would love to see some statistics on this, but I would guess that many of today's working artists are also employed as teachers. Academia and contemporary art are so bound together, that changing one, will clearly change the other. I chose to be optimistic about this. While it is true that the majority of MOOCs are in the sciences, there are some art related courses out there and I expect this will grow over time.
This summer I took my first MOOC, from Coursera. The course was entitled Art and Inquiry: Museum Teaching Strategies for Your Classroom, offered by The Museum of Modern Art, taught by Lisa Mazzola. The course focused on using the inquiry method with object-based learning, specifically within a museum environment. This course was an amazing experience for me. First of all, I got to take a course from MoMA. I never thought I would have this opportunity, but the beauty of an online course is that location isn't an issue. This had the consequence of the course being very international. 60 percent of Coursera's students are from outside the United States. In this course, we were required to participate in the discussion forums. Our final project was to write a lesson plan within our discipline using the inquiry method and a work of contemporary. Clearly, it was instructive to troll The Art Institute of Chicago for just the right artwork an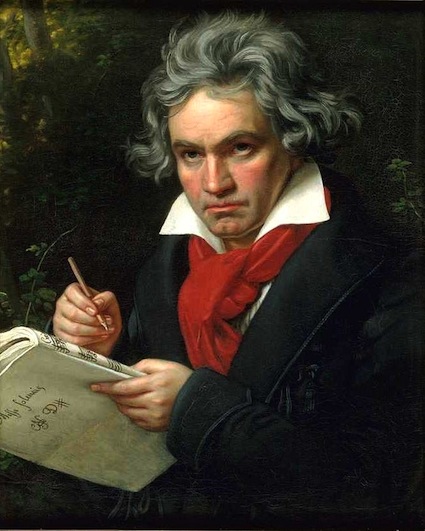 d write my own lesson plan, but what might have been more instructive was peer grading my classmates' assignments. There were 32,000 students in the course. I graded a student from Spain and two from Columbia. It was interesting to see the curriculum requirements of other countries.
I am currently taking a class called Exploring Beethoven's Piano Sonatas. It's very challenging, maybe too challenging for me. But I'm having a good time and I'm learning more than I ever could on my own. The course is taught through The Curtis Institute of Music in Philadelphia, by professor Jonathan Biss. This course demonstrates the beauty of gatekeeping at the end of the educational experience instead of at the beginning. If the course proves too difficult, I can always select the "no assignments" option, continue with the video lectures and the class discussion, but at the end I will not receive my certificate. Like I said earlier, So what? People should be able to attempt things that are difficult or out of their realm of experience without penalty. These MOOCs are showing the possibilities of our educational future. The courses are fun. I'm learning a lot, and I get to "meet" people from all over the world, artists, musicians, even other people who teach English at an art school. MOOCs have the potential to make the study of any of the arts, more global and, most importantly, accessible to anyone with a smartphone. Maybe that's good, maybe not, but it's the future.