Anna Friz and Coppice performed in their audio installation at Tritriangle on 5/25/2013 in Chicago, IL. The two installations and two live performances occupied the gallery as co-existing organisms. [1] Each stemming from Friz's and Coppice's own larger overarching projects, Friz's Nocturne and Coppice's A Vinculum Variation are iterations, though it becomes clear that these iterations are not repetitions, but manifestations of differences in space, time, and materiality. The artists filled the spaces above my head and below/around my feet with sounds produced by other bodies: people, instruments, apparatuses, and radios. The two installations created the terrain in which the live performances inhabited. The earthy landscape, coupled with a cloud of respiration, constituted a world of transmission that enabled relationships to form in and between bodies.
Installation Navigation
In the space of Tritriangle, tiny blueish-silvery lights floating in air illuminate 82 small silver radios suspended from thin silver wires, a cloud of radios. In one corner of the space is blue light; in two other corners, yellow-gold illuminations. The blue corner holds three hand-built radios by the inventor George Kagan, an accordion, a harmonica, a chair, a mixer, and other sound equipment. Two radio transmitters fixed near the ceiling, send signals on two different frequencies to the 82 suspended radios. The radios, hovering at different levels around my head, emit gentle sounds of an accordian-played melody, breath, and radio static. The golden-brown corner contains a chair, an accordion, a box. Another corner contains a set-up with tape players, speakers, and an inductive mixing table with devices that send signals to the speakers lining the room close to the floor. These speakers emanate sounds of breathing, bellows of an accordion, air passing through processed reeds, the crackling paper inside a shruti box, pressure cuffs, and a funnel. In a third corner, golden light illuminated that illuminates a metal funnel.
A Vinculum Variation; Coppice's Archived Air Contours
For the installation and performance at Tritriangle, Chicago-based duo Coppice (Noé Cuéllar and Joseph Kramer) created a listening experience that compelled the listener to navigate and inhabit the space of the gallery in a fluid way. Before the performances, the audience could walk freely around the space and stop to observe what was emitting from the various speakers lining the room. During the performance, the audience stilled and the artists and the audio material activated. Cuéllar, playing the accordion and free reeds, moved his own body around and through the space, while Kramer used two custom-built apparatuses: his customized inductive mixing table and customized cassette tape player. Kramer, kneeling on the floor, using this table, which "redistributes the sounds of the Vinculum archive as they are played back through small speakers resting at different locations on its surface," [2] changes the location from where sounds poured. The cassette tape instrument Kramer designed and created is able to "make a record of the sonic space that also reproduces the recording from moments ago while simultaneously recapturing its own output." [3]
These devices together create space and time that shift and refuse to remain static or linear. The changes in the part of the room that contained the raw recordings from the Vinculum archive created a constantly changing environment of breathing; audio materials from their ongoing-archive emerged in the space and surrounded the audience with breath. Cuéllar, changing positions throughout the space of the installation, used the accordion's keys and bellows to breathe sounds throughout the room. Coppice's contribution to the installation as a whole grounded the audience and the space itself creating a material terrain the viewer could navigate and explore.
Coppice's installation and performance at Tritriangle emerged from its ongoing project since 2010Vinculum, a constantly shifting index of sounds, bodies, and space that involves isolating and highlighting particular sounds that are specific to Coppice. Sitting down with Cuéllar and Kramer in their studio, they describe their interest in the "behavior of sounds" [4] and the ways in which different sounds demand a different kind of listening. However, Coppice is not necessarily interested in making the listener more aware of the plethora of quotidian sounds that may surround her. Rather, the listener is encouraged to connect to the collection of sounds Coppice draws from to create their compositions. The work is deeply self-referential in its consistent pointing back to itself, its own self-reflexivity. The recordings, which are used to form Coppice compositions, are stored and categorized as specimens the listener can study and discover within the work. Coppice's archival process, which involves recording the sounds and storing them in built containers or vessels – hand-sewn pouches or built wooden boxes (for Vinculum Specimen Edition), produces a peculiar meditation on the nature of cataloguing. What is capable of being stored? What should be saved? The individual entries/specimens can then be accessed and experienced by the listener in a multitude of ways. Coppice encourages the listener "to play the discs simultaneously on repeat from multiple players when possible." [5] However, the listener has the ability to change the order and method of playback to create her own way of experiencing the archived sounds. The archive is not static and is rather presented as a collection that is open to change and re-arrangement; it is an "open composition." [6]
Coppice describes the sounds of Vinculum as quiet and having to be found from a particular point of view. Because Coppice is concerned with each sound's specific experiential condition, the recordings in the archive capture the particular spatial arrangement necessary to recognize the sound, making the archive one of space and the way the listener and the instrument inhabit space. Many of the sounds Coppice finds, makes, and records relate to the human body and its rhythms. The breath that passes through a tube and the air that traverses through the bellows of an accordion or pump organ indicate the necessity of the body to the production of that sound, whether it is the musician's breath, hands, or feet interacting with the instrument or apparatus. They claim that it is the "air on the edge of things" [7] that makes its way into the auditory. Coppice's sounds that insist on the "air on the edge of things" found themselves in conversation with Friz's dreamy cloud of radio breath that floated above their audio terrain.
Nocturne; Anna Friz's Radiogenic Objects
Canadian sound and radio artist Anna Friz, who is currently based in Chicago, performed second, immediately following Coppice, in the installation's landscape. While the suspended radios picked up the transmission of an accordion-played melody, Friz began to play that same phrase in the middle of the space. The recordings emanating from the tiny radios and the live instrument in the installation mingled together in a sea of sounds and lights. When the recorded melody ended, Friz used the live accordion with its bellows to create a drone, filling the space. At one point, Friz got up, put the accordion down, turned on the handbuilt radios, picked up the harmonica, and began to play the instrument, sending it through the transmitters to the radios filling the space above my head.
Nocturne is an iteration of her radiophonic installations that began in 2006 with You are far from us, a project she has been transforming since its premiere at Radio Revolten Festival at Ärtzejaus in Halle, Germany. The work explores the notion that radio technology is not disembodied, and that it actually holds within it traces of bodies and perhaps even allows us to overcome distance between bodies. Friz materializes the radio's possible embodiment through voice and its breath, corporeality, and emotion. Breath and radio are intimately linked; Friz describes the phenomenon of the breath and radio static as sharing the same frequency range – a fascinating aspect of radio's embodiment. She also describes the radios and their tendency to drift from their frequencies as a precarious bodily situation, not unlike human and nonhuman animal bodies that are subject to their environments and situations. The radios are in relationships with each other, though mediated through the multiple radio transmitters that populate the ceiling of the space.
The first manifestation of the installation You are far from us involved four transmitters, 50 radios, and 5-10 hand-crank Grundigs. This installation focused on the disastrous human condition and the ways in which it is transmitted and created through radio. In her statement for You are far from us, Friz asks the question: "What nearly inaudible signals, transmitted in moments of intensity or crisis — what do people seek to transmit, in a moment between the intake of breath and the breath held, waiting, in tension?" [8] Further, in turning to the specificity of the radio, she states that "[b]uilt on breath and other bodily exclamations typically absent from regular radio broadcasts, the radios operate at the limit of their capacity to transmit emotion." [9] This interest in the radio as entity and performer itself is something Friz has been working with, an evolvement of her earlier work which conceptualized the radio as containing within itself people and that "the voices emanating from the radio were the voices of the little people who lived inside. Turn on the radio, the little people begin to talk, change the station and they change their voices. I imagined the radio people waited inside while the radio was off, ever ready to perform at the click of the dial." [10] Now, she conceptualizes the radios themselves as the performing entities, not tied to a necessarily anthropomorphic view of the world. This is not to say that the radios are entirely outside the realm of human experience; they experience the precariousness of the world in perhaps a similar way. They tune in to frequencies and then drift off, floating and locking into a new one — a new world experience.
Friz describes the radios suspended in the floating cloud as sleeping, experiencing REM cycles, taking in the day and processing it through dreams. Nocturne at Tritriangle is an outgrowth of the section "Nocturne" from Friz's previous installation You are far from us, with the section's intent being "stilling the breath and relaxing [the radios]." [11] Friz emphasizes that she chooses to privilege the auditory over the visual in the installation because it helps the listener "focus attention on moving through space" [12] and instills the notion that the listener is a sensing body. The stilling of the breath and the radios drives home this recognition. When limiting one sense, other senses heighten. The viewer is no longer dependent on the two orbs situated in the front of the head as guides through space. The audio creates spatial relationships that enable the viewer to navigate the space at her own leisure. This navigational drifting relates to the radios' own drifts. The radios experience the phenomenon of capture effect, thus causing them to detune and find a new channel to occupy. For Friz, the detuning isn't necessarily about interference, since the notion of interference corresponds to a cybernetic theory of communication with involves fidelity to a message. Rather, she is interested in exploring "fields of influence." [13] The radios' detuning don't mark a deficiency or breakdown. Instead, the tuning into different frequencies seem to reflect human and nonhuman animal choices to take a turn, go down a different path. The suspension of the inhale, [14] creates the space in which life is lived, with all of its precariousness.
We Breathe
Coppice and Friz created an environment in which the audience and the device could all breathe together, exchanging exhalations and inhalations actualizing a cloud of respiration. Focusing on the breath allows us to recognize that we are constantly exchanging material from our own bodies with the world. Though, this body in its continual state of exchange shows us that the molecules in our own bodies aren't static and can't always belong to us; these molecules are only finding themselves to exist within us for a passing moment in time. "The breath does not belong to the self. It enters and exists of its own accord. It inhabits the empty space of the lungs for brief periods and the same molecules and particles may never enter again." [15]
Notes
[1] Personal conversation with Anna Friz and Coppice at the performance, May 25, 2013.
[2] Coppice, A Vinculum Variation, http://www.futurevessel.com/coppice/work/performance-installation/a-vinculum-variation.
[3]Â Joseph Kramer, "Episode 31: Porous Notion: Index Fragments and Interpretation," Radius (Oct. 2012):Â http://theradius.us/episode31.
[4]Â Personal interview with Coppice, June 5, 2013.
[5]Â Coppice, Vinculum, http://www.futurevessel.com/coppice/work/recordings/vinculum.
[6]Â Personal interview with Coppice.
[7]Â Ibid.
[8] Anna Friz, You are far from us, http://nicelittlestatic.com/sound-radio-artworks/you-are-far-from-us/.
[9]Â Ibid.
[10] Anna Friz, Who are the people inside your radio, http://nicelittlestatic.com/sound-radio-artworks/who-are-the-people-in-your-radio/.
[11]Â Personal interview with Friz, June 8, 2013.
[12]Â Ibid.
[13]Â Ibid.
[14]Â Friz describes the inhalation as suspension.
[15] Meredith Kooi, "Aristophanes' Hiccups and Relational Spasms," given at Location/Location symposium organized for Field Static: A Group Show About the Object, Co-Prosperity Sphere (Chicago, IL: June 6, 2012), 6.
The following article has been circulating around the art-internet of late and I thought I'd repost it here for your consideration.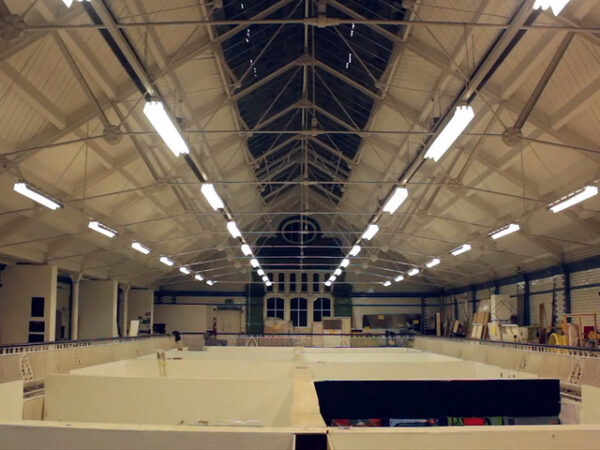 A Letter to Goldsmiths art students on capitalism, art and pseudo-critique
written by Prolapsarian
Dear Goldsmiths Art Students, I attended your MFA show two nights ago. I apologise to an extent: with so many artworks on display it was difficult to digest any of them. That situation was exacerbated by the fact that so few of the works seemed to have it in them to behave destructively towards the others. Maybe this is where I can begin: that the type of co-operation between artworks, their intellectual co-ordination, is something I find troubling. It didn't seem to me to be the co-operation of a school thinking together, but instead the co-ordination of the school uniform, of a discipline that had been so fully internalised that all of the artworks, under its authority, might comfortably coalesce. That made those artworks difficult to be with. I want to write to you about a single gesture that was performed by a great majority of the artworks in the show (although there were some important exceptions). It is a gesture that claims to determine a relation between artworks and "capitalism". It is of no surprise that under the contemporary situation of global capital, undergoing its most profound crisis in eighty years – creating conditions not only of mass destitution but also of mass resistance and protest – that the relation between art and capital would present itself more explicitly in the new works of art than has been the case in the last decades. But the expression of this relation of art and capital in the work displayed at your show was not only predictable, but questionable on both political and aesthetic grounds. The gesture that I refer to is that of artworks that attempt to parody capitalism, and in this parody hope to effect a critical irony through the apparent distance between the artwork (and its social situation) and the forms of commodity or capital that it parodies. In this gesture the artwork proclaims a radicalism, a dissatisfaction with the actually existing. It proclaims that the object of this dissatisfaction is "capitalism". The modes of making explicit the structure of parody are plural: some take up the bathetic disjunction through a fully instrumental comparison with some hazy far-away classicism or humanism; others exaggerate the shoddiness of capital's products; others rely on a revelatory mode whereby it is claimed something of capital's seamy underbelly is exposed; while others are just bits of fixed capital – most often employing the high technologies of marketing – transposed into the gallery-space. But the gesture of this parody common to all of them will, I imagine, be familiar to you. read more
It's a slow weekend in Chicago, and I'm in California, but here's at least two goo looking things!
1. Other Worlds at The Milk Factory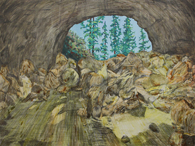 Work by Michael Endo, Kendra Larson, Emily Nachison, and Lauren Payne.
The Milk Factory is located at 907 North Winchester Ave. Rear Apt. Reception Saturday, 6-9pm.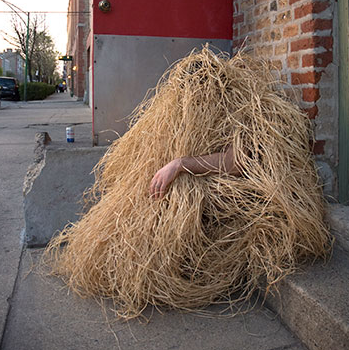 Works selected from the collection of 65Grand.
65Grand is located at 1369 W. Grand Ave. Reception Friday, 6-9pm.
I want to use the example of Jay-Z's performance at Pace Chelsea last week as a case study for something more encompassing, without getting into all the details since it was meant as a location for a music video shoot and not as an art work. (At least, I'm hoping) So just as a recap: Jay-Z performed "Picasso Baby" from his new album "Magna Carta…Holy Grail" for six hours to a packed and rotating crowd of art world insiders, celebrities and fans last Wednesday.
A celebrity's presence in our space, instead of the media version we tend to see them as confirms our own existence. At the same time, it complicates that existence. We are seen by those we have saw but here unto unseen by. I see (consume one's image) therefore I am, but when I am seen, what am I? It is mindfuck of Turrell like proportions, as we lose our sense of up and down, left and right. We choke on our own vomit, we are paralyzed. In exchange, or maybe as a symbiotic response, we return them to a mediated image from our cellphone capture. Shrinking them to a 2.5" x 3.5" format, moving at a mere 16fps, they are more manageable as a digital apparition.  With Jay-Z rapping in our face – a desire of many to be that close to a living legend, to be acknowledged by He who hath created the current state of Hip Hop – we are quickly overwhelmed, and thus respond with our cell phone's sad idea of video to return to a sense of normality. It helps us relate to his intangible nature. It is in this way that we treat the celebrity both as a solar eclipse and a stripper at a gentlemen's club. At at least one point during "Picasso Baby", a tight circle forms around Jay-Z. We see his professional camera crew which is typically meant to be invisible. They are anything but in the many cell shots taken, reminding us that this is a planned operation, to be dissected and re-edited later.  However, their visibility being an anomaly, suggests a future that is somewhat less imminent than the rapidity of the cell phone.
The shifting of time is the next big thing here, as the immediacy of cell video to internet upload has a tendency to further define the Present. This is congruent with the very sense of the 21st century that the Future is a finite entity, that one day, and one day soon, we will run out of Future. The speed of life itself is steadily increasing thanks to the plethora of communication technologies available, more immediate global awareness and the loss of physical frontiers and the tightening of borders. Every summer blockbuster movie (EVERY) of the last ten years has dealt with some sort of social horror of apocalyptic proportions or post human mutants, all of which signal a cataclysmic shift in life as we know it. THE END IS NEAR has returned to our minds (though it has rarely left us) with a vengeance and we are responding by trying to do as much as we can as fast as we can. And that means celebrities having completely proven themselves in one field must try other, usually related fields. (We will exclude Terminator X's Ostrich Farm for this reason of "related") For Jay-Z  to stage a music video shoot as a performance in an art gallery is not a huge stretch, yet it is breaking new ground from the stand pint of those who were quick to critique it as art. Increasingly, there comes the Nike spirit of "Just Do It", though oftentimes of DIY immediacy. (thats the cell phones, not a fully planned Jay -Z event). Complicating matters is the six hour duration of the performance. Somewhere in the preface of the "Performance Artist Handbook", Jay must have read that 6 hours is the minimum duration of a performance work. At the same time, a music video shoot is an all day affair or more, and most galleries are open for about 6 hours in a day. BUT, looking at it through my single minded viewpoint, a 4 minute song performed repeatedly for 6 hours, starts to mess with our perception of time, by looping it, putting us in a casual Groundhog's Day Lite scenario (if only Bill Murray was in the audience!) where we can start to see the future and we lose our sense of the past, ever so slightly, for as long as an audience member may choose to stay. We can clock time in 4 min. increments instead of seconds. And every moment sounds the same (looks different, but in a bare white walled gallery, not too much different). Stuck within a seemingly never ending 4 minute sequence, we have found a loophole in time, thus gaining an extra 5 hours and 56 minutes of life. What to do with this extra time? Upload crappy video from our cells to the internet and listen to the dumbest song of the summer seems to be the only option. Sounds like we've just entered purgatory.
I'd like to thank "A Private View: American Paintings from the Manoogian Collection" by Yale University Art Gallery and the Detroit Institute of the Arts for providing me with a surface to write on while preparing this text, as well as the ACTUAL audience members of Jay – Z's performance for showing me in their YouTube video uploads that despite his admirably true giving to his audience, I didn't miss anything.
Featuring a Guest Post by James Pepper Kelly
The following article was originally written for and published by Chicago Artist Writers //Â Editor: Jason Lazarus
Weird Dude Energy curators Gurl Don't Be Dumb: Eileen Mueller and Jamie Steele
Andrew Mausert-Mooney & Nicholas Wylie, performance view
 
Acrostic, original formatting via PDF here. Sources liberally appropriated from the Internet. 
Walter Benjamin |Â Â  At the center of this exhibition is man. Present-day man; a reduced man, therefore, chilled in a chilly environment. Since, however, this is the only one we have, it is in our interest to know him. He is subjected to tests, examinations. What emerges is this: Weird Dude Energy (WDE), a layering of men, a group perspective on masculinity.
Wilde, Oscar |         But is WDE, as a meme/concept, actually on display in this show, or only in the title and statement? Is GDBD curating a show of WDE, or instead the passion of one's friends? There's crossover, and it may all be equal—those passions are the fascinating things IRL anyway. For me, the highlight was Andrew Mausert-Mooney & Nicholas Wylie's performance of foot washing, massage, and chanting of "Poor Unfortunate Souls" from The Little Mermaid. It had the dignity of a ceremony, as well as its unreality, and combined the insincere character of a romantic movie with the wit and beauty that make such movies delightful to us. Is insincerity really such a terrible thing?
Weiner, Anthony |   It's passion that's a terrible thing, and let's just forget about online WDE. Let's recalculate, let's talk this show. Now Andrew Doak's photo: I don't know where that photograph came from. I don't know for sure what's in it.  I don't know for sure if it was manipulated. And I'm going to get to the firm bottom of that.
Eagleton, Terry |       Don't know Doak? It's a self-portrait as John Belushi's character in Animal House, from the artist's ongoing portraiture project. There are several orphaned pieces in WDE, but I'll admit that this one does suffer the most for it. Oli Rodriguez's photographic portrait integrates well with the other work, even though it is de-linked from the S&M series it's part of. The problem is, what we consume now is not objects or events, but our experience of them. We buy an experience like we can pick up a GBDB beer coozie ($2.00 at the opening).
Immanuel, Kant |      Sure, there's no doubt that all knowledge begins with experience. That's why I bought three. But reading about the Weird Dude Energy Tumblr that was the inspiration for the show, I learned two things on the Hyperallergic comment thread: first, apparently no one reads my books anymore; and second, "Young people's ideas about whatever is cool can have a conversation with contemporary art." If you can't deal with merch and memes, fine, how about Mike Rea's virtuosic wood installation: jail cell/microphone/and, inevitably, glory hole? Out of the crooked timber of humanity, no straight thing was ever made.
Rahm, Emanuel |      Fucking retarded. Take your fucking tampon out and tell me what you have to say. Best was Ivan Lozano's installation of glowing blue hands on poles. It reminds me of when I sliced off my finger working at Arby's, went swimming in Lake Michigan, and got gangrene. That's when I decided to become king of Chicago. Lozano fucked up his hand and made some casts based on not being able to move. Same idea, different goal. You should never let a serious crisis go to waste.
Derrida, Jacques |     Can we not talk about biography, please? Stick to the work! Look at how the hands' blue glow syncs with Zak Arctander's red tinted photo of the young man in a Vans cap, shown from his chest up. Whatever precautions you take so the photograph will look like this or that, there comes a moment when that photograph surprises you. It's the other's gaze that wins out and decides—which Arctander must be thinking about because look, he made sure the man's eyes are covered by his cap! Rrose, with your own compromised intuitions, what did you like?
Duchamp, Marcel |    I just like—breathing. It's so necessary that I don't question it.
Umberto, Eco |         You are odd. Weird, I mean; but then, it's only petty men who seem normal. Didn't you like Alex Gartelmann's limp aluminum baseball bat, bent over a wooden peg? A mash-up of your own readymades and an '80s sculptural phallus, a strong piece with good position.
Duchamp, Marcel |   I don't believe in art, I believe in artists and the most interesting thing about artists is how they live. All this twaddle are pieces of a chess game called language.
Eco, Umberto |          Perhaps…. Maybe I'm—maybe all this is not as wise as it likes to think it is. And if Jacques's right about epistemic plurality, is this some eternal zugzwang, as you chess people say? It's true that the most interesting letters I receive are from people in the Midwest, people like the lone figure in John Opera's lovely, desolate Wisconsin landscape. So let's turn to their official sources instead!
Newcity Art (B. Stabler)| A variety of manly tensions are borne out by the juxtapositions in the group show "Weird Dude Energy." In the end, there's just nothing that says "competence" like a great curatorial concept enjoyably, even suavely, executed.
Rrose, Sélavy |           Fine, fine. You do have to have an official existence. Intermezzo. One more, back to the living, then the end.
Jason Foumberg |      Weird Dude Energy, a concept and an exhibition, probes the unkempt desires of men.  You know how guys act when they're all together, without women around?  This show amplifies that vibe with work from 17 male artists.
You + Yr Friends | Â  Â  Â _________________________________________________________________________
_________________________________________________________________________
_________________________________________________________________________.
END
Sources:  Walter Benjamin: "The Author as Producer", Reflections. Wilde, Oscar: The Picture of Dorian Gray. Weiner, Anthony: "GPS Speech" to Springfield Community Church, et al.; Interview with Emily Miller, Washington Times. Eagleton, Terry: How to Read a Poem. Immanuel Kant: "Idea for a Universal History with a Cosmopolitan Purpose". Rahm Emanuel: Comment on a liberal group's concerns about Obamacare, Wall Street Journal; Response to a male staffer, New York magazine; Interview, Wall Street Journal. Derrida, Jacques: There is No "One" Narcissism, Interview with Didier Cahen. Duchamp, Marcel: Line for the character "Marcel Duchamp", The Mysteries and What's So Funny, David Gordon (referencing Interview with Jean Antoine, The Art Newspaper); Interview with Jean Antoine, The Art Newspaper. Umberto Eco: The Name of the Rose; Duchamp, Marcel: The Writings of Marcel Duchamp; Letter to Jehan Mayoux. Eco, Umberto: Interview with Nigel Farndale, The Daily Telegraph; Interview with Adam Langer, Book magazine. Newcity Art (Bert Stabler): "Review: Weird Dude Energy/Heaven Gallery". Rrose Sélavy: Interview with Jean Antoine, The Art Newspaper; Jason Foumberg (Chicago Mag.com): "Weird Dude Energy Promises a Freaky Prelude to Father's Day". You+ Yr Friends: _________________________________.
James Pepper Kelly likes words, images, and the plants in his apartment. He serves as Managing Director of Filter Photo and is studying to be a pataphysicist. For a little while, back in the early '00s, he was really good at Ms. Pac-man. 
Chicago Artist Writers is a platform that asks young studio artists and art workers to write traditional and experimental criticism that serves under-represented arts programming in Chicago. CAW was founded by Jason Lazarus and Sofia Leiby in 2012. This is our first guest post on Bad at Sports. www.chicagoartistwriters.com