With Venice still in the air and the anticipation of the Whitney hanging over us, the world is changing around me, and I cannot help but draw analogies to the art ecosystem. The squash in my neighbor's garden is swelling. The layers of crushed acorns are growing, and I have seen the first abandoned leaves start to fall. It is the imminent bursting of milkweed pods and the reminder of the larvae they fed, however, that provides the visual catalyst for ,,, the third Minnesota Biennial that opened at The Soap Factory last weekend. A Nabokovian menagerie, ,,, is a series of butterflies.
The flashiest, brightest butterflies do not need to fly past us to catch our attention. They overwhelm all of our senses. The Basketball Team's Sgt. Moore wafts the smell of whiskey throughout the gallery. The looping, Reichian patterns of Nate Young's Untitled (Soul Clap no. 1) echo in the silence of the distant companion video Untitled (Soul Clap no. 2). The shuttering of the 16mm projector pulls us into Stefanie Motta's Seeing. The drone of the prepared keyboard inside 7-Sided Room with Painted Floor by Andrew Mazorol and Tynan Kerr permeates the galleries and intensifies the rarefied air inside the room.
Some of the butterflies stun us visually. The mountain of fabric of RO/LU's Here There Then, Here There Now is inescapable, and Broc Blegen's larger than life cut outs of Scrooge McDuck comics, from Allen Ruppersberg, Big Trouble, highlight the bleak portrayal of ego and money in the public art world in the cutout prints on the walls behind them. If taste and touch feel left out, the popcorn from Jess Hirsch's reikiwave makes its way throughout the biennial in the greasy hands of visitors, and Adam Caillier and Michael Mott gently enfold us in the absences and presences of Negative Air Room.
Other butterflies are camouflaged, hiding right in front of us, disguising themselves or only revealing their beauty on closer inspection. Allen Brewer and Pamela Valfer's mediations of each other's work are subtle; the twin pieces of The Two Darrins flicker between paintings and the moire of screen mesh. The seemingly static shots of Scott Nedrelow's three and a half hour Leaving the Atocha Station invite long-term, real-time reading of the novel's pages. Infinite Field, Peter Happel Christian's collection of altered photographs, stacks of glass, carefully placed tools, is a layered reflection of the interiority of image making. The most obviously camouflaged moth is Ben Moren and Daniel Dean's Untitled (Selections From the Permanent Collection), a walking video tour through an alternate exhibition, a second exhibition that reveals itself on top of the biennial.
Some of the butterflies are still nestled within their cocoons. The ongoing dance, music, and other performances are as integral to the biennial as any of the static work, revealing themselves slowly, the chrysalis growing transparent before freeing the fully formed winged creature we anticipate seeing. The opening was full of anticipation as those first butterflies opened their wings, taking flight before a full house, continuously beating their wings in the vinyl LP catalog supplement.
Thinking of all of these butterflies and the weight in the air, I cannot help but wonder about all of the other insects I am missing. Mosquitoes and mayflies have come and gone; earthworms continue to transform the soil beneath our feet. The plants and rocks are as necessary as the rain and sun. When we venture out into the wilds, we can bring our butterfly nets, but what other tools do we need to help us see what is there? Do we need a microscope or a rain coat? Does the art ecosystem change as the external world does? Squirrels begin their annual collections, and geese call to us from their veeing south. Â There will be a tiger in town tonight with its promise of warmer climes. As it passes, will we understand the beauty that surrounds us more clearly?
,,, is on view at The Soap Factory until November 3rd.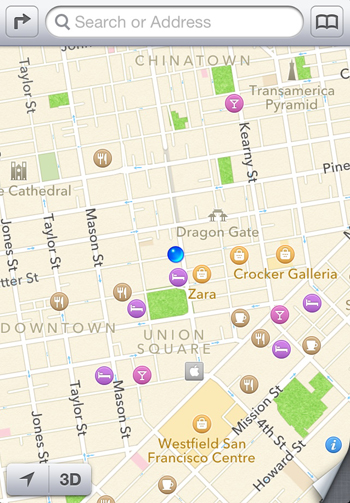 Last Saturday turned out to be one of the hottest days of the year in San Francisco.  For anyone who doesn't know, summer doesn't arrive in this city until after Labor Day.  Cashmere scarves and knit sweaters are all the rage in July, and by September the temperature and trends shift to hot days filled with sangria, tank tops and maxi dresses.  I enjoyed the weather with a stroll through the galleries in downtown Union Square.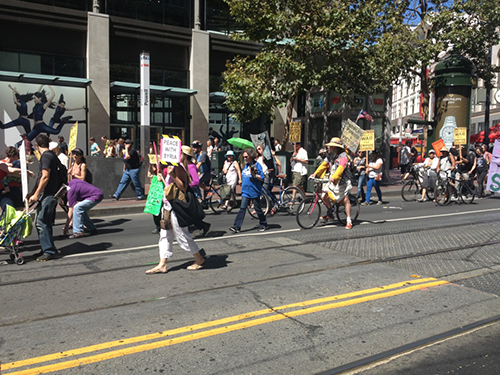 A couple months ago I wrote about the 49 Geary building in San Francisco's Union Square, but the neighborhood is home to other galleries in separate buildings.  After living in this city for several years, I realized that this would be my first time to some of these spaces.  Passing through the hoards of tourists and a peaceful protest for Syria, I arrived at Gallery Paule Anglim.  And what luck I had walking in and up the stairs, as Ms. Anglim herself was walking down the stairs and out, clearly in a rush to get away from the uncomfortable indoor heat this climate change has caused.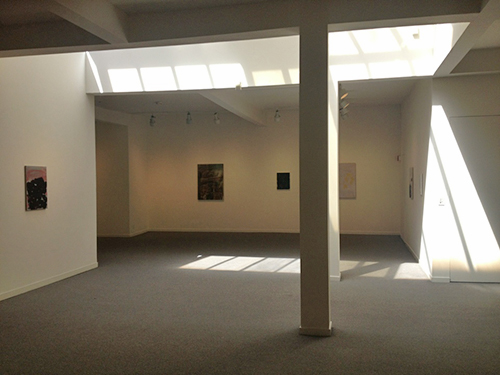 Regardless of the weather, which is never a topic of conversation in SF until this very month, it was a delight to see paintings by Pamela Wilson-Ryckman in an exhibition titled GPS.  From the exhibition statement: "Precise knowledge of location gives one the illusion of control but knowing exactly where you are doesn't necessarily mean you are in a good place. Rather than location it is often the experience of place that matters.  How much information does one need to reconstruct a memory or sense of place?  The answer is — not that much, imagination fills the gap".   I was most interested in Geppetto's Jacket (2013) and it's glaring painterly techniques, creating so much dimension of space for that "imagination".
Out the door and on to the next, I visited for the first time Dolby Chadwick Gallery.  As soon as I walked in, the speakers on the gallery desk were playing fun reggae music that fit perfectly with the tropical feeling in the air.  It was a relaxing Saturday in the gallery — if I had to work I would be playing the same music!  Guy Diehl's awesome exhibition A Dialogue with Tradition sported realist paintings of still lifes that any art nerd could really appreciate.  Some objects include books and postcards of historical works of art.  From the exhibition statement: "his work is first and foremost 'art about art,' the lynchpin of his paintings is their references to other artworks".  After taking the postcard for the exhibition, I realized that my new favorite thing would be taking pictures of art and its exhibition postcard.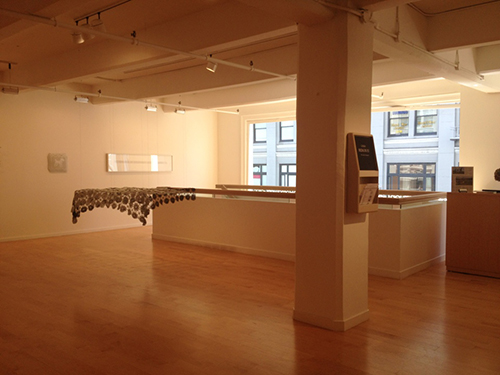 And once again, I was off to the next space I had never been to before until that day, the lovely two-story John Berggruen Gallery.  Two shows were up: The Grand Anonymous by Linda Ridgway and the other of Important Works on Paper from the Past Forty Years by Chuck Close.  I fell in love with Ridgway's But the secret sits in the middle and knows (2011) — a bronze wall sculpture of blackened flowers —  for its transcendence above kitsch.  Sadly, it was already sold.
When I walked down to the main gallery level, I felt like I had walked into an old world Soho: 4 giant Chuck Close watercolors.  But I'm a sucker for mixed media collage, so Study for "Keith"/4 times (1975) got me all riled up with excitement.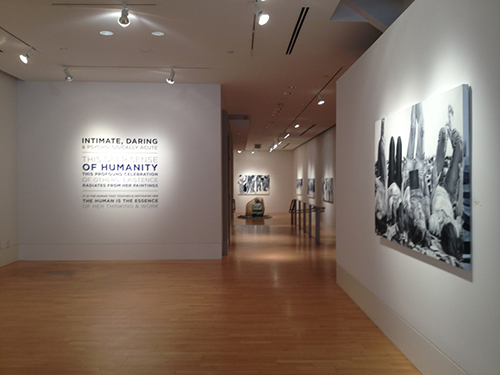 Finally, I stopped into Caldwell Synder Gallery and its ridiculously hip show by Marta Penter.  The space itself goes on for days and it perfectly compliments Penter's muted paintings of American culture just being alive and chillin' and laughin' and lovin' and wearin' jeans and listen' to tunes.  I'm reminded of Levi's and Gap and wonder if she's collaborated with either company, as they've been headquartered in San Francisco forever.
Like I had mentioned in my 49 Geary post, it's hard to disassociate the art from the status of Union Square as the high-end shopping district of San Francisco.  Several galleries in the city started off in the downtown area only to later move out to other less commercial areas.  I, for one, love the play between art and commerce and luxury brands and cultural demand.  I don't mind that my art stroll can be stopped by seeing a fabulous abstract work of art in a window, or a fabulous contemporary Bang & Olufsen sound system.  In the end, they're both going to end up sharing space in someone's living room.
Something we don't do enough of here at Bad at Sports is trumpet the successes of our various contributors.  It sort of happens piece meal, sometimes, but considering that the project is and always will be an artist run type thing – our collaborators are more then just the deep thinkers, aesthetes, and vulgarians you know them to be! Such is the case with our Tom Sanford and his new show at Kravets|Wehby in NYC.
"Café des Artistes" consists of 13 paintings. 10 paintings are images of notable New Yorkers and help define the cultural milieu of the city.
The show includes new portraits of Marcus Samuelsson, Diane Von Furstenberg, Walt Fraizer, Bill T Jones, Tina Fey, Woody Allen, Nicole Eisenman, Michael Bloomberg, The RZA,  & Jonathan Lethem, and they are featured along side three "New York Genre Paintings."
http://www.kravetswehbygallery.com
http://www.tomsanford.com/2013/08/cafe-des-artistes-at-kravetswehby-gallery/
(left) "The Writer (Jonathan Lethem)" 2013, oil on board, 36" x 24". (right) "The Clarinettist (Woody Allen)" 2013, oil on board, 36" x 24"
(left) "The Mayor (Michael Bloomberg)" 2013, oil on board, 36" x 24". (right) "The Painter (Nicole Eisenman)" 2013, oil on board, 36" x 24"
Maybe you should go see them?
In about a week the city of Chicago will be upturned with contemporary art fervor. The art fair, EXPO Chicago, returns for its second year, along with a satellite, Fountain Art Fair. Already the city is buzzing with preparations. In the midst of all this I had a chance to email with Elizabeth Tully, Fountain Art Fair's official Producer, about the history and aesthetic of the organization along with what we might expect at Fountain.
Caroline Picard: Can you talk a little bit about the history of Fountain Art Fair? What is Fountain's ideology?
Elizabeth Tully: Fountain was started in 2006 as a platform for three galleries (Capla Kesting Fine Art, McCaig Welles Gallery and Front Room Gallery) to access collectors, curators and critics during the New York Armory weekend.  We have grown to represent over 100 international galleries, artists and collectives.  Our model is "alternative" because we give free-reign to our exhibitors, and are not exclusive to just galleries, or just independent artists.  Our mission is for people to come to Fountain and connect with whats happening inside through installations and performances that engage visitors and push boundaries.  Of course, people want to sell art, and they do.  But the overall vibe is one of community and goodwill as opposed to commercial frenzy.
CP: How do you facilitate a community vibe? 
ET: There is something special that happens when the Fountain Team gets together, and all the exhibitors show up. Â I'm sure part of it is the type of art we showcase tends to bring in exhibitors that are open-minded and down for adventure (and the Fountain Team certainly personifies that as well) People start installing their art, checking out their neighbors, borrowing ladders, lending drills, etc. Â The energy is palpable and really starts to build, by opening day its reached a fever pitch. Â That sense of "we're all in this together" is really what Fountain is all about. Â For Chicago especially, we are working with Johalla Projects as our partner out there. Â They have been incredible, making connections and fostering relationships to help get this show off the ground and build a new Fountain community in Chicago. I think visitors can feel that goodwill when they come, and its something we take a lot of pride in.
CP: What was it like shifting the fair from something created as a satellite to the Armory, in NY, to a fair that travelled? 
ET: Fountain has always operated as a satellite to these larger fairs (Armory, Art Basel Miami Beach, Art Platform Los Angeles).  Our purpose is to provide a platform for these alternative spaces to showcase their work during these major weekends, but as an affordable art fair, our budget is always tight. The challenge is to keep the show affordable while still creating an environment that is going to be conducive to our clients selling art. Working as a satellite allows us to take advantage of opportunities created by the large shows and the audience they attract.  It also gives us the freedom to explore new markets in new cities, and bring Fountain's particular brand of art + vibes around the world. CP: This is related, I think, to the last question — but your name, Fountain and logo, point back to the infamous Duchampian urinal. Is that a moment in art history that the fair is particularly inspired by? And what bearing does it have on the contemporary art fair model? ET: Just as people were shocked by Duchamp's Fountain, we aim to bring that refreshing spirit into everything we do.  We want visitors to engage with art they wouldn't normally be open to, and break from the things they have seen at all the other fairs.  This spirit of "art for art's sake" is at the heart of the Duchamp/DADA paradigm.
CP: Do you have an example of a work or a couple of works from Fountain that managed to turn your audience's heads? 
ET: Where do I even start??!  Over the years there have been some amazing moments that have happened at Fountain.  Many of them center around the performance programming, which has been curated by Bushwick-based Grace Exhibition Space for the past few years. They invited a world-renowned group of artists from Estonia called Non Grata to Miami in 2010 that resulted in a car almost being blown up!  Non Grata returned to Miami this past December with incredible programming involving live branding. (See photos attached). During my first Miami show in 2009, I remember Russell Young pulling silkscreens live using viles of his own blood.  I remember watching him, disturbed but so intrigued.  It was a defining Fountain moment for me. New York 2012 exhibitors Creamhotel also brought in an amazing performance involving aerialist Seanna Sharpe and her team suspended from the ceiling of the Armory, 130′ above the crowd.  Watching that with a couple of thousand people on the floor was breathtaking, we were all just looking up with our mouths hanging open. Performance art for this show will be curated by chicago-based performance space and I'm really excited to see what they bring! We will be announcing the lineup next week.
CP: How do you encourage your galleries to be experimental? Is it simply the result of the ecology you have developed over the years — for instance do you all try and work exclusively with galleries prized for their experimentation — or do galleries apply with specific projects in mind, projects that you vet from your end? 
ET: I think its a little bit of both. Â Fountain has a reputation for showcasing progressive, sometimes challenging work, so we do attract exhibitors who like to think outside the box. Â I love when potential exhibitors reach out to us with a wild idea(examples above), bringing all the elements together to help them realize that vision is, for me, one of the best parts of producing a show like this.
CP: What brings Fountain to Chicago? 
ET: Fountain staged an exhibition in Chicago back in 2007, and we have been waiting for the right time to return. Â We were very excited to see EXPO Chicago launch in 2012, signaling a renaissance in the Chicago market. Â Then this spring, our now-partners at Johalla Projects reached out to us about organizing an alternative fair during EXPO week. Â There were so many amazing, progressive spaces in Chicago who were interested in participating in a fair, but there was no fair to represent them. Â The timing was finally right and everything has been clicking into place. We are excited to showcase our unique take on whats happening in Chicago, Brooklyn and beyond!
CP: Often I feel like fairs inadvertently reflect a trending icon or strategy — like a deer's head cropped up repeatedly at the last Chicago Merchandise Mart fair, for instance, last year several galleries at EXPO featured paintings with holes or tears in the canvas — are there any trends you anticipate this year at Fountain?
ET:Â  I suppose there may be a trend towards accessibility in art. Â If that's the case, I'm glad we're on the front lines! I think more and more people are realizing that it is possible to have fun with art, and that they can bring amazing, original work into their home or office without breaking the bank. Â That's a beautiful thing, for both the artists and art-lovers.
CP: You all are planning a benefit for the DIA, I believe. Can you talk about how that decision came about? 
ET: We were alarmed by reports of Christie's valuing the DIA's collection and the possibility of these works being hawked to pay off the city's debt.  Fountain co-Founder David Kesting has a long-time affinity towards the City of Detroit and the DIA.  We believe that these works have been given in trust to the people of the Detroit and that legacy must be upheld.  By pledging to funds from our VIP Preview day, we hope to ensure that this conversation continues, and that support builds momentum.
I was missing the earth so much that I watched a 98 minute movie of the light changing from day to night high up in the Sierra Nevadas. The trees are beautiful in the way trees are, but not too showy. There is no discernible movement in the frame beyond the changing position of the sun and the automatic shutter of the camera slowly trying to adapt. I was missing the earth and I was thinking of duration and those were things I would have been thinking and feeling even if I hadn't been at the final day of the Onion City Experimental Film and Video Festival. But I was and those were things to think and feel about.
James Benning's Nightfall is a curious piece. His works are often challenging structurally, but saying the logic of this one is simple is like saying the simple logic of this is one. We watch the trees and they are still. We watch the light and it changes slowly. It would change more slowly, but the camera is doing what it can to keep up. Fauna haunts the aural space and I thought I even heard what sounded like human sounds. Mostly I floated in and out of the cinematic space (the seats, the people around me, my thirst, someone else quenching theirs, the size of the rectangle, the quality of this light) the represented space (the trees are so beautiful, there are fourteen main trees, there are an additional dozen supporting trees, the light coming through the branches looks like someone I know, the light through these branches looks like a stranger) and the space between (could I sit on the stump I'm imagining for this long?, when was the last time I spent this long seated with my head facing one direction?, when was the last time I spent this long seated with my head facing one direction outside?, how much better must this be to be there instead of here?, how has the concept of nature become so abstracted from [my own, at least] daily life?, what is that phrase about seeing forests and trees?, is this based on that?).
I do well with so-called durational works. Maybe it's because I meditated as a child or have a very (let's not say hyper-) active interior life (though my suspicions are that everyone does) or because my durational muscle has been honed through years of grueling training. Whatever the reason, I found Phil Solomon's Empire to be satisfying, beguiling and eminently watchable. Immediately after the screening, I asked Patrick Friel, the festival's director, if there would be another chance to watch it. Empire is a 48 minute remake of Andy Warhol's film of the same name. Instead of, or maybe in the stead of, an indexical film in which the titular State Building takes center stage, Solomon's video takes place in Grand Theft Auto's Liberty City. Time passes quickly—two minutes in the game representing an hour in the world—even if slowness is the dominant feeling.
I was going to and still might write through Empire, telling you everything that happens. I might make a newspaper of it and then scan that and put it on a thousand flash drives and throw them from the top of a scale replica of the Empire State Building (from Liberty City). I don't have it in front of me, so my memory will have to suffice. This is another type of reenactment, of bootlegging, covering or translating. The first thing I remember is the glistening, glittery reflection of the sun in the water that I chased long after it had gone. There is slow but continuous garbage flying toward us: perhaps someone printed out my newspaper. Airplanes appear regularly about an eighth of the way across the screen. They fly a straight line and disappear once they pass by (or seemingly hit) the unharmed protagonist. At a certain point light orbs pass from one side of the screen to the other, while the building abides. The sky changes, drastically. The different buildings turn on and off at different times. The sun. The wind is mostly steady and a truly delicate lull. The moon. I saw no cars. The splotches of fog that signaled incoming weather were terrifying. The rain almost shook me to my core with anticipation. I don't ever play video games but I feel like I should, like I'm missing some of the critical ways that culture is moving. Sometimes I read about video games so I won't be an alien in the senior home.
I had seen Empire before, on a monitor. I probably watched for a few minutes. I chuckled because I know about Andy Warhol and know about Phil Solomon and know about video games and know about the new media one-liner and know about duration and know about simulation and am a sensitive viewer with a rich interior life. But I probably watched it for a couple of minutes at most. I am an advocate for the space of the cinema. I think it's ok for a work of art to be bossy and tell me to sit still and watch the whole thing until the lights come up. No talking, no texting. I also love talking and texting, but I know sometimes that makes listening and watching and being present and letting the mind wander a lot harder. I'm not telling you these things because I don't think you know them, I'm just telling you them because this is my turn to be bossy. Even if we're both talking and texting during the production and reception of this text.