Over the past ten plus years, Laura Shaeffer has been the entrepreneur and custodian behind a number of projects housed within a handful of unconventional— and often under utilized— spaces on the Southside of Chicago, including Home Gallery, The Op Shop and Southside Hub of Production (SHoP). Her approach is a combination of activism and common sense; community building and home-making. She honors domestic spaces as sites of radical, informal pedagogy, and this manifests itself in an important through line that runs across her projects; they act as platforms for kids to express their creativity and imagination, and indulge their curiosity. Alongside immersing them in art and cultural production, an important byproduct of this is kids' engagement with other kids, families, neighbors and neighborhoods.
By remaining open, nurturing organic expansion and leveraging intuition, Shaeffer stewards growth rather then shoehorning artists into rigid themes or mapping them onto discrete timelines. She recounts the combination of circumstance and serendipity that led to the recent closing of SHoP and subsequent re-opening of Home Gallery for us, and outlines her influences, collaborators and thoughts on sustainability and longevity below.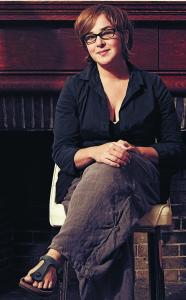 When John Preus, Mike Phillips, founder of South Side Projection, and I first started thinking about SHoP as a community cultural hub, we talked a lot about a need we all saw for a more un-programmed life, where idle time can be productive and where relationships have time and space to develop, between people, artists and generations. I love the idea of stewarding growth, looking after, caring for and managing an exhibit as a way of curating through encouraging artists to be more present and participate in the exhibit after the opening in ways that could make their work more accessible to others and in return inspire further thought and exploration on what it means to be an artist in our current culture, especially a more publicly or socially engaged artist. I tend to work intuitively and gravitate toward others who do as well. Working on shows with John and Alberto Aguilar was incredibly inspiring, they are both extremely challenging and creative thinkers. I found that a very good sense of humor and irony is most important in this kind of work and we were able to make each other laugh at the most crucial times.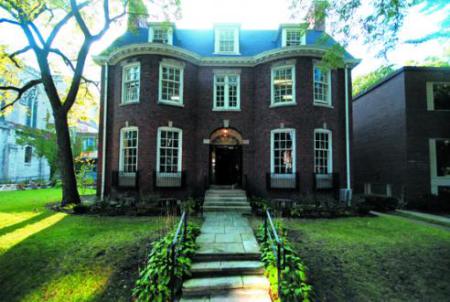 One common interest John and I shared with others who helped found this project, as parents and artists, was to create spaces for exhibitions, learning and socializing where children and older folks alike would come and be in an environment that was heterogeneous and allowed for spontaneous interactions. We talked a lot about the Piazza, the Town Square, the Adventure Playground movement, public places where everyone gathered, young and old to have a drink, converse, play freely, or make things… and to linger into the evenings. We also wanted a cultural space where we could bring our kids and they'd have their own environment in which to create together so we set up what we called the Autonomous Making Space (silly name we know) for them to explore their own ideas, and make up their own activities, structures, and games. SHoP drew much of its inspiration from the Junk/Adventure Playground movement begun in the 30's in Europe by C. Th. Sørensen, a Danish landscape architect. These playgrounds become centers, accessible to the entire community, a place to gather and play freely and to develop intellectually, physically, and emotionally. Like the Adventure Playground, we wanted our Hub space to encourage children and adults to interact with and learn from each other. Ultimately, we wanted to create a space for people to feel ownership and take responsibility for the space itself because it exists as a result of their own efforts and brings the larger community together.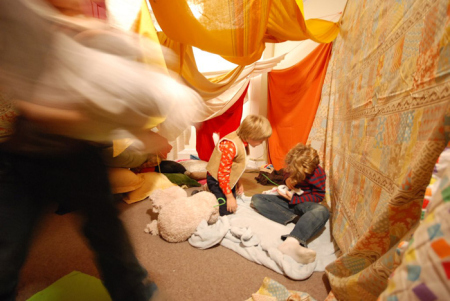 In terms of spaces that have provided a source of inspiration, there are so many. Several are in Finland; Hirvitalo, a Contemporary Art Center, founded in 2006 as a cultural space in Pispala, Finland, a deeply kindred spirit; Pixelache, a transdisciplinary platform for experimental art, design, research and activism co-created by artist Andrew Paterson whom I had the good fortune to meet in 2007 at the Pedagogical Factory by Jim Duignan, founder of Stockyard Institute, who is a very significant inspiration for SHoP. Places like Experimental Station, Co-Prosperity Sphere, Mess Hall, Comfort Station and North Branch have provided guidance and inspiration as well. There are too many individual artists, projects and people to mention, who have been collaborators and co-producers over the years. Collaborations like Material Exchange, Kultivator and WochenKlausur have also been very influential.
After the Fenn house was supposedly sold (it is now back on the market!), we were charged with the daunting task of reducing the accumulated contents of a 16 room mansion to fill a 20 foot sea container, to be driven away and parked on the Resource Center's land (thanks to the generous help and support of both Ken Dunn and Ken Schug and some wonderful volunteers). We had all grieved the loss of that beautiful space before we moved, but the lightness of being I personally experienced shortly thereafter made it clear that it is not the space itself, but the people who make the space meaningful through their care, their energy and their creativity. That location, while at once magical and wonderful, and which provided so much space for learning for us all, was also much more demanding than any Op Shop or Home Gallery exhibit and we really needed time to reflect, regroup and re-organize ourselves if we were to become a sustainable center for the community.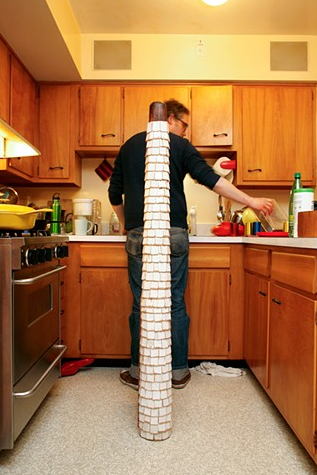 I suppose the decision to open up Home Gallery again was a combination of circumstance and intention. We invited some of the artists that played a large role in SHoP as well a few new ones to our private home to intervene with our "private lives" in ways that would alter or disrupt our routines and as well, help us ease the transition back home and frankly, tend to the spaces that had been neglected while running a 16 room grass roots community arts center for almost 2 years. Our tiny home became the focus for the continuation of concepts and ideas we had been working with on a larger scale at Fenn House, allowing us to explore the more domestic and private side of these ideas.
The question of how we will continue to nurture and grow our projects outside of the traditional constraints of traditional organizational structures and frameworks is a very good one. We are discussing and further questioning this all the time. What might we gain by adopting a more organized structure and what might we stand to lose? As an art project, The Op Shop had a sense of freedom and extreme fluidity, SHoP for the 15 months of it's existence at Fenn continued to enjoy that fluid, flexible and organic quality… but how long can that be sustained? Eventually a project has to grapple with these questions, I admire projects like Mess Hall who knew from the get go that they would not opt to become a non -profit and had a very clear vision for their mission in this sense. I feel we are still questioning the whole issue of becoming a non-profit and what that implies and how it impacts the project itself. In some ways we will not know before hand but one suspects that there might be a loss of this sense of intuitive process, fluid practice and to be honest, we may get away with much less. On the other hand, money is an issue and funding is needed if we are to continue in any long term way. I am and we are obviously conflicted about this issue!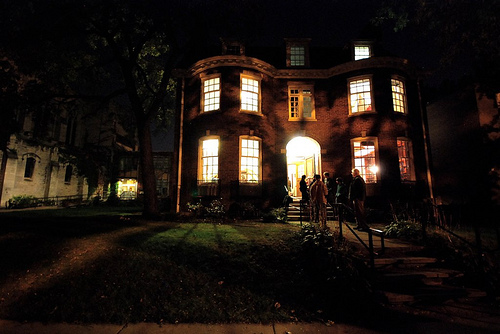 Maybe artists and others who are attracted to unconventional spaces to view and think about art, like the mansion, the small townhome, the porch, the back yard gallery, the storefront, the park, and various unexpected public spaces, are more likely to want to examine their role in social change, themes of modern urban life in spaces that are themselves a challenge. There are artists who have certainly been repelled. I like the story of one artist who had proposed a project for an exhibit at SHoP, was invited to participate, and showed up on a typical day for us, where kids were hammering pieces of wood together on the front steps, students were running a yard sale in the front yard, some seniors were playing bridge inside, the house was buzzing with activity preparing for the installation of the next show. I saw a looming figure outside the house and then I saw him disappear, I asked a friend if they knew why this artist left the scene without coming in to meet us (I knew him from his resume and photos) She said that he 'didn't want to show his work in a house run by unprofessional hippies.' This artist never responded to us again. I could see his point, but I love general (orchestrated) chaos, so I guess that's my fate.
As told to Thea Liberty Nichols via email, June 2013.
All images courtesy of Home Gallery and SHoP.
Hello all,

Here is an update on Carissa Hinz and how you can donate money to her family to aid with the expenses related to this tragedy.
For those who missed the story yesterday, we reported the shocking death of artist Carissa Hinz, 21, last Friday as she was leaving Version Fest. She was killed by a hit-and-run driver who has yet to be apprehended.
Please make all donations to Jackalope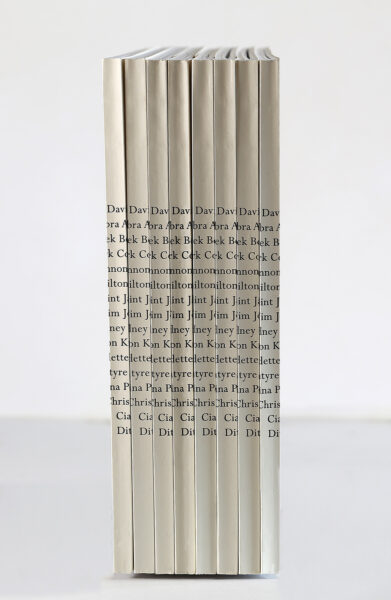 Lisa Radon eludes traditional definitions. Occasionally a geologist, previously a critic, and perpetually a poet, she dabbles in all manner of creative work from performance art to small-batch publishing. Driven by research and aided by collaboration, Radon's projects are buoyed by a multitude of voices that, knowingly or otherwise, are ushered into her game. Much of her work can be conceived as a playground—or temporary autonomous zone—in which she spins circles around the structures of language and ideas, drawing liquid connections between word, image, and concept to insightful and poetic ends.
I first became acquainted with Radon during her 2012 Resource Room Residency at Portland Institute of Contemporary Art, (PICA). She orchestrated a talk that invoked Emerson's essay Circles, quoting: "The eye is the first circle; the horizon which it forms is the second; and throughout nature this primary picture is repeated without end. It is the highest emblem in the cipher of the world." (1841) Radon continued to articulate that our understanding of the world can be conceived as an ever-expanding set of concentric circles, always reaching out and beyond, informed by individual experience as well as by collective formations of society and culture. Her recently launched journal, EIGHTS, brings Circles into tangible form. Conceived as an "exhibition space on the page," the publication assembles the works of artists and writers who explore, challenge, and upend traditional semiotic structures. Reinforcing Emerson's assertion that, "the universe is fluid and volatile," this initial volume of EIGHTS includes works by Alison Knowles, Ian Hamilton Finlay, and Shannon Ebner, artists and writers who navigate the space between text and image, transforming the publication into a veritable Hunting the Snark for the concrete poet.
I spoke to Lisa Radon following the release of the first issue of EIGHTS in Portland, Oregon.
Sarah Margolis-Pineo: Thumbing through EIGHTS, I was struck by it resistance to traditional categorizations. I was simultaneously reading and seeing—experiencing visual art and poetry—in a format that intersects exhibition and literary mag. This slipperiness seems conceptually crucial to the project, and I'm curious: how was EIGHTS conceived and formalized?
Lisa Radon: I have for some time been interested in the möbius strip of reading and writing, where reading is a kind of writing and writing is a kind of reading. And I imagine EIGHTS as being exhibition space on the page for writings-as-readings at the intersection of this möbius strip with visual art. So there are concrete poems, works of conceptual writing by artists and poets, works of conceptual art, and writings by artists. This is a beautiful field to consider. And I like the conversations these works can have with one another.
SMP:Â How has the knot become a significant allusion?
LR:Â You're referring to the logo, which is a mathematical knot, the figure-eight knot. I like that it's a prime knot, for one thing. But more importantly, the idea of the knot, an ordinary, non-mathematical knot, is significant to this project specifically, and more generally to my work, because it is the place where points in a line that would never touch one another, do touch. New frictions.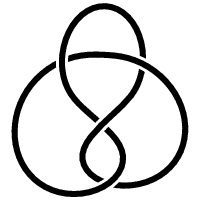 SMP: I've heard you reference Dick Higgins's conception of art as a liminal zone—or horizon—that is in essence a meeting place for commingling and overlap. How did the legacy of Higgins and other Fluxus artists inform EIGHTS?

LR: Oh, interesting, well I know that's a part of my own thinking, but I don't think of EIGHTS as being particularly Fluxus influenced, although Higgins certainly made conceptual writings. It's just an aspect of the whole. That said, Alison Knowles' House of Dust is in Issue One. It is an early example of an artist collaborating with a computer to make a writing. Essentially it is an automated (FORTRAN-generated) reading as a writing. 
SMP:Â I'm hoping you can illuminate a bit about the curatorial process. How were the works selected and arranged?
LR: Considerations included giving primacy to works that function as both readings and writings. Works that expand the notions of "writing" (see works by David Abel and Shannon Ebner) and reading (Sydney S. Kim's piece is a thermal reading of the covers of a selection of books of poems) are important. Incorporating works in English by artists for whom it is a second language was interesting as a way of raising questions about translation broadly. Including works by influential artists and poets like Ian Hamilton Finlay, Bernadette Mayer, and Clark Coolidge sets the groundwork for EIGHTS' conversation.
SMP: While reading/viewing many of the pieces in EIGHTS, I found myself examining them almost analytically—looking for a cypher or code—all the while being aware of the visual and aural resonance. In a way, each work operates as a stand-alone game with its own internal logic. In my mind, the project became a collection of these magic circles and, I guess my question tends toward the relationship the pieces have to each other: what is the conversation you envision these works to have? Why bind them into a coherent volume versus displaying them in an exhibition format, through online infrastructure, or releasing them in individual volumes?
LR:Â Most of these works have a preexisting relationship with the page. And even in the case of those that don't, their inclusion lets me think about what language does differently on a page rather than say, on a wall or in the air. Specifically, in a book, there is the magical thing of images on facing pages touching one another. Like a knot. I love the book as a form. And it's the word's natural home. Plus, it can move so nicely in the world.
SMP: I agree: the page allows language to play differently than language spoken aloud, but at what point does visual poetry generate meaning versus operating as a page-bound pun?
LR: That's funny. I don't think you would ask this question of an abstract painting. And I think it's funny that we ask it of a concrete use of language, or any non-ordinary deployment of language.  Concrete or visual poetry as well as myriad other non-expressive ways of using language (operational, fragmented, repetitive) may make meaning in collaboration with the viewer (every reading is a writing, she says again), but their relationships to meaning are different. The words in one of these pieces are not used as mere tools, the way you and I are using words in this most banal of ways, to simply say what needs saying. They're used in ways that expand and complicate their relationships to one another and to the whole, which results in complicating our relationship to language and its use. I think this is an enormously productive zone both for making meaning and refusing or confounding it.
In 1954 Eugen Gomringer wrote this on concrete poems:
"The constellation is the simplest possible kind of configuration in poetry which has for its basic unit the word, it encloses a group of words as if it were drawing stars together to form a cluster.
The constellation is an arrangement, and at the same time a play-area of fixed dimensions.
The constellation is ordered by the poet. He determines the play-area, the field or force and suggests its possibilities. The reader, the new reader, grasps the idea of play, and joins in.
In the constellation something is brought into the world. It is a reality in itself and not a poem about something or other. The constellation is an invitation."
SMP: That's lovely. It perfectly illustrates the relationship between lived experience and imagination and the potential for experimentation within even the most elemental structures. I want to learn a bit more about what you have in mind for the following editions in the EIGHTS series, but I'm also really curious about the work you're doing with Hakim Bey's Temporary Autonomous Zone, which, like the constellation or white page, are conceived as spaces to prototype new ways of being. Can you speak to this new project in the works?
LR: EIGHTS will be published annually. Contributions for Issue No. Two will include work by Madeline Gins and Buzz Spector.
The TAZ project is a book I am making called Prototyping Eutopias. And boy, even though I've been working on it for some time, I can barely talk about it. It is probably a poem, a manual, a history, a call, a horizon, a magic object. I originally conceived of it as a re-writing of the TAZ that would excise its war language, an enhancement of it to include considerations of the ethics of care and esoteric practices. Then Vaneigem came in and Retallack and Kropotkin, and on and on. I'm mostly researching opals and invisibility.
SMP: Interesting. I've always found the TAZ message contradictory to the media. Not to delve too deeply into this next project, but it seems to me that EIGHTS already exists as a simultaneous counterpoint and affirmation of Bey's discourse. You can respond, but I was hoping to segue into your interest in words and things. Can you tell me how the web-based "supplemental" components came about?
LR: Sure. The supplements on the website can and will be anything from armature for thinking and process documentation to theory and talismanic object. I wanted a strict separation between the work and work about the work, so any theory will be on the website not on the white walls of the book. It is also true that in the two years it took to make the first issue, there was a necessity to embed a handful of images and objects as talismans.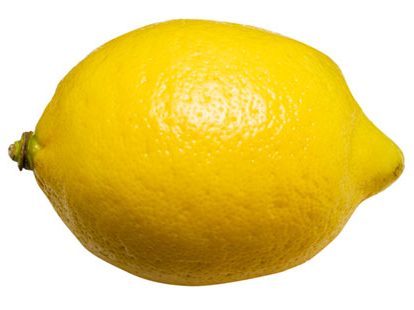 SMP:Â  Any words or objects that have your interest at the moment?

LR: The number eight as vertical lemniscate as möbius strip. Rocks. Knots. Lemons, always. Not to drift too far off topic here, but they are powerful objects. And barnacles. Barnacles make a clicking noise at low tide which is super sci-fi. They're blind as adults.
EIGHTS is published annually and is available by subscription. 8eights8.com
Lisa Radon has exhibited at Hedreen Gallery, LxWxH, White Box, Car Hole, Worksound, and galleryHOMELAND. Her recent residency at Portland Institute for Contemporary Art resulted in a lecture and a publication entitled A Reading (2012, Portland Institute for Contemporary Art). Other recent publications include: An Attempt at Exhausting a Place (2013), The Book of Knots (2013, c_L), Sentences on Sentences on Paragraphs on Paragraphs (2011, Publication Studio).  lisaradon.com
It is my sad duty to report the tragic death of one of our community members, local artist Carissa Hinz. She was stuck down after leaving Version Fest where she had been assisting in doing cleanup.
If anyone saw anything or knows anything please contact the authorities. The driver fled the scene and needs to answer for his actions. Our thoughts go out to Carissa's family and friends.
If anyone is aware of where to send donations please e-mail me at rholland@ponderance.org
Until we get that info please go to Jackalope and leave a huge tip in her honor.
——————————————————————————————————————————————————–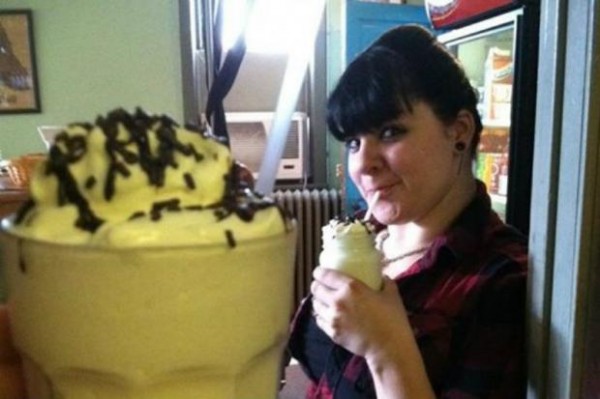 Authorities have released details about the driver of a car that struck and killed a 21-year-old Bridgeport woman and then drove away.
According to an alert issued by Chicago Police Department on Tuesday, the vehicle "a maroon Hyundai Sonata sedan" was driven by a Hispanic male believed to be in his 20s. The car was occupied by two other people.
Police said the car was speeding in the 3200 block of South Morgan Street when it struck Carissa Hinz, an aspiring artist who was helping clean up after Friday night's kickoff party for Version Fest, the community-focused art and cultural festival she helped organize.
The impact from the crash sent Hinz flying into the rear windshield of a car parked about a 100 feet away, police said. She was pronounced dead at the scene.
Hinz was a well-known artist and barista in the community. Friends at Jackalope Coffee and Tea have said they'll donate all of their tips at the end of the week to Hinz's family
You're not likely to see a better display of the most important architecture and design of the 20th century anywhere else this summer, so the fact that Michigan Modern: Design that Shaped America only focuses on what came out of post war MI is even more remarkable. Starting with Charles Eames and Eero Saarinen's highly influential submissions for the Organic Design in Home Furnishings at MoMA in 1940, and ending with a recreation of a living space in Mies Van der Roe's Lafayette Park in Detroit, there are few stones left unturned, yet the map and timeline in the North Gallery proves that  so much editing still had to be done. Focusing primarily on the design and architecture, as well as the automotive industry from 1940 – 1970, MI Modern has original and reproductions of some of the most iconic furniture of the period, Herman Miller textiles of Alexander Girard and Ruth Adler – Schnee, advertisements for Steelcase, Herman Miller and others, and newly created and existing models of iconic buildings throughout Michigan. Encompassing most of the state including the U.P., with a symposium (June 13-16) touring iconic buildings in Broomfield Hills, Detroit and Ann Arbor, Michigan Modern is in many ways a summer blockbuster show, mimicking on a small scale the expansiveness of Documenta, but with everything homegrown. While considering all the Saarinen, Van der Roe, Kahn and Breuer contributions to the design and architectural legacy of Michigan, one sees how (again) much of America's strength lies in immigration, but even more where unique timing, collaboration, forward thinking, talent and serendipity had a profound and lasting impact on the look and feel of modern America. It is our fortune that so many of these Architectural gems like Lafayette Park, the GM Tech Center, and St. Francis de Sales Church are here in Michigan. It is an exhibition that can keep rewarding the viewer all summer long, able to travel from one building to another at the best time of the year to do so. While they have always been sitting in plain site, MI Modern re emphasizes their importance and in doing so, presents them again to us as new.
Two complementary shows at Cranbrook Art Museum highlight the lasting influence of Cranbrook at this time in MI History. What to Paint and Why: Modern Painters at Cranbrook, 1936 – 1974, curated by Chad Alligood showcases paintings by alumni and faculty of Cranbrook Academy of Art, offering works that are both in line with and counter the prevailing movements of 20th century art. Likewise, A Driving force: Cranbrook and the Car, curated by Shoshana Resnikoff offers a rare look into Cranbrook's influence in the auto industry, complete with a stunning and unique Rocket cycle car as well as designs by alum Suzanne Vanderbilt.
Michigan Modern: Design that Shaped America is organized by the Michigan State Historic Preservation Office in association with Cranbrook Art Museum and curated by Monica Ponce de Leon and Gregory Saldaña. On View at Cranbrook Art Museum until October 13, 2013.
Visit Cranbrook Art Museum's website for more info:
<<http://www.cranbrookart.edu/museum/>>