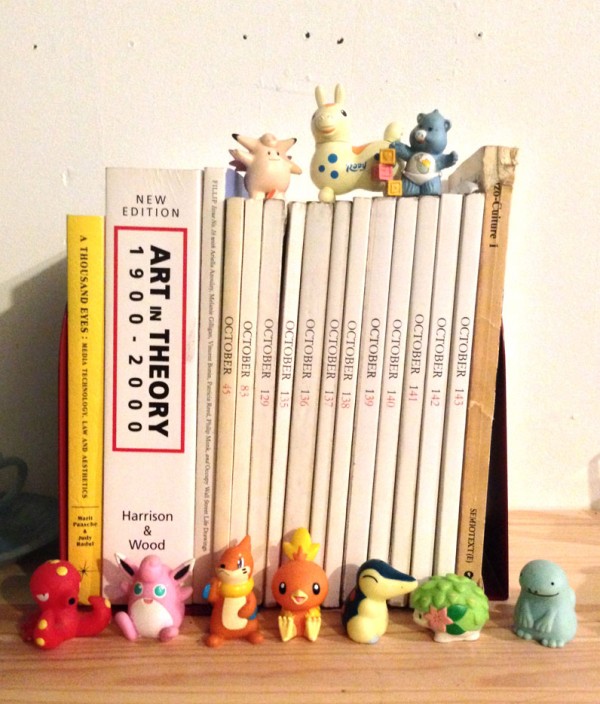 Guest Post by Faye Kahn
Every Sternberg/Semiotext(e)/Verso volume with Yale Design School layout is an impenetrable brick of ostensible magic that's going to save the human race. I really think this for a range of 10 minutes to 10 years per book. Yet even though I have been reading October every day for three years on every NYC Transit route there was only one time I was ever confronted about it & the guy was laughing! Â Still, the mystery of the text is irresistible, though after chatting with other arts writers, there seems to be a concern about the future of art criticism; that it's not as integral a part of the structure & motivational force of the art world as it used to be, & furthermore, there is confusion in identifying an audience. The source of this anxiety is varied & not everyone subscribes to it. Still, through my personal experience with theory I can understand why a frustration exists, both for authors & audience.
Slowness
It's difficult to read art theory & criticism. It's impossible for me to know how other people interpret text, but as an a person of average intelligence I can describe a sensation of mental aimlessness & meandering when trying to parse an uphill paragraph. Putting on blinders & focusing intently on the words the I gradually collect rewarding instances of realization & perspective. This is enough of a carrot to keep me reading. Still, the going is slow. Theory is slow, the contemporary is fast: it's entirely possible that this is the final conclusion. Like most professional fields, the barrier of slowness is a mental hazing method but the rewards here don't seem to pay off enough for large-scale generation-defying fraternities. However, if it's true that it's losing connection or usefulness to its own field, the effort can start to seem myopic.
Barnett Newman famously said that "aesthetics is to the artist as ornithology is to the birds." Birds are not only not interested in ornithology but they are incapable of being interested in it. Such a terse reading of that quote might be a little unforgiving, but it's interesting to revisit this notion from late-Modernist times today in regards to the perceived identity crisis of art writing. All artists are certainly not unaware of it, but it is easier today to be an artist without a knowledge or involvement in traditional art theoretical discourse. Faster modes of communication than text (images) are more conducive to conversation today. Â The image response, as the most expedient & accurate modes of communicating quickly, is a much more handy tool. ASCII, Unicode, & Emoji: day to day communication is condensed (& the phrase "hard to follow" now refers to twitter), alienating the dry over-enunciated walls of text that make up theoretical contributions.
Art-Theory-Genre-Art
As Hal Foster points out, during ArtForum's heyday in the 60s & 70s,"late-modernist criticism made fine distinctions on which the fate of art was thought to depend—the difference, say, between a 'deductive structure' by Frank Stella and a "specific object" by Donald Judd—and often it presented these differences as absolute."[1] This necessity for theoretical discussion is not totally absent today- but art dependent on by critical analysis has become a genre of sorts. Boris Groys says that
"A work of art is traditionally understood as something that wholly embodies art[…]When we go to an art exhibition we generally assume that whatever is there on display–paintings, sculptures, drawings, photographs, videos, readymades, or installations, must be art. The individual artworks can of course in one way or another make reference to things that they are not, maybe to real-world objects or to certain political issues, but they are not thought to refer to art itself, because they themselves are art. However, this traditional assumption has proven to be increasingly misleading. Besides finding works of art, present-day art spaces also confront us with the documentation of art." [2]
Although Groys is referring to the position of the artwork in the exhibition space as the documentation of the art itself, the statement is haunted by the situation of an exhibition space with placeholder artworks that function solely as referents to outside documentation & unstable explanations to be determined by later analysis. Movement away from aesthetic to conceptual merit is now common practice, though certainly more in some cases than others. Aesthetic attractiveness is more often seen now as a measure or capability of capitalist valuation of the object rather than an agent for a deeper social commentary or revolution. Thus, birds interested in ornithology & birds uninterested.
***
Lately I have found art theory exhaustingly cynical. I suppose the word "criticism" has a lot to do with this, however much of it seems to only a self-serving end. Often as a reader I approach the text with wonder & leave it feeling like a fluorescent light has been turned on to reveal all pleasant things have poisonous blemishes. A person can only take so much of this before becoming fed up or hopeless or annoyed that something prescient about how to live life is being ignored because the art community is busy circle-jerking to their exclusive & privileged (negative) perspectives on the world. That said, art theory ensconces beautiful ideas within its heavy labyrinthine walls of referential grandiloquent & excessively punctuated & footnoted jargon ("International Art English"?), & somehow this keeps me (us?) going. However, more & more, it has been exceedingly reassuring to go to the exhibition & realize that art has been growing & still grows around you when you & intellectuals aren't looking.
H. FAYE KAHN is a freelance animator in NYC &  a free-format radio DJ at listener-sponsored WFMU in Jersey City, NJ. She resides in Brooklyn, NY & holds a BFA in Film/Animation/Video from Rhode Island School of Design. 
1.  Foster, Hal. "Critical Condition," Artforum International, Sep2012, Vol. 51 Issue 1, p147-148
2. Groys, Boris. e-flux, December 2009, Issue 11, p1-11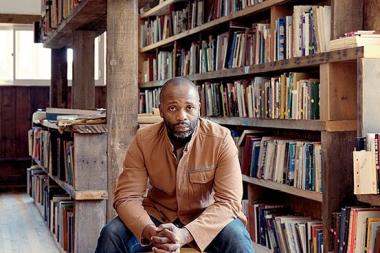 CHICAGO — The CTA is enlisting the help of Chicago-based artist Theaster Gates to design artwork for its planned $240 million terminal at the 95th and Dan Ryan Red Line station.
The project, expected to cost $1.3 million, would be the largest art project in the CTA's history, according to the agency. Ten people would be hired for the project that would also establish an apprenticeship program for local students.
The McKnight Foundation is one of the major sources of arts funding in Minnesota. The McKnight Foundation believes "Minnesota's artists are innovators, organizers, and leaders–as critical to our state's quality of life as other professionals working in business, health, technology, government, education, and other sectors."
The McKnight Foundation Arts program funds individual artists, artist-service organizations, and all sizes of arts organizations throughout Minnesota. The McKnight Foundation's Artist Fellowships have recognized and funded individual Minnesota artists since the program's inception in 1981, and it currently gives around $1.7 million each year through the statewide fellowships. The Fellowships currently fund artists working in ten disciplines: ceramic artists, choreographers, composers, dancers, media artists, musicians, playwrights, theater artists, visual artists, and writers. The Fellowships for each discipline are administered by a relevant arts organization.
The Minneapolis College of Art and Design (MCAD) administers the four McKnight Foundation Visual Artist Fellowships, which are given to mid-career artists and include an unrestricted $25,000 stipend to give those artists "unfettered creative time" and to help artists "set aside periods of time for study, reflection, experimentation, and exploration; take advantage of an opportunity; or work on a new project." MCAD also hosts the annual exhibition for those artists.
The 2012/2013 McKnight Foundation Visual Artist Fellowship Exhibition brings together four very different artists with clearly defined and distinct bodies of work: Jim Denomie's overflowing landscape paintings and portraits; Chris Larson's photographs and minimal sculptures of reclaimed demolition debris; Ruben Nusz's overwhelmingly saturated color field installation; and Natasha Pestich's created remnants of an incident at an art school.
During my first visit to the exhibition, I was surrounded by teenagers and their parents preparing for summer classes at MCAD. As I navigated among the tables full of keys and emergency contact forms, I was asked more than once if I needed to be shown to my dorm. The nervous teens seemed unsure that they would be responsible for getting themselves up in the morning. Their parents seemed equally worried about leaving their children in the hands of an art school.
The juxtaposition of the mid-career work on the walls and the teenagers was striking. Those mid-career artists were once teenagers. I was once a teenager. The people we were as teenagers have somehow become the people we are today. I could not help but think of my own teenage years and the ways I filled my summers. I also could not help but think of the path those teenagers are headed down. They are presumably having a wonderful time learning about art, making art, "becoming" artists. Some of them may go to art school. Some of them may continue to be artists. All of them are already absorbing the idea that art belongs to higher education. We all hear about the increasing necessity of higher education in the contemporary world. We know that having a college degree opens some doors, but everyday I realize just how much is not within the walls of higher education.
After revisiting the McKnight Visual Artists Fellowship exhibition, I want to find the teenagers again to tell them there is no rush, the time they spend is all a part of learning to be an artist. I want to urge them to swim in the lakes as much as they read, to spend time on the internet as much as they make, to investigate the complex nature of the work on the walls in front of them as much as they listen to their teachers. We became the people we are today because of the experiences we had then, and we are  richer for each of those experiences. At the very least, I want to remind myself to store the knowledge and questions prompted by the exhibition next to my memories of dripping popsicles and humid, star-filled nights.
1. Shannon at Johalla Projects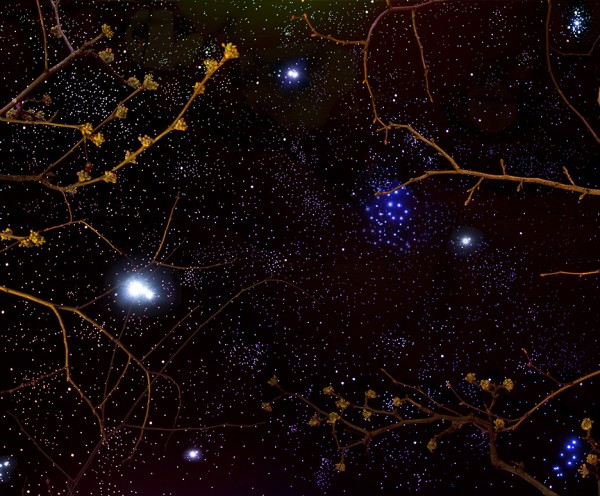 Work by recent graduates of the Yale MFA Photography Program: Marzena Abrahamik, Endia Beal, Elizabeth Bick, Johanna Case-Hofmeister, Tommy Kha, Michael Marcelle, Sophie Ruspoli, Justin Schmitz, Sadie Wechler, and Rick Yribe.
Johalla Projects is located at 1821 W. Hubbard St. Reception Friday, 7-10pm.
2. New Nature at Public Works Gallery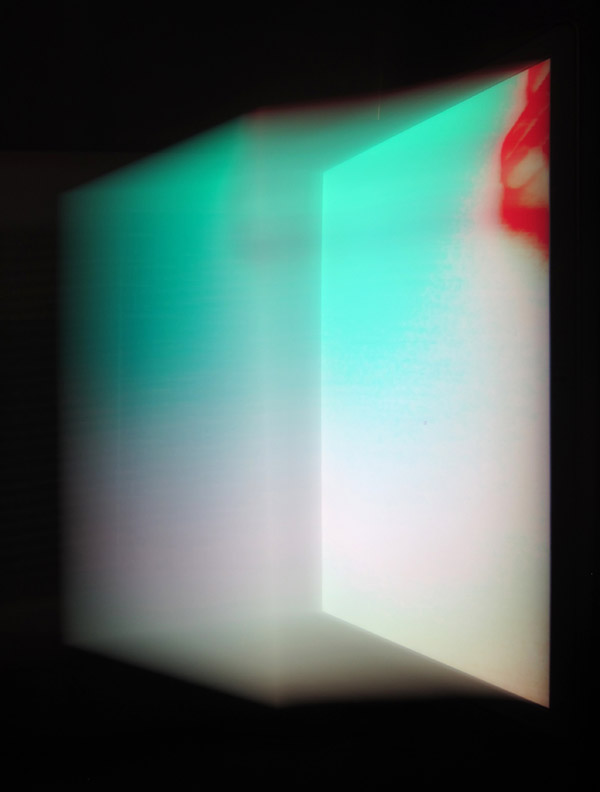 Work by Plural.
Public Works Gallery is located at 1539 N. Damen Ave. Reception Friday, 7-10pm.
3. KKK – KIN KILLIN' KIN at DuSable Museum of African American History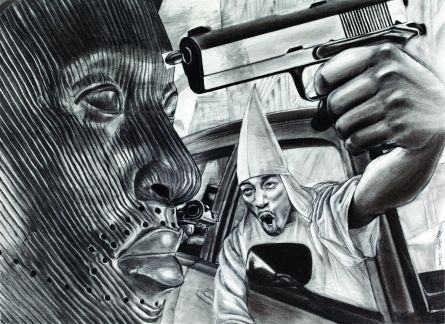 Work by James Pate.
DuSable Museum of African American History is located at 740 E. 56th Pl. Exhibition begins Saturday.
4. Tender Anatomy at Packer Schopf Gallery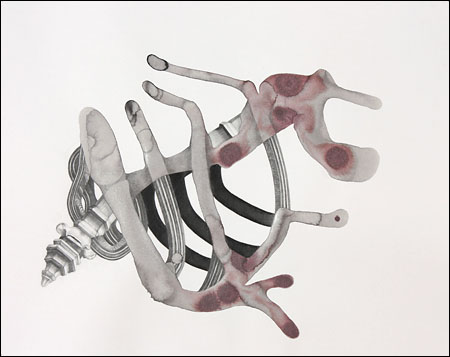 Work by Vesna Jovanovic.
Packer Schopf Gallery is located at 942 W. Lake St. Reception Friday, 6-9pm.
5. Paintings and Neon at Bert Green Fine Art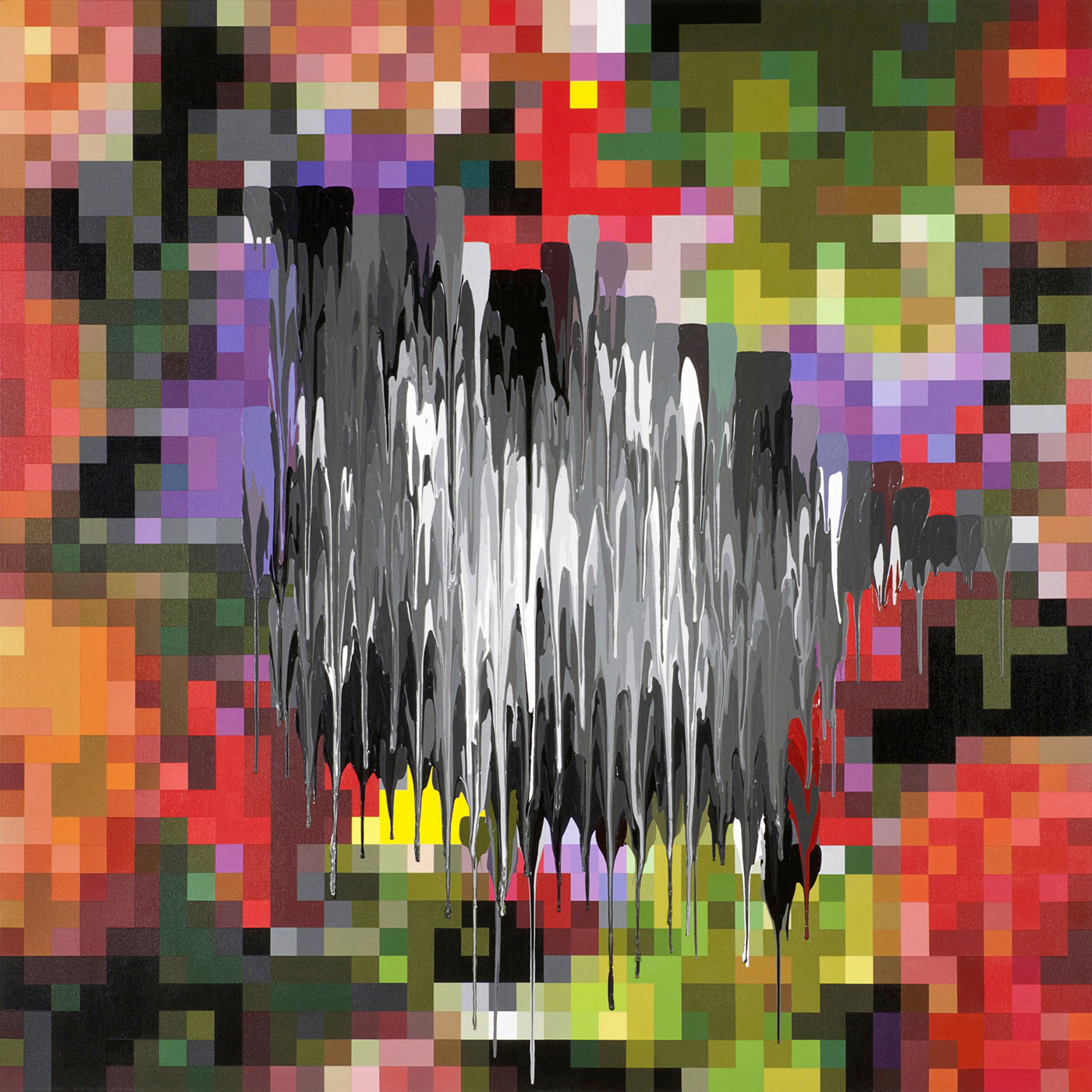 Work by Morgan Sims.
Bert Green Fine Art is located at 8 S. Michigan Ave. Suite 1220. Reception Saturday, 5-8pm.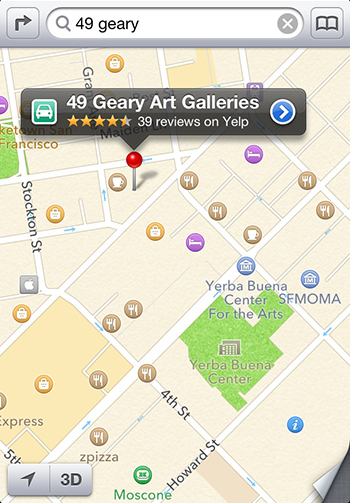 In a small city like San Francisco — where cyclists rule the streets and mobile car service apps have replaced your typical urban gesture of hailing a cab — there are several pockets of venues dedicated to the presentation of art.  Blending in with its surrounding buildings like luxury good shops Mont Blanc and Juicy Couture, 49 Geary Street is a highly saturated and popular destination for SF art seeing with over a dozen galleries spanning four floors.
With my roots based in New Jersey and frequenting the Whitney Museum of Art in NYC, it seemed only normal for me to start on the top floor of 49 Geary and make my way down through all the galleries.  On every first Thursday of the month, the San Francisco Art Dealers Association organizes an evening of receptions throughout the city for any members that choose to participate.  Because of the holiday last Thursday, this month's event has been rescheduled for tomorrow night — so if you haven't checked it out, now's the time!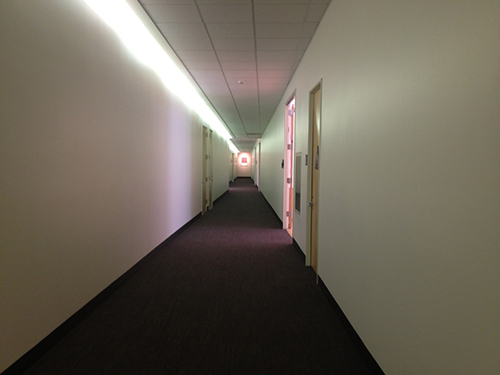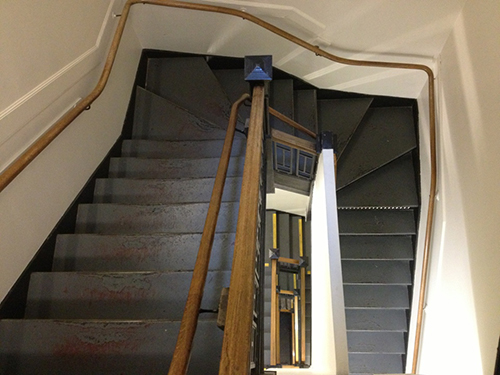 The building's architecture is as simple and repetitive as one might guess from an art venue located in a neighborhood known for designer clothes and radiant gems.  The long white and grey hallways and steep spiraling staircases between floors do little to inspire the mind, but probably offer a great calmness before activating the senses as you walk into a gallery (kind of like smelling coffee beans to clear the nose while testing out different fragrances).
This month, as always, the galleries are packed with painting and photography.  Most of the art, if not all, can easily fit into the elevators for a quick transport and install onto the wall above your fireplace mantel.  The artwork may stay confined in a more traditional structure perfect for moving the product like the garments in fashion houses down the block, but that shouldn't scare you away from checking out the conceptual frameworks for a few more moments. Here are a few highlights from my recent visit.
Robert Koch Gallery presents IDENTITY: Psychological Portraiture until August 24.  Delaney Allen's series of chromira archival prints are weird and playful, especially the text-based iPhone screenshot titled Siri, why am I lonely? (2012).
New Work by Nicholas Nixon is on view at the always presentation-perfect Fraenkel Gallery, but it's the work by Hiroshi Sugimoto in one of the back rooms that proves to be the most satisfying.  Five Elements: Baltic Sea, Rugen (2011) is a space-commanding sculpture — albeit no bigger than my iPhone and resting on a skinny wooden post — that is remarkable for its crystal ball quality (will I ever find love?).
During my visit, Modernbook Gallery was in the process of hanging their next show Almost Fiction by Jamie Baldridge.  His large scale photographs are wondrous portraits perfect for any daydreamer.  The show will be up and ready to go for tomorrow night's reception, as well as his artist talk this Saturday from 2 to 4 PM.
On that same day, Stephen Wirtz Gallery will have its final day presenting Michael Jang's The Jangs.  The quirky photo series depicts Americana at its finest, most intimate, and most performed.
On a typical First Thursday evening, the halls of 49 Geary are packed with art fans and lovers holding plastic cups of white and red wine.  Dealers are welcoming and curious and delighted to share stories.  Familiar faces are everywhere, as SF's art scene is such a tight knit community.  Strike up conversation with others and see where it leads you — plus, you might need a hand to hold on to while walking down the stairs!