1. Our Findings From Spaceship Earth at Roxaboxen Exhibitions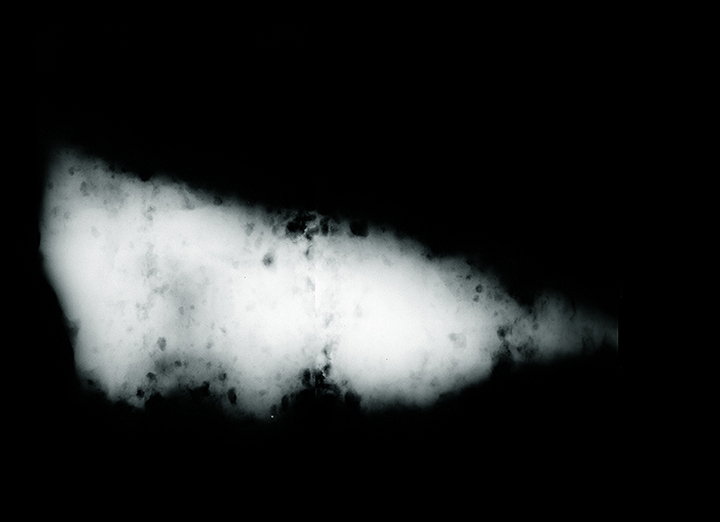 Work by Sarah and Joseph Belknap.
Roxaboxen Exhibitions is located at 2130 W. 21st St. Reception Sunday, 6-10pm.
2. GBDB presents: Weird Dude Energy at Heaven Gallery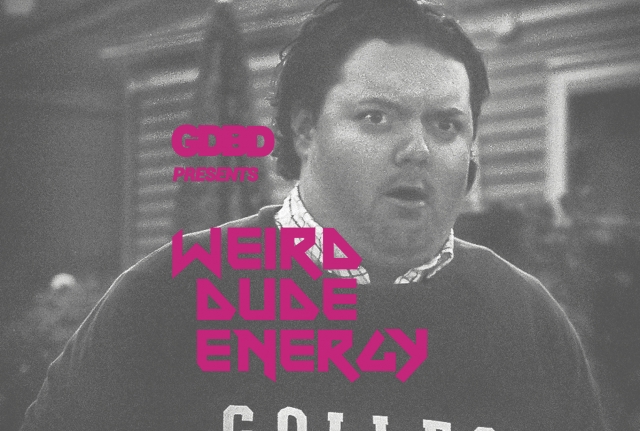 Work by Zak Arctander, Jesse Butcher, Andrew Doak, Alan and Michael Fleming, Alex Gartelmann, Ethan Gill, Ivan Lozano, Andrew Mausert-Mooney, Casey McGonagle, John Opera, Auggie Oz, Benji Pearson, Mike Rea, Oil Rodriguez, Jonas Sebura, and Nicolas Wiley.
Heaven Gallery is located at 1550 N. Milwaukee Ave. Reception Friday, 7-10pm.
3. PSA Projects presents: Gavage at The Loneliness Chapel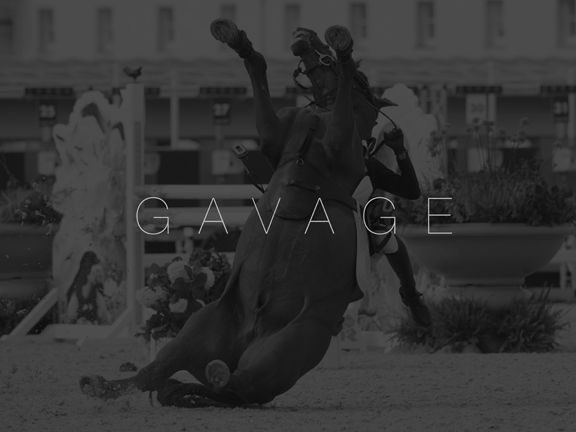 Work by David Cordero.
The Loneliness Chapel is located at Logan Center for the Arts, 915 E. 60th St. Screening Friday, 9-10pm.
4. Samantha Bittman and Gabriel Pionkowski at Thomas Robertello Gallery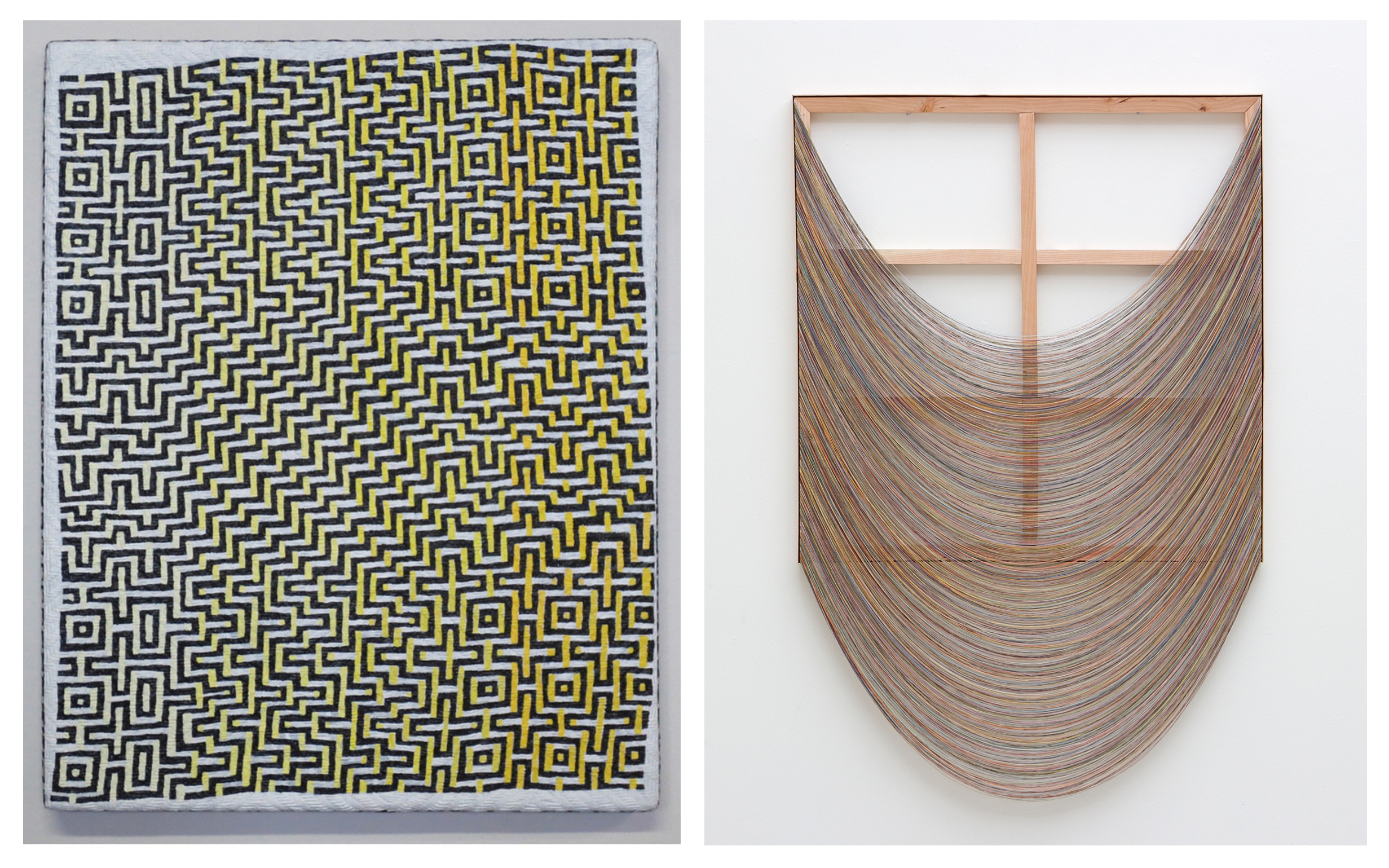 Work by both artists.
Thomas Robertello Gallery is located at 27 N. Morgan St. Reception Friday, 6-8pm.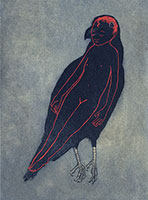 Work by Audrey Niffenegger.
Printworks is located at 311 W. Superior St. Reception Friday, 5:30-7:30pm.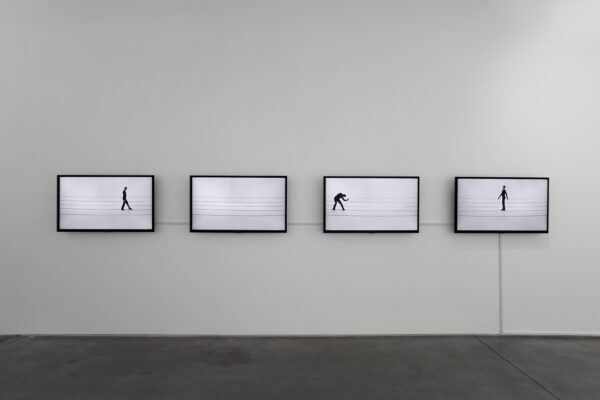 I am accustomed to diminishing the importance of an individual dancer's history in the course of a staged performance. Unconsciously, it's as if I imagine performers congealing for a moment on a stage in order to manifest the agenda of an invisible author. For dancers, especially, it is always about the body — the body as a structure capable of grace and choreographed strength. Over the last month, artist Jaye Rhee debuted a 4-channel video piece that engages the body as a minimalist structure, while emphasizing the dancers' previous life in The Merce Cunningham Dance Company. The Flesh and the Book places these figures in a musical score of five rubber bands, flattening a three-dimensional space into an illusion of two. The bodies enact a series of choreographed gestures, who's style and form evoke a Cunningham past — like moving archives of embodied knowledge. The Flesh and the Book, closes tomorrow at Doosan Gallery, 533 West 25th St. in New York.
Caroline Picard: How did you first conceive of The Flesh and The Book? 
Jaye Rhee: In 2007, I made the work called "Notes." At that time, I was interested in re-producing two things: a popular children's play called "Rubber Band Play," and re-staging visually resembling it as musical notes. It is also known as "Chinese Jump Rope" in America.
The rubber band play requires memorizing all the steps and jumps from the beginning till the end as rules with repeated practice. That, I think, is methodologically similar to learning playing music instrument in a way because learning a musical instrument also requires both brain and body memory. So the Chinese Jump Rope Play and leaning a musical instrument become parallel. I wanted to re-produce both events at the same time.
Rules and regulations often governed my childhood and I couldn't help but think of that when I worked on the Notes.
When I worked on Notes, I knew that it would become the mother piece of another work.  One art work often yields another work. Even though I am the one who creates the work, it is as if the work has a life of its own, one more quick-witted than me. In other words, many times, art works are a lot smarter than I am.
I was sure of two things when I worked on The Flesh and the Book: 1) I am going to play with space more, for example, three-dimensional space transformed into two-dimensional space. Only the size of the figures and trace of the movements will allow viewers to feel the space. 2) I want to work with mature dancers.
I did not have title for the new work. While pondering that, I happened to think of the poem Brise Marine by Stephane Mallarmé, and the first line reads, "The flesh is sad, Alas! and I have read all the books."
I wrote the sentence down on my sketchbook.  And after some time, especially when I started to meet dancers for the project, I realized that my knowledge of dance and dancers did not come from direct bodily experience, but had been learned through books. It is completely out of context of the poem, but the words flesh and book  stayed in the title. Also, it is hard not to think of book as music sheets, flesh as body, and dance.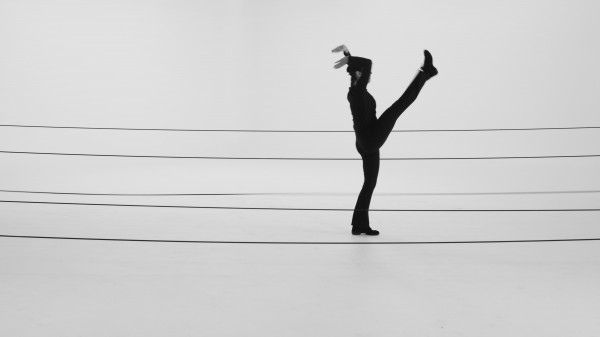 CP: What is like working with the dancers that used to work for Merce Cunningham? Did you spend a long time developing the piece with them? 
JR: It took a long time to find dancers. When I started to search for dancers, I looked for dancers who had gone through the transitional stage in their career as dancers.  Many dancers face career changes early in their lives compared to other profession. And being a dancer is not just a profession but is also an identity. Thus I didn't want to work with dancers who were physically young. I searched  for dancers who already experienced the high peak of their physical youth, in other words, someone who has already been there.
While I was still searching for dancers in 2011, Merce Cunningham company disbanded; that event made me wanted to work with them even more. I always liked the geometric quality that Merce Cunningham company had and was excited to work with them. They seem to embody a reminder — something that was once there. We know what they were, we will remember it. It's like a once-young body, or the idea youth.
It took a while to meet Cunningham's dancers.  In the beginning, I attended Merce Cunningham dance workshops and met many great modern dancers who were not necessarily Cunningham's. Then again at the Cunningham's technique classes in Fall of 2012, I met original dancers of Merce Cunningham with a help from Robert Swinston.
The dancers I worked with are great. Â Once I met them, I knew that it was going to be great. Everything went very rapidly.
CP:Â You also had another collaborator with this work, Elliott Sharp. How did you all work together? What were the dynamics like?
JR: I asked Elliott to come up with specific sound that I can use for the project, and he gave me 67 sound files. I selected ones that are appropriate for the dancer's movements.  Communicating with other artists is not always easy. Art is abstract, concept is abstract, and language itself is abstract. But then there is a moment that everything intersects. That's when the magic happens.

CP: I feel like you're interested in the body as a unit, of some kind. Everyone wears black, standing in relation to the same 5-line structure in an otherwise white space. In your case, however, you platform the dancers' history. Do you feel like something of that history with Cunningham is ghosted into the viewers' experience? What happens to the dancers' history with Merce Cunningham in The Flesh and The Book?
JR: I was more interested in the character and history of individual dancers under the umbrella of Merce Cunningham Company. Cunningham dancer's movements are Mercified but individually they all have different characteristics. We all have different history as individuals, but there are also larger histories which a family shares as a smallest unit of the society, then there are larger groups and larger groups…..and so on. Merce Cunningham dancers make up another kind of familial unit. Even though the dancers' movements were different, a few audiences actually recognized that the dancers somehow evoke Merce Cunningham's style.
CP:Â Thinking about the work asa 4-channel piece, and then seeing framed stills from the video, I wanted to ask you about movement and how that ties in. In other words, does the piece change for you if the "movement" (which refers I think to music and dance) is extracted? How do you think of your photographs as compared to your video?
JR: I consider these mediums separate, with different approaches for both. It's like siblings with same parents. Each medium has its own life. Different mediums show different aspect of one thing. I use the photographs because they capture the 2- dimensional representational quality.
CP: How does this piece ties into some of your other work? I noticed that you have done a number of works that play with the idea and structure of environment. I was thinking about Bambi, for instance, or Polar Bear, Swan, Cherry Blossoms, Niagra; really so many of your works seem to juxtapose a still tableau with a playful in-time interaction. Is The Flesh and The Book on a similar tip?
JR: For The Flesh and the Book, the performers held a string (thick black rubber band) between them.  The strings were at least 3 meters away from each other. I really wanted to expand the idea of transforming 3-dimensional space into a 2-dimensional tableau look. So that a viewer can only feel the space by following the dancers' movements very carefully and watching the body scale change. The Flesh and the Book is a special work which is leading my interest into working in 3-dimensional space. I think I can say, the lines between performers sort of played the role of a tableau – an invisible and flexible tableau.

Of the many adventures that I had at Open Engagement, I enjoyed an evening at the Portland Art Museum. Their annual program, "Shine A Light," came together in conjunction with PSU's Social Practice MFA, in an effort to "ask visitors to reconsider what is possible in a museum." It featured a number of MFA artist's works including a reenactment of a lost Grateful Dead concert ("Turn on Your Lovelight" by Travis Neel), a dental trailer offering free dental work to visitors ("Dentistry at the Museum" by Zachary Gough), a booth in the basement where viewers were encouraged to record stories of objectified objects and being objectified ("Objectification Stories" by Erica Thomas and Heather Donahue), an invitation to commune with dead artists via mediums from Portland's own Psychic Siamese Terror through select works of art ("The Dead Artists Salon" by Alysha Shaw) and much much more. (full program here) At every turn through the museum that night, you could feel the institutional context in a concentrated experiment in flexibility. It felt like a kind of earnest game, one in which visitors were simultaneously challenged to revise and open up their own expectations. It was a glorious mayhem. Outside, between the museum's two buildings, people of all ages danced expressively. A beer truck stood across from an artisanal pizza tent, as the torches to PAM's second entrance (what was a Masonic temple in a former life) bloomed brightly in the coming dusk. Artisanal popcorn was also for sale. In the midst of this, I ran into Dillon de Give, another Social Practice MFA presenting work. His project, 4-6 Dogs in the Museum furthers the desire to flex the museum structure, except in de Give's case, he tried to apply that flexibility to non-humans.
Caroline Picard: Can you talk about where 4-6 Dogs Allowed in the Museum originated as an idea for you?
Dillon de Give: The project originated as an off-handed comment I made in a brainstorming session. I wrote down something like, "allow dogs into the museum, have some sort of plan for when they poop". I didn't think about it very much at the time, but then for some reason it kept coming back into my head.
I've been interested in the power relations present in our dealings with animals for a while. Dogs are the most common "other half" of a public human-animal relationship — especially in the city. They are the animals that people walk side-by-side with, and many see dogs as family members. At the same time they are a point of mystery, like art.
That relationship was the subject of the work, but the process of examining the subject by partnering with an art institution was also important to developing the idea. I entered into these dealings being identified as a student, as much as an artist. And as such, the strength of my position as a negotiator was recognized, but somewhat limited.
The initial proposal was to open the doors of the museum carte blanche to dogs during Shine A Light, the one night event that "asks visitors to reconsider what is possible in a museum." An official mechanism by which to allow dogs into the museum was attractive to me, because it involved a conversation around breaking a taboo. Admitting a new kind of life into the institution, proved to be fairly complicated. Have you ever tried to bring an apple into another country? It can get you into a lot of trouble. Yet I knew it was not out of the realm of possibility, because the museum was legally bound to admit service dogs.
The initial proposal also stated that any difficulties, negotiations, and ad hoc measures of control necessary to execute the idea (which at that time called Dogs Allowed in the Museum) would be considered part of the work. I didn't know how much resistance the idea would actually meet with (a lot) but including this provision allowed it to move forward. The project changed many times, and almost died. At one point we were discussing a version called A Dog Allowed in the Museum. I had to let go of the initial proposal for universal dog entry. But it was important to me that the dogs that participated be "non-working" dogs, and we held onto that.
CP: I feel like this piece attempts to open up the field of social practice outside the human sphere of experience. That effort could have interesting ramifications, for instance, what does inter-species social practice look like? Are you interested in that question? Do you have ideas about what it could lead to?
DDG: I love that phrase "inter-species social practice." But I guess I would be a bit more conservative in my response. I've observed that dogs in public are always serving as mediators between humans. There's a dog park across the street from my apartment and everyone seems to know each other! I live right there and I don't know any of these people because I don't own a dog. I am interested in other species as a conceptual complement to existing human-based social practices. I think that when we are talking about a given social practice we are implicitly making assumptions of what human-ness is, so having some idea of a non-human present in the discourse is, in a way, almost necessary. Why are cat videos so immensely popular with human viewers on youtube? On the other hand, imagining something like sociality existing between humans and other species is difficult to do in the present, because of our seemingly absolute need to monopolize the environment. In most cases it's just not really a fair playing field where a balanced relationship that you might call "social" could pan out. But maybe in the distant future…
CP: What was it like talking to dog owners in the dog park about this project? 
DDG:Â Interestingly, during the initial stages of the project it was as hard to convince dog owners on the merit of allowing dogs into the museum, as it was to convince the museum itself. Most dogs are really not interested in spending time in a foreign indoor environment. When I determined that the goal would be to have the owner choose a particular artwork as a hypothesis about what the dog would appreciate, then the conversation became easier. I had a simple, but precise interaction that I would use to engage people. The actual dog park was not the most productive place to approach owners. Sometimes people would be weirded out and walk away, but the people who decided to participate saw value in the idea of having their animal enter into a context of art-meaning.
CP: What do you think the dogs saw when engaging select works of art? Do you think their owners chose works of art that their dogs would like? Did the owners' selection have more to do with their dog's disposition, or with their sense of 'dogness'? 
DDG: Each dog was given a "personal" moment with the work, and we would all watch the dog to see what they would do. I don't think they saw anything special. Maybe they did, but we have no way of knowing. They acknowledged the art objects spatially. They looked at them. They sniffed them. I think the owners that participated knew their dogs well, and in most cases took into consideration their particular dog's point-of-view in the choice of artwork. Most objects were near the ground, often three dimensional, and often made of natural materials. One was a sculptural representation of another animal. There was one low-hanging painting that was chosen because it depicted a beach that the owners and dog visited on vacation. One of the owners, Lis, chose Useful Art #5: The Western Motel by Nancy and Edward Kienholz, which basically recreates a kind of domestic environment. I do think that the dogs had a sense of accomplishment in navigating a new environment without too many incidents.
CP: How did the museum context, as a human institution, respond to a living, non-human presence? 
DDG:Â It was a very controlled experience. Members of security, collections, and education needed to be present. It was stipulated that the visits happen after museum hours, in brief 20-minute segments, one dog at a time. A dog trainer also accompanied the group to provide a level of assurance. The first visit was quite tense, by the final visit, it was more relaxed because we knew what all of our roles were and had a better sense of the choreography involved.
Guest post by Eric Asboe
As a curatorial department of the Minneapolis Institute of Arts (MIA), the Minnesota Artist Exhibition Program (MAEP) is "dedicated to exhibiting and supporting artists living and working in the state of Minnesota." Begun in 1975, the MAEP is a creative partnership with the MIA, "founded by a group of regional artists interested in creating an innovative exhibition and programming space. What began as a year-long agreement has been extended into an ongoing relationship between the Minnesota artist community and the MIA." An elected artist panel representing the Minnesota arts communities selects artists from open calls who exhibit within the MIA. The MAEP is an integral part of the MIA's broader efforts to "enrich the community through art," expanding beyond its galleries, engaging audiences in ways that effectively utilize the assets and strengths of its collection, while continuing to question how that collection can continue to enrich Minnesota artists and visitors in new ways.
The current MAEP exhibitions embody and transform the MIA. In Posture is Everything, Kristina Estell gathers sheets of molded silicone across a series of armatures. The armatures seem to have caught the simultaneously flowing and visibly weighted silicone, interrupting the gravity we suddenly notice more intensely. On closer inspection, the silicone has been carefully layered, applied, and manipulated by hand. The manipulations of the silicone and the human presence they reveal disguise the fact that the area of the silicone sheets is exactly the area of the MAEP gallery floor. Estell subtly lures the visitor into examining the materiality of the museum, inviting visitors to question what they see and the environment in which they stand.
Allen Brewer's exhibition Verbatim begins with the MIA collection. MIA visitors were asked to describe any piece they liked in any way they chose. From those descriptions, Brewer created new works, continuing to solicit and create work throughout the exhibition. The conceptual framework leaves Brewer a lot of room, but, in the exhibition brochure, Brewer explains he preferred to work with "objective definitions, like 'round' or 'black.' Words such as 'beautiful' are unusable to me." Brewer playfully uses the objective words of the descriptions to create his works (e.g. the colorfield of "Lucretia" described by Sandra, the rigid shapes of "Linear Still Life" described by Katie Van Zante). The new works are diverse, and they show Brewer's close attention to the nuances of language and the difficulties of defining aesthetic experiences.
With the MAEP, the MIA asks and lives through difficult questions about the role of artists and arts institutions in the future of the arts. How can contemporary artists work within encyclopedic art museums? Through nearly forty years and over 180 MAEP exhibitions, the MIA has been dedicated to exploring the role it can play in enabling contemporary art, and it continues to be a unique model to other institutions. With free admission year round and a broad appeal through its collection and programming, the MIA exposes its many visitors of all ages and locations to vital contemporary Minnesota artists.
What role can local artists play in a global museum? MAEP exhibitions are far more than an experiment in thinking locally. The exhibitions are dynamic; the artwork is excellent. More importantly, by supporting an artistic peer selection process, the MIA helps build a community of artists, specifically in and with the resources of a major art institution. Alan Brewer's exhibition pushes the question further. When I met with him in his MAEP exhibition, he stopped to talk to a visitor, an older man who had written a description. They discussed his description and possibilities for recreations. The transformative power of that individual conversation and the way Brewer has empowered all visitors to the MIA to engage in completely new ways with its collection demonstrates to me the MIA is not just asking how local artists can shape a global museum, but, more importantly, how we can all shape the museums of the future.
Last weekend, Northern Spark, the all-night arts festival of the Twin Cities, a project of Northern Lights.mn, happened for the third time, 8:58pm Saturday to 5:26am Sunday. It is impossible to capture a festival with over 75 projects, multiple sites, and tens of thousands of visitors in words that do all of it justice. Those visitors, however, were the key to and strength of the festival as a whole. The visitors were the focus of many of the projects, whether learning (screen printing, letter press, cyanotype), watching performances (music, dance), or engaging on an individual level (soundscapes, sunrise boat cruises). Inside and around the Saint Paul Union Depot, the projects called for more than passing engagement. Hundreds of people joined in Christian Jankowski's Rooftop Routine, twirling hula-hoops. I saw multiple families camped at astronaut spirit academy, with children asking to return late into the night. The air in the Union Depot Carriage Way, under the main plaza, was thick with spray paint from hundreds of taggers participating in Underpass of the Eyes of Freedom. Piotr Szyhalski's sprawling, riveting performance, Permanent Labor, invited visitors to celebrate "the round of production and consumption, of making and using." The layered movements and labors of the performance, washed by waves of drumming and singing, were a stark contrast to the people waiting in the long lines for the nearby beer tent and food trucks for a different type of labor.
In a very different context than the MAEP, Northern Spark asks difficult questions about the place of arts festivals in the landscape of contemporary art. How can an arts festival shape our vision of a city? Northern Spark was focused in the Lowertown area of downtown Saint Paul, an arts and cultural district with artist live/work spaces, Saint Paul's only art museum, and the Mississippi River hidden on its border. The creation of a new light rail line through the middle of Lowertown, increased focus on creative placemaking, and the expectations of what an influx of the creative class might do are shining a bright light on Lowertown and downtown Saint Paul generally. Northern Spark's presence in Lowertown this year, the number of people who attended, and the economic impact of those visitors will continue to play a part in the area's ongoing development.
Can an arts festival attract more than artists, and can an all-night festival move past spectacle to real engagement? In the largest single event of the festival, thousands of people stood in the rain to watch Chris Larson's Celebration/Love/Loss, a full-size replica of a Saint Paul home designed by Marcel Breuer burned to the ground. The house was simple and beautiful, and the burn was awe-inspiring. (This video shows the house before burning, but this video shows how massive the flames really were.) Some of the quieter, less explosive projects, however, truly showed the possibilities of engagement. The all-night Singing From the Sacred Harp, organized by the Minnesota State Sacred Harp Singing Convention, brought home for me just how the conversations, techniques, and tools of an all-night festival can last far beyond that night. Sacred Harp Singing encourages people of all experience levels to sit together in an inward facing square to sing four part hymns and anthems without practice. During my first Sacred Harp experience, I was told that the most important part of singing is how loudly you sing. Since that time, I have rarely experienced anything as moving as a room full of strangers singing together perfectly, and the power of Singing From the Sacred Harp at Northern Spark was similarly palpable. The square of chairs was tucked away at the top of a little used stairway; all of the passers-by stopped in rapt attention at the beautiful music, the wide smiles, and the astonished laughter of the singers, even though it was well past 3am.
Eric Asboe is an artist, writer, and cultural worker. Asboe's creative works prioritize process over product and explore the boundary between practice as improvement and practice as way of life. Forthcoming projects include ubuwebtopten.com. He currently lives and works in Minneapolis.
After a year-and-a-half of writing about more basic cultural differences between New York and Milwaukee, the results of my cultural reconnaissance will now take the form of local art coverage. This being the first piece, I'd like to mention that, unlike NYC where almost everything including what passes for 'underground' are usually pre-dug, locating art culture in Milwaukee has proven to be a little, well, subterranean. So far the digging has been the most gratifying part of being here. Not having the luxury of a media guide dedicated to informing masses of art goers about what is yet undiscovered, is a pleasure. Searching for art in Milwaukee makes me feel feral – it's the art equivalent to hunting and gathering.
—
Like a weathered master to a young apprentice, he wrote cryptically in an email, "Look out, they think they're more pure there."
"There" is Milwaukee, and "they" are artists. That master is my friend who had lived in Milwaukee for years before moving to New York and eventually opening a gallery.
And I am the implanted apprentice in the trenches, trying to understand the lay of the irregular terrain of the Milwaukee art scene.
—
Several weeks ago I was urged by a friend of a friend to attend an event called the "Umali Awards" at a space called Imagination Giants (IMG). Unfortunately, I couldn't be there, but, was encouraged by yet another friend to check out a current show at the host space anyway.
Other than some ambiguous text on IMG's ultra spare website, I knew nothing when I contacted them to meet for a conversation (which was a nice departure from years of reviewing shows on 22nd Street in Chelsea.)
"Approaching work that deals with literal, theoretical, or conceptual space, Imagination Giants takes on interpretations of the infinite world."
"Hmmm."
I met proprietors Ashley Janke, Lara Ohland, and Tim Stoelting on a particularly steamy late evening last week. Tim greeted me at the door of a non-descript corner storefront, let me in, and suggested I take in their latest show, "Vinyl Love", while we waited for Lara and Ashley to arrive.
I milled about the show by Polish-born, Milwaukee local Waldek Dynerman feeling by turns repulsed and attracted to the strange scattering of objects and a dozen or so quirky and surprisingly handsome provisional paintings that were integrated into the space's hardware such that one might assume the thermostat and exposed piping are on the show's checklist. Dynerman's installation amply filled the gallery with everything from contorted sex dolls atop stools, to haunting video projections on bed sheets, to a working QR code that opens to a "family portrait" of the dolls in their unaltered state. A friezelike print of a glistening blue beachfront hung cheekily above a wall of gestural painting, like a Cy Twombly assaulting a Corona commercial. The entire mélange was bathed in half carnival-festive, half sex-dungeon, neon light. The kitsch here is the spoonful of sugar that helps Dynerman's more personal medicine go down. It does go down, and stays with you after you part with the work.
I had flashes of the show even as the four of us moved into a separate parlor area to discuss IMG with its creators.
Ashley, Lara and Tim met while at the Milwaukee Institute of Art and Design, and began planning the space shortly after Ashley graduated in 2012. IMG is dedicated to an expanded and reimagined notion of exhibition space, as is made clear in their somewhat obscure mission statement, which, as it turns out is more straightforward than I first gathered. They are interested in helping artists realize projects that require a large contiguous and alterable space, and to occasionally assist in producing those projects. Gallerists-cum-meta artistic collaborators.
This mission was well articulated in performative events 'Bon Voyage' and 'Amorphous Self', and in "One Ton Beach WI", a collaboration with LA-based artist Jena Lee that provided "you and yours with a day of sunny respite and warm relaxation." Meaning, they literally installed a beach in the gallery on which guests could lounge, meditate and practice yoga in the thick of the Wisconsin winter. Fun for the entire family interested in leisure activity and quirky relational esthetic projects.
But unchecked relational projects can be a challenge for a young gallery working out preperatorial issues as it goes.
Lara Ohland mentioned that IMG has faced some interesting logistical problems in their short run, but also held that their willingness to work through such issues are exactly what makes the project indispensable to the local art community.
According to Ohland, "When roadblocks have come up as we transformed our location into an inhabitable space, and developed past shows, they have come as opportunities to creatively meet the problem. When we brought the building up to code we sifted through legal documents that were not written to accommodate a project like ours, but lead us to creative solutions like turning a boarded up window into a mural. In a similar way the process of obtaining liability insurance lead to developing a performance piece, as we sifted through insurance forms that are worded in a way that they undo themselves. Obtaining one ton of frozen sand in Milwaukee during the winter and then transporting it to our gallery felt more like a performance than a task. This process, even when met with logistical problems, is informative. What I am motivated to make is influenced by the processes I know, and through IMG has come a constant flow of these opportunities."
They seem to relish unorthodox interventions. A good example is their upcoming show with Milwaukee artist Shane Walsh and his recent painting series of mix tapes he made in the 80s and 90s. Stoeling mentioned when we spoke that IMG collaborated with Walsh to find a way to place his 2-d works into a logical dialogue with the 3-d space of the gallery by turning it into a fully functioning music store circa 1987.
Given two roads, it seems IMG looks for the unpaved first, and if both are smooth, searches next for the more elevated.
When I asked what motivated the trio to start IMG, they were matter-of-factly unified in the idea that projects like theirs are what give Milwaukee's art scene its vitality. They agreed that the lack of commercial distraction combined with cheap real estate makes the scene ripe and relatively risk-free for untrammeled experimentation, though even the most worthwhile projects can shortened by the easy-come-easy go mindset of the community.
Ashley Janke elaborated:
"Milwaukee rent is affordable enough where you can get away with building a room in your attic, partitioning your studio, using the front room of your house, or making a deal with a landlord to refurbish a warehouse space into a 6,000 square foot white cube. These projects cannot be fueled by dreams forever. With little funding or market, they often evolve into transient spaces or break down completely allowing their founders to move on to larger projects or move with them."
Janke to her own credit has run an independent side-project called nAbr (pronounced neighbor) which began in her attic and has since migrated to a number of locations, settling most recently on the outdoor grounds of the Lynden Sculpture Garden. nAbr has had its own run of critically challenging shows that cross pollinates with other pop-up spaces, ultimately reinforcing the fabric of the local DIY art scene.
Imagination Giants is headed ambitiously into their second full season, with a book launch and sewing workshop by artist and author Brian Nigus, whose work derives from a summer spent with a native tribe in Papua New Guinea. This, along with the aforementioned record store to accompany Shane Walsh's mix tape collection, and a fourth year of "00000 GH00ST $HOW", a one night exhibition of horror and occult projects, should help fuel anticipation for the new season at IMG.
I spent yesterday shuffling through herds of art junkies at Bushwick Open Studios. I've been to Bushwick a dozen times in the past year and still the terrain was almost unrecognizably different. It's evolving and mutating like some crazy bird flu. Galleries everywhere. New high-end bars and restaurants everywhere else. All the old studio buildings like 56 Bogart and 17-17 Troutman have traditional galleries running out of what used to be raw studio space.
Despite the hoopla, for the most part the work at Bushwick Open Studios was boring. Not terrible, but mostly meh. Competent. Like stones polished by constant flow of water, shaped by the years, but less unique for all the wear. Still, what does one expect "pop-up" proprietors to do in the face of throngs of hungry collectors and ambitious curators, skyrocketing rents and huge expectations?
It's hard to sell a make-shift beach or an installation comprised of contorted sex dolls and grainy videos.
Freedom's just another word for nothing left to lose.
Rents are cheap in Milwaukee, and are likely to stay cheap no matter how many Imagination Giants move into bohemian areas like Riverwest or Bay View. Hopefully this will keep the challenging, chewy, difficult and eccentric shows coming.
And hopefully I'll encounter them as they do.
—
"They think they're more pure"?
Let me get back to you about this…