Reading a bit of art theory or criticism, it won't take you long to find an author talking about viewing something through the lens of third-wave feminism or seeing something in a Modernist frame. The lens and the frame are referenced metaphorically so often in today's writing that their presence is nearly ubiquitous, almost as though a piece of art writing is incomplete without the presence of at least one such optical metaphor.
Certainly, the lens and the frame are useful as metaphors, but as used, they are also quite limited. As an experiment, the next time you see one used, replace "frame" or "lens" with "context," adjust the necessary conjunctions, and see if any meaning is lost. If in a given piece of writing, "seen through a queer lens" could just as easily be "seen in a queer context," then the optical device isn't living up to its potential as metaphor.
The chief ways in which optical metaphors can be improved in our writing are through diversity and specificity. These go hand-in-hand: the more diverse our optical metaphors become, the more specific they are able to be. Lenses, for example, can be convex-convex (the usual "lenticular" shape, which incidentally I suspect of being where lentils got their name, though I've done no research on this), but they can also be flat or concave on one or both sides. So, some lenses are plano-convex, others are convex-concave. These lenses behave differently and have different applications, and so could be employed in a diverse range of metaphorical applications.
The difference between a lens of any type and a frame is that we are directly aware of the ways in which lenses alter the image we are seeing. A biconvex lens held at the right distance from the eye will magnify the image. (At this distance, the image is not inverted; held out further, the image inverts, but the reason why is beyond my ability to explain from memory, so go Google a diagram.) This is the classic magnifying glass. Other types of lenses, such as eyeglasses, subtly alter the focal distance of our eyes (or rather, adjust the image to account for a flawed focal distance). Multiple-lens apparatuses like binoculars and microscopes magnify and can be focused. The point is that we are immediately aware of this alteration of the image we are seeing, because it is inherent to the function of the lens-based device.
Not so the frame. The untrained viewer thinks of the fame as a neutral context, setting the image off from its environment, perhaps, but not altering the image itself. Training in design and composition conveys an understanding of concepts like simultaneous contrast, which holds that a black frame can make an image look lighter in the same way that we can appear taller by standing next to a shorter person. Even to a highly-trained viewer, however, the frame, assuming it is a subtle, appropriate frame, becomes invisible, and it exerts its effect on the image outside our conscious awareness.
Metaphorically, then, the frame can serve more as an unconscious bias, changing an image indirectly, by the context of its presence, and without the viewer's conscious awareness. When you see something in a given frame, that frame alters what you are seeing, but does do without your knowledge or consent. It takes alertness and training to become aware of the influence of the frame, and even with this awareness, its influence may not be negated. To return to the initial example, seeing something in a Modernist frame may mean unconsciously minimizing the political, activist, Conceptual, gendered, or other meanings of a work, and perhaps emphasizing the rapturous and sublime, along with overt formal analysis which is the ostensible goal of this frame. If the intention is to directly change the meaning of the subject, then the frame may be the wrong metaphor; perhaps a lens is intended instead.
A lens serves more as a conscious agenda. The function of lenses and lens-based devices tends to be to magnify, to enhance, or to focus a blurry image. Alteration of our perception of the original is the intention of the device. When used as a metaphor, then, the lens is a much more aggressive, but also honest, recontextualization. The effect is more direct, less subtle, more provocative, less manipulative. When we view something through the lens of third-wave feminism, we aren't subtly altering that thing by its context. Instead, we are asserting, perhaps radically, that the original was either too small or too distant to be perceived accurately, or else that it was out of focus: essentially, that our subject was fucked up, and that third-wave feminism provides the necessary means to fix it.
These differences between the simple lens and the frame are only the beginning of the linguistic possibilities of the optical metaphor. Someone better versed that I in the effects of different types of lenses could apply those effects metaphorically. Devices composed of multiple lenses, such as telescopes, microscopes, binoculars, spotting scopes, and riflescopes each have their own potential applications. Viewing the work of an international artist through the telescope of globalization may bring their work closer, make it more accessible, but at the cost of a reduced field of vision, that is, the obfuscation of the cultural context in which the work was created—not to mention that as a monocular device, the telescope eliminates the viewer's depth perception, so that while it appears to bring the subject closer, it makes it impossible to tell exactly how far away that subject is.
These classic, purely optical devices aren't the only possibility for optics-based metaphors. For example, consider the fact that a viewer's experience of relational art may be clouded by their participation in it, yielding a subjective response that is no less valuable, but is uniquely personal, because of their involvement. We might say that a viewer-participant sees relational aesthetics "through the glare of the fingerprint-streaked touch screen of their participation."
In reading art theory and criticism, and even more so in writing our own, let's consider the diversity of optical devices and viewing contexts that exist in the world, and the specific meanings that can be conveyed by this diversity. Consider critiquing works of art through the pinhole camera of Minimalism, distorted by the funhouse mirror of racism, or fractured by the prism of semiotics. What could these mean? I don't purport to have the answers, but by way of example, I once compared a thematic group exhibition to the compound eye of an insect, producing an image of its subject by combining a large number of images produced by slightly different points of view (the artists in the exhibition). I'd like to see more, and hopefully better, metaphors like this, in which writers consider all manner of viewing devices as potential linguistic devices, rather than immediately, lazily defaulting to the lens or the frame, out of habit rather than specificity.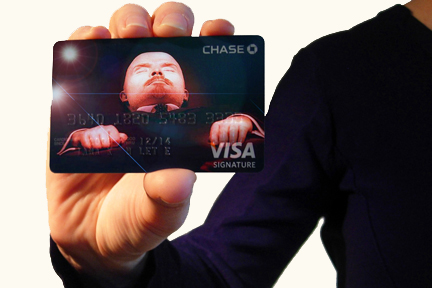 This week on the podcast Brian haunts the halls of the Anaheim Convention Center at SIGGRAPH 2013 conducting a series of interviews, then we talk to Greg Sholette! All that (and more) here.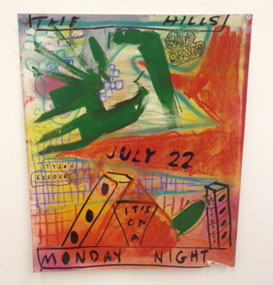 Dana Bassett kicked things off to a good start with her bi-weekly column, "What's the T?" Among other delectable sundries, she wrote about a Monday opening at the Hills Esthetic Center:
This past Monday (yes, an opening on a Monday) evening at The Hills Esthetic Center "Jyson Deeder and Tim Rain" debuted "A Nerdier Red", "community organized" by Josh Reames, at everyone's "favorite" Garfield Park "gallery", The Hills. The collaborative exhibition came together as it opened with Reeder & Drain turning the notoriously useless loft above the gallery into the command center from which the art was generated and then incorporated into the official gallery space.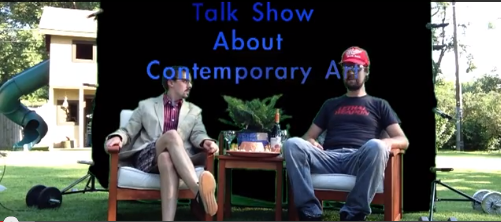 Contemporary art chat show: So genius brilliant strange that it can only be art, let's agree to call it a serious WTF? You can find their youtube channel here.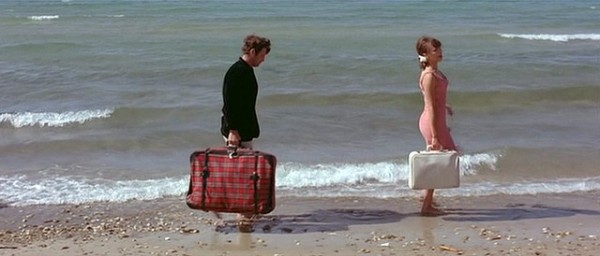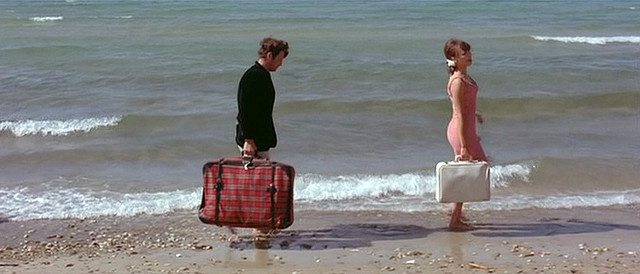 Jaime Kazay's final installment on the subject of Barbies:
I'm on the porch rifling through Barbie posters and notes on what she would prefer when running away to a deserted island. I know Barbie would want to be with Ken. The way "Marianne," played by Anna Karina in "Pierrot le fou" ("Pete the madman"), ran away with "Ferdinand," played by Jean-Paul Belmondo, to live in the French Riviera. The couple ran away for two different reasons, and their fears kept them together. At the end of the film, I like to reinvent different outcomes. Perhaps they should have stayed in town.


I posted an announcement about Claudine Isé's talk at the Humboldt Park Library this Saturday. While the event has passed, I understand that series host, Philip VonZweck is putting together some more artist talks in the future, so keep your eyes peeled. You can read more about the series here. (You can also check out the history of Much Much More talks, that used to take place at a different location here).
Sarah Margolis-Pineo interviewed Sara Huston:
Recently, I was thrilled to learn about ruf·fle, an exhibition organized by Portland's League of Awesome Women Designers, (LAWD), that opened earlier this month at the University of Oregon's White Box Visual Laboratory. Even in a town like Portland, where inclusive design firms seem to outnumber coffee shops, women are underrepresented in the field—statistically in number and in rank, but perhaps more importantly, women are less visible as a driving force behind the innovation that Portland is celebrated for. In her essay "Men Explain Things to Me," cultural critic/historian Rebecca Solnit employs the phrase archipelago of arrogance to describe an inflated self-confidence—a distinctly masculine phenomena—that is so aggressively assured, it keeps women bound in self-doubt, inhibiting them from speaking up and, in turn, from being heard. In an essay written for GOOD, Alissa Walker seemingly responds to Solnit by encouraging women in design to use social media as a way to assert one's voice in the field. She writes, "in this age, women can't wait for someone else to organize the event or to curate the museum show… Creating a rich narrative, illustrated with videos, photos, blog posts, essays, is something I don't see nearly enough from women in the field. Their numbers may be small, but it's the responsibility of that 10% to tell at least 50% of the story."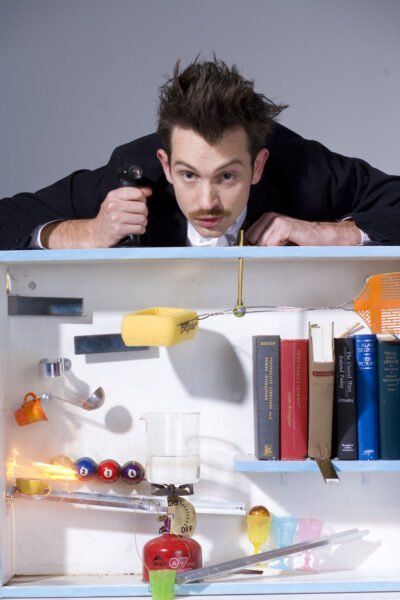 New York City report this week comes from Juliana Driever. Driever interviewed Joseph Herscher about his kinetic Rube Goldberg machines:
My current project is taking me a year to complete and will be five minutes long. Most of my ideas come from playing with objects and discovering interesting things I can do with them. Then there is a LOT of trial and error to get it to work every time. Sometimes I will spend two weeks on something that only lasts four seconds. I don't move on until I see it work fifty times in a row. My biggest error was in using acetone one time, which looks just like water but reaches boiling point much faster. I forgot that it is also highly flammable. The first two attempts worked like a treat, but on the third it caught fire and most of The Page Turner caught alight, spraying melted sponge everywhere, which was really hard to get off. And it almost burned the house down.
Live from Kansas City, Carolyn Okomo writes about Gune Monster:
After losing his job and apartment on the same day a couple of years ago, Los Angeles-based street artist Gune Monster says he contemplated a suicide. Instead, he picked up a marker and begin drawing the toothy, ghoulish figures that would eventually become the hallmark of his monochromatic alter ego.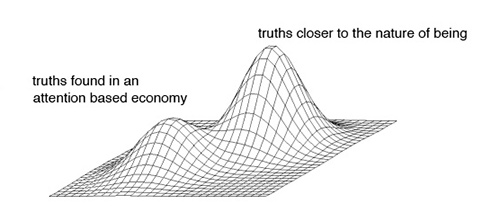 Do you ever feel like you're wading in the wake of symbolization? I have a post for you (follow the highlighted text below to read notes 1,2, and 1.5):
It's clear that our time and attention is limited, and there's too much going on in the world to pay attention to it all, especially now. Countless people are fighting for our attention and trying to convert this energy into political, social and economic power. Even inanimate things themselves can be thought of as competing for our attention (1)(2). This competition for attention has been turned into a highly skilled craft by plants, animals (1.5)and culture at large, which is especially evident in the battlefield of consumer products and advertisements.
Obviously, the week wouldn't be complete without Stephanie Burke's TOP 5.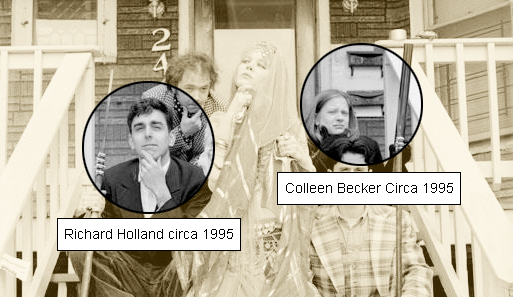 And here, you can see a picture of Richard from 1995 while reading about life in London with Colleen Becker:
Colleen Becker is an American writer and academic living in London. Her published work spans fiction and non-fiction genres, including flash fiction, academic articles, journalism, art reviews, and essays, and she has read at numerous venues including Princeton University, the Tate Modern, and Foyles Bookshop. She holds PhD, MPhil and MA degrees from Columbia University and a MA from NYU, and she is a 2013-14 Visiting Fellow at the University of London, School of Advanced Studies, Institute of Germanic and Romance Studies. She has text based artwork included in an exhibition at the Anatomy Museum, King's College London. "Translation Games"Curated by Ricarda Vidal (KCL) and Jenny Chamarette (QM) which runs from 31st July to 2nd August 2013
Monica Westing posted a great interview with Melika Bass:
Bass has been quietly making rigorous and rigorously strange films for a decade, and in 2011 she created an installation for MCA's 12X12 based on her film Shoals, comprised of relics from the shoot that extended Shoals's imaginary pastoral-gothic world in the ambiguous space of a contemporary white cube gallery. She recently was commissioned to make a film for Sigur Rós, Varðeldur, conceived as a character study of "an unstable entity in a haunted vessel," a gloss that can describe many of her half-created characters, both absolutely unknowable and archetypically suggestive of the heroes of fables and the antiheroes of fairy tales.
Finally, I posted some Endless Opportunities #BingoBangoBongo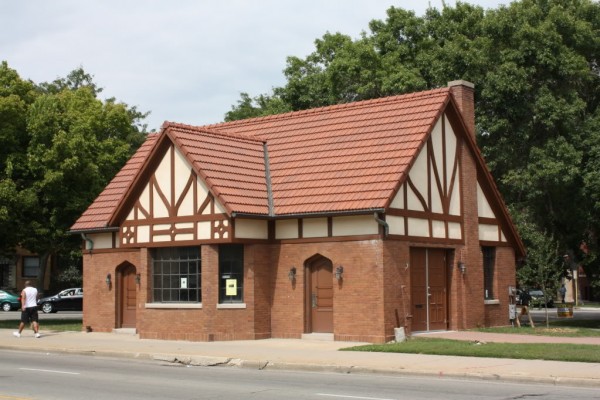 1. Comfort Station 2014-2015 Call for Proposals. Scroll through their website for proper details and more info about the organization (they also invite music/event submissions). The deadline for proposals is: Saturday, August 31st, midnight. 
Comfort Station is a turn-of-the-century structure turned multidisciplinary arts space in the heart of Chicago's Logan Square. Originally a shelter for trolley riders in the early 1900s, the building was eventually defunct and was used to store the city's lawn equipment for decades. The space was adopted and restored in 2010 by Logan Square Preservation and opened as its current incarnation as a community-focused art space in 2011. As the only structure of its kind still standing along the entire boulevard system, Comfort Station represents the preservation of a neighborhood rich in history, while playing host to exhibitions and events that promote its present culture.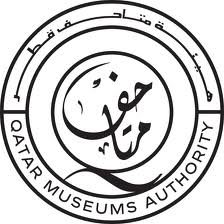 2. Curate Award – Qatar Museums Authority / Fondazione Prada Curate, a global competition organized by Qatar Museums Authority and Fondazione Prada to find new curating talent, is accepting entries online at http://www.curateaward.org/ until 31 December 2013.
As stated by the Curate jury: "The notion of 'curating' no longer belongs just to the museum. With the development of digital and social media, it has now become possible for anyone to participate in the selection, editing and communication of ideas. We hope that people, whatever their age or background, will make the most of the opportunity offered by Curate to think about the future potential of exhibition making, where there are no imposed boundaries to media, scale, content and formats, and ideas, whether from the fields of science or the arts, can come from anywhere."
3. Audience Architects recently put out a call for Dance: A Moving Canvas, "a new program that seeks to expand dance audiences in Chicago by enabling select participants to deepen their understanding of the choreographic process." Deadline is Friday, September 6th. Visit their website here for more information about stipends and guidelines.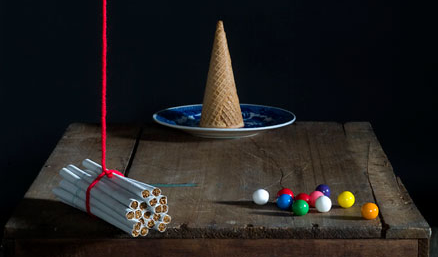 4. Play "Telephone" with strangers via this open call: Nathan Langston's Telephone Game at Satellite Collective. It's in the air apparently — Gallery 400's show "Whisper Down the Lane" has similar themes, so if you want some inspiration check that out. How to play in this iteration:
This game works almost exactly like the kids' game "telephone," also known as operator, ear-to-ear, and many other names the world over. One player devises a message, and that message is whispered to the next person, who whispers it to the next and the next. The message evolves as it travels, surprising and confounding the players.

Rather than simply passing our message from person to person via language alone, Satellite Collective is passing it from art form to art form. A message in music might become a poem, which might become a film, and then a dance work, and so on. The process begins with a very specific message we're "whispering" from artist to artist, but each participant will have access only to the work directly preceding his own. None of the players will know the full evolution of the message until the end. As in the original game, the progression is a secret.

The threads will also branch out: A single painting may be assigned to two or three other artists. When we publish the final succession of works on Transmission, the viewer will be able to follow one thread to the end, go back to the beginning and choose a different route through the series of art works. (More info here)
5. Micro-grants for cartoonists: Sequential Artists Workshops's third round of grants to working cartoonists. SAW continues its commitment to offering small grants of $250 to practicing artists. Two small $250 grants will be awarded on or around September 30, 2013. Eligible artists must be developing and dedicated to a current project that fits within the mission of The Sequential Artists Workshop (basically anything that is high-quality comics, a graphic novel, comics journalism, etc.) More on that here.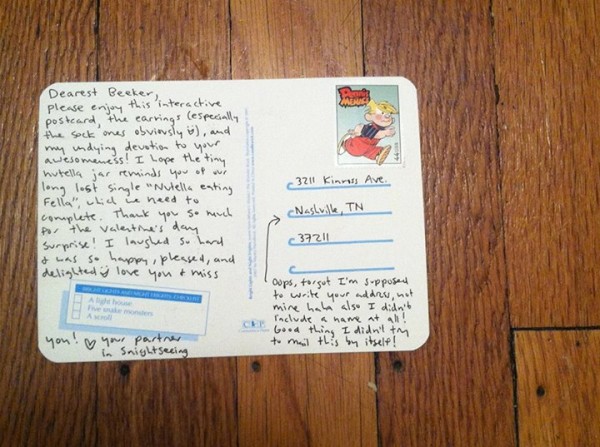 6. and finally — the following is not so much an opportunity for you, per se, but rather an chance  for you to lend creative fodder to students at 826 Chi. Mail off an original postcard today to the address below. "826CHI is a non-profit organization dedicated to supporting students ages 6 to 18 with their creative and expository writing skills, and to helping teachers inspire their students to write." Here is the call:
HEY! SNAIL-MAIL LOVERS!

Next week 826CHI is holding a workshop in which story-writing is based on the contents of postcards. Michael Light, the instructor/a former intern, NEEDS YOUR HELP….This Saturday, no matter where you live, send us a postcard. Its contents are up to you. Pictures. Salutations. Poems. Even a single word. You never know what might inspire a student.

The class is Tuesday (8/6), which means any postcards in the mail BY SATURDAY should make it in time. Please address them to:Â 

Ann Onamoose
1331 N. Milwaukee Ave.
Chicago, IL. 60622

We can't wait to show you how the students transform your correspondence!
Watching Melika Bass' semi-narrative films often feels like living in someone else's dreams: utterly inaccessible at many levels, but fueled by recognizable if nebulous desires, and structured by logics that make actions seem uncannily self-evident, no matter how strange.
Bass has been quietly making rigorous and rigorously strange films for a decade, and in 2011 she created an installation for MCA's 12X12 based on her film Shoals, comprised of relics from the shoot that extended Shoals's imaginary pastoral-gothic world in the ambiguous space of a contemporary white cube gallery. She recently was commissioned to make a film for Sigur Rós, Varðeldur, conceived as a character study of "an unstable entity in a haunted vessel," a gloss that can describe many of her half-created characters, both absolutely unknowable and archetypically suggestive of the heroes of fables and the antiheroes of fairy tales.
I first saw Bass' film at The Presence of Absence show at Hairpin this spring, and then several weeks ago at Doc Films' presentation of her work. We emailed back and forth about scavengers, the fantasy of regionalism, and making epic films as a constellation of scrappy moments.
MW: Are your characters living in a real world– are they real, or are they dreaming?
MB: They are real to themselves, but many of them are also indoctrinated in some way — into some kind of belief system, self-perception, and power dynamic. The quasi-hypnosis of these characters is a bit of Stockhausen Syndrome, but also something that mirrors the movie watching experience, or any kind of assembly-based experience (religious or otherwise). There is something fascinating about the adaptability of humans to any kind of situation, and our ability to find a logic in the most half-baked schemes, and perform all kinds of ritualistic behavior everyday because of those values.
MW: There's lots of dream logic at play, almost a psychoanalytic feel.
MB: Interesting…what do you mean by psychoanalytic?
MW: I think by "psychoanalytic" in an earlier question I meant that a both films I've seen have a sort non-rational logic that I'd associate with surrealism, the unconscious, those weird Freudian parables about his clients and their symbolic recurring dreams… I guess the idea of psychoanalytic aesthetics in my head is that involves abstracted, illogical, but psychologically understandable narratives. David Lynch or Tarkovsky both do this in different ways in feature-length films. There's this feeling I get in your films that I am inside the head of a character who is working something out in a deeply symbolic way that I can't interpret. I don't know if that makes any sense, though… do you think about this kind of thing when you're making films?

MB: I like this question. I am fascinated by how we cognitively create our own logic, justification, explanation, rationalization for the phenomena we experience. Perhaps these characters you are describing are an extreme example of this, in that these normal, and at their root survivalist behaviors, they have turned into an overt system of value or belief or labor, and are living their lives ritualistically because of it, ensnaring others alongside them. The surrealistic flavor is not something that I plan, but juxtaposition and absurdity are for me, a kind of normal.
Always an observer in my own family, I've always had the experience of not understanding causal relationships between observed events or behaviors in others, and wanting to. Even though there is an impenetrableness to understanding and knowing why people behave as they do, there is also the freeing, openness of multiple possible meanings. I hope these characters are both absurd and unnerving in their sincerity, and their authority. Perhaps ideally, just by experiencing the films and being lulled by them, viewers can sit in an surprising place of empathy for these characters, and the embrace the questions and ambiguity of their situations.
MW: How do you think about the relationship between characters in your different films? Are they part of a kind of extended strange family?
MB: I don't think of the characters in my separate films as sharing territories, or that they know each other. But they do all occupy a kind of archetypal fantasy realm where I feel they might live in bubbles adjacent to each other, perhaps one lives up the river from another, but in another country, or 100 years after. There is the fact that I cherish the fact that the objects in my films cross over to the worlds of the other films. For me this is a practical production decision (I keep all my props and costumes, have a small, Chicago apartment basement storage and so recycle), but it's also an extension of all this speculative fiction…the idea that many of thecharacters in my films (especially Songs from the Shed, Shoals, and Waking Things), are all scavengers of sorts, creating their own meaning (which asks to be deciphered or observed) from rituals based on the materials they have, and also via their bodies, and in moments, language or song. The objects are worn and carry as much history and potential narrative as these gestural bodies; materials and characters may have equal 'value' in that way, though I'd have to think more about that…
MW: But then when I write that I wonder, are these characters in your films even full character studies? In both Nanty and Shoals, the characters are left undeveloped and mysterious, almost archetypal on purpose. What kinds of figures are they to you? What is revealed and hidden about them in your films?
MB: Even though I come out of a literature and theatre background, in my filmmaking I'm pretty committed to utilizing what to me are uniquely cinematic aesthetic tools that are centered around observation. So for me that's movement, light, sound, texture, scale, duration, etc. I am very interested framing a character in terms of behavior that suggests but does not explain inner life of motivation, desire, etc. Perhaps on a way it is something like portraiture, or creating a kind of attention in the viewer to physical details, energies, and action in figures. . .language of course interests me too, but primarily in the way that its performative and coded also. I want to play with narrative expectations and actual cognitive narrativizing that we do all the time, in movies, and in life, as a way of ordering or making sense of things. This is one of the reasons I also rarely move the camera, and embrace the fragmentation of montage, a static frame, and a detailed soundtrack; I am hoping to slow folks down a bit, and in a way introduce a way of seeing, hearing, experiencing, and gathering of information that is a kind of adding up of parts, that also includes sitting with ambiguity and becoming an 'active viewer' while also being absorbed into the world/window of the film. This tension is a kind of experiential realism for me.
MW: One quote I loved from Shoals was when Chris [Sullivan]/the cult leader/doctor/teacher asks one of the girls to place a group of random objects into intuitive groupings. He asks her to find the "binder"– "an associative connection that brings them form and work, maybe." It strikes me that this could be a way of thinking about your films. What do you see as the binders that connect the scenes and movements of individual films together?
MB: That's interesting. Yes, for the films I think binders could be the these surrogate families or self-made communities and their culture-making which borders on religion, and then the situations in the films themselves, which play on our cognitive need for causal order and meaning-making. In some ways this is something that Chris's cult leader character is providing, although obliquely and absurdly. In this scene, for this lesson or indoctrination to occur, he's asking Kelly's (Emily's character) to create her own meaning, a kind of teaching on the one hand and a sort of illusion of her using her own choice freely. This intersection of Catholicism, grammar school, psychological testing, and Eastern philosophies were all the elements I wanted his character to be combining. An attempt at utopia buoyed up by language that suggests knowledge or expertise, but has a lot of holes in it.
MW: I want to ask about atmosphere and place. In other interviews, you've talked about growing up in a sort of gothic southern atmosphere– are you recreating particular geographical or temporal atmospheres?
MB: I grew up in Richmond, Virginia (a place obsessed with its history) and Asheville, North Carolina, where the mountains and rain are lush in the Summer and chilling and blue-grey in the Winter. That part of Appalachia is shadowy and flinty and earthy and grubby and full of life and perseverance. I love it but it can be quite scary.
This gets back to your earlier question. In the realm of fully-developed characters or archetypes, I may lean toward the latter because I am pretty fascinated with stories of self-identity based on history. Many times in America, in a family, that's a history of immigration, or someone being defined by their job, where they lived, or a particular personality trait. People get mythologized so quickly and easily and stories about family are stories we tell ourselves about who we are, who we want to be, should be, or don't want to be. It seems particularly complicated in the US because while we are so fixated on making our own way, and re-making ourselves all the time, we still define our selves in relation to these stories of our own history in one way or another. There are stories in my own family that I have always loved hearing or finding out about that I entertain as defining me in one way or another. You can call it cultural heritage, or think of it psychologically, or based on gender roles, class, but there's an anthropology to a family and the culture that gets created in it by ritual behavior and the stories it authors about itself. I think all the films I've been making lately are exploring these ideas.
MW: Regarding the relationships between these films, you said something really intriguing to me at the Hairpin center about Nanty that I wanted to ask more about in starting. If I remember correctly, you were saying that you pictured it being part of an epic modular project pieced together with grants you get here and there. I was impressed by this for a few reasons: first, that you are so scrappy about using the ad hoc way that artists are funded (and, though I don't know as much as I should about it, probably video artists in particular) to your advantage, and, second, that you can work this way and think this far out in terms of discrete but interlocking projects. How far off am I on this idea of yours? Can you talk more about your plans for future work and the kind of different pieces you would imagine making/how they might relate?
MB: I am currently working on a project called Summerstock, which I imagine as a long-form, film work that will evolve and branch out with each iteration over the next few years. Initially, I had conceived of the project simply as a feature film (typically 70-90minutes), but my experiences in making installations in the last several years, and the current transitional state of independent feature filmmaking, have lead me to embrace what ultimately is a more exciting structure — a constellation, a web of interconnected nodal sections. My hope is that the overall long form will change as I continue each stand-alone piece, which is also connected to the others in terms of character, place, materials, or any other points of relationship I'll be exploring. The dream here is that I can find funding or shoe-string methods to work as I keep making each piece, and that the venues and environments for exhibition or screening will also add an ephemeral and experiential quality to those pieces as well. The first part I made and exhibited in May as part of the Presence of Absence show, and think of like an Introit. It's a 10minute film installation Nanty, which introduces a key figure in the project, and hints at her situation. The next part of this project will premiere in Chicago in a solo exhibition at Iceberg Projects on Nov. 3, and run through December.
Thematically, the next part of SUMMERSTOCK will be both a film and an installation… It will offer a tension of inner and outer landscapes, the use of the voice to reveal and conceal, and it'll be set in a familiar but unknown place — a hybrid of specificities of place and people. Regionalism is a fantasy, and I think travels well. I am excited to stage this piece site-specifically at Iceberg, it's such an elegant and intimate space.
1. Parallels // Part 2 at The Mission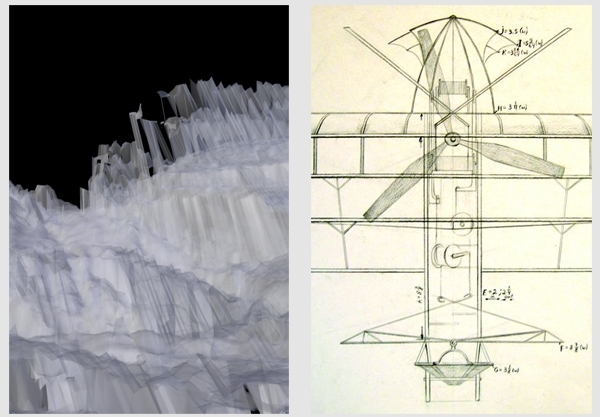 Work by Joshua Albers and Yhelena Hall.
The Mission is located at 1431 W. Chicago Ave. Reception Friday, 5-7pm.
2. Swimming With a Kite at The Franklin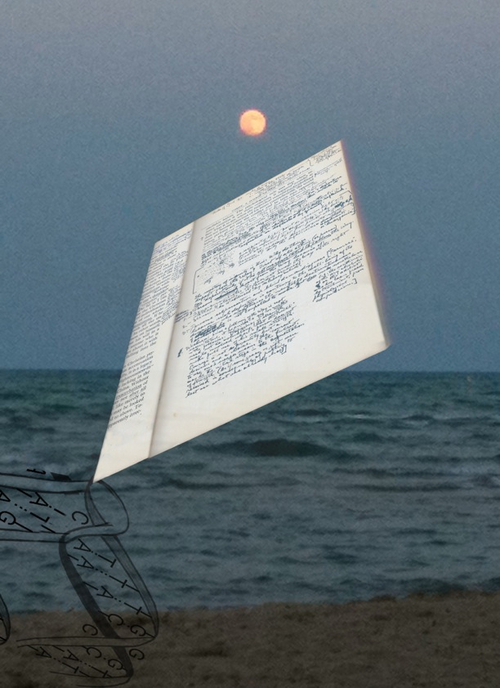 Work by Silvia Malagrino, Joshua Albers, and Jesus Duran.
The Franklin is located at 3522 W. Franklin Blvd. Reception Saturday, 8-11pm.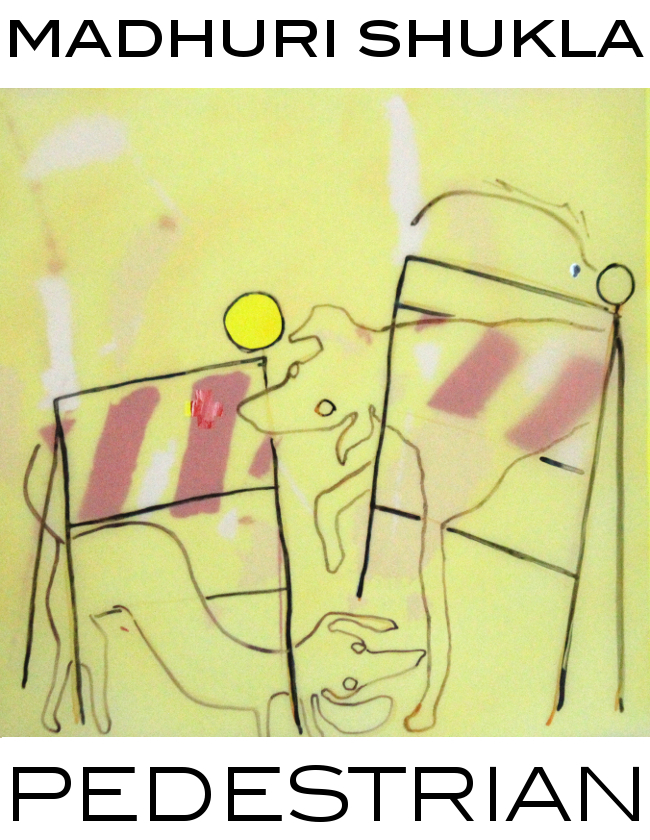 Work by Madhuri Shukla.
Roman Susan is located at 1224 W. Loyola Ave. Reception Saturday, 7-10pm.
4. Much Much More Lecture Series at Humboldt Park Branch, Chicago Public Library

Presentation by Claudine Isé.
Humboldt Park Branch, Chicago Public Library is located 1605 N. Troy St. Reception Saturday, 3-4pm.
5. The Economics of Art 2013 at Vertical Gallery

Work by Dave Pressler.
Vertical Gallery is located at 1016 N. Western Ave. Reception Saturday, 6-10pm.