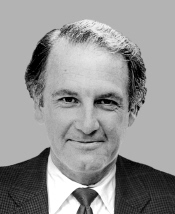 For this week's podcast, our faithful correspondent Patricia Maloney sat down with former US Congressman Pat Williams and his son Griff Willams at Gallery 16 in San Francisco earlier this month to discuss the turbulence of the Culture Wars during the late '80s and early '90s. Patricia finally learned how legislating works in a conversation that ran the gamut from explaining Piss Christ to conservative parents and why Poker Jim Butte is the best place to catch some Shakespeare to how the NEA is vital to cultural production in rural communities and why now might be the moment to demand the return of federal grants for individual artists.

The week began with Dana Bassett's second person plural. bi-monthly rag mag, What's the T? featuring a wrap up of the Milwaukee Arts Festival, info on how to get your nails done at the MCA, I-spys of Chicago Alderman, and even more art. Joshua Herrington had an article woven into the fray called, "Finding Sustenance at CAC's Starving Artist:"
Starving Artist. It's a charged phrase that elicits reaction from our guts – whether artist, admin or educator – so it was no mistake Chicago Artists Coalition (CAC) chose it as the banner to hold over their annual artist+chef mash-up, raising funding and awareness for its mission to build a sustainable marketplace for artists and creative's.

Billed as "the experiential artist and culinary event of the year," CAC pairs a handful of chefs from foodie institutions across the city with esteemed visual artists to inspire one another in creating edible "installations" to be enjoyed by the crowd and new works of art to be auctioned off the night of the event. 2013 saw collaborations between Jordan Martins and Abraham Conlon (Fat Rice), Sabina Ott and Bill Kim (bellyQ), Theaster Gates and Erick Williams (MK), Cody Hudson and Jared Wentworth (Longman & Eagle), and Marissa Lee Benedict with Benjamin Newby (Hennessy Black.) Additionally, Claire Ashley and Andrea Morris transformed CAC's main gallery into an ethereal, celestial-like space, perfect for the obligatory after-hours dance party.
Let's all open a bottle of champagne for Jeriah Hildwine who  recent accepted of a full-time teaching position at Northern Arizona University. If you want to know how teaching positions happen, at least what Hildwine's experience was like, his post is for you. Hildwine adeptly describes the struggle and dedication of application, his collection of rejection letters, close calls, and statistics. Perhaps what got me most, however, was the amazing list of questions that one should anticipate in an interview. The list is infinitely longer than the following excerpt: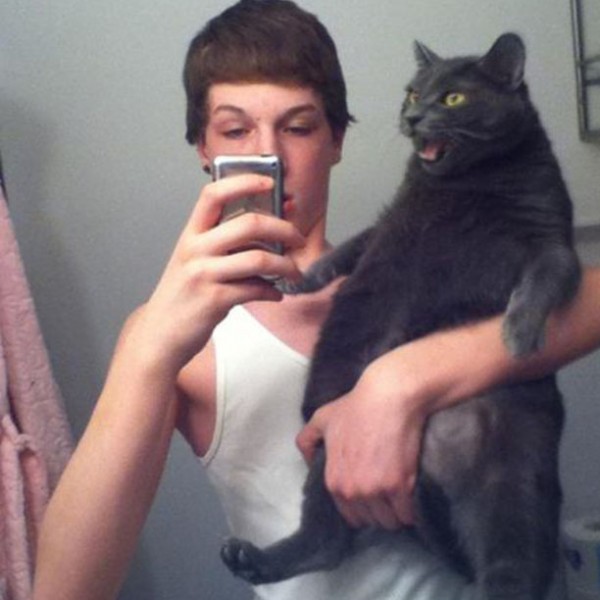 I reposted a provocative article by Sarah Gram called "The Young-Girl and The Selfie:"
When we talk about selfies, what we are really talking about is teenage girls. "Teenage girls" here is more of a concept than a biological necessity; the age is primarily arbitrary and the girl-ness is semiotic at best. But the disgust at the moral failures of kids today, with their iPhones and their Instagrams is a gendered disgust — it is disgust for bodies whose worth is determined not by those who inhabit them, but by those who look at them. It is disgust for bodies that run in emulation, whose primary labour is dedicated to looking a particular way rather than making a particular thing.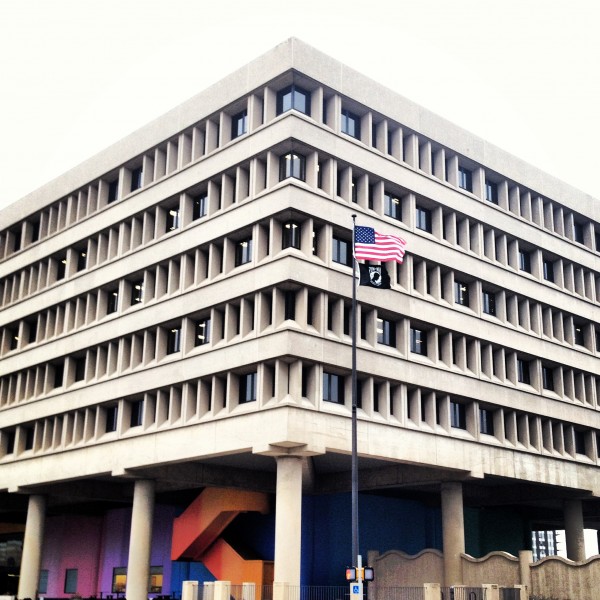 Bad at Sports' coverage of the greater Midwest continues via I AM A CITIZEN OF NO MEAN CITY, what might otherwise be called "A Month in the Life of Wendy Spacek" or "The Indianapolis Dispatch," featuring favorite murals, art shows missed and seen, and the youth projects that color everything else. For instance, with regard to Megan Hart's show with Beth Eisinger, Spacek writes:
Megan is fascinated with the act of collecting and categorizing urban artifacts (trash) to learn about the secret lives of her neighbors: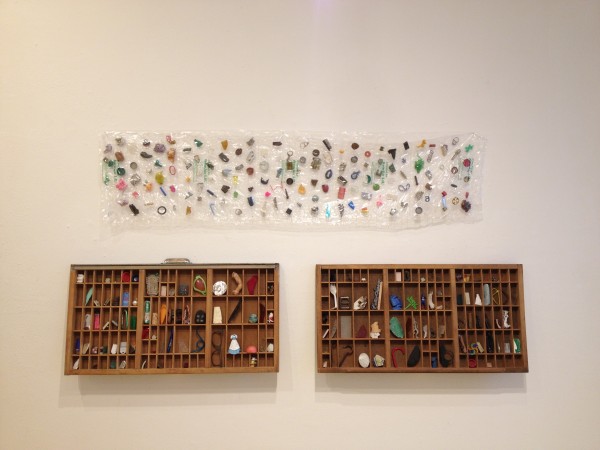 We also got a report about Kansas City's Middle of the Map Fest  from Carolyn Okomo:
For the first time since premiering in 2011, the Map Fest incorporated a five-day film event that featured over 25 films.  The event kicked off on May 1 in Kansas City's Alamo Drafthouse with a screening of 1986 cult fantasy film Labyrinth (and opened with a David Bowie set by local band Soft Reeds). The film fest's curator, Kansas City-bread filmmaker Mark Harrison, says he began the process of identifying films for the event at the beginning of the year after being commissioned by The Record Machine to help out. The process included building a dream list of films the planners hoped to screen during the festival then individually pitching either the filmmakers and movie distribution companies.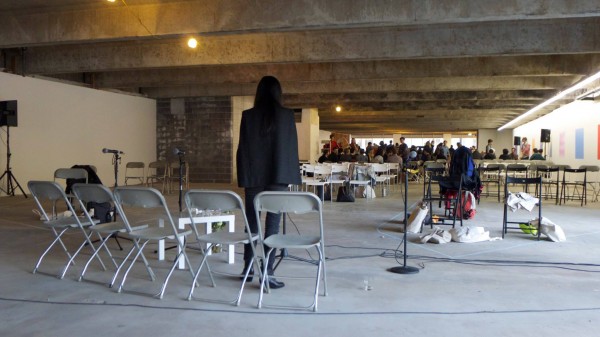 Jen Delos Reyes rounded out the week with a reflection on the Open Engagement Conference she organized in Portland this year:
Two countries. Five conferences. Seven years. 14 partnerships. Over 700 presenters. Over 1600 attendees. Since the first Open Engagement conference in 2007 this event has become a key meeting point for people interested in socially engaged art. Open Engagement: Art After Aesthetic Distance began as a hybrid project that used a conference on socially engaged art practices as its foundation and incorporated elements including workshops, exhibitions, residencies, pedagogy, curatorial practice and collaboration. I wanted to foster a different kind of conference—one that worked in the way I wanted to see it work: with a sense of togetherness, putting emerging and established voices side by side, highlighting different ways of knowing and learning, and serving as a site of production, as well as reflection.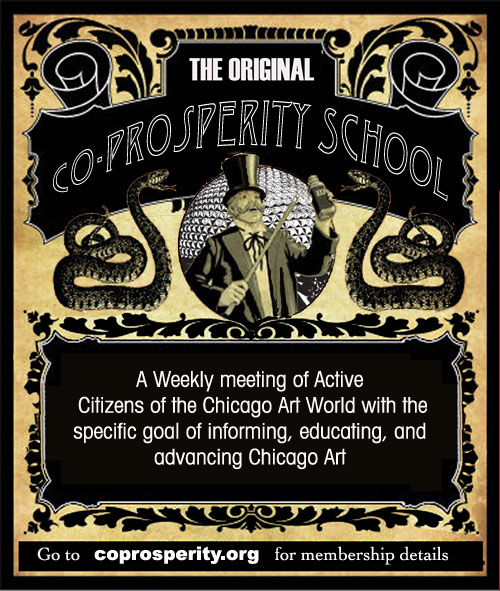 1. Co-Prosperity's Artist-run School is still open, but the new semester starts on the 8th (aka tomorrow) so waste no time. Â visit http://coprosperity.org/co-prosperity-school/Â 
2. Apply to be a Sponsored Artist – High Concept Laboratories; deadline for applications is on July 15th
HCL's Sponsored Project Program is designed to promote the growth of artist and their work through the donation of customizable, no-cost support services including;Projects are chosen three times a year and last for a period of up to four months. Each season is curated to represent emerging and established artists from a range of artistic disciplines. We sponsor three paths of development based on different intentions for the end-result of the project. Get the scoop here.
3. Submissions are now open for the 7th Annual Mono No Aware exhibition, to take place December 6th & 7th, 2013 at LightSpace Studios in Brooklyn, NY.  Open to all artists; filmmakers, performers, poets, musicians – who incorporate Super 8mm, 16mm, 35mm or altered light projections as part of a live performance, installation, sculpture or expanded cinema presentation. Details here.
4. Project Anywhere : Deadline for proposal submissions for our 2014 program is September 1, 2013.
Project Anywhere is an expanded exhibition model encompassing the entire globe (and beyond) in which the role of curator is replaced with the type of peer review model typically endorsed by a refereed journal. Emphasizing artistic projects situated outside conventional exhibition contexts, Project Anywhere is dedicated to the promotion of advanced artistic practice at the outermost limits of location-specificity.

Project Anywhere endorses a two-stage peer review system comparable with the journal-based paradigm for assessing the quality of research outcomes in the arts. Accordingly, Project Anywhere is designed to suit artist academics working anywhere in the world who are seeking independent peer validation and international web-based dissemination for practice-based research.

Please send proposals (as an attachment) to projectanywhere@gmail.com.

Your proposal should include the following:

1. Title of proposed project.
2. Location(s), date(s) and duration for proposed project (this can be updated later).
3. A detailed project proposal clearly stating the project's potential for creating new knowledge (please refer to the peer review guidelines at www.projectanywhere.net).
4. Images, files (under 8mg in total) and links can be included where appropriate.

NB: To be eligible for the first stage of our peer review process, it is imperative that ALL name and contact details are removed from the actual proposal document (and accompanying materials). Contact details should be included in the body of the email only. Any submissions that do not conform to the above criteria will NOT be sent out for peer review. Please note that Project Anywhere does not provide project funding nor expect exclusive hosting rights. Accordingly, we welcome multi-partnered and collaborative projects and/or projects that are hosted by other arts institutions seeking blind peer-validation. more here.
5. Sheila Heti (author of "How a Person Should Be" among other things) has recently put out an open call, inviting enthusiasts to fill out a questionaire about women in clothes:
THROUGH CONVERSATIONS, INTERVIEWS, ESSAYS, SURVEYS, DIAGRAMS AND DRAWINGS, AND WITH CONTRIBUTIONS FROM A WIDE RANGE OF WOMEN, INCLUDING ESTABLISHED WRITERS AND ARTISTS LIKE MIRANDA JULY, ZADIE SMITH, ROXANE GAY, SARAH NICOLE PRICKETT, RIVKA GALCHEN AND EILEEN MYLES, WOMEN IN CLOTHES WILL EXPLORE THE MULTIPLICITY OF MOTIVES THAT INFORM HOW WOMEN DECIDE TO PRESENT THEMSELVES, AND WHAT STYLE MEANS...IF YOU'D LIKE TO PARTICIPATE IN THIS BOOK, PLEASE FILL OUT THE DOWNLOADABLE SURVEY AND SEND IT BACK TO US. THE BOOK IS BEING BUILT PRIMARILY FROM THE ANSWERS TO THESE QUESTIONS. YOU NEEDN'T BE A WRITER, OR CONSIDER YOURSELF FASHIONABLE, OR CARE ABOUT CLOTHES OR STYLE, TO PARTICIPATE. ALL AGES, NATIONALITIES, ETC. WELCOME. MEN, TOO. WE ARE STILL ACCEPTING CONTRIBUTORS. more info here.
6. Special shout out to Chicago Artist Writers, Frieze writer's prize for up-and-comers, the closing date for entries is 22 July 2013.
Frieze Writer's Prize is an annual international award to discover and promote new art critics.  Entrants must submit one unpublished review of a recent contemporary art exhibition, which should be 700 words in length. Entries must be submitted in English, but may be translated (this must be acknowledged). Entrants must be over 18 years of age. To qualify, entrants may only previously have had a maximum of three pieces of writing on art published. The winning entrant will be commissioned to write a review for frieze and will be awarded £2,000. Entries should be emailed as a word attachment to writersprize@frieze.com. Please do not send images. go here!
by Jen Delos Reyes
Two countries. Five conferences. Seven years. 14 partnerships. Over 700 presenters. Over 1600 attendees. Since the first Open Engagement conference in 2007 this event has become a key meeting point for people interested in socially engaged art. Open Engagement: Art After Aesthetic Distance began as a hybrid project that used a conference on socially engaged art practices as its foundation and incorporated elements including workshops, exhibitions, residencies, pedagogy, curatorial practice and collaboration. I wanted to foster a different kind of conference—one that worked in the way I wanted to see it work: with a sense of togetherness, putting emerging and established voices side by side, highlighting different ways of knowing and learning, and serving as a site of production, as well as reflection. I wanted to contribute to the discourse on socially engaged art in a meaningful way. When Open Engagement began it was a student project. I was a graduate student. The conversations that I wanted to engage in were not happening at my school in Saskatchewan, so I decided to create the situation that would allow for me to have these discussions with people doing similar work. Open Engagement was the basis of my education, and now is a major foundation of my work as an educator.
This year as in most years my experience of Open Engagement happens mostly in the lead up—in conversations with students to determine the themes of exploration for the year, in the selection of keynote presenters, in the scheduling, planning, writing, partnerships, and all things organizing. In the day to day of the event itself I get to attend very few sessions, usually only the opening and closing sessions, keynote events, and a hand full of other projects and for a limited amount of time. My time during Open Engagement is mostly spent assisting and making sure things are running smoothly. But in that way of moving through the conference I intersect with people all throughout the day that I ask what they have attended, and what their thoughts are on the experience at the conference so far. This idea of needing to talk to others to fully experience the conference is intentional. Because of the parallel programming no one person can take in all of the projects and sessions that form the event on their own. We need to work together, and see from multiple perspectives to get a full sense of the field.
In 2010 at Open Engagement Pablo Helguera said that he had always heard that a conference is meaningful in as much as it generated new questions to follow up. If you didn't find new questions then maybe it was not successful. I had a similar feeling about conferences, and it had been one of the ways I was measuring outcomes. The conference begins with a series of calls and questions, and throughout the course of the event and the conversations there are undoubtedly more that are generated. At OE 2013 we were making a concerted effort to capture that questioning throughout the weekend, and on Sunday before Tom Finkelpearl's keynote talk were reminded by Michelle Swineheart of one of Sister Corita's "quantity assignments" of generating 100 questions when embarking on intensive work and research. With this in mind, as well as earlier feedback from the day at a session between the Creative Time summit and OE where I heard from many participants that they wanted to work together to generate something during the conference and that in general there was a desire for sessions that allowed for formats other than being talked at, I decided that the final event would be an opportunity for just that.
For the closing event of Open Engagement 2013 instead of having a panel discussion between only keynotes and curatorial representatives we instead set out to collect 100 questions generated by the group assembled to further get a sense of what is emerging, what people are thinking, and where this conversation is going. The Sister Corita assignment felt fitting for a group of presumably invested individuals, who wish to continue to be involved in research and practice, to take this on together. It was a hope that as we would move out into the world after the conference that we could then reflect on this list of the questions we are currently asking ourselves about socially engaged art. The format was that each of our six panelists joined one of six seated groups that each had about 40 chairs (based on past years we were planning for between 200-300 people at the final panel), and we then had about 35 minutes to work together and for each group to write 17 questions and then we reconvened and the panelists shared the group work. After the instructions were given, at least 20% of the assembled group left instead of joining the break out groups. As I stood at the front of the room watching people choose to stream out, I wondered if I had made a mistake. The people that remained formed groups and were led in discussions to generate questions. There was one group in particular that voiced resentment, yet not enough resentment for them to have just left. This all came out in sharing of the questions at the end of the session. After many weeks I heard from someone who was part of that dissenting group how difficult it was to contribute questions, to have a discussion, and to feel like they could share. Days after the conference I heard some thoughts from Michael Rakowitz (who was the person facilitating that group) on the conference and the final event in general and he said, "You created a space for people to get upset, and that opens up possibilities for things that haven't been done yet." While I had no doubt that we had created a place for people to get upset I wondered what else the space was a possibility for. I thought of other conferences and their goals, Suzanne Lacy's City Sites: Artists and Urban Strategies (1989), and Mapping the Terrain: New Genre Public Art (1991), the Creative Time summits that began in 2009, and the more recent Homework conferences organized by Broken City Lab. Lacey was trying to create a space to develop language for socially engaged art that went beyond the limitations of forms like performance and conceptual art, and with the latter intended that the activities of Mapping the Terrain would come together as a publication. The most simple way to describe the Creative Time efforts is an attempt to become the TED talks for socially engaged contemporary art. The latest incarnation of the Homework conference takes a similar approach to Mapping the Terrain with a end goal of a collectively generated publication, and a similar format to Open Engagement with three keynote presenters and framing devices.
My last memory of Open Engagement took place at Boxxes, the club that hosted the wrap party for the conference. I showed up after a late dinner and took a seat behind the DJ booth where Paul Ramirez Jonas was virtually spinning tunes for the party. I was approached by a woman I met earlier in the day who is a funder at an arts organization dedicated to supporting socially engaged art. I found myself captive behind the DJ booth during a moment of celebration hearing out her frustrations with the conference. The parts of her dialogue that rang out the loudest in my mind were, "I am not here to learn with you, I am not here to generate your content." I nodded throughout, and thanked her for so openly sharing her criticisms. I meant it. I still do.
This encounter made me think of who was present Open Engagement, and what they expected, and how at least for this person how much of a radical departure it was from what I thought people were there for. I revisited some writing from 2007 that I had done after the conference:
What does it mean to be open? What does it mean to be engaged? What if one were to be both open and engaged simultaneously? Openness is honesty, generosity, a sense of possibility, freedom, free of boundaries and restrictions. To be engaged is a promise. It is a commitment, an obligation. It is also a sense of involvement and participation. To have an "open engagement" implies a commitment that is potentially limited or short lived. But what if the two terms once united could keep their respective definitions making openly engaged a term that would embody an obligation to honesty, sharing and possibility? 
It happened, we did create a place of possibility, a place for honesty and sharing, one where many boundaries and expectations were crossed and left behind. What should Open Engagement be? Who should it be for? How can we adequately capture what is generated? Over the last few days I have been thinking about the possibility of an online community archive for Open Engagement that would be a collective effort that would be open for all to share their documentation, writing, thinking, and stories related to the conference.
I had always seen Open Engagement as a site of learning. In an online video conference with Ren Morrison from the Atlantic Center for the Arts weeks following the conference he off handedly referred to Open Engagement as being his "education". The conference has for the past four years been a site of convening for many of the MFA programs with a focus on publicly/socially engaged art. The fact that this conference is so embedded in the structure of an MFA program makes the very nature of it educational, as well as the fact that even the very beginning was in an educational framework. In my mind we were all working together, learning together, and teaching one another. How we organize this conference collaboratively echoes the spirit of our program and our approach to learning. An education in our program is emergent, unorthodox, and at times unruly. This translates into Open Engagement feeling slightly unkempt, and in flux. And while this might be a point of criticism for some, I would not trade this instability for rigid professionalism or a set structure. It is important that we remain open to this conference and this conversation shifting and developing in unexpected ways. It is also important that we remain open to the realization that this may no longer be a site that is necessary, or that it might need to take a completely new form and possibly a new grounding. I hope that whatever becomes of it, that Open Engagement can be a site to work together, learn together and see what we are contributing to the field of socially engaged art from multiple perspectives. I am open to whatever comes next.
Jen Delos Reyes-Â Assistant Professor, MFA Art and Social Practice Program Chair

Jen Delos Reyes is an artist originally from Winnipeg, MB, Canada. Her research interests include the history of socially engaged art, group work, band dynamics, folk music, and artists' social roles. She has exhibited works across North America and Europe, and has contributed writing to various catalogues and institutional publications. She has received numerous grants and awards including a Social Sciences and Humanities Research Council of Canada Grant. Jen is the founder and director of Open Engagement, a conference on socially engaged art practice and herself speaks widely on Art and Social Practice at conferences and institutions around the world. She is currently an Assistant Professor at Portland State University where she teaches in the Art and Social Practice MFA program.
Guest Post by Carolyn Okomo
Middle of the Map Fest (Video)
Though Kansas City's Middle of the Map Fest ended this past May, the curators of the month-long salute to Midwest's arts scene are getting ready to make preparations for next year's activities. The festival, which just concluded its third year, is not-so-slowly but surely becoming an important cultural staple in the Kansas City-metropolitan area, the Midwestern United States, and arguably the nation. Its fusion of music, film and technology dialogs could make it Kansas City's answer to the SXSW Interactive Festival, though Nathan Reusch — one of the festival's founders — is caution in drawing too direct a comparison to the Austin event.
"I would say that we take plenty of notes from SXSW but I think we have tried to make it our own" says Reusch. "Things like spreading across multiple weekends have given each event a chance to have their own identity where SXSW has so much going on all at once."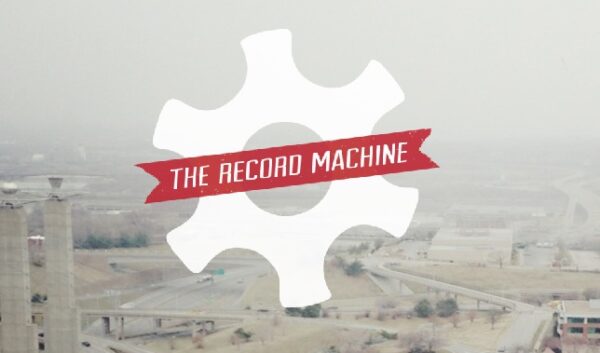 Reusch, along with Mike Russo and Richard Robinett, run The Record Machine — a Kansas City-based independent music label that's been releasing music for local and national acts since 2003. Since then they've assembled a heartily diverse ensemble of artists. At the heart of The Record Machine's mission is a desire to "make an organic community of artists and help connect them with listeners" according to the the label's website. The rapid growth of the Map Fest — co-curated along with local lifestyle and entertainment weekly Ink Magazine — certainly serves as a testament to the label's successes in realizing this objective. This year's three-day music fest was headlined by Brooklyn-based outfit Grizzly Bear and featured 140 local, regional and national bands; its first year just 50 bands were showcased, according to Reusch. In 2012 the Map Fest also added a 50-speaker Forum component to provide a platform for local creatives, entrepreneurs and community leaders to discuss topics like social connectivity, curating responsibility and sustainable wellness.
For the first time since premiering in 2011, the Map Fest incorporated a five-day film event that featured over 25 films.  The event kicked off on May 1 in Kansas City's Alamo Drafthouse with a screening of 1986 cult fantasy film Labyrinth (and opened with a David Bowie set by local band Soft Reeds). The film fest's curator, Kansas City-bread filmmaker Mark Harrison, says he began the process of identifying films for the event at the beginning of the year after being commissioned by The Record Machine to help out. The process included building a dream list of films the planners hoped to screen during the festival then individually pitching either the filmmakers and movie distribution companies.
"At the end of the day, I wanted to bring to films to Kansas City that I thought I could stand behind, that I personally wouldn't  think twice about paying $25 to go see, and that I felt offered unique voices to the festival that could be discussed by any and all who attended" says Harrison.
Harrison's own whimsically shot, self-described "factumentary", Vanuary, chronicled the month-long adventure of its star, Dave Drusky, as he completed challenges whilst living in a 1982 Volkswagen Vanagon Westfalia camper van during the month of January. Both Harrison and Druksy fielded questions about their experimental film post-screening to get a sense of whether it could work as a feature length film and were met with positive responses from the crowd.
"This was the first time people were watching it that didn't know me or didn't know Mark" says Drusky.  And, it's one thing to say 'hey, friends and family, sit down and watch this hour and a half movie of me and Mark just having fun and doing  all these activities in the van. But to have people not connected to us watch it and saying 'we want more' was kind of an inspirational moment."
The film's curatorial slant was unmistakably musical, Harrison admits (his band, Capybara, is a featured act on The Record Machine's label). Andrew Bird: Fever Year (2011, directed by Xan Aranda) — a film about about Chicago-based singer/songwriter Andrew Bird's return home after a year-long tour — was just one of the films showcased. Another music-doc featured was The Frames: In Deep Shade (2013, Conner Masterson), which chronicles the Irish band, The Frames, and their 20 year musical relationship;  A Band Called Death (2012, Mark Christopher Covino & Jeff Howlett) shed an incredibly gripping light into the lives of the newly-discovered first all-black punk rock band out of Detroit.
Other documentaries that screened included Eating Alabama (2012, Andrew Grace), which recounts young couple's attempt to eat only locally-grown food;  Mincraft: Story of Mojang (2012, Paul Owens) looks into the company behind the hugely popular virtual game. We Are Superman (2012, Kevin Bryce), expounded on the struggles of a group of Kansas City residents working feverishly to revitalize several blocks of a long-ignored urban neighborhood.
The film festival's roster also included a number of independent feature films. Campy martial arts-infused action Miami Connection (Y.M Kim, Woo-Sang Park, 1987) provided comedic nostalgia for fans of over-the-top 1980s action films. War Witch, a film that took its director Kim Nguyen a decade to complete, depicts the tragic pains faced regularly by African child soldiers through the story of 12 year-old Komona, played by a non-professional actress Rachel Mwanza and filmed over the course of a decade. Romantic drama Save the Date (2012, Michael Mohan) — a film loosely-based on the comics of graphic novelist  and co-writer Jeffrey Brown (read interview)– also screened.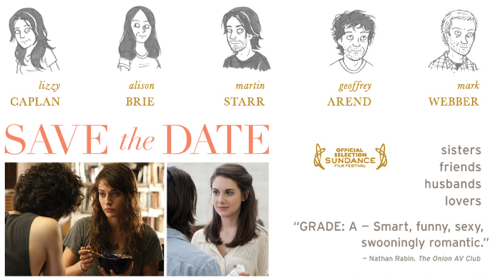 Reusch says he, Robinett and Russo are slowly easing into the planning process for next year, which patrons of the festival should undoubtedly appreciate given its steady successes throughout the years.
"We have always tried to keep evolving the event organically and not trying to push things out that don't seem to work" says Reusch. "We are still taking a little bit of a break and clear our heads start planning for next year."
The Map Fest was a much-appreciated introduction to region's cultural landscape for this author (an admitted newbie to the area). For years, The Record Machine and others (Golden Sound Records, the Kansas City Film Fest and the Midwest Music Foundation, to name some) have buttressed Kansas City's profile as a cultural hub amongst larger metropolitan regions like Chicago, Austin, and the obvious New York and Los Angeles. While one may not typically think to stay (or move ) to a place like Kansas City to make it big, the Map Fest could very well a spring board for many successful careers as it continues to expand and evolve in years to come.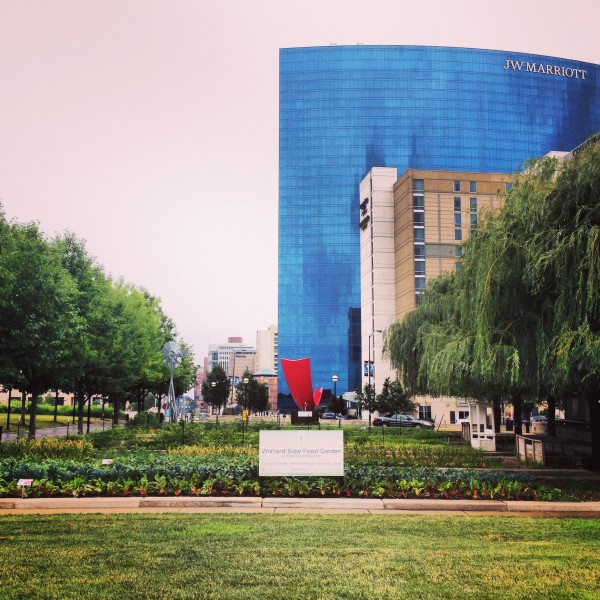 "The Cardinal" by designer Jeff Laramore behind the Wishard Slow Food Garden near Washington & West St.
Greetings from Indianapolis, friends!
I spent the majority of June rolling up the west coast, visiting other lovely cities, giving out poetry broadsides, and spreading Indpls lore and legend.
Here are a couple of things that I was really looking forward to that I missed in June:
June 1st Friday – We Buy White Albums by Rutherford Chang at iMOCA, Heather Stamenov, Stutz artist-in-residence: TA-DA! at Primary Gallery. And more!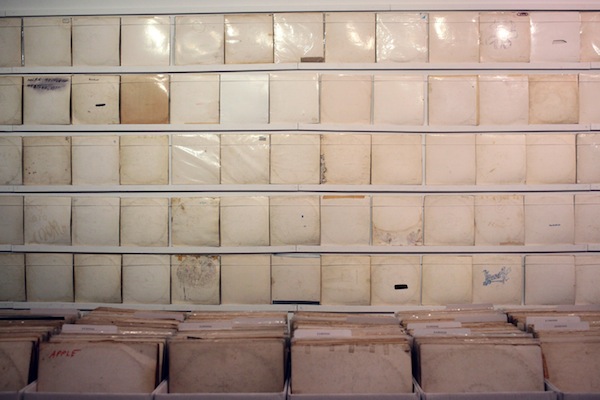 Image via Nuvo.net 

Independent Music and Arts Festival (IMAF)/ INDIEana Handicraft Exchange at the Harrison Center for the Arts: a yearly exchange of hand-made goods, visual art, and lots of music.
However, there were still plenty of artistic experiences to be had in the last two weeks of June.
When I arrived back to work at the Indianapolis Art Center I was greeted by a new exhibition called Under Construction that gets more fascinating every time I see it (which is every day). Giant wall "tapestries" made entirely out of duct tape by Garry Noland, paper cuttings of microscopic views of tree bark by Katie Vota, and objects handcrafted entirely out of pennies by Indianapolis-native Stacey Lee Webber.
The very next week at work I had an awesome experience of facilitating an Andy Goldsworthy inspired land art workshop with a group of about 80 urban teens. They made some seriously incredible stuff in just an hour and a half: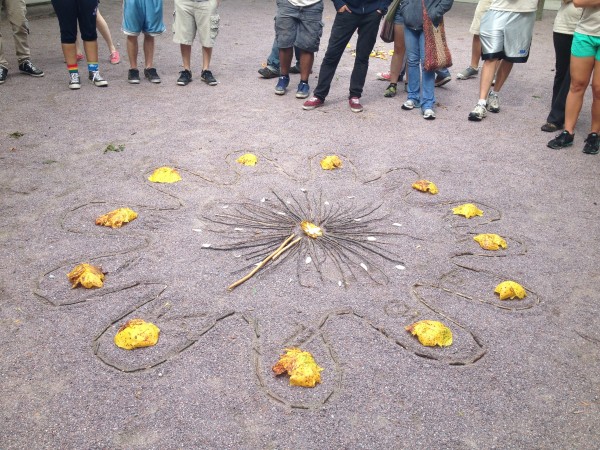 The following Saturday I joined a different group of teens on a public art bike tour in the city's center.
This got me thinking that I should share a few of my favorite pieces of public art here in Indy!
This project is part of the legacy project that came out of Indianapolis hosting the Super Bowl in 2012. In just a few months, 46 new murals went up all over the city. Here are some of my favorites: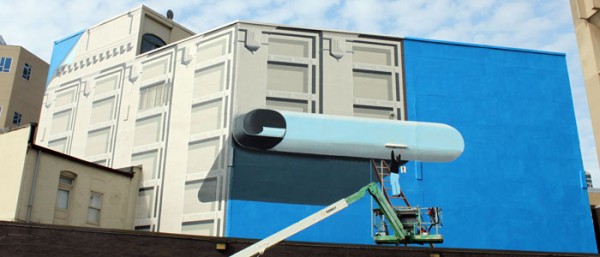 Image via Arts Council of Indianapolis
Indy's Always on A Roll by Michael Cooper at the intersection of Virgina, Maryland and Delaware.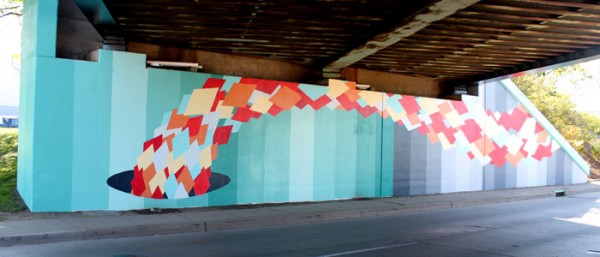 Image via Arts Council of Indianapolis
Trivergence by Carl Leck at the 10th st/Mass Ave gateway.
My absolute favorite mural in all of Indianapolis is a bit older though: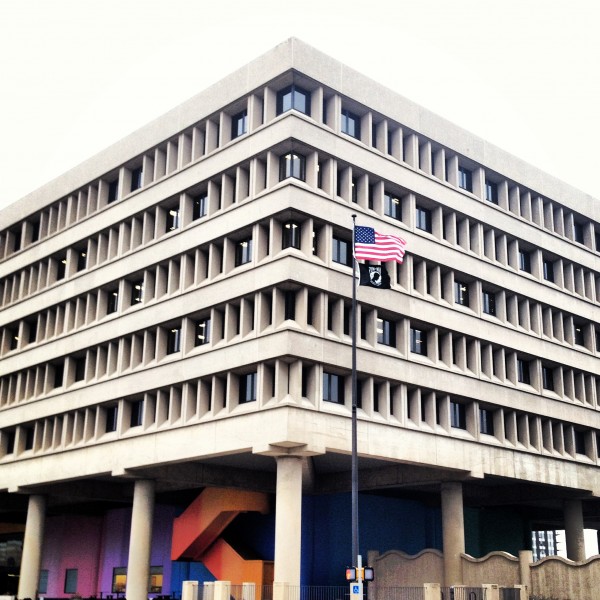 Color Fuses by Milton Glaser (1975) on the brutalist-inspired Minton-Capehart Federal Building. (corner of Penn and Michigan)
The mural is a giant rainbow that completely wraps the first story. The mural was recently restored to its former glory, and Glaser's vision completed with the addition of a fully functional system of lights for enhanced viewing after dark.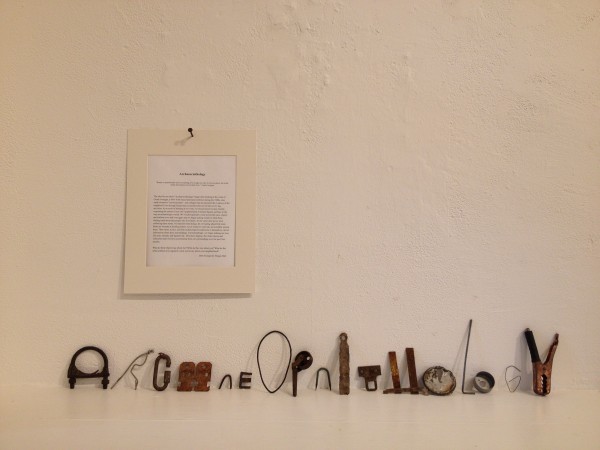 I stopped by my friend Megan Hart's show with Beth Eisinger, Archaeornithology – an Excavation of Urban Artifacts.
All of the objects and imagery included in the show were found in the neighborhood I live in on the near southeast side of Indianapolis – Fountain Square.
The show included Beth's incredible (and affordable) handmade bird's nests: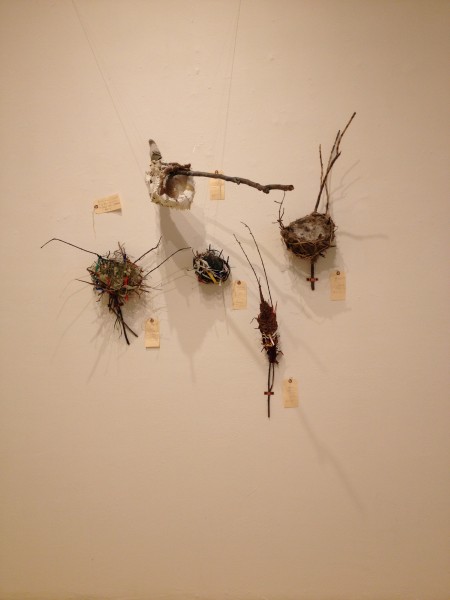 Including an enormous human-sized one: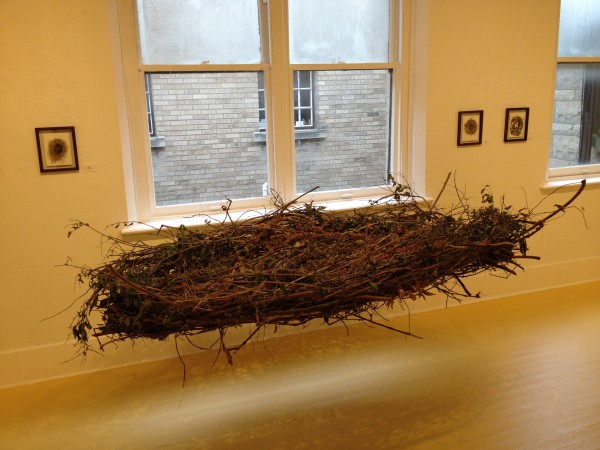 Megan is fascinated with the act of collecting and categorizing urban artifacts (trash) to learn about the secret lives of her neighbors: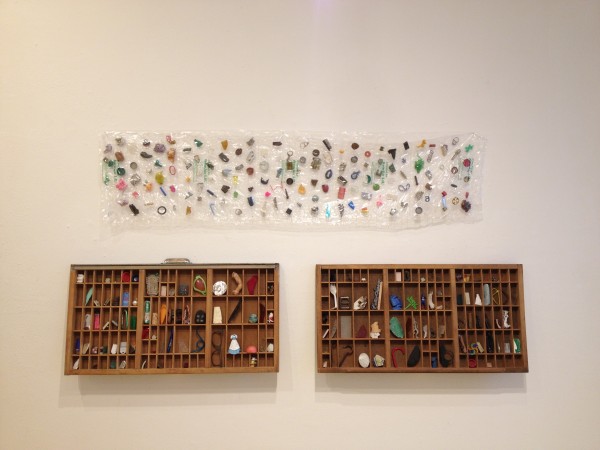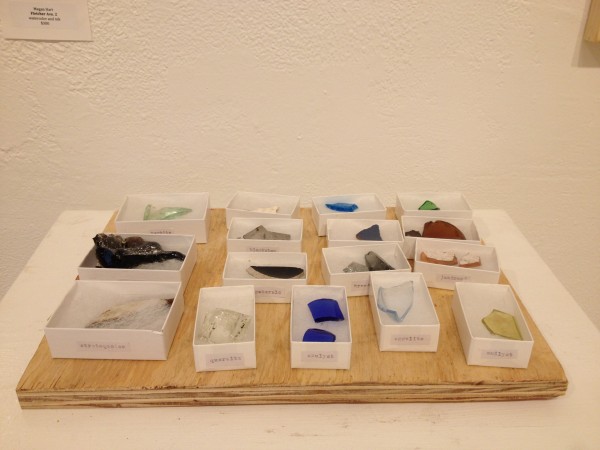 This show, coupled with homesickness from being out of town, has got me thinking a lot about art in Indianapolis, and how a lot of it celebrates our city, our neighborhoods, our streets, our friends.
And then, perfectly, this video about my favorite, wacky, DIY theater group, Know No Stranger was released! Video via our central Indiana contemporary art blog Sky Blue Window
Until next month!
Yrs,
Wendy
Wendy Lee Spacek is a poet who lives and works in Indianapolis, Indiana. She likes her city very much. She is a core volunteer of the Indianapolis Publishing Cooperative (Indy Pub Co-Op), publishes small editions of handmade books under the name Soft River and is an arts administrator at the Indianapolis Art Center. She will be posting monthly all summer long about her encounters with art, culture, creative experiences and resources in her city.