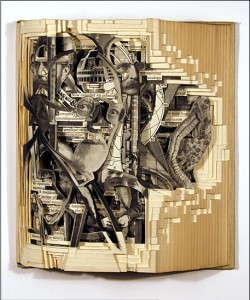 Brian Dettmer's sculptures are like steampunk versions of data clouds. Treating books as if they were bodies under investigation (the word 'autopsy' comes up frequently in discussions of this artist's work), Dettmer expertly fillets them, foregrounding certain pictures, words, and illustrations while excising others in order to highlight previously unnoticed relationships. The results are densely layered bibliophilic wunderkammer that are truly incredible to behold.
Dettmer's cuts are surgically precise, but they're also curatorial in nature. By transforming books into objects of pure contemplation and display, Dettmer destroys their ability to be useful in the manner they once were. At the same time, he invests them with new signifying potential. In this case, bodies of knowledge are made to display their own viscera in a simultaneous rather than sequential manner; it's not exactly like how we experience the Internet, but it certainly evokes it.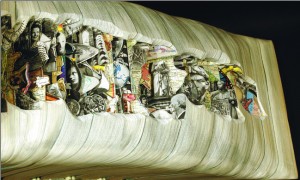 Dettmer's books can be surprisingly provocative, too, stirring up all kinds of nostalgia, reverence, and even guilt about the fate of printed matter in the age of the iPhone, the Kindle, and the Vook. In the catalogue essay, portions of which have been excerpted in the gallery's press release, Antonia Pocock argues that Dettmer's book carvings "represent an impulse to resuscitate the tangible records of information that appear dead when faced with the dynamic, instantly adaptable media of the information era. Under Dettmer's hand, the rigid rectangle of the book dissolves into a chaos of new data connections."
Dettmer focus isn't solely on text, however. It's equally enamored of illustration, which in Dettmer's preferred choice of books–mostly of the encyclopedic or instructional kind–take the form of intricate woodcuts, line drawings, and schematics along with various forms of cartography. The Web is filled with images, but it's not an illustrator's medium. The three dimensionality of Dettmer's sculpturalized books reminds us of how the internet and the computer screen tend to flatten images, obliterating shadow and fine detail and making hand-drawn efforts largely irrelevant.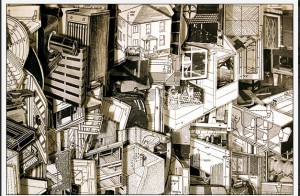 The exhibition also includes a two-channel video downstairs which provides insight into Dettmer's painstaking working process. Thankfully, the videos leave a lot of the how-to's unanswered, which keeps the mystery of it all alive. I didn't want Dettmer's process to be totally transparent –where's the fun in that? Instead, they remain, for me at least, Carrollian follies so strange and alluring I wanted to shrink myself down, crawl inside them, and explore.
Brian Dettmer's "Adaptations" will be on view at Packer Schopf Gallery through May 9th.
Boston-based artist Matthew Rich's large-scale paintings on paper at Devening Projects + Editions present a range of enticing contradictions. A few examples: Rich uses an X-acto type blade to cut lines that aren't always super-straight, he hangs his unframed paintings directly on the wall so that their interaction with light, air, and passer-by movement emphasizes their sculptural qualities, and he uses latex paint to create planes of color so flat and even that, when seen from a distance, you might initially assume he's cutting and collaging pieces of colored paper rather than painting them himself. Rich's works appear crisply delineated. They look like whirligig motion machines that tweak their hard-edged forbears with torqued forms that are almost but not quite rectilinear and sometimes downright curvaceous. Titles like Tilt, Double Arc, Turbine, Rocker and Zig-Zag only heighten their playfully carnivalesque attractions.
Up close, however, things get more complicated. A lot of Rich's paintings look like they've been manhandled a bit-they're smudged and soiled and intentionally creased (the result of how they're packed for shipment), and one even has a partial footprint on it. Sections of what appear from afar to be uniform color reveal inconsistencies in density and tone. Rich has also used iridescent paint in certain sections to activate additional layers of depth, movement and reflection.
The show is titled "Blind Spot," a phrase that in this context is not purely metaphorical. As it turns out, there's a flipside to these paintings that is, well, the flip side to these paintings. Rich has painted both sides of the paper using different colors. Working from preparatory drawings, he cuts from layered sheets of paper so that the pieces will lock back together again seamlessly, in this manner carefully assembling his paintings a section at a time. After he's finished, Rich turns the whole thing over and exhibits the unseen, or "blind" side; in other words, the section that remained invisible to him while working becomes the public side of the artwork. The side he created with such meticulous attention must now keep its face to the wall; the rhythm of chance wins out over what were once, presumably, carefully considered chromatic relationships.
Once Rich's paintings are hung, however, hints of their hidden selves inevitably peek around. The ever-so-subtle curl of a paper's edge, or a slight pulling away from the wall here or there, casts almost imperceptible shadows of colored light against the white wall behind it. This exquisite little detail is all the more entrancing for how easy it is to miss. It's yet another contradiction that these paintings pose, one that arises when bold, large-scale works such as these are apprehended with sweeping glances. I also think it's a contradiction that's nestled in the very different assumptions we sometimes bring to the act of looking at a painting vs. a drawing or a work on paper, especially when it comes to issues of scale. The cliche is that drawings require more intimate and "up close" scrutiny because they're smaller and somehow more personal, while paintings of a larger scale ask you to stand back and take them all in. Rich's paintings ask us to look both ways in order to maintain a wider field of view.
Rachel Mason's show at Andrew Rafacz Gallery inspired something in me I never thought I'd feel: the desire to pick up the grizzled Fidel Castro and put him in my pocket.
Or at least, the little bust of him that Mason has made, along with dozens of other late 20th century political figures that have been arranged on a shelf spanning three of the gallery's walls.
Mason has done a pretty good job at capturing the likes of Castro, Margaret Thatcher, Leonid Bhreznev and an astonishingly numerous array of others whose heads we've seen on television screens or in newspapers but which have here been reduced to the scale of domestic knick-knacks. This editioned series of sculptures is part of a long-term project in which Mason fantasized about the emotional lives of world leaders embroiled in war and conflict.
In an attempt to gain a subjective and emotional understanding of their controversial actions, she's projected herself into their personas via live performances, videos, writings by herself and others, and sculptural figurines made over the last four years (check out the artist's website for examples of texts, music and performances from this project, which is titled "The Ambassadors").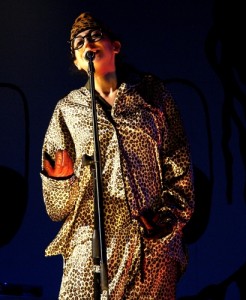 This multi-faceted project is difficult to contain in a single gallery (Rafecz is showing the sculptures, an artist's book, and apparently a video which wasn't on when I visited the gallery last Wednesday). I have to admit I don't always have a lot of patience for sprawling, multi-part performance-based works of this type. It's a weakness on my part, I know, but the fetishist in me remains fully under the sway of objects, be they two – or three-dimensional, and I do tend to think that objects work best when left to their own devices. Mason's great feat is her ability to take historical leaders, some revered, some loathed and feared, and shrink them to the size of Hummel figures without simultaneously rendering them objects of kitsch. There's a certain pathos to the artist's labor-intensive efforts to create things that could so easily be dismissed as cutesy jokes; but Mason's sincerity comes though in the way she inserts her own, slightly smaller ambassadorial figure into the parade of statues as a persistent disruption. The empathy with which Mason approaches the subject of war and political leadership is an anomaly in this age of hard-line factionalism and harsh political rhetoric. It's easy to wear your politics on your t-shirt, but far more difficult to cloak yourself in the garb of your political Other and, heart on sleeve, sing a song or write a poem in their name. The show closes Saturday, so if you want to see it, go over right away.
Sometime over the weekend, as I was pouring coffee beans into a canister, I happened to read on the package that proceeds from the coffee had been used to fund a library. Pretty cool, I thought; but then in my cynical way, I began to speculate about just what kind of structure this library actually was, how big, how many books, and what, exactly, constituted a library in the minds of the coffee bean distributors. Maybe their library was more like a bookmobile, or maybe it was just a partitioned section of a large hut somewhere far away, with a few piles of donated paperbacks stacked haphazardly on a couple of wooden stools. At any rate, when I came across the L.A.-based artist Dave Hullfish Bailey's images of the Lizard Tree Library in Slab City, California (not far from Imperial City), my first thought was, aha–here's the kind of library that coffee money might have funded.
Bailey's installations converge with social historiography and land use studies in their exploration of alternative models of community and urban planning. Slab City, a squatter and R.V. community built over an old U.S. military base, provides a case study that, in his exhibition at The Suburban, Bailey has approached in a more or less documentary fashion.  A series of 15 framed photocopied images of the Slab City library have been installed sequentially along the gallery's four walls. Each image presents a view of the library from a slightly different vantage point that corresponds to the photographer's path around the perimeter. I didn't know about Slab City before encountering these images, but a little Internet scouring brought up a few useful websites, particularly this one.  Slab City's inhabitants would probably not describe themselves as "squatters," though none pay rent. They've built the physical structures that house this community from the ground up, along with the social institutions or "clubs" that bring residents together. The library appears to be one of several sacred spaces here that have been constructed entirely by human hands, in this case by a woman named Rosalie who died in 2003.  It's a quiet place where people can borrow books without I.D. cards, read on the patio, or retreat to in the middle of the night when insomnia hits.
Bailey is interested in the ways that idealism shapes space concretely and ideologically, as when, for example, people from very different backgrounds come together in the wake of hurricanes or riots to create ad hoc spaces of refuge and community support. These chaotic moments have the potential to transform utopian impulses into pragmatic solutions. In Slab City, ordinary folks have put their highest aspirations of self and community to the test. Baileys' trajectory around the Slab City library circumscribes a Utopia twice removed; one that looks and feel a lot more down-to-earth than we, or its residents for that matter, may have previously imagined.
Few artists are as ripe for a mid-career survey as Jim Lutes is right now. Typically such exhibitions offer institutional imprimatur and opportunities for critical assessment of an artistic career whose lifespan is, theoretically at least, already half over. But Lutes' mid-career survey functions in a somewhat more inaugural fashion, by framing his artistic trajectory not as a straight line, nor even in dialectic terms, but instead as a literal re-write of what has come before, wherein the more truly authentic  "beginning" of the artist's career is posited almost a decade and a half after it began, to much fanfare, with a sold-out solo show at Dart Gallery in 1985.
I have to admit I'd not heard of Lutes prior to seeing this tightly focused and well-elaborated twenty-painting survey at The Renaissance Society. This is due partly to my own L.A.- and California-centric knowledge base, and partly to the fact that Lutes has had relatively few solo exhibitions outside of Chicago. Some of his biggest splashes were made via inclusion in larger group shows, most notably Documenta IX in 1992, the Whitney Biennial in 1987 and the Corcoran Biennial in 1985. Although Lutes' posts at Illinois State University and, currently, The School of the Art Institute may have made him a familiar face to Chicago artists, he remains less recognizable elsewhere.
Spanning the years 1985-2007, the works on view show the slow coalescing of a material and method that has come to be identified as uniquely Lutes' own. Some artists spend half their careers searching for an artistic identity, a "signature," if you will. Lutes began developing his repertoire of lyrical calligraphic marks early on, but hasn't always known how best to refine, assert or inscribe them. I think that's what his early psychodramas of the studio are grappling with.
Set in desolate apartment interiors and other claustrophobic urban settings, figurative paintings like Drywaller, Crisis on Red Street, and Evening of My Dysfunction feature male grotesques sporting huge beer-guts, absent or distorted limbs, and the tiny eyes of beached whales. Lutes' evocative titles entice narrative readings, and, clichéd though they may be, it's awfully hard not to interpret these awkward and ungainly men as figures of performance anxiety and artistic impotence.
But something else gestates within. Crisis on Red Street, from 1985, shows a male figure peering face down from a city sidewalk into a gutter coursing with blood. From the torso upwards, he's all stuffed sausage—chalky white and worm-like, without arms or hands, and featureless except for the one whale-eye.  The flurried brushstrokes painted onto this formless tube, however, are undeniably gestural: signifying the presence of the artist's hand, they're clearly prototypes of the more extensive lexicon of swirls that Lutes would eventually develop. The figure provides a site for the marks' inscription and a way for Lutes to covertly pursue what he was really interested in—the possibilities inherent in the marks themselves.
Lutes' big guys essentially functioned as beards that enabled him to engage abstraction at a time when abstraction was politically uncool. Hence their pervasive air of self-loathing and raw self-abnegation. When I look at these works I can't help but think of Paul McCarthy's brutal performance parodies from around this time. McCarthy's "Painter," in particular, ridiculed into flaccidity what many saw as abstract expressionism's phallocentric signature. But whereas McCarthy figured the abstract painter as an emotionally retarded clown, Lutes remained unspeakably attracted to abstraction and the erotic possibilities of the mark-for-its-own-sake. He obviously didn't hate painting; he just didn't want to be paintings' bitch anymore.
Lutes' development of the mark was hindered by more than just the dictates of fashion. Paint itself resisted what he wanted to do with it, and until he found a way to lube up the working parts, his paintings were stymied by a certain degree of self-consciousness. I don't care what kind of 'personal post-modernism' Lutes may have been developing in works like "Welder," "Early Release" and "Un Tipo Suave," (all from the early and mid 90's), to me these works appear to be trying way too hard to swim with a discursive tide that Lutes wasn't really all that interested in. The exception is the movie-screen sized "He Just Snapped," which totally works for me, perhaps because it so successfully dissolves the scene of a crime into the scene of painting itself. Lutes' signature marks are applied to the surface with palpable effort, as if in slow-motion (each red swath was in fact copied from marks that already existed in drawing form), physically transforming the painting into a windshield covered not in blood or graffiti but the implacable evidence of a paintbrush.
Everything changed (and then again, nothing changed) in 1998 when Lutes "discovered" egg tempera. He stumbled upon this most classical of methods almost by accident while preparing to teach it to his students. In the process of learning how to do it himself Lutes found the medium that he had needed all along. Egg tempera enabled a translucency of application and fluidity of movement that oils and acrylics couldn't match. Suddenly, Lutes' hands were freed.
The exhibition presents a number of moments where side-by-side comparisons can be made between the early marks and those made later with egg tempera.  The latter have evolved in complexity to the extent they appear less as brushwork and more as an extensive character set, a glossary of swirls, squiggles, slashes and flourishes so well-defined that each seems to have its own wiggly little personality.
Through a method that ironically allowed him to be "more Jim Lutes than Jim Lutes," as Hamza Walker put it in a talk with the artist earlier this month (which I watched after the fact on YouTube), Lutes' post-1998 works revisit earlier painting scenarios and effectively re-write them while keeping the original alive. Paintings like 2006's Big Guy flaunt what those early figurative works could barely articulate. Zaagmolentraat (20006) returns to pastiche construction methods similar to those of Welder and He Just Snapped, but the garish color schemes are gone, replaced with a more ethereal and complex palette. No longer shills for something else, Lutes' images are finally transparent. The slipperiness of tempera has enabled his signature marks to subsume—but, it's important to note, not entirely replace—the figurative. It'll be fascinating to see if Lutes moves forwards—or further backwards—from here.  –Claudine Isé